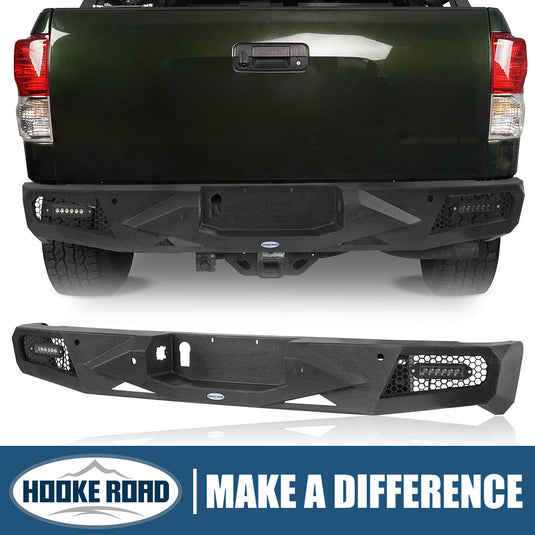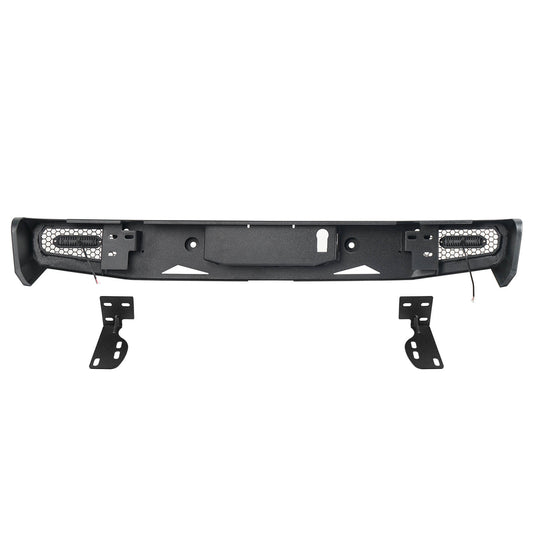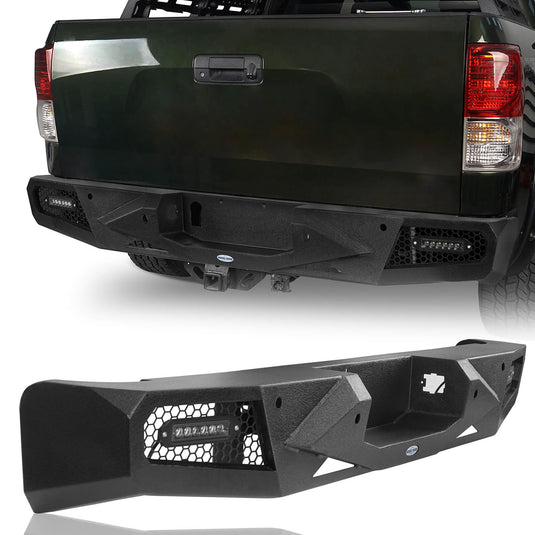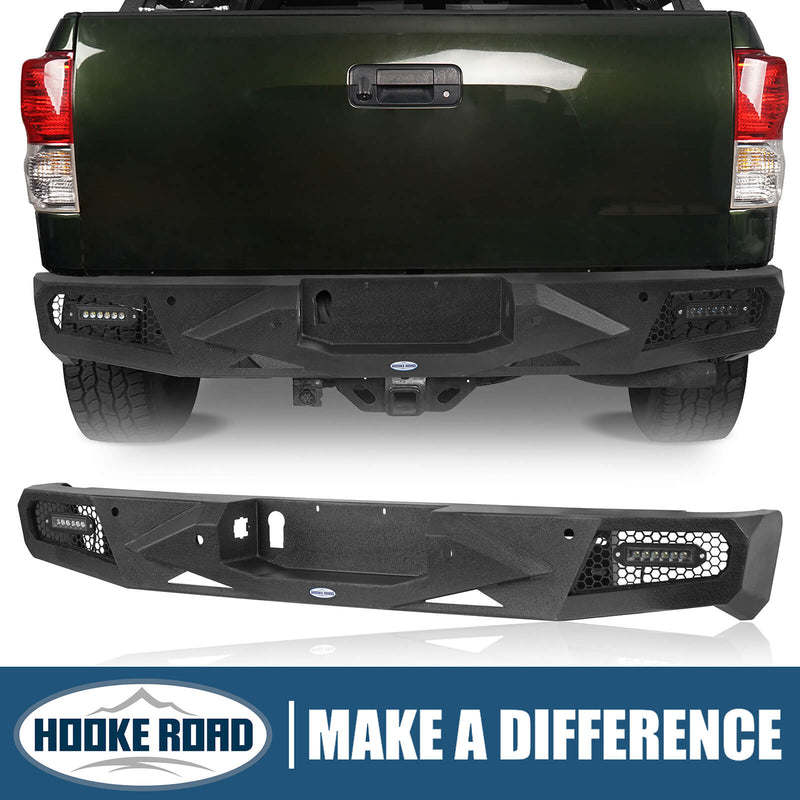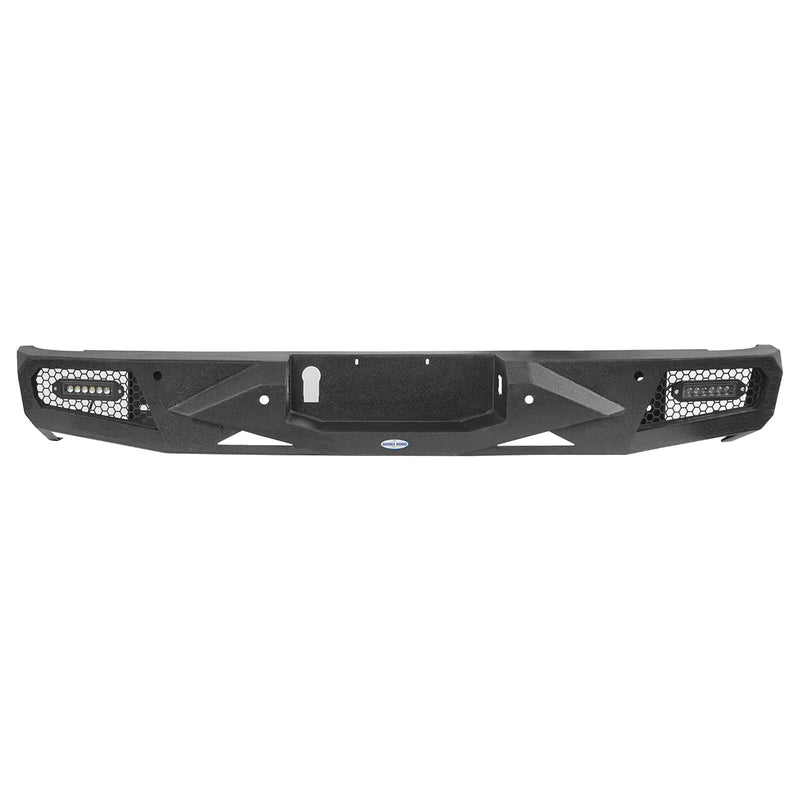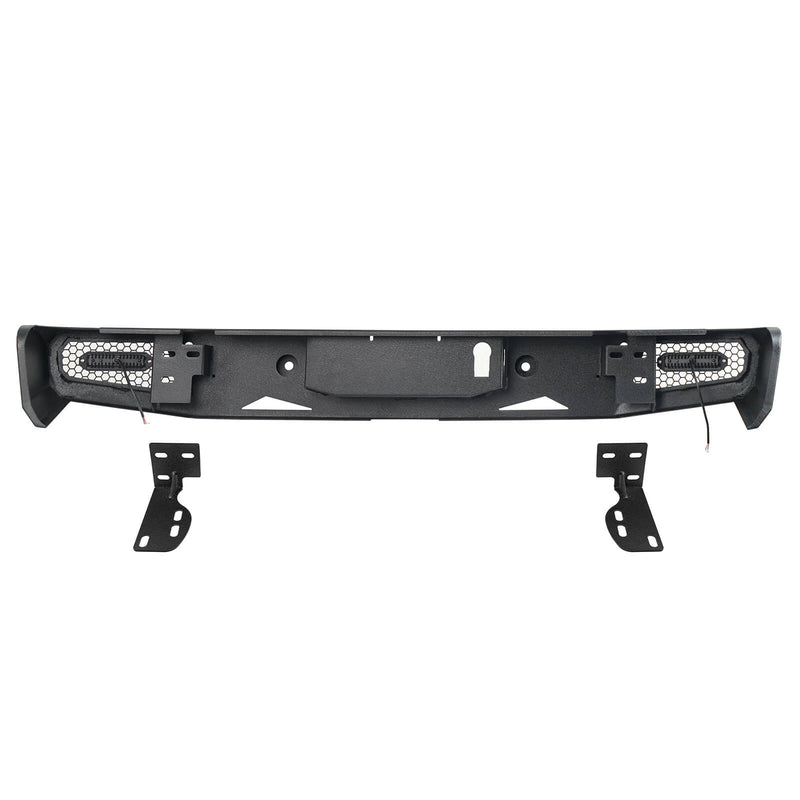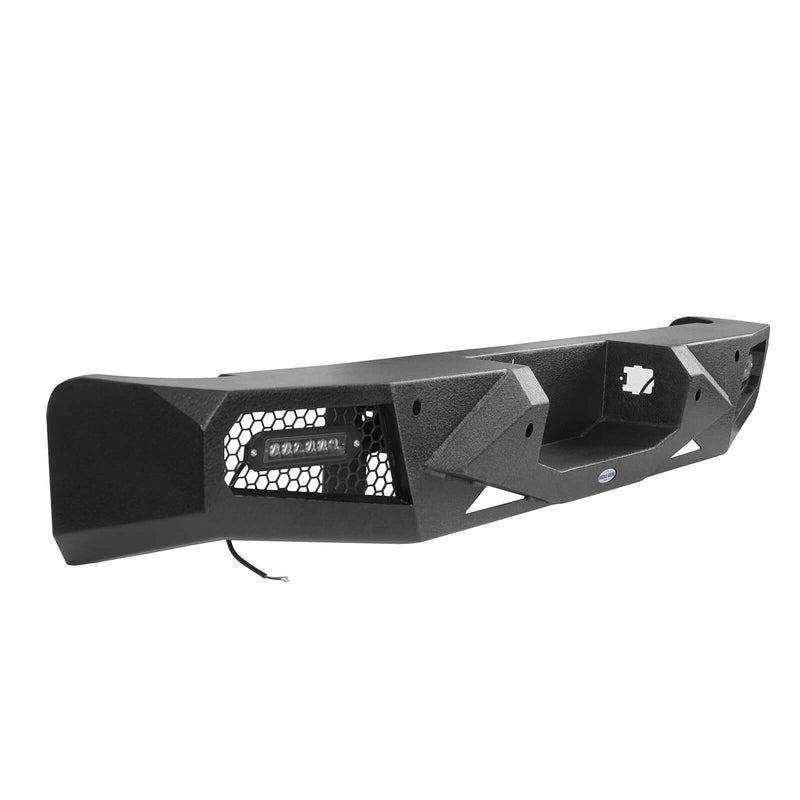 Name: 2007-2013 Toyota Tundra Reap Rear Bumper Replacement Textured Black
Feature
Fits for 2007-2013 Toyota Tundra Models
Bumper weight: About 70 lbs
Not compatible with factory backup sensors
One-piece, fully-welded structure. Protects rear end against rugged adventures. 
Heavy-duty, high tensile 10-gauge(9/64 inch) and 11-gauge(1/8 Inch) steel for the bumper main body, 8-gauge(11/64 Inch) for the structure of the mounting bracket
Textured black powder coat finish & Premium E-coating process inside
Delicate hollowed-out honeycomb steel plates that could be bright spots for decoration
Pre cutouts that work with factory license plate lights. Includes holes for mounting license plate in the middle of the bumper. 
Works with factory receiver hitches
Includes 2×18w LED white flush mount spotlights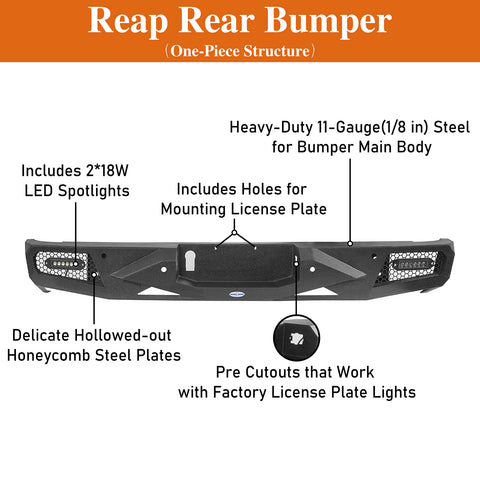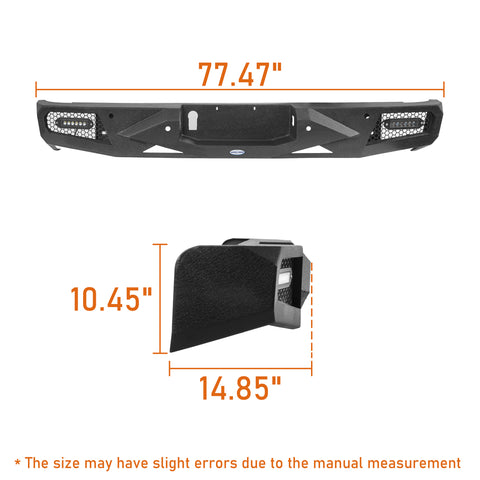 Tough, Stylish Off-Roading Bumper. Enhance your Tundra's setup by replacing its factory rear bumper with this Hooke Road Toyota Tundra Reaper Rear Bumper. This high-quality unit bolsters your truck's rear end, shielding its body and components from the elements. It's also designed to accommodate auxiliary spot lighting upgrades to further improve your vehicle's lighting performance.
Built from Durable Steel. Made from 10-gauge(9/64 inch) and 11-gauge(1/8 Inch) steel plates, this Rear Bumper Replacement will remain intact even when you're driving in the most formidable off-road terrains. What's more, it's covered in a high-quality textured black finish, which fortifies its structure from the damaging effects of rust and corrosion.
A Straightforward Install. This Toyota Tundra rear bumper is designed to directly bolt onto your truck's OE location, so installing it is an easy task. Durable hardware is included. The procedure can be completed in no more than 1 hour with a help of a friend.

SEMA Membership. The Hooke Road Brand has been certified as a member of SEMA. We are studious and gradually grow up to be a professional aftermarket retailer. As a SEMA member, we make, buy, sell and use all kinds of specialty parts and accessories to make vehicles more attractive, more unique, more convenient, faster, safer, more fun, and even like-new again. Wish you have a terrific off-road experience with our products.
1 × Tundra Rear Bumper
2 × Mounting Brackets
2 × LED Spotlights
Mounting Hardware Kit
Installation Instruction
2013 Toyota Tundra Base Crew Cab Pickup 4-Door
2013 Toyota Tundra Base Standard Cab Pickup 2-Door
2013 Toyota Tundra Limited Crew Cab Pickup 4-Door
2013 Toyota Tundra SR5 Crew Cab Pickup 4-Door
2012 Toyota Tundra Base Crew Cab Pickup 4-Door
2012 Toyota Tundra Base Standard Cab Pickup 2-Door
2012 Toyota Tundra Limited Crew Cab Pickup 4-Door
2012 Toyota Tundra SR5 Crew Cab Pickup 4-Door
2011 Toyota Tundra Base Crew Cab Pickup 4-Door
2011 Toyota Tundra Base Standard Cab Pickup 2-Door
2011 Toyota Tundra Limited Crew Cab Pickup 4-Door
2011 Toyota Tundra SR5 Crew Cab Pickup 4-Door
2010 Toyota Tundra Base Crew Cab Pickup 4-Door
2010 Toyota Tundra Base Standard Cab Pickup
2010 Toyota Tundra Limited Crew Cab Pickup 4-Door
2010 Toyota Tundra SR5 Crew Cab Pickup 4-Door
2010 Toyota Tundra SR5 Standard Cab Pickup 2-Door
2009 Toyota Tundra Base Crew Cab Pickup 4-Door
2009 Toyota Tundra Base Standard Cab Pickup 2-Door
2009 Toyota Tundra Limited Crew Cab Pickup 4-Door
2009 Toyota Tundra SR5 Crew Cab Pickup 4-Door
2008 Toyota Tundra Base Crew Cab Pickup 4-Door
2008 Toyota Tundra Base Standard Cab Pickup 2-Door
2008 Toyota Tundra Limited Crew Cab Pickup 4-Door
2008 Toyota Tundra Limited Crew Cab Pickup 4-Door
2008 Toyota Tundra SR5 Crew Cab Pickup 4-Door
2007 Toyota Tundra Base Standard Cab Pickup 2-Door
2007 Toyota Tundra Limited Crew Cab Pickup 4-Door
2007 Toyota Tundra SR5 Crew Cab Pickup 4-Door
2007 Toyota Tundra SR5 Standard Cab Pickup 2-Door
Package Included
1 × Tundra Rear Bumper
2 × Mounting Brackets
2 × LED Spotlights
Mounting Hardware Kit
Installation Instruction
Fitment
2013 Toyota Tundra Base Crew Cab Pickup 4-Door
2013 Toyota Tundra Base Standard Cab Pickup 2-Door
2013 Toyota Tundra Limited Crew Cab Pickup 4-Door
2013 Toyota Tundra SR5 Crew Cab Pickup 4-Door
2012 Toyota Tundra Base Crew Cab Pickup 4-Door
2012 Toyota Tundra Base Standard Cab Pickup 2-Door
2012 Toyota Tundra Limited Crew Cab Pickup 4-Door
2012 Toyota Tundra SR5 Crew Cab Pickup 4-Door
2011 Toyota Tundra Base Crew Cab Pickup 4-Door
2011 Toyota Tundra Base Standard Cab Pickup 2-Door
2011 Toyota Tundra Limited Crew Cab Pickup 4-Door
2011 Toyota Tundra SR5 Crew Cab Pickup 4-Door
2010 Toyota Tundra Base Crew Cab Pickup 4-Door
2010 Toyota Tundra Base Standard Cab Pickup
2010 Toyota Tundra Limited Crew Cab Pickup 4-Door
2010 Toyota Tundra SR5 Crew Cab Pickup 4-Door
2010 Toyota Tundra SR5 Standard Cab Pickup 2-Door
2009 Toyota Tundra Base Crew Cab Pickup 4-Door
2009 Toyota Tundra Base Standard Cab Pickup 2-Door
2009 Toyota Tundra Limited Crew Cab Pickup 4-Door
2009 Toyota Tundra SR5 Crew Cab Pickup 4-Door
2008 Toyota Tundra Base Crew Cab Pickup 4-Door
2008 Toyota Tundra Base Standard Cab Pickup 2-Door
2008 Toyota Tundra Limited Crew Cab Pickup 4-Door
2008 Toyota Tundra Limited Crew Cab Pickup 4-Door
2008 Toyota Tundra SR5 Crew Cab Pickup 4-Door
2007 Toyota Tundra Base Standard Cab Pickup 2-Door
2007 Toyota Tundra Limited Crew Cab Pickup 4-Door
2007 Toyota Tundra SR5 Crew Cab Pickup 4-Door
2007 Toyota Tundra SR5 Standard Cab Pickup 2-Door