Hard Top Roof Rack(18-23 Jeep Wrangler JL 4 Door & 20-23 Gladiator JT) - Discovery Hooke Road
Like to Join in Discount List
P.O. Box Address is not available. Please Offer the physical address on checkout.
Offroad Life 4x4 Enthousiast
Offroad Life Enthousiast · Trucks & Wrangler Mods
Name: Hard Top Roof Rack for Jeep Wrangler JL & Jeep Gladiator JT
Feature
Fit for 2018-2023 Jeep Wrangler JL 4 Doors Hard Top & 2020-2023 Gladiator JT Hard Top models
Bumper Weight: About 80 lbs
Sleek Low-Profile Design
Provides Extra Exterior Cargo Space
5-Piece Broad Roof Rails for Cargo Loading. Square Shape Cutouts for Cords or Ratchet Straps to Secure the Load
Includes 4×18w High Power LED Spotlights & 2×18w LED Single Row Spotlights
Carrying Capacity(Evenly Distributed) of up to 150 Pounds
Measures: About 58.1 In Long, 53.5 In Wide, and 3.9 In High
Heavy-Duty 11-Gauge(1/8 Inch) for the Bumper Body, 14-Gauge(5/64 Inch) Steel Construction
Textured Black Powder Coat Finish
Simple bolt-on installation. No drilling is required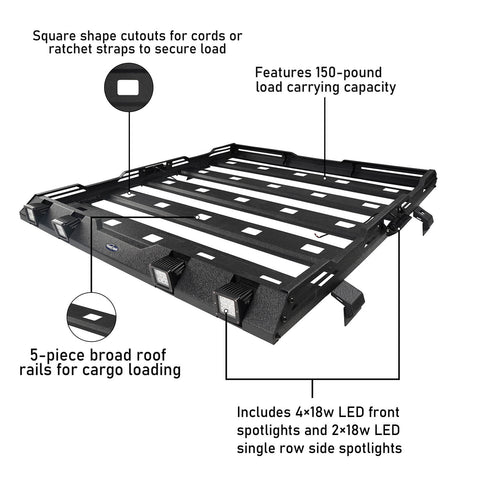 Package Included:
1 x Hard Top Roof Rack
2 x LED Row Spotlights
4 x LED Square Spotlights
8 x Mounting Brackets
Mounting Hardware Kit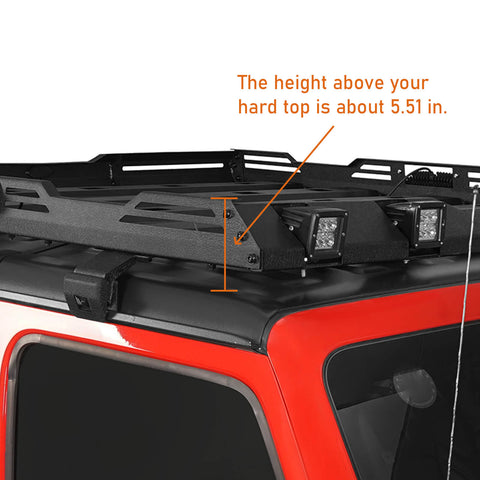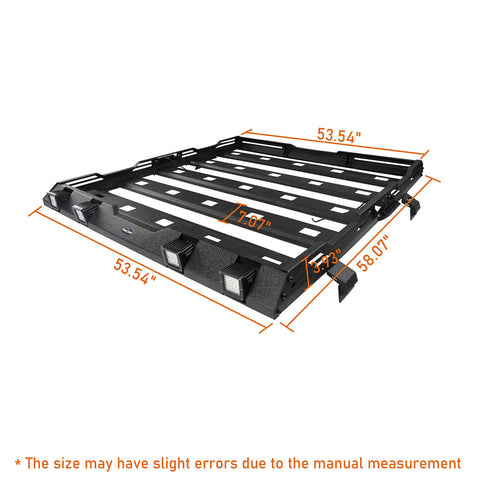 Increased Storage Space. Make more use of your Wrangler JL's off-roading capabilities by mounting Jeep Wrangler JL Hard Top Roof Rack. With this rack, you'll be able to increase your vehicle's storage space, allowing you to carry more equipment and gear during all your off-roading adventures. Features a low-profile design, making it the perfect upgrade for outdoor and overland adventure enthusiasts. What's more, this product utilizes skeleton-style roof rails, so securing your load with cords or ratchet straps will be a snap.

Heavy-Duty Construction. Each of the roof rack's components is made from high-quality steel. As a result, it has the strength to carry up to 150 pounds of extra cargo and stand up to the harshest off-road environments.

Easy, No-Drill Install. Assemble the structure of the luggage rack, and lift it to the roof to complete the installation. No drilling is needed. Just need some basic hand tools. You should expect it to take up to 1.5 hours to install this unit, based on your level of mechanical skills. Attempting to complete the operation in your garage and save you a pretty penny ranges from 100 to 500 dollars.

SEMA Membership. The Brand has been certified as a member of SEMA. We are studious and gradually grow up to be a professional aftermarket retailers.As a SEMA member, we make, buy, sell and use all kinds of specialty parts and accessories to make vehicles more attractive, more unique, more convenient, faster, safer, more fun, and even like-new again. Wish you have a terrific off-road experience with our products.