Name: Jeep Wrangler JKU Cargo Rack
Feature
Fits for 2015-2018 Jeep Wrangler JK 4-Door Hardtop, Models
Weight: About 70 lbs
Holds Up to 300 lbs of Cargo
Heavy-Duty 14-Gauge(5/64 in) Steel Construction
Textured Black Powder Coat Finish
Three-State Design and Works Effectively for Your Personal Need in Camping and Overland Adventure
The Cargo Rack Can Hinge in Three Positions. First, the Unit Can be a Level Position and Divides the Trunk into Two-Room for Luggage Assortment. Second, Turn the Front Plate Upside Down on the Rear Plate Which Makes it Easy to Place or Take Out Your Luggage. Third, Turn the Whole Cover Plate Upright and Release All the Room of the Trunk.
Includes Four Plastic Hand Knobs to Secure the Cargo Rack in Different Positions
Simple Bolt-on Installation w/Clear and Detailed Instruction. All Hardware is Included.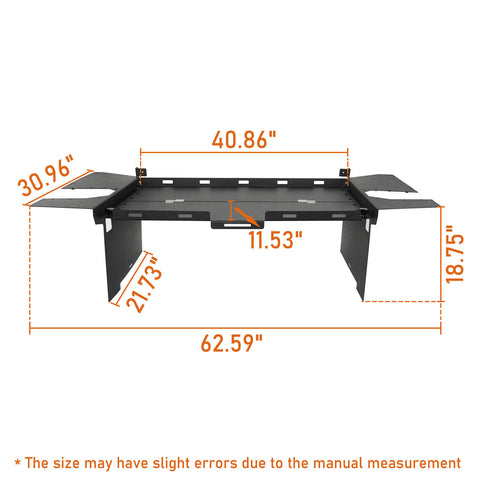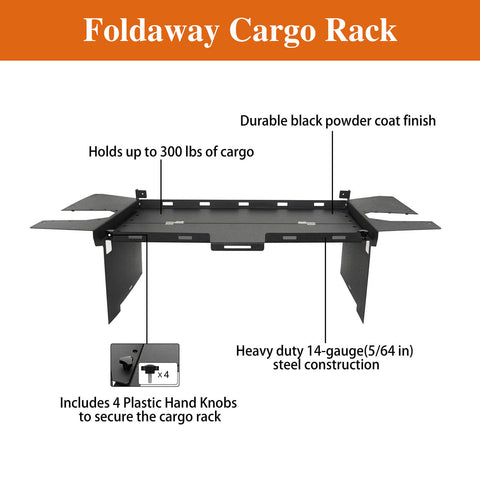 Carry More Gear. The Jeep JK Cargo Rack is built using high-quality steel making it extremely strong, yet lightweight. You can carry more gear - up to 300 lbs of more gear, which is the load it's been rated for. Ideal for 4-door Wranglers, this rack has been tested in extreme conditions to ensure it meets the most stringent requirements and delivers long-lasting performance.

Solid Construction. Designed for a bolt-on installation, this Foldaway Cargo Rack is CNC-cut, formed, and MIG/TIG-welded to perfectly fit on your Jeep JK.

E-Coating Process. E-coat systems can deliver a wide range of lacquer and paint finishes with a combination of state-of-the art performance and decorative effects. The product percent of pass reaches 100% after the salt spray test.

Bolt-on Installation. With the help of the supplied detailed instruction, the procedure is demonstrated step by step to help you finish the installation. Assemble the parts on the floor of the trunk and connect them with each other. All hardware is included. You should expect to take up to 1 hour to install this unit, based on your level of mechanical skills. Attempt to complete the operation in your garage and save you a pretty penny ranges from 100 to 500 dollars.
1 x Jeep Wrangler JK Interior Foldaway Cargo Rack
Mounting Hardware
2018 Jeep Wrangler (JK) Unlimited Rubicon (4-Door)
2018 Jeep Wrangler (JK) Unlimited Sahara (4-Door)
2018 Jeep Wrangler (JK) Unlimited Sport (4-Door)
2017 Jeep Wrangler (JK) Unlimited Rubicon (4-Door)
2017 Jeep Wrangler (JK) Unlimited Sahara (4-Door)
2017 Jeep Wrangler (JK) Unlimited Sport (4-Door)
2016 Jeep Wrangler (JK) Unlimited Rubicon (4-Door)
2016 Jeep Wrangler (JK) Unlimited Sahara (4-Door)
2016 Jeep Wrangler (JK) Unlimited Sport (4-Door)
2016 Jeep Wrangler (JK) Unlimited Sport S (4-Door)
2016 Jeep Wrangler (JK) Unlimited 75th Anniversary (4-Door)
2015 Jeep Wrangler (JK) Unlimited Rubicon (4-Door)
2015 Jeep Wrangler (JK) Unlimited Sahara (4-Door)
2015 Jeep Wrangler (JK) Unlimited Sport (4-Door)
Package Included
1 x Jeep Wrangler JK Interior Foldaway Cargo Rack
Mounting Hardware
Fitment
2018 Jeep Wrangler (JK) Unlimited Rubicon (4-Door)
2018 Jeep Wrangler (JK) Unlimited Sahara (4-Door)
2018 Jeep Wrangler (JK) Unlimited Sport (4-Door)
2017 Jeep Wrangler (JK) Unlimited Rubicon (4-Door)
2017 Jeep Wrangler (JK) Unlimited Sahara (4-Door)
2017 Jeep Wrangler (JK) Unlimited Sport (4-Door)
2016 Jeep Wrangler (JK) Unlimited Rubicon (4-Door)
2016 Jeep Wrangler (JK) Unlimited Sahara (4-Door)
2016 Jeep Wrangler (JK) Unlimited Sport (4-Door)
2016 Jeep Wrangler (JK) Unlimited Sport S (4-Door)
2016 Jeep Wrangler (JK) Unlimited 75th Anniversary (4-Door)
2015 Jeep Wrangler (JK) Unlimited Rubicon (4-Door)
2015 Jeep Wrangler (JK) Unlimited Sahara (4-Door)
2015 Jeep Wrangler (JK) Unlimited Sport (4-Door)