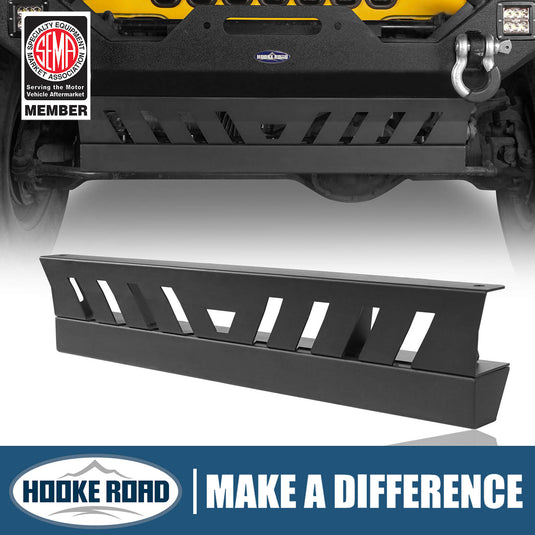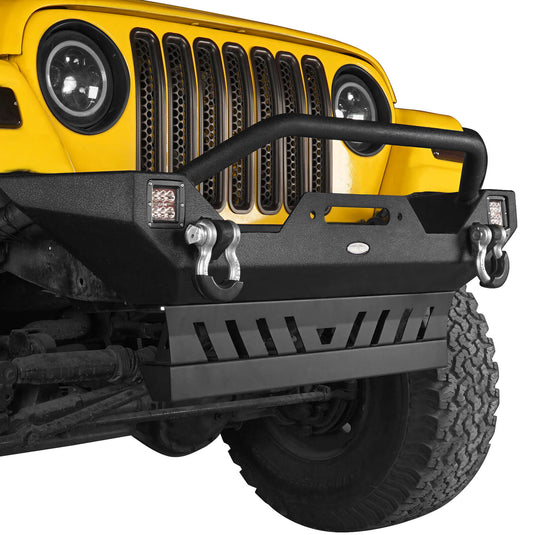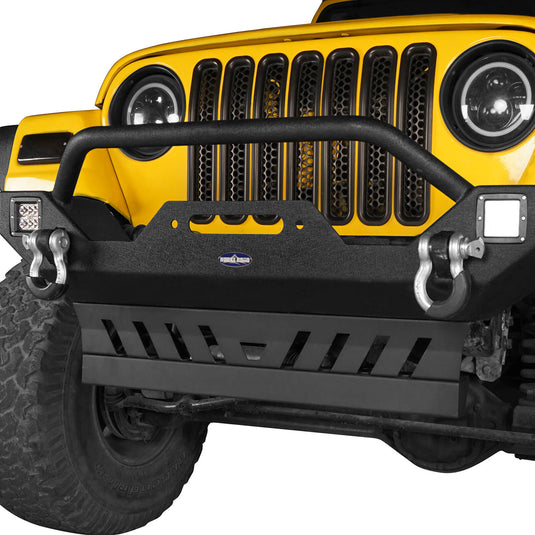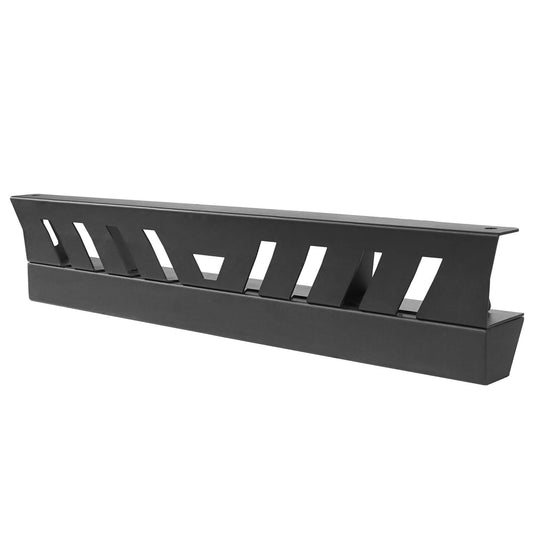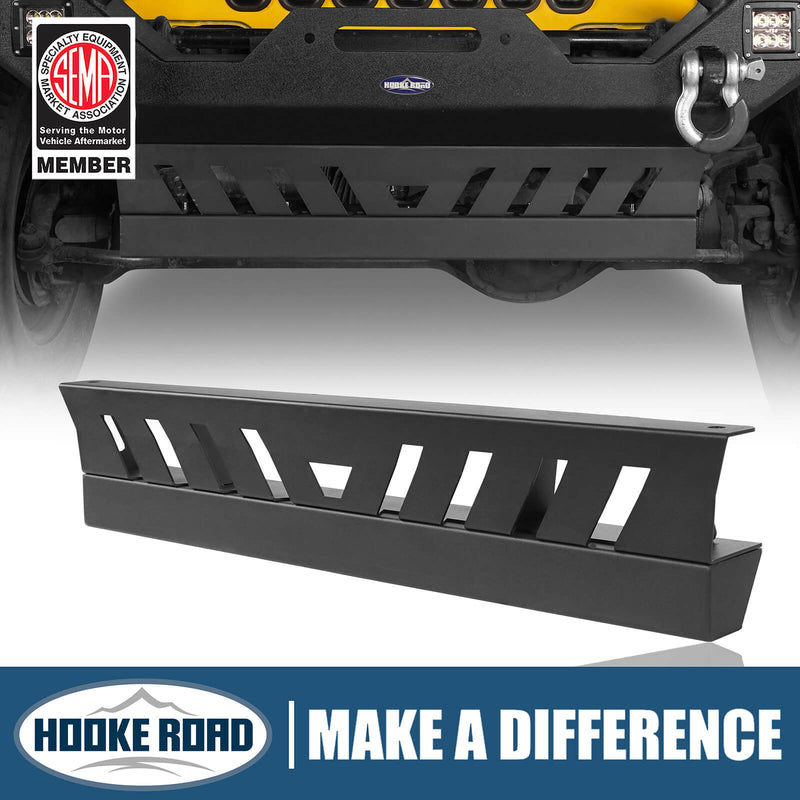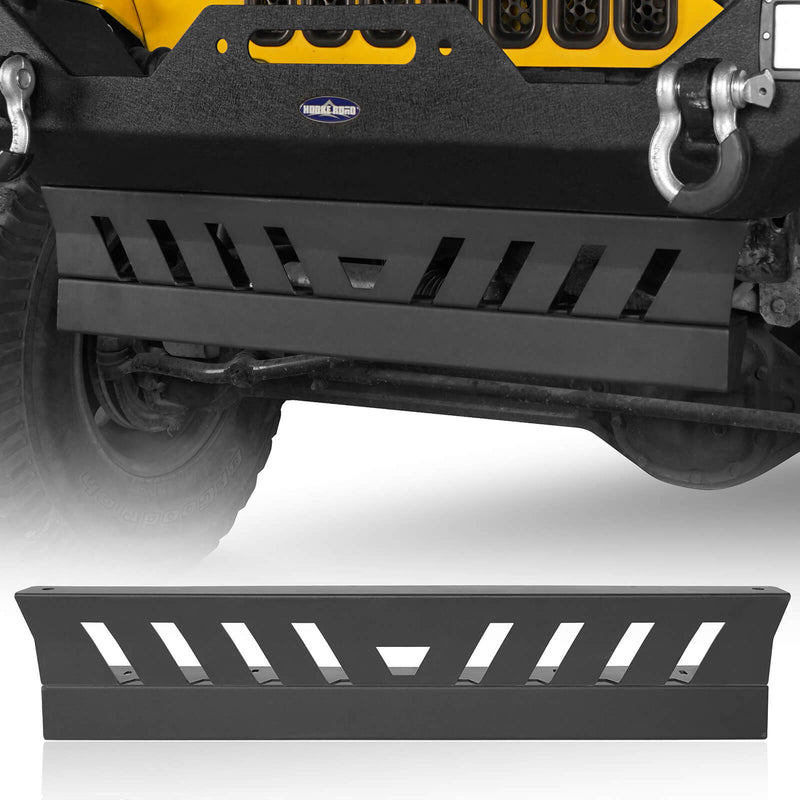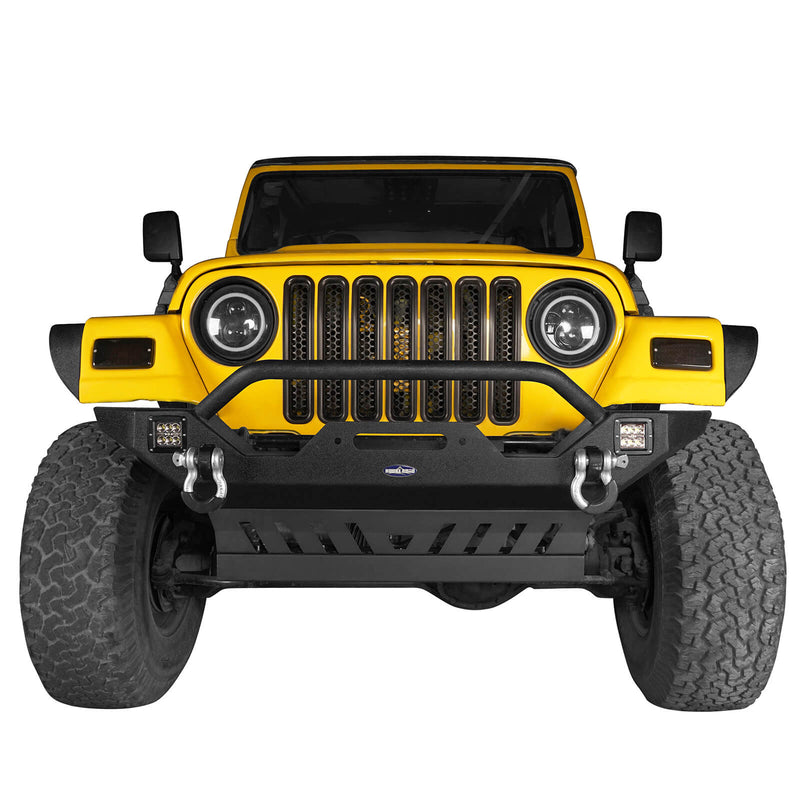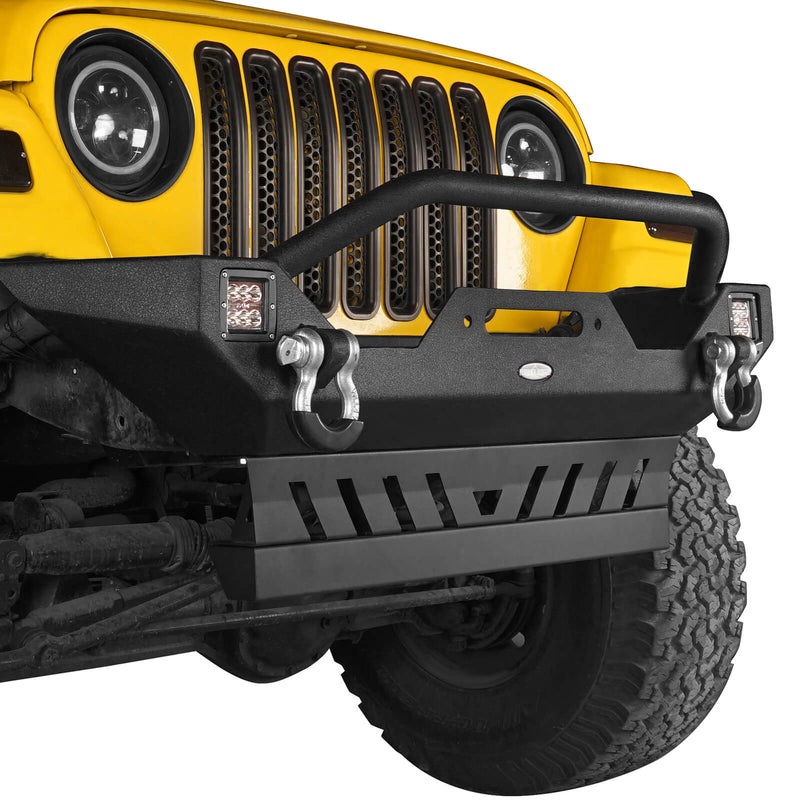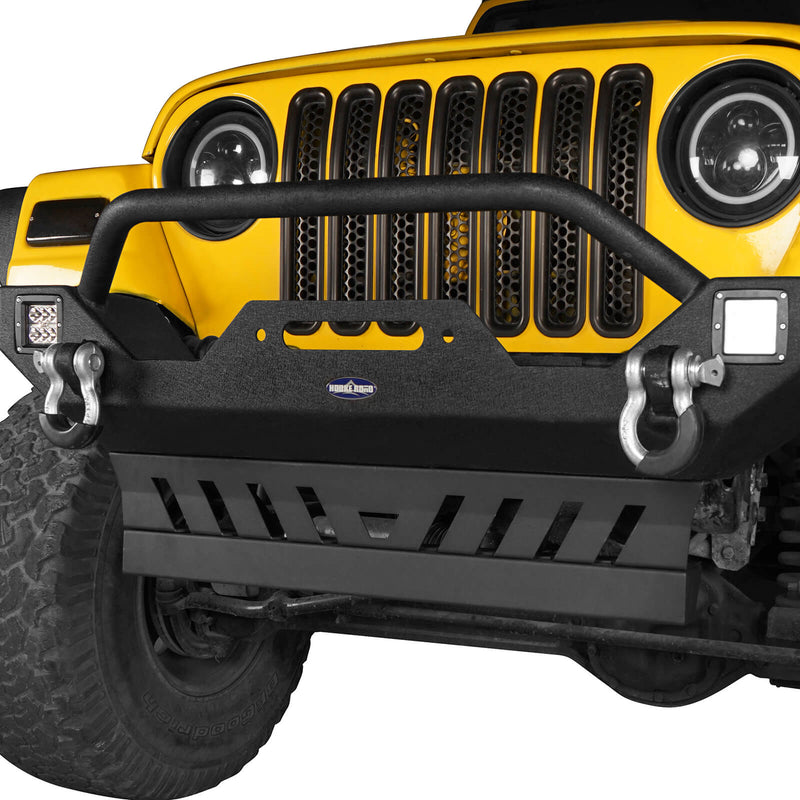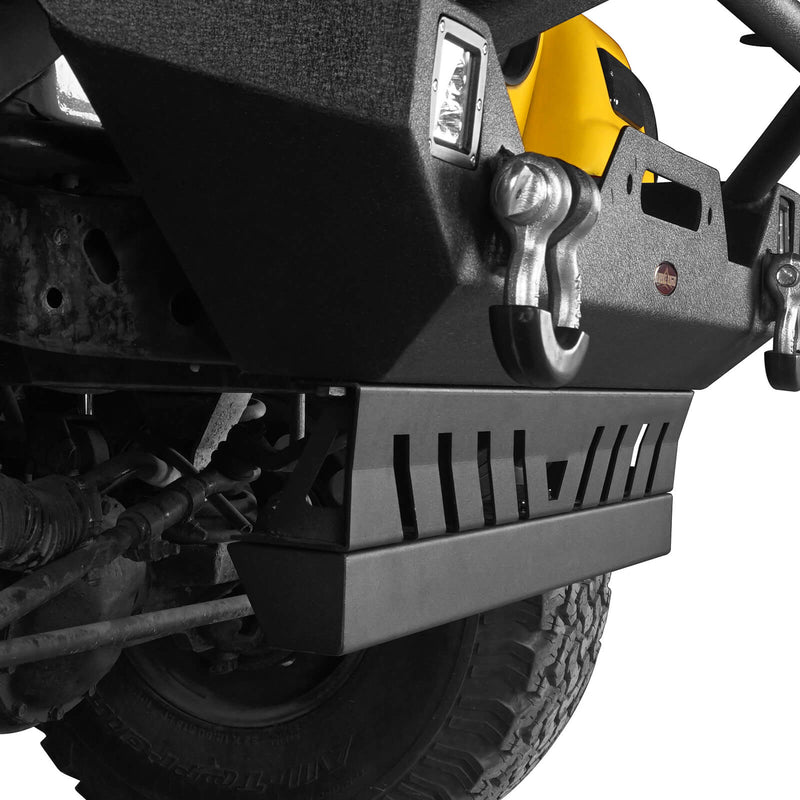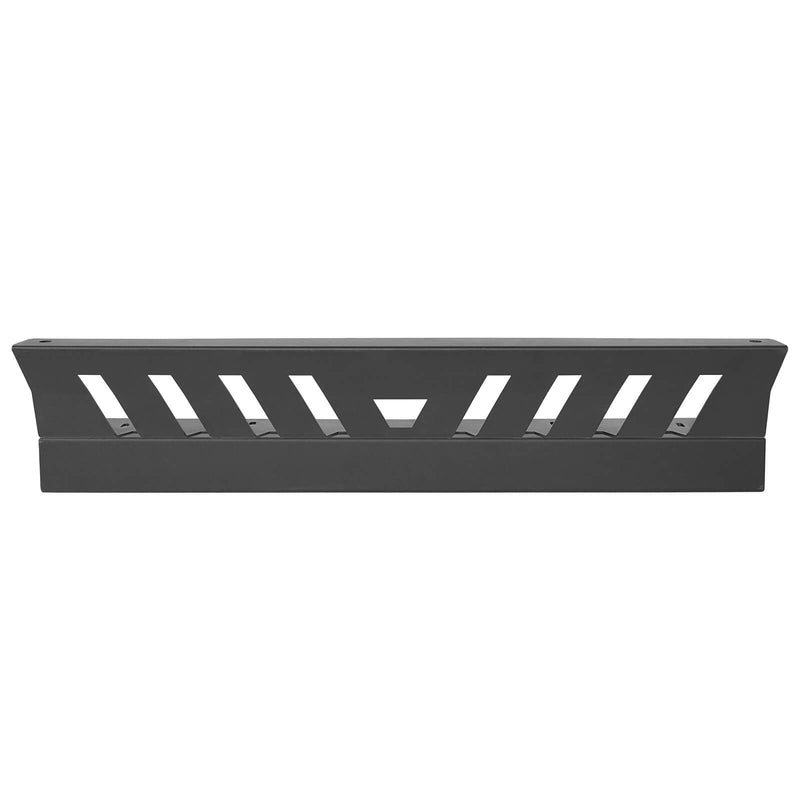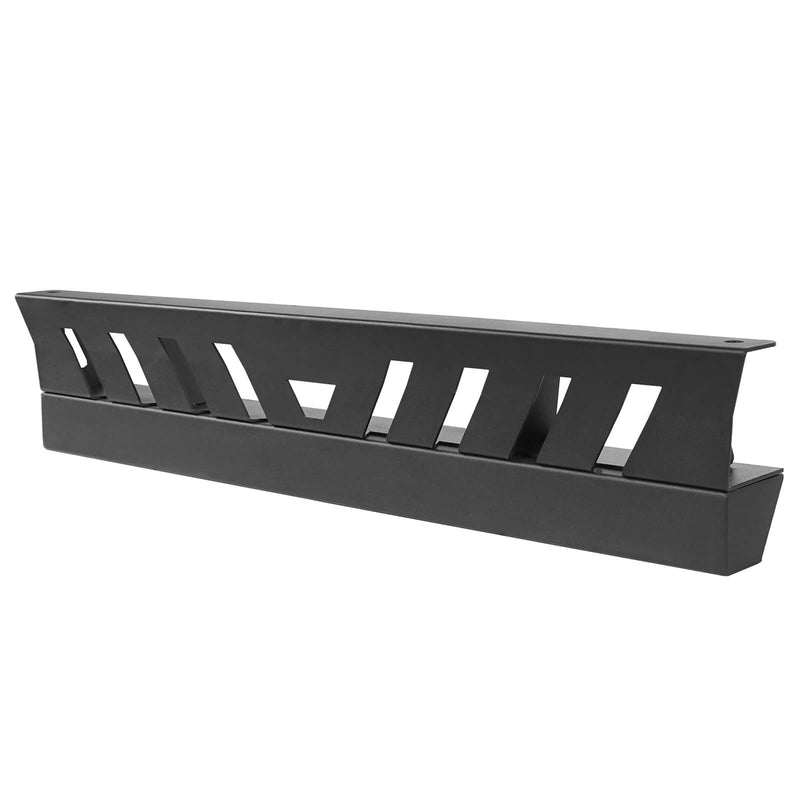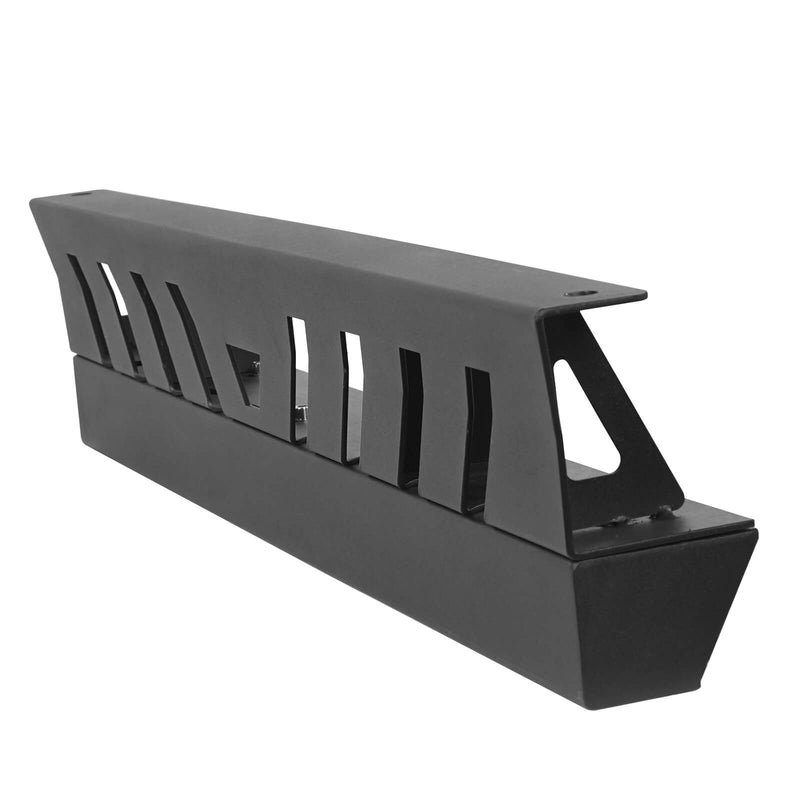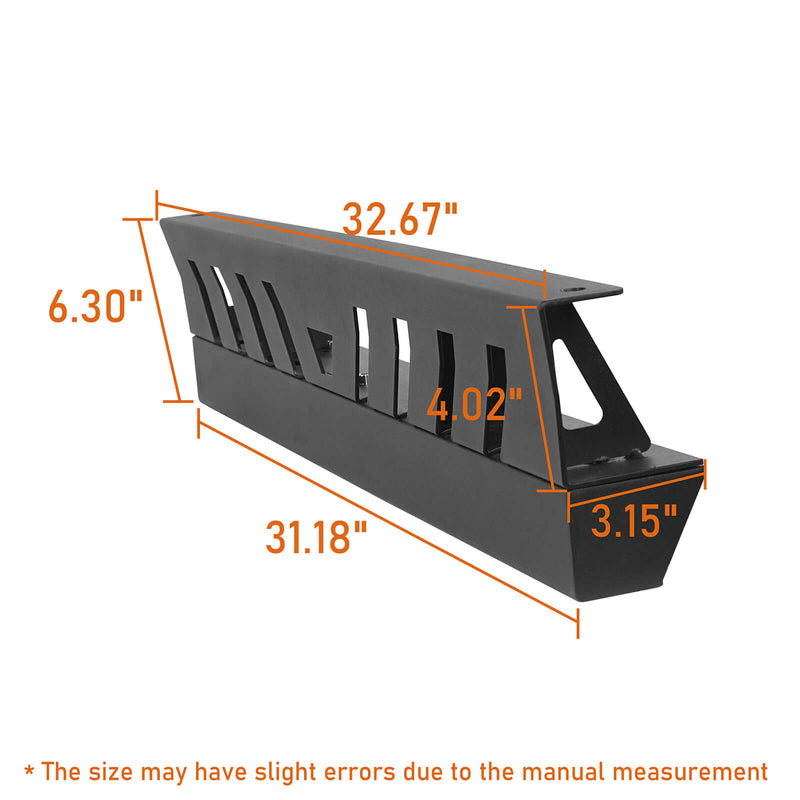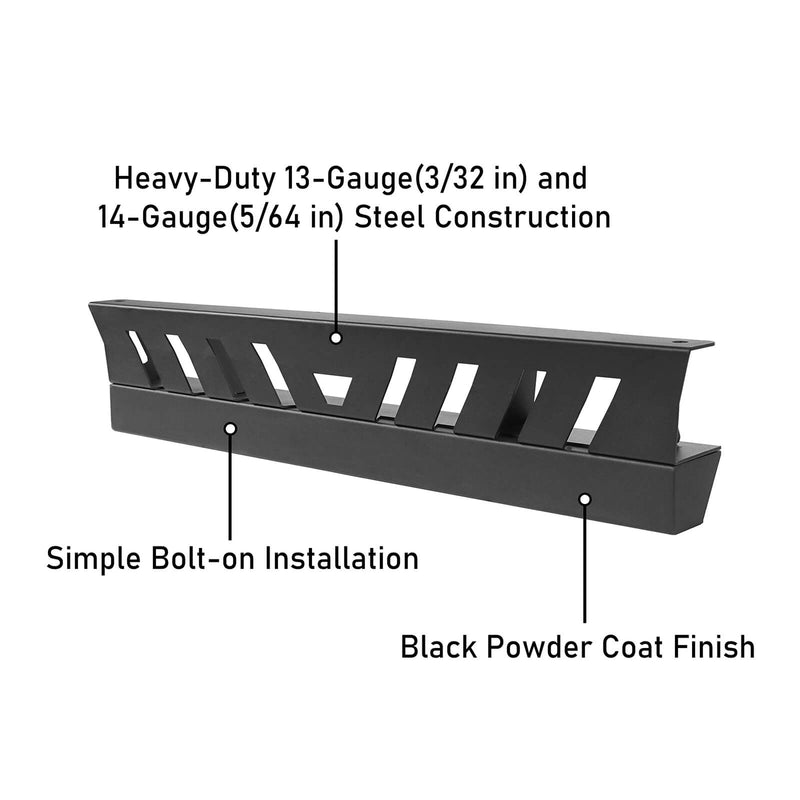 Name: Hooke Road Jeep TJ Front Skid Plate (97-06 Wrangler )
Notice:
 This product is designed to be used with our TJ series front bars:
TJ Square Light Front Bumper
;
TJ Blade Front Bumper
;
TJ Mad Max Front Bumper
. If you purchase this front bottom guard alone, we cannot guarantee that it will fit other brands of bumpers, and there may be other brands of front bars on the market that are also suitable (the necessary condition is that the bottom of the bumper is a flat structure where the bottom guard can be placed and the mounting holes are shared, with no obstruction to the mounting screws)
HIGHLIGHS
Fit Like a Glove: Fits for 1997-2006 Jeep Wrangler TJ Models 

Heavy duty 13-gauge(3/32 in) and 14-gauge(5/64 in) steel construction;Provides superior under-engine protection

Black powder coat finish

Direct bolt-on installation
DIMENSION
DETAILS
Product weight: about 12 lbs
For use with Hooke RoadⓇ  Front Bumper Only 
High Quality Construction. Cold formed into shape, this Hooke Road Skid Plate is manufactured from heavy duty 13-gauge(3/32 in) and 14-gauge(5/64 in) steel plating for strength. After trimming and final finishing Hooke Road then completes their Skid Plate in a high-grade black powder coating for durability and long lasting corrosion resistance.

Easy, Bolt-on Installation. The Hooke Road Front Skid Plate is engineered to be a direct bolt-on upgrade for the Hooke Road bumper using just basic hand tools, so there is no drilling or cutting required for a clean straightforward installation.
Front Skid Plate Assembly
Mounting Hardware Kit
Installation Instruction
2006 Jeep TJ Rubicon
2006 Jeep TJ SE
2006 Jeep TJ Sport
2006 Jeep TJ Unlimited Rubicon
2006 Jeep TJ Unlimited
2006 Jeep Wrangler 65th Anniversary Edition
2006 Jeep Wrangler Rubicon
2006 Jeep Wrangler SE
2006 Jeep Wrangler Sport
2006 Jeep Wrangler Unlimited Rubicon
2006 Jeep Wrangler Unlimited
2006 Jeep Wrangler X 65 Aniversario
2006 Jeep Wrangler X
2005 Jeep TJ Rubicon
2005 Jeep TJ SE
2005 Jeep TJ Sport
2005 Jeep TJ Unlimited Rubicon
2005 Jeep TJ Unlimited
2005 Jeep Wrangler Rubicon
2005 Jeep Wrangler SE
2005 Jeep Wrangler Sport
2005 Jeep Wrangler Unlimited Rubicon
2005 Jeep Wrangler Unlimited
2005 Jeep Wrangler X
2004 Jeep TJ Rubicon
2004 Jeep TJ SE
2004 Jeep TJ Sahara
2004 Jeep TJ Sport
2004 Jeep TJ Unlimited
2004 Jeep Wrangler Rubicon
2004 Jeep Wrangler SE
2004 Jeep Wrangler Sahara
2004 Jeep Wrangler Sport
2004 Jeep Wrangler Unlimited
2004 Jeep Wrangler X
2003 Jeep TJ Rubicon
2003 Jeep TJ SE
2003 Jeep TJ Sahara
2003 Jeep TJ Sport
2003 Jeep Wrangler Rubicon
2003 Jeep Wrangler SE
2003 Jeep Wrangler Sahara
2003 Jeep Wrangler Sport
2003 Jeep Wrangler X AT
2003 Jeep Wrangler X
2002 Jeep TJ SE
2002 Jeep TJ Sahara
2002 Jeep TJ Sport
2002 Jeep Wrangler SE
2002 Jeep Wrangler Sahara
2002 Jeep Wrangler Sport
2002 Jeep Wrangler X
2001 Jeep TJ SE
2001 Jeep TJ Sahara
2001 Jeep TJ Sport
2001 Jeep Wrangler 60 Aniversario
2001 Jeep Wrangler SE
2001 Jeep Wrangler Sahara
2001 Jeep Wrangler Sport
2000 Jeep TJ SE
2000 Jeep TJ Sahara
2000 Jeep TJ Sport
2000 Jeep Wrangler SE
2000 Jeep Wrangler Sahara
2000 Jeep Wrangler Sport
1999 Jeep TJ SE
1999 Jeep TJ Sahara
1999 Jeep TJ Sport
1999 Jeep Wrangler SE
1999 Jeep Wrangler Sahara
1999 Jeep Wrangler Sport
1998 Jeep TJ SE
1998 Jeep TJ Sahara
1998 Jeep TJ Sport
1998 Jeep Wrangler SE
1998 Jeep Wrangler Sahara
1998 Jeep Wrangler Sport
1997 Jeep TJ SE
1997 Jeep TJ Sahara
1997 Jeep TJ Sport
1997 Jeep Wrangler Base
1997 Jeep Wrangler SE
1997 Jeep Wrangler Sahara
1997 Jeep Wrangler Sport
Package Included
Front Skid Plate Assembly
Mounting Hardware Kit
Installation Instruction
Fitment
2006 Jeep TJ Rubicon
2006 Jeep TJ SE
2006 Jeep TJ Sport
2006 Jeep TJ Unlimited Rubicon
2006 Jeep TJ Unlimited
2006 Jeep Wrangler 65th Anniversary Edition
2006 Jeep Wrangler Rubicon
2006 Jeep Wrangler SE
2006 Jeep Wrangler Sport
2006 Jeep Wrangler Unlimited Rubicon
2006 Jeep Wrangler Unlimited
2006 Jeep Wrangler X 65 Aniversario
2006 Jeep Wrangler X
2005 Jeep TJ Rubicon
2005 Jeep TJ SE
2005 Jeep TJ Sport
2005 Jeep TJ Unlimited Rubicon
2005 Jeep TJ Unlimited
2005 Jeep Wrangler Rubicon
2005 Jeep Wrangler SE
2005 Jeep Wrangler Sport
2005 Jeep Wrangler Unlimited Rubicon
2005 Jeep Wrangler Unlimited
2005 Jeep Wrangler X
2004 Jeep TJ Rubicon
2004 Jeep TJ SE
2004 Jeep TJ Sahara
2004 Jeep TJ Sport
2004 Jeep TJ Unlimited
2004 Jeep Wrangler Rubicon
2004 Jeep Wrangler SE
2004 Jeep Wrangler Sahara
2004 Jeep Wrangler Sport
2004 Jeep Wrangler Unlimited
2004 Jeep Wrangler X
2003 Jeep TJ Rubicon
2003 Jeep TJ SE
2003 Jeep TJ Sahara
2003 Jeep TJ Sport
2003 Jeep Wrangler Rubicon
2003 Jeep Wrangler SE
2003 Jeep Wrangler Sahara
2003 Jeep Wrangler Sport
2003 Jeep Wrangler X AT
2003 Jeep Wrangler X
2002 Jeep TJ SE
2002 Jeep TJ Sahara
2002 Jeep TJ Sport
2002 Jeep Wrangler SE
2002 Jeep Wrangler Sahara
2002 Jeep Wrangler Sport
2002 Jeep Wrangler X
2001 Jeep TJ SE
2001 Jeep TJ Sahara
2001 Jeep TJ Sport
2001 Jeep Wrangler 60 Aniversario
2001 Jeep Wrangler SE
2001 Jeep Wrangler Sahara
2001 Jeep Wrangler Sport
2000 Jeep TJ SE
2000 Jeep TJ Sahara
2000 Jeep TJ Sport
2000 Jeep Wrangler SE
2000 Jeep Wrangler Sahara
2000 Jeep Wrangler Sport
1999 Jeep TJ SE
1999 Jeep TJ Sahara
1999 Jeep TJ Sport
1999 Jeep Wrangler SE
1999 Jeep Wrangler Sahara
1999 Jeep Wrangler Sport
1998 Jeep TJ SE
1998 Jeep TJ Sahara
1998 Jeep TJ Sport
1998 Jeep Wrangler SE
1998 Jeep Wrangler Sahara
1998 Jeep Wrangler Sport
1997 Jeep TJ SE
1997 Jeep TJ Sahara
1997 Jeep TJ Sport
1997 Jeep Wrangler Base
1997 Jeep Wrangler SE
1997 Jeep Wrangler Sahara
1997 Jeep Wrangler Sport