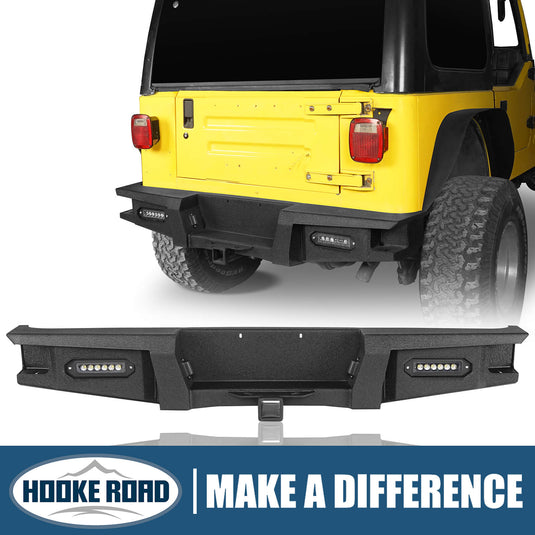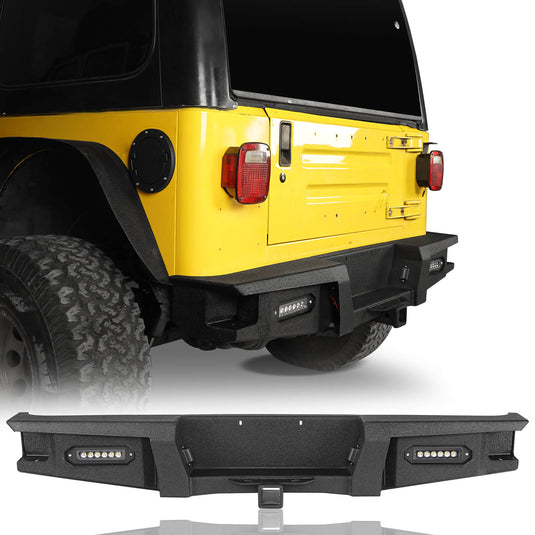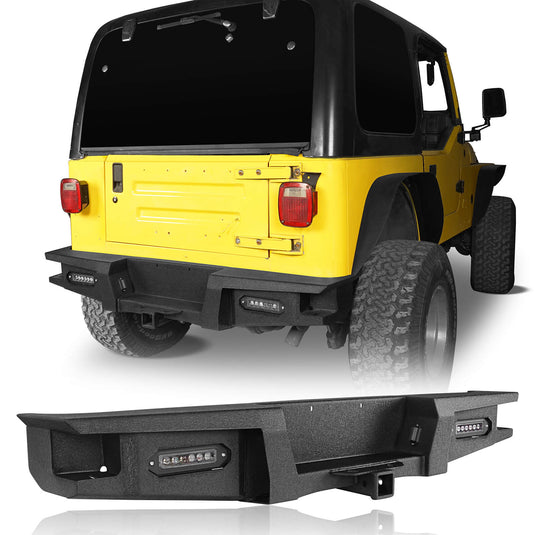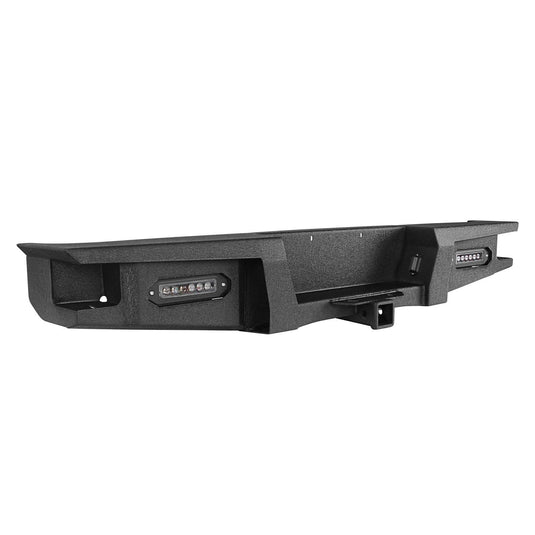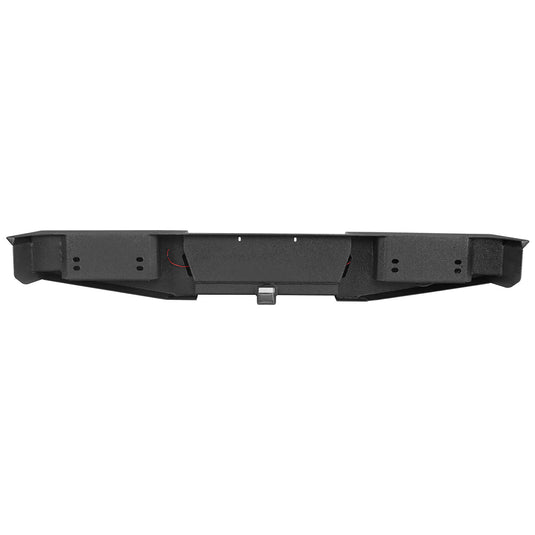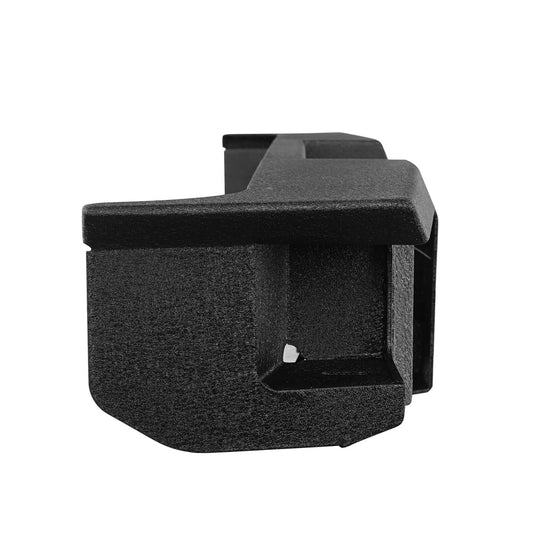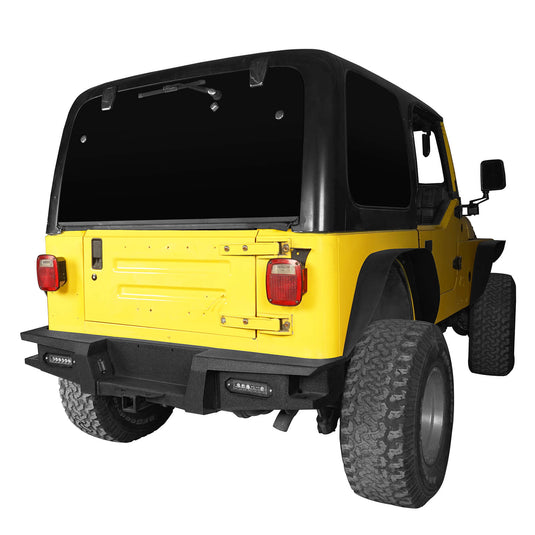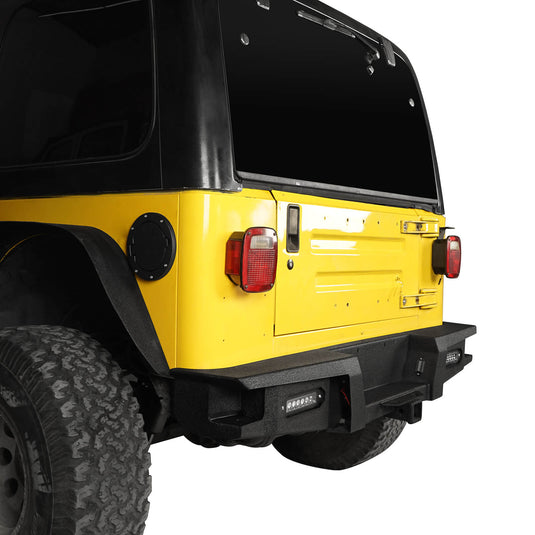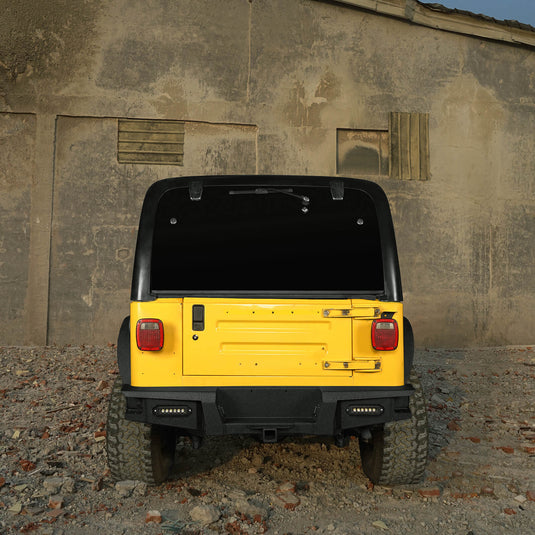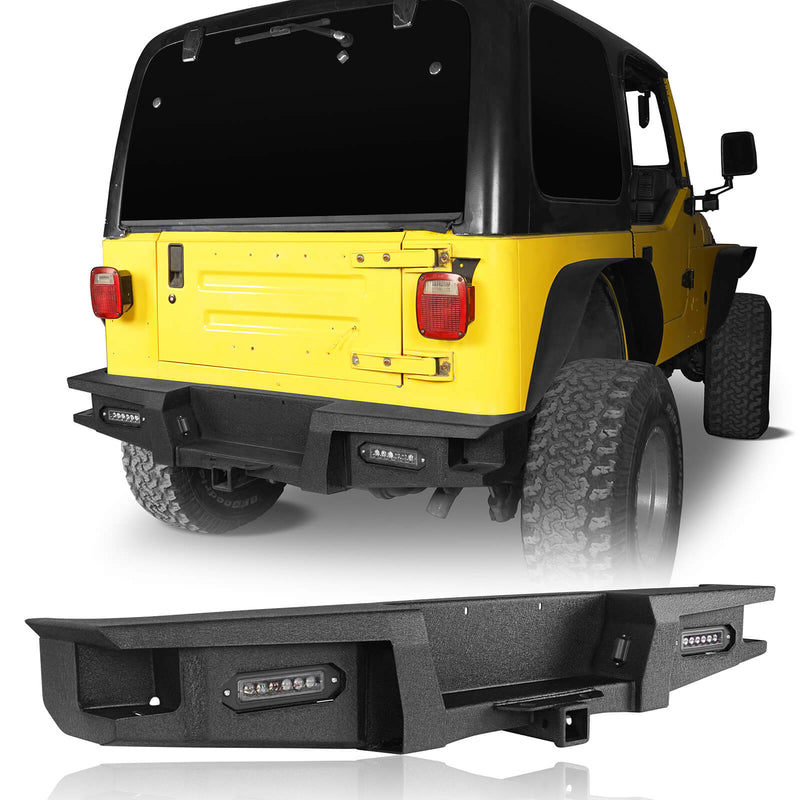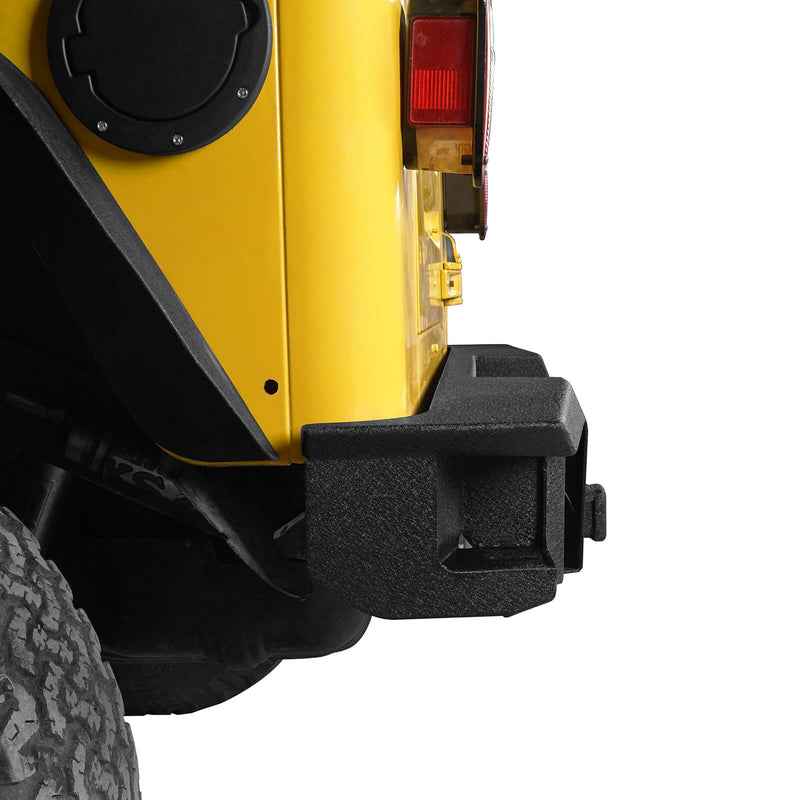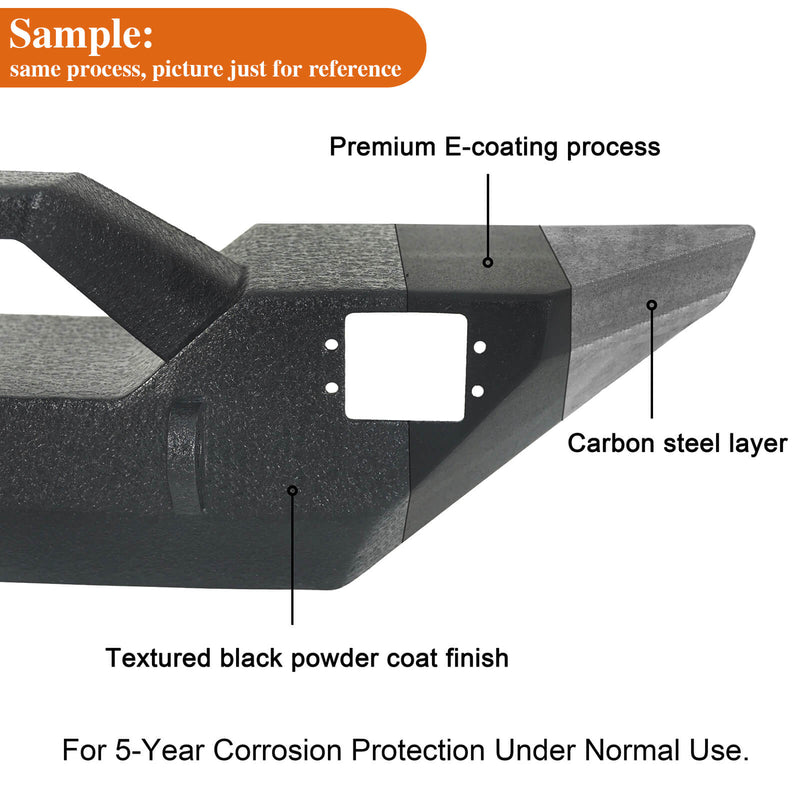 Name:Hooke Road Rear Bumper
Feature:

Fits for 1997-2006 Jeep Wrangler TJ Models
Bumper Weight: About 60 lbs.
Heavy-Duty, High Tensile 10-Gauge(9/64 Inch) Steel for the Bumper Main Body, 7-Gauge(3/16 Inch) for the Mounting Structure Plate
Rugged Styling and Adds Excellent Rear End Protection
Built-in 2" Standard Class Ⅲ Hitch Receiver
2x 18W LED Flush Mount Spotlights Included
Accommodates Up to 29" Spare Tires. Please Confirm the Size of Your Spare Tire Before Purchase.
Equipped With 2 License Plate Lights
Direct Bolt-on Installation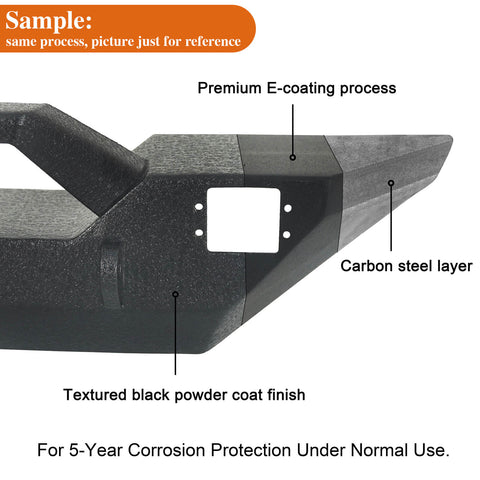 Quality Rear Bumper. Traverse any off-road environment with greater peace of mind with the help of Hooke Road Reaper Rear Bumper. Installing this aftermarket product not only strengthens your Wrangler TJ's rear but also increases its utility since it is equipped with a 2" standard hitch receiver. Additionally, this rear bumper has LED flush mount backup lights, ensuring that you'll always be ready whenever you go on an off-road adventure.

Heavy Duty Construction. Hooke Road manufactures their Reaper Rear Bumper to precise specifications from 10-gauge(9/64 Inch) and 7-gauge(3/16 Inch) mild steel plating for superior strength and rigidity. Hooke Road then completes the entire bumper in a textured black finish and heavy-duty, powder coated steel design for added durability and corrosion resistance.

E-Coating Process. E-coat systems can deliver a wide range of lacquer and paint finishes with a combination of state-of-the-art performance and decorative effects. The product percent of pass reaches 100% after the salt spray test.

A Straightforward Install. You won't have any trouble installing this product because there won't be any drilling or cutting involved. In addition, all of the rear bumper's necessary mounting hardware is included in the kit, so you can finish the installation in just 1 hour.

SEMA Membership. The Hooke Road Brand has been certified as a member of SEMA. We are studious and gradually grow up to be a professional aftermarket retailer. As a SEMA member, we make, buy, sell and use all kinds of specialty parts and accessories to make vehicles more attractive, more unique, more convenient, faster, safer, more fun, and even like-new again. Wish you have a terrific off-road experience with our products.
1 x Rear Bumper
2x 18W LED Flush Mount Spotlights
Mounting Hardware Kit
2006 Jeep TJ Rubicon
2006 Jeep TJ SE
2006 Jeep TJ Sport
2006 Jeep TJ Unlimited Rubicon
2006 Jeep TJ Unlimited
2006 Jeep Wrangler 65th Anniversary Edition
2006 Jeep Wrangler Rubicon
2006 Jeep Wrangler SE
2006 Jeep Wrangler Sport
2006 Jeep Wrangler Unlimited Rubicon
2006 Jeep Wrangler Unlimited
2006 Jeep Wrangler X 65 Aniversario
2006 Jeep Wrangler X
2005 Jeep TJ Rubicon
2005 Jeep TJ SE
2005 Jeep TJ Sport
2005 Jeep TJ Unlimited Rubicon
2005 Jeep TJ Unlimited
2005 Jeep Wrangler Rubicon
2005 Jeep Wrangler SE
2005 Jeep Wrangler Sport
2005 Jeep Wrangler Unlimited Rubicon
2005 Jeep Wrangler Unlimited
2005 Jeep Wrangler X
2004 Jeep TJ Rubicon
2004 Jeep TJ SE
2004 Jeep TJ Sahara
2004 Jeep TJ Sport
2004 Jeep TJ Unlimited
2004 Jeep Wrangler Rubicon
2004 Jeep Wrangler SE
2004 Jeep Wrangler Sahara
2004 Jeep Wrangler Sport
2004 Jeep Wrangler Unlimited
2004 Jeep Wrangler X
2003 Jeep TJ Rubicon
2003 Jeep TJ SE
2003 Jeep TJ Sahara
2003 Jeep TJ Sport
2003 Jeep Wrangler Rubicon
2003 Jeep Wrangler SE
2003 Jeep Wrangler Sahara
2003 Jeep Wrangler Sport
2003 Jeep Wrangler X AT
2003 Jeep Wrangler X
2002 Jeep TJ SE
2002 Jeep TJ Sahara
2002 Jeep TJ Sport
2002 Jeep Wrangler SE
2002 Jeep Wrangler Sahara
2002 Jeep Wrangler Sport
2002 Jeep Wrangler X
2001 Jeep TJ SE
2001 Jeep TJ Sahara
2001 Jeep TJ Sport
2001 Jeep Wrangler 60 Aniversario
2001 Jeep Wrangler SE
2001 Jeep Wrangler Sahara
2001 Jeep Wrangler Sport
2000 Jeep TJ SE
2000 Jeep TJ Sahara
2000 Jeep TJ Sport
2000 Jeep Wrangler SE
2000 Jeep Wrangler Sahara
2000 Jeep Wrangler Sport
1999 Jeep TJ SE
1999 Jeep TJ Sahara
1999 Jeep TJ Sport
1999 Jeep Wrangler SE
1999 Jeep Wrangler Sahara
1999 Jeep Wrangler Sport
1998 Jeep TJ SE
1998 Jeep TJ Sahara
1998 Jeep TJ Sport
1998 Jeep Wrangler SE
1998 Jeep Wrangler Sahara
1998 Jeep Wrangler Sport
1997 Jeep TJ SE
1997 Jeep TJ Sahara
1997 Jeep TJ Sport
1997 Jeep Wrangler Base
1997 Jeep Wrangler SE
1997 Jeep Wrangler Sahara
1997 Jeep Wrangler Sport
Package Included
1 x Rear Bumper
2x 18W LED Flush Mount Spotlights
Mounting Hardware Kit
Fitment
2006 Jeep TJ Rubicon
2006 Jeep TJ SE
2006 Jeep TJ Sport
2006 Jeep TJ Unlimited Rubicon
2006 Jeep TJ Unlimited
2006 Jeep Wrangler 65th Anniversary Edition
2006 Jeep Wrangler Rubicon
2006 Jeep Wrangler SE
2006 Jeep Wrangler Sport
2006 Jeep Wrangler Unlimited Rubicon
2006 Jeep Wrangler Unlimited
2006 Jeep Wrangler X 65 Aniversario
2006 Jeep Wrangler X
2005 Jeep TJ Rubicon
2005 Jeep TJ SE
2005 Jeep TJ Sport
2005 Jeep TJ Unlimited Rubicon
2005 Jeep TJ Unlimited
2005 Jeep Wrangler Rubicon
2005 Jeep Wrangler SE
2005 Jeep Wrangler Sport
2005 Jeep Wrangler Unlimited Rubicon
2005 Jeep Wrangler Unlimited
2005 Jeep Wrangler X
2004 Jeep TJ Rubicon
2004 Jeep TJ SE
2004 Jeep TJ Sahara
2004 Jeep TJ Sport
2004 Jeep TJ Unlimited
2004 Jeep Wrangler Rubicon
2004 Jeep Wrangler SE
2004 Jeep Wrangler Sahara
2004 Jeep Wrangler Sport
2004 Jeep Wrangler Unlimited
2004 Jeep Wrangler X
2003 Jeep TJ Rubicon
2003 Jeep TJ SE
2003 Jeep TJ Sahara
2003 Jeep TJ Sport
2003 Jeep Wrangler Rubicon
2003 Jeep Wrangler SE
2003 Jeep Wrangler Sahara
2003 Jeep Wrangler Sport
2003 Jeep Wrangler X AT
2003 Jeep Wrangler X
2002 Jeep TJ SE
2002 Jeep TJ Sahara
2002 Jeep TJ Sport
2002 Jeep Wrangler SE
2002 Jeep Wrangler Sahara
2002 Jeep Wrangler Sport
2002 Jeep Wrangler X
2001 Jeep TJ SE
2001 Jeep TJ Sahara
2001 Jeep TJ Sport
2001 Jeep Wrangler 60 Aniversario
2001 Jeep Wrangler SE
2001 Jeep Wrangler Sahara
2001 Jeep Wrangler Sport
2000 Jeep TJ SE
2000 Jeep TJ Sahara
2000 Jeep TJ Sport
2000 Jeep Wrangler SE
2000 Jeep Wrangler Sahara
2000 Jeep Wrangler Sport
1999 Jeep TJ SE
1999 Jeep TJ Sahara
1999 Jeep TJ Sport
1999 Jeep Wrangler SE
1999 Jeep Wrangler Sahara
1999 Jeep Wrangler Sport
1998 Jeep TJ SE
1998 Jeep TJ Sahara
1998 Jeep TJ Sport
1998 Jeep Wrangler SE
1998 Jeep Wrangler Sahara
1998 Jeep Wrangler Sport
1997 Jeep TJ SE
1997 Jeep TJ Sahara
1997 Jeep TJ Sport
1997 Jeep Wrangler Base
1997 Jeep Wrangler SE
1997 Jeep Wrangler Sahara
1997 Jeep Wrangler Sport