Name: Roof Rack Luggage Cargo Carrier & 12.9-inch High Bed Rack
2007-2013 Tundra Crewmax 

Roof Rack

Fits 2007-2013 Toyota Tundra Crewmax models
Roof Rack Weight: About 72 lbs; High Tensile Maximum 11 Gauge(1/8 Inch) & Maximum 16 Gauge (1/16 Inch) Steel Construction;Carrying Capacity(Evenly Distributed) of up to 330 Pounds; Outer Dimension: About 61.1-Inch Length, 51.9-Inch Width, and 6.1-Inch High; Right for Your Vehicle and Lifestyle. Provides Extra Exterior Cargo Space; Aerodynamic Style Complements the Truck Exterior; Textured Black Powder Coat Finish
Drilling Needed, Moderate Bolt-on Installation Requires Some Drilling(Tools Required: Drill w/ 9.2-9.5mm Drill Bit & Riveting Nut Gun w/ Metric M6 Rivet Nut)
12.9-inch High Bed Rack

Fits 2007-2013 Toyota Tundra Models
Product weight: About 87 lbs; Available for 5.5' and 6.5' Beds; The rack is 12.9¡å tall from bed rail to top of rack;Rated capacity (Evenly Distributed): 400 Lbs Dynamic, 800 Lbs Static; Heavy-duty, high tensile 14-gauge(5/64 Inch) steel for the structure plate, 10-gauge(9/64 Inch) for the mounting bracket;Textured black powder coat finish; Fully bolt-on installation shipped disassembled, easy to put together; Equipped w/mounting accessory for placing a Spare Tire on the middle of the rack; Mount anything from lights, Hi-lift, fire extinguisher, quick-fist, roto-pax, rooftop tent, bike mounts, etc; Not compatible for Trucks with a Tonneau Cover
Easy bolt-on installation
The Dimension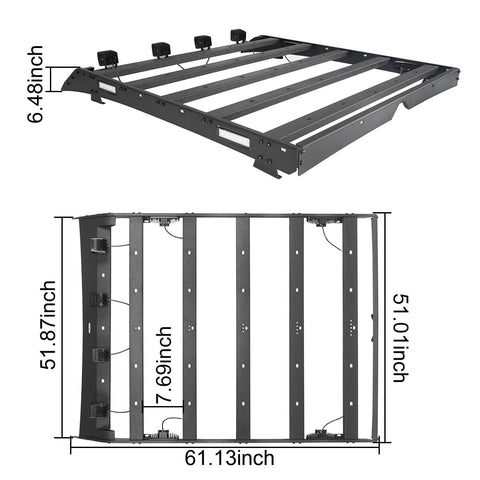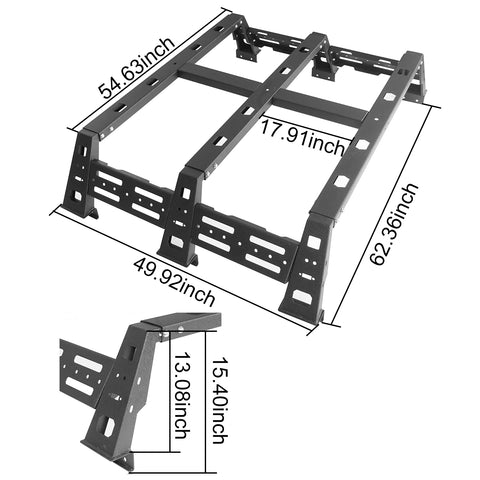 Roof Rack Package Included
1 x Tundra Roof Rack(4 x Square LED Spotlights Not Included)
4 x Single Row LED Floodlights
Mounting Hardware
Bed Rack Package Included

1 x Toyota Tundra High Bed Rack
Mounting Brackets & Hardware
2013 Toyota Tundra Limited Crew Cab Pickup 4-Door
2013 Toyota Tundra SR5 Crew Cab Pickup 4-Door
2012 Toyota Tundra Limited Crew Cab Pickup 4-Door
2012 Toyota Tundra SR5 Crew Cab Pickup 4-Door
2011 Toyota Tundra Limited Crew Cab Pickup 4-Door
2011 Toyota Tundra SR5 Crew Cab Pickup 4-Door
2010 Toyota Tundra Limited Crew Cab Pickup 4-Door
2010 Toyota Tundra SR5 Crew Cab Pickup 4-Door
2009 Toyota Tundra Limited Crew Cab Pickup 4-Door
2009 Toyota Tundra SR5 Crew Cab Pickup 4-Door
2008 Toyota Tundra Limited Crew Cab Pickup 4-Door
2008 Toyota Tundra SR5 Crew Cab Pickup 4-Door
2007 Toyota Tundra Limited Crew Cab Pickup 4-Door
2007 Toyota Tundra SR5 Crew Cab Pickup 4-Door
Package Included
Roof Rack Package Included
1 x Tundra Roof Rack(4 x Square LED Spotlights Not Included)
4 x Single Row LED Floodlights
Mounting Hardware
Bed Rack Package Included

1 x Toyota Tundra High Bed Rack
Mounting Brackets & Hardware
Fitment
2013 Toyota Tundra Limited Crew Cab Pickup 4-Door
2013 Toyota Tundra SR5 Crew Cab Pickup 4-Door
2012 Toyota Tundra Limited Crew Cab Pickup 4-Door
2012 Toyota Tundra SR5 Crew Cab Pickup 4-Door
2011 Toyota Tundra Limited Crew Cab Pickup 4-Door
2011 Toyota Tundra SR5 Crew Cab Pickup 4-Door
2010 Toyota Tundra Limited Crew Cab Pickup 4-Door
2010 Toyota Tundra SR5 Crew Cab Pickup 4-Door
2009 Toyota Tundra Limited Crew Cab Pickup 4-Door
2009 Toyota Tundra SR5 Crew Cab Pickup 4-Door
2008 Toyota Tundra Limited Crew Cab Pickup 4-Door
2008 Toyota Tundra SR5 Crew Cab Pickup 4-Door
2007 Toyota Tundra Limited Crew Cab Pickup 4-Door
2007 Toyota Tundra SR5 Crew Cab Pickup 4-Door
2012 tundra roof/bedrack!
ABSOLUTELY!!! Love the product! I got the Toyota Tundra roof/bed rack !
Product is very nicely packed and was very easy too install!
Would recommend extra hands !
Everything went smoothly though! !!
And the lights are supper bright , worth the money !!
Thank you for your affirmation, we will do better with your support!
Have a nice day!