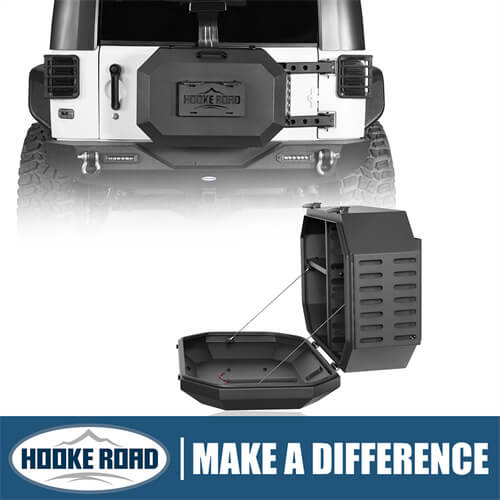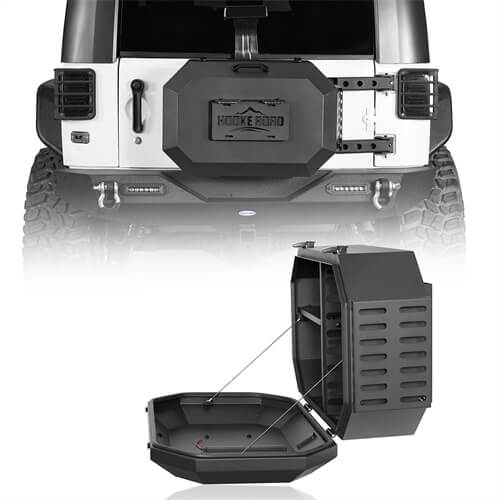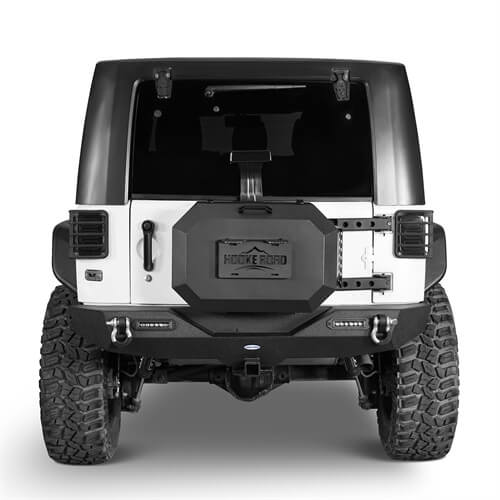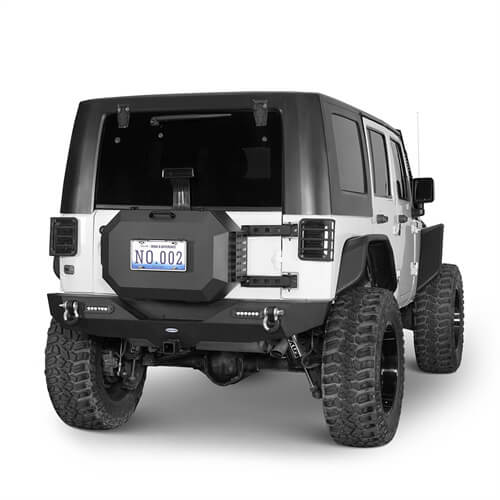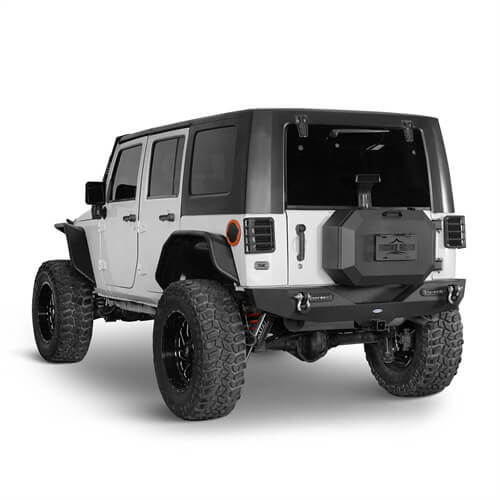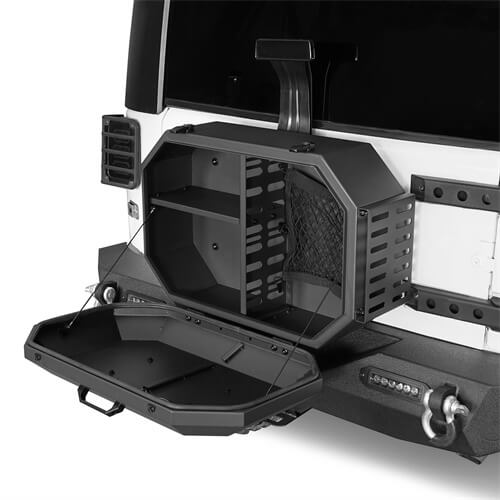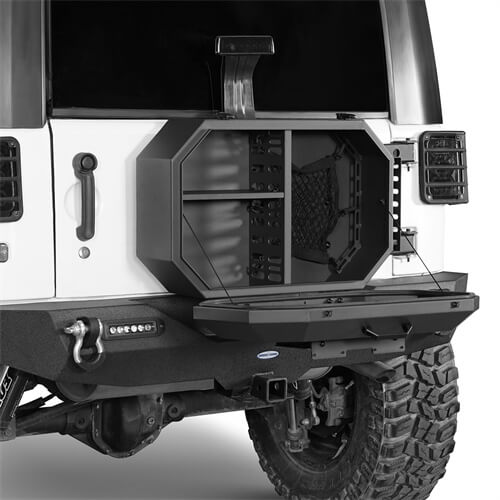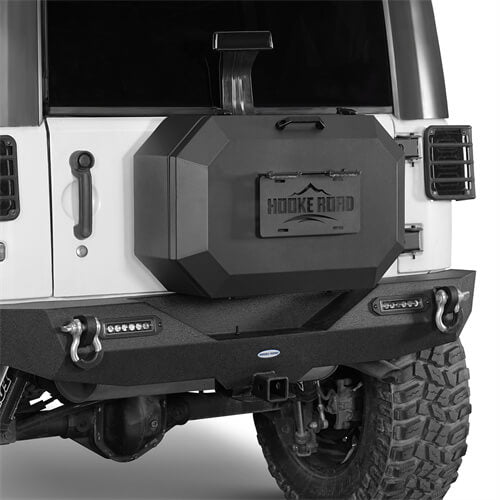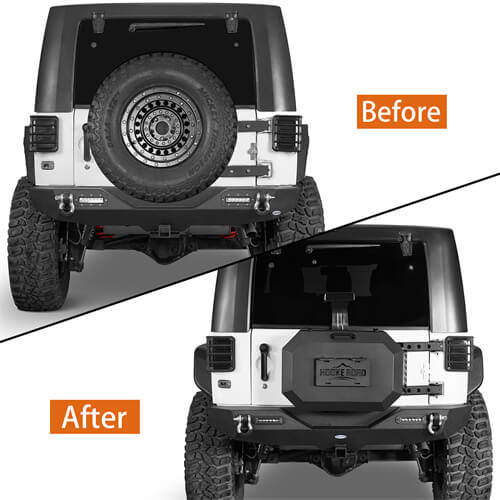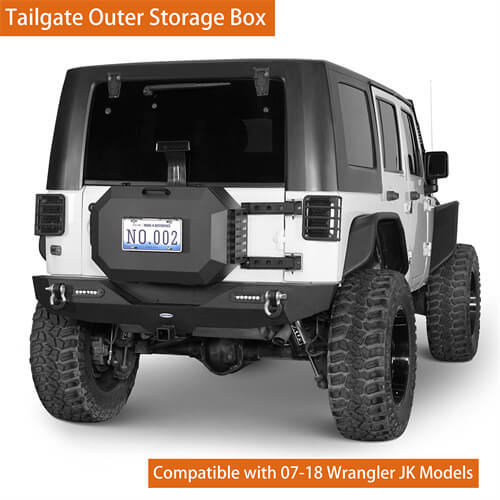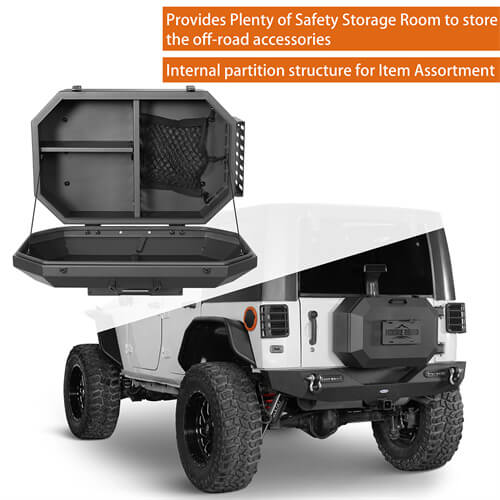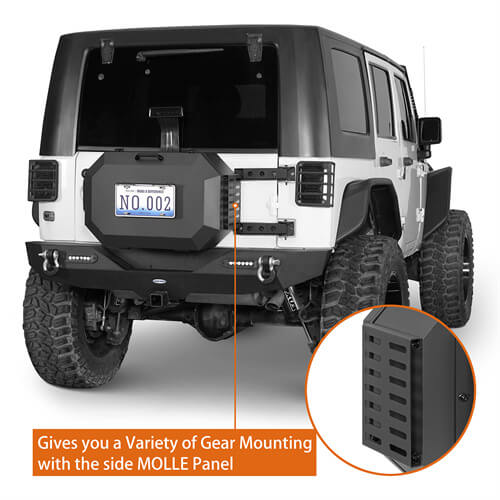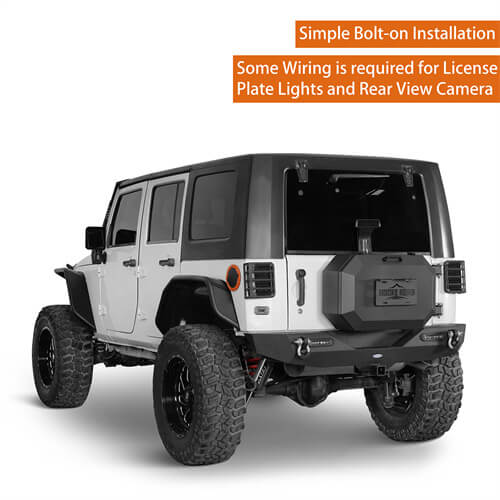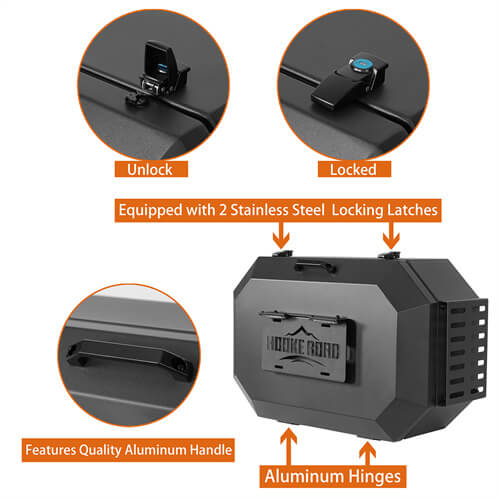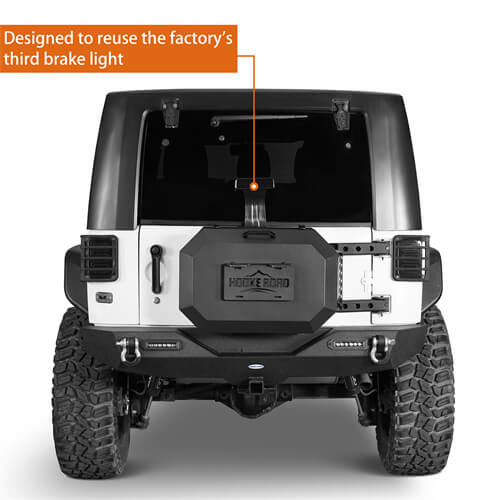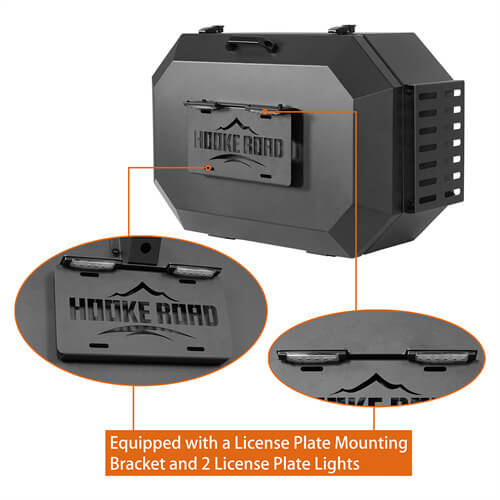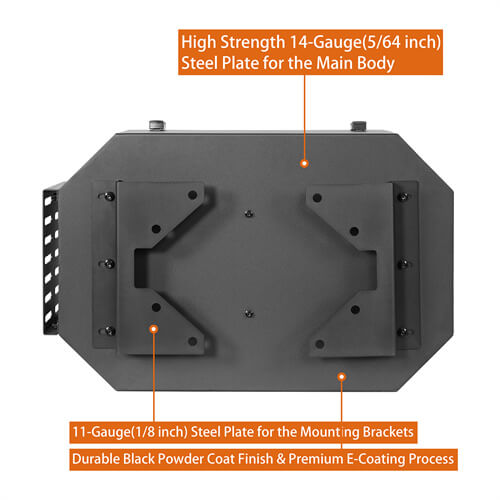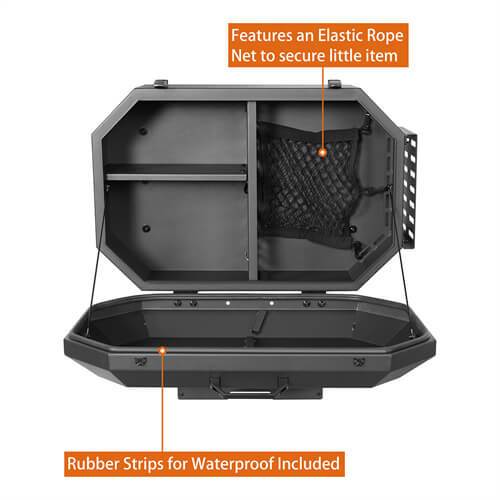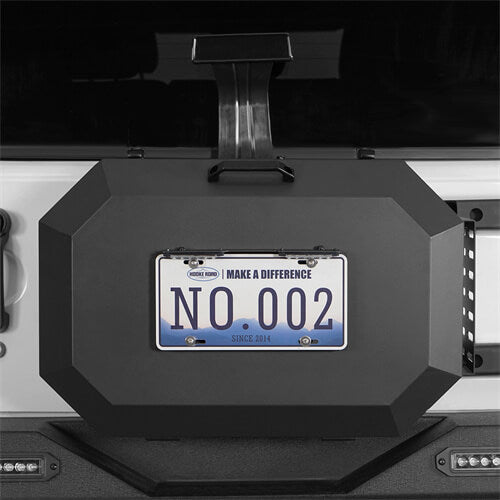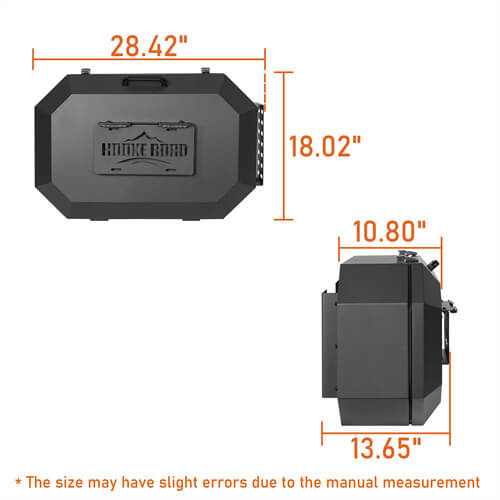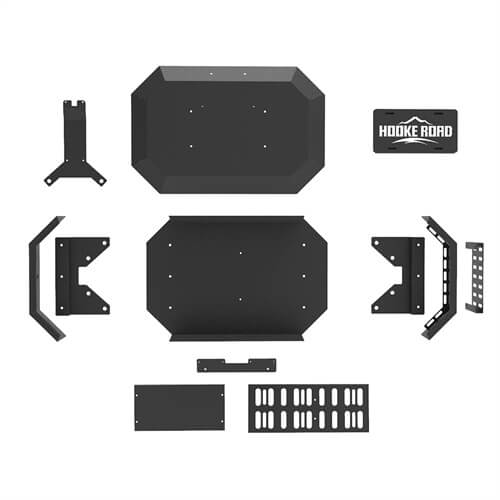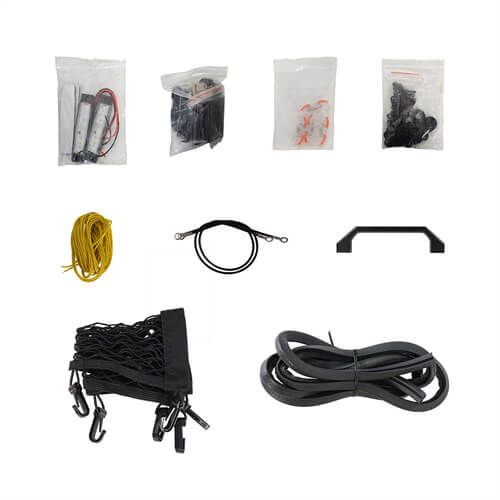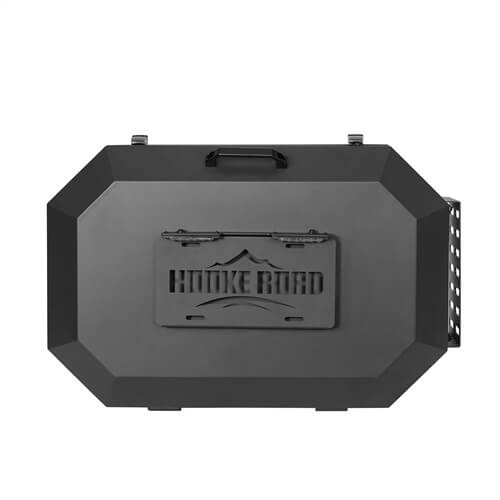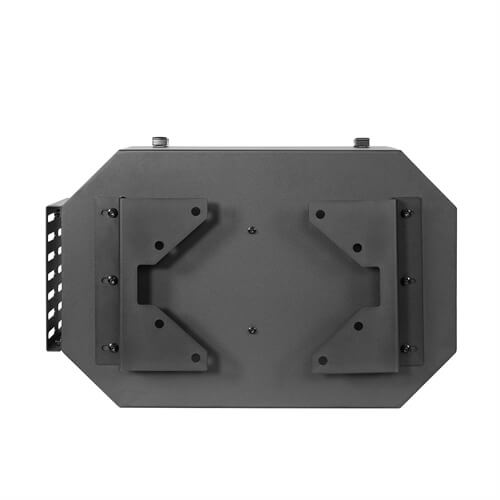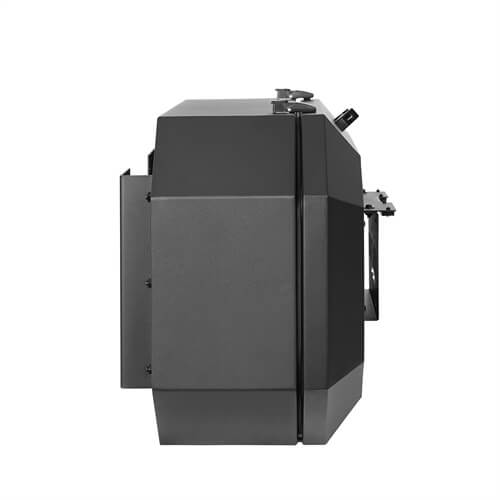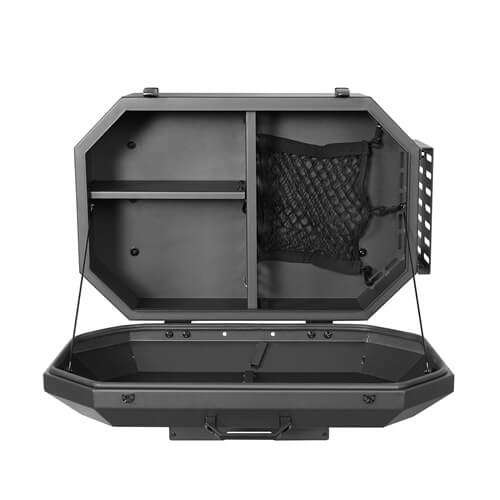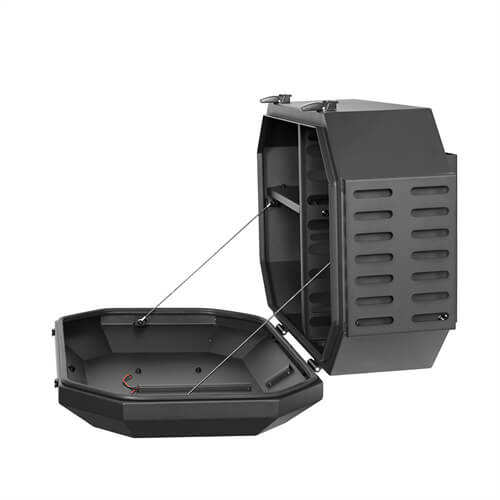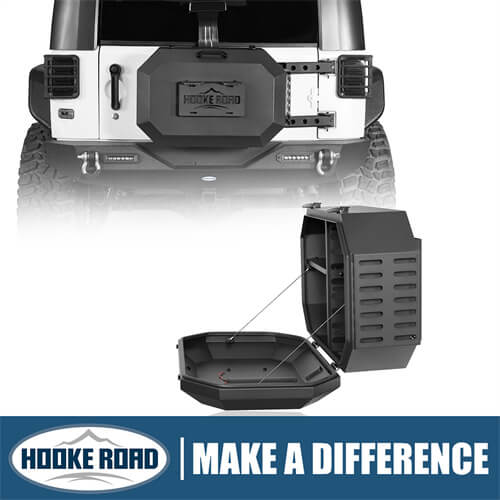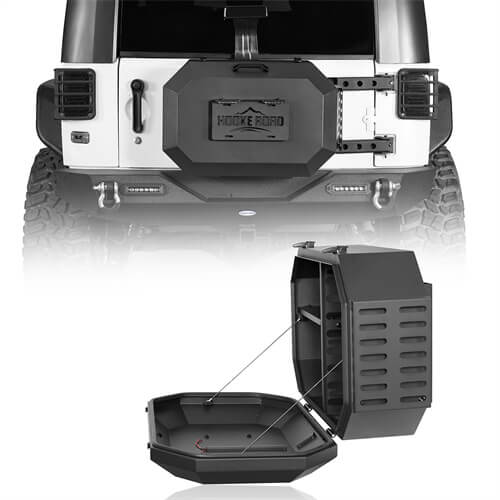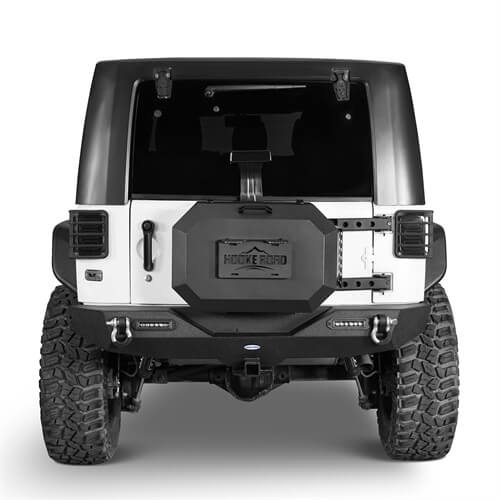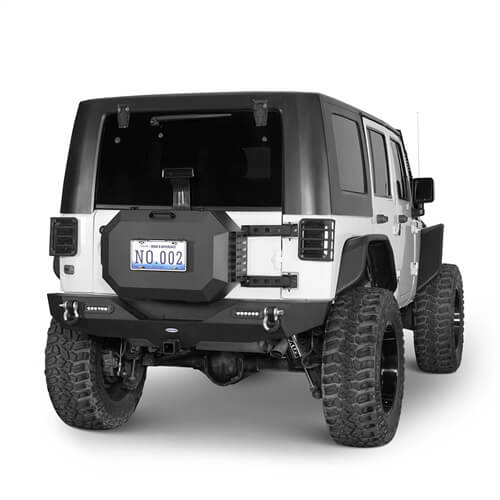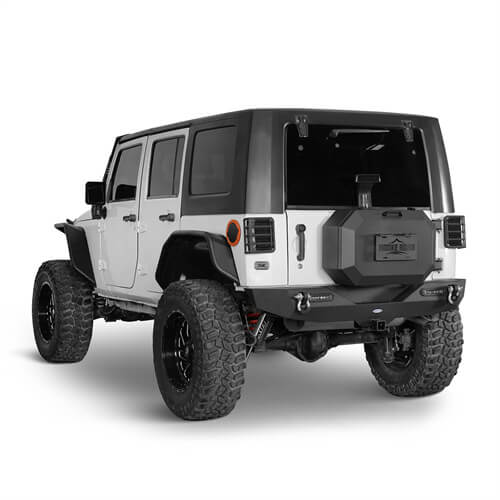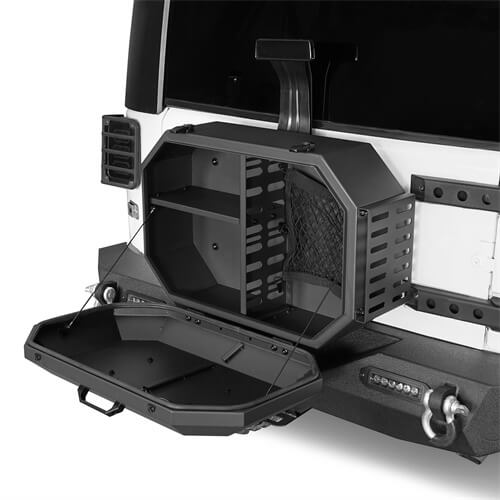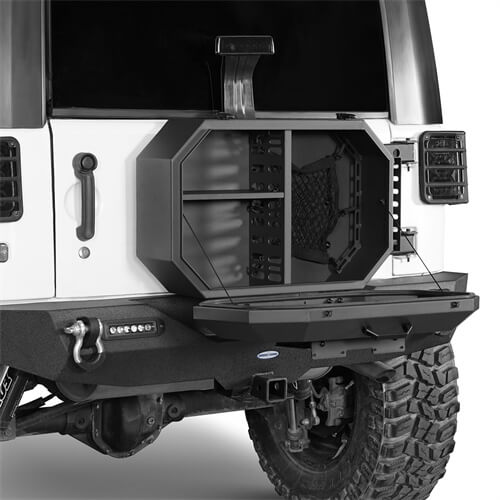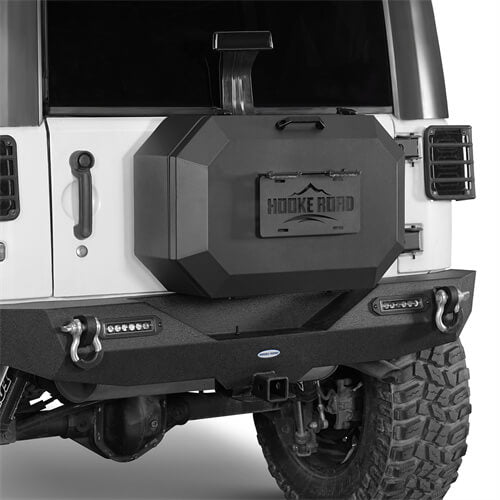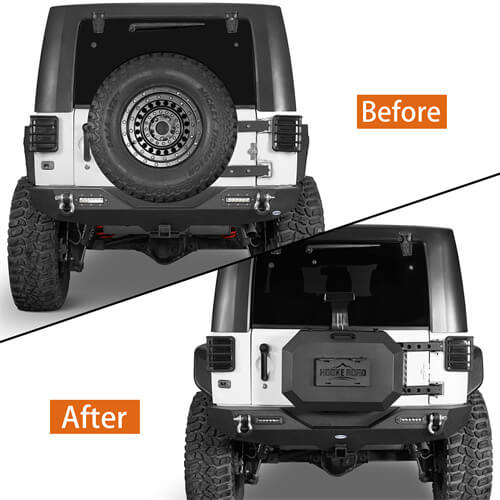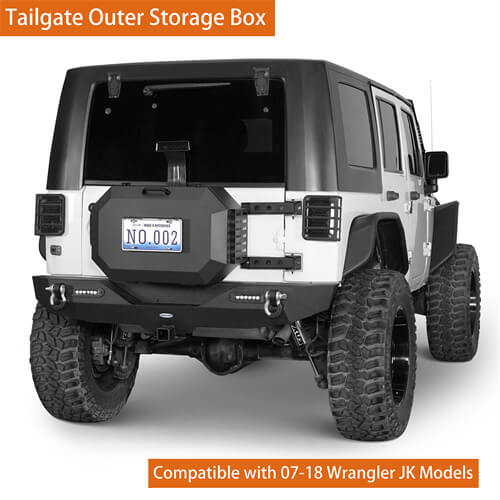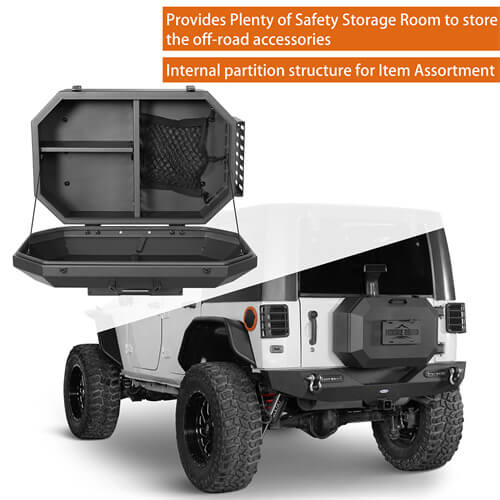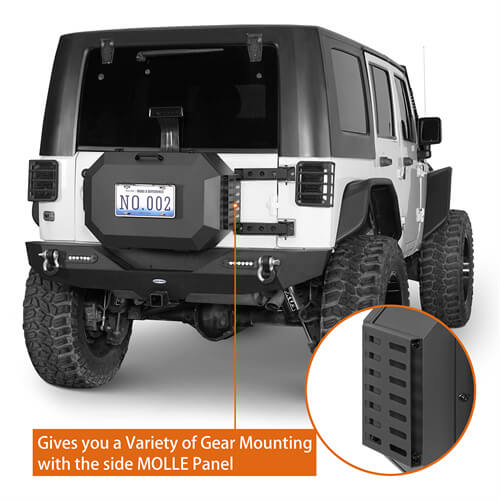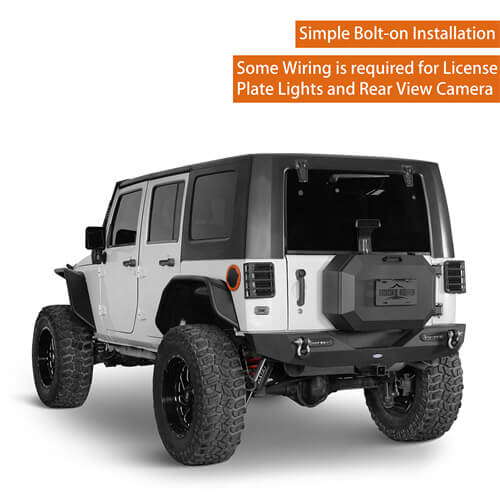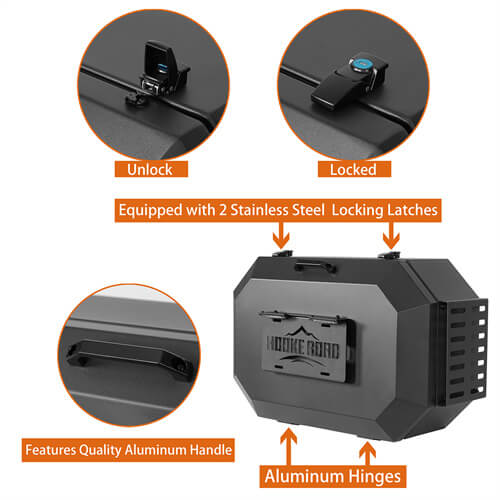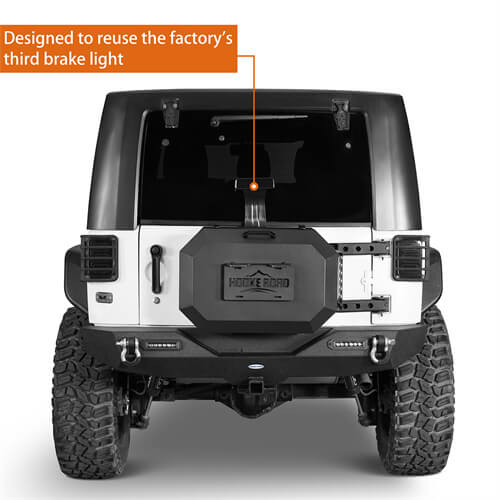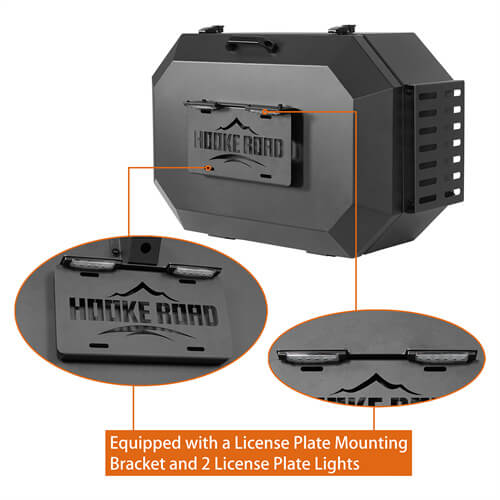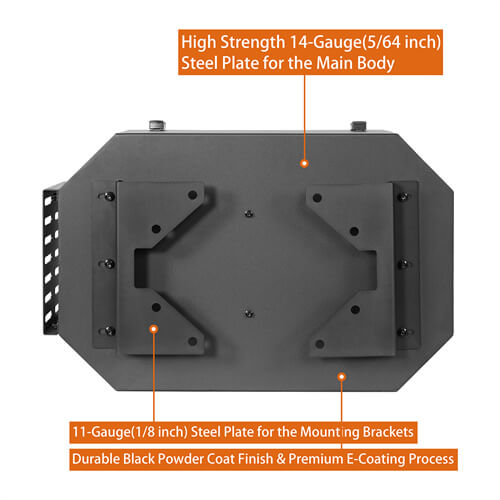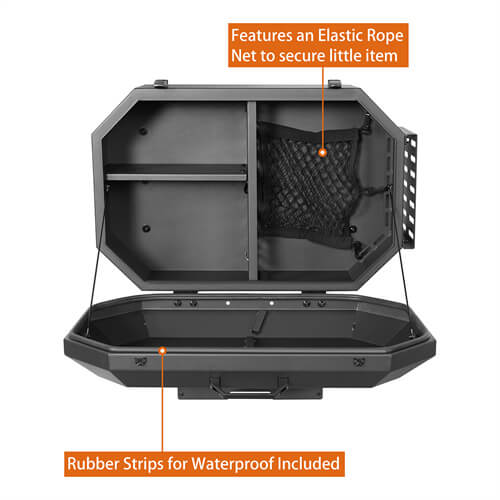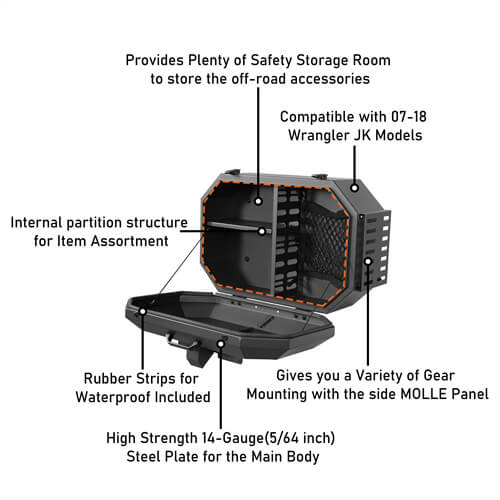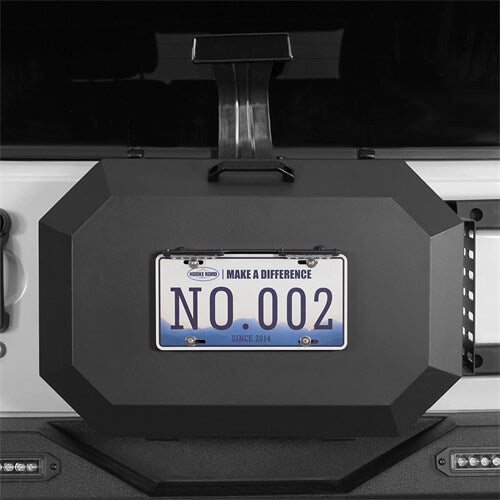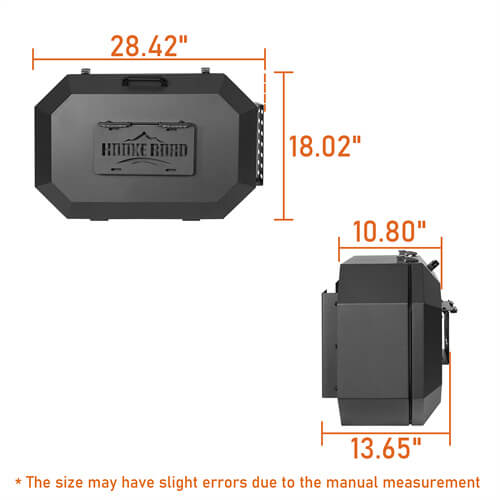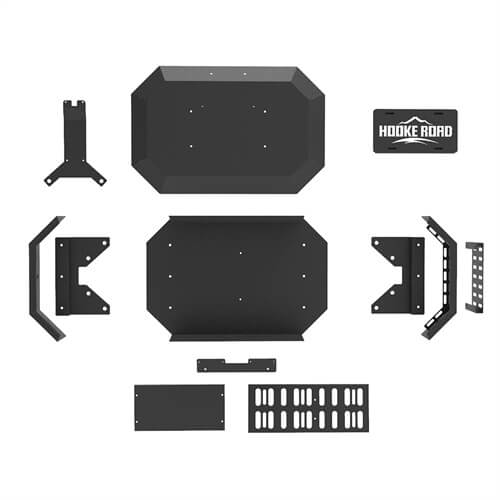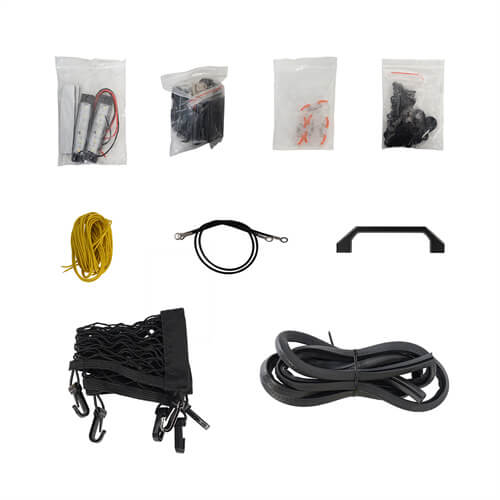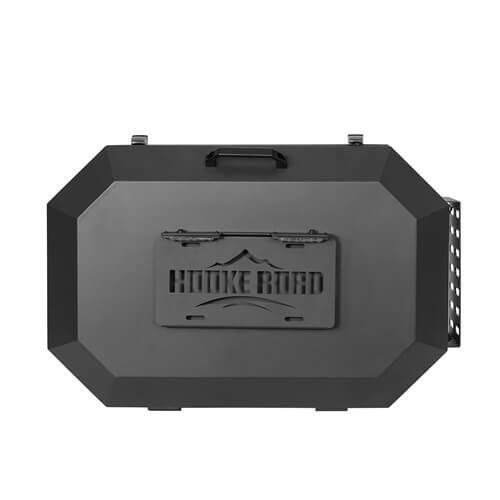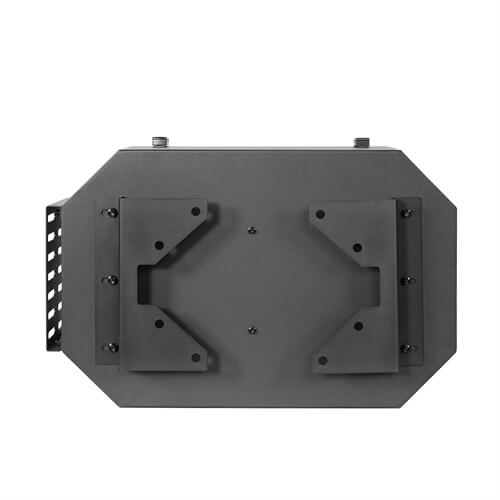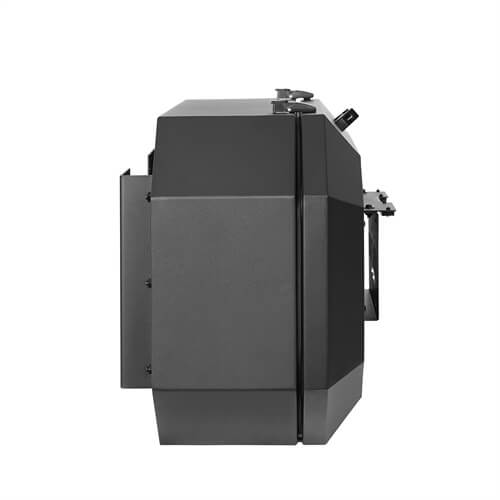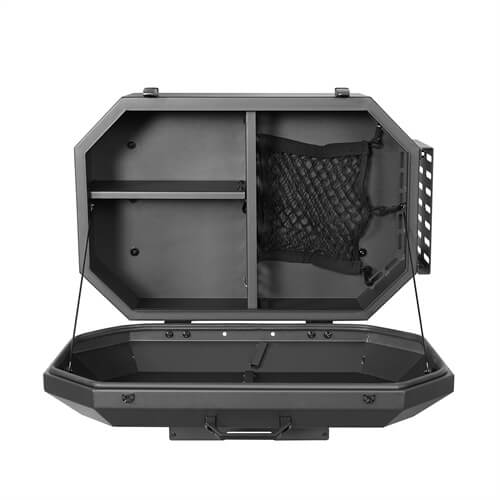 Name: Hooke Road Jeep Wrangler JK Tailgate Spare Tire Carrier Outer Storage Lock Box
Feature
Compatible with 2007-2018 Jeep Wrangler JK Models
Product weight: about 60 lbs
Durable black powder coat finish & Premium E-coating process inside
High strength 14-gauge(5/64 inch) steel plate for the main structure, 11-gauge(1/8 inch) steel plate for the mounting brackets
Equipped with mounting brackets for reuse the factory third brake light
Equipped with a license plate mounting bracket and 2 LED license plate lights
Features quality aluminum handle and aluminum hinges
Rubber strips for waterproof included
Provides plenty of safety storage room to store outdoor accessories
Internal partition structure for item assortment, such as ropes, adhesive tapes, reflective clothing, and fishing accessories
Features an elastic rope net to secure small item
Boasts an impressive and distinctive design, setting your JK apart from other off-road vehicles with its unique appearance
Lockable design with 2 locking latches to ensure the safe of your cargo
Gives you a variety of gear mounting with the side molle panel
Simple bolt-on installation, Some wiring is required to connect the license plate lights
No drilling or additional modifications required
Function and Features. The Hooke Road Tailgate Storage Box serves as an invaluable addition for off-road enthusiasts. This storage box offers ample space to safely store off-road accessories, providing organized storage within your vehicle's tailgate. Its internal partition structure allows for easy item assortment, while an elastic rope net keeps smaller items securely in place. Beyond functionality, this storage box boasts an impressive and distinctive design, setting your JK apart from other off-road vehicles with its unique appearance. It features a lockable design with two locking latches to ensure the safety of your cargo. The side molle panel provides versatile gear mounting options, while a quality aluminum handle ensures durability and ease of use. Plus, it's designed to work seamlessly with the factory rearview camera and comes equipped with a license plate mounting bracket and two license plate lights. Rubber strips are included for waterproofing, adding an extra layer of protection for your gear.

Finish and Steel Material. Crafted for durability and strength, this tailgate storage box features a durable black powder coat finish, providing exceptional resistance to corrosion and wear. The main structure is constructed from high-strength 14-gauge (5/64 inch) steel plate, ensuring robustness and longevity. The mounting brackets are made from 11-gauge (1/8 inch) steel plate, adding to the box's structural integrity. This combination of materials and finishes ensures that the storage box can withstand the rugged conditions of off-road adventures and maintain its sleek appearance.

Installation. Installing the Hooke Road Tailgate Storage Box is a straightforward process designed for a simple bolt-on installation. First, assemble the components to create a complete storage box. Second, remove the factory spare tire carrier. Third, position the storage box onto the tailgate's factory mount points. While some wiring is necessary for the license plate lights and rearview camera, there's no need for drilling or making additional modifications.
Dimension
1 × Tailgate Storage Box Assembly
1 × Side Panel Plate
1 × License Plate Bracket
2 × License Plate Lights
1 × Rubber Strip
1 × Elastic Rope Net
1 × Mounting Hardware Kit
1 × Installation Instruction
2018 Jeep Wrangler (JK) Rubicon (2-Door)
2018 Jeep Wrangler (JK) Sahara (2-Door)
2018 Jeep Wrangler (JK) Sport (2-Door)
2018 Jeep Wrangler (JK) Unlimited Rubicon (4-Door)
2018 Jeep Wrangler (JK) Unlimited Sahara (4-Door)
2018 Jeep Wrangler (JK) Unlimited Sport (4-Door)
2017 Jeep Wrangler (JK) Rubicon (2-Door)
2017 Jeep Wrangler (JK) Sahara (2-Door)
2017 Jeep Wrangler (JK) Sport (2-Door)
2017 Jeep Wrangler (JK) Unlimited Rubicon (4-Door)
2017 Jeep Wrangler (JK) Unlimited Sahara (4-Door)
2017 Jeep Wrangler (JK) Unlimited Sport (4-Door)
2016 Jeep Wrangler (JK) Rubicon (2-Door)
2016 Jeep Wrangler (JK) Sahara (2-Door)
2016 Jeep Wrangler (JK) Sport (2-Door)
2016 Jeep Wrangler (JK) Unlimited Rubicon (4-Door)
2016 Jeep Wrangler (JK) Unlimited Sahara (4-Door)
2016 Jeep Wrangler (JK) Unlimited Sport (4-Door)
2016 Jeep Wrangler (JK) Unlimited Sport S (4-Door)
2016 Jeep Wrangler (JK) Sport S (2-Door)
2016 Jeep Wrangler (JK) 75th Anniversary (2-Door)
2016 Jeep Wrangler (JK) Unlimited 75th Anniversary (4-Door)
2015 Jeep Wrangler (JK) Rubicon (2-Door)
2015 Jeep Wrangler (JK) Sahara (2-Door)
2015 Jeep Wrangler (JK) Sport (2-Door)
2015 Jeep Wrangler (JK) Unlimited Rubicon (4-Door)
2015 Jeep Wrangler (JK) Unlimited Sahara (4-Door)
2015 Jeep Wrangler (JK) Unlimited Sport (4-Door)
2014 Jeep Wrangler (JK) Rubicon (2-Door)
2014 Jeep Wrangler (JK) Sahara (2-Door)
2014 Jeep Wrangler (JK) Sport (2-Door)
2014 Jeep Wrangler (JK) Unlimited Rubicon (4-Door)
2014 Jeep Wrangler (JK) Unlimited Sahara (4-Door)
2014 Jeep Wrangler (JK) Unlimited Sport (4-Door)
2013 Jeep Wrangler (JK) Rubicon (2-Door)
2013 Jeep Wrangler (JK) Sahara (2-Door)
2013 Jeep Wrangler (JK) Sport (2-Door)
2013 Jeep Wrangler (JK) Unlimited Rubicon (4-Door)
2013 Jeep Wrangler (JK) Unlimited Sport (4-Door)
2013 Jeep Wrangler (JK) Unlimited Sahara (4-Door)
2012 Jeep Wrangler (JK) Rubicon (2-Door)
2012 Jeep Wrangler (JK) Sahara (2-Door)
2012 Jeep Wrangler (JK) Sport (2-Door)
2012 Jeep Wrangler (JK) Unlimited Rubicon (4-Door)
2012 Jeep Wrangler (JK) Unlimited Sahara (4-Door)
2012 Jeep Wrangler (JK) Unlimited Sport (4-Door)
2011 Jeep Wrangler (JK) Rubicon (2-Door)
2011 Jeep Wrangler (JK) Sahara (2-Door)
2011 Jeep Wrangler (JK) Sport (2-Door)
2011 Jeep Wrangler (JK) Unlimited Rubicon (4-Door)
2011 Jeep Wrangler (JK) Unlimited Sahara (4-Door)
2011 Jeep Wrangler (JK) Unlimited Sport (4-Door)
2011 Jeep Wrangler (JK) 70th Anniversary (2-Door)
2011 Jeep Wrangler (JK) Unlimited 70th Anniversary (4-Door)
2010 Jeep Wrangler (JK) Rubicon (2-Door)
2010 Jeep Wrangler (JK) Sahara (2-Door)
2010 Jeep Wrangler (JK) Unlimited Rubicon (4-Door)
2010 Jeep Wrangler (JK) Unlimited Sahara (4-Door)
2010 Jeep Wrangler (JK) Unlimited X (4-Door)
2010 Jeep Wrangler (JK) X (2-Door)
2010 Jeep Wrangler (JK) Sport (2-Door)
2010 Jeep Wrangler (JK) Unlimited Sport (4-Door)
2009 Jeep Wrangler (JK) Rubicon (2-Door)
2009 Jeep Wrangler (JK) Sahara (2-Door)
2009 Jeep Wrangler (JK) Unlimited Rubicon (4-Door)
2009 Jeep Wrangler (JK) Unlimited Sahara (4-Door)
2009 Jeep Wrangler (JK) Unlimited X (4-Door)
2009 Jeep Wrangler (JK) X (2-Door)
2008 Jeep Wrangler (JK) X (2-Door)
2008 Jeep Wrangler (JK) Unlimited X (4-Door)
2008 Jeep Wrangler (JK) Unlimited Sahara (4-Door)
2008 Jeep Wrangler (JK) Unlimited Rubicon (4-Door)
2008 Jeep Wrangler (JK) Sahara (2-Door)
2008 Jeep Wrangler (JK) Rubicon (2-Door)
2007 Jeep Wrangler (JK) Rubicon (2-Door)
2007 Jeep Wrangler (JK) Sahara (2-Door)
2007 Jeep Wrangler (JK) Unlimited Rubicon (4-Door)
2007 Jeep Wrangler (JK) Unlimited Sahara (4-Door)
2007 Jeep Wrangler (JK) Unlimited X (4-Door)
2007 Jeep Wrangler (JK) X (2-Door)
Package Included
1 × Tailgate Storage Box Assembly
1 × Side Panel Plate
1 × License Plate Bracket
2 × License Plate Lights
1 × Rubber Strip
1 × Elastic Rope Net
1 × Mounting Hardware Kit
1 × Installation Instruction
Fitment
2018 Jeep Wrangler (JK) Rubicon (2-Door)
2018 Jeep Wrangler (JK) Sahara (2-Door)
2018 Jeep Wrangler (JK) Sport (2-Door)
2018 Jeep Wrangler (JK) Unlimited Rubicon (4-Door)
2018 Jeep Wrangler (JK) Unlimited Sahara (4-Door)
2018 Jeep Wrangler (JK) Unlimited Sport (4-Door)
2017 Jeep Wrangler (JK) Rubicon (2-Door)
2017 Jeep Wrangler (JK) Sahara (2-Door)
2017 Jeep Wrangler (JK) Sport (2-Door)
2017 Jeep Wrangler (JK) Unlimited Rubicon (4-Door)
2017 Jeep Wrangler (JK) Unlimited Sahara (4-Door)
2017 Jeep Wrangler (JK) Unlimited Sport (4-Door)
2016 Jeep Wrangler (JK) Rubicon (2-Door)
2016 Jeep Wrangler (JK) Sahara (2-Door)
2016 Jeep Wrangler (JK) Sport (2-Door)
2016 Jeep Wrangler (JK) Unlimited Rubicon (4-Door)
2016 Jeep Wrangler (JK) Unlimited Sahara (4-Door)
2016 Jeep Wrangler (JK) Unlimited Sport (4-Door)
2016 Jeep Wrangler (JK) Unlimited Sport S (4-Door)
2016 Jeep Wrangler (JK) Sport S (2-Door)
2016 Jeep Wrangler (JK) 75th Anniversary (2-Door)
2016 Jeep Wrangler (JK) Unlimited 75th Anniversary (4-Door)
2015 Jeep Wrangler (JK) Rubicon (2-Door)
2015 Jeep Wrangler (JK) Sahara (2-Door)
2015 Jeep Wrangler (JK) Sport (2-Door)
2015 Jeep Wrangler (JK) Unlimited Rubicon (4-Door)
2015 Jeep Wrangler (JK) Unlimited Sahara (4-Door)
2015 Jeep Wrangler (JK) Unlimited Sport (4-Door)
2014 Jeep Wrangler (JK) Rubicon (2-Door)
2014 Jeep Wrangler (JK) Sahara (2-Door)
2014 Jeep Wrangler (JK) Sport (2-Door)
2014 Jeep Wrangler (JK) Unlimited Rubicon (4-Door)
2014 Jeep Wrangler (JK) Unlimited Sahara (4-Door)
2014 Jeep Wrangler (JK) Unlimited Sport (4-Door)
2013 Jeep Wrangler (JK) Rubicon (2-Door)
2013 Jeep Wrangler (JK) Sahara (2-Door)
2013 Jeep Wrangler (JK) Sport (2-Door)
2013 Jeep Wrangler (JK) Unlimited Rubicon (4-Door)
2013 Jeep Wrangler (JK) Unlimited Sport (4-Door)
2013 Jeep Wrangler (JK) Unlimited Sahara (4-Door)
2012 Jeep Wrangler (JK) Rubicon (2-Door)
2012 Jeep Wrangler (JK) Sahara (2-Door)
2012 Jeep Wrangler (JK) Sport (2-Door)
2012 Jeep Wrangler (JK) Unlimited Rubicon (4-Door)
2012 Jeep Wrangler (JK) Unlimited Sahara (4-Door)
2012 Jeep Wrangler (JK) Unlimited Sport (4-Door)
2011 Jeep Wrangler (JK) Rubicon (2-Door)
2011 Jeep Wrangler (JK) Sahara (2-Door)
2011 Jeep Wrangler (JK) Sport (2-Door)
2011 Jeep Wrangler (JK) Unlimited Rubicon (4-Door)
2011 Jeep Wrangler (JK) Unlimited Sahara (4-Door)
2011 Jeep Wrangler (JK) Unlimited Sport (4-Door)
2011 Jeep Wrangler (JK) 70th Anniversary (2-Door)
2011 Jeep Wrangler (JK) Unlimited 70th Anniversary (4-Door)
2010 Jeep Wrangler (JK) Rubicon (2-Door)
2010 Jeep Wrangler (JK) Sahara (2-Door)
2010 Jeep Wrangler (JK) Unlimited Rubicon (4-Door)
2010 Jeep Wrangler (JK) Unlimited Sahara (4-Door)
2010 Jeep Wrangler (JK) Unlimited X (4-Door)
2010 Jeep Wrangler (JK) X (2-Door)
2010 Jeep Wrangler (JK) Sport (2-Door)
2010 Jeep Wrangler (JK) Unlimited Sport (4-Door)
2009 Jeep Wrangler (JK) Rubicon (2-Door)
2009 Jeep Wrangler (JK) Sahara (2-Door)
2009 Jeep Wrangler (JK) Unlimited Rubicon (4-Door)
2009 Jeep Wrangler (JK) Unlimited Sahara (4-Door)
2009 Jeep Wrangler (JK) Unlimited X (4-Door)
2009 Jeep Wrangler (JK) X (2-Door)
2008 Jeep Wrangler (JK) X (2-Door)
2008 Jeep Wrangler (JK) Unlimited X (4-Door)
2008 Jeep Wrangler (JK) Unlimited Sahara (4-Door)
2008 Jeep Wrangler (JK) Unlimited Rubicon (4-Door)
2008 Jeep Wrangler (JK) Sahara (2-Door)
2008 Jeep Wrangler (JK) Rubicon (2-Door)
2007 Jeep Wrangler (JK) Rubicon (2-Door)
2007 Jeep Wrangler (JK) Sahara (2-Door)
2007 Jeep Wrangler (JK) Unlimited Rubicon (4-Door)
2007 Jeep Wrangler (JK) Unlimited Sahara (4-Door)
2007 Jeep Wrangler (JK) Unlimited X (4-Door)
2007 Jeep Wrangler (JK) X (2-Door)