Hooke Road Center Console Flashlight Mount Bracket w/LED Flashlight(05-21 Toyota Tacoma Gen 2/3)
Like to Join in Discount List
P.O. Box Address is not available. Please Offer the physical address on checkout.
Offroad Life 4x4 Enthousiast
Offroad Life Enthousiast · Trucks & Wrangler Mods
Name: Center Console Flashlight Mount Bracket w/ LED Emergency Flashlight
Feature
Fits for 2005-2021 Toyota Tacoma Models (2nd & 3rd Gen) 

Includes a LED Emergency Flashlight
5-Mode on-off Switch for versatile use. 3 White Light Modes: Front Light / COB High Brightness / COB Medium Brightness, 2 Red Light Modes: COB Red Warning / COB Red Strobe ( Long press for 2 secs to red light mode); Brightness: 160 lm (Cob Light), 60 lm(Front Light)
The Built-In Seat Belt Cutter Makes it Easy to Cut the Seat Belt, and the High-Hardness Alloy Hammer can Quickly and Easily Break the Window for Easy Escape
Equipped with Strong Magnetism Which Can Be Easily Attached to the Car Shell or Iron Parts, this is Perfect while Working under the Chassis of your Car, in your Home, or in Other Dark Places
Comes a 14-Inch Telescopic Magnet Rod which is a Necessary Tool to Pick Up Screws, Nuts, Tools,  etc
The Head Designed with a Hook, Ability to Hung, Free your Hands and Convenient for Multiple Occasions
CNC Cut and Formed from 14-Gauge(5/64 inch) steel, Durable Black Powder Coat Finish
Powered by 3 PCS AA batteries (Batteries Not Included) 
Moderate Installation: Minor Drilling Required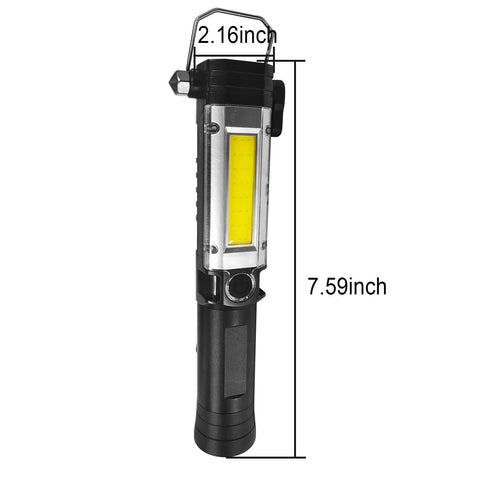 Package Included
1 x Mount Bracket
1 x LED Flashlight

(Batteries Not Included) 

Hardware
Secure Your Flashlights. With the Flashlight Mounting Brackets installed on your vehicle, you'll never lose any flashlights again. These mounting brackets can be screw-mounted on any flat surface, giving you limitless placement options.

Moderate Installation. Some drilling is required. Mark the screw holes with a pick or a sharpie. Then use a 1/8" drill bit to puncture a hole into the plastic. Install the panel using a Phillips screwdriver. It just takes only 30 minutes to get it done.

SEMA Membership. The Brand has been certified as a member of SEMA. We are studious and gradually grow up to be a professional aftermarket retailer. As a SEMA member, we make, buy, sell and use all kinds of specialty parts and accessories to make vehicles more attractive, more unique, more convenient, faster, safer, more fun and even like-new again. I wish you have a terrific off-road experience with our products.