Hooke Road Full Width Front Bumper w/LED Lights(14-21 Toyota Tundra)
Like to Join in Discount List
P.O. Box Address is not available. Please Offer the physical address on checkout.
Offroad Life 4x4 Enthousiast
Offroad Life Enthousiast · Trucks & Wrangler Mods
Name: Hooke Road Toyota Tundra Full-Width Front Bumper
Please Double-check All of the Item Pictures to Purchase What you Like.
Feature
Fits 2014-2021 Tundra Toyota Models
Full-Width Front Bumper
Bumper Weight: About 125 lbs
Rugged Off-Road Styling
Heavy Duty 5/32-inch Steel Plate
Textured Black Powder Coat Finish
9500 lbs Rated,3/4'' D-Rings Included
D-Rings w/Rubber Rings to Provide Extra Protection Against Abrasion
2x18w High Power LED Spotlights Included
120W Spot Beam LED Light Bar Included
Moderate Bolt-on Installation w/Clear and Detailed Instruction
Not Compatible with Tundra Models Equipped with Blind Spot Monitoring System
Package Included
1 x Toyota Tundra Full Width Front Bumper
2 x D-Rings
2 x 18w LED Spotlights
1 x 120w LED Light Bar
Mounting Brackets & Hardware
Please Double-check the distance between front bumper edge and fender below to Purchase What you Like.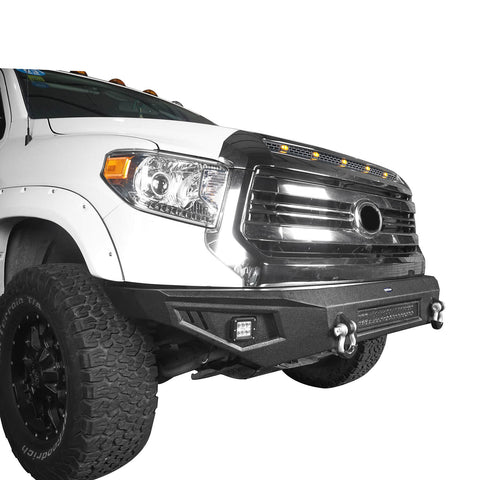 Notes:
There is no
sensor mounting hole
for the Blind Spot Monitoring System to install.You can drill holes for blind spot sensors. We are planning to pre-drill sensor holes for future bumpers.
Rugged off-Road Styling. An excellent way to add rugged, off-road styling to your 2014-2019 Toyota Tundra is by installing a Toyota Tundra Full Width Front Bumper. Designed to easily replace your factory bumper, the Hooke Road Front Bumper features a pair of high powered LED lights and a spot beam LED light bar to light the dark path ahead. Built tough from heavy-duty steel plate, this bumper is ideal for street, work and off-road applications.

High-Quality Construction. Cold-formed into shape, this Toyota Tundra Full Width Front Bumper is manufactured from heavy-duty 5/32-inch steel plating for strength. After trimming and final finishing Hooke Road then completes their Bumper in a two-stage finish using epoxy pre-coating and high-grade textured black powder coating for durability and long-lasting corrosion resistance.

E-Coating Process.E-coat systems can deliver a wide range of lacquer and paint finishes with a combination of state-of-the-art performance and decorative effects. The product percent of pass reaches 100% after the salt spray test.

Installation.
About bumper. Check all the components of the bumper and assemble them in order patiently. Then place the bumper into the car frame and install it with original bolts. There is no cutting or modifications required for a clean straightforward installation.
About lights. You need a switch to control the bumper lights separately. And some wiring to connect the lights to your truck.

About the license plate. 

You may need a license plate mount or to drill holes on the bumper.?
SEMA Membership.
Our brand has been certified as a member of SEMA. We are studious and gradually grow up to be a professional aftermarket retailer. As a SEMA member, we make, buy, sell and use all kinds of specialty parts and accessories to make vehicles more attractive, more unique, more convenient, faster, safer, more fun and even like-new again. Wish you have a terrific off-road experience with our products.