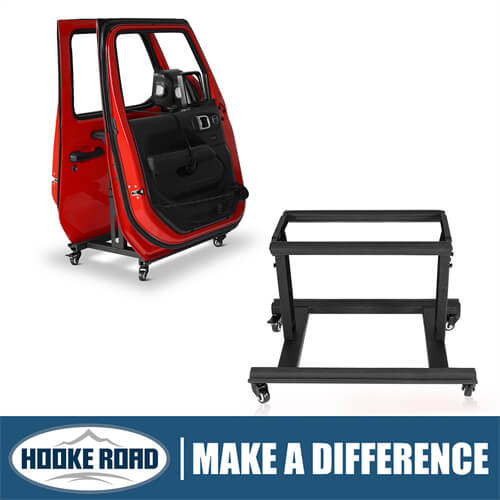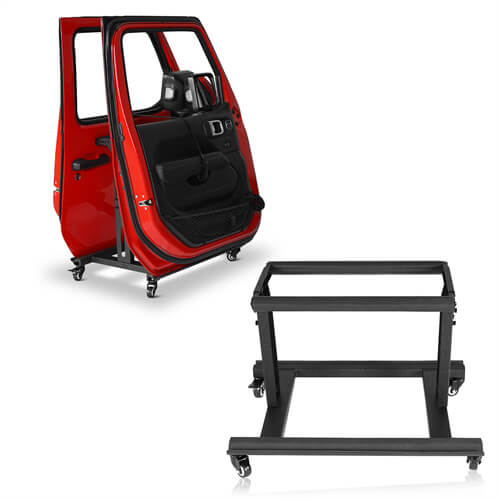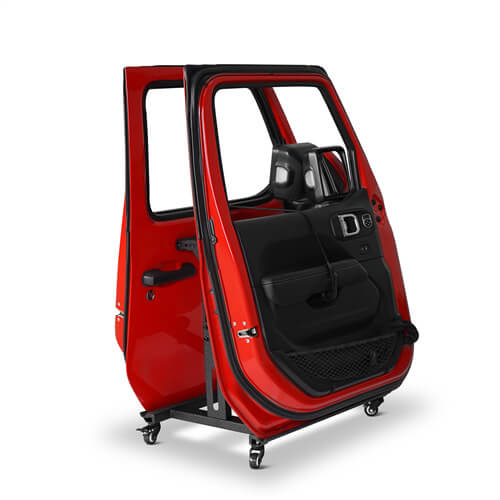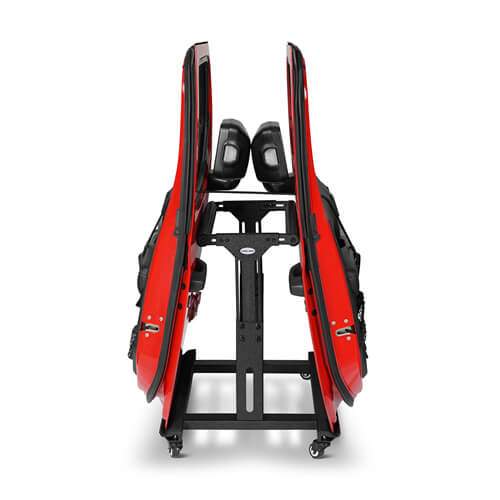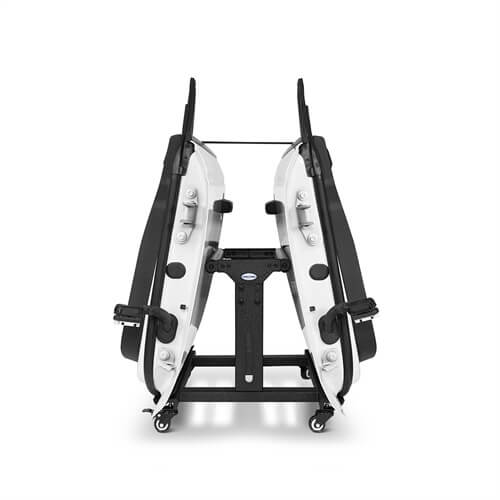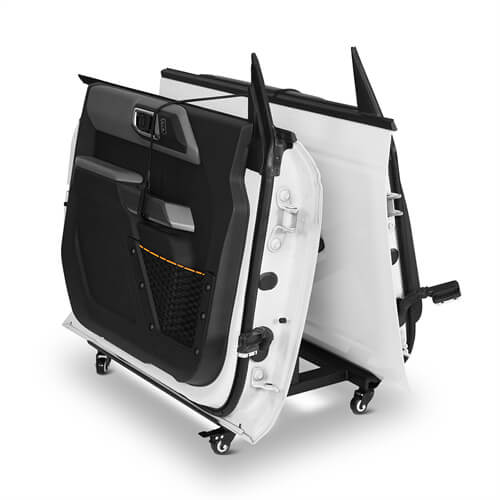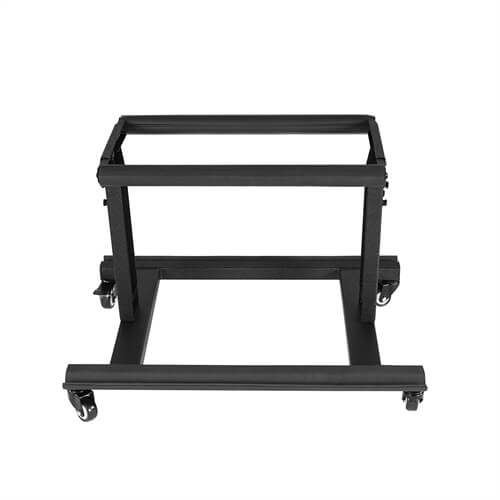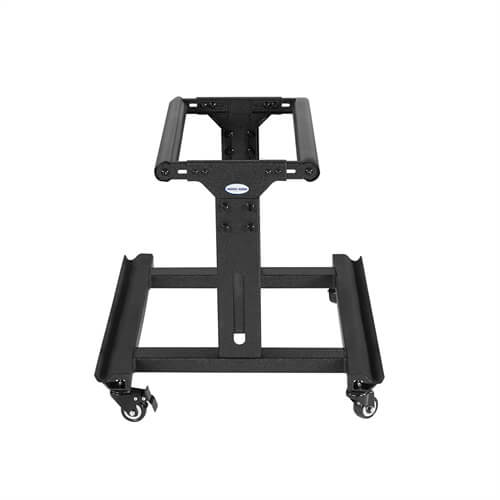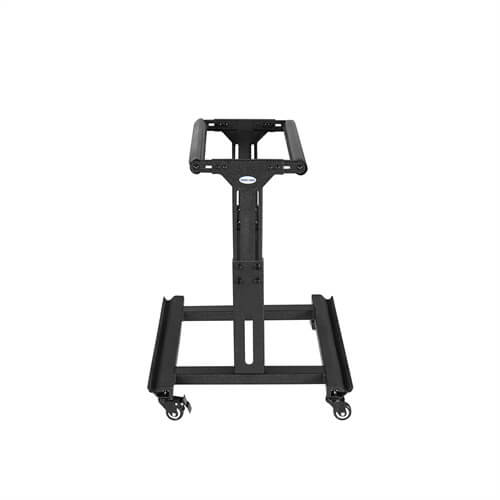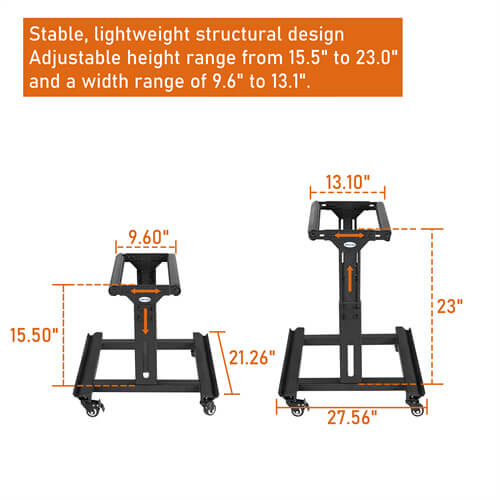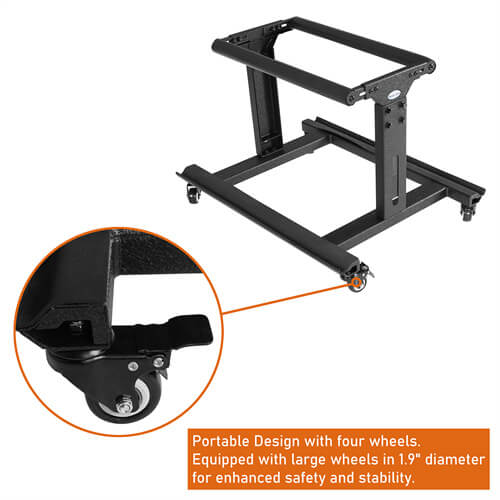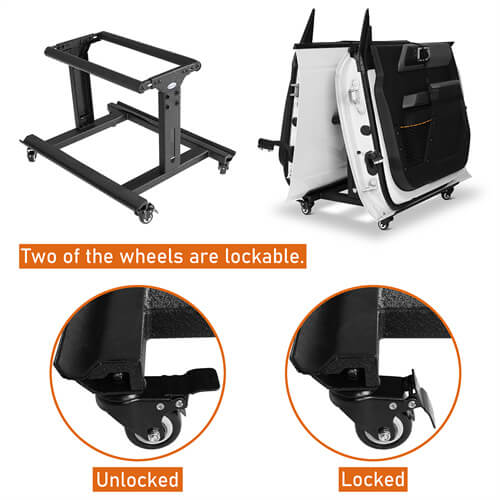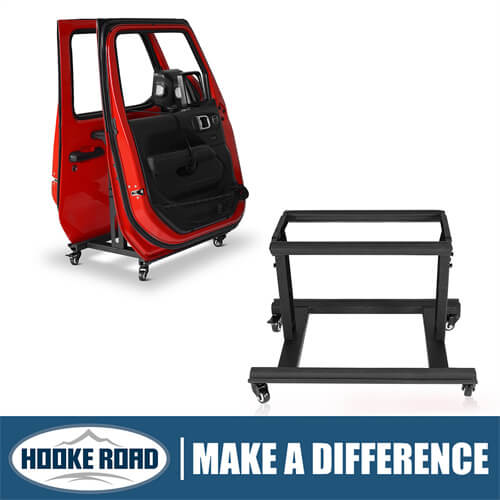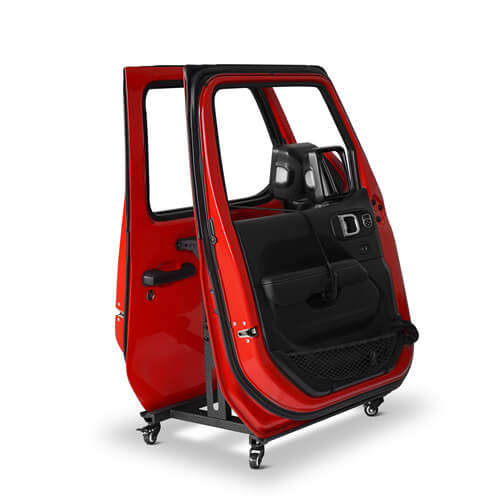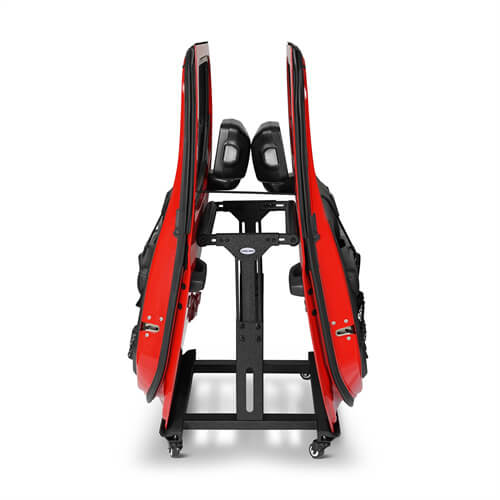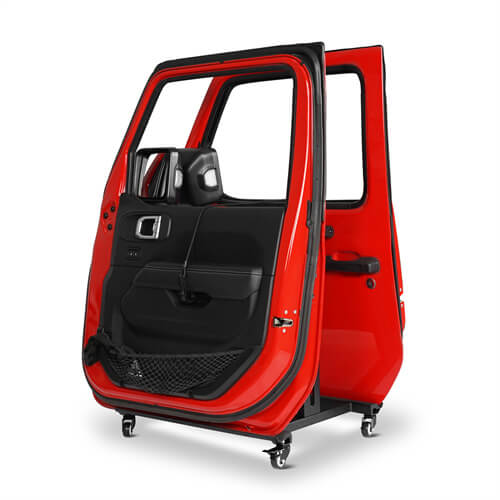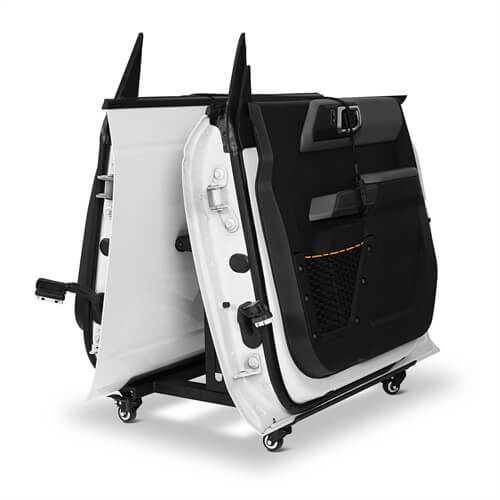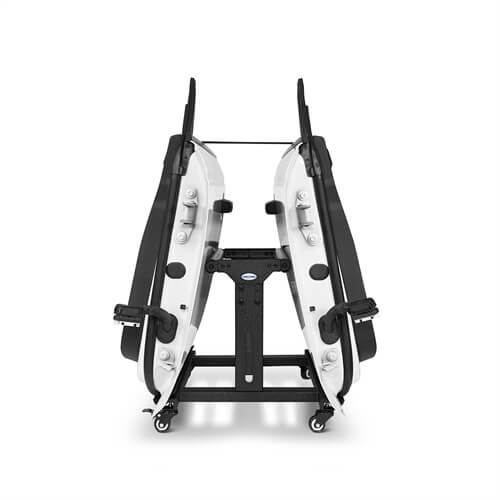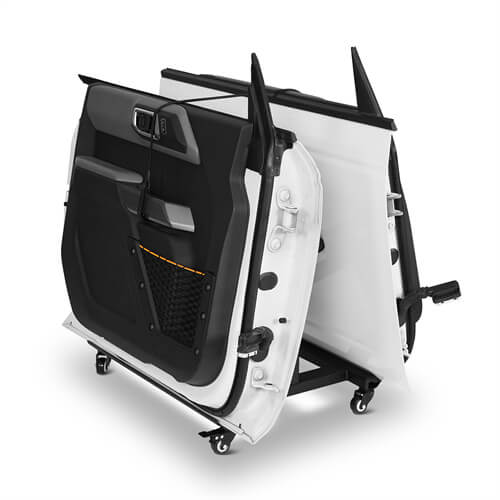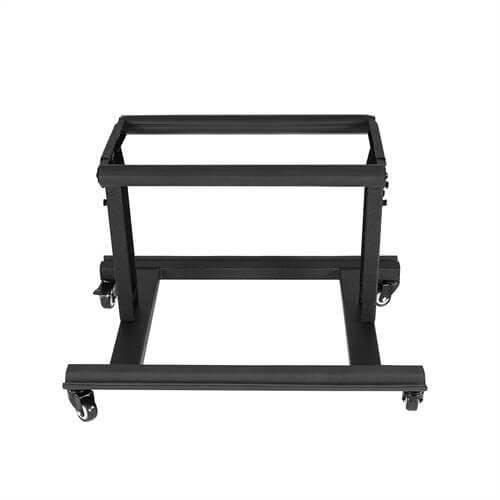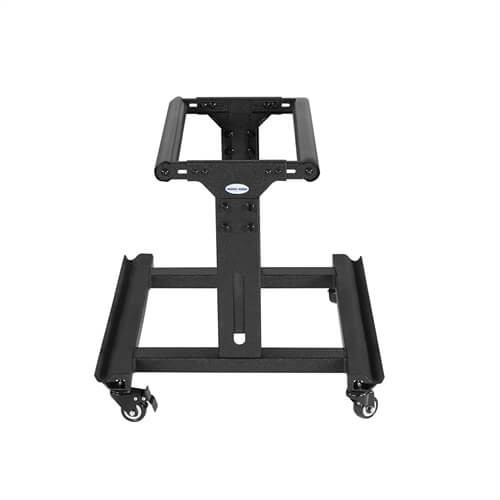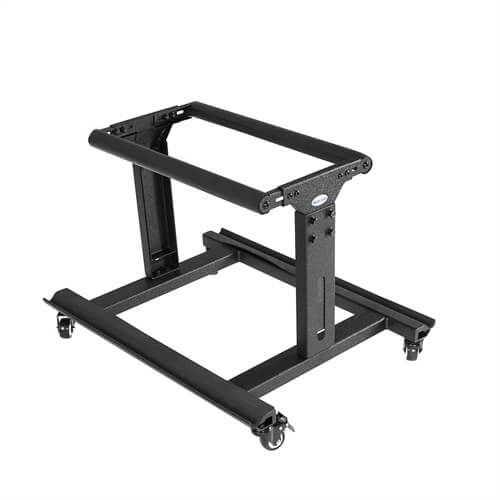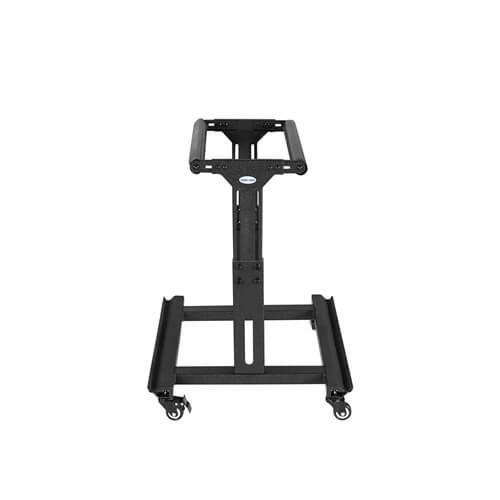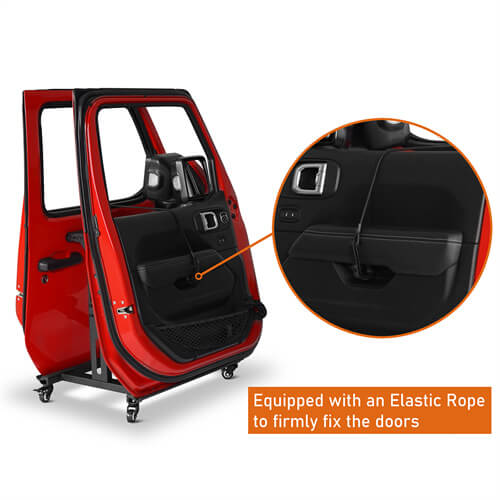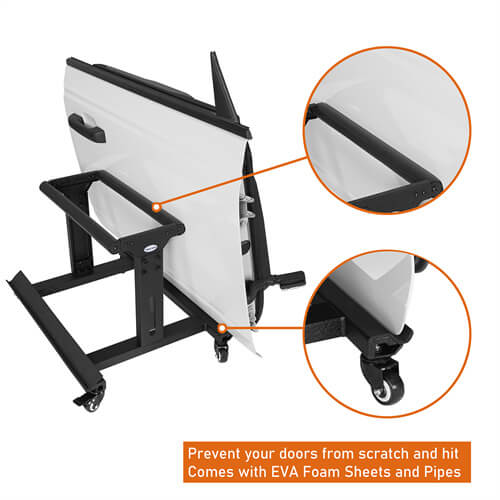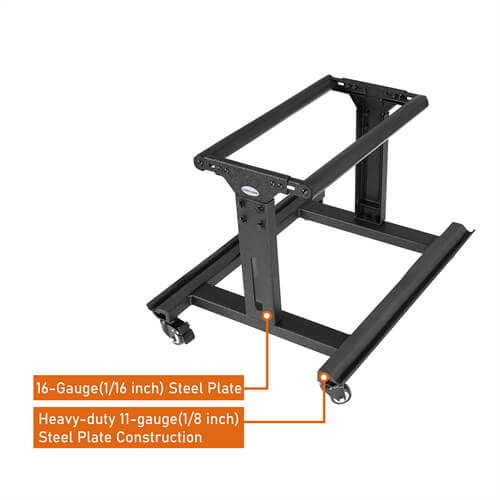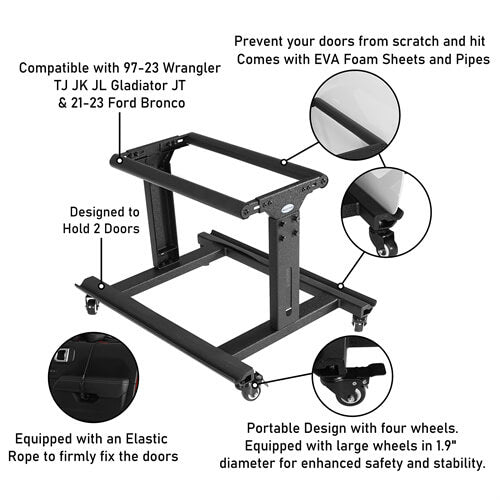 Name: Hooke Road Jeep & Ford Bronco Doors Storage Cart for 2 Doors
Feature
Fits for 1997-2023 Jeep Wrangler TJ JK JL Gladiator JT & 2021-2023 Ford Bronco Models
weight: about 17 lbs
Heavy-duty 11-gauge(1/8 inch) and 16-gauge(1/16) steel plate construction
Textured black powder coat finish & Premium E-coating process inside
Product
Adjustable design that the height range from 15.5" to 23.0" and a width range of 9.6" to 13.1"
Providing a sturdy unit that expertly holds 2 doors
Equipped with an elastic rope to firmly fix the doors in place
The two doors are positioned inclined and facing each other
Boasts an efficient use of space
Easy bolt-on installation
Mounting hardware included
Portable design

Smooth caster wheels glide the top to any area of the garage or shop with your hands.
Equipped with four wheels in 1.9" diameter, two of which are lockable, you can easily move the cart to any area with your hands, and securely lock it in place when needed.
Comes with thick EVA foam sheets and pipes that prevent your doors from scratch and hit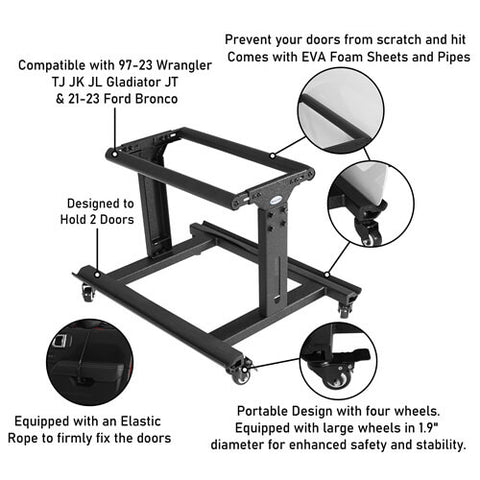 Dimension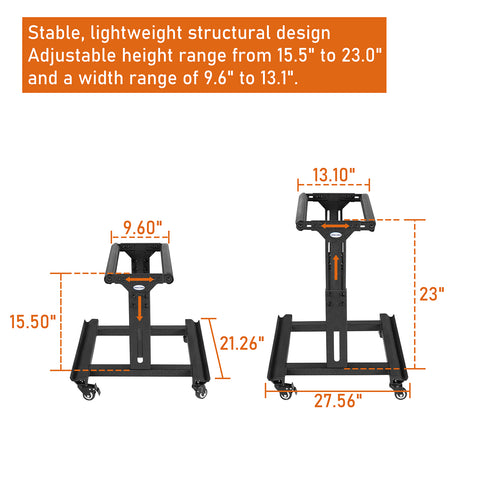 1 x Door Rack Door Storage Holder
2 x Rubber Strips
4 x Wheels
Mounting Hardware
2023 Ford Bronco Badlands Sport Utility
2023 Ford Bronco Base Sport Utility
2023 Ford Bronco Big Bend Sport Utility
2023 Ford Bronco Black Diamond Sport Utility
2023 Ford Bronco Everglades Sport Utility
2023 Ford Bronco Heritage Edition Sport Utility
2023 Ford Bronco Outer Banks Sport Utility
2023 Ford Bronco Raptor Sport Utility
2023 Ford Bronco Wildtrak Sport Utility
2022 Ford Bronco Badlands Sport Utility
2022 Ford Bronco Base Sport Utility
2022 Ford Bronco Big Bend Sport Utility
2022 Ford Bronco Black Diamond Sport Utility
2022 Ford Bronco Everglades Sport Utility
2022 Ford Bronco Outer Banks Sport Utility
2022 Ford Bronco Raptor Sport Utility
2022 Ford Bronco Wildtrak Sport Utility
2021 Ford Bronco Badlands Sport Utility
2021 Ford Bronco Base Sport Utility
2021 Ford Bronco Big Bend Sport Utility
2021 Ford Bronco Black Diamond Sport Utility
2021 Ford Bronco First Edition Sport Utility
2021 Ford Bronco Outer Banks Sport Utility
2021 Ford Bronco Wildtrak Sport Utility
2023 Jeep Gladiator High Altitude Crew Cab Pickup 4-Door
2023 Jeep Gladiator High Altitude Crew Cab Pickup 4-Door
2023 Jeep Gladiator Mojave Crew Cab Pickup 4-Door
2023 Jeep Gladiator Overland Crew Cab Pickup 4-Door
2023 Jeep Gladiator Rubicon Crew Cab Pickup 4-Door
2023 Jeep Gladiator Sport Crew Cab Pickup 4-Door
2023 Jeep Gladiator Sport S Crew Cab Pickup 4-Door
2023 Jeep Gladiator Sport S Crew Cab Pickup 4-Door
2023 Jeep Gladiator Willys Crew Cab Pickup 4-Door
2023 Jeep Gladiator Willys Crew Cab Pickup 4-Door
2023 Jeep Gladiator Willys Sport Crew Cab Pickup 4-Door
2023 Jeep Gladiator Willys Sport Crew Cab Pickup 4-Door
2022 Jeep Gladiator Altitude Crew Cab Pickup 4-Door
2022 Jeep Gladiator Altitude Crew Cab Pickup 4-Door
2022 Jeep Gladiator High Altitude Crew Cab Pickup 4-Door
2022 Jeep Gladiator High Altitude Crew Cab Pickup 4-Door
2022 Jeep Gladiator Mojave Crew Cab Pickup 4-Door
2022 Jeep Gladiator Overland Crew Cab Pickup 4-Door
2022 Jeep Gladiator Overland Crew Cab Pickup 4-Door
2022 Jeep Gladiator Rubicon Crew Cab Pickup 4-Door
2022 Jeep Gladiator Rubicon Crew Cab Pickup 4-Door
2022 Jeep Gladiator Sport Crew Cab Pickup 4-Door
2022 Jeep Gladiator Sport Crew Cab Pickup 4-Door
2022 Jeep Gladiator Sport S Crew Cab Pickup 4-Door
2022 Jeep Gladiator Sport S Crew Cab Pickup 4-Door
2022 Jeep Gladiator Willys Crew Cab Pickup 4-Door
2022 Jeep Gladiator Willys Crew Cab Pickup 4-Door
2022 Jeep Gladiator Willys Sport Crew Cab Pickup 4-Door
2022 Jeep Gladiator Willys Sport Crew Cab Pickup 4-Door
2021 Jeep Gladiator 80th Anniversary Crew Cab Pickup 4-Door
2021 Jeep Gladiator 80th Anniversary Crew Cab Pickup 4-Door
2021 Jeep Gladiator High Altitude Crew Cab Pickup 4-Door
2021 Jeep Gladiator High Altitude Crew Cab Pickup 4-Door
2021 Jeep Gladiator Mojave Crew Cab Pickup 4-Door
2021 Jeep Gladiator Overland Crew Cab Pickup 4-Door
2021 Jeep Gladiator Overland Crew Cab Pickup 4-Door
2021 Jeep Gladiator Rubicon Crew Cab Pickup 4-Door
2021 Jeep Gladiator Rubicon Crew Cab Pickup 4-Door
2021 Jeep Gladiator Sport Crew Cab Pickup 4-Door
2021 Jeep Gladiator Sport Crew Cab Pickup 4-Door
2021 Jeep Gladiator Sport S Crew Cab Pickup 4-Door
2021 Jeep Gladiator Sport S Crew Cab Pickup 4-Door
2021 Jeep Gladiator Willys Crew Cab Pickup 4-Door
2021 Jeep Gladiator Willys Crew Cab Pickup 4-Door
2021 Jeep Gladiator Willys Sport Crew Cab Pickup 4-Door
2021 Jeep Gladiator Willys Sport Crew Cab Pickup 4-Door
2020 Jeep Gladiator Altitude Crew Cab Pickup 4-Door
2020 Jeep Gladiator Launch Edition Crew Cab Pickup 4-Door
2020 Jeep Gladiator Mojave Crew Cab Pickup 4-Door
2020 Jeep Gladiator North Edition Crew Cab Pickup 4-Door
2020 Jeep Gladiator Overland Crew Cab Pickup 4-Door
2020 Jeep Gladiator Rubicon Crew Cab Pickup 4-Door
2020 Jeep Gladiator Sport Crew Cab Pickup 4-Door
2020 Jeep Gladiator Sport S Crew Cab Pickup 4-Door
2023 Jeep Wrangler Unlimited High Altitude 4xe Sport Utility 4-Door
2023 Jeep Wrangler Unlimited High Altitude Sport Utility 4-Door
2023 Jeep Wrangler Unlimited Rubicon 4xe Sport Utility 4-Door
2023 Jeep Wrangler Unlimited Rubicon 392 Sport Utility 4-Door
2023 Jeep Wrangler Unlimited Rubicon Sport Utility 4-Door
2023 Jeep Wrangler Unlimited Sahara 4xe Sport Utility 4-Door
2023 Jeep Wrangler Unlimited Sahara Altitude Sport Utility 4-Door
2023 Jeep Wrangler Unlimited Sahara High Altitude Sport Utility 4-Door
2023 Jeep Wrangler Unlimited Sahara Sport Utility 4-Door
2023 Jeep Wrangler Unlimited Sport Altitude Sport Utility 4-Door
2023 Jeep Wrangler Unlimited Sport S Sport Utility 4-Door
2023 Jeep Wrangler Unlimited Sport Sport Utility 4-Door
2023 Jeep Wrangler Unlimited Willys 4xe Sport Utility 4-Door
2023 Jeep Wrangler Unlimited Willys Sport Sport Utility 4-Door
2023 Jeep Wrangler Unlimited Willys Sport Utility 4-Door
2022 Jeep Wrangler Rubicon Sport Utility 2-Door
2022 Jeep Wrangler Sport S Sport Utility 2-Door
2022 Jeep Wrangler Sport Sport Utility 2-Door
2022 Jeep Wrangler Unlimited Rubicon 392 Sport Utility 4-Door
2022 Jeep Wrangler Unlimited Rubicon Sport Utility 4-Door
2022 Jeep Wrangler Unlimited Sahara Altitude Sport Utility 4-Door
2022 Jeep Wrangler Unlimited Sahara High Altitude Sport Utility 4-Door
2022 Jeep Wrangler Unlimited Sahara Sport Utility 4-Door
2022 Jeep Wrangler Unlimited Sport Altitude Sport Utility 4-Door
2022 Jeep Wrangler Unlimited Sport S Sport Utility 4-Door
2022 Jeep Wrangler Unlimited Sport Sport Utility 4-Door
2022 Jeep Wrangler Unlimited Willys Sport Sport Utility 4-Door
2022 Jeep Wrangler Unlimited Willys Sport Utility 4-Door
2022 Jeep Wrangler Willys Sport Sport Utility 2-Door
2022 Jeep Wrangler Willys Sport Utility 2-Door
2021 Jeep Wrangler 80th Anniversary Sport Utility 2-Door
2021 Jeep Wrangler Freedom Sport Utility 2-Door
2021 Jeep Wrangler Islander Sport Utility 2-Door
2021 Jeep Wrangler Rubicon Sport Utility 2-Door
2021 Jeep Wrangler Sport S Sport Utility 2-Door
2021 Jeep Wrangler Sport Sport Utility 2-Door
2021 Jeep Wrangler Unlimited 80th Anniversary Sport Utility 4-Door
2021 Jeep Wrangler Unlimited Freedom Sport Utility 4-Door
2021 Jeep Wrangler Unlimited High Altitude Sport Utility 4-Door
2021 Jeep Wrangler Unlimited Islander Sport Utility 4-Door
2021 Jeep Wrangler Unlimited Rubicon 392 Sport Utility 4-Door
2021 Jeep Wrangler Unlimited Rubicon Sport Utility 4-Door
2021 Jeep Wrangler Unlimited Sahara Altitude Sport Utility 4-Door
2021 Jeep Wrangler Unlimited Sahara High Altitude Sport Utility 4-Door
2021 Jeep Wrangler Unlimited Sahara Sport Utility 4-Door
2021 Jeep Wrangler Unlimited Sport Altitude Sport Utility 4-Door
2021 Jeep Wrangler Unlimited Sport S Sport Utility 4-Door
2021 Jeep Wrangler Unlimited Sport Sport Utility 4-Door
2021 Jeep Wrangler Unlimited Willys Sport Sport Utility 4-Door
2021 Jeep Wrangler Unlimited Willys Sport Utility 4-Door
2021 Jeep Wrangler Willys Sport Sport Utility 2-Door
2021 Jeep Wrangler Willys Sport Utility 2-Door
2020 Jeep Wrangler Rubicon Deluxe Sport Utility 2-Door
2020 Jeep Wrangler Rubicon Sport Utility 2-Door
2020 Jeep Wrangler Sport S Sport Utility 2-Door
2020 Jeep Wrangler Sport Sport Utility 2-Door
2020 Jeep Wrangler Unlimited Black and Tan Sport Utility 2-Door
2020 Jeep Wrangler Unlimited Black and Tan Sport Utility 4-Door
2020 Jeep Wrangler Unlimited Freedom Sport Utility 2-Door
2020 Jeep Wrangler Unlimited Freedom Sport Utility 4-Door
2020 Jeep Wrangler Unlimited North Edition Sport Utility 4-Door
2020 Jeep Wrangler Unlimited Recon Sport Utility 2-Door
2020 Jeep Wrangler Unlimited Recon Sport Utility 4-Door
2020 Jeep Wrangler Unlimited Rubicon Deluxe Sport Utility 4-Door
2020 Jeep Wrangler Unlimited Rubicon Sport Utility 4-Door
2020 Jeep Wrangler Unlimited Rubicon Xtreme Sport Utility 4-Door
2020 Jeep Wrangler Unlimited Sahara Altitude Sport Utility 4-Door
2020 Jeep Wrangler Unlimited Sahara Sport Utility 4-Door
2020 Jeep Wrangler Unlimited Sport Altitude Sport Utility 4-Door
2020 Jeep Wrangler Unlimited Sport S Sport Utility 4-Door
2020 Jeep Wrangler Unlimited Sport Sport Utility 4-Door
2020 Jeep Wrangler Unlimited Willys Sport Utility 2-Door
2020 Jeep Wrangler Unlimited Willys Sport Utility 4-Door
2019 Jeep Wrangler Rubicon Deluxe Sport Utility 2-Door
2019 Jeep Wrangler Rubicon Sport Utility 2-Door
2019 Jeep Wrangler Sport S Sport Utility 2-Door
2019 Jeep Wrangler Sport Sport Utility 2-Door
2019 Jeep Wrangler Unlimited Moab Sport Utility 4-Door
2019 Jeep Wrangler Unlimited Rubicon Sport Utility 4-Door
2019 Jeep Wrangler Unlimited Sahara Altitude Sport Utility 4-Door
2019 Jeep Wrangler Unlimited Sahara Sport Utility 4-Door
2019 Jeep Wrangler Unlimited Sport S Sport Utility 4-Door
2019 Jeep Wrangler Unlimited Sport Sport Utility 4-Door
2018 Jeep Wrangler Rubicon Sport Utility 2-Door
2018 Jeep Wrangler Sport S Sport Utility 2-Door
2018 Jeep Wrangler Sport Sport Utility 2-Door
2018 Jeep Wrangler Unlimited Moab Sport Utility 4-Door
2018 Jeep Wrangler Rubicon Sport Utility 2-Door
2018 Jeep Wrangler Sport S Sport Utility 2-Door
2018 Jeep Wrangler Sport Sport Utility 2-Door
2018 Jeep Wrangler Unlimited Moab Sport Utility 4-Door
2018 Jeep Wrangler Unlimited Rubicon Sport Utility 4-Door
2018 Jeep Wrangler Unlimited Sahara Sport Utility 4-Door
2018 Jeep Wrangler Unlimited Sport S Sport Utility 4-Door
2018 Jeep Wrangler Unlimited Sport Sport Utility 4-Door
2018 Jeep Wrangler JK Rubicon Sport Utility 2-Door
2018 Jeep Wrangler JK Sahara Sport Utility 2-Door
2018 Jeep Wrangler JK Sport S Sport Utility 2-Door
2018 Jeep Wrangler JK Sport Sport Utility 2-Door
2018 Jeep Wrangler JK Unlimited Rubicon Sport Utility 4-Door
2018 Jeep Wrangler JK Unlimited Sahara Sport Utility 4-Door
2018 Jeep Wrangler JK Unlimited Sport S Sport Utility 4-Door
2018 Jeep Wrangler JK Unlimited Sport Sport Utility 4-Door
2018 Jeep Wrangler JK Unlimited Willys Wheeler Sport Utility 4-Door
2017 Jeep Wrangler Rubicon Sport Utility 2-Door
2017 Jeep Wrangler Sahara Sport Utility 2-Door
2017 Jeep Wrangler Sport Sport Utility 2-Door
2017 Jeep Wrangler Unlimited Rubicon Sport Utility 4-Door
2017 Jeep Wrangler Unlimited Sahara Sport Utility 4-Door
2017 Jeep Wrangler Unlimited Smoky Mountain Sport Utility 4-Door
2017 Jeep Wrangler Unlimited Sport Sport Utility 4-Door
2017 Jeep Wrangler Unlimited Winter Edition Sport Utility 4-Door
2016 Jeep Wrangler 75th Anniversary Sport Utility 2-Door
2016 Jeep Wrangler Rubicon Sport Utility 2-Door
2016 Jeep Wrangler Sahara Sport Utility 2-Door
2016 Jeep Wrangler Sport S Sport Utility 2-Door
2016 Jeep Wrangler Sport Sport Utility 2-Door
2016 Jeep Wrangler Unlimited 75th Anniversary Sport Utility 4-Door
2016 Jeep Wrangler Unlimited Black Bear Sport Utility 4-Door
2016 Jeep Wrangler Unlimited Rubicon Sport Utility 4-Door
2016 Jeep Wrangler Unlimited Sahara Sport Utility 4-Door
2016 Jeep Wrangler Unlimited Sport S Sport Utility 4-Door
2016 Jeep Wrangler Unlimited Sport Sport Utility 4-Door
2015 Jeep Wrangler Freedom Edition Sport Utility 2-Door
2015 Jeep Wrangler Freedom Edition Sport Utility 4-Door
2015 Jeep Wrangler Rubicon Sport Utility 2-Door
2015 Jeep Wrangler Sahara Sport Utility 2-Door
2015 Jeep Wrangler Sport Sport Utility 2-Door
2015 Jeep Wrangler Unlimited Altitude Sport Utility 4-Door
2015 Jeep Wrangler Unlimited Hard Rock Sport Utility 4-Door
2015 Jeep Wrangler Unlimited Rubicon Sport Utility 4-Door
2015 Jeep Wrangler Unlimited Sahara Sport Utility 4-Door
2015 Jeep Wrangler Unlimited Sport Sport Utility 4-Door
2015 Jeep Wrangler Willys Wheeler Sport Utility 2-Door
2015 Jeep Wrangler Willys Wheeler Sport Utility 4-Door
2015 Jeep Wrangler X Edition Sport Utility 2-Door
2015 Jeep Wrangler X Edition Sport Utility 4-Door
2014 Jeep Wrangler Altitude Sport Utility 2-Door
2014 Jeep Wrangler Altitude Sport Utility 4-Door
2014 Jeep Wrangler Freedom Edition Sport Utility 2-Door
2014 Jeep Wrangler Freedom Edition Sport Utility 4-Door
2014 Jeep Wrangler Polar Edition Sport Utility 2-Door
2014 Jeep Wrangler Polar Edition Sport Utility 4-Door
2014 Jeep Wrangler Rubicon Sport Utility 2-Door
2014 Jeep Wrangler Sahara Sport Utility 2-Door
2014 Jeep Wrangler Sport Sport Utility 2-Door
2014 Jeep Wrangler Unlimited Dragon Edition Sport Utility 4-Door
2014 Jeep Wrangler Unlimited Rubicon Sport Utility 4-Door
2014 Jeep Wrangler Unlimited Sahara Sport Utility 4-Door
2014 Jeep Wrangler Unlimited Sport Sport Utility 4-Door
2014 Jeep Wrangler Unlimited Willys Wheeler Sport Utility 4-Door
2014 Jeep Wrangler Willys Wheeler Sport Utility 2-Door
2013 Jeep Wrangler Rubicon Sport Utility 2-Door
2013 Jeep Wrangler Sahara Sport Utility 2-Door
2013 Jeep Wrangler Sport Sport Utility 2-Door
2013 Jeep Wrangler Unlimited Rubicon Sport Utility 4-Door
2013 Jeep Wrangler Unlimited Sahara Sport Utility 4-Door
2013 Jeep Wrangler Unlimited Sport Sport Utility 4-Door
2012 Jeep Wrangler Rubicon Sport Utility 2-Door
2012 Jeep Wrangler Sahara Sport Utility 2-Door
2012 Jeep Wrangler Sport Sport Utility 2-Door
2012 Jeep Wrangler Unlimited Altitude Sport Utility 4-Door
2012 Jeep Wrangler Unlimited Mountain Sport Utility 4-Door
2012 Jeep Wrangler Unlimited Rubicon Sport Utility 4-Door
2012 Jeep Wrangler Unlimited Sahara Sport Utility 4-Door
2012 Jeep Wrangler Unlimited Sport Sport Utility 4-Door
2012 Jeep Wrangler Unlimited Sport Utility 4-Door
2011 Jeep Wrangler 70th Anniversary Sport Utility 2-Door
2011 Jeep Wrangler Rubicon Sport Utility 2-Door
2011 Jeep Wrangler Sahara Sport Utility 2-Door
2011 Jeep Wrangler Sport Sport Utility 2-Door
2011 Jeep Wrangler Unlimited 70th Anniversary Sport Utility 4-Door
2011 Jeep Wrangler Unlimited Rubicon Sport Utility 4-Door
2011 Jeep Wrangler Unlimited Sahara Sport Utility 4-Door
2011 Jeep Wrangler Unlimited Sport Sport Utility 4-Door
2011 Jeep Wrangler Unlimited X Sport Utility 4-Door
2011 Jeep Wrangler X Sport Utility 2-Door
2010 Jeep Wrangler Islander Sport Utility 2-Door
2010 Jeep Wrangler Rubicon Sport Utility 2-Door
2010 Jeep Wrangler Sahara Sport Utility 2-Door
2010 Jeep Wrangler Sport Sport Utility 2-Door
2010 Jeep Wrangler Unlimited Mountain Sport Utility 4-Door
2010 Jeep Wrangler Unlimited Rubicon Sport Utility 4-Door
2010 Jeep Wrangler Unlimited Sahara Sport Utility 4-Door
2010 Jeep Wrangler Unlimited Sport Sport Utility 4-Door
2010 Jeep Wrangler Unlimited X Sport Utility 4-Door
2010 Jeep Wrangler X Sport Utility 2-Door
2009 Jeep Wrangler Rubicon Sport Utility 2-Door
2009 Jeep Wrangler Sahara Sport Utility 2-Door
2009 Jeep Wrangler Unlimited Rubicon Sport Utility 4-Door
2009 Jeep Wrangler Unlimited Sahara Sport Utility 4-Door
2009 Jeep Wrangler Unlimited X Sport Utility 4-Door
2009 Jeep Wrangler X-S Sport Utility 2-Door
2009 Jeep Wrangler X Sport Utility 2-Door
2008 Jeep Wrangler Rubicon Sport Utility 2-Door
2008 Jeep Wrangler Sahara Sport Utility 2-Door
2008 Jeep Wrangler Unlimited Rubicon Sport Utility 4-Door
2008 Jeep Wrangler Unlimited Sahara Sport Utility 4-Door
2008 Jeep Wrangler Unlimited X Sport Utility 4-Door
2008 Jeep Wrangler X Sport Utility 2-Door
2007 Jeep Wrangler Rubicon Sport Utility 2-Door
2007 Jeep Wrangler Sahara Sport Utility 2-Door
2007 Jeep Wrangler Unlimited Rubicon Sport Utility 4-Door
2007 Jeep Wrangler Unlimited Sahara Sport Utility 4-Door
2007 Jeep Wrangler Unlimited X Sport Utility 4-Door
2007 Jeep Wrangler X Sport Utility 2-Door
2018 Jeep Wrangler Rubicon
2018 Jeep Wrangler Sport S
2018 Jeep Wrangler Sport
2018 Jeep Wrangler Unlimited Moab
2018 Jeep Wrangler Unlimited Rubicon
2018 Jeep Wrangler Unlimited Sahara
2018 Jeep Wrangler Unlimited Sport S
2018 Jeep Wrangler Unlimited Sport
2018 Jeep Wrangler JK Rubicon
2018 Jeep Wrangler JK Sahara
2018 Jeep Wrangler JK Sport S
2018 Jeep Wrangler JK Sport
2018 Jeep Wrangler JK Unlimited Rubicon
2018 Jeep Wrangler JK Unlimited Sahara
2018 Jeep Wrangler JK Unlimited Sport S
2018 Jeep Wrangler JK Unlimited Sport
2018 Jeep Wrangler JK Unlimited Willys Wheeler
2017 Jeep Wrangler Rubicon
2017 Jeep Wrangler Sahara
2017 Jeep Wrangler Sport
2017 Jeep Wrangler Unlimited Rubicon
2017 Jeep Wrangler Unlimited Sahara
2017 Jeep Wrangler Unlimited Smoky Mountain
2017 Jeep Wrangler Unlimited Sport
2017 Jeep Wrangler Unlimited Winter Edition
2016 Jeep Wrangler 75th Anniversary
2016 Jeep Wrangler Rubicon
2016 Jeep Wrangler Sahara
2016 Jeep Wrangler Sport S
2016 Jeep Wrangler Sport
2016 Jeep Wrangler Unlimited 75th Anniversary
2016 Jeep Wrangler Unlimited Black Bear
2016 Jeep Wrangler Unlimited Rubicon
2016 Jeep Wrangler Unlimited Sahara
2016 Jeep Wrangler Unlimited Sport S
2016 Jeep Wrangler Unlimited Sport
2015 Jeep Wrangler Freedom Edition
2015 Jeep Wrangler Rubicon
2015 Jeep Wrangler Sahara
2015 Jeep Wrangler Sport
2015 Jeep Wrangler Unlimited Altitude
2015 Jeep Wrangler Unlimited Hard Rock
2015 Jeep Wrangler Unlimited Rubicon
2015 Jeep Wrangler Unlimited Sahara
2015 Jeep Wrangler Unlimited Sport
2015 Jeep Wrangler Willys Wheeler
2015 Jeep Wrangler X Edition
2014 Jeep Wrangler Altitude
2014 Jeep Wrangler Freedom Edition
2014 Jeep Wrangler Polar Edition
2014 Jeep Wrangler Rubicon
2014 Jeep Wrangler Sahara
2014 Jeep Wrangler Sport
2014 Jeep Wrangler Unlimited Dragon Edition
2014 Jeep Wrangler Unlimited Rubicon
2014 Jeep Wrangler Unlimited Sahara
2014 Jeep Wrangler Unlimited Sport
2014 Jeep Wrangler Unlimited Willys Wheeler
2014 Jeep Wrangler Willys Wheeler
2013 Jeep Wrangler Rubicon
2013 Jeep Wrangler Sahara
2013 Jeep Wrangler Sport
2013 Jeep Wrangler Unlimited Rubicon
2013 Jeep Wrangler Unlimited Sahara
2013 Jeep Wrangler Unlimited Sport
2012 Jeep Wrangler Rubicon
2012 Jeep Wrangler Sahara
2012 Jeep Wrangler Sport
2012 Jeep Wrangler Unlimited Altitude
2012 Jeep Wrangler Unlimited Mountain
2012 Jeep Wrangler Unlimited Rubicon
2012 Jeep Wrangler Unlimited Sahara
2012 Jeep Wrangler Unlimited Sport
2012 Jeep Wrangler Unlimited
2011 Jeep Wrangler 70th Anniversary
2011 Jeep Wrangler Rubicon
2011 Jeep Wrangler Sahara
2011 Jeep Wrangler Sport
2011 Jeep Wrangler Unlimited 70th Anniversary
2011 Jeep Wrangler Unlimited Rubicon
2011 Jeep Wrangler Unlimited Sahara
2011 Jeep Wrangler Unlimited Sport
2011 Jeep Wrangler Unlimited X
2011 Jeep Wrangler X
2010 Jeep Wrangler Islander
2010 Jeep Wrangler Rubicon
2010 Jeep Wrangler Sahara
2010 Jeep Wrangler Sport
2010 Jeep Wrangler Unlimited Mountain
2010 Jeep Wrangler Unlimited Rubicon
2010 Jeep Wrangler Unlimited Sahara
2010 Jeep Wrangler Unlimited Sport
2010 Jeep Wrangler Unlimited X
2010 Jeep Wrangler X
2009 Jeep Wrangler Rubicon
2009 Jeep Wrangler Sahara
2009 Jeep Wrangler Unlimited Rubicon
2009 Jeep Wrangler Unlimited Sahara
2009 Jeep Wrangler Unlimited X
2009 Jeep Wrangler X-S
2009 Jeep Wrangler X
2008 Jeep Wrangler Rubicon
2008 Jeep Wrangler Sahara
2008 Jeep Wrangler Unlimited Rubicon
2008 Jeep Wrangler Unlimited Sahara
2008 Jeep Wrangler Unlimited X
2008 Jeep Wrangler X
2007 Jeep Wrangler Rubicon
2007 Jeep Wrangler Sahara
2007 Jeep Wrangler Unlimited Rubicon
2007 Jeep Wrangler Unlimited Sahara
2007 Jeep Wrangler Unlimited X
2007 Jeep Wrangler X
2006 Jeep TJ Rubicon
2006 Jeep TJ SE
2006 Jeep TJ Sport
2006 Jeep TJ Unlimited Rubicon
2006 Jeep TJ Unlimited
2006 Jeep Wrangler 65th Anniversary Edition
2006 Jeep Wrangler Rubicon
2006 Jeep Wrangler SE
2006 Jeep Wrangler Sport
2006 Jeep Wrangler Unlimited Rubicon
2006 Jeep Wrangler Unlimited
2006 Jeep Wrangler X 65 Aniversario
2006 Jeep Wrangler X
2005 Jeep TJ Rubicon
2005 Jeep TJ SE
2005 Jeep TJ Sport
2005 Jeep TJ Unlimited Rubicon
2005 Jeep TJ Unlimited
2005 Jeep Wrangler Rubicon
2005 Jeep Wrangler SE
2005 Jeep Wrangler Sport
2005 Jeep Wrangler Unlimited Rubicon
2005 Jeep Wrangler Unlimited
2005 Jeep Wrangler X
2004 Jeep TJ Rubicon
2004 Jeep TJ SE
2004 Jeep TJ Sahara
2004 Jeep TJ Sport
2004 Jeep TJ Unlimited
2004 Jeep Wrangler Rubicon
2004 Jeep Wrangler SE
2004 Jeep Wrangler Sahara
2004 Jeep Wrangler Sport
2004 Jeep Wrangler Unlimited
2004 Jeep Wrangler X
2003 Jeep TJ Rubicon
2003 Jeep TJ SE
2003 Jeep TJ Sahara
2003 Jeep TJ Sport
2003 Jeep Wrangler Rubicon
2003 Jeep Wrangler SE
2003 Jeep Wrangler Sahara
2003 Jeep Wrangler Sport
2003 Jeep Wrangler X AT
2003 Jeep Wrangler X
2002 Jeep TJ SE
2002 Jeep TJ Sahara
2002 Jeep TJ Sport
2002 Jeep Wrangler SE
2002 Jeep Wrangler Sahara
2002 Jeep Wrangler Sport
2002 Jeep Wrangler X
2001 Jeep TJ SE
2001 Jeep TJ Sahara
2001 Jeep TJ Sport
2001 Jeep Wrangler 60 Aniversario
2001 Jeep Wrangler SE
2001 Jeep Wrangler Sahara
2001 Jeep Wrangler Sport
2000 Jeep TJ SE
2000 Jeep TJ Sahara
2000 Jeep TJ Sport
2000 Jeep Wrangler SE
2000 Jeep Wrangler Sahara
2000 Jeep Wrangler Sport
1999 Jeep TJ SE
1999 Jeep TJ Sahara
1999 Jeep TJ Sport
1999 Jeep Wrangler SE
1999 Jeep Wrangler Sahara
1999 Jeep Wrangler Sport
1998 Jeep TJ SE
1998 Jeep TJ Sahara
1998 Jeep TJ Sport
1998 Jeep Wrangler SE
1998 Jeep Wrangler Sahara
1998 Jeep Wrangler Sport
1997 Jeep TJ SE
1997 Jeep TJ Sahara
1997 Jeep TJ Sport
1997 Jeep Wrangler Base
1997 Jeep Wrangler SE
1997 Jeep Wrangler Sahara
1997 Jeep Wrangler Sport
Package Included
1 x Door Rack Door Storage Holder
2 x Rubber Strips
4 x Wheels
Mounting Hardware
Fitment
2023 Ford Bronco Badlands Sport Utility
2023 Ford Bronco Base Sport Utility
2023 Ford Bronco Big Bend Sport Utility
2023 Ford Bronco Black Diamond Sport Utility
2023 Ford Bronco Everglades Sport Utility
2023 Ford Bronco Heritage Edition Sport Utility
2023 Ford Bronco Outer Banks Sport Utility
2023 Ford Bronco Raptor Sport Utility
2023 Ford Bronco Wildtrak Sport Utility
2022 Ford Bronco Badlands Sport Utility
2022 Ford Bronco Base Sport Utility
2022 Ford Bronco Big Bend Sport Utility
2022 Ford Bronco Black Diamond Sport Utility
2022 Ford Bronco Everglades Sport Utility
2022 Ford Bronco Outer Banks Sport Utility
2022 Ford Bronco Raptor Sport Utility
2022 Ford Bronco Wildtrak Sport Utility
2021 Ford Bronco Badlands Sport Utility
2021 Ford Bronco Base Sport Utility
2021 Ford Bronco Big Bend Sport Utility
2021 Ford Bronco Black Diamond Sport Utility
2021 Ford Bronco First Edition Sport Utility
2021 Ford Bronco Outer Banks Sport Utility
2021 Ford Bronco Wildtrak Sport Utility
2023 Jeep Gladiator High Altitude Crew Cab Pickup 4-Door
2023 Jeep Gladiator High Altitude Crew Cab Pickup 4-Door
2023 Jeep Gladiator Mojave Crew Cab Pickup 4-Door
2023 Jeep Gladiator Overland Crew Cab Pickup 4-Door
2023 Jeep Gladiator Rubicon Crew Cab Pickup 4-Door
2023 Jeep Gladiator Sport Crew Cab Pickup 4-Door
2023 Jeep Gladiator Sport S Crew Cab Pickup 4-Door
2023 Jeep Gladiator Sport S Crew Cab Pickup 4-Door
2023 Jeep Gladiator Willys Crew Cab Pickup 4-Door
2023 Jeep Gladiator Willys Crew Cab Pickup 4-Door
2023 Jeep Gladiator Willys Sport Crew Cab Pickup 4-Door
2023 Jeep Gladiator Willys Sport Crew Cab Pickup 4-Door
2022 Jeep Gladiator Altitude Crew Cab Pickup 4-Door
2022 Jeep Gladiator Altitude Crew Cab Pickup 4-Door
2022 Jeep Gladiator High Altitude Crew Cab Pickup 4-Door
2022 Jeep Gladiator High Altitude Crew Cab Pickup 4-Door
2022 Jeep Gladiator Mojave Crew Cab Pickup 4-Door
2022 Jeep Gladiator Overland Crew Cab Pickup 4-Door
2022 Jeep Gladiator Overland Crew Cab Pickup 4-Door
2022 Jeep Gladiator Rubicon Crew Cab Pickup 4-Door
2022 Jeep Gladiator Rubicon Crew Cab Pickup 4-Door
2022 Jeep Gladiator Sport Crew Cab Pickup 4-Door
2022 Jeep Gladiator Sport Crew Cab Pickup 4-Door
2022 Jeep Gladiator Sport S Crew Cab Pickup 4-Door
2022 Jeep Gladiator Sport S Crew Cab Pickup 4-Door
2022 Jeep Gladiator Willys Crew Cab Pickup 4-Door
2022 Jeep Gladiator Willys Crew Cab Pickup 4-Door
2022 Jeep Gladiator Willys Sport Crew Cab Pickup 4-Door
2022 Jeep Gladiator Willys Sport Crew Cab Pickup 4-Door
2021 Jeep Gladiator 80th Anniversary Crew Cab Pickup 4-Door
2021 Jeep Gladiator 80th Anniversary Crew Cab Pickup 4-Door
2021 Jeep Gladiator High Altitude Crew Cab Pickup 4-Door
2021 Jeep Gladiator High Altitude Crew Cab Pickup 4-Door
2021 Jeep Gladiator Mojave Crew Cab Pickup 4-Door
2021 Jeep Gladiator Overland Crew Cab Pickup 4-Door
2021 Jeep Gladiator Overland Crew Cab Pickup 4-Door
2021 Jeep Gladiator Rubicon Crew Cab Pickup 4-Door
2021 Jeep Gladiator Rubicon Crew Cab Pickup 4-Door
2021 Jeep Gladiator Sport Crew Cab Pickup 4-Door
2021 Jeep Gladiator Sport Crew Cab Pickup 4-Door
2021 Jeep Gladiator Sport S Crew Cab Pickup 4-Door
2021 Jeep Gladiator Sport S Crew Cab Pickup 4-Door
2021 Jeep Gladiator Willys Crew Cab Pickup 4-Door
2021 Jeep Gladiator Willys Crew Cab Pickup 4-Door
2021 Jeep Gladiator Willys Sport Crew Cab Pickup 4-Door
2021 Jeep Gladiator Willys Sport Crew Cab Pickup 4-Door
2020 Jeep Gladiator Altitude Crew Cab Pickup 4-Door
2020 Jeep Gladiator Launch Edition Crew Cab Pickup 4-Door
2020 Jeep Gladiator Mojave Crew Cab Pickup 4-Door
2020 Jeep Gladiator North Edition Crew Cab Pickup 4-Door
2020 Jeep Gladiator Overland Crew Cab Pickup 4-Door
2020 Jeep Gladiator Rubicon Crew Cab Pickup 4-Door
2020 Jeep Gladiator Sport Crew Cab Pickup 4-Door
2020 Jeep Gladiator Sport S Crew Cab Pickup 4-Door
2023 Jeep Wrangler Unlimited High Altitude 4xe Sport Utility 4-Door
2023 Jeep Wrangler Unlimited High Altitude Sport Utility 4-Door
2023 Jeep Wrangler Unlimited Rubicon 4xe Sport Utility 4-Door
2023 Jeep Wrangler Unlimited Rubicon 392 Sport Utility 4-Door
2023 Jeep Wrangler Unlimited Rubicon Sport Utility 4-Door
2023 Jeep Wrangler Unlimited Sahara 4xe Sport Utility 4-Door
2023 Jeep Wrangler Unlimited Sahara Altitude Sport Utility 4-Door
2023 Jeep Wrangler Unlimited Sahara High Altitude Sport Utility 4-Door
2023 Jeep Wrangler Unlimited Sahara Sport Utility 4-Door
2023 Jeep Wrangler Unlimited Sport Altitude Sport Utility 4-Door
2023 Jeep Wrangler Unlimited Sport S Sport Utility 4-Door
2023 Jeep Wrangler Unlimited Sport Sport Utility 4-Door
2023 Jeep Wrangler Unlimited Willys 4xe Sport Utility 4-Door
2023 Jeep Wrangler Unlimited Willys Sport Sport Utility 4-Door
2023 Jeep Wrangler Unlimited Willys Sport Utility 4-Door
2022 Jeep Wrangler Rubicon Sport Utility 2-Door
2022 Jeep Wrangler Sport S Sport Utility 2-Door
2022 Jeep Wrangler Sport Sport Utility 2-Door
2022 Jeep Wrangler Unlimited Rubicon 392 Sport Utility 4-Door
2022 Jeep Wrangler Unlimited Rubicon Sport Utility 4-Door
2022 Jeep Wrangler Unlimited Sahara Altitude Sport Utility 4-Door
2022 Jeep Wrangler Unlimited Sahara High Altitude Sport Utility 4-Door
2022 Jeep Wrangler Unlimited Sahara Sport Utility 4-Door
2022 Jeep Wrangler Unlimited Sport Altitude Sport Utility 4-Door
2022 Jeep Wrangler Unlimited Sport S Sport Utility 4-Door
2022 Jeep Wrangler Unlimited Sport Sport Utility 4-Door
2022 Jeep Wrangler Unlimited Willys Sport Sport Utility 4-Door
2022 Jeep Wrangler Unlimited Willys Sport Utility 4-Door
2022 Jeep Wrangler Willys Sport Sport Utility 2-Door
2022 Jeep Wrangler Willys Sport Utility 2-Door
2021 Jeep Wrangler 80th Anniversary Sport Utility 2-Door
2021 Jeep Wrangler Freedom Sport Utility 2-Door
2021 Jeep Wrangler Islander Sport Utility 2-Door
2021 Jeep Wrangler Rubicon Sport Utility 2-Door
2021 Jeep Wrangler Sport S Sport Utility 2-Door
2021 Jeep Wrangler Sport Sport Utility 2-Door
2021 Jeep Wrangler Unlimited 80th Anniversary Sport Utility 4-Door
2021 Jeep Wrangler Unlimited Freedom Sport Utility 4-Door
2021 Jeep Wrangler Unlimited High Altitude Sport Utility 4-Door
2021 Jeep Wrangler Unlimited Islander Sport Utility 4-Door
2021 Jeep Wrangler Unlimited Rubicon 392 Sport Utility 4-Door
2021 Jeep Wrangler Unlimited Rubicon Sport Utility 4-Door
2021 Jeep Wrangler Unlimited Sahara Altitude Sport Utility 4-Door
2021 Jeep Wrangler Unlimited Sahara High Altitude Sport Utility 4-Door
2021 Jeep Wrangler Unlimited Sahara Sport Utility 4-Door
2021 Jeep Wrangler Unlimited Sport Altitude Sport Utility 4-Door
2021 Jeep Wrangler Unlimited Sport S Sport Utility 4-Door
2021 Jeep Wrangler Unlimited Sport Sport Utility 4-Door
2021 Jeep Wrangler Unlimited Willys Sport Sport Utility 4-Door
2021 Jeep Wrangler Unlimited Willys Sport Utility 4-Door
2021 Jeep Wrangler Willys Sport Sport Utility 2-Door
2021 Jeep Wrangler Willys Sport Utility 2-Door
2020 Jeep Wrangler Rubicon Deluxe Sport Utility 2-Door
2020 Jeep Wrangler Rubicon Sport Utility 2-Door
2020 Jeep Wrangler Sport S Sport Utility 2-Door
2020 Jeep Wrangler Sport Sport Utility 2-Door
2020 Jeep Wrangler Unlimited Black and Tan Sport Utility 2-Door
2020 Jeep Wrangler Unlimited Black and Tan Sport Utility 4-Door
2020 Jeep Wrangler Unlimited Freedom Sport Utility 2-Door
2020 Jeep Wrangler Unlimited Freedom Sport Utility 4-Door
2020 Jeep Wrangler Unlimited North Edition Sport Utility 4-Door
2020 Jeep Wrangler Unlimited Recon Sport Utility 2-Door
2020 Jeep Wrangler Unlimited Recon Sport Utility 4-Door
2020 Jeep Wrangler Unlimited Rubicon Deluxe Sport Utility 4-Door
2020 Jeep Wrangler Unlimited Rubicon Sport Utility 4-Door
2020 Jeep Wrangler Unlimited Rubicon Xtreme Sport Utility 4-Door
2020 Jeep Wrangler Unlimited Sahara Altitude Sport Utility 4-Door
2020 Jeep Wrangler Unlimited Sahara Sport Utility 4-Door
2020 Jeep Wrangler Unlimited Sport Altitude Sport Utility 4-Door
2020 Jeep Wrangler Unlimited Sport S Sport Utility 4-Door
2020 Jeep Wrangler Unlimited Sport Sport Utility 4-Door
2020 Jeep Wrangler Unlimited Willys Sport Utility 2-Door
2020 Jeep Wrangler Unlimited Willys Sport Utility 4-Door
2019 Jeep Wrangler Rubicon Deluxe Sport Utility 2-Door
2019 Jeep Wrangler Rubicon Sport Utility 2-Door
2019 Jeep Wrangler Sport S Sport Utility 2-Door
2019 Jeep Wrangler Sport Sport Utility 2-Door
2019 Jeep Wrangler Unlimited Moab Sport Utility 4-Door
2019 Jeep Wrangler Unlimited Rubicon Sport Utility 4-Door
2019 Jeep Wrangler Unlimited Sahara Altitude Sport Utility 4-Door
2019 Jeep Wrangler Unlimited Sahara Sport Utility 4-Door
2019 Jeep Wrangler Unlimited Sport S Sport Utility 4-Door
2019 Jeep Wrangler Unlimited Sport Sport Utility 4-Door
2018 Jeep Wrangler Rubicon Sport Utility 2-Door
2018 Jeep Wrangler Sport S Sport Utility 2-Door
2018 Jeep Wrangler Sport Sport Utility 2-Door
2018 Jeep Wrangler Unlimited Moab Sport Utility 4-Door
2018 Jeep Wrangler Rubicon Sport Utility 2-Door
2018 Jeep Wrangler Sport S Sport Utility 2-Door
2018 Jeep Wrangler Sport Sport Utility 2-Door
2018 Jeep Wrangler Unlimited Moab Sport Utility 4-Door
2018 Jeep Wrangler Unlimited Rubicon Sport Utility 4-Door
2018 Jeep Wrangler Unlimited Sahara Sport Utility 4-Door
2018 Jeep Wrangler Unlimited Sport S Sport Utility 4-Door
2018 Jeep Wrangler Unlimited Sport Sport Utility 4-Door
2018 Jeep Wrangler JK Rubicon Sport Utility 2-Door
2018 Jeep Wrangler JK Sahara Sport Utility 2-Door
2018 Jeep Wrangler JK Sport S Sport Utility 2-Door
2018 Jeep Wrangler JK Sport Sport Utility 2-Door
2018 Jeep Wrangler JK Unlimited Rubicon Sport Utility 4-Door
2018 Jeep Wrangler JK Unlimited Sahara Sport Utility 4-Door
2018 Jeep Wrangler JK Unlimited Sport S Sport Utility 4-Door
2018 Jeep Wrangler JK Unlimited Sport Sport Utility 4-Door
2018 Jeep Wrangler JK Unlimited Willys Wheeler Sport Utility 4-Door
2017 Jeep Wrangler Rubicon Sport Utility 2-Door
2017 Jeep Wrangler Sahara Sport Utility 2-Door
2017 Jeep Wrangler Sport Sport Utility 2-Door
2017 Jeep Wrangler Unlimited Rubicon Sport Utility 4-Door
2017 Jeep Wrangler Unlimited Sahara Sport Utility 4-Door
2017 Jeep Wrangler Unlimited Smoky Mountain Sport Utility 4-Door
2017 Jeep Wrangler Unlimited Sport Sport Utility 4-Door
2017 Jeep Wrangler Unlimited Winter Edition Sport Utility 4-Door
2016 Jeep Wrangler 75th Anniversary Sport Utility 2-Door
2016 Jeep Wrangler Rubicon Sport Utility 2-Door
2016 Jeep Wrangler Sahara Sport Utility 2-Door
2016 Jeep Wrangler Sport S Sport Utility 2-Door
2016 Jeep Wrangler Sport Sport Utility 2-Door
2016 Jeep Wrangler Unlimited 75th Anniversary Sport Utility 4-Door
2016 Jeep Wrangler Unlimited Black Bear Sport Utility 4-Door
2016 Jeep Wrangler Unlimited Rubicon Sport Utility 4-Door
2016 Jeep Wrangler Unlimited Sahara Sport Utility 4-Door
2016 Jeep Wrangler Unlimited Sport S Sport Utility 4-Door
2016 Jeep Wrangler Unlimited Sport Sport Utility 4-Door
2015 Jeep Wrangler Freedom Edition Sport Utility 2-Door
2015 Jeep Wrangler Freedom Edition Sport Utility 4-Door
2015 Jeep Wrangler Rubicon Sport Utility 2-Door
2015 Jeep Wrangler Sahara Sport Utility 2-Door
2015 Jeep Wrangler Sport Sport Utility 2-Door
2015 Jeep Wrangler Unlimited Altitude Sport Utility 4-Door
2015 Jeep Wrangler Unlimited Hard Rock Sport Utility 4-Door
2015 Jeep Wrangler Unlimited Rubicon Sport Utility 4-Door
2015 Jeep Wrangler Unlimited Sahara Sport Utility 4-Door
2015 Jeep Wrangler Unlimited Sport Sport Utility 4-Door
2015 Jeep Wrangler Willys Wheeler Sport Utility 2-Door
2015 Jeep Wrangler Willys Wheeler Sport Utility 4-Door
2015 Jeep Wrangler X Edition Sport Utility 2-Door
2015 Jeep Wrangler X Edition Sport Utility 4-Door
2014 Jeep Wrangler Altitude Sport Utility 2-Door
2014 Jeep Wrangler Altitude Sport Utility 4-Door
2014 Jeep Wrangler Freedom Edition Sport Utility 2-Door
2014 Jeep Wrangler Freedom Edition Sport Utility 4-Door
2014 Jeep Wrangler Polar Edition Sport Utility 2-Door
2014 Jeep Wrangler Polar Edition Sport Utility 4-Door
2014 Jeep Wrangler Rubicon Sport Utility 2-Door
2014 Jeep Wrangler Sahara Sport Utility 2-Door
2014 Jeep Wrangler Sport Sport Utility 2-Door
2014 Jeep Wrangler Unlimited Dragon Edition Sport Utility 4-Door
2014 Jeep Wrangler Unlimited Rubicon Sport Utility 4-Door
2014 Jeep Wrangler Unlimited Sahara Sport Utility 4-Door
2014 Jeep Wrangler Unlimited Sport Sport Utility 4-Door
2014 Jeep Wrangler Unlimited Willys Wheeler Sport Utility 4-Door
2014 Jeep Wrangler Willys Wheeler Sport Utility 2-Door
2013 Jeep Wrangler Rubicon Sport Utility 2-Door
2013 Jeep Wrangler Sahara Sport Utility 2-Door
2013 Jeep Wrangler Sport Sport Utility 2-Door
2013 Jeep Wrangler Unlimited Rubicon Sport Utility 4-Door
2013 Jeep Wrangler Unlimited Sahara Sport Utility 4-Door
2013 Jeep Wrangler Unlimited Sport Sport Utility 4-Door
2012 Jeep Wrangler Rubicon Sport Utility 2-Door
2012 Jeep Wrangler Sahara Sport Utility 2-Door
2012 Jeep Wrangler Sport Sport Utility 2-Door
2012 Jeep Wrangler Unlimited Altitude Sport Utility 4-Door
2012 Jeep Wrangler Unlimited Mountain Sport Utility 4-Door
2012 Jeep Wrangler Unlimited Rubicon Sport Utility 4-Door
2012 Jeep Wrangler Unlimited Sahara Sport Utility 4-Door
2012 Jeep Wrangler Unlimited Sport Sport Utility 4-Door
2012 Jeep Wrangler Unlimited Sport Utility 4-Door
2011 Jeep Wrangler 70th Anniversary Sport Utility 2-Door
2011 Jeep Wrangler Rubicon Sport Utility 2-Door
2011 Jeep Wrangler Sahara Sport Utility 2-Door
2011 Jeep Wrangler Sport Sport Utility 2-Door
2011 Jeep Wrangler Unlimited 70th Anniversary Sport Utility 4-Door
2011 Jeep Wrangler Unlimited Rubicon Sport Utility 4-Door
2011 Jeep Wrangler Unlimited Sahara Sport Utility 4-Door
2011 Jeep Wrangler Unlimited Sport Sport Utility 4-Door
2011 Jeep Wrangler Unlimited X Sport Utility 4-Door
2011 Jeep Wrangler X Sport Utility 2-Door
2010 Jeep Wrangler Islander Sport Utility 2-Door
2010 Jeep Wrangler Rubicon Sport Utility 2-Door
2010 Jeep Wrangler Sahara Sport Utility 2-Door
2010 Jeep Wrangler Sport Sport Utility 2-Door
2010 Jeep Wrangler Unlimited Mountain Sport Utility 4-Door
2010 Jeep Wrangler Unlimited Rubicon Sport Utility 4-Door
2010 Jeep Wrangler Unlimited Sahara Sport Utility 4-Door
2010 Jeep Wrangler Unlimited Sport Sport Utility 4-Door
2010 Jeep Wrangler Unlimited X Sport Utility 4-Door
2010 Jeep Wrangler X Sport Utility 2-Door
2009 Jeep Wrangler Rubicon Sport Utility 2-Door
2009 Jeep Wrangler Sahara Sport Utility 2-Door
2009 Jeep Wrangler Unlimited Rubicon Sport Utility 4-Door
2009 Jeep Wrangler Unlimited Sahara Sport Utility 4-Door
2009 Jeep Wrangler Unlimited X Sport Utility 4-Door
2009 Jeep Wrangler X-S Sport Utility 2-Door
2009 Jeep Wrangler X Sport Utility 2-Door
2008 Jeep Wrangler Rubicon Sport Utility 2-Door
2008 Jeep Wrangler Sahara Sport Utility 2-Door
2008 Jeep Wrangler Unlimited Rubicon Sport Utility 4-Door
2008 Jeep Wrangler Unlimited Sahara Sport Utility 4-Door
2008 Jeep Wrangler Unlimited X Sport Utility 4-Door
2008 Jeep Wrangler X Sport Utility 2-Door
2007 Jeep Wrangler Rubicon Sport Utility 2-Door
2007 Jeep Wrangler Sahara Sport Utility 2-Door
2007 Jeep Wrangler Unlimited Rubicon Sport Utility 4-Door
2007 Jeep Wrangler Unlimited Sahara Sport Utility 4-Door
2007 Jeep Wrangler Unlimited X Sport Utility 4-Door
2007 Jeep Wrangler X Sport Utility 2-Door
2018 Jeep Wrangler Rubicon
2018 Jeep Wrangler Sport S
2018 Jeep Wrangler Sport
2018 Jeep Wrangler Unlimited Moab
2018 Jeep Wrangler Unlimited Rubicon
2018 Jeep Wrangler Unlimited Sahara
2018 Jeep Wrangler Unlimited Sport S
2018 Jeep Wrangler Unlimited Sport
2018 Jeep Wrangler JK Rubicon
2018 Jeep Wrangler JK Sahara
2018 Jeep Wrangler JK Sport S
2018 Jeep Wrangler JK Sport
2018 Jeep Wrangler JK Unlimited Rubicon
2018 Jeep Wrangler JK Unlimited Sahara
2018 Jeep Wrangler JK Unlimited Sport S
2018 Jeep Wrangler JK Unlimited Sport
2018 Jeep Wrangler JK Unlimited Willys Wheeler
2017 Jeep Wrangler Rubicon
2017 Jeep Wrangler Sahara
2017 Jeep Wrangler Sport
2017 Jeep Wrangler Unlimited Rubicon
2017 Jeep Wrangler Unlimited Sahara
2017 Jeep Wrangler Unlimited Smoky Mountain
2017 Jeep Wrangler Unlimited Sport
2017 Jeep Wrangler Unlimited Winter Edition
2016 Jeep Wrangler 75th Anniversary
2016 Jeep Wrangler Rubicon
2016 Jeep Wrangler Sahara
2016 Jeep Wrangler Sport S
2016 Jeep Wrangler Sport
2016 Jeep Wrangler Unlimited 75th Anniversary
2016 Jeep Wrangler Unlimited Black Bear
2016 Jeep Wrangler Unlimited Rubicon
2016 Jeep Wrangler Unlimited Sahara
2016 Jeep Wrangler Unlimited Sport S
2016 Jeep Wrangler Unlimited Sport
2015 Jeep Wrangler Freedom Edition
2015 Jeep Wrangler Rubicon
2015 Jeep Wrangler Sahara
2015 Jeep Wrangler Sport
2015 Jeep Wrangler Unlimited Altitude
2015 Jeep Wrangler Unlimited Hard Rock
2015 Jeep Wrangler Unlimited Rubicon
2015 Jeep Wrangler Unlimited Sahara
2015 Jeep Wrangler Unlimited Sport
2015 Jeep Wrangler Willys Wheeler
2015 Jeep Wrangler X Edition
2014 Jeep Wrangler Altitude
2014 Jeep Wrangler Freedom Edition
2014 Jeep Wrangler Polar Edition
2014 Jeep Wrangler Rubicon
2014 Jeep Wrangler Sahara
2014 Jeep Wrangler Sport
2014 Jeep Wrangler Unlimited Dragon Edition
2014 Jeep Wrangler Unlimited Rubicon
2014 Jeep Wrangler Unlimited Sahara
2014 Jeep Wrangler Unlimited Sport
2014 Jeep Wrangler Unlimited Willys Wheeler
2014 Jeep Wrangler Willys Wheeler
2013 Jeep Wrangler Rubicon
2013 Jeep Wrangler Sahara
2013 Jeep Wrangler Sport
2013 Jeep Wrangler Unlimited Rubicon
2013 Jeep Wrangler Unlimited Sahara
2013 Jeep Wrangler Unlimited Sport
2012 Jeep Wrangler Rubicon
2012 Jeep Wrangler Sahara
2012 Jeep Wrangler Sport
2012 Jeep Wrangler Unlimited Altitude
2012 Jeep Wrangler Unlimited Mountain
2012 Jeep Wrangler Unlimited Rubicon
2012 Jeep Wrangler Unlimited Sahara
2012 Jeep Wrangler Unlimited Sport
2012 Jeep Wrangler Unlimited
2011 Jeep Wrangler 70th Anniversary
2011 Jeep Wrangler Rubicon
2011 Jeep Wrangler Sahara
2011 Jeep Wrangler Sport
2011 Jeep Wrangler Unlimited 70th Anniversary
2011 Jeep Wrangler Unlimited Rubicon
2011 Jeep Wrangler Unlimited Sahara
2011 Jeep Wrangler Unlimited Sport
2011 Jeep Wrangler Unlimited X
2011 Jeep Wrangler X
2010 Jeep Wrangler Islander
2010 Jeep Wrangler Rubicon
2010 Jeep Wrangler Sahara
2010 Jeep Wrangler Sport
2010 Jeep Wrangler Unlimited Mountain
2010 Jeep Wrangler Unlimited Rubicon
2010 Jeep Wrangler Unlimited Sahara
2010 Jeep Wrangler Unlimited Sport
2010 Jeep Wrangler Unlimited X
2010 Jeep Wrangler X
2009 Jeep Wrangler Rubicon
2009 Jeep Wrangler Sahara
2009 Jeep Wrangler Unlimited Rubicon
2009 Jeep Wrangler Unlimited Sahara
2009 Jeep Wrangler Unlimited X
2009 Jeep Wrangler X-S
2009 Jeep Wrangler X
2008 Jeep Wrangler Rubicon
2008 Jeep Wrangler Sahara
2008 Jeep Wrangler Unlimited Rubicon
2008 Jeep Wrangler Unlimited Sahara
2008 Jeep Wrangler Unlimited X
2008 Jeep Wrangler X
2007 Jeep Wrangler Rubicon
2007 Jeep Wrangler Sahara
2007 Jeep Wrangler Unlimited Rubicon
2007 Jeep Wrangler Unlimited Sahara
2007 Jeep Wrangler Unlimited X
2007 Jeep Wrangler X
2006 Jeep TJ Rubicon
2006 Jeep TJ SE
2006 Jeep TJ Sport
2006 Jeep TJ Unlimited Rubicon
2006 Jeep TJ Unlimited
2006 Jeep Wrangler 65th Anniversary Edition
2006 Jeep Wrangler Rubicon
2006 Jeep Wrangler SE
2006 Jeep Wrangler Sport
2006 Jeep Wrangler Unlimited Rubicon
2006 Jeep Wrangler Unlimited
2006 Jeep Wrangler X 65 Aniversario
2006 Jeep Wrangler X
2005 Jeep TJ Rubicon
2005 Jeep TJ SE
2005 Jeep TJ Sport
2005 Jeep TJ Unlimited Rubicon
2005 Jeep TJ Unlimited
2005 Jeep Wrangler Rubicon
2005 Jeep Wrangler SE
2005 Jeep Wrangler Sport
2005 Jeep Wrangler Unlimited Rubicon
2005 Jeep Wrangler Unlimited
2005 Jeep Wrangler X
2004 Jeep TJ Rubicon
2004 Jeep TJ SE
2004 Jeep TJ Sahara
2004 Jeep TJ Sport
2004 Jeep TJ Unlimited
2004 Jeep Wrangler Rubicon
2004 Jeep Wrangler SE
2004 Jeep Wrangler Sahara
2004 Jeep Wrangler Sport
2004 Jeep Wrangler Unlimited
2004 Jeep Wrangler X
2003 Jeep TJ Rubicon
2003 Jeep TJ SE
2003 Jeep TJ Sahara
2003 Jeep TJ Sport
2003 Jeep Wrangler Rubicon
2003 Jeep Wrangler SE
2003 Jeep Wrangler Sahara
2003 Jeep Wrangler Sport
2003 Jeep Wrangler X AT
2003 Jeep Wrangler X
2002 Jeep TJ SE
2002 Jeep TJ Sahara
2002 Jeep TJ Sport
2002 Jeep Wrangler SE
2002 Jeep Wrangler Sahara
2002 Jeep Wrangler Sport
2002 Jeep Wrangler X
2001 Jeep TJ SE
2001 Jeep TJ Sahara
2001 Jeep TJ Sport
2001 Jeep Wrangler 60 Aniversario
2001 Jeep Wrangler SE
2001 Jeep Wrangler Sahara
2001 Jeep Wrangler Sport
2000 Jeep TJ SE
2000 Jeep TJ Sahara
2000 Jeep TJ Sport
2000 Jeep Wrangler SE
2000 Jeep Wrangler Sahara
2000 Jeep Wrangler Sport
1999 Jeep TJ SE
1999 Jeep TJ Sahara
1999 Jeep TJ Sport
1999 Jeep Wrangler SE
1999 Jeep Wrangler Sahara
1999 Jeep Wrangler Sport
1998 Jeep TJ SE
1998 Jeep TJ Sahara
1998 Jeep TJ Sport
1998 Jeep Wrangler SE
1998 Jeep Wrangler Sahara
1998 Jeep Wrangler Sport
1997 Jeep TJ SE
1997 Jeep TJ Sahara
1997 Jeep TJ Sport
1997 Jeep Wrangler Base
1997 Jeep Wrangler SE
1997 Jeep Wrangler Sahara
1997 Jeep Wrangler Sport
Ez to assemble
Instructions says two-three people to assemble. I put together myself under twenty minutes once I put together the nuts an bolts that came in a mess.
Better alternative to garage wall hooks.
Super easy to assemble. Quality built. Can hold one door without tipping and is easy to roll when fully loaded with 4 doors. Very happy with my purchase.
Great company
Product as described, more important we had a minor delivery issue and they immediately responded and resolved the issue to our complete satisfaction, definitely 5 star company
Fairly solid.
The instructions were definitely the best that come with anything for the jeep but were still complicated. Mostly just with the part where the jeep doors mounts on the rack, why couldn't those just have been welded on the frame.. Also the welds could have been better. And
Confusing instructions
Picture instructions are very hard to see and distinguish between the different sizes of nuts and bolts. I received a car ago and I am still trying to figure things out.