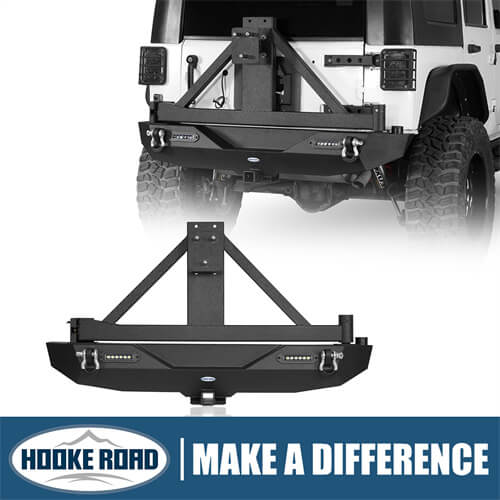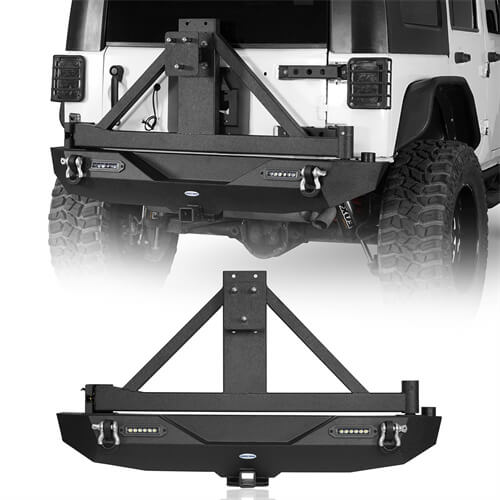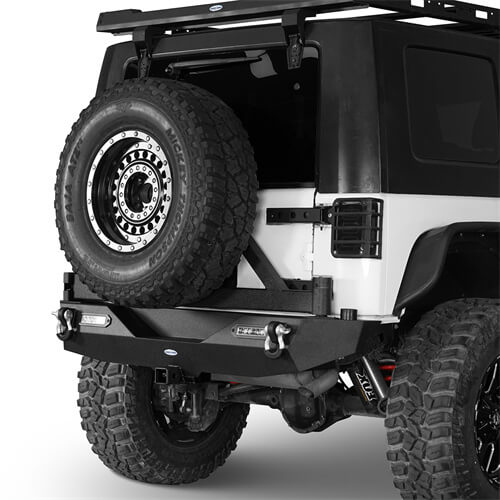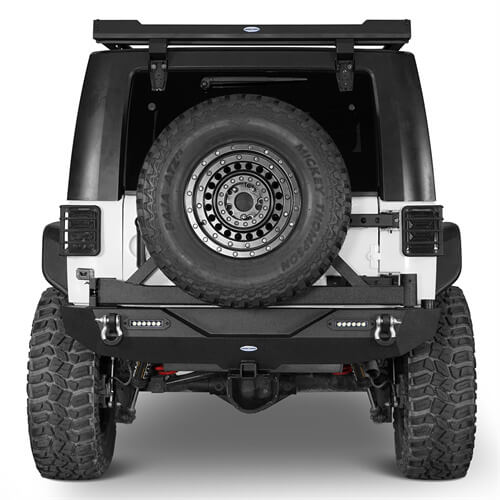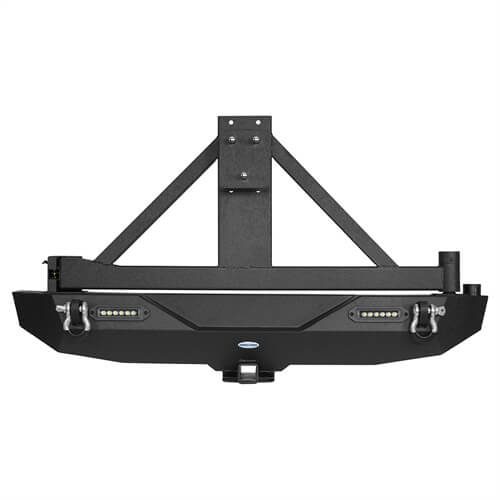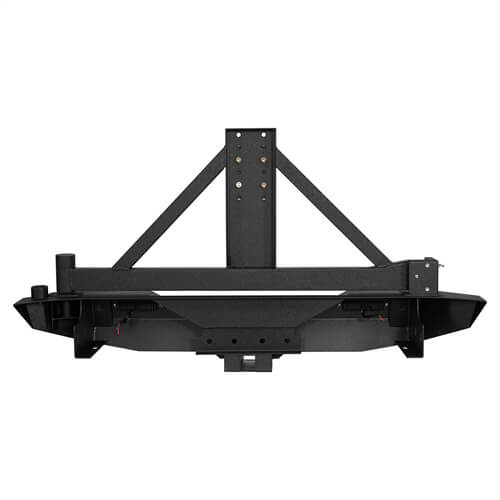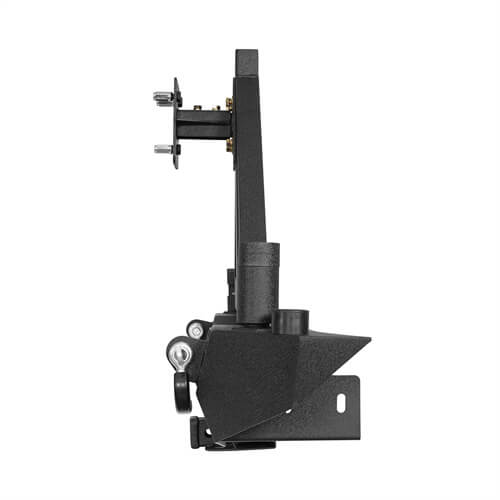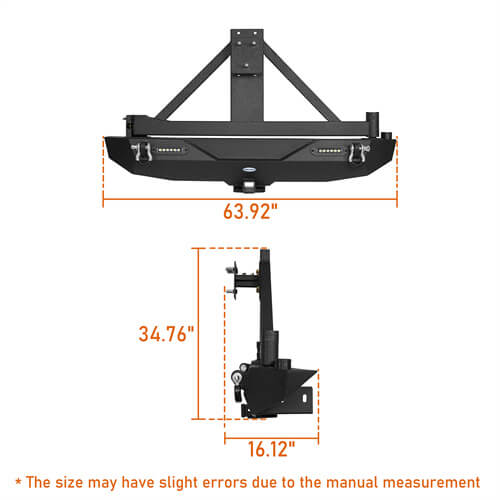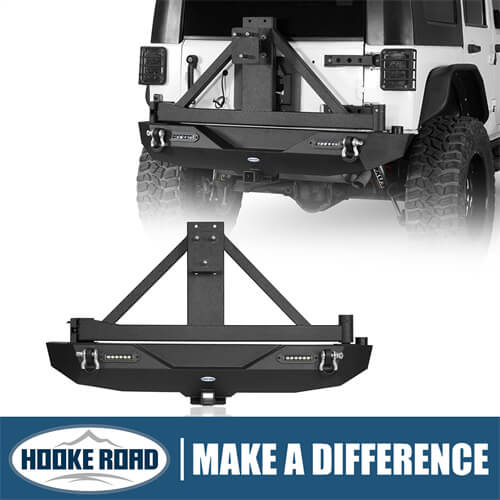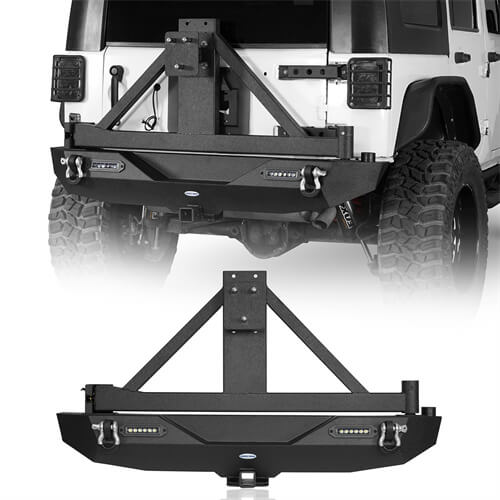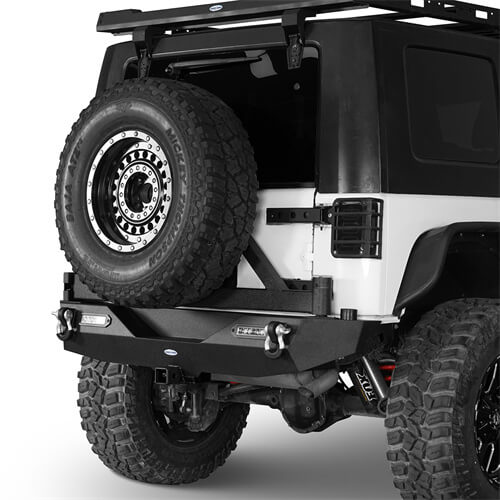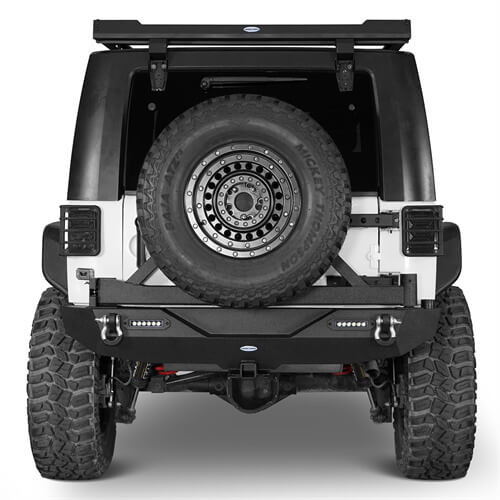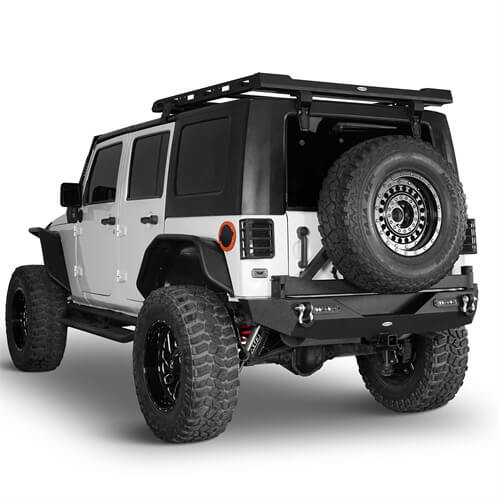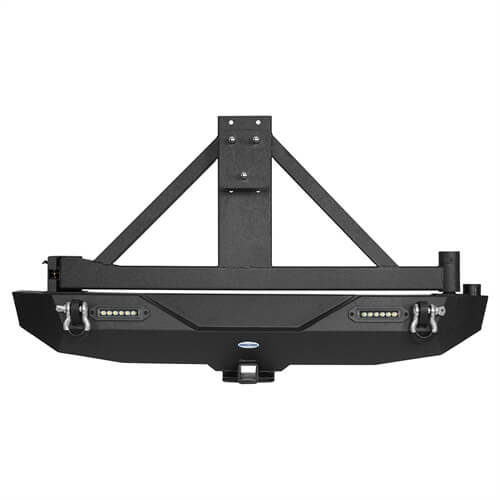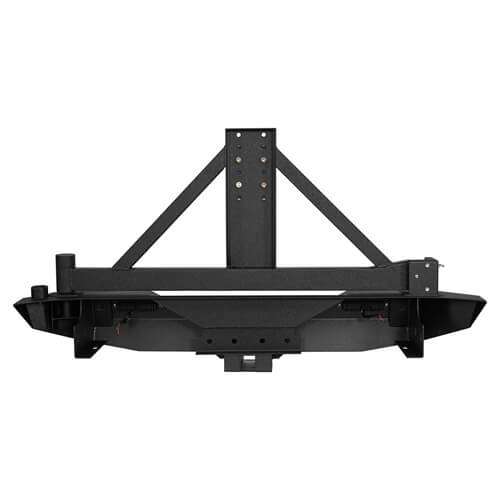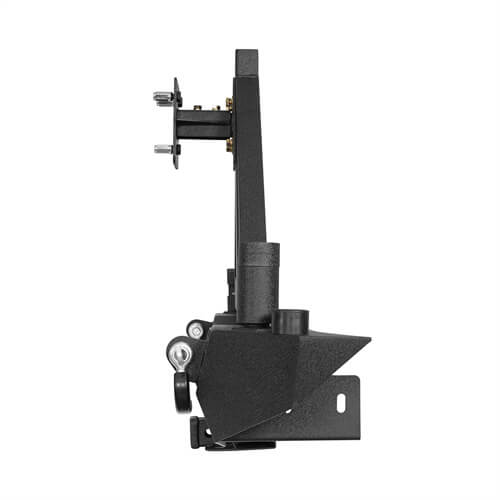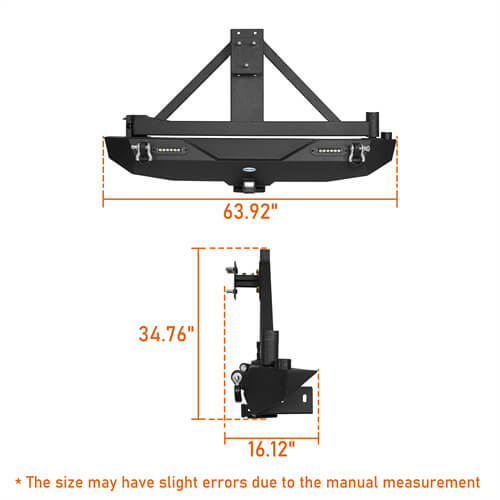 Feature

Fits for 2007-2018 Jeep Wrangler JK Models
Textured Black Powder Coat Finish
Heavy-Duty, High Strength Steel Construction
2" Standard Hitch Receiver
High Strength D-Rings
New Design Lock system w/a Double Latch System for a Secure Hold
two 3/4" D-Rings and 2" Hitch Receiver that are rated at 9,500 lb
Accommodate Up to 37" Tires
Weight: 143.7 lbs
Easy Installation, Bolt-On Installation
1 x Hooke Road Jeep JK Explorer Rear Bumper w/Tire Carrier & 2" Hitch Receiver(Come with 2 Packages)
2 x 18W High Powered LED Floodlights
2 x D-rings
Mounting Hardware
2018 Jeep Wrangler (JK) Rubicon (2-Door)
2018 Jeep Wrangler (JK) Sahara (2-Door)
2018 Jeep Wrangler (JK) Sport (2-Door)
2018 Jeep Wrangler (JK) Unlimited Rubicon (4-Door)
2018 Jeep Wrangler (JK) Unlimited Sahara (4-Door)
2018 Jeep Wrangler (JK) Unlimited Sport (4-Door)
2017 Jeep Wrangler (JK) Rubicon (2-Door)
2017 Jeep Wrangler (JK) Sahara (2-Door)
2017 Jeep Wrangler (JK) Sport (2-Door)
2017 Jeep Wrangler (JK) Unlimited Rubicon (4-Door)
2017 Jeep Wrangler (JK) Unlimited Sahara (4-Door)
2017 Jeep Wrangler (JK) Unlimited Sport (4-Door)
2016 Jeep Wrangler (JK) Rubicon (2-Door)
2016 Jeep Wrangler (JK) Sahara (2-Door)
2016 Jeep Wrangler (JK) Sport (2-Door)
2016 Jeep Wrangler (JK) Unlimited Rubicon (4-Door)
2016 Jeep Wrangler (JK) Unlimited Sahara (4-Door)
2016 Jeep Wrangler (JK) Unlimited Sport (4-Door)
2016 Jeep Wrangler (JK) Unlimited Sport S (4-Door)
2016 Jeep Wrangler (JK) Sport S (2-Door)
2016 Jeep Wrangler (JK) 75th Anniversary (2-Door)
2016 Jeep Wrangler (JK) Unlimited 75th Anniversary (4-Door)
2015 Jeep Wrangler (JK) Rubicon (2-Door)
2015 Jeep Wrangler (JK) Sahara (2-Door)
2015 Jeep Wrangler (JK) Sport (2-Door)
2015 Jeep Wrangler (JK) Unlimited Rubicon (4-Door)
2015 Jeep Wrangler (JK) Unlimited Sahara (4-Door)
2015 Jeep Wrangler (JK) Unlimited Sport (4-Door)
2014 Jeep Wrangler (JK) Rubicon (2-Door)
2014 Jeep Wrangler (JK) Sahara (2-Door)
2014 Jeep Wrangler (JK) Sport (2-Door)
2014 Jeep Wrangler (JK) Unlimited Rubicon (4-Door)
2014 Jeep Wrangler (JK) Unlimited Sahara (4-Door)
2014 Jeep Wrangler (JK) Unlimited Sport (4-Door)
2013 Jeep Wrangler (JK) Rubicon (2-Door)
2013 Jeep Wrangler (JK) Sahara (2-Door)
2013 Jeep Wrangler (JK) Sport (2-Door)
2013 Jeep Wrangler (JK) Unlimited Rubicon (4-Door)
2013 Jeep Wrangler (JK) Unlimited Sport (4-Door)
2013 Jeep Wrangler (JK) Unlimited Sahara (4-Door)
2012 Jeep Wrangler (JK) Rubicon (2-Door)
2012 Jeep Wrangler (JK) Sahara (2-Door)
2012 Jeep Wrangler (JK) Sport (2-Door)
2012 Jeep Wrangler (JK) Unlimited Rubicon (4-Door)
2012 Jeep Wrangler (JK) Unlimited Sahara (4-Door)
2012 Jeep Wrangler (JK) Unlimited Sport (4-Door)
2011 Jeep Wrangler (JK) Rubicon (2-Door)
2011 Jeep Wrangler (JK) Sahara (2-Door)
2011 Jeep Wrangler (JK) Sport (2-Door)
2011 Jeep Wrangler (JK) Unlimited Rubicon (4-Door)
2011 Jeep Wrangler (JK) Unlimited Sahara (4-Door)
2011 Jeep Wrangler (JK) Unlimited Sport (4-Door)
2011 Jeep Wrangler (JK) 70th Anniversary (2-Door)
2011 Jeep Wrangler (JK) Unlimited 70th Anniversary (4-Door)
2010 Jeep Wrangler (JK) Rubicon (2-Door)
2010 Jeep Wrangler (JK) Sahara (2-Door)
2010 Jeep Wrangler (JK) Unlimited Rubicon (4-Door)
2010 Jeep Wrangler (JK) Unlimited Sahara (4-Door)
2010 Jeep Wrangler (JK) Unlimited X (4-Door)
2010 Jeep Wrangler (JK) X (2-Door)
2010 Jeep Wrangler (JK) Sport (2-Door)
2010 Jeep Wrangler (JK) Unlimited Sport (4-Door)
2009 Jeep Wrangler (JK) Rubicon (2-Door)
2009 Jeep Wrangler (JK) Sahara (2-Door)
2009 Jeep Wrangler (JK) Unlimited Rubicon (4-Door)
2009 Jeep Wrangler (JK) Unlimited Sahara (4-Door)
2009 Jeep Wrangler (JK) Unlimited X (4-Door)
2009 Jeep Wrangler (JK) X (2-Door)
2008 Jeep Wrangler (JK) X (2-Door)
2008 Jeep Wrangler (JK) Unlimited X (4-Door)
2008 Jeep Wrangler (JK) Unlimited Sahara (4-Door)
2008 Jeep Wrangler (JK) Unlimited Rubicon (4-Door)
2008 Jeep Wrangler (JK) Sahara (2-Door)
2008 Jeep Wrangler (JK) Rubicon (2-Door)
2007 Jeep Wrangler (JK) Rubicon (2-Door)
2007 Jeep Wrangler (JK) Sahara (2-Door)
2007 Jeep Wrangler (JK) Unlimited Rubicon (4-Door)
2007 Jeep Wrangler (JK) Unlimited Sahara (4-Door)
2007 Jeep Wrangler (JK) Unlimited X (4-Door)
2007 Jeep Wrangler (JK) X (2-Door)
Package Included
1 x Hooke Road Jeep JK Explorer Rear Bumper w/Tire Carrier & 2" Hitch Receiver(Come with 2 Packages)
2 x 18W High Powered LED Floodlights
2 x D-rings
Mounting Hardware
Fitment
2018 Jeep Wrangler (JK) Rubicon (2-Door)
2018 Jeep Wrangler (JK) Sahara (2-Door)
2018 Jeep Wrangler (JK) Sport (2-Door)
2018 Jeep Wrangler (JK) Unlimited Rubicon (4-Door)
2018 Jeep Wrangler (JK) Unlimited Sahara (4-Door)
2018 Jeep Wrangler (JK) Unlimited Sport (4-Door)
2017 Jeep Wrangler (JK) Rubicon (2-Door)
2017 Jeep Wrangler (JK) Sahara (2-Door)
2017 Jeep Wrangler (JK) Sport (2-Door)
2017 Jeep Wrangler (JK) Unlimited Rubicon (4-Door)
2017 Jeep Wrangler (JK) Unlimited Sahara (4-Door)
2017 Jeep Wrangler (JK) Unlimited Sport (4-Door)
2016 Jeep Wrangler (JK) Rubicon (2-Door)
2016 Jeep Wrangler (JK) Sahara (2-Door)
2016 Jeep Wrangler (JK) Sport (2-Door)
2016 Jeep Wrangler (JK) Unlimited Rubicon (4-Door)
2016 Jeep Wrangler (JK) Unlimited Sahara (4-Door)
2016 Jeep Wrangler (JK) Unlimited Sport (4-Door)
2016 Jeep Wrangler (JK) Unlimited Sport S (4-Door)
2016 Jeep Wrangler (JK) Sport S (2-Door)
2016 Jeep Wrangler (JK) 75th Anniversary (2-Door)
2016 Jeep Wrangler (JK) Unlimited 75th Anniversary (4-Door)
2015 Jeep Wrangler (JK) Rubicon (2-Door)
2015 Jeep Wrangler (JK) Sahara (2-Door)
2015 Jeep Wrangler (JK) Sport (2-Door)
2015 Jeep Wrangler (JK) Unlimited Rubicon (4-Door)
2015 Jeep Wrangler (JK) Unlimited Sahara (4-Door)
2015 Jeep Wrangler (JK) Unlimited Sport (4-Door)
2014 Jeep Wrangler (JK) Rubicon (2-Door)
2014 Jeep Wrangler (JK) Sahara (2-Door)
2014 Jeep Wrangler (JK) Sport (2-Door)
2014 Jeep Wrangler (JK) Unlimited Rubicon (4-Door)
2014 Jeep Wrangler (JK) Unlimited Sahara (4-Door)
2014 Jeep Wrangler (JK) Unlimited Sport (4-Door)
2013 Jeep Wrangler (JK) Rubicon (2-Door)
2013 Jeep Wrangler (JK) Sahara (2-Door)
2013 Jeep Wrangler (JK) Sport (2-Door)
2013 Jeep Wrangler (JK) Unlimited Rubicon (4-Door)
2013 Jeep Wrangler (JK) Unlimited Sport (4-Door)
2013 Jeep Wrangler (JK) Unlimited Sahara (4-Door)
2012 Jeep Wrangler (JK) Rubicon (2-Door)
2012 Jeep Wrangler (JK) Sahara (2-Door)
2012 Jeep Wrangler (JK) Sport (2-Door)
2012 Jeep Wrangler (JK) Unlimited Rubicon (4-Door)
2012 Jeep Wrangler (JK) Unlimited Sahara (4-Door)
2012 Jeep Wrangler (JK) Unlimited Sport (4-Door)
2011 Jeep Wrangler (JK) Rubicon (2-Door)
2011 Jeep Wrangler (JK) Sahara (2-Door)
2011 Jeep Wrangler (JK) Sport (2-Door)
2011 Jeep Wrangler (JK) Unlimited Rubicon (4-Door)
2011 Jeep Wrangler (JK) Unlimited Sahara (4-Door)
2011 Jeep Wrangler (JK) Unlimited Sport (4-Door)
2011 Jeep Wrangler (JK) 70th Anniversary (2-Door)
2011 Jeep Wrangler (JK) Unlimited 70th Anniversary (4-Door)
2010 Jeep Wrangler (JK) Rubicon (2-Door)
2010 Jeep Wrangler (JK) Sahara (2-Door)
2010 Jeep Wrangler (JK) Unlimited Rubicon (4-Door)
2010 Jeep Wrangler (JK) Unlimited Sahara (4-Door)
2010 Jeep Wrangler (JK) Unlimited X (4-Door)
2010 Jeep Wrangler (JK) X (2-Door)
2010 Jeep Wrangler (JK) Sport (2-Door)
2010 Jeep Wrangler (JK) Unlimited Sport (4-Door)
2009 Jeep Wrangler (JK) Rubicon (2-Door)
2009 Jeep Wrangler (JK) Sahara (2-Door)
2009 Jeep Wrangler (JK) Unlimited Rubicon (4-Door)
2009 Jeep Wrangler (JK) Unlimited Sahara (4-Door)
2009 Jeep Wrangler (JK) Unlimited X (4-Door)
2009 Jeep Wrangler (JK) X (2-Door)
2008 Jeep Wrangler (JK) X (2-Door)
2008 Jeep Wrangler (JK) Unlimited X (4-Door)
2008 Jeep Wrangler (JK) Unlimited Sahara (4-Door)
2008 Jeep Wrangler (JK) Unlimited Rubicon (4-Door)
2008 Jeep Wrangler (JK) Sahara (2-Door)
2008 Jeep Wrangler (JK) Rubicon (2-Door)
2007 Jeep Wrangler (JK) Rubicon (2-Door)
2007 Jeep Wrangler (JK) Sahara (2-Door)
2007 Jeep Wrangler (JK) Unlimited Rubicon (4-Door)
2007 Jeep Wrangler (JK) Unlimited Sahara (4-Door)
2007 Jeep Wrangler (JK) Unlimited X (4-Door)
2007 Jeep Wrangler (JK) X (2-Door)
Heavy Duty
Absolutely love my new Hooke Road bumper. The install was straight forward and easy. The Hooke Road JK Explorer rear bumper with swing-a-way tire carrier is an all in one bumper. The built in hitch receiver is an excellent addition. The LED lights provide insane brightness wired with my reverse lights.
Jeep Wrangler JK
I was impressed with the quality of the rear bumper. I had to drill a hole on the right side of my frame so I could install the mounting bracket. That's no big deal. I had to pull down the spare tire bracket cause it was too high to latch. That's the only issue I had. But I fixed that. I was so impressed with the bumper I bought a front bumper and skid plate. I plan on buying more.
Thank you for your affirmation, we will do better with your support!
Have a nice day!
Fast shipping and great service......
Product came as expected, very happy!