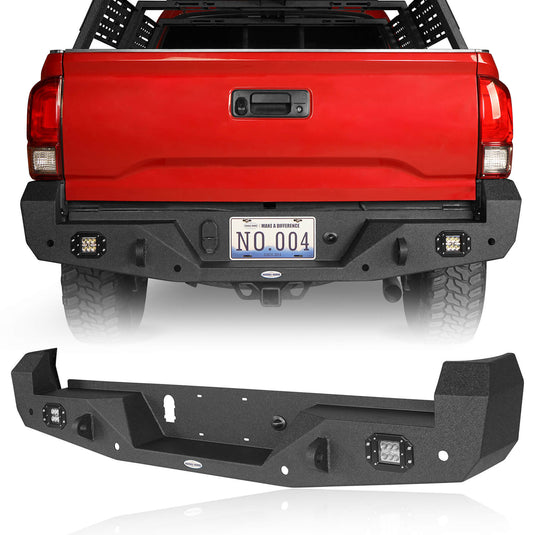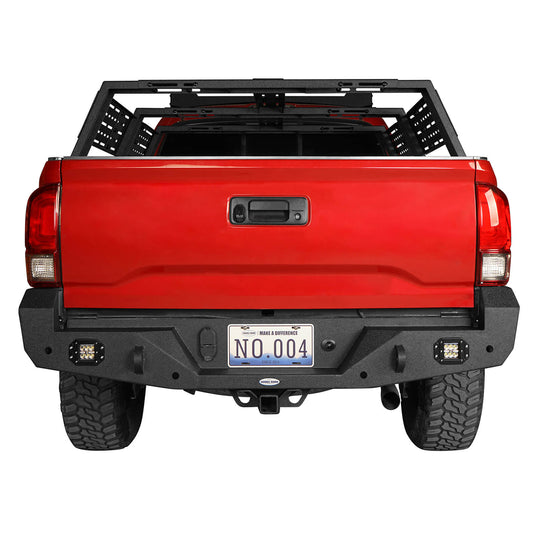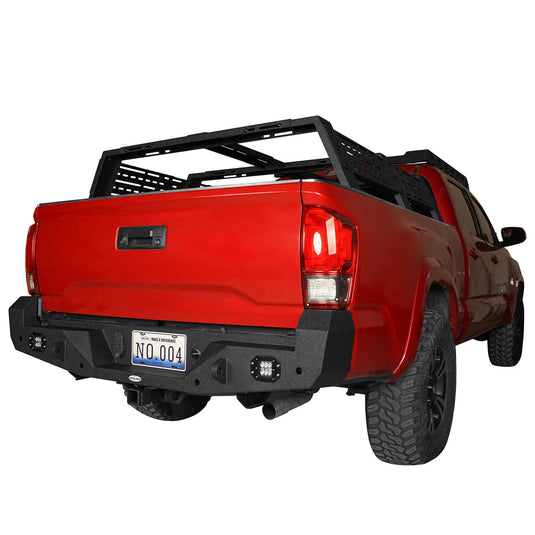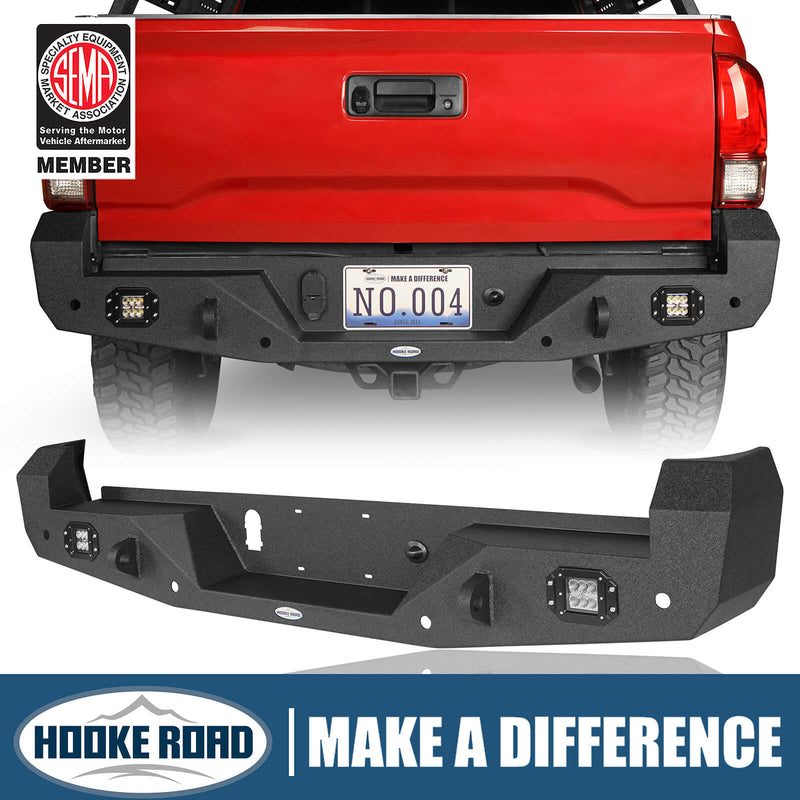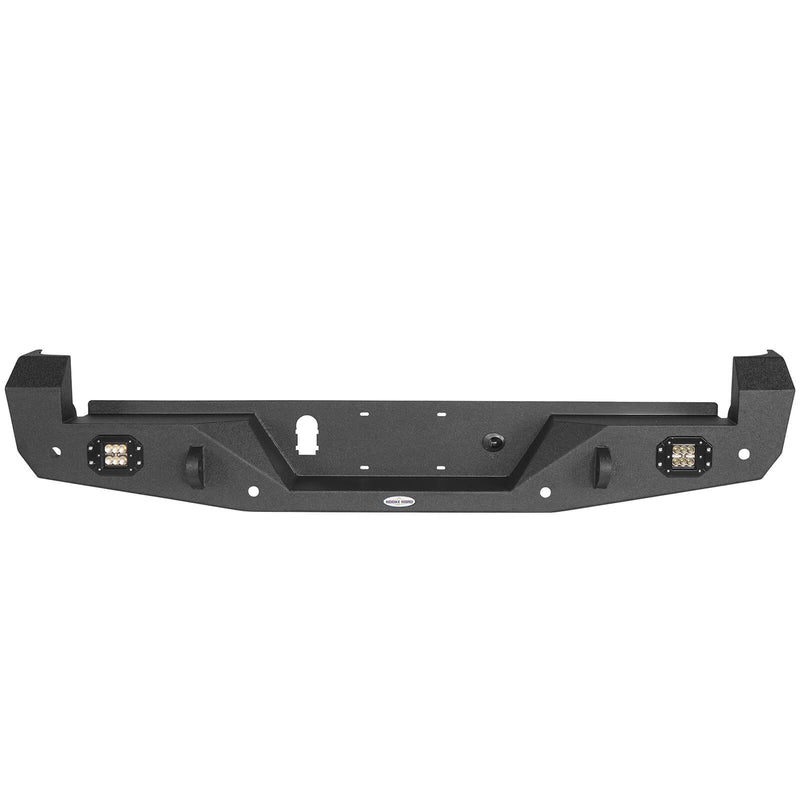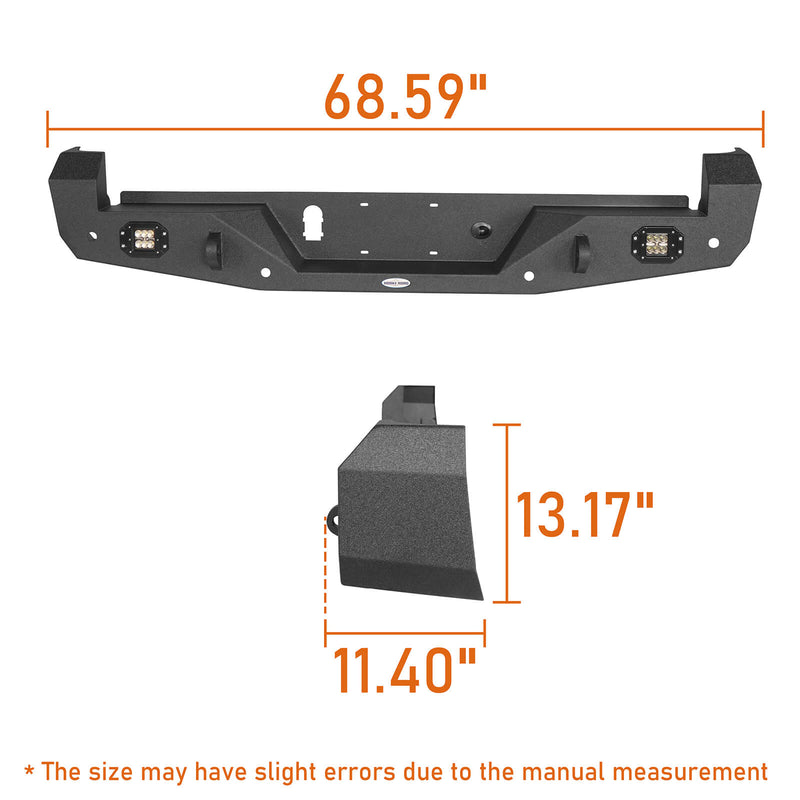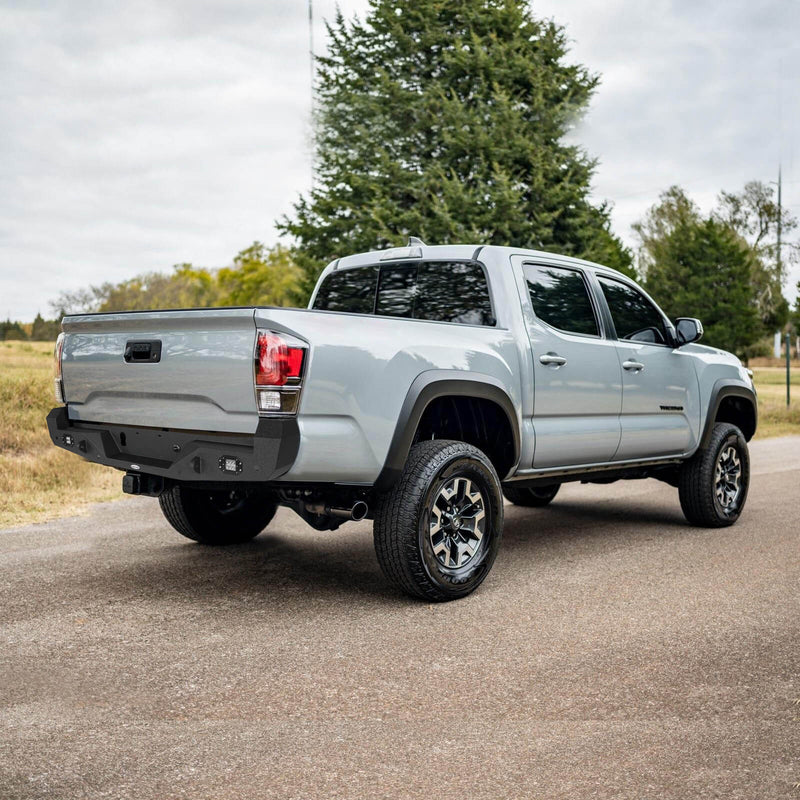 Name: Hooke Road Tacoma Steel Rear Bumper

Feature
Fits 2016-2023 Toyota Tacoma Models; Not Compatible with Blind Spot Sensors; The trailer hitch receiver needs to be disassembled to install the bumper
Rugged Styling and Protection
Heavy-duty, high tensile 10 gauge (9/64 inch) & 8 gauge(11/64 inch) steel construction
Texured black powder coat finish
License plate mounting plane included

Compatible with factory back-up sensors

Not Compatible with Blind Spot Sensors

Bumper weight: about 76 lbs
Bolt-on installation w/ clear and detailed instruction
Upgraded Protection and Styling. When suiting up for off-road battles, don't forget about your Tacoma rear protection. Consider getting the u-Box Trucks Rear Bumper. You'll be ready for any off-road eventuality with this bumper on your back.
Heavy Duty Construction. Designed for a bolt-on installation, this front bumper is CNC-cut, formed, and MIG/TIG-welded to perfectly fit on your Tacoma.
E-Coating Process. E-coat systems can deliver a wide range of lacquer and paint finishes with a combination of state-of-the-art performance and decorative effects. The product percent of pass reaches 100% after the salt spray test.

Installation. With the help of the supplied detailed instruction, the procedure is demonstrated step by step to help you finish the installation. You should expect to take up to 1 hour installing this unit, based on your level of mechanical skills. Attempt to complete the operation in your garage and save you a pretty penny ranges from 100 to 500 dollars.
1 x Toyota Tacoma Rear Bumper
2 x 18W High Power LED Floodlights
1 x License Plate Light
Mounting Hardware
2023 Toyota Tacoma Base Crew Cab Pickup 4-Door
2023 Toyota Tacoma Limited Crew Cab Pickup 4-Door
2023 Toyota Tacoma Nightshade Crew Cab Pickup 4-Door
2023 Toyota Tacoma SR
2023 Toyota Tacoma SR5
2023 Toyota Tacoma TRD Off-Road
2023 Toyota Tacoma TRD Pro
2023 Toyota Tacoma TRD Sport
2022 Toyota Tacoma Limited
2022 Toyota Tacoma SR
2022 Toyota Tacoma SR5
2022 Toyota Tacoma TRD Off-Road
2022 Toyota Tacoma TRD Pro
2022 Toyota Tacoma TRD Sport
2021 Toyota Tacoma TRD Sport
2021 Toyota Tacoma TRD Pro
2021 Toyota Tacoma TRD Off-Road
2021 Toyota Tacoma SR5
2021 Toyota Tacoma SR
2021 Toyota Tacoma Limited
2021 Toyota Tacoma Trail
2020 Toyota Tacoma SR
2020 Toyota Tacoma TRD Pro
2020 Toyota Tacoma TRD Sport
2020 Toyota Tacoma Limited
2020 Toyota Tacoma TRD Off-Road
2020 Toyota Tacoma SR5
2019 Toyota Tacoma TRD Sport
2019 Toyota Tacoma TRD Pro
2019 Toyota Tacoma TRD Off-Road
2019 Toyota Tacoma SR5
2019 Toyota Tacoma SR
2019 Toyota Tacoma Limited
2018 Toyota Tacoma SR
2018 Toyota Tacoma SR5
2018 Toyota Tacoma Limited
2018 Toyota Tacoma TRD Sport
2018 Toyota Tacoma TRD Pro
2018 Toyota Tacoma TRD Off-Road
2017 Toyota Tacoma Limited
2017 Toyota Tacoma SR
2017 Toyota Tacoma SR5
2017 Toyota Tacoma TRD Off-Road
2017 Toyota Tacoma TRD Sport
2017 Toyota Tacoma TRD Pro
2016 Toyota Tacoma SR
2016 Toyota Tacoma SR5
2016 Toyota Tacoma TRD Sport
2016 Toyota Tacoma TRD Off-Road
2016 Toyota Tacoma Limited
Package Included
1 x Toyota Tacoma Rear Bumper
2 x 18W High Power LED Floodlights
1 x License Plate Light
Mounting Hardware
Fitment
2023 Toyota Tacoma Base Crew Cab Pickup 4-Door
2023 Toyota Tacoma Limited Crew Cab Pickup 4-Door
2023 Toyota Tacoma Nightshade Crew Cab Pickup 4-Door
2023 Toyota Tacoma SR
2023 Toyota Tacoma SR5
2023 Toyota Tacoma TRD Off-Road
2023 Toyota Tacoma TRD Pro
2023 Toyota Tacoma TRD Sport
2022 Toyota Tacoma Limited
2022 Toyota Tacoma SR
2022 Toyota Tacoma SR5
2022 Toyota Tacoma TRD Off-Road
2022 Toyota Tacoma TRD Pro
2022 Toyota Tacoma TRD Sport
2021 Toyota Tacoma TRD Sport
2021 Toyota Tacoma TRD Pro
2021 Toyota Tacoma TRD Off-Road
2021 Toyota Tacoma SR5
2021 Toyota Tacoma SR
2021 Toyota Tacoma Limited
2021 Toyota Tacoma Trail
2020 Toyota Tacoma SR
2020 Toyota Tacoma TRD Pro
2020 Toyota Tacoma TRD Sport
2020 Toyota Tacoma Limited
2020 Toyota Tacoma TRD Off-Road
2020 Toyota Tacoma SR5
2019 Toyota Tacoma TRD Sport
2019 Toyota Tacoma TRD Pro
2019 Toyota Tacoma TRD Off-Road
2019 Toyota Tacoma SR5
2019 Toyota Tacoma SR
2019 Toyota Tacoma Limited
2018 Toyota Tacoma SR
2018 Toyota Tacoma SR5
2018 Toyota Tacoma Limited
2018 Toyota Tacoma TRD Sport
2018 Toyota Tacoma TRD Pro
2018 Toyota Tacoma TRD Off-Road
2017 Toyota Tacoma Limited
2017 Toyota Tacoma SR
2017 Toyota Tacoma SR5
2017 Toyota Tacoma TRD Off-Road
2017 Toyota Tacoma TRD Sport
2017 Toyota Tacoma TRD Pro
2016 Toyota Tacoma SR
2016 Toyota Tacoma SR5
2016 Toyota Tacoma TRD Sport
2016 Toyota Tacoma TRD Off-Road
2016 Toyota Tacoma Limited