Name: Jeep Gladiator Rock Crawler Stubby JT Front & Rear Bumper (20-23) 

PRODUCT SPECIFICATIONS
| | |
| --- | --- |
| Parts | Front & Rear Bumper  |
| Brand | |
| Material | Steel |
| Color | Black |
| Vehicle Service Type | Jeep gladiator jt, Pick-up trucks |
| Installation Time | ‎About 3.5-4.5 hours, 2-3 people may be needed. |
HIGHLIGHS
Fit Like a Glove: Fits for 2020-2023 Jeep Gladiator JT Models
[Front Bumper]: 

Gladiator front bumper w/ low-profile grille guard included 3/4 inch D-rings which can support up to 9,500 lbs & 100W LED spotlight bar(21.3 in) & 2×18w cube LED spotlights & a winch plate that rated up to 12,000 pounds; Comes with license plate mount holder bracket,Includes a full front skid plate to protect your sway bar disconnect and front of the frame; Not Compatible with Factory Sensors

[Rear

 Bumper

]: rear bumper built-in corner steps for easier access to the truck bed; Integrated license plate mount, equipped with a license plate light, retains factory hitch receiver; Compatible with Factory Back-Up Sensors
DIMENSION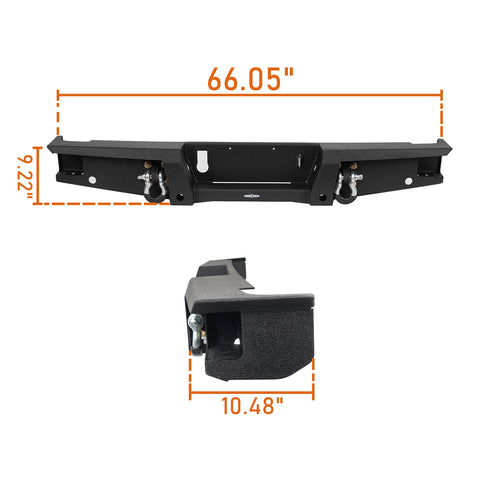 DETAILS
Front bumper weight about 90 lbs,rear bumper weight about 72 lbs
Textured black powder coat finish & Premium E-coating process for corrosion protection under normal use
SOMETHING YOU MIGHT WANT TO KNOW
Perfect For Off-Road Use. This front bumper was designed with the off-road enthusiast in mind. From the raised corners for those steeper climbs and declines to welded inside and out D-Rings, these are a must-have for your Wrangler JL or Gladiator JT. With a low-profile grille guard hoop, this Front Bumper features a winch plate that is capable of supporting a 12,000 lb. winch. You'll enjoy easy recovery operations and rugged protection with this great product. The Hooke Road bumpers offer off-road performance and extreme durability in one rugged package. 
Tough Rear Armor. Maintain your rear end's pristine good looks by equipping your truck with this Hooke Road Bumper which is pre-drilled for backup sensors. This heavy-duty bumper protects your vehicle's rear by deflecting rocks, branches, and other damaging road debris. What's more, this bumper comes with integrated recovery shackle mount points for easier hauling, towing, or recovery operations.
SEMA Membership. The Hooke Road Brand has been certified as a member of SEMA. We are studious and gradually grow up to be a professional aftermarket retailer. As a SEMA member, we make, buy, sell and use all kinds of specialty parts and accessories to make vehicles more attractive, more unique, more convenient, faster, safer, more fun, and even like-new again. Wish you have a terrific off-road experience with our products.
Front & Rear Bumper
2 × Bumper Mounts
LED spotlight bar & 2 × Cube Lights
License Plate Mount Holder
Skid Plate
Winch Plate
License Plate Light
2× D-ring Mounts & 4 × D-rings
Mounting Hardware Kit
Installation Instruction
2023 Jeep Gladiator High Altitude Crew Cab Pickup 4-Door
2023 Jeep Gladiator High Altitude Crew Cab Pickup 4-Door
2023 Jeep Gladiator Mojave Crew Cab Pickup 4-Door
2023 Jeep Gladiator Overland Crew Cab Pickup 4-Door
2023 Jeep Gladiator Rubicon Crew Cab Pickup 4-Door
2023 Jeep Gladiator Sport Crew Cab Pickup 4-Door
2023 Jeep Gladiator Sport S Crew Cab Pickup 4-Door
2023 Jeep Gladiator Sport S Crew Cab Pickup 4-Door
2023 Jeep Gladiator Willys Crew Cab Pickup 4-Door
2023 Jeep Gladiator Willys Crew Cab Pickup 4-Door
2023 Jeep Gladiator Willys Sport Crew Cab Pickup 4-Door
2023 Jeep Gladiator Willys Sport Crew Cab Pickup 4-Door
2022 Jeep Gladiator Altitude Crew Cab Pickup 4-Door
2022 Jeep Gladiator Altitude Crew Cab Pickup 4-Door
2022 Jeep Gladiator High Altitude Crew Cab Pickup 4-Door
2022 Jeep Gladiator High Altitude Crew Cab Pickup 4-Door
2022 Jeep Gladiator Mojave Crew Cab Pickup 4-Door
2022 Jeep Gladiator Overland Crew Cab Pickup 4-Door
2022 Jeep Gladiator Overland Crew Cab Pickup 4-Door
2022 Jeep Gladiator Rubicon Crew Cab Pickup 4-Door
2022 Jeep Gladiator Rubicon Crew Cab Pickup 4-Door
2022 Jeep Gladiator Sport Crew Cab Pickup 4-Door
2022 Jeep Gladiator Sport Crew Cab Pickup 4-Door
2022 Jeep Gladiator Sport S Crew Cab Pickup 4-Door
2022 Jeep Gladiator Sport S Crew Cab Pickup 4-Door
2022 Jeep Gladiator Willys Crew Cab Pickup 4-Door
2022 Jeep Gladiator Willys Crew Cab Pickup 4-Door
2022 Jeep Gladiator Willys Sport Crew Cab Pickup 4-Door
2022 Jeep Gladiator Willys Sport Crew Cab Pickup 4-Door
2021 Jeep Gladiator 80th Anniversary Crew Cab Pickup 4-Door
2021 Jeep Gladiator 80th Anniversary Crew Cab Pickup 4-Door
2021 Jeep Gladiator High Altitude Crew Cab Pickup 4-Door
2021 Jeep Gladiator High Altitude Crew Cab Pickup 4-Door
2021 Jeep Gladiator Mojave Crew Cab Pickup 4-Door
2021 Jeep Gladiator Overland Crew Cab Pickup 4-Door
2021 Jeep Gladiator Overland Crew Cab Pickup 4-Door
2021 Jeep Gladiator Rubicon Crew Cab Pickup 4-Door
2021 Jeep Gladiator Rubicon Crew Cab Pickup 4-Door
2021 Jeep Gladiator Sport Crew Cab Pickup 4-Door
2021 Jeep Gladiator Sport Crew Cab Pickup 4-Door
2021 Jeep Gladiator Sport S Crew Cab Pickup 4-Door
2021 Jeep Gladiator Sport S Crew Cab Pickup 4-Door
2021 Jeep Gladiator Willys Crew Cab Pickup 4-Door
2021 Jeep Gladiator Willys Crew Cab Pickup 4-Door
2021 Jeep Gladiator Willys Sport Crew Cab Pickup 4-Door
2021 Jeep Gladiator Willys Sport Crew Cab Pickup 4-Door
2020 Jeep Gladiator Altitude Crew Cab Pickup 4-Door
2020 Jeep Gladiator Launch Edition Crew Cab Pickup 4-Door
2020 Jeep Gladiator Mojave Crew Cab Pickup 4-Door
2020 Jeep Gladiator North Edition Crew Cab Pickup 4-Door
2020 Jeep Gladiator Overland Crew Cab Pickup 4-Door
2020 Jeep Gladiator Rubicon Crew Cab Pickup 4-Door
2020 Jeep Gladiator Sport Crew Cab Pickup 4-Door
2020 Jeep Gladiator Sport S Crew Cab Pickup 4-Door
Package Included
Front & Rear Bumper
2 × Bumper Mounts
LED spotlight bar & 2 × Cube Lights
License Plate Mount Holder
Skid Plate
Winch Plate
License Plate Light
2× D-ring Mounts & 4 × D-rings
Mounting Hardware Kit
Installation Instruction
Fitment
2023 Jeep Gladiator High Altitude Crew Cab Pickup 4-Door
2023 Jeep Gladiator High Altitude Crew Cab Pickup 4-Door
2023 Jeep Gladiator Mojave Crew Cab Pickup 4-Door
2023 Jeep Gladiator Overland Crew Cab Pickup 4-Door
2023 Jeep Gladiator Rubicon Crew Cab Pickup 4-Door
2023 Jeep Gladiator Sport Crew Cab Pickup 4-Door
2023 Jeep Gladiator Sport S Crew Cab Pickup 4-Door
2023 Jeep Gladiator Sport S Crew Cab Pickup 4-Door
2023 Jeep Gladiator Willys Crew Cab Pickup 4-Door
2023 Jeep Gladiator Willys Crew Cab Pickup 4-Door
2023 Jeep Gladiator Willys Sport Crew Cab Pickup 4-Door
2023 Jeep Gladiator Willys Sport Crew Cab Pickup 4-Door
2022 Jeep Gladiator Altitude Crew Cab Pickup 4-Door
2022 Jeep Gladiator Altitude Crew Cab Pickup 4-Door
2022 Jeep Gladiator High Altitude Crew Cab Pickup 4-Door
2022 Jeep Gladiator High Altitude Crew Cab Pickup 4-Door
2022 Jeep Gladiator Mojave Crew Cab Pickup 4-Door
2022 Jeep Gladiator Overland Crew Cab Pickup 4-Door
2022 Jeep Gladiator Overland Crew Cab Pickup 4-Door
2022 Jeep Gladiator Rubicon Crew Cab Pickup 4-Door
2022 Jeep Gladiator Rubicon Crew Cab Pickup 4-Door
2022 Jeep Gladiator Sport Crew Cab Pickup 4-Door
2022 Jeep Gladiator Sport Crew Cab Pickup 4-Door
2022 Jeep Gladiator Sport S Crew Cab Pickup 4-Door
2022 Jeep Gladiator Sport S Crew Cab Pickup 4-Door
2022 Jeep Gladiator Willys Crew Cab Pickup 4-Door
2022 Jeep Gladiator Willys Crew Cab Pickup 4-Door
2022 Jeep Gladiator Willys Sport Crew Cab Pickup 4-Door
2022 Jeep Gladiator Willys Sport Crew Cab Pickup 4-Door
2021 Jeep Gladiator 80th Anniversary Crew Cab Pickup 4-Door
2021 Jeep Gladiator 80th Anniversary Crew Cab Pickup 4-Door
2021 Jeep Gladiator High Altitude Crew Cab Pickup 4-Door
2021 Jeep Gladiator High Altitude Crew Cab Pickup 4-Door
2021 Jeep Gladiator Mojave Crew Cab Pickup 4-Door
2021 Jeep Gladiator Overland Crew Cab Pickup 4-Door
2021 Jeep Gladiator Overland Crew Cab Pickup 4-Door
2021 Jeep Gladiator Rubicon Crew Cab Pickup 4-Door
2021 Jeep Gladiator Rubicon Crew Cab Pickup 4-Door
2021 Jeep Gladiator Sport Crew Cab Pickup 4-Door
2021 Jeep Gladiator Sport Crew Cab Pickup 4-Door
2021 Jeep Gladiator Sport S Crew Cab Pickup 4-Door
2021 Jeep Gladiator Sport S Crew Cab Pickup 4-Door
2021 Jeep Gladiator Willys Crew Cab Pickup 4-Door
2021 Jeep Gladiator Willys Crew Cab Pickup 4-Door
2021 Jeep Gladiator Willys Sport Crew Cab Pickup 4-Door
2021 Jeep Gladiator Willys Sport Crew Cab Pickup 4-Door
2020 Jeep Gladiator Altitude Crew Cab Pickup 4-Door
2020 Jeep Gladiator Launch Edition Crew Cab Pickup 4-Door
2020 Jeep Gladiator Mojave Crew Cab Pickup 4-Door
2020 Jeep Gladiator North Edition Crew Cab Pickup 4-Door
2020 Jeep Gladiator Overland Crew Cab Pickup 4-Door
2020 Jeep Gladiator Rubicon Crew Cab Pickup 4-Door
2020 Jeep Gladiator Sport Crew Cab Pickup 4-Door
2020 Jeep Gladiator Sport S Crew Cab Pickup 4-Door