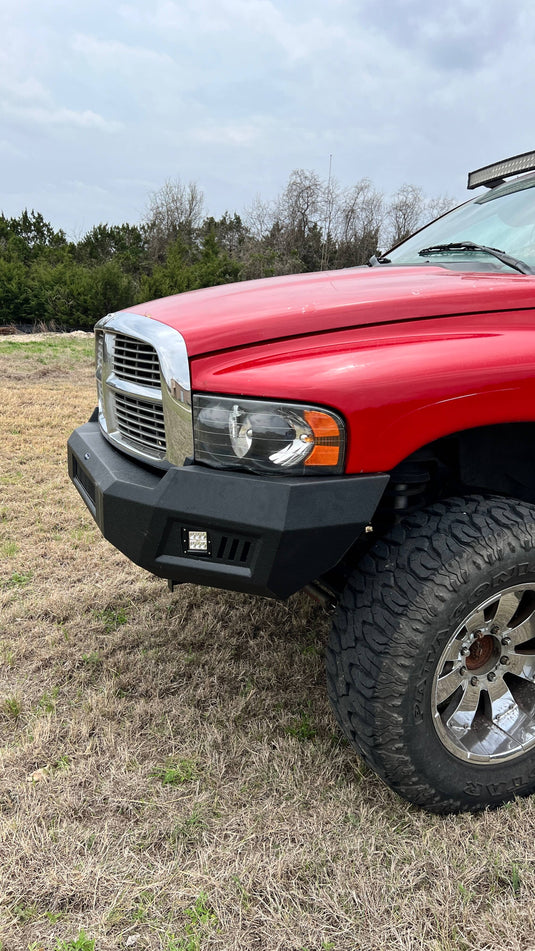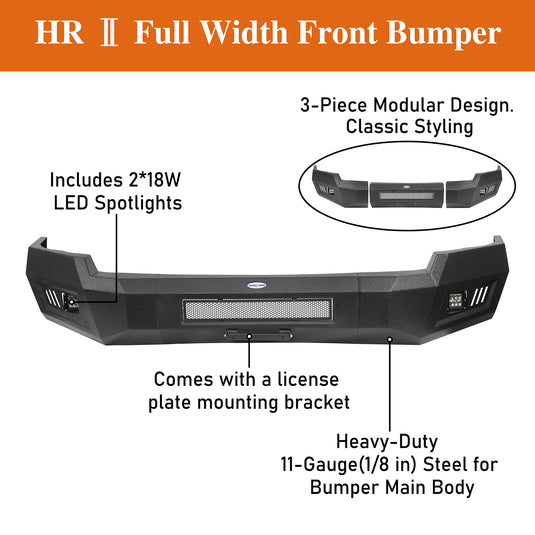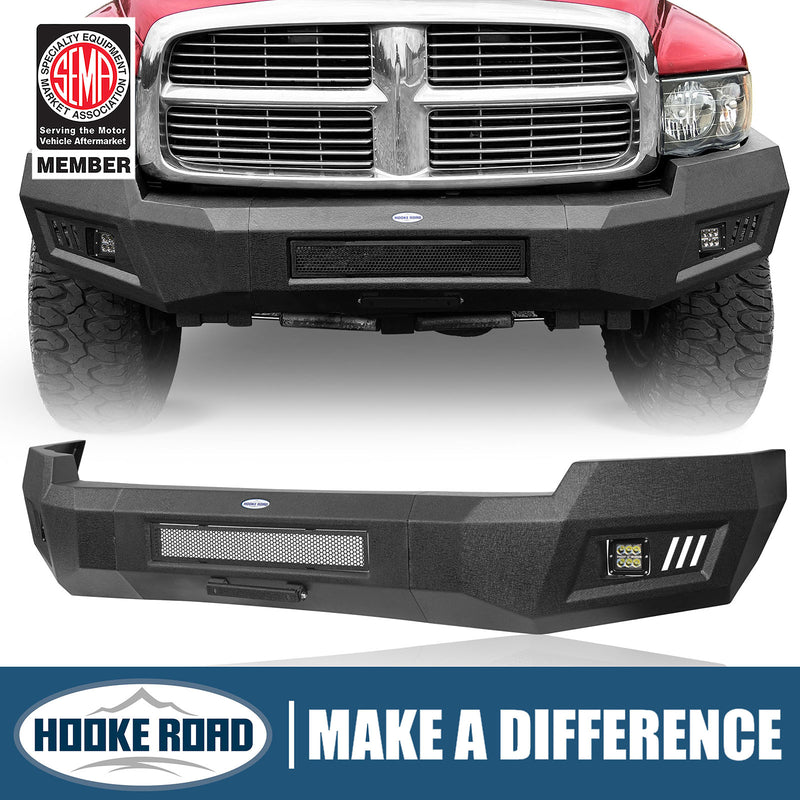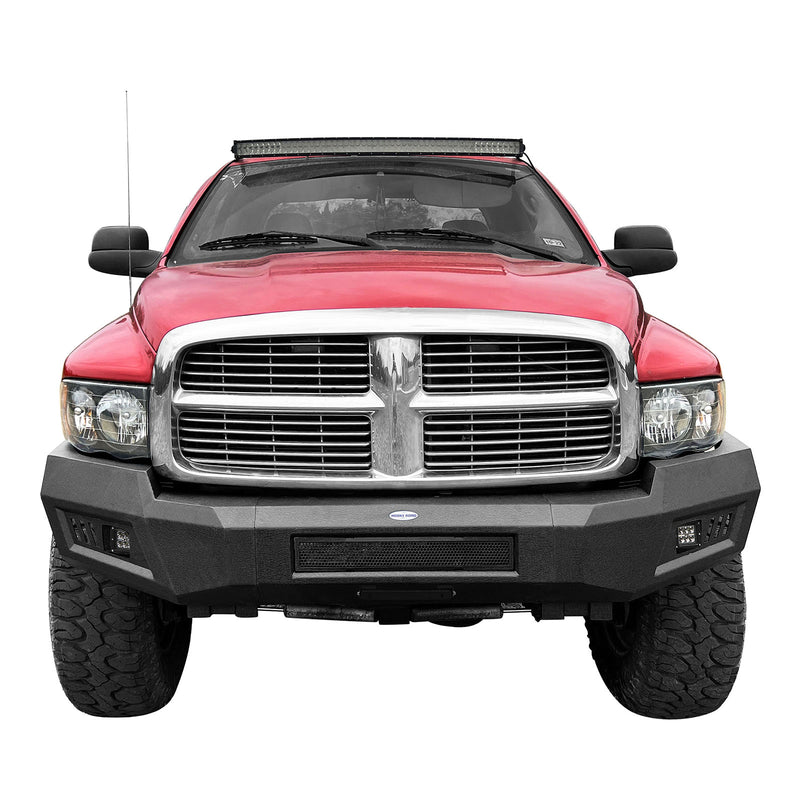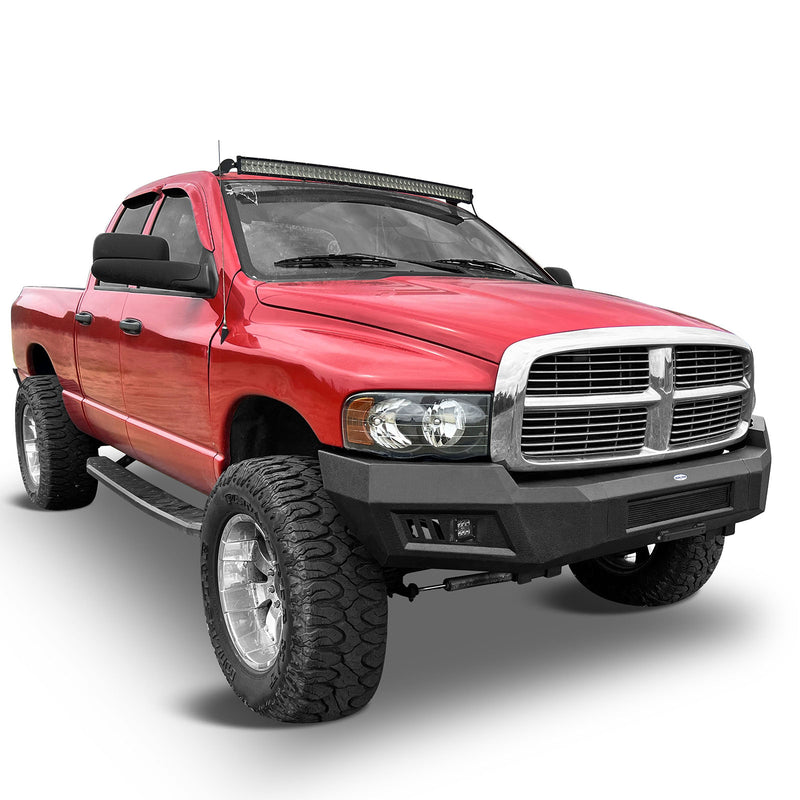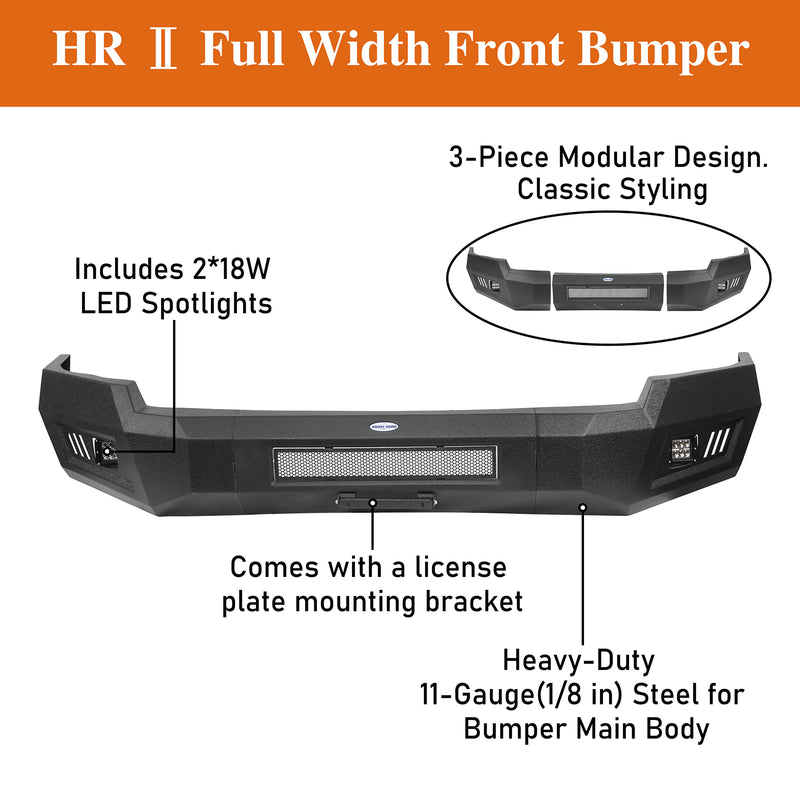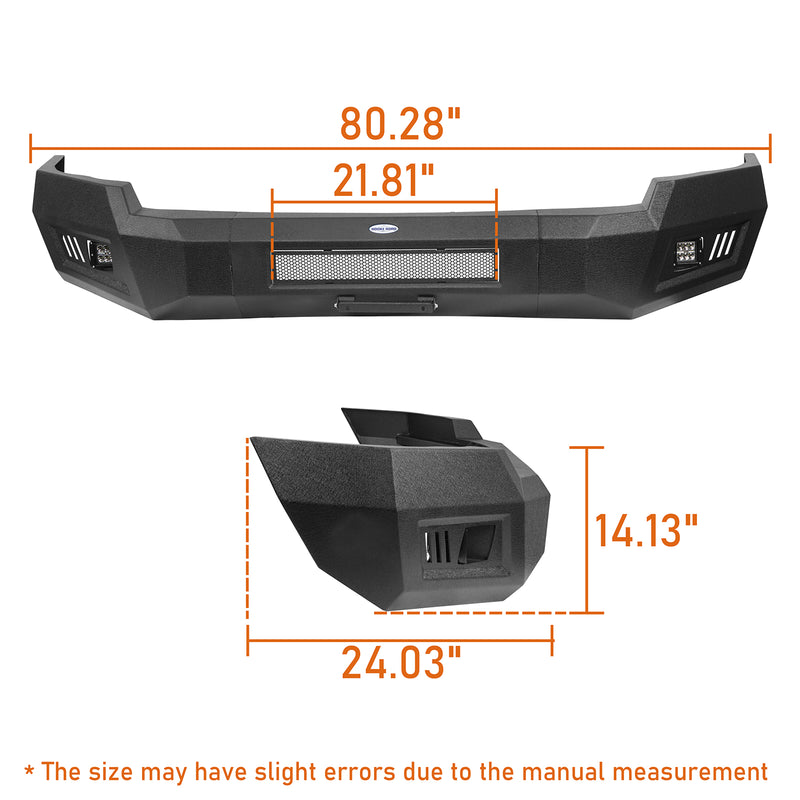 Name: 2003-2005 Dodge Ram 2500 Steel Front Bumper Replacement 

Feature
Fit for 2003-2005 Ram 2500 
Bumper weight: about 78 lbs
Lighting options that accommodate a 22-inch LED light bar(Not Included).Includes 2×18w LED white spotlights. 
3-piece modular design. Rugged style and excellent protection.Heavy-duty steel plate construction: 11-gauge(1/8 inch) for the bumper main body, 8-gauge(11/64 inch) steel for the mounting structure plate 
Equipped with a license plate mounting bracket
Decorated with a hollowed-out honeycomb steel plate in the middle 
Textured black powder coat finish & Premium E-coating process inside
Simple bolt-on installation. No drilling is required.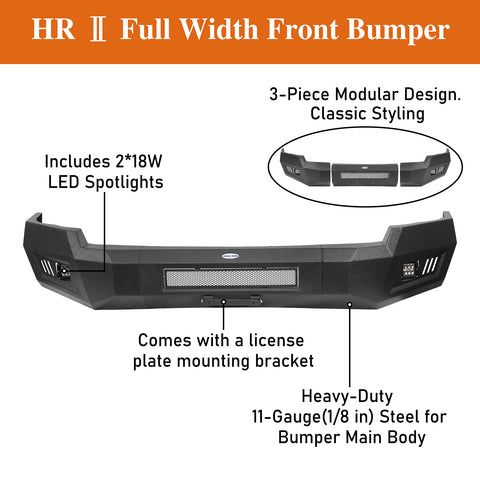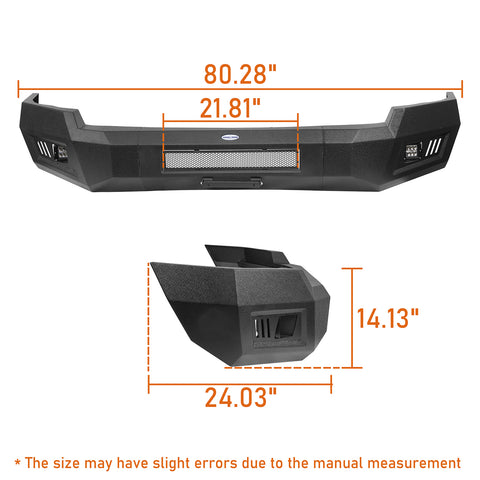 High-Level Protection and Functionality. Get through the treacherous off-road terrains in one piece with the help of the Hooke Road HR Ⅱ Front Bumper. This awesome component is designed to provide you with excellent front end protection that also covers your truck's frame horns and lower cross member. It also comes with 2×18w LED white spotlights that provide auxiliary lighting at night.

Strength and Durability. This 2003-2005 Dodge Ram 2500 Steel Front Bumper is designed to take the challenges of the roads head-on. It is made using 11-gauge(1/8 inch) for the bumper main body, and 8-gauge(11/64 inch) steel for the mounting structure plate. These structure plates are for maximum durability and years and reliable service. Additionally, a textured black powder-coated finish completes this front bumper for an intimidating appeal and lasting protection against corrosion.
Direct Bolt-On Installation. Hooke Road engineered their bumper to be a direct bolt-on replacement for the original stock bumper reusing the factory mounting points. First, uninstall the factory bumper. Then assemble the parts to be a bumper. Lastly, place the bumper onto the car frame and tighten up all the bolts after adjusting the bumper position. There is no cutting or modifications required for a clean straightforward installation. All you need to complete the installation are basic hand tools and about 2 hours.  
SEMA Membership. The Hooke Road Brand has been certified as a member of SEMA. We are studious and gradually grow up to be a professional aftermarket retailer. As a SEMA member, we make, buy, sell and use all kinds of specialty parts and accessories to make vehicles more attractive, more unique, more convenient, faster, safer, more fun, and even like-new again. Wish you have a terrific off-road experience with our products.
1 × Front Bumper Assembly
2 × LED Spotlights
1 × License Plate Mounting Bracket
Mounting Hardware
Installation Instruction
2005 Dodge Ram 2500 Laramie
2005 Dodge Ram 2500 SLT
2005 Dodge Ram 2500 ST
2005 Dodge Ram 3500 Laramie
2005 Dodge Ram 3500 SLT
2005 Dodge Ram 3500 ST
2004 Dodge Ram 2500 SLT
2004 Dodge Ram 2500 ST
2004 Dodge Ram 3500 Laramie
2004 Dodge Ram 3500 SLT
2004 Dodge Ram 3500 ST
2003 Dodge Ram 2500 Laramie
2003 Dodge Ram 2500 SLT
2003 Dodge Ram 2500 ST
2003 Dodge Ram 3500 Laramie
2003 Dodge Ram 3500 SLT
2003 Dodge Ram 3500 ST
2003 Dodge Ram 3500 ST
Package Included
1 × Front Bumper Assembly
2 × LED Spotlights
1 × License Plate Mounting Bracket
Mounting Hardware
Installation Instruction
Fitment
2005 Dodge Ram 2500 Laramie
2005 Dodge Ram 2500 SLT
2005 Dodge Ram 2500 ST
2005 Dodge Ram 3500 Laramie
2005 Dodge Ram 3500 SLT
2005 Dodge Ram 3500 ST
2004 Dodge Ram 2500 SLT
2004 Dodge Ram 2500 ST
2004 Dodge Ram 3500 Laramie
2004 Dodge Ram 3500 SLT
2004 Dodge Ram 3500 ST
2003 Dodge Ram 2500 Laramie
2003 Dodge Ram 2500 SLT
2003 Dodge Ram 2500 ST
2003 Dodge Ram 3500 Laramie
2003 Dodge Ram 3500 SLT
2003 Dodge Ram 3500 ST
2003 Dodge Ram 3500 ST