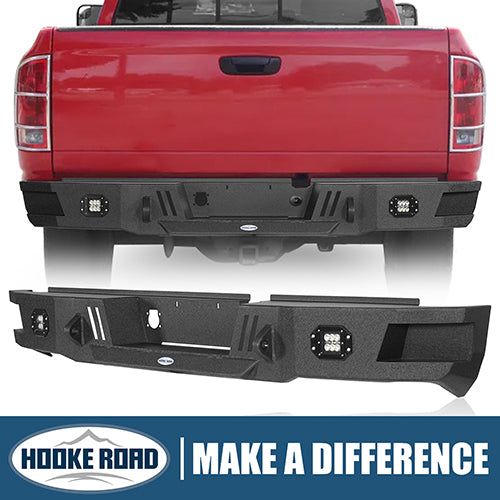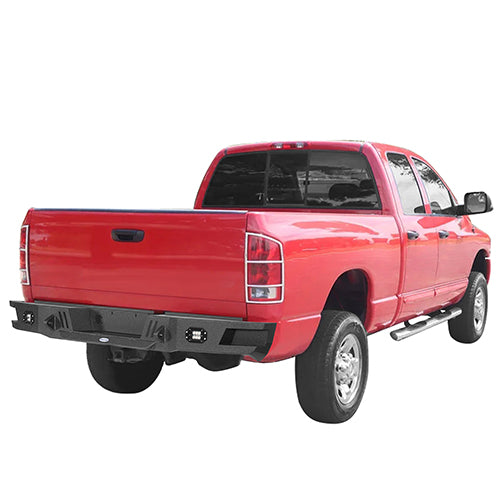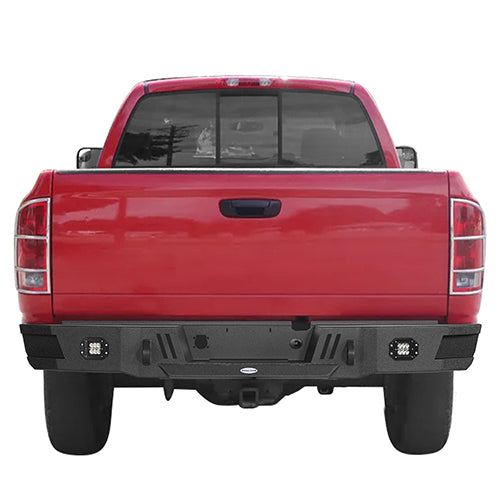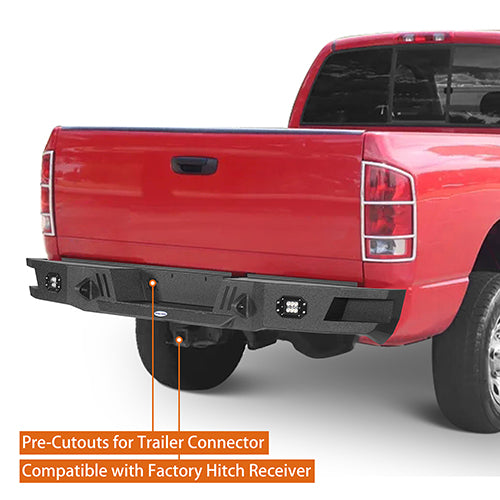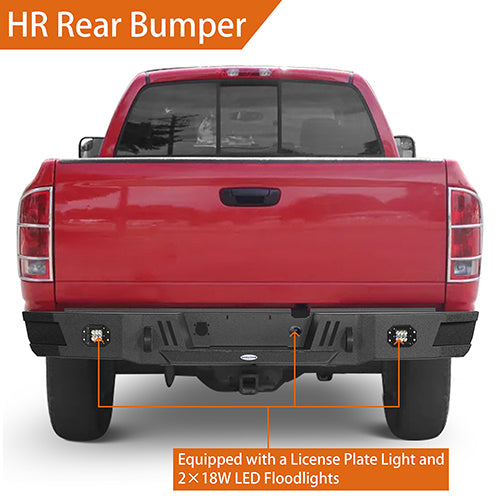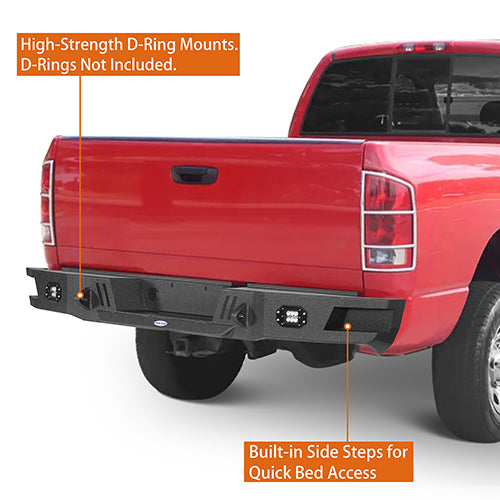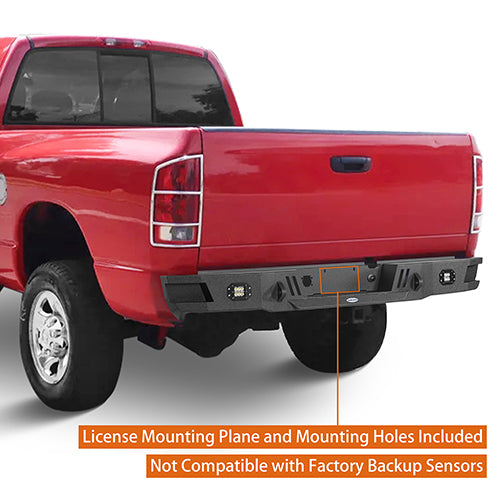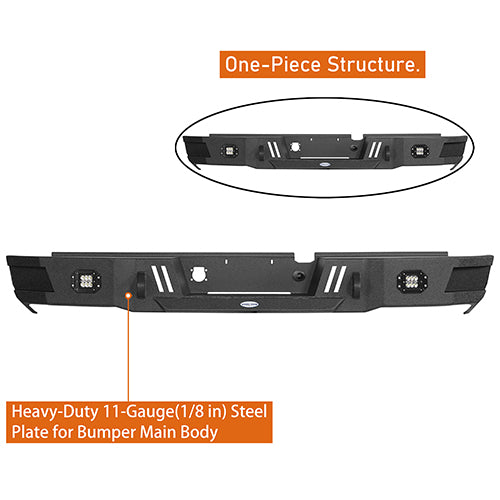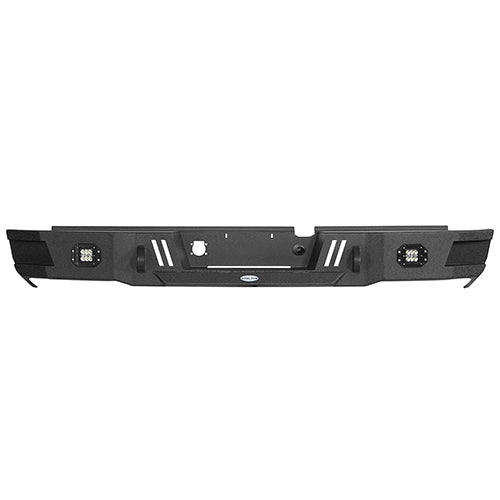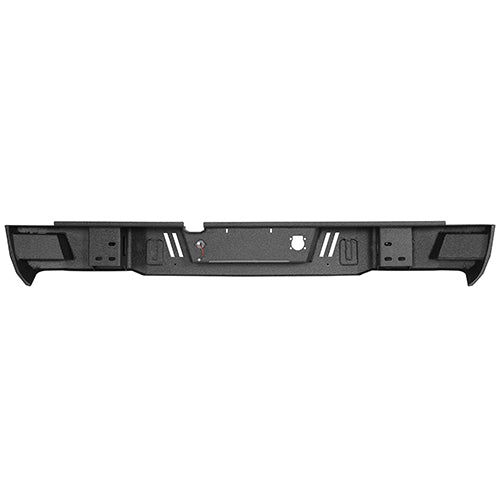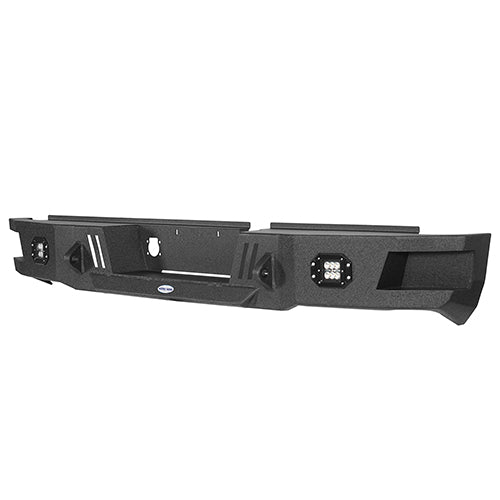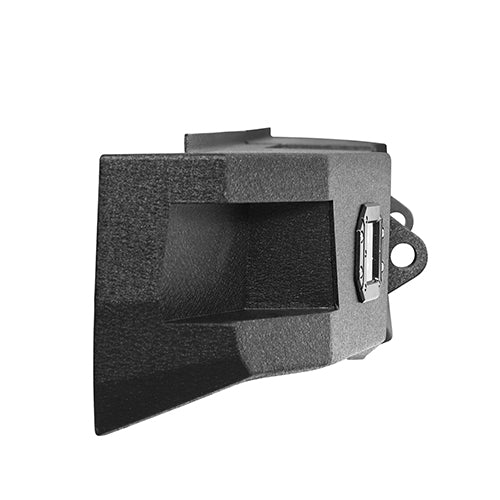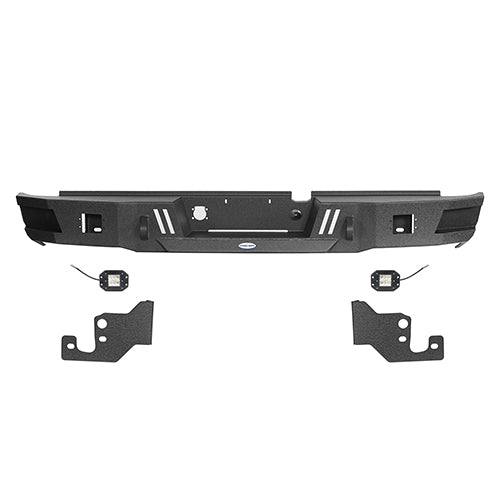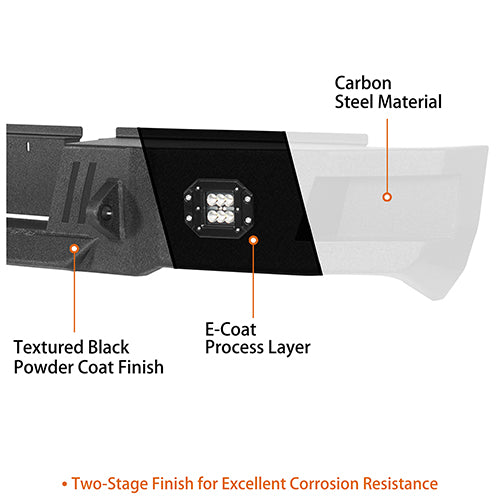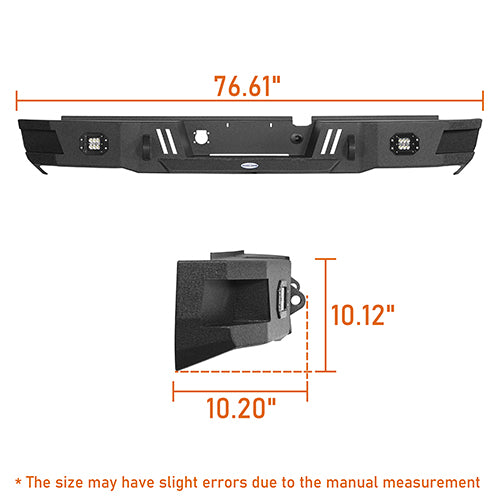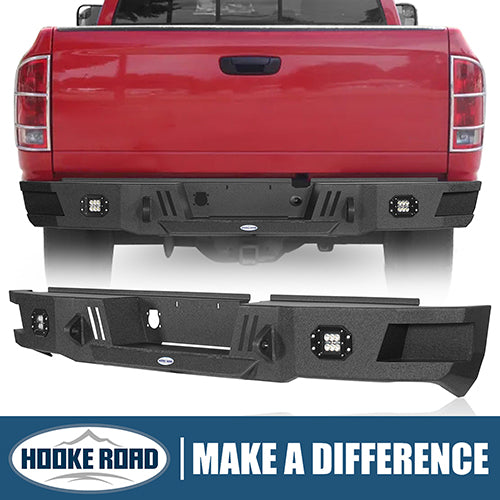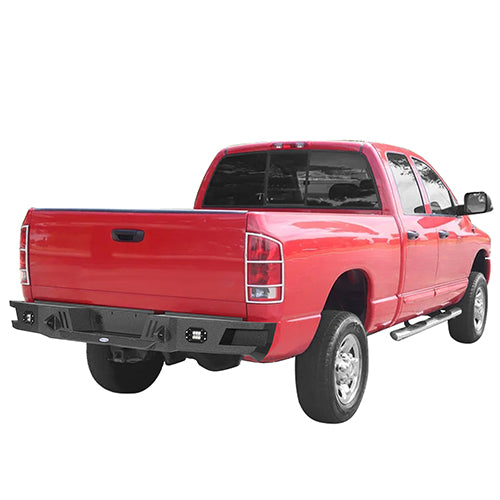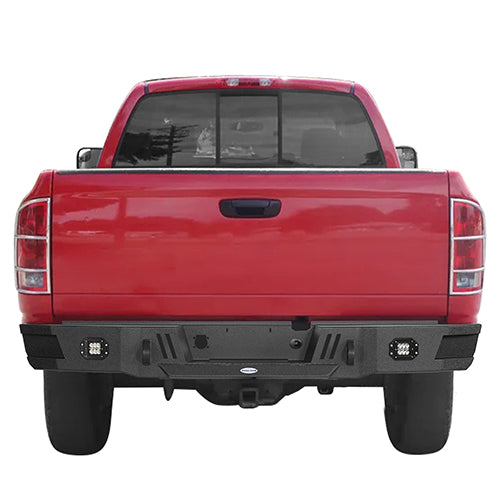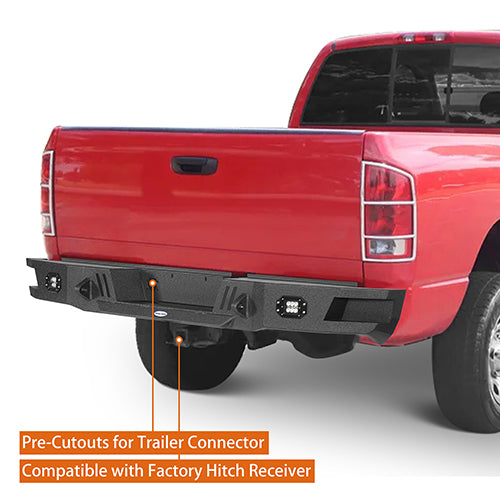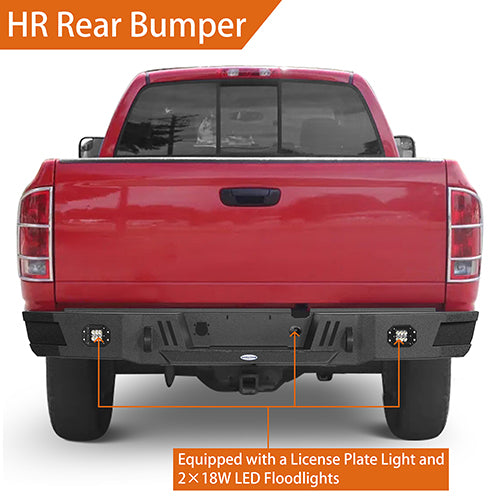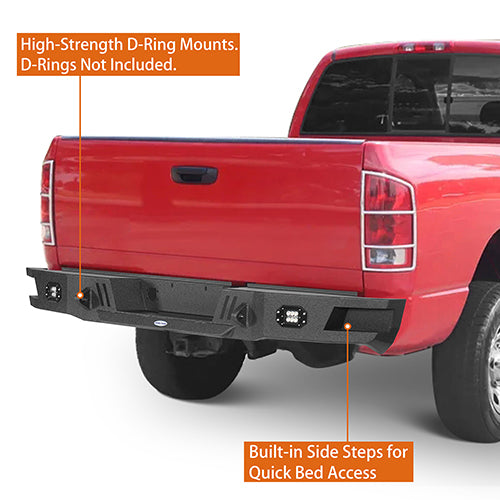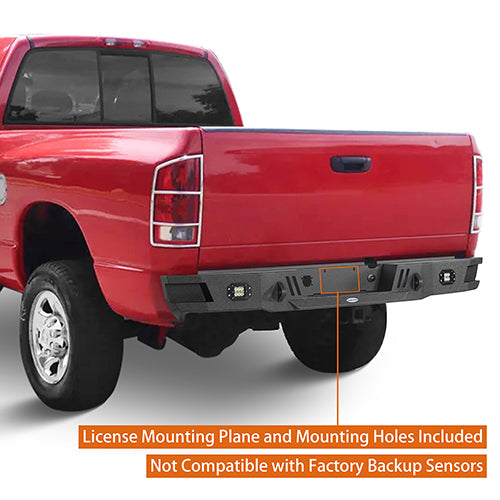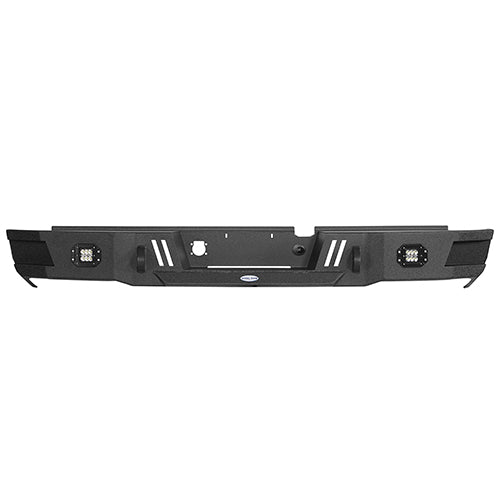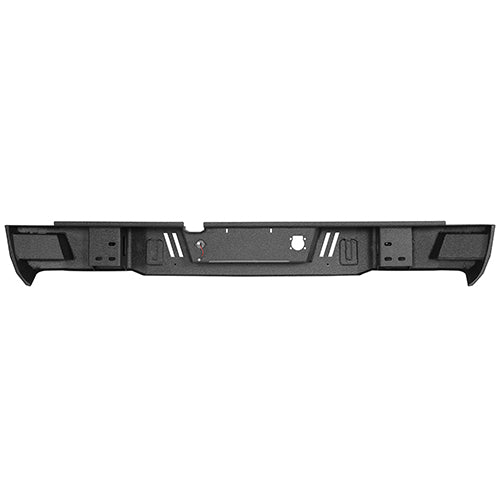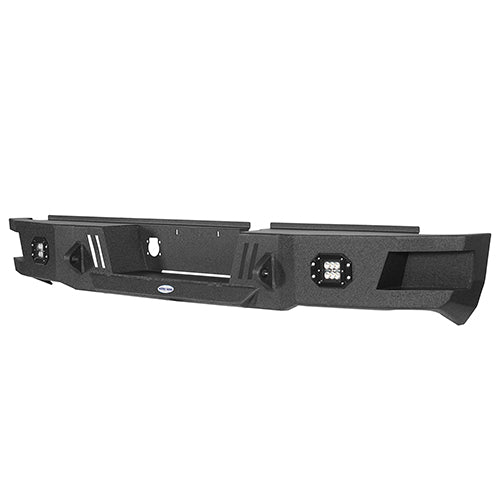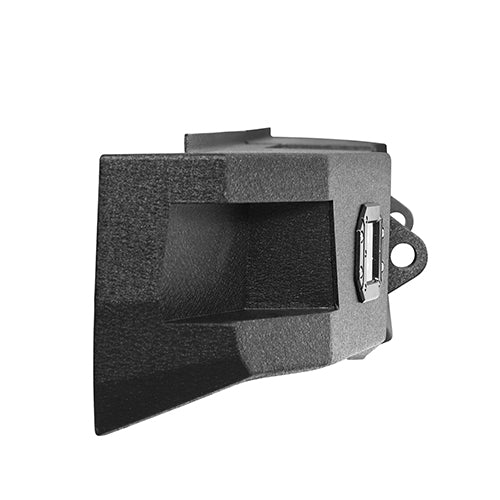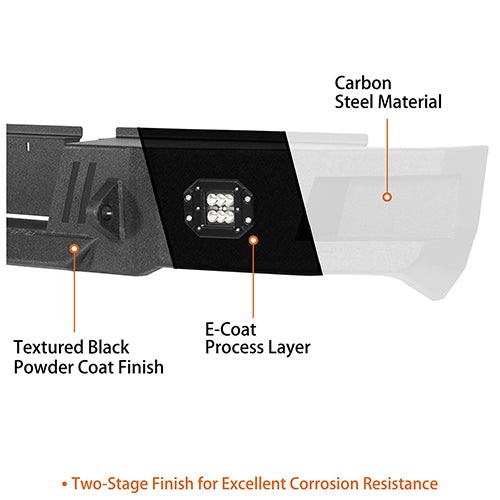 Name: 2003-2005 Dodge Ram 2500 HR Rear Bumper Guard Protector
Feature:
Fit for 2003-2005 Ram 2500 Models
Bumper weight: about 63 lbs
One-piece structure. Provides excellent rear protection  
Designed to retain factory receiver hitch and trailer wiring location
Equipped with a license plate light
Includes holes for mounting the license plate in the middle 
Integrated corner steps for easy access to the truck bed; Comes with 2×18W LED white floodlights
Heavy-duty steel construction: 10-gauge(9/64 in) and 11-gauge(1/8 inch) steel for the bumper main body, 8-gauge(11/64 inch) steel for the mounting structure plate
Textured black powder coat finish & Premium E-coating process inside
Direct bolt-on installation. No drilling is required.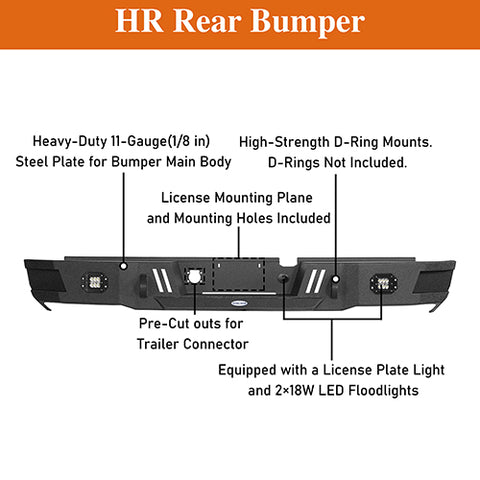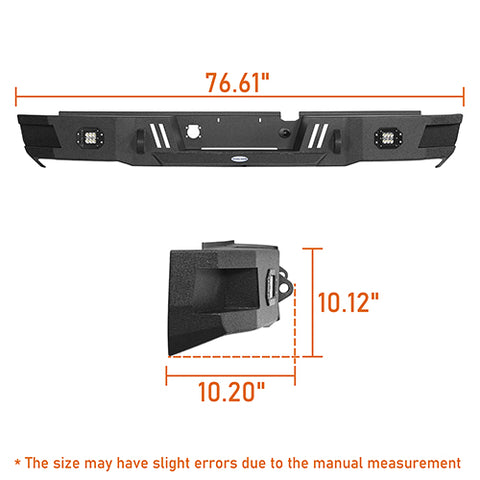 Boosts Style and Protection. If you want to enhance your truck's looks and protection at the same time, gear it up with this Hooke Road HR Rear Bumper. This rear bumper gives your truck's rear a more aggressive look with its rugged build and all-black coating. What's more, its heavy-duty construction helps deflect road debris and prevents your vehicle from sustaining major damages in case of rear-end crashes.
Rugged Build Quality. The bumper is mainly built from high-grade 11-gauge(1/8 inch) plate steel for exceptional durability. Fully-welded joins and internal reinforcement give this bumper assembly exceptional structural integrity. Finally, this bumper receives a durable textured black powder coat finish for corrosion protection and a classy look.
Straightforward Installation. Mounting this rear bumper to your truck won't be a stressful task. The Hooke Road Bumper is made to complement your truck's specifications, so expect a perfect and secure fit. It also installs using basic hand tools, which means there won't be any drilling, cutting, or welding involved in the installation. The task will take no more than 1 hour to complete. Additionally, all mounting hardware is included for a hassle-free install.

SEMA Membership. The Hooke Road Brand has been certified as a member of SEMA. We are studious and have gradually grown up to be a professional aftermarket retailer. As a SEMA member, we make, buy, sell and use all kinds of specialty parts and accessories to make vehicles more attractive, more unique, more convenient, faster, safer, more fun, and even like-new again. Wish you have a terrific off-road experience with our products.
1 × Rear Bumper
2 × LED Floodlights
2 × Mounting Brackets
Mounting Hardware Kit
Installation Instruction
2005 Dodge Ram 2500 Laramie
2005 Dodge Ram 2500 SLT
2005 Dodge Ram 2500 ST
2005 Dodge Ram 3500 Laramie
2005 Dodge Ram 3500 SLT
2005 Dodge Ram 3500 ST
2004 Dodge Ram 2500 SLT
2004 Dodge Ram 2500 ST
2004 Dodge Ram 3500 Laramie
2004 Dodge Ram 3500 SLT
2004 Dodge Ram 3500 ST
2003 Dodge Ram 2500 Laramie
2003 Dodge Ram 2500 SLT
2003 Dodge Ram 2500 ST
2003 Dodge Ram 3500 Laramie
2003 Dodge Ram 3500 SLT
2003 Dodge Ram 3500 ST
2003 Dodge Ram 3500 ST
Package Included
1 × Rear Bumper
2 × LED Floodlights
2 × Mounting Brackets
Mounting Hardware Kit
Installation Instruction
Fitment
2005 Dodge Ram 2500 Laramie
2005 Dodge Ram 2500 SLT
2005 Dodge Ram 2500 ST
2005 Dodge Ram 3500 Laramie
2005 Dodge Ram 3500 SLT
2005 Dodge Ram 3500 ST
2004 Dodge Ram 2500 SLT
2004 Dodge Ram 2500 ST
2004 Dodge Ram 3500 Laramie
2004 Dodge Ram 3500 SLT
2004 Dodge Ram 3500 ST
2003 Dodge Ram 2500 Laramie
2003 Dodge Ram 2500 SLT
2003 Dodge Ram 2500 ST
2003 Dodge Ram 3500 Laramie
2003 Dodge Ram 3500 SLT
2003 Dodge Ram 3500 ST
2003 Dodge Ram 3500 ST