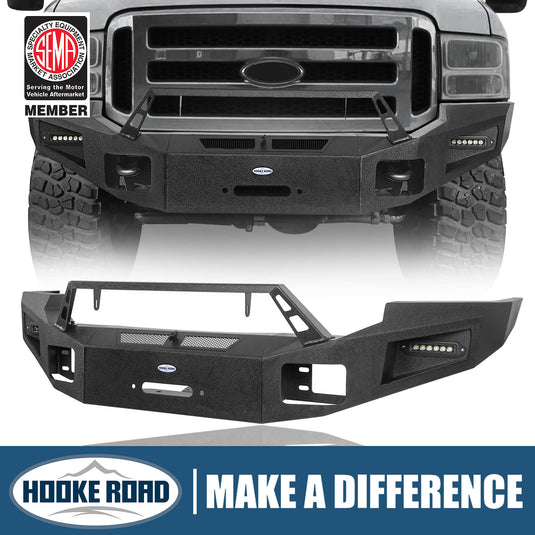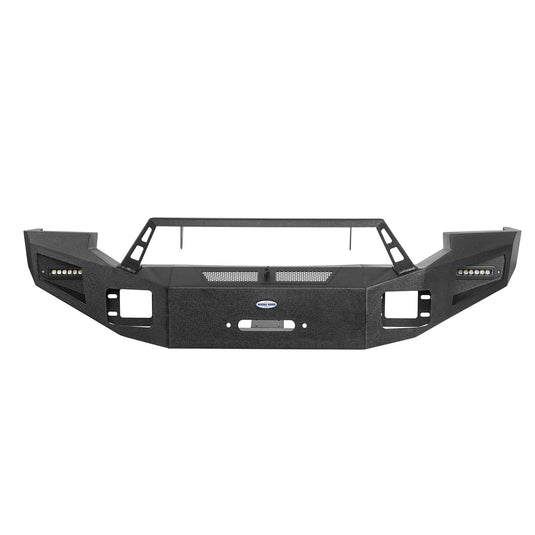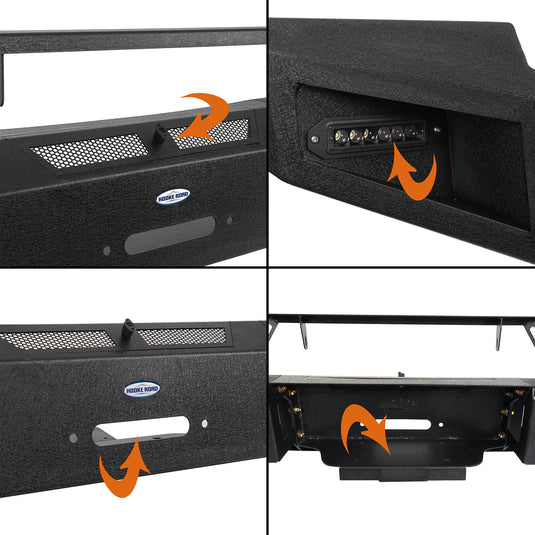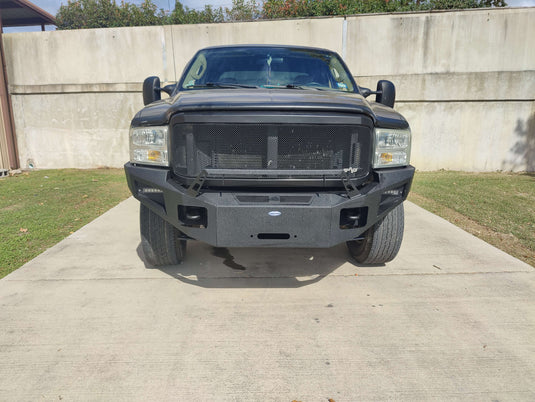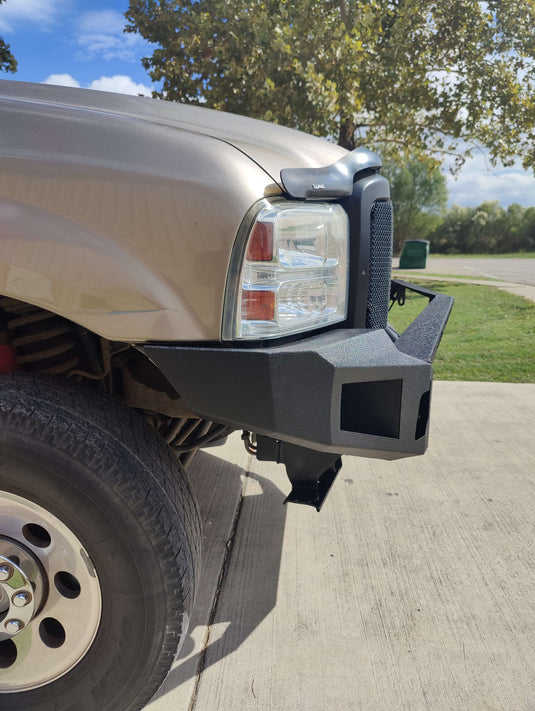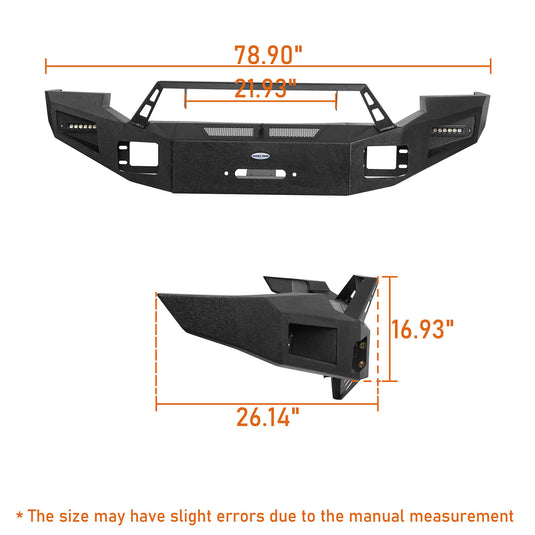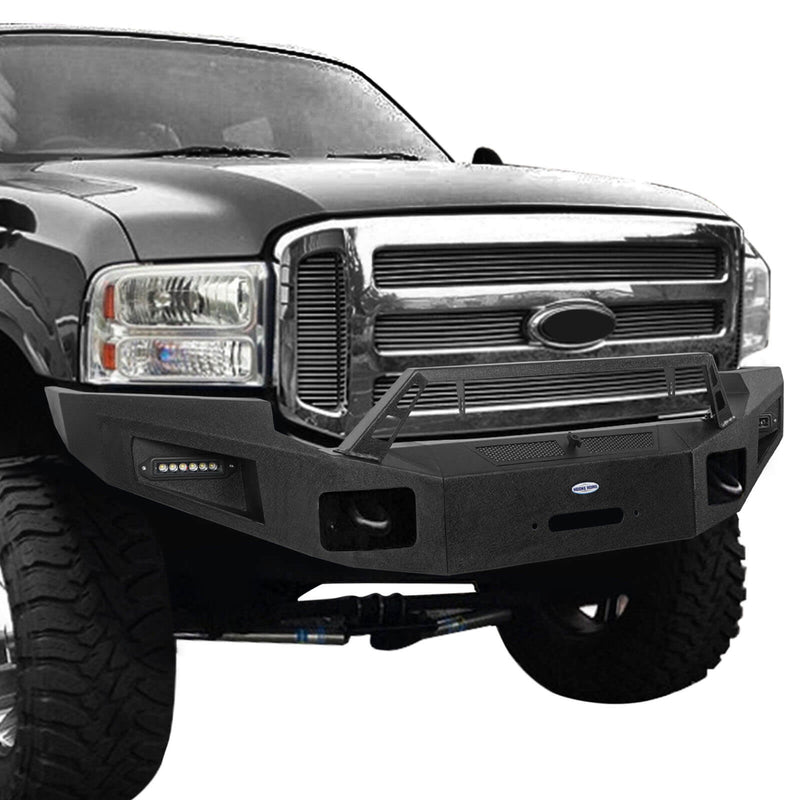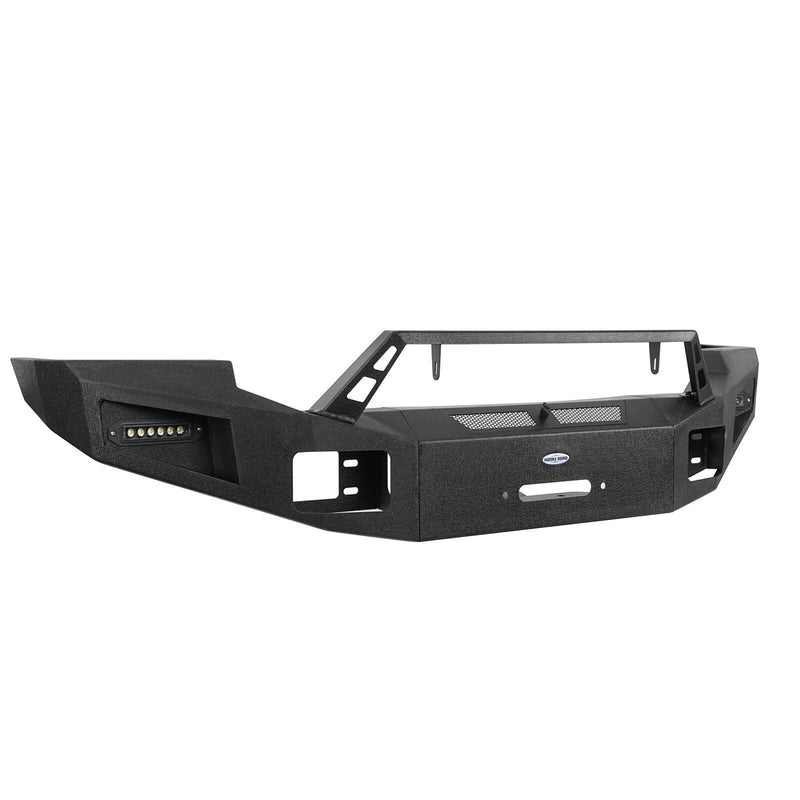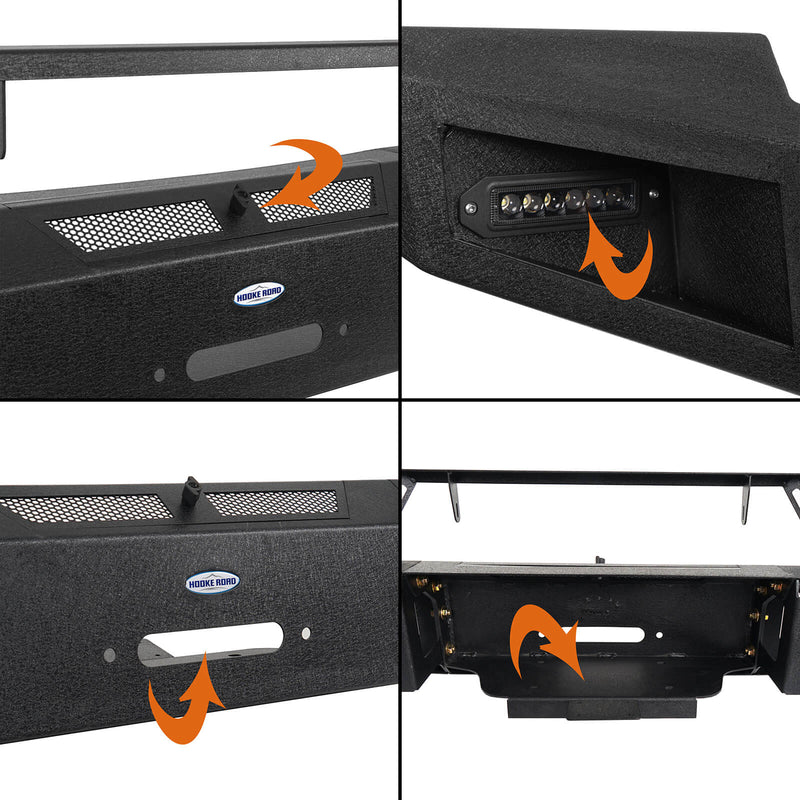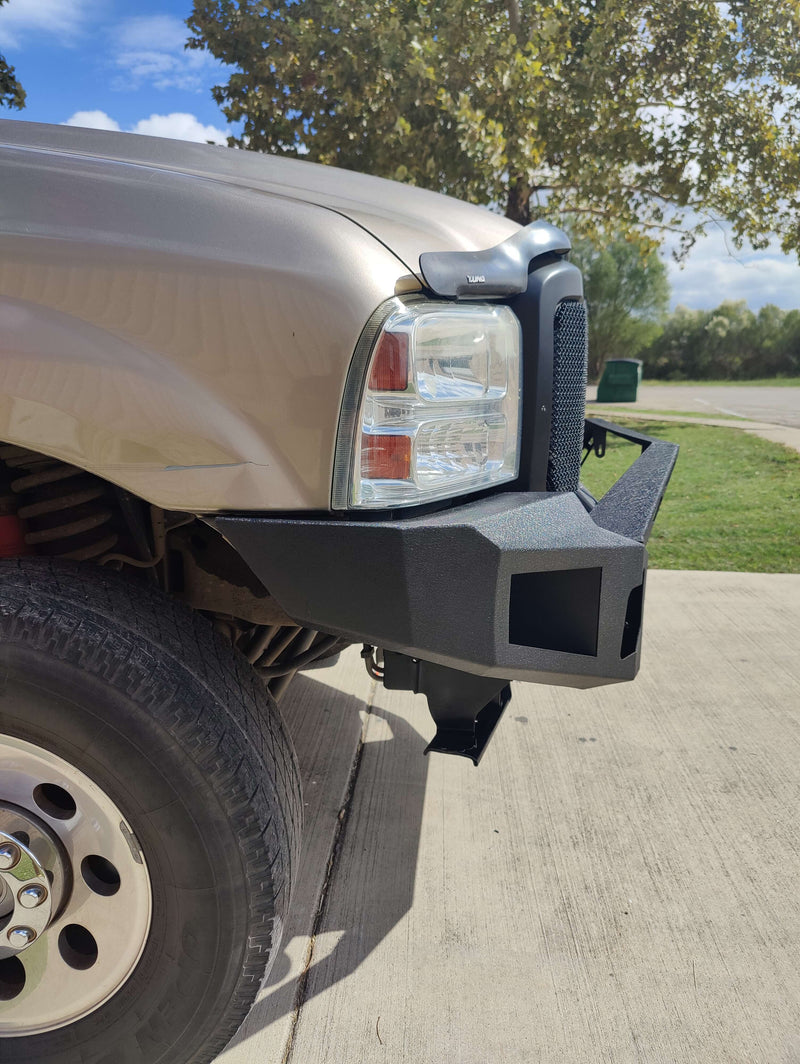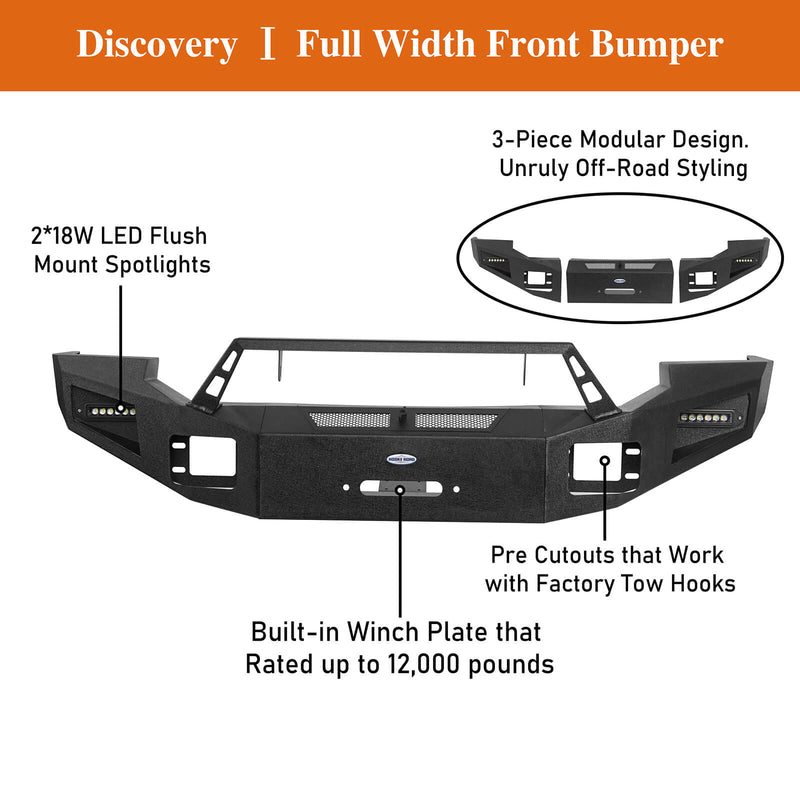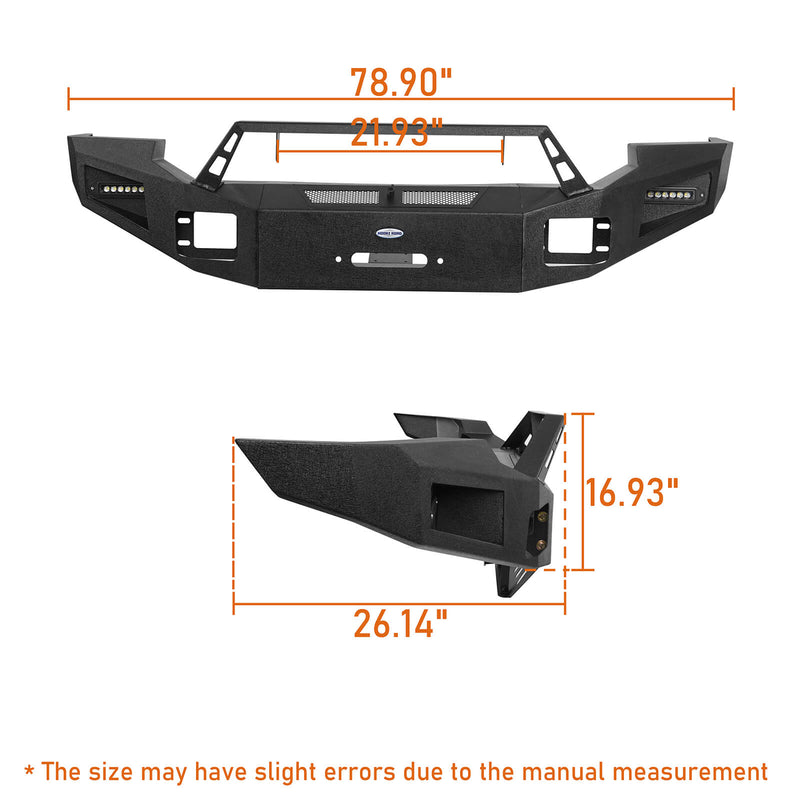 Name: 2005-2007 Ford F-250 F-350 Offroad Front Bumper w/ Winch Plate
Feature
Fit for 2005-2007 Ford F-250 F-350 Models
Bumper weight: about 94 lbs
3-piece modular design; Rugged styling and excellent protection. Perfectly follows the body lines.
Equipped with 2×18w LED spotlights
Built-in winch plate that rated up to 12,000 lbs
Pre-cutouts that work with factory tow hooks
Heavy-duty steel construction: 11-gauge(1/8 Inch) steel for the bumper main body, 8-gauge(11/64 Inch) steel for the winch plate and mounting structure plate.

Textured black powder coat finish & Premium E-coating process inside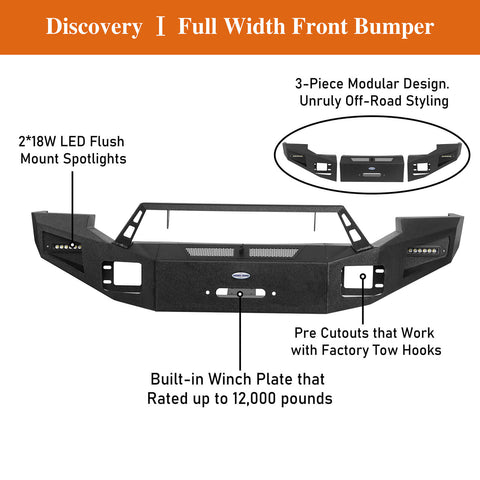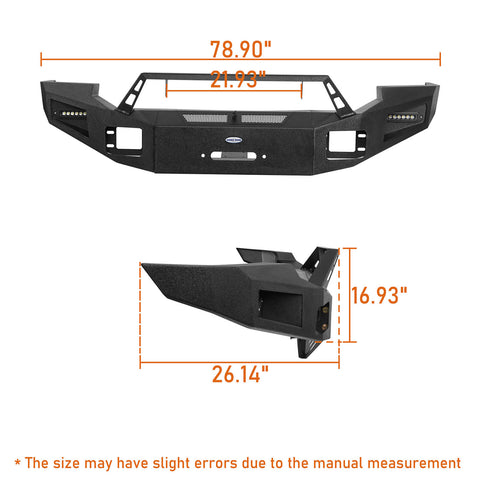 Strong Bumpers, Awesome Style. Are you ready to take your F-250's bumper game to the next level. Then check out the Hooke Road 2005-2007 Ford F-250 Discovery Ⅰ Offroad Front Bumper w/ Winch Plate – Textured Black. Its durable construction and off-road ready design provide you with attitude and style for years to come.


Heavy-Duty Construction. Manufactured for maximum durability, this Hooke Road Bumper is fabricated from 11-gauge(1/8 Inch) and 8-gauge(11/64 Inch) steel plates. Hooke Road then powder coats its bumper in a 2-stage, textured black powder coat finish for long-lasting durability and corrosion resistance.

Bolt-on Installation. Hooke Road engineered their Front Bumper to be a direct bolt-on upgrade replacement for your original stock bumper reusing the factory mounting points. There is no cutting, drilling, or modifications required for a simple straightforward install. With the help of a friend and a set of basic hand tools, this Bumper can be installed in about two hours.

1 x Front Bumper Assembly
2 x LED Spotlights
Mounting Hardware Kit
Installation Instruction
2007 Ford F-250 Doble Cab
2007 Ford F-250 Flotillera
2007 Ford F-250 XL
2007 Ford F-250 XLT
2007 Ford F-250 Super Duty Harley-Davidson Edition
2007 Ford F-250 Super Duty King Ranch
2007 Ford F-250 Super Duty Lariat 2007 Ford F-250 Super Duty XL
2007 Ford F-250 Super Duty XLT
2007 Ford F-350 XL
2007 Ford F-350 Super Duty King Ranch
2007 Ford F-350 Super Duty Lariat
2007 Ford F-350 Super Duty XL
2007 Ford F-350 Super Duty XLT
2006 Ford F-250 Flotillera
2006 Ford F-250 XL
2006 Ford F-250 Super Duty Harley-Davidson Edition
2006 Ford F-250 Super Duty King Ranch
2006 Ford F-250 Super Duty Lariat
2006 Ford F-250 Super Duty XL
2006 Ford F-250 Super Duty XLT
2006 Ford F-350 XL
2006 Ford F-350 Super Duty Harley-Davidson Edition
2006 Ford F-350 Super Duty King Ranch
2006 Ford F-350 Super Duty Lariat
2006 Ford F-350 Super Duty XL
2006 Ford F-350 Super Duty XLT
2005 Ford F-250 Flotillera
2005 Ford F-250 XL
2005 Ford F-250 Super Duty Harley-Davidson Edition
2005 Ford F-250 Super Duty King Ranch
2005 Ford F-250 Super Duty Lariat
2005 Ford F-250 Super Duty XL
2005 Ford F-250 Super Duty XLT
2005 Ford F-350 XL
2005 Ford F-350 Super Duty Harley-Davidson Edition
2005 Ford F-350 Super Duty King Ranch
2005 Ford F-350 Super Duty Lariat
2005 Ford F-350 Super Duty XL
2005 Ford F-350 Super Duty XLT

Package Included
1 x Front Bumper Assembly
2 x LED Spotlights
Mounting Hardware Kit
Installation Instruction
Fitment
2007 Ford F-250 Doble Cab
2007 Ford F-250 Flotillera
2007 Ford F-250 XL
2007 Ford F-250 XLT
2007 Ford F-250 Super Duty Harley-Davidson Edition
2007 Ford F-250 Super Duty King Ranch
2007 Ford F-250 Super Duty Lariat 2007 Ford F-250 Super Duty XL
2007 Ford F-250 Super Duty XLT
2007 Ford F-350 XL
2007 Ford F-350 Super Duty King Ranch
2007 Ford F-350 Super Duty Lariat
2007 Ford F-350 Super Duty XL
2007 Ford F-350 Super Duty XLT
2006 Ford F-250 Flotillera
2006 Ford F-250 XL
2006 Ford F-250 Super Duty Harley-Davidson Edition
2006 Ford F-250 Super Duty King Ranch
2006 Ford F-250 Super Duty Lariat
2006 Ford F-250 Super Duty XL
2006 Ford F-250 Super Duty XLT
2006 Ford F-350 XL
2006 Ford F-350 Super Duty Harley-Davidson Edition
2006 Ford F-350 Super Duty King Ranch
2006 Ford F-350 Super Duty Lariat
2006 Ford F-350 Super Duty XL
2006 Ford F-350 Super Duty XLT
2005 Ford F-250 Flotillera
2005 Ford F-250 XL
2005 Ford F-250 Super Duty Harley-Davidson Edition
2005 Ford F-250 Super Duty King Ranch
2005 Ford F-250 Super Duty Lariat
2005 Ford F-250 Super Duty XL
2005 Ford F-250 Super Duty XLT
2005 Ford F-350 XL
2005 Ford F-350 Super Duty Harley-Davidson Edition
2005 Ford F-350 Super Duty King Ranch
2005 Ford F-350 Super Duty Lariat
2005 Ford F-350 Super Duty XL
2005 Ford F-350 Super Duty XLT