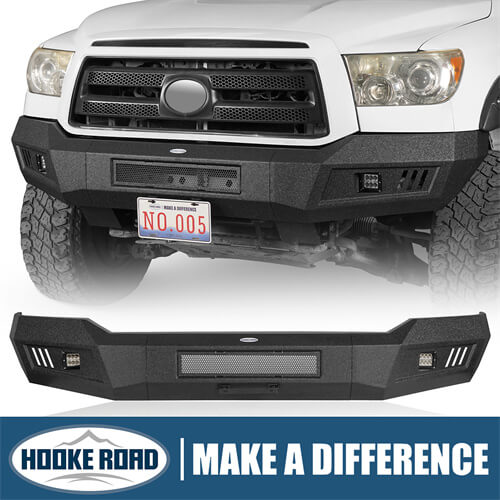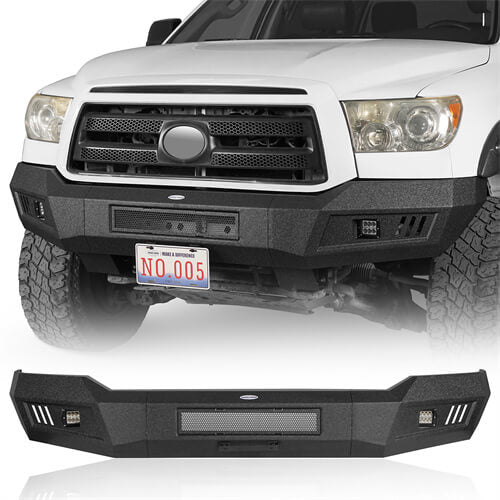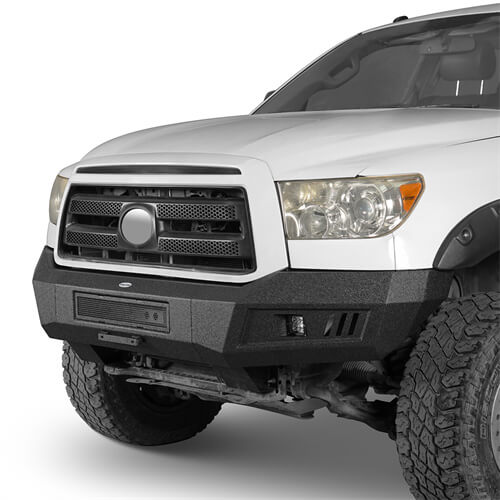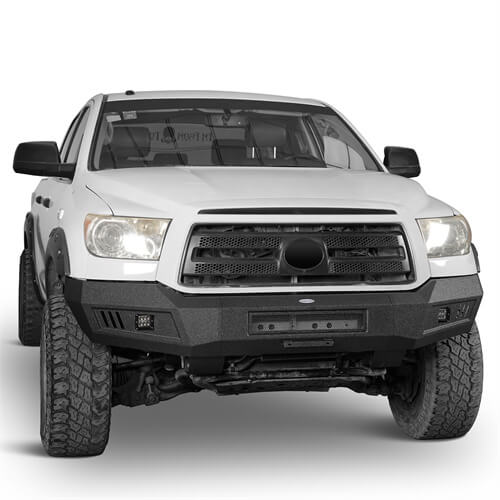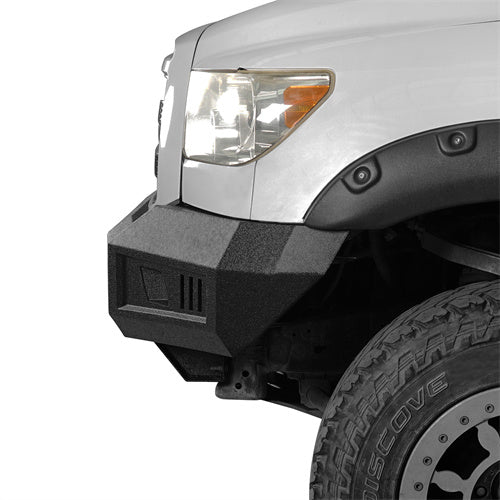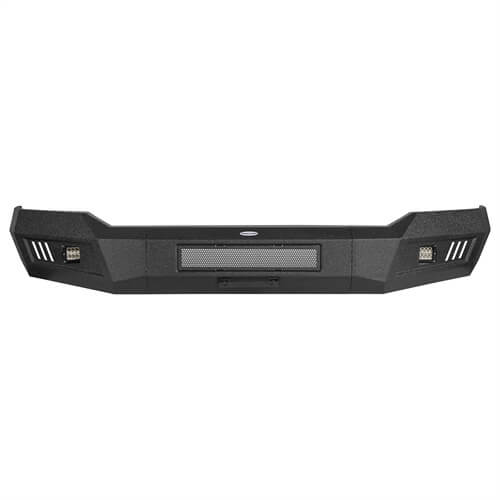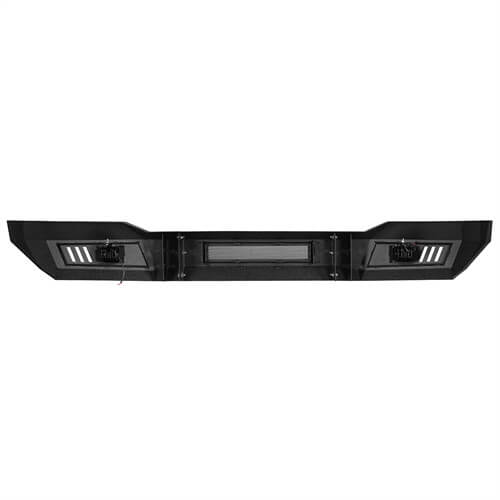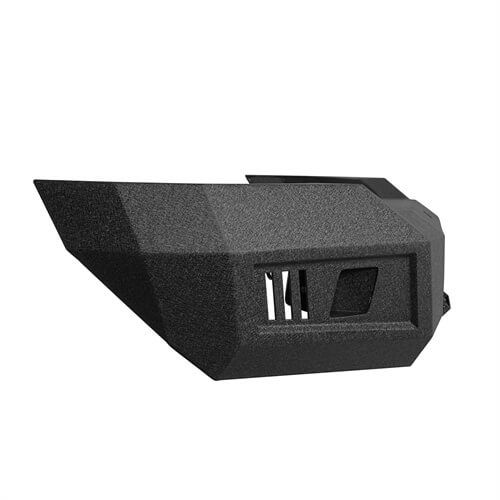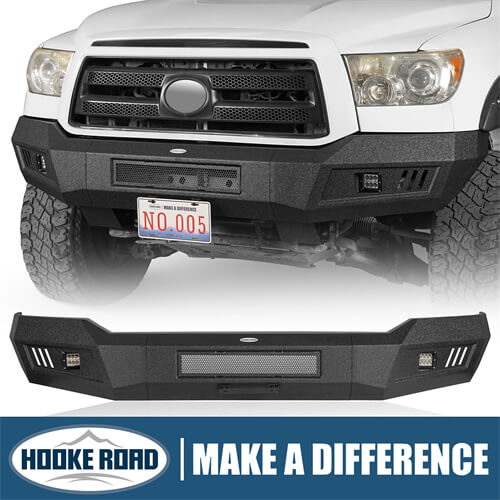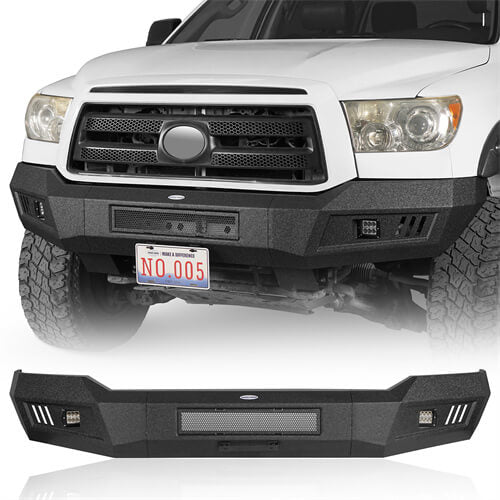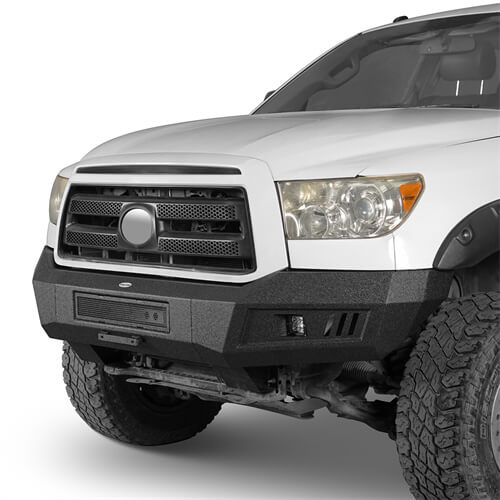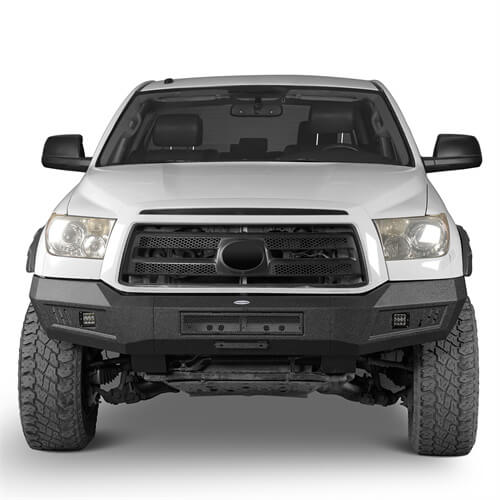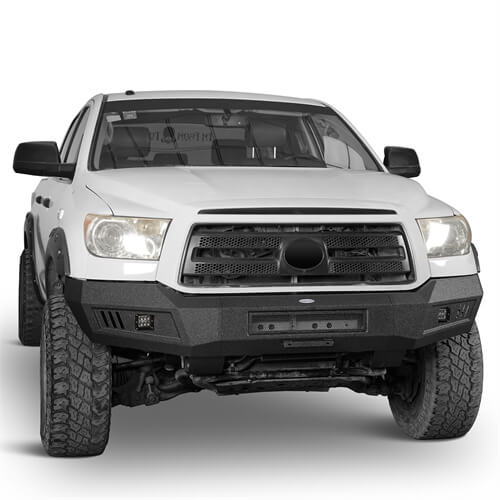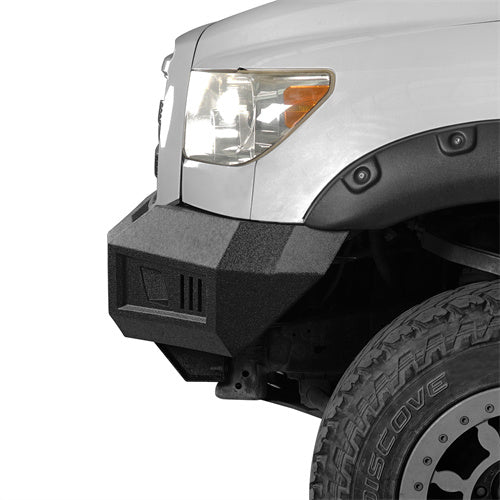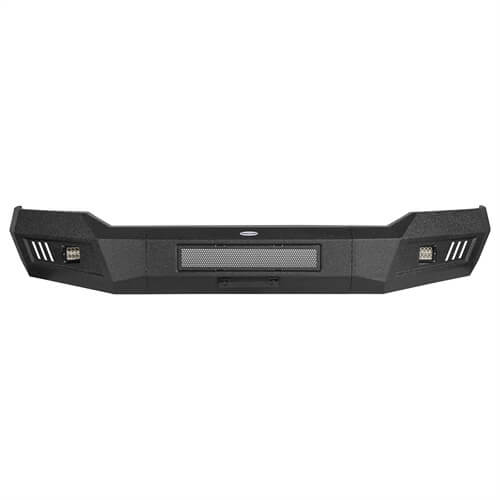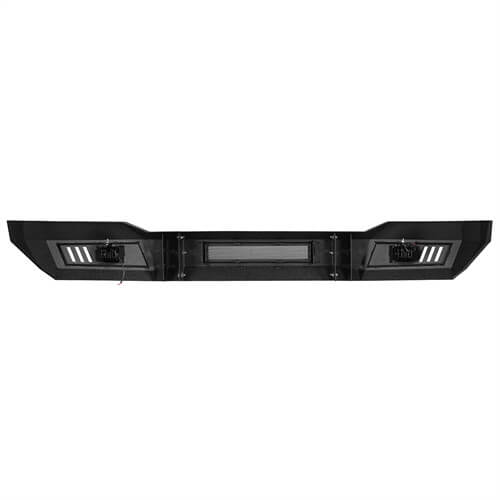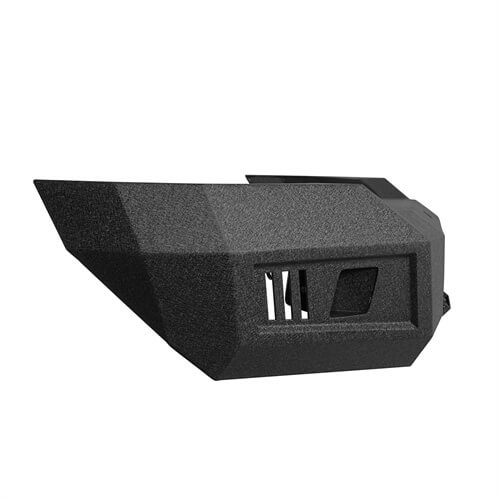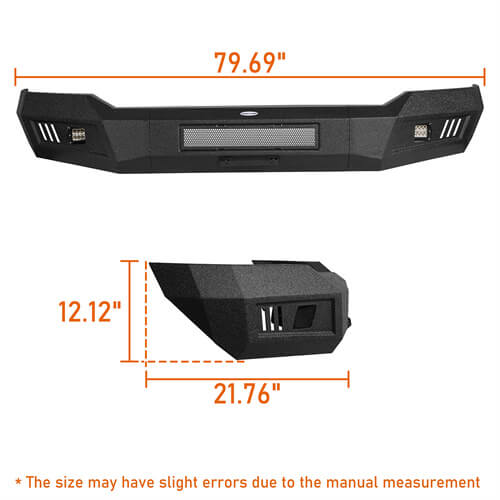 Name: 2007-2013 Toyota Tundra Front Bumper Replacement Textured Black
Feature
Fits for 2007-2013 Toyota Tundra Models
Bumper weight: About 95 lbs
3-piece modular structure; Protects vehicles from on & off-road debris
Heavy-duty, high tensile 11-gauge(1/8 Inch) steel for the bumper main body, 8-gauge(11/64 Inch) for the structure of the mounting bracket
Textured black powder coat finish & Premium E-coating process inside
Includes 2*18W LED spotlights
Comes with a license plate mounting bracket
Not include a 120W LED light bar

(22 in)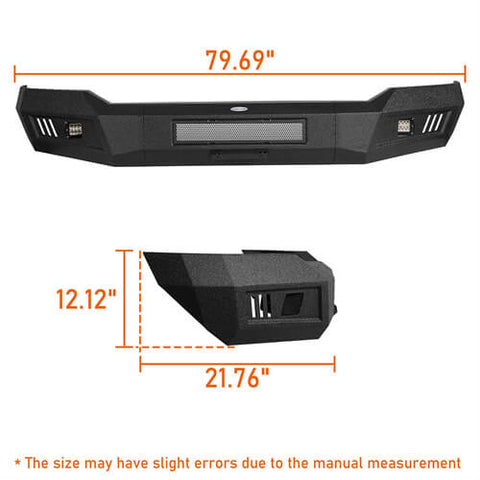 Off-Road Style and Serious Protection.
 For no-nonsense, front-end defense for your Tundra, get this Hooke Road Designs Front Bumper. With heavy-duty steel construction, you'll get top-notch strength, durability, and style. Moreover, the entire assembly is coated with long-lasting black finishes to enhance the bumper's toughness and rugged looks. 
Heavy-Duty Construction. Hooke Road Designs used CAD technology to craft this Front Bumper from high-grade, rust-resistant steel with a vehicle-specific fit. Its high-strength construction, optimum approach angles, and excellent ground clearance provide your truck with an enhanced off-roading capability. It is also fortified by a textured black, powder-coated finish for reinforced service life and appealing good looks.
No-Drill Installation. This front bumper reuses the stock hardware of your truck and can be fitted directly onto the factory mounting points. First, remove the factory bumper and install the mounting brackets. Second, assemble the related components to be a bumper. Third, place the bumper onto the vehicle frame and adjust the position of the bumper. At last, tighten up all the bolts. You will need only basic hand tools like sockets and ratchet to accomplish the installation in approximately 2 hours.

SEMA Membership. The Hooke Road Brand has been certified as a member of SEMA. We are studious and gradually grow up to be a professional aftermarket retailer. As a SEMA member, we make, buy, sell and use all kinds of specialty parts and accessories to make vehicles more attractive, more unique, more convenient, faster, safer, more fun, and even like-new again. Wish you have a terrific off-road experience with our products.
Front Bumper Assembly
2 × Mounting Brackets
License Plate Mounting Bracket
2 × LED Spotlights
Mounting Hardware Kit
Installation Instruction
2013 Toyota Tundra Base Crew Cab Pickup 4-Door
2013 Toyota Tundra Base Standard Cab Pickup 2-Door
2013 Toyota Tundra Limited Crew Cab Pickup 4-Door
2013 Toyota Tundra SR5 Crew Cab Pickup 4-Door
2012 Toyota Tundra Base Crew Cab Pickup 4-Door
2012 Toyota Tundra Base Standard Cab Pickup 2-Door
2012 Toyota Tundra Limited Crew Cab Pickup 4-Door
2012 Toyota Tundra SR5 Crew Cab Pickup 4-Door
2011 Toyota Tundra Base Crew Cab Pickup 4-Door
2011 Toyota Tundra Base Standard Cab Pickup 2-Door
2011 Toyota Tundra Limited Crew Cab Pickup 4-Door
2011 Toyota Tundra SR5 Crew Cab Pickup 4-Door
2010 Toyota Tundra Base Crew Cab Pickup 4-Door
2010 Toyota Tundra Base Standard Cab Pickup
2010 Toyota Tundra Limited Crew Cab Pickup 4-Door
2010 Toyota Tundra SR5 Crew Cab Pickup 4-Door
2010 Toyota Tundra SR5 Standard Cab Pickup 2-Door
2009 Toyota Tundra Base Crew Cab Pickup 4-Door
2009 Toyota Tundra Base Standard Cab Pickup 2-Door
2009 Toyota Tundra Limited Crew Cab Pickup 4-Door
2009 Toyota Tundra SR5 Crew Cab Pickup 4-Door
2008 Toyota Tundra Base Crew Cab Pickup 4-Door
2008 Toyota Tundra Base Standard Cab Pickup 2-Door
2008 Toyota Tundra Limited Crew Cab Pickup 4-Door
2008 Toyota Tundra Limited Crew Cab Pickup 4-Door
2008 Toyota Tundra SR5 Crew Cab Pickup 4-Door
2007 Toyota Tundra Base Standard Cab Pickup 2-Door
2007 Toyota Tundra Limited Crew Cab Pickup 4-Door
2007 Toyota Tundra SR5 Crew Cab Pickup 4-Door
2007 Toyota Tundra SR5 Standard Cab Pickup 2-Door
Package Included
Front Bumper Assembly
2 × Mounting Brackets
License Plate Mounting Bracket
2 × LED Spotlights
Mounting Hardware Kit
Installation Instruction
Fitment
2013 Toyota Tundra Base Crew Cab Pickup 4-Door
2013 Toyota Tundra Base Standard Cab Pickup 2-Door
2013 Toyota Tundra Limited Crew Cab Pickup 4-Door
2013 Toyota Tundra SR5 Crew Cab Pickup 4-Door
2012 Toyota Tundra Base Crew Cab Pickup 4-Door
2012 Toyota Tundra Base Standard Cab Pickup 2-Door
2012 Toyota Tundra Limited Crew Cab Pickup 4-Door
2012 Toyota Tundra SR5 Crew Cab Pickup 4-Door
2011 Toyota Tundra Base Crew Cab Pickup 4-Door
2011 Toyota Tundra Base Standard Cab Pickup 2-Door
2011 Toyota Tundra Limited Crew Cab Pickup 4-Door
2011 Toyota Tundra SR5 Crew Cab Pickup 4-Door
2010 Toyota Tundra Base Crew Cab Pickup 4-Door
2010 Toyota Tundra Base Standard Cab Pickup
2010 Toyota Tundra Limited Crew Cab Pickup 4-Door
2010 Toyota Tundra SR5 Crew Cab Pickup 4-Door
2010 Toyota Tundra SR5 Standard Cab Pickup 2-Door
2009 Toyota Tundra Base Crew Cab Pickup 4-Door
2009 Toyota Tundra Base Standard Cab Pickup 2-Door
2009 Toyota Tundra Limited Crew Cab Pickup 4-Door
2009 Toyota Tundra SR5 Crew Cab Pickup 4-Door
2008 Toyota Tundra Base Crew Cab Pickup 4-Door
2008 Toyota Tundra Base Standard Cab Pickup 2-Door
2008 Toyota Tundra Limited Crew Cab Pickup 4-Door
2008 Toyota Tundra Limited Crew Cab Pickup 4-Door
2008 Toyota Tundra SR5 Crew Cab Pickup 4-Door
2007 Toyota Tundra Base Standard Cab Pickup 2-Door
2007 Toyota Tundra Limited Crew Cab Pickup 4-Door
2007 Toyota Tundra SR5 Crew Cab Pickup 4-Door
2007 Toyota Tundra SR5 Standard Cab Pickup 2-Door