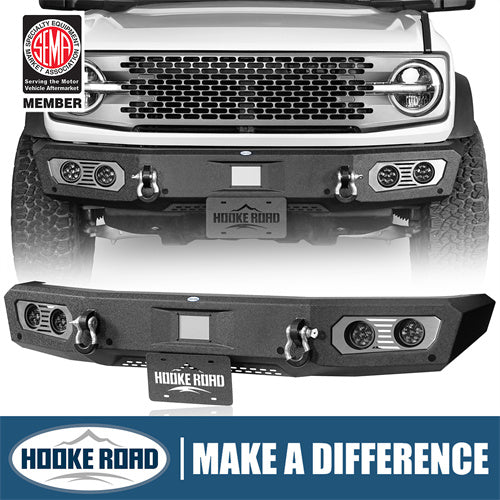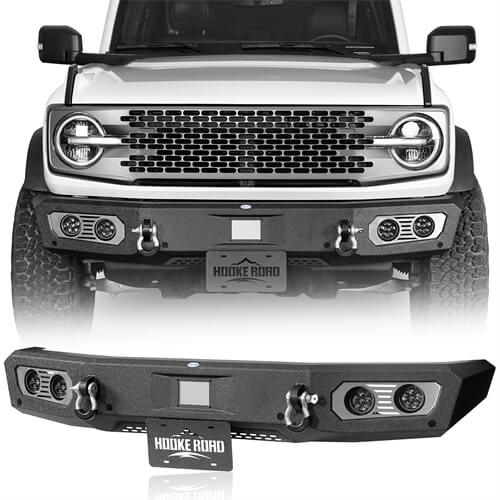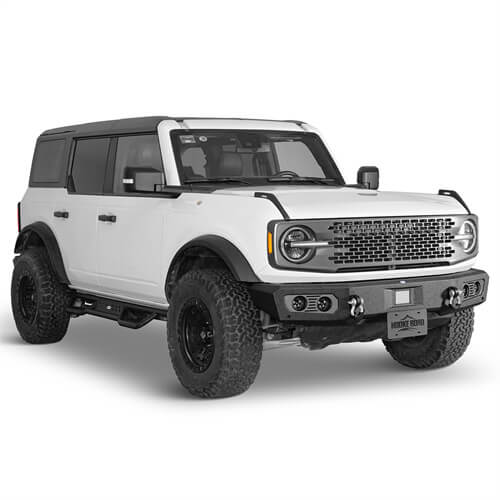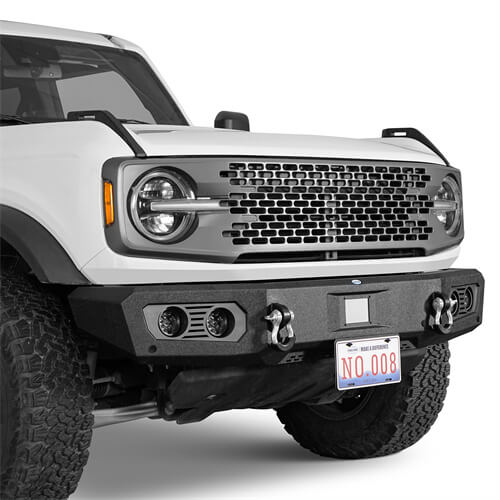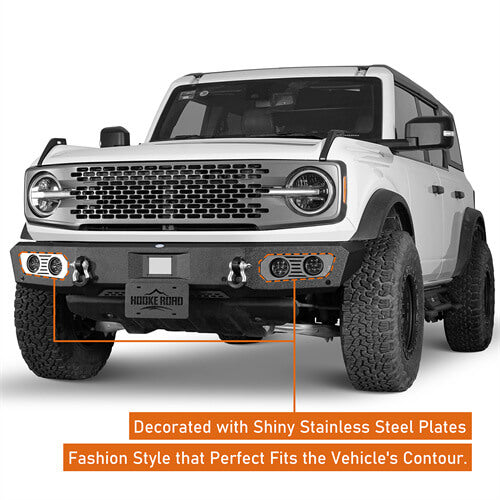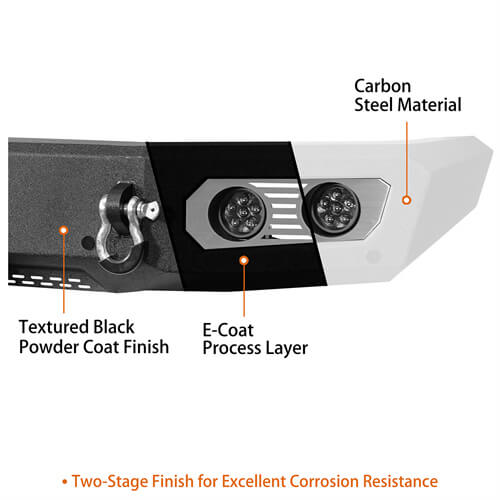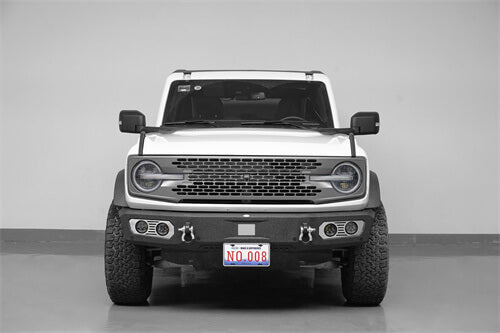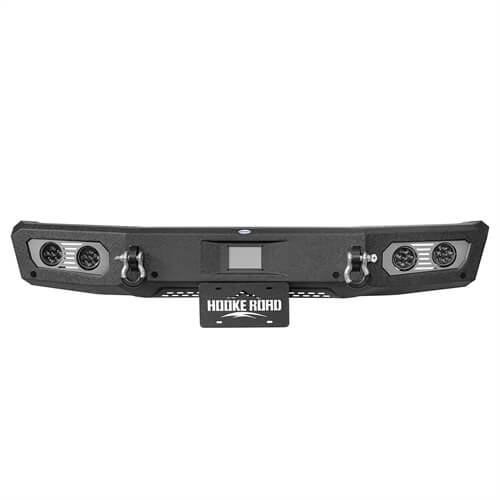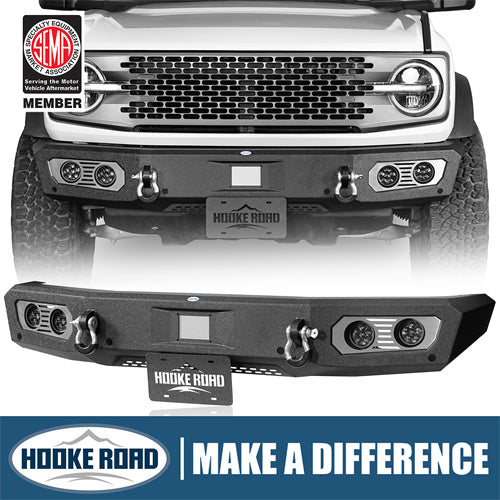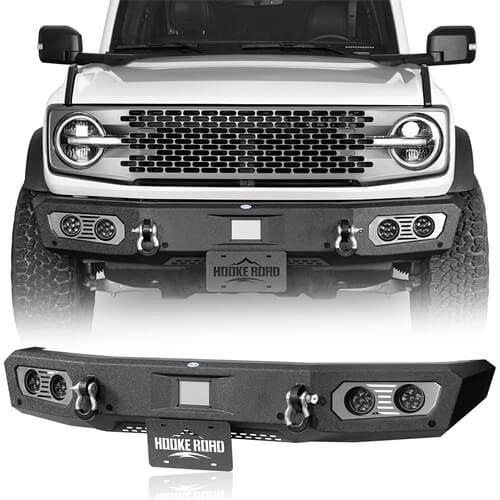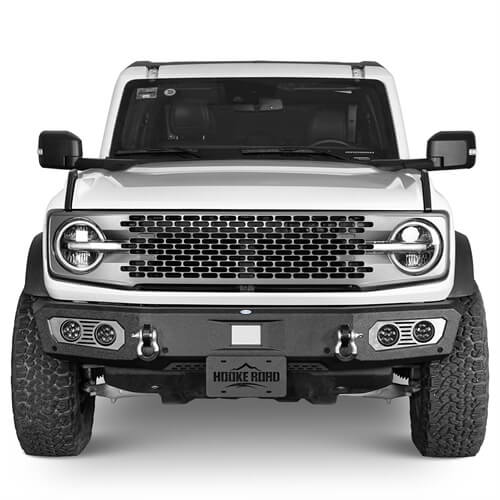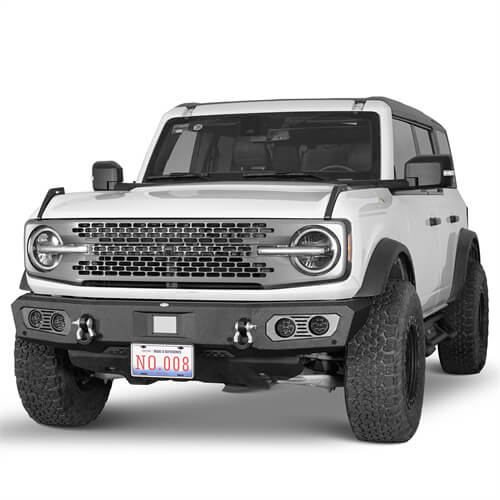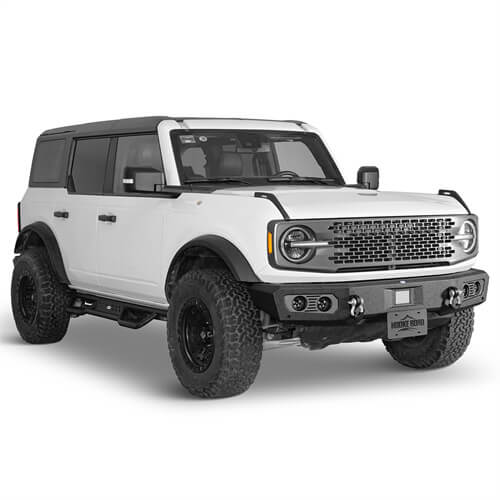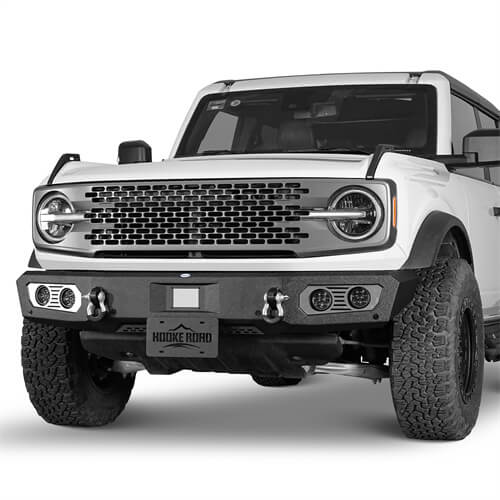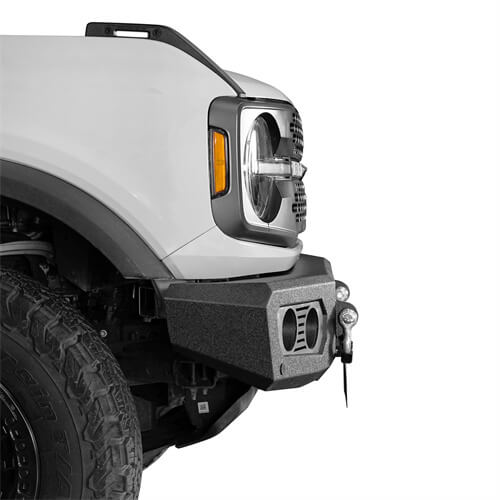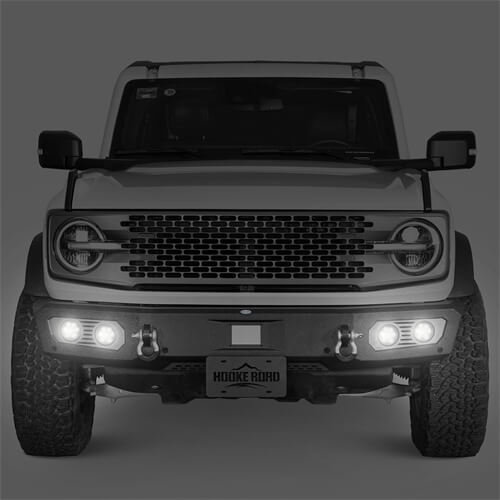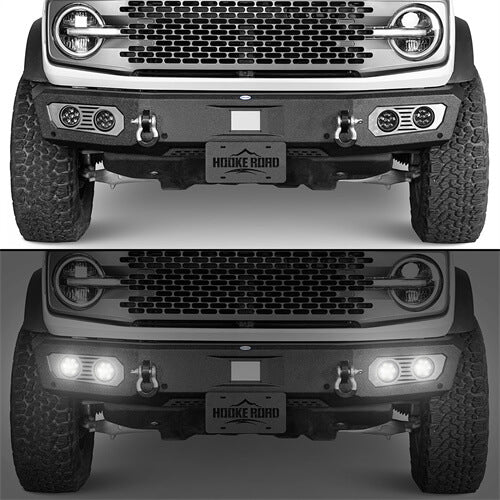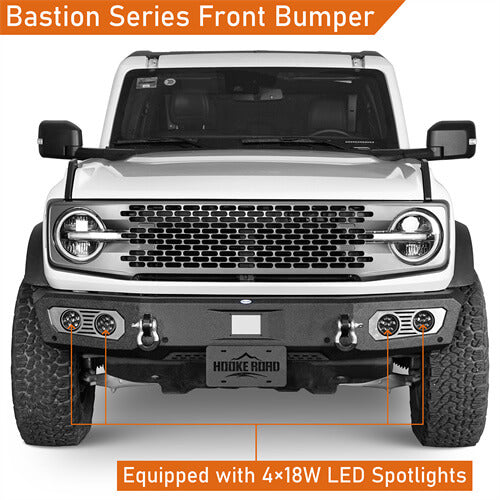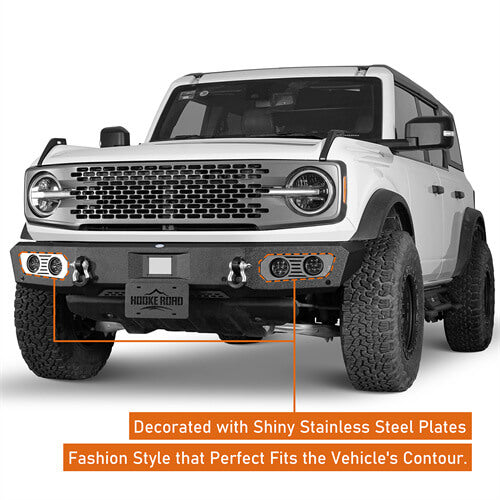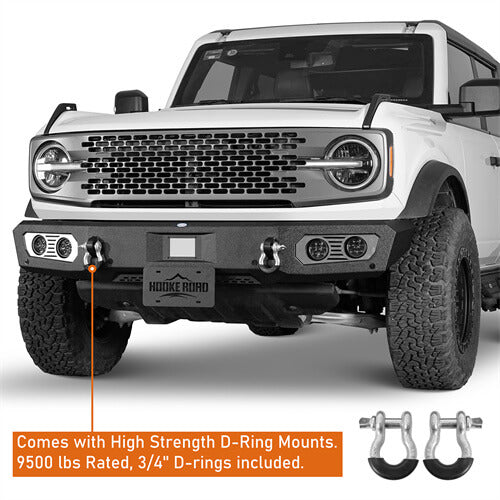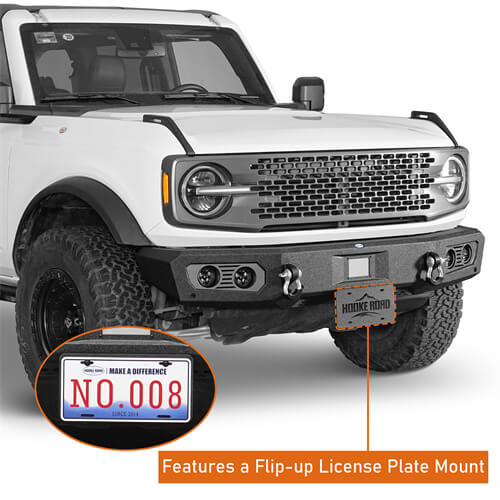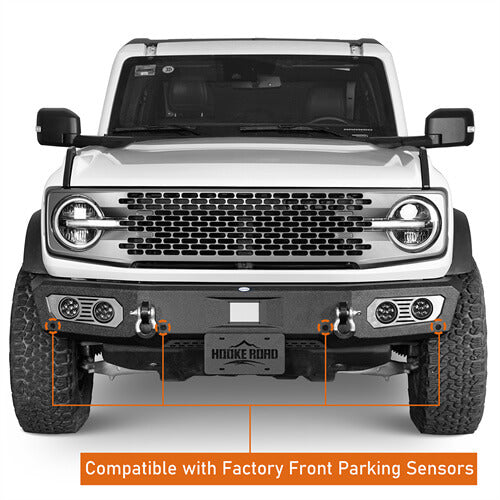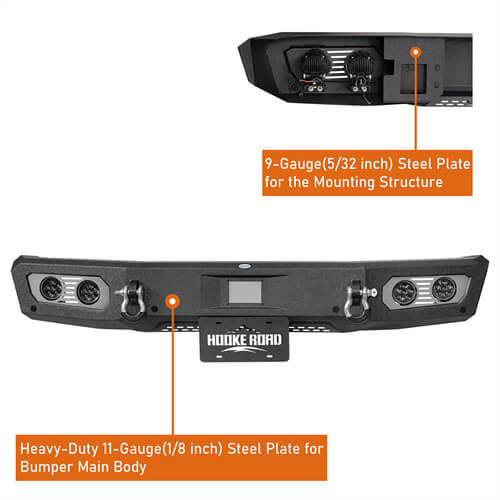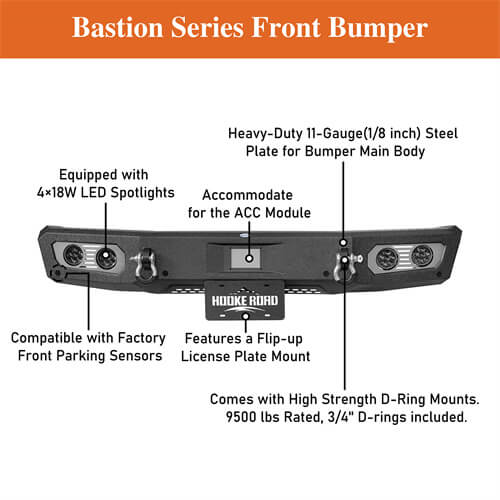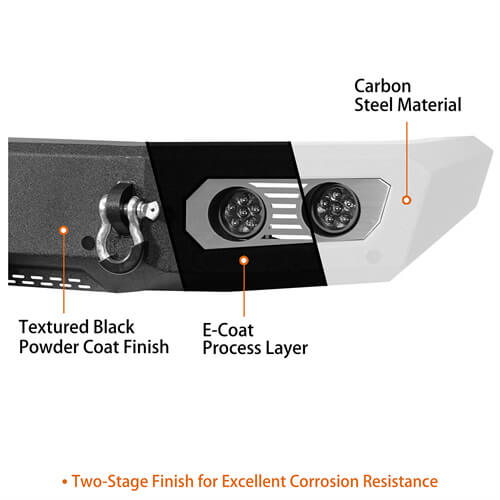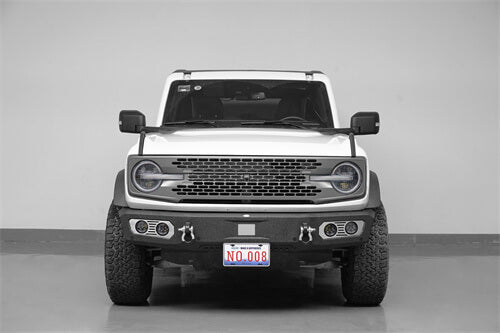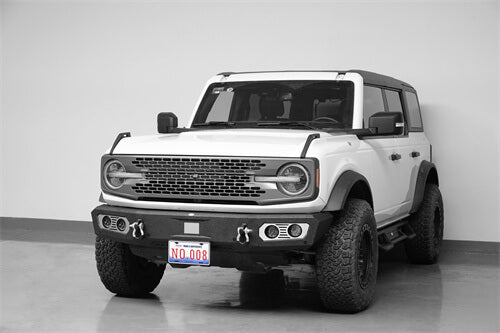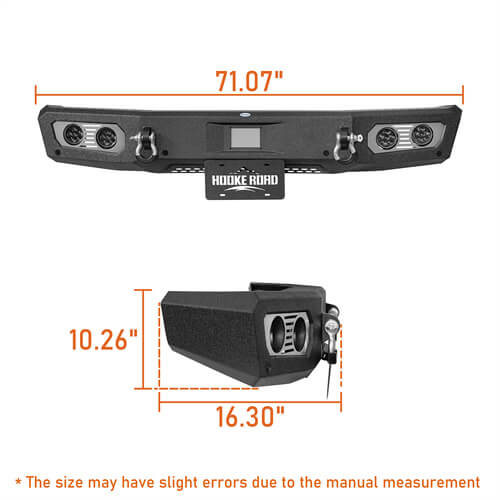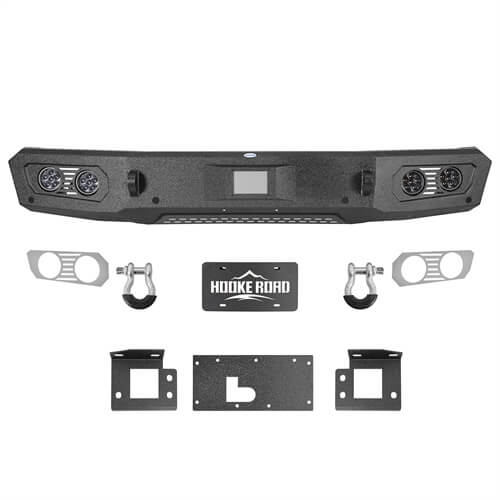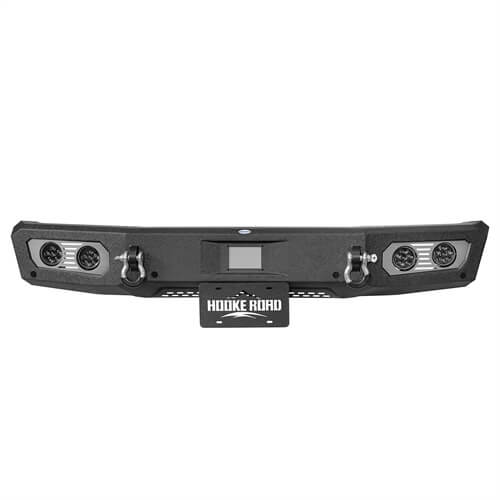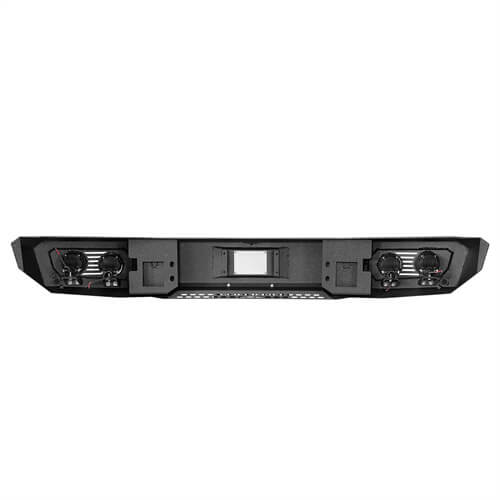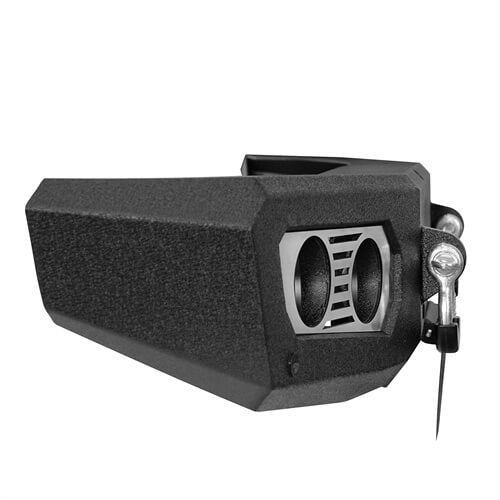 Name:Hooke Road Aftermarket Front Bumper w/D-Rings & LED Lights Compatible with Ford Bronco Excluding Raptor
PRODUCT SPECIFICATIONS
Fits for 2021-2023 Ford Bronco Models (Excluding Raptor)
Bumper weight: about 79 lbs
Heavy-duty steel construction: 11-gauge(1/8 inch) plate for the bumper main body, 9-gauce(5/32 inch) plate for the mounting structure
Textured black powder coat finish & Premium E-coating process inside
Features 4×18W round white LED spotlights
Equipped with a flip-up license plate mount frame
Works with ACC(adaptive cruise control) module
Retains factory parking sensors, and includes plugs for non-sensor models
High strength D-rings mounts, 9,500 lbs rated, 3/4" D-rings included
Aesthetic vintage design characterized by a broad and sturdy appearance
Seamlessly complementing the vehicle's contours and lines
Decorated with shiny stainless steel plates around the lights
Easy bolt-on installation, No drilling or modification is required
Mounting hardware included
DIMENSION
SOMETHING YOU MIGHT WANT TO KNOW

Reliable. The Hooke Road Bastion Front Bumper, tailored for the 21+ Bronco models (excluding Raptor), embodies a seamless blend of vintage charm and robust functionality. Its Bastion Series design evokes a sense of timeless allure, characterized by a broad and sturdy appearance that seamlessly complements the vehicle's contours and lines. This aesthetically pleasing front bumper not only enhances the vehicle's overall appeal but also ensures reliable protection during off-road adventures and everyday driving. The inclusion of shiny stainless steel plates around the lights adds an elegant touch, further accentuating the bumper's visual appeal and vintage character. Equipped with 4×18W round white LED lights and a flip-up license plate mount frame, the Bastion Front Bumper strikes the perfect balance between classic aesthetics and contemporary functionality, catering to the needs of both style-conscious and performance-driven Bronco enthusiasts.


High Quality Construction. Constructed from heavy-duty steel, the Hooke Road Bastion Front Bumper guarantees exceptional durability and resilience, providing a reliable shield against impacts and various environmental hazards. The bumper main body, crafted from 11-gauge (1/8 inch) plate steel, ensures robust structural integrity, contributing to the bumper's ability to withstand rigorous off-road conditions and everyday wear and tear. Additionally, the mounting structure, made from 9-gauge (5/32 inch) plate steel, reinforces the bumper's overall strength, enhancing its capacity to endure challenging driving environments while providing long-lasting protection for the vehicle. The textured black powder coat finish, coupled with the premium E-coating process applied internally, fortifies the bumper's resistance to rust and corrosion, ensuring that it maintains its sleek appearance and structural integrity over an extended period.

Direct Bolt-On Installation. Hooke Road engineered their Front Bumper to be a direct bolt-on replacement for your original stock bumper reusing the factory mounting points. There is no cutting or modifications required for a clean straight forward installation. Installation can be completed in about two hours with just basic hand tools and the help of a good friend.
1 × Front Bumper Assembly
2 × D-Rings
4 × LED Lights
1 × License Plate Mount
1 × ACC Module Bracket
1 × Mounting Structure
1 × Mounting Hardware Kit
1 × Installation Instruction
2023 Ford Bronco Badlands Sport Utility
2023 Ford Bronco Base Sport Utility
2023 Ford Bronco Big Bend Sport Utility
2023 Ford Bronco Black Diamond Sport Utility
2023 Ford Bronco Everglades Sport Utility
2023 Ford Bronco Heritage Edition Sport Utility
2023 Ford Bronco Outer Banks Sport Utility
2023 Ford Bronco Wildtrak Sport Utility
2022 Ford Bronco Badlands Sport Utility
2022 Ford Bronco Base Sport Utility
2022 Ford Bronco Big Bend Sport Utility
2022 Ford Bronco Black Diamond Sport Utility
2022 Ford Bronco Everglades Sport Utility
2022 Ford Bronco Outer Banks Sport Utility
2022 Ford Bronco Wildtrak Sport Utility
2021 Ford Bronco Badlands Sport Utility
2021 Ford Bronco Base Sport Utility
2021 Ford Bronco Big Bend Sport Utility
2021 Ford Bronco Black Diamond Sport Utility
2021 Ford Bronco First Edition Sport Utility
2021 Ford Bronco Outer Banks Sport Utility
2021 Ford Bronco Wildtrak Sport Utility
Package Included
1 × Front Bumper Assembly
2 × D-Rings
4 × LED Lights
1 × License Plate Mount
1 × ACC Module Bracket
1 × Mounting Structure
1 × Mounting Hardware Kit
1 × Installation Instruction
Fitment
2023 Ford Bronco Badlands Sport Utility
2023 Ford Bronco Base Sport Utility
2023 Ford Bronco Big Bend Sport Utility
2023 Ford Bronco Black Diamond Sport Utility
2023 Ford Bronco Everglades Sport Utility
2023 Ford Bronco Heritage Edition Sport Utility
2023 Ford Bronco Outer Banks Sport Utility
2023 Ford Bronco Wildtrak Sport Utility
2022 Ford Bronco Badlands Sport Utility
2022 Ford Bronco Base Sport Utility
2022 Ford Bronco Big Bend Sport Utility
2022 Ford Bronco Black Diamond Sport Utility
2022 Ford Bronco Everglades Sport Utility
2022 Ford Bronco Outer Banks Sport Utility
2022 Ford Bronco Wildtrak Sport Utility
2021 Ford Bronco Badlands Sport Utility
2021 Ford Bronco Base Sport Utility
2021 Ford Bronco Big Bend Sport Utility
2021 Ford Bronco Black Diamond Sport Utility
2021 Ford Bronco First Edition Sport Utility
2021 Ford Bronco Outer Banks Sport Utility
2021 Ford Bronco Wildtrak Sport Utility