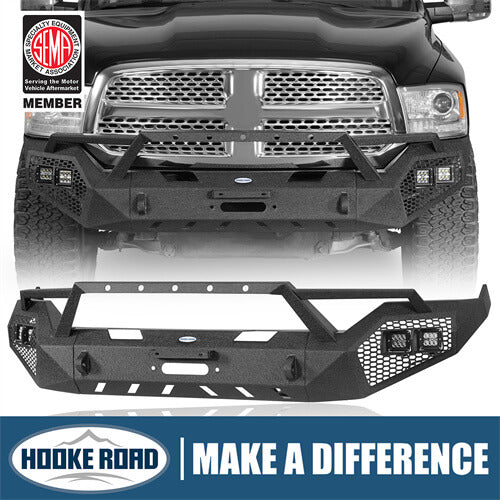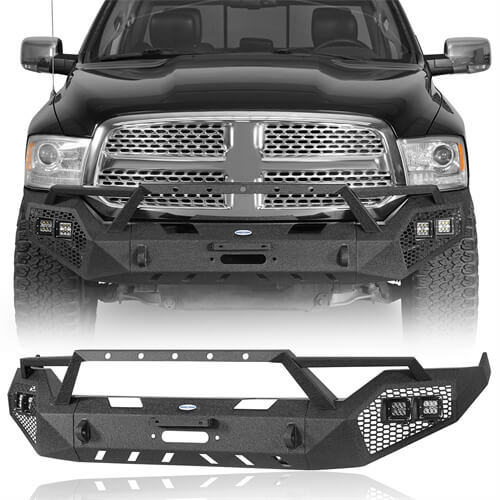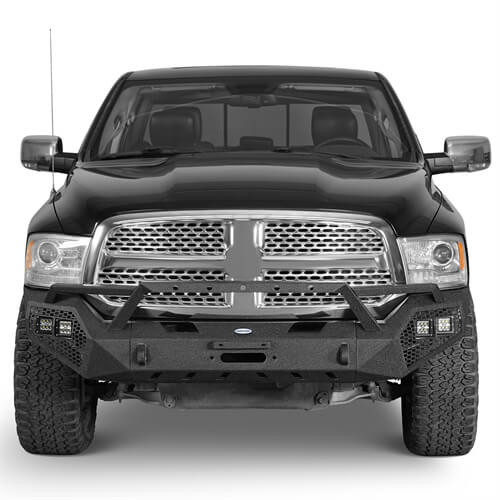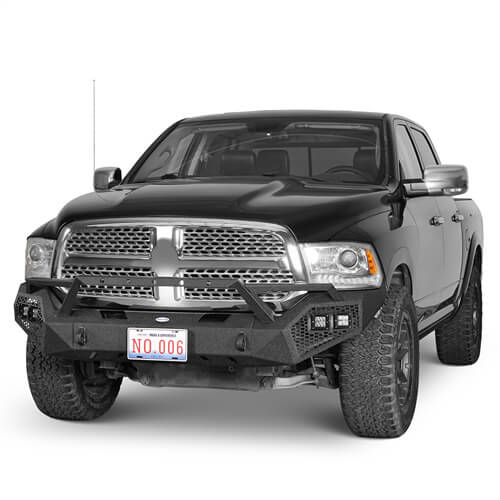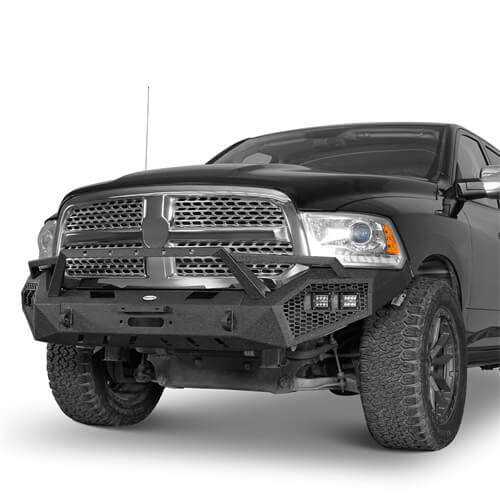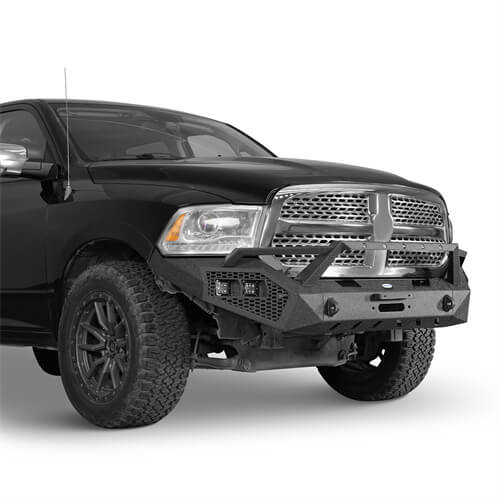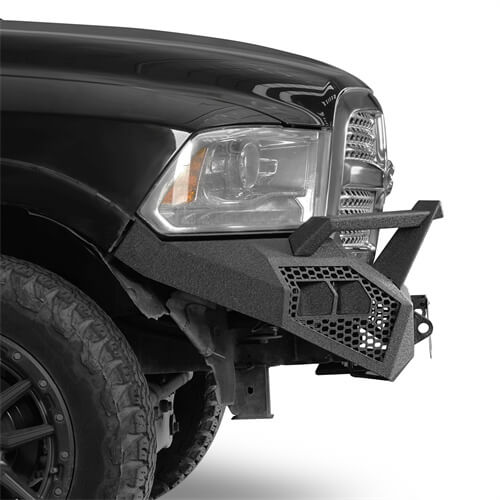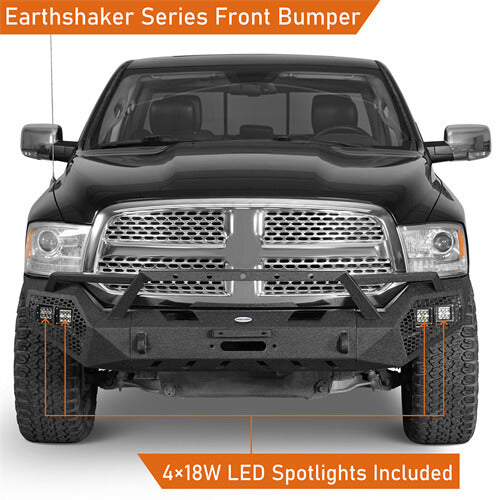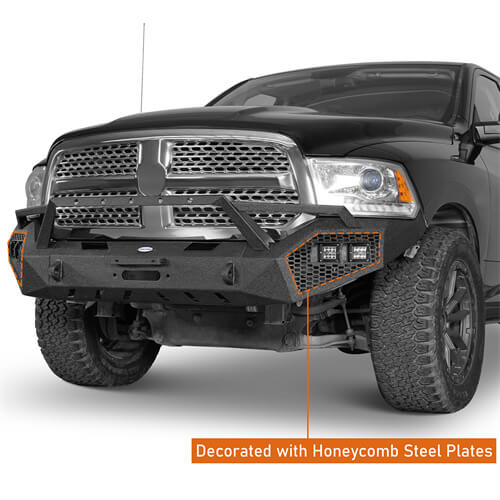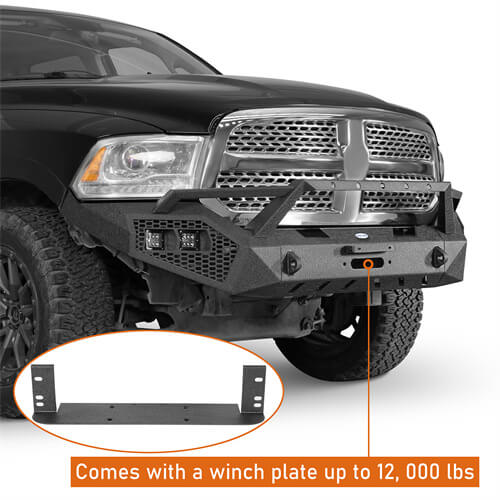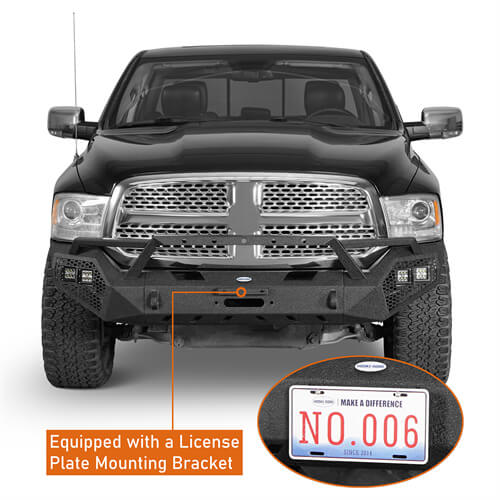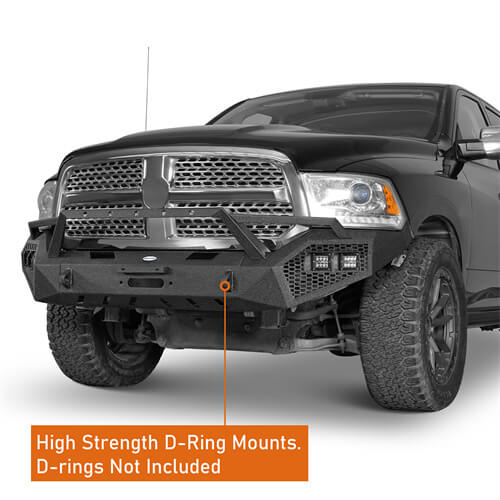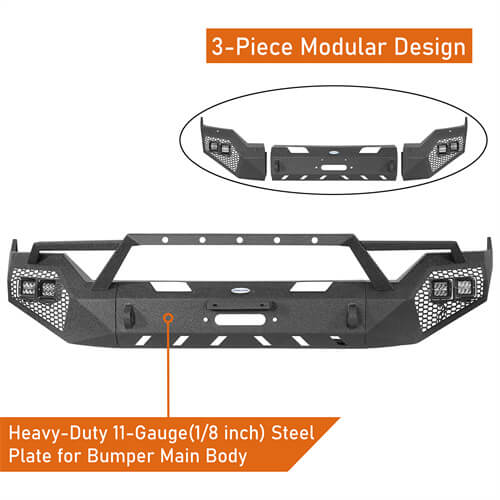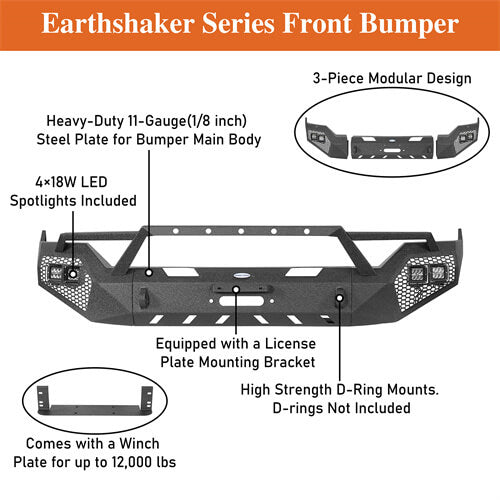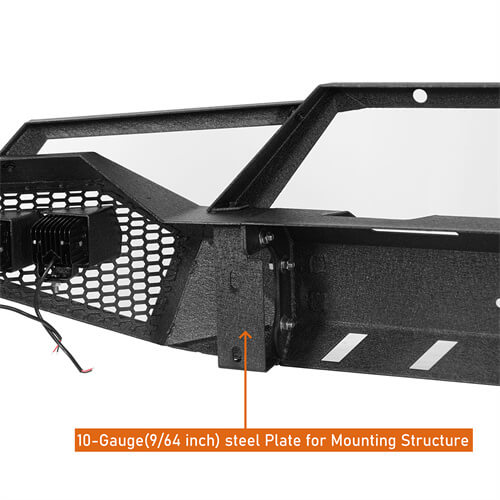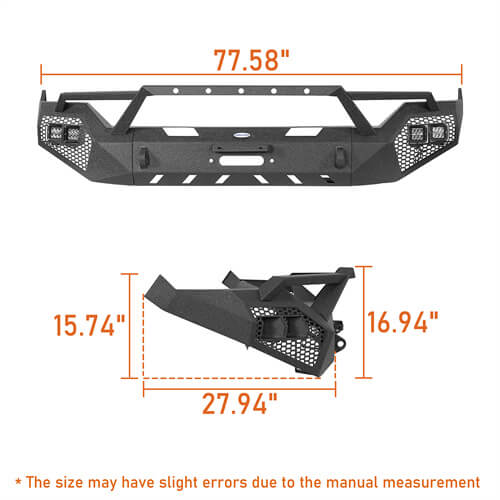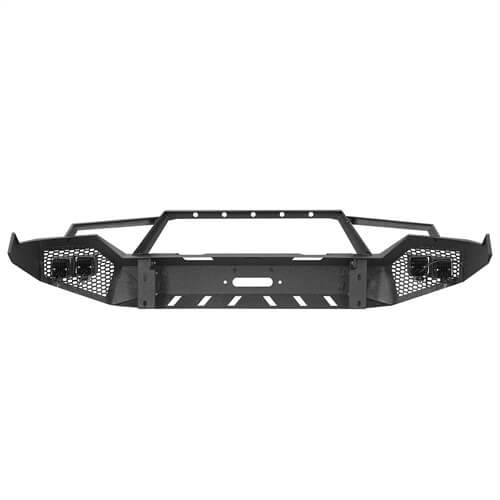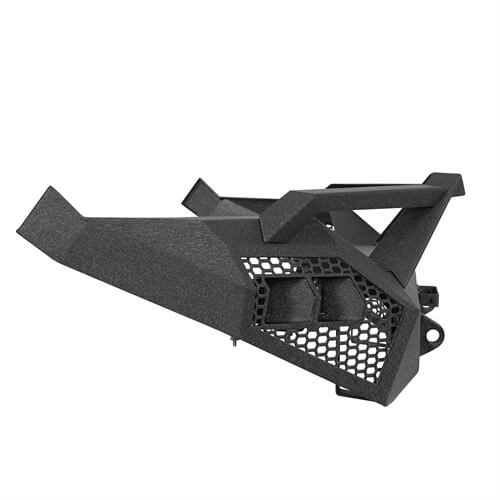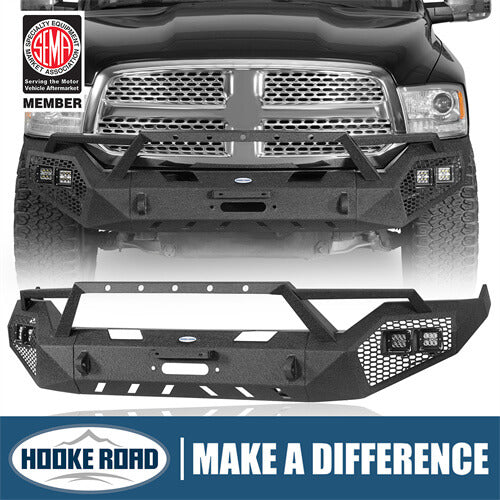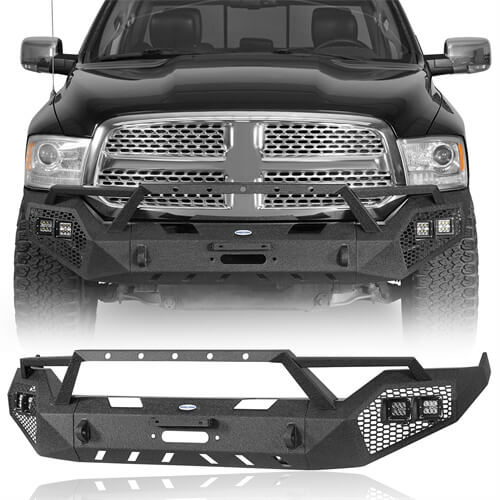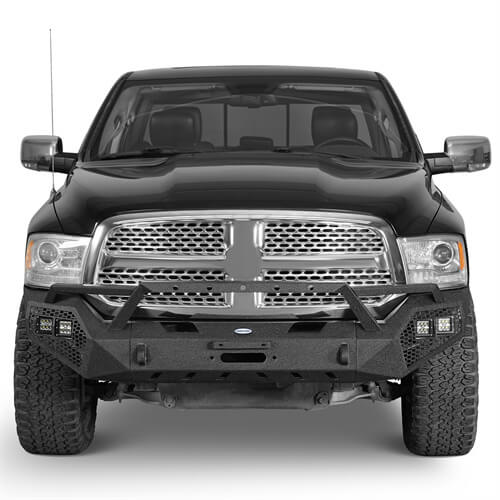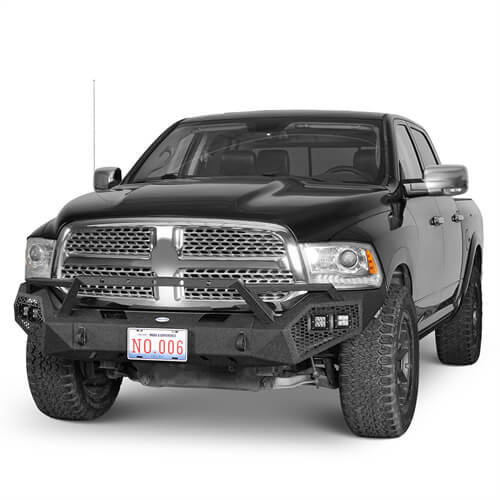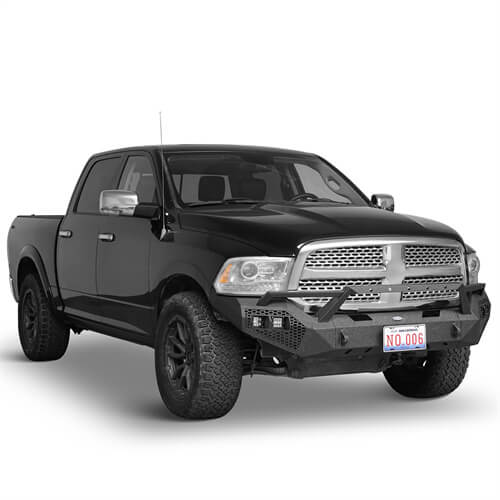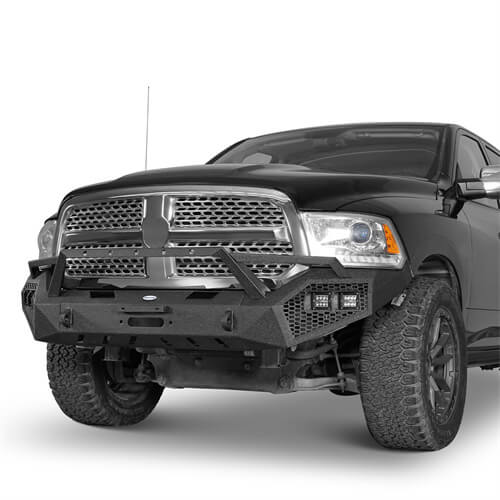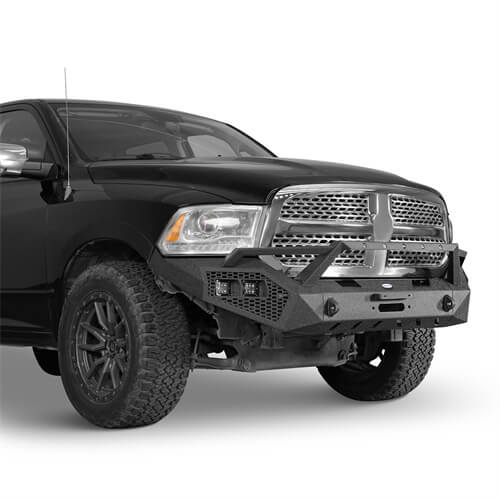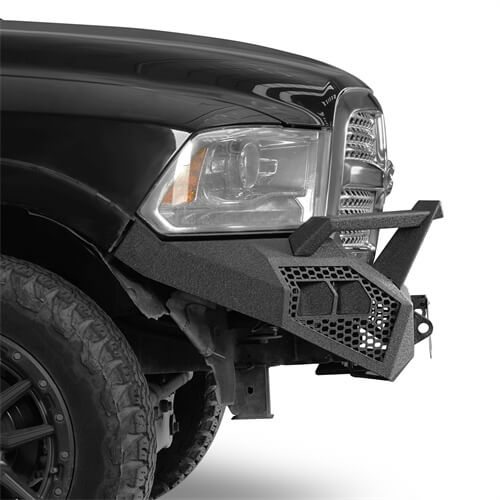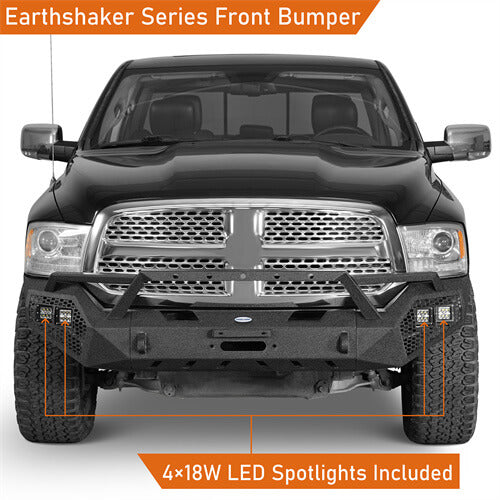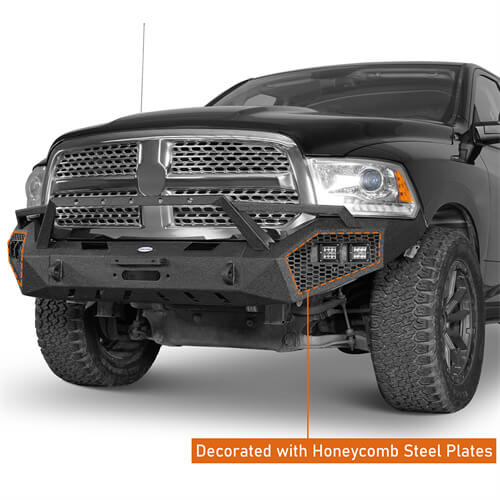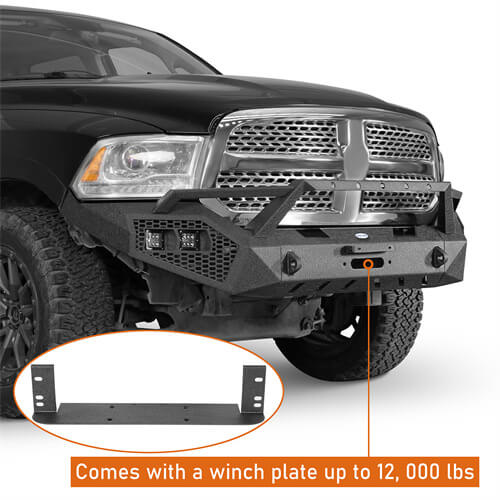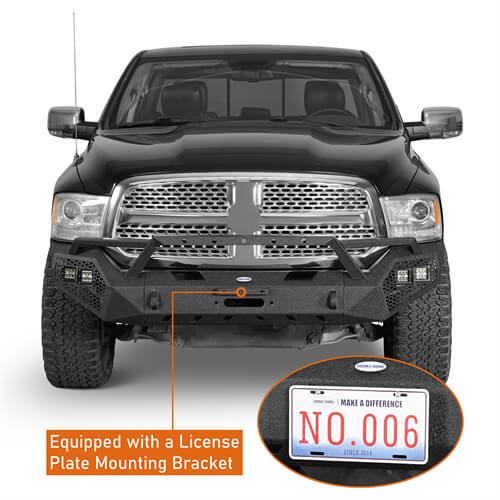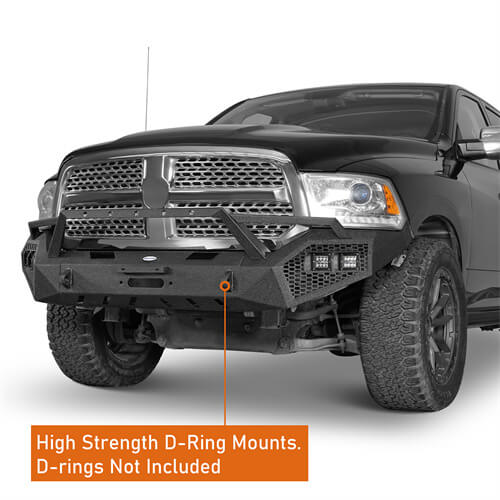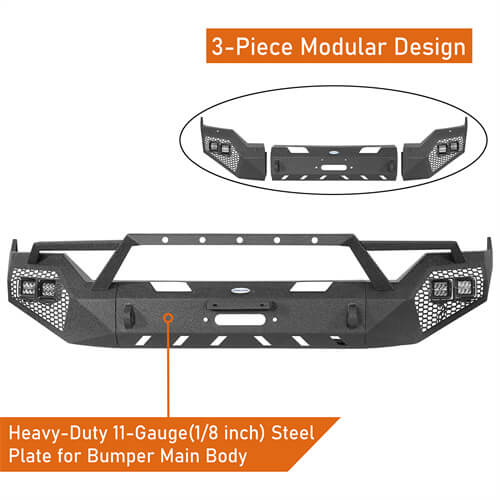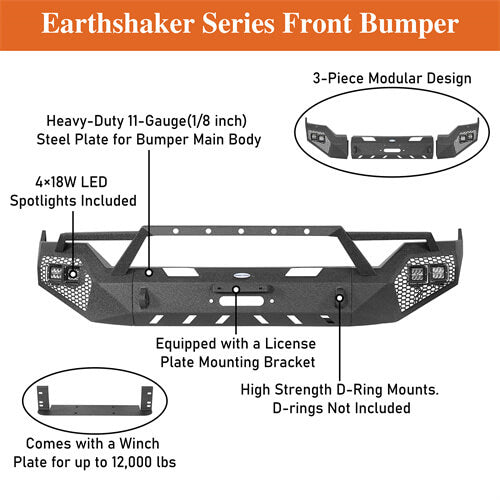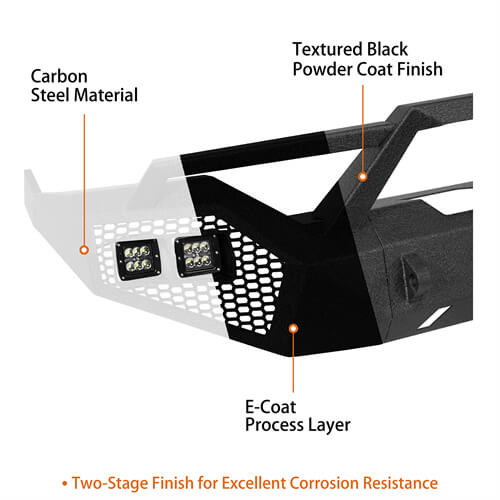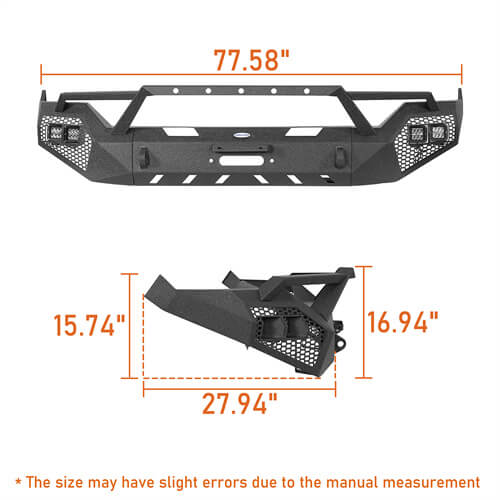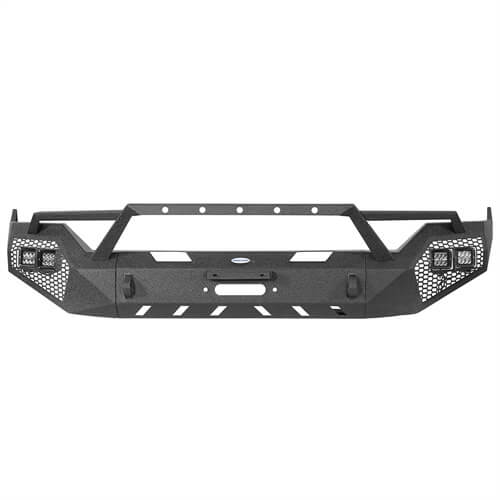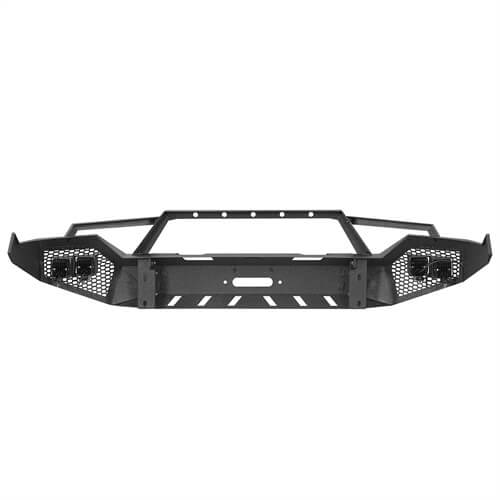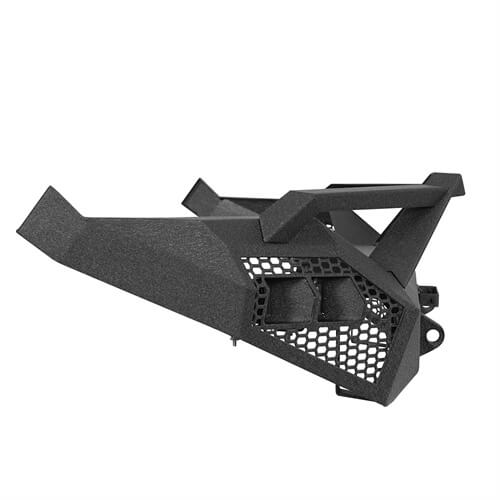 Name: Hooke Road 13-18 Ram 1500 Aftermarket Front Bumper w/ Winch Plate & Grill Guard
Feature
Compatible with 2013-2018 Ram 1500 Models (Excluding Rebel)
Bumper weight: about 85 lbs, 3-piece modular design
Heavy-duty, high tensile 11-gauge (1/8 in) steel for the bumper main body, 10-gauge(9/64 in) steel for the mounting structure
Textured black powder coat finish & Premium E-coating process inside
Comes with a winch plate rated up to 12, 000 lbs
Equipped with a flip-up license plate mount
Includes 4×18W LED spotlights
Features high strength D-ring mounts welded both inside and out with a 4.75-ton capacity, D-rings not included
Highly durable structure for outstanding protection and versatile functionality in extreme conditions
Bold, angular off-road design with integrated grill guard
Decorated with hollowed-out honeycomb steel plate on both sides
Easy bolt-on installation
Dimension
Bold, Angular Design. The Earthshaker Series Front Bumper boasts a 3-piece modular design, blending durability and versatility for extreme conditions. Its bold, angular off-road design includes an integrated grill guard, while 4×18W LED spotlights provide enhanced visibility. Hollowed-out honeycomb steel plates adorn both sides. High-strength D-ring mounts are ready for action (D-rings not included), and a 12,000 lbs-rated winch plate is built-in. The addition of a license plate mounting bracket enhances practicality.


Heavy-Duty Build Quality. Constructed with heavy-duty, high-tensile 11-gauge (1/8 in) steel for the bumper main body and 10-gauge (9/64 in) steel for the mounting structure, this Earthshaker Series Front Bumper ensures robust protection. Its textured black powder coat finish and premium E-coating inside offer exceptional durability and resistance to the elements. This combination of materials and finishes provides long-lasting strength and corrosion protection for extreme off-road use.

Easy Bolt-On Installation. Installation of the Earthshaker Series Front Bumper is hassle-free with a straightforward bolt-on design. Begin by attaching the winch plate to your vehicle's frame using the provided mounting plates, ensuring a secure connection. Then, position the fully assembled bumper onto your truck's frame, aligning it with the factory mounting points. Finish by securely tightening all the bolts. The process requires only basic hand tools like sockets and a ratchet, making it accessible and convenient for installation without the need for specialized skills.
1 × Front Bumper Assembly
4 × LED Spotlights
1 × Winch Plate
1 × Mounting Hardware Kit
1 × Installation Instruction
2018 Ram 1500 Big Horn
2018 Ram 1500 Express
2018 Ram 1500 HFE
2018 Ram 1500 Laramie
2018 Ram 1500 Lone Star
2018 Ram 1500 Outdoorsman
2018 Ram 1500 SLT
2018 Ram 1500 ST
2018 Ram 1500 SXT
2018 Ram 1500 Special Service Crew Cab
2018 Ram 1500 Sport
2018 Ram 1500 Tradesman
2017 Ram 1500 Big Horn
2017 Ram 1500 Express
2017 Ram 1500 Express
2017 Ram 1500 HFE
2017 Ram 1500 Laramie
2017 Ram 1500 Lone Star
2017 Ram 1500 Outdoorsman
2017 Ram 1500 SLT
2017 Ram 1500 ST
2017 Ram 1500 SXT
2017 Ram 1500 Special Service Crew Cab
2017 Ram 1500 Sport
2017 Ram 1500 Tradesman
2016 Ram 1500 Big Horn
2016 Ram 1500 Express
2016 Ram 1500 HFE
2016 Ram 1500 Laramie
2016 Ram 1500 Lone Star
2016 Ram 1500 Outdoorsman
2016 Ram 1500 SLT
2016 Ram 1500 ST
2016 Ram 1500 SXT
2015 Ram 1500 Big Horn
2015 Ram 1500 Express
2015 Ram 1500 HFE Standard Cab Pickup 2-Door
2015 Ram 1500 Laramie
2015 Ram 1500 Limited Crew Cab
2015 Ram 1500 Lone Star
2015 Ram 1500 Outdoorsman
2015 Ram 1500 SLT
2015 Ram 1500 ST
2015 Ram 1500 SXT
2015 Ram 1500 Special Service Crew Cab Pickup 4-Door
2015 Ram 1500 Sport
2015 Ram 1500 Tradesman
2014 Ram 1500 Big Horn
2014 Ram 1500 Express
2014 Ram 1500 HFE
2014 Ram 1500 Laramie
2014 Ram 1500 Lone Star
2014 Ram 1500 Outdoorsman
2014 Ram 1500 Limited Crew Cab
2014 Ram 1500 Lone Star
2014 Ram 1500 Outdoorsman
2014 Ram 1500 SLT
2014 Ram 1500 ST
2014 Ram 1500 SXT
2014 Ram 1500 Special Service Crew Cab Pickup 4-Door
2014 Ram 1500 Sport
2014 Ram 1500 Tradesman
2013 Ram 1500 Big Horn
2013 Ram 1500 Express
2013 Ram 1500 HFE Standard Cab Pickup 2-Door
2013 Ram 1500 Laramie
2013 Ram 1500 Limited Crew Cab
2013 Ram 1500 Lone Star
2013 Ram 1500 Outdoorsman
2013 Ram 1500 SLT
2013 Ram 1500 ST
2013 Ram 1500 SXT
2013 Ram 1500 Special Service Crew Cab Pickup 4-Door
2013 Ram 1500 Sport
2013 Ram 1500 Tradesman
Package Included
1 × Front Bumper Assembly
4 × LED Spotlights
1 × Winch Plate
1 × Mounting Hardware Kit
1 × Installation Instruction
Fitment
2018 Ram 1500 Big Horn
2018 Ram 1500 Express
2018 Ram 1500 HFE
2018 Ram 1500 Laramie
2018 Ram 1500 Lone Star
2018 Ram 1500 Outdoorsman
2018 Ram 1500 SLT
2018 Ram 1500 ST
2018 Ram 1500 SXT
2018 Ram 1500 Special Service Crew Cab
2018 Ram 1500 Sport
2018 Ram 1500 Tradesman
2017 Ram 1500 Big Horn
2017 Ram 1500 Express
2017 Ram 1500 Express
2017 Ram 1500 HFE
2017 Ram 1500 Laramie
2017 Ram 1500 Lone Star
2017 Ram 1500 Outdoorsman
2017 Ram 1500 SLT
2017 Ram 1500 ST
2017 Ram 1500 SXT
2017 Ram 1500 Special Service Crew Cab
2017 Ram 1500 Sport
2017 Ram 1500 Tradesman
2016 Ram 1500 Big Horn
2016 Ram 1500 Express
2016 Ram 1500 HFE
2016 Ram 1500 Laramie
2016 Ram 1500 Lone Star
2016 Ram 1500 Outdoorsman
2016 Ram 1500 SLT
2016 Ram 1500 ST
2016 Ram 1500 SXT
2015 Ram 1500 Big Horn
2015 Ram 1500 Express
2015 Ram 1500 HFE Standard Cab Pickup 2-Door
2015 Ram 1500 Laramie
2015 Ram 1500 Limited Crew Cab
2015 Ram 1500 Lone Star
2015 Ram 1500 Outdoorsman
2015 Ram 1500 SLT
2015 Ram 1500 ST
2015 Ram 1500 SXT
2015 Ram 1500 Special Service Crew Cab Pickup 4-Door
2015 Ram 1500 Sport
2015 Ram 1500 Tradesman
2014 Ram 1500 Big Horn
2014 Ram 1500 Express
2014 Ram 1500 HFE
2014 Ram 1500 Laramie
2014 Ram 1500 Lone Star
2014 Ram 1500 Outdoorsman
2014 Ram 1500 Limited Crew Cab
2014 Ram 1500 Lone Star
2014 Ram 1500 Outdoorsman
2014 Ram 1500 SLT
2014 Ram 1500 ST
2014 Ram 1500 SXT
2014 Ram 1500 Special Service Crew Cab Pickup 4-Door
2014 Ram 1500 Sport
2014 Ram 1500 Tradesman
2013 Ram 1500 Big Horn
2013 Ram 1500 Express
2013 Ram 1500 HFE Standard Cab Pickup 2-Door
2013 Ram 1500 Laramie
2013 Ram 1500 Limited Crew Cab
2013 Ram 1500 Lone Star
2013 Ram 1500 Outdoorsman
2013 Ram 1500 SLT
2013 Ram 1500 ST
2013 Ram 1500 SXT
2013 Ram 1500 Special Service Crew Cab Pickup 4-Door
2013 Ram 1500 Sport
2013 Ram 1500 Tradesman