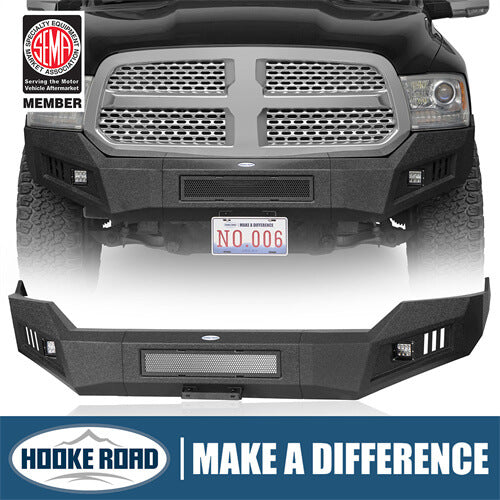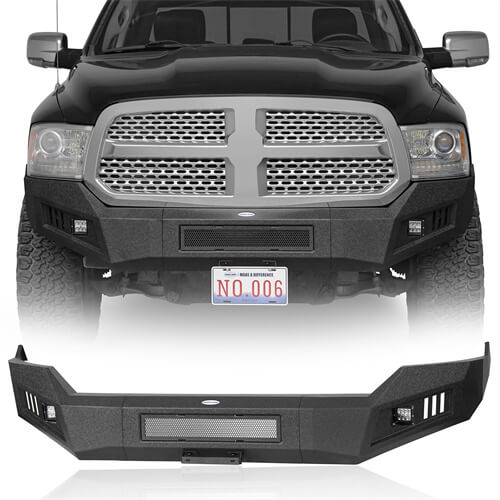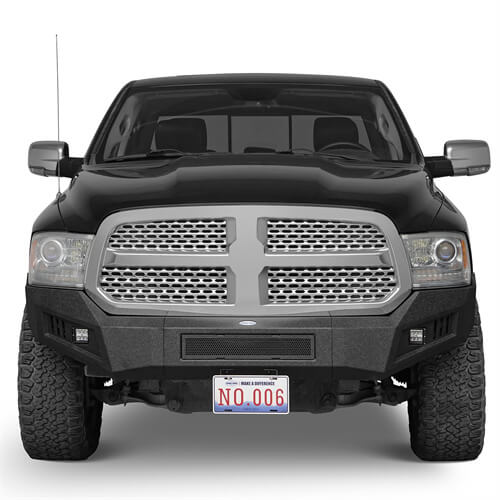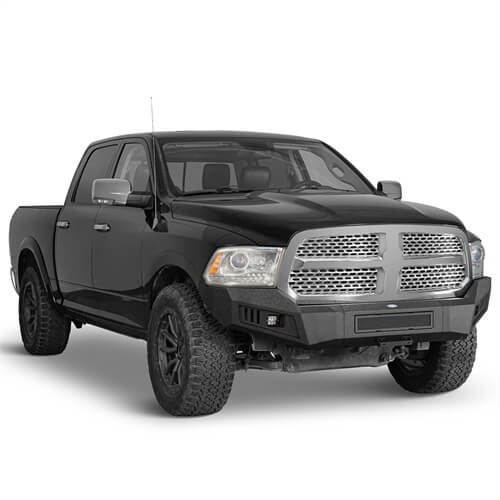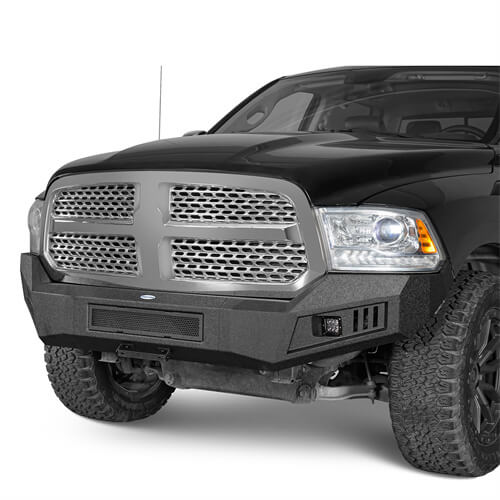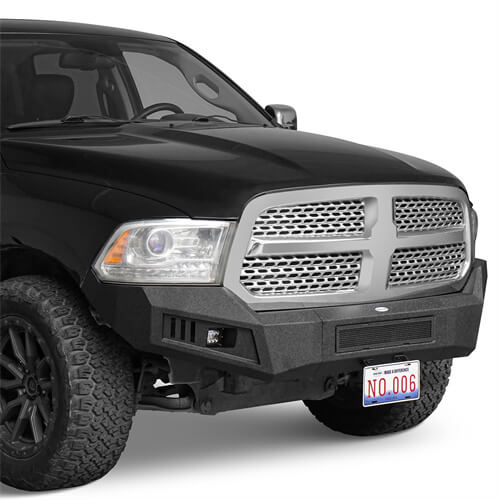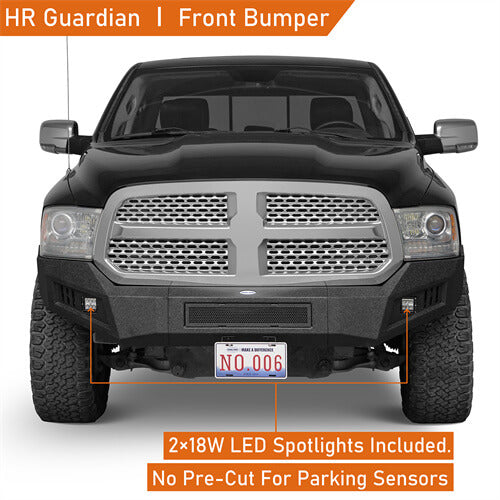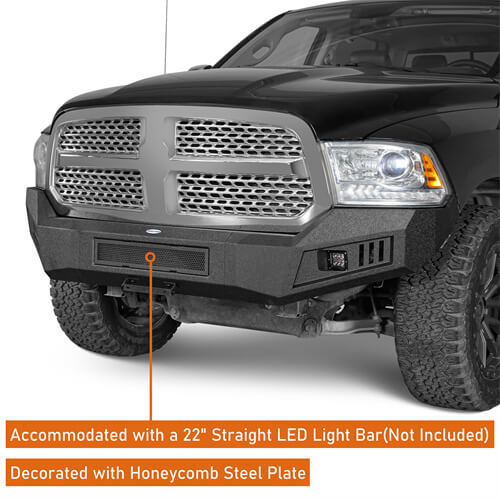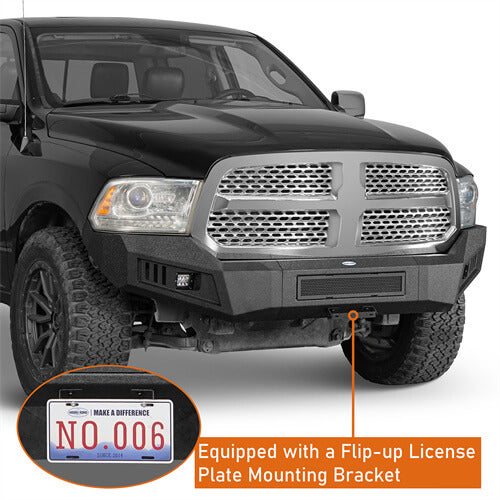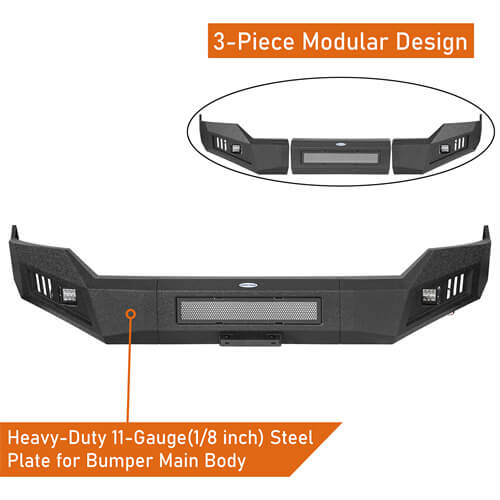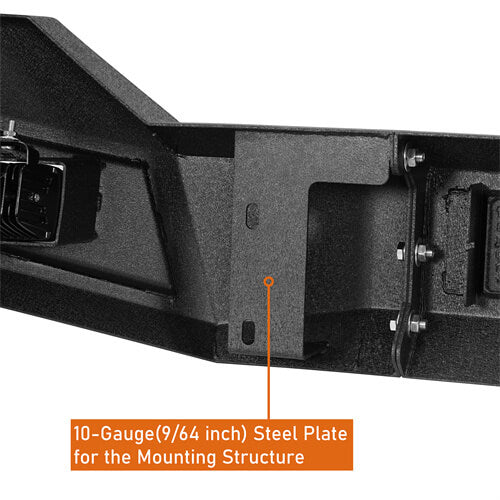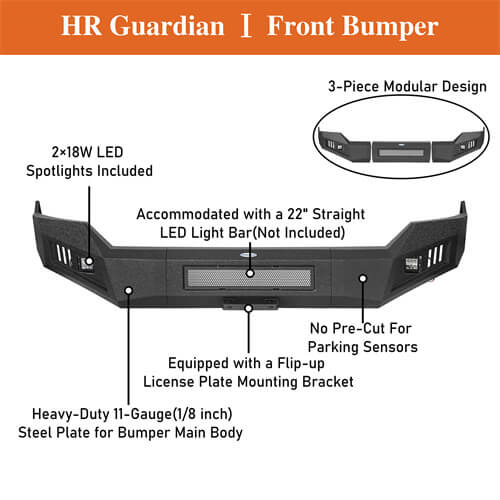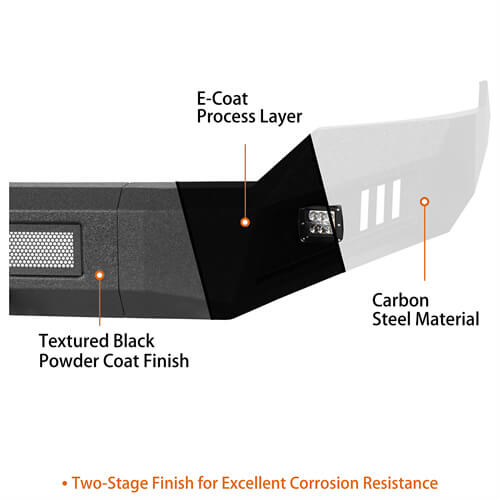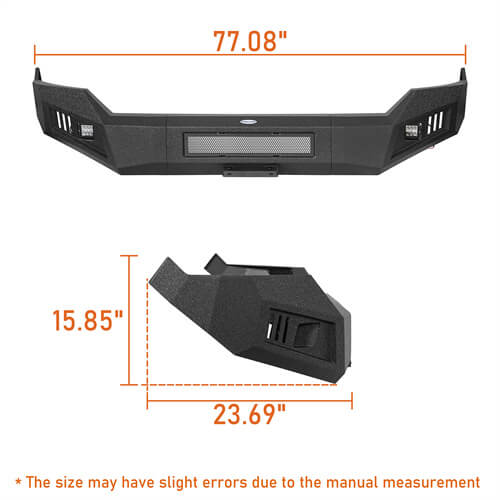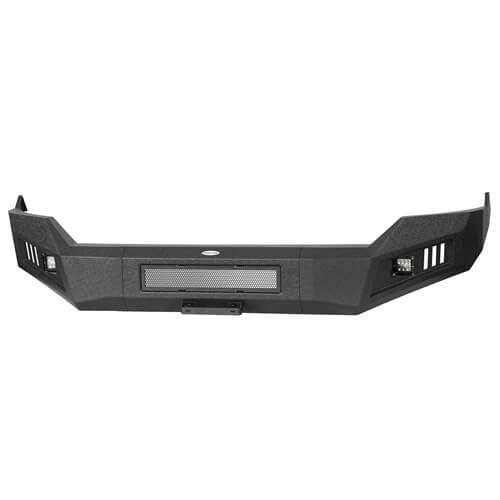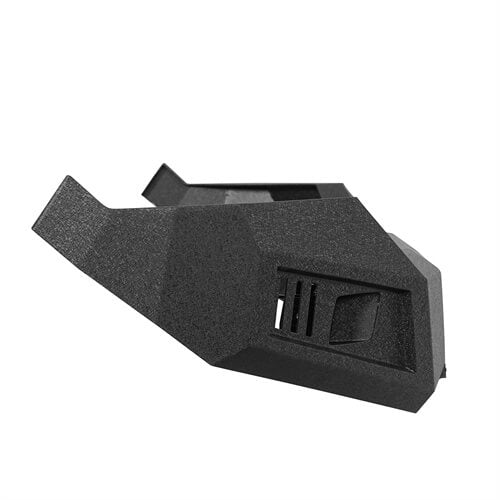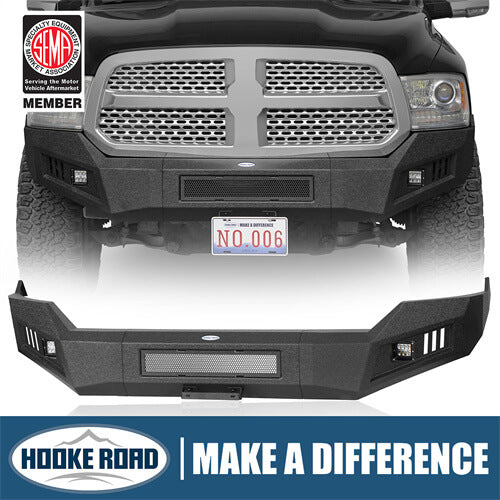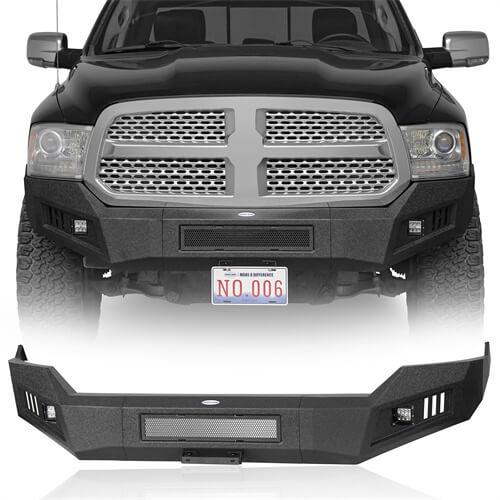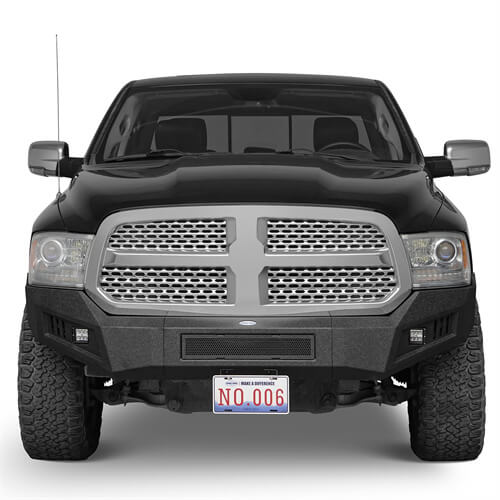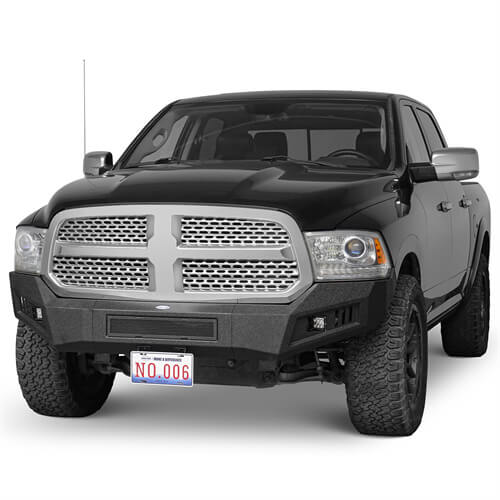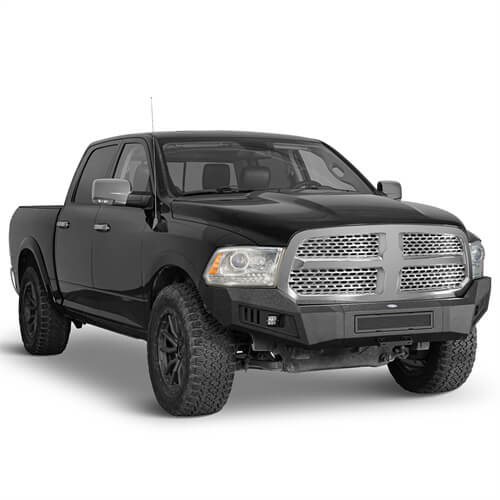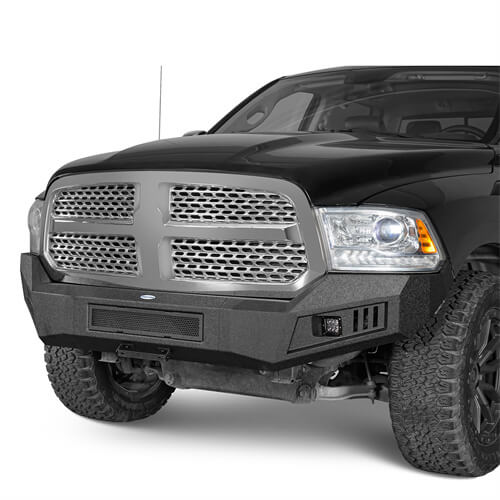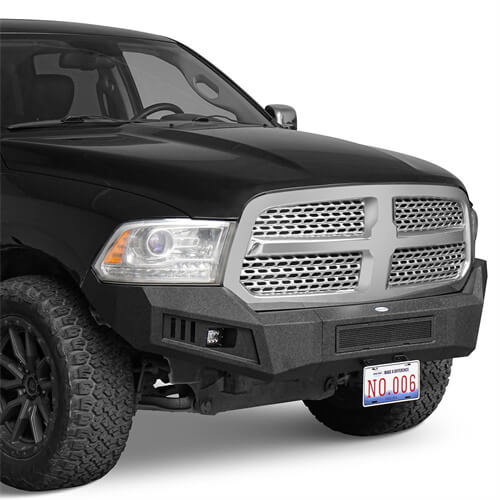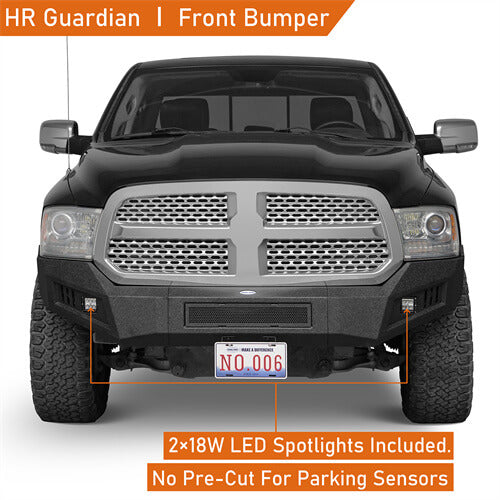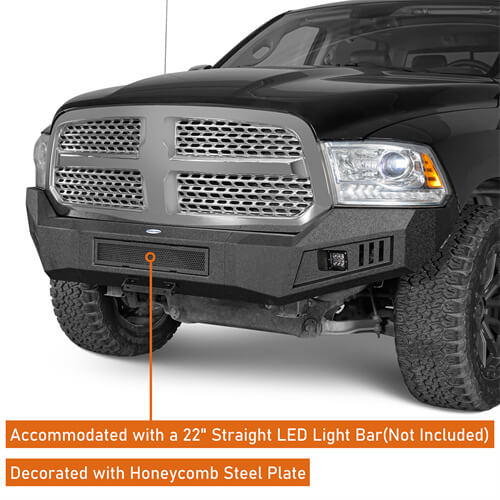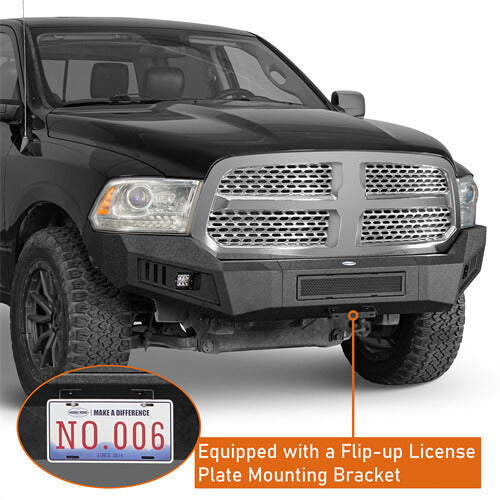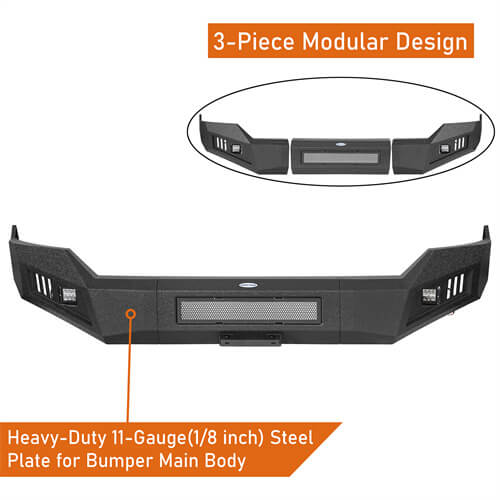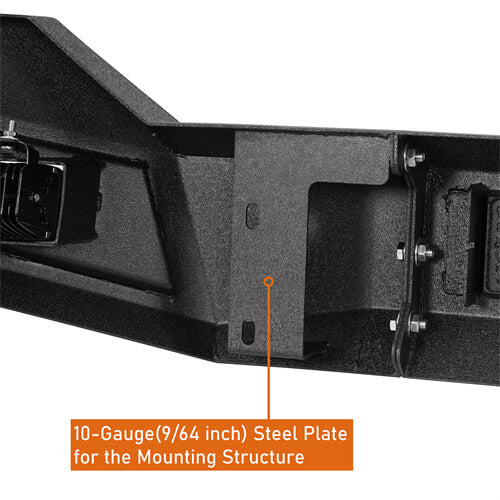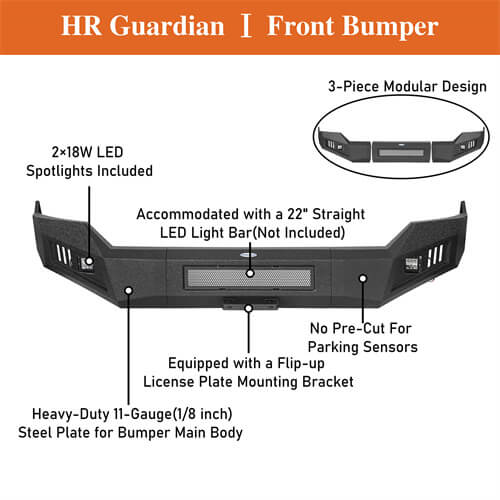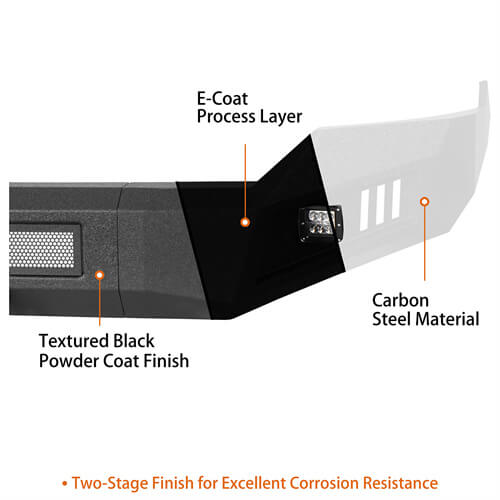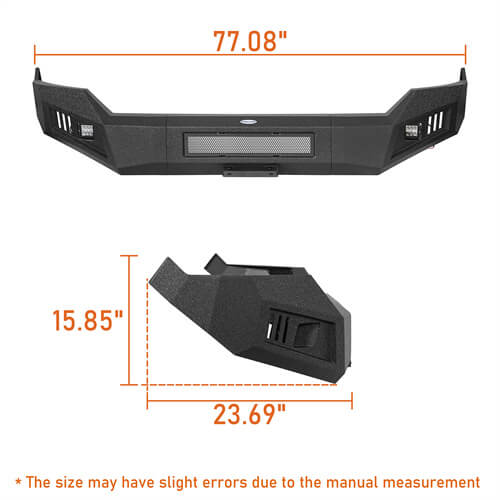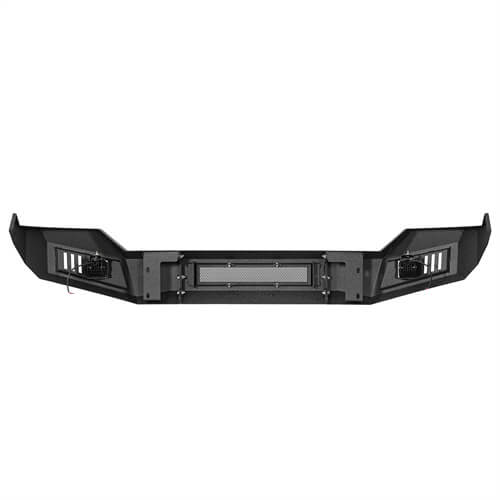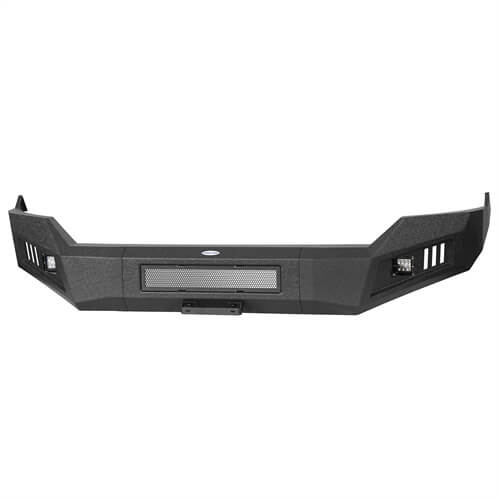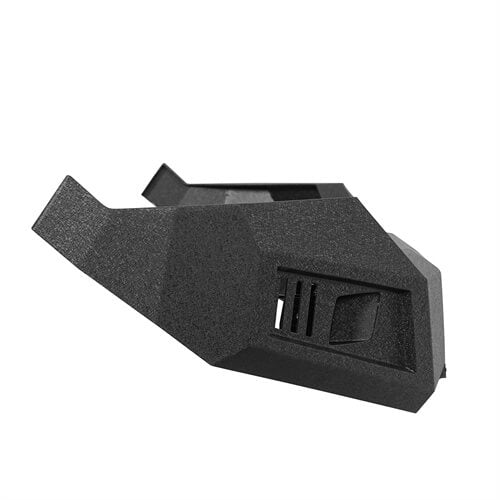 Name: Hooke Road 13-18 Ram 1500 Aftermarket Front Bumper w/ LED Spotlights
Feature
Compatible with 2013-2018 Ram 1500 Models (Excluding Rebel)
Bumper weight: about 58 lbs, 3-piece modular design
Heavy-duty, high tensile 11-gauge (1/8 in) steel for bumper main body, 10-gauge(9/64 in) steel for mounting structure
Textured black powder coat finish & Premium E-coating process inside
Includes 2×18W LED spotlights
Equipped with a flip-up license plate mount
Accommodated with a 22" straight LED light bar (Not Included)
Sleek bumper with graceful styling, offering robust front-end protection
Decorated with a honeycomb steel plate
Not compatible with front parking sensors
Direct bolt-on installation, Mounting hardware included
Dimension
Robust off-road design. The front bumper boasts a 3-piece modular design that combines robust front-end protection with sleek styling. Featuring a honeycomb steel plate for added flair, it accommodates a 22" straight LED light bar (not included) and includes two 18W LED spotlights. The bumper also comes equipped with a convenient flip-up license plate mounting bracket, adding both functionality and style to your vehicle. This versatile design ensures your off-road adventures are not only well-protected but well-illuminated, making it a comprehensive and attractive choice for your vehicle upgrade.


Heavy Duty Steel Structure. The HR Guardian Ⅰ Front Bumper is built to last, featuring a robust construction with an 11-gauge (1/8 inch) steel main body and a durable 10-gauge (9/64 inch) steel mounting structure. Its exterior is protected by a textured black powder coat finish, offering resistance to wear and tear, while an internal premium E-coating process ensures added protection against rust and corrosion. This combination of sturdy materials and advanced coating processes guarantees durability and longevity for your bumper, making it a reliable choice for both style and protection on your vehicle.

Direct Bolt-On Installation. The bumper makes installation a breeze. It serves as a direct bolt-on replacement for the factory bumper, utilizing existing hardware and mounting points. This eliminates the need for cutting or modifications, ensuring a hassle-free process. To install, start by removing the original bumper, then assemble the new one and secure its position before tightening the bolts. The process is user-friendly and requires only basic hand tools. Having a friend assist can expedite the process. This straightforward installation means without the need for extensive mechanical expertise or additional equipment.
1 × Front Bumper Assembly
2 × LED Spotlights
1 × License Plate Mounting Bracket
1 × Mounting Hardware Kit
1 × Installation Instruction
2018 Ram 1500 Big Horn
2018 Ram 1500 Express
2018 Ram 1500 HFE
2018 Ram 1500 Laramie
2018 Ram 1500 Lone Star
2018 Ram 1500 Outdoorsman
2018 Ram 1500 SLT
2018 Ram 1500 ST
2018 Ram 1500 SXT
2018 Ram 1500 Special Service Crew Cab
2018 Ram 1500 Sport
2018 Ram 1500 Tradesman
2017 Ram 1500 Big Horn
2017 Ram 1500 Express
2017 Ram 1500 Express
2017 Ram 1500 HFE
2017 Ram 1500 Laramie
2017 Ram 1500 Lone Star
2017 Ram 1500 Outdoorsman
2017 Ram 1500 SLT
2017 Ram 1500 ST
2017 Ram 1500 SXT
2017 Ram 1500 Special Service Crew Cab
2017 Ram 1500 Sport
2017 Ram 1500 Tradesman
2016 Ram 1500 Big Horn
2016 Ram 1500 Express
2016 Ram 1500 HFE
2016 Ram 1500 Laramie
2016 Ram 1500 Lone Star
2016 Ram 1500 Outdoorsman
2016 Ram 1500 SLT
2016 Ram 1500 ST
2016 Ram 1500 SXT
2015 Ram 1500 Big Horn
2015 Ram 1500 Express
2015 Ram 1500 HFE Standard Cab Pickup 2-Door
2015 Ram 1500 Laramie
2015 Ram 1500 Limited Crew Cab
2015 Ram 1500 Lone Star
2015 Ram 1500 Outdoorsman
2015 Ram 1500 SLT
2015 Ram 1500 ST
2015 Ram 1500 SXT
2015 Ram 1500 Special Service Crew Cab Pickup 4-Door
2015 Ram 1500 Sport
2015 Ram 1500 Tradesman
2014 Ram 1500 Big Horn
2014 Ram 1500 Express
2014 Ram 1500 HFE
2014 Ram 1500 Laramie
2014 Ram 1500 Lone Star
2014 Ram 1500 Outdoorsman
2014 Ram 1500 Limited Crew Cab
2014 Ram 1500 Lone Star
2014 Ram 1500 Outdoorsman
2014 Ram 1500 SLT
2014 Ram 1500 ST
2014 Ram 1500 SXT
2014 Ram 1500 Special Service Crew Cab Pickup 4-Door
2014 Ram 1500 Sport
2014 Ram 1500 Tradesman
2013 Ram 1500 Big Horn
2013 Ram 1500 Express
2013 Ram 1500 HFE Standard Cab Pickup 2-Door
2013 Ram 1500 Laramie
2013 Ram 1500 Limited Crew Cab
2013 Ram 1500 Lone Star
2013 Ram 1500 Outdoorsman
2013 Ram 1500 SLT
2013 Ram 1500 ST
2013 Ram 1500 SXT
2013 Ram 1500 Special Service Crew Cab Pickup 4-Door
2013 Ram 1500 Sport
2013 Ram 1500 Tradesman
Package Included
1 × Front Bumper Assembly
2 × LED Spotlights
1 × License Plate Mounting Bracket
1 × Mounting Hardware Kit
1 × Installation Instruction
Fitment
2018 Ram 1500 Big Horn
2018 Ram 1500 Express
2018 Ram 1500 HFE
2018 Ram 1500 Laramie
2018 Ram 1500 Lone Star
2018 Ram 1500 Outdoorsman
2018 Ram 1500 SLT
2018 Ram 1500 ST
2018 Ram 1500 SXT
2018 Ram 1500 Special Service Crew Cab
2018 Ram 1500 Sport
2018 Ram 1500 Tradesman
2017 Ram 1500 Big Horn
2017 Ram 1500 Express
2017 Ram 1500 Express
2017 Ram 1500 HFE
2017 Ram 1500 Laramie
2017 Ram 1500 Lone Star
2017 Ram 1500 Outdoorsman
2017 Ram 1500 SLT
2017 Ram 1500 ST
2017 Ram 1500 SXT
2017 Ram 1500 Special Service Crew Cab
2017 Ram 1500 Sport
2017 Ram 1500 Tradesman
2016 Ram 1500 Big Horn
2016 Ram 1500 Express
2016 Ram 1500 HFE
2016 Ram 1500 Laramie
2016 Ram 1500 Lone Star
2016 Ram 1500 Outdoorsman
2016 Ram 1500 SLT
2016 Ram 1500 ST
2016 Ram 1500 SXT
2015 Ram 1500 Big Horn
2015 Ram 1500 Express
2015 Ram 1500 HFE Standard Cab Pickup 2-Door
2015 Ram 1500 Laramie
2015 Ram 1500 Limited Crew Cab
2015 Ram 1500 Lone Star
2015 Ram 1500 Outdoorsman
2015 Ram 1500 SLT
2015 Ram 1500 ST
2015 Ram 1500 SXT
2015 Ram 1500 Special Service Crew Cab Pickup 4-Door
2015 Ram 1500 Sport
2015 Ram 1500 Tradesman
2014 Ram 1500 Big Horn
2014 Ram 1500 Express
2014 Ram 1500 HFE
2014 Ram 1500 Laramie
2014 Ram 1500 Lone Star
2014 Ram 1500 Outdoorsman
2014 Ram 1500 Limited Crew Cab
2014 Ram 1500 Lone Star
2014 Ram 1500 Outdoorsman
2014 Ram 1500 SLT
2014 Ram 1500 ST
2014 Ram 1500 SXT
2014 Ram 1500 Special Service Crew Cab Pickup 4-Door
2014 Ram 1500 Sport
2014 Ram 1500 Tradesman
2013 Ram 1500 Big Horn
2013 Ram 1500 Express
2013 Ram 1500 HFE Standard Cab Pickup 2-Door
2013 Ram 1500 Laramie
2013 Ram 1500 Limited Crew Cab
2013 Ram 1500 Lone Star
2013 Ram 1500 Outdoorsman
2013 Ram 1500 SLT
2013 Ram 1500 ST
2013 Ram 1500 SXT
2013 Ram 1500 Special Service Crew Cab Pickup 4-Door
2013 Ram 1500 Sport
2013 Ram 1500 Tradesman