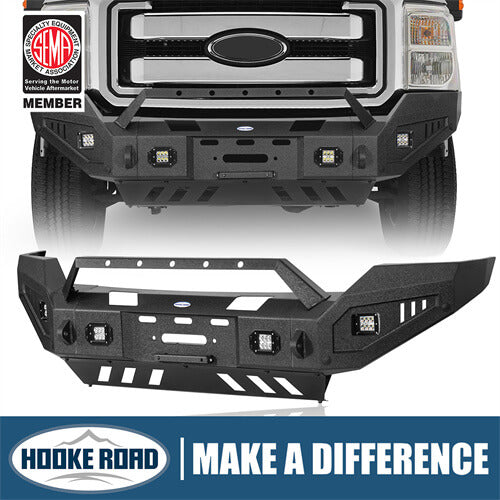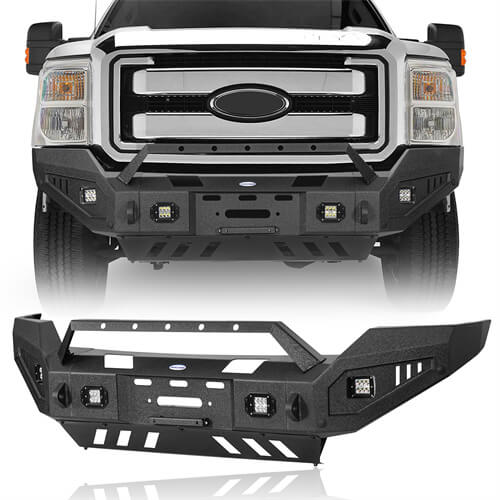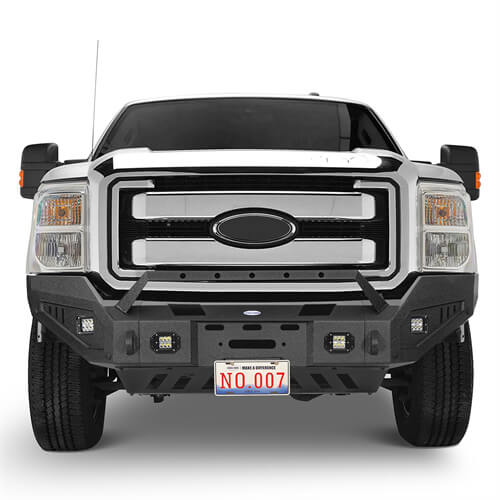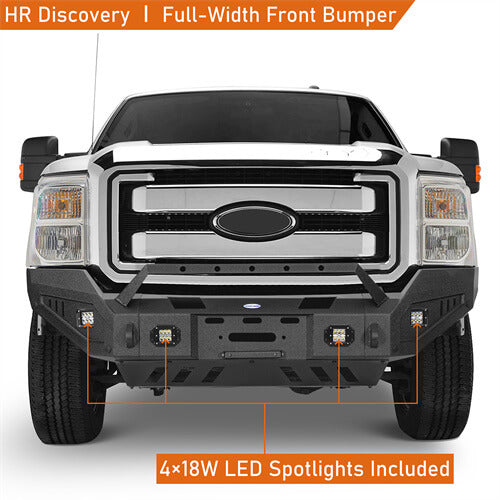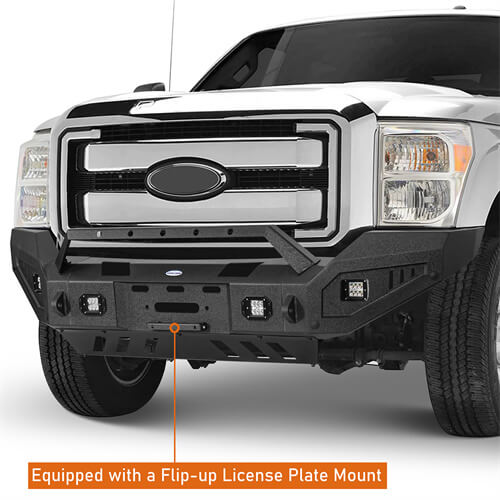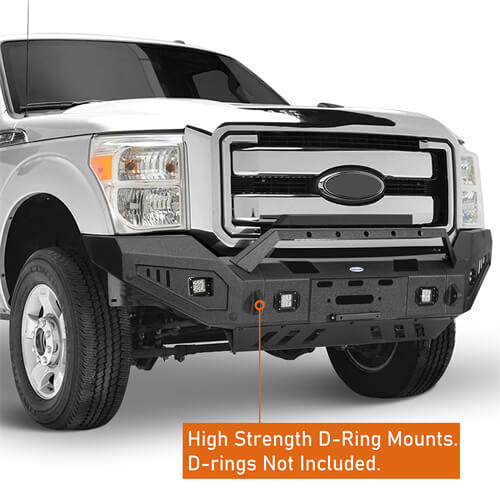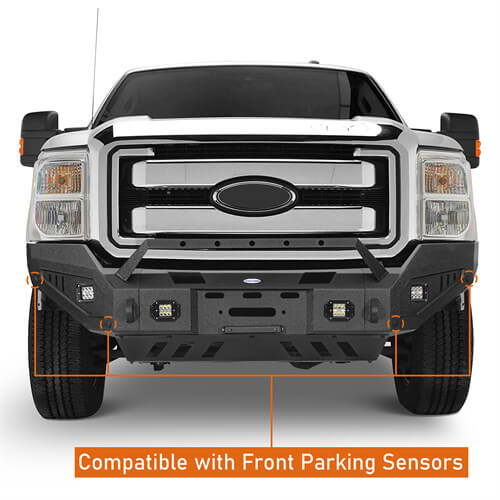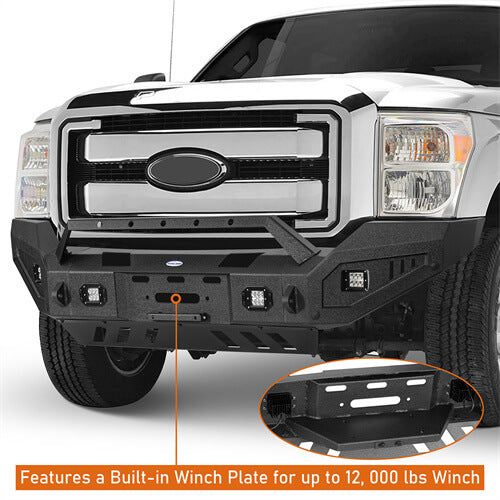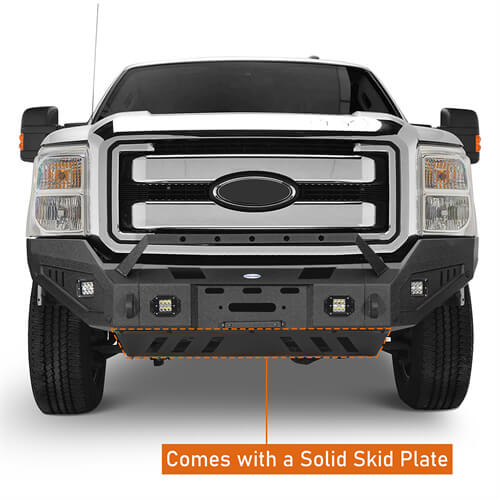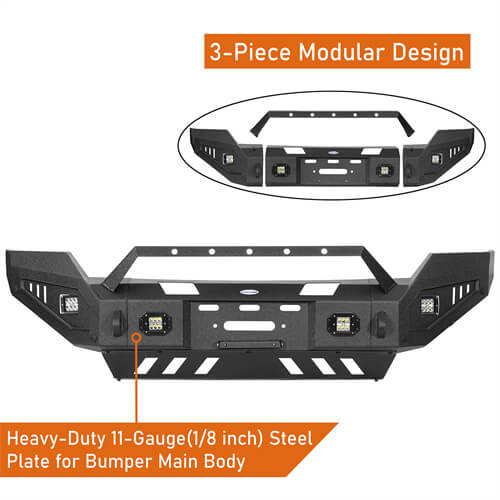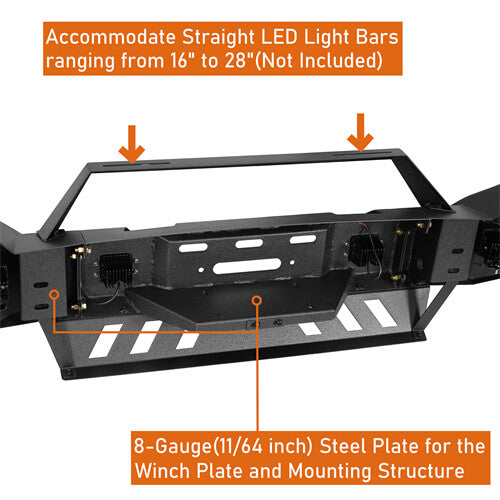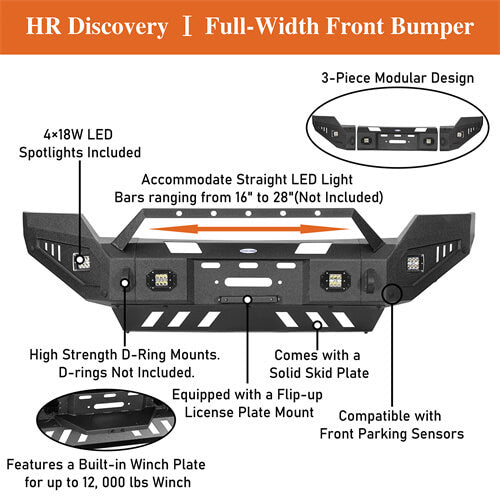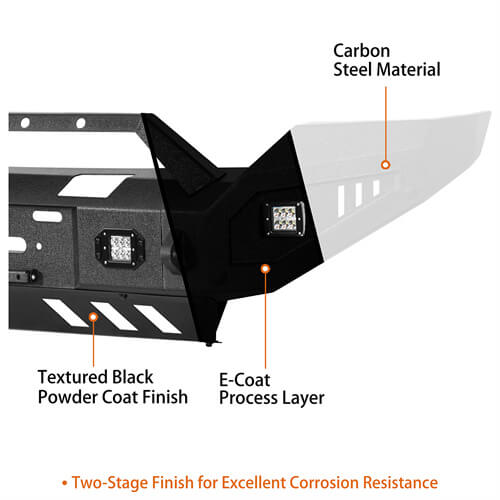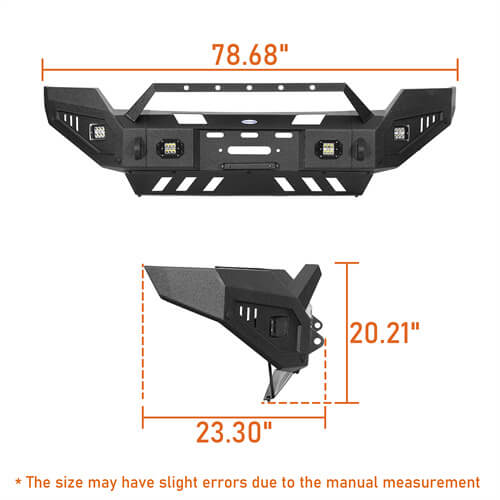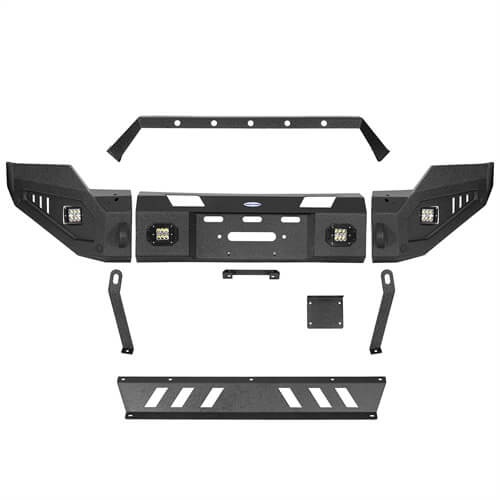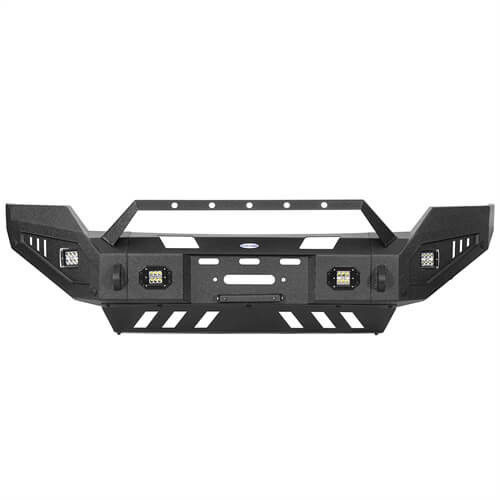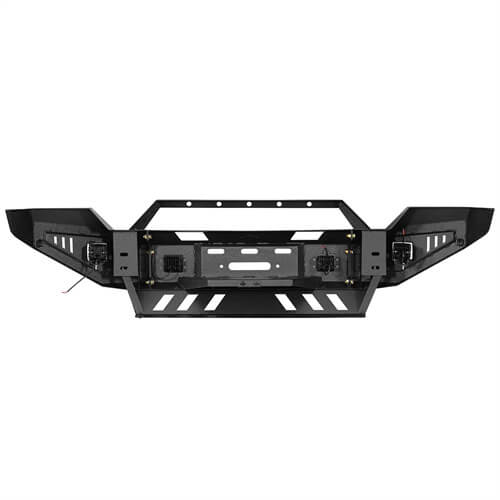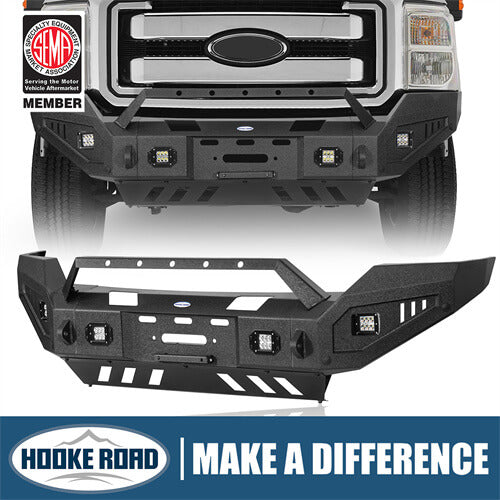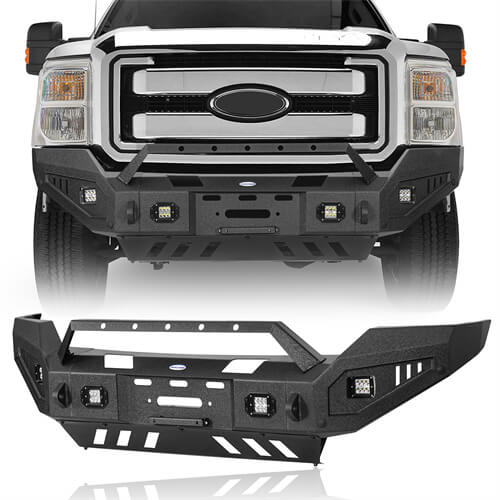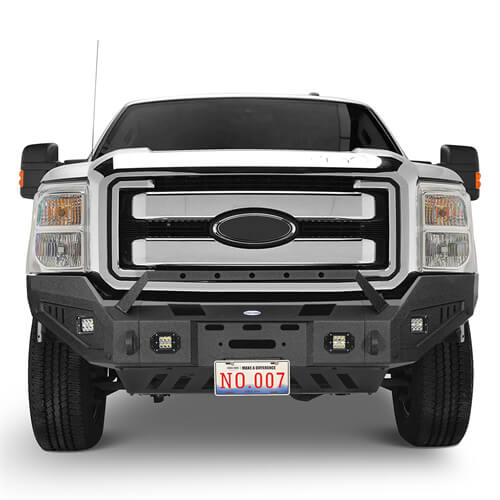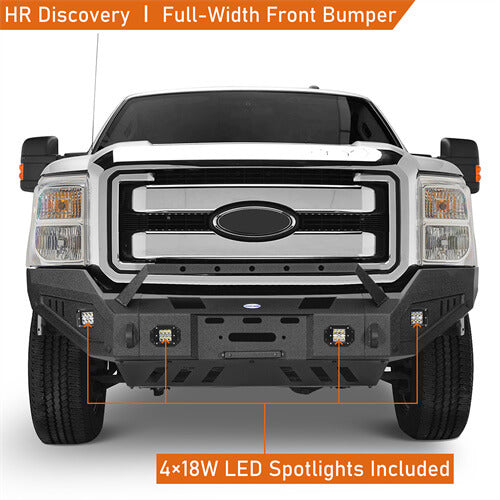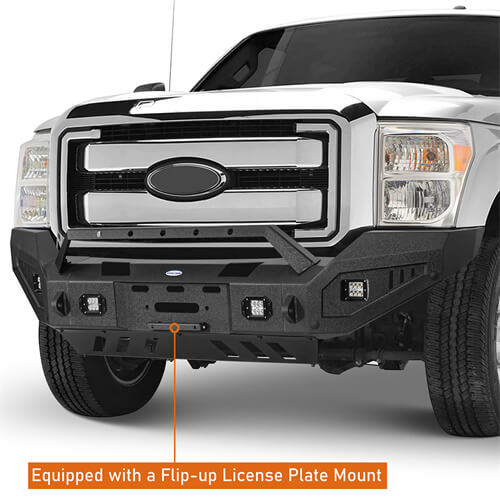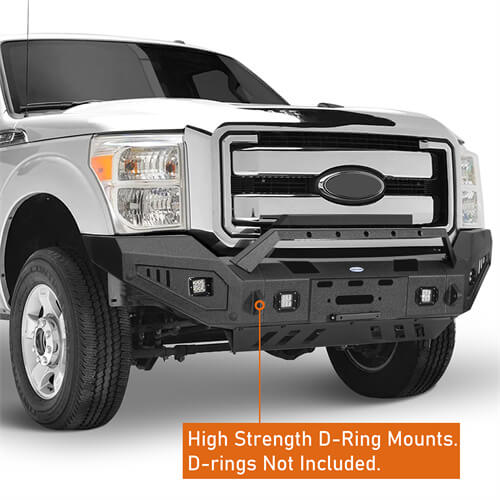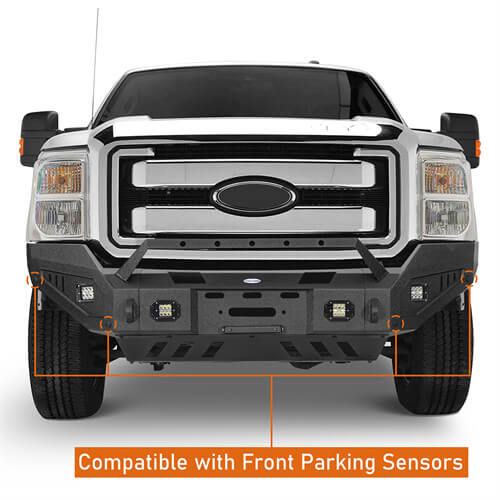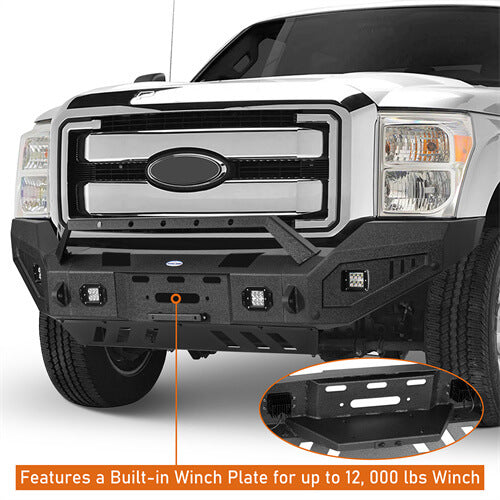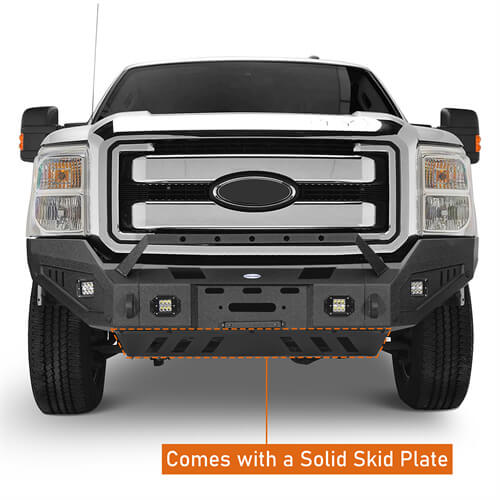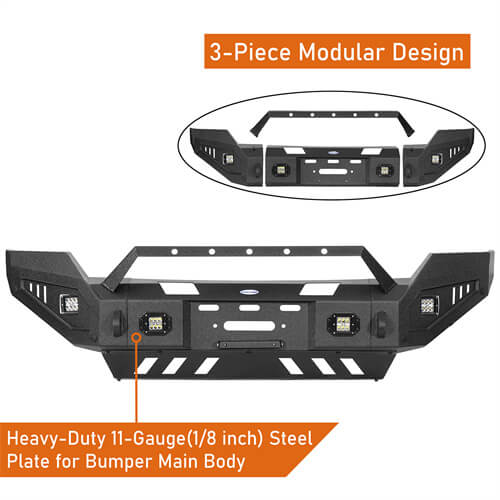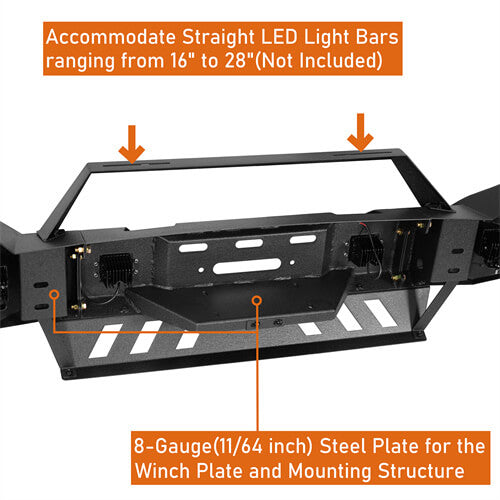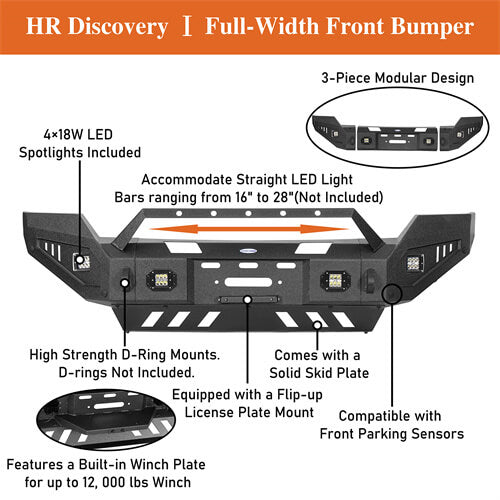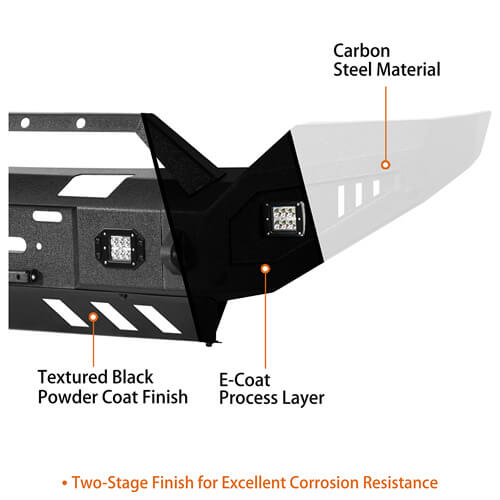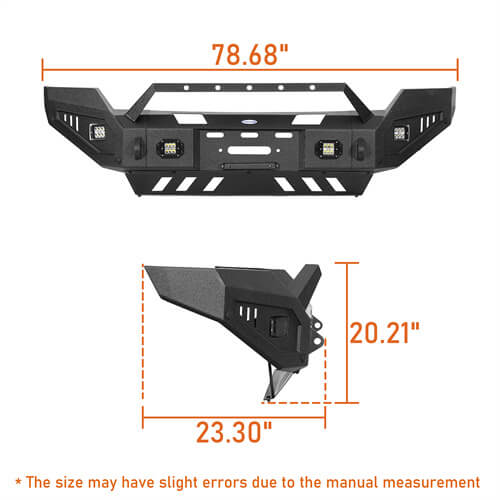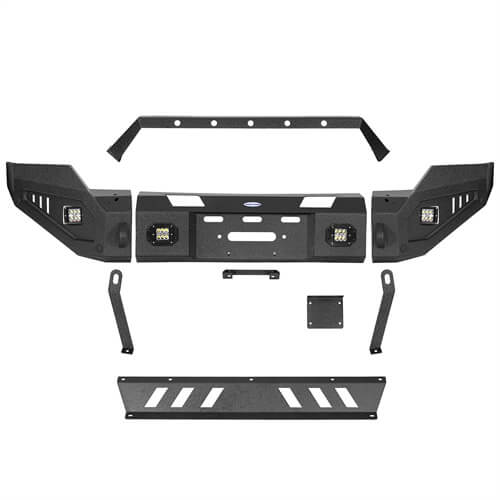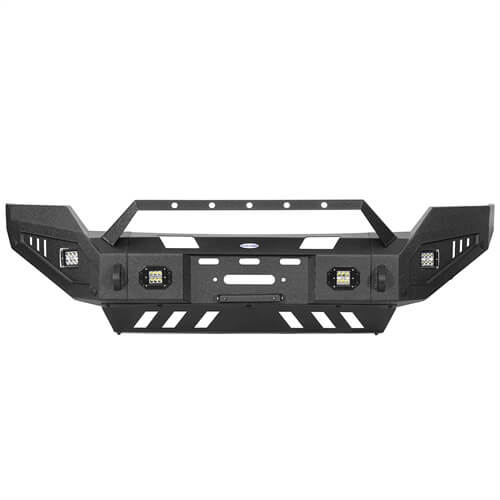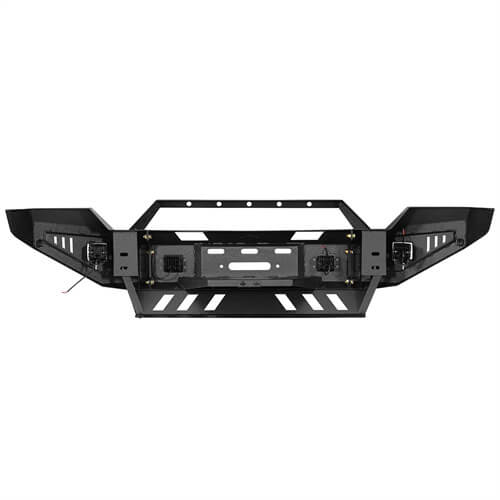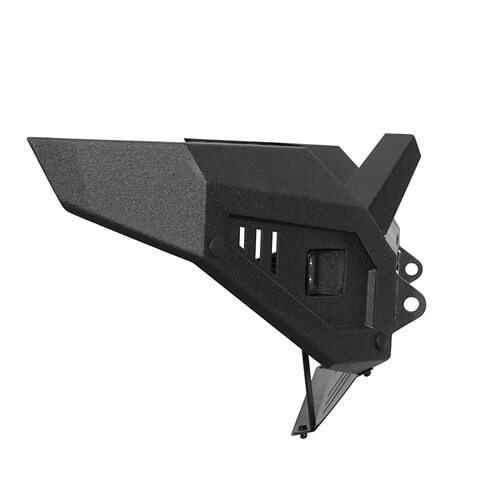 Name:Full-Width Ford F-250 Front Bumper For 2011-2016 Ford F-250
Ford F-250 Front Bumper Feature
Compatible with 2011-2016 Ford F-250 Models
Bumper weight: about 86 lbs, 3-piece modular design
Heavy-duty, high tensile 11-gauge (1/8 in) steel for the bumper main body, 8-gauge(11/64 in) steel for mounting structure and winch plate
Textured black powder coat finish & Premium E-coating process inside
4×18W LED spotlights Included
Built-in winch plate for up to 12, 000 lbs winch
Equipped with a flip-up license plate mount
Compatible with factory parking sensors
Accommodate straight LED light bars ranging from 16" to 28" (Not Included)
Features high strength D-ring mounts, D-rings not included
Comes with a solid skid plate
Provides exceptional off-road protection with rugged design for adventurous journeys
No drill easy installation
Ford F-250 Front Bumper Installation Instructions
Ford F-250 Front Bumper Dimension
Aggressive Styling. The ruggedly designed off-road bumper ensures protection during adventurous journeys. Equipped with four 18W LED spotlights for enhanced visibility, high-strength D-ring mounts (D-rings not included) aid in recovery. It features a solid skid plate for undercarriage protection and a built-in winch plate supporting up to 12,000 lbs. Additionally, the bumper incorporates a flip-up license plate mount for added convenience and functionality.
Heavy Duty Construction. The bumper is constructed with heavy-duty, high-tensile 11-gauge (1/8 in) steel for the main body, 8-gauge (11/64 in) steel for the mounting structure and winch plate. The textured black powder coat finish, coupled with a premium E-coating process inside, ensures durability and corrosion resistance, maintaining the bumper's appearance and performance over time.

Easy Bolt-On Installation. The HR Discovery Ⅰ Full-Width Front Bumper provides a hassle-free installation experience. The process involves removing the factory bumper, assembling the replacement parts, positioning the bumper onto the vehicle's frame, and securely fastening the bolts. This straightforward procedure ensures a clean and trouble-free installation without the need for cutting or modifications. Moreover, the installation process is accomplished using standard hand tools and includes all the necessary hardware for convenience.
1 × Front Bumper Assembly
4 × LED Spotlights
1 × Solid Skid Plate
1 × License Plate Mounting Bracket
1 × Mounting Hardware Kit
1 × Installation Instruction
2016 Ford F-250 Super Duty Base
2016 Ford F-250 Super Duty King Ranch
2016 Ford F-250 Super Duty Lariat
2016 Ford F-250 Super Duty Platinum
2016 Ford F-250 Super Duty XL
2016 Ford F-250 Super Duty XLT
2015 Ford F-250 Super Duty Base
2015 Ford F-250 Super Duty King Ranch
2015 Ford F-250 Super Duty Lariat
2015 Ford F-250 Super Duty Platinum
2015 Ford F-250 Super Duty XL
2015 Ford F-250 Super Duty XLT
2014 Ford F-250 Super Duty FX4
2014 Ford F-250 Super Duty King Ranch
2014 Ford F-250 Super Duty Lariat
2014 Ford F-250 Super Duty Platinum
2014 Ford F-250 Super Duty XL
2014 Ford F-250 Super Duty XLT
2013 Ford F-250 Super Duty FX4
2013 Ford F-250 Super Duty King Ranch
2013 Ford F-250 Super Duty Lariat
2013 Ford F-250 Super Duty Platinum
2013 Ford F-250 Super Duty XL
2013 Ford F-250 Super Duty XLT
2012 Ford F-250 Super Duty FX4
2012 Ford F-250 Super Duty King Ranch
2012 Ford F-250 Super Duty Lariat
2012 Ford F-250 Super Duty XL
2012 Ford F-250 Super Duty XLT
2011 Ford F-250 Super Duty FX4
2011 Ford F-250 Super Duty King Ranch
2011 Ford F-250 Super Duty Lariat
2011 Ford F-250 Super Duty XL
2011 Ford F-250 Super Duty XLT
Package Included
1 × Front Bumper Assembly
4 × LED Spotlights
1 × Solid Skid Plate
1 × License Plate Mounting Bracket
1 × Mounting Hardware Kit
1 × Installation Instruction
Fitment
2016 Ford F-250 Super Duty Base
2016 Ford F-250 Super Duty King Ranch
2016 Ford F-250 Super Duty Lariat
2016 Ford F-250 Super Duty Platinum
2016 Ford F-250 Super Duty XL
2016 Ford F-250 Super Duty XLT
2015 Ford F-250 Super Duty Base
2015 Ford F-250 Super Duty King Ranch
2015 Ford F-250 Super Duty Lariat
2015 Ford F-250 Super Duty Platinum
2015 Ford F-250 Super Duty XL
2015 Ford F-250 Super Duty XLT
2014 Ford F-250 Super Duty FX4
2014 Ford F-250 Super Duty King Ranch
2014 Ford F-250 Super Duty Lariat
2014 Ford F-250 Super Duty Platinum
2014 Ford F-250 Super Duty XL
2014 Ford F-250 Super Duty XLT
2013 Ford F-250 Super Duty FX4
2013 Ford F-250 Super Duty King Ranch
2013 Ford F-250 Super Duty Lariat
2013 Ford F-250 Super Duty Platinum
2013 Ford F-250 Super Duty XL
2013 Ford F-250 Super Duty XLT
2012 Ford F-250 Super Duty FX4
2012 Ford F-250 Super Duty King Ranch
2012 Ford F-250 Super Duty Lariat
2012 Ford F-250 Super Duty XL
2012 Ford F-250 Super Duty XLT
2011 Ford F-250 Super Duty FX4
2011 Ford F-250 Super Duty King Ranch
2011 Ford F-250 Super Duty Lariat
2011 Ford F-250 Super Duty XL
2011 Ford F-250 Super Duty XLT