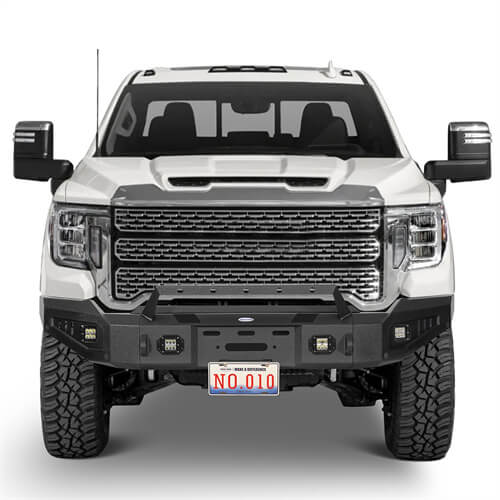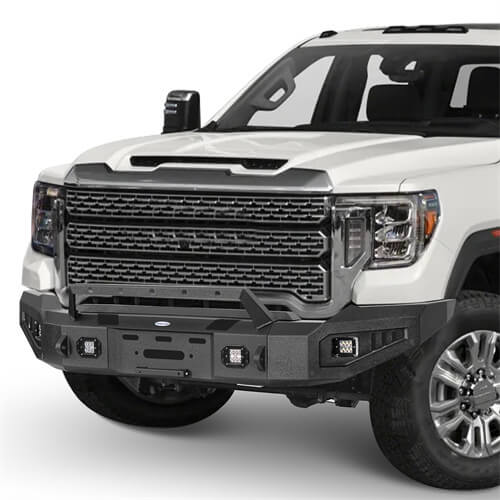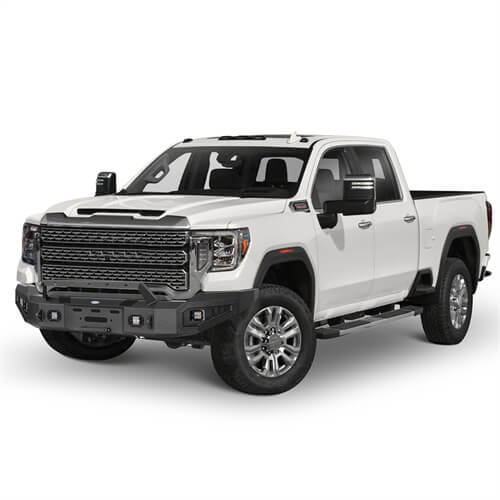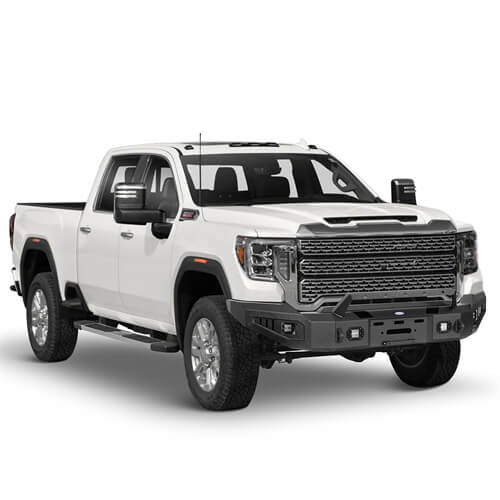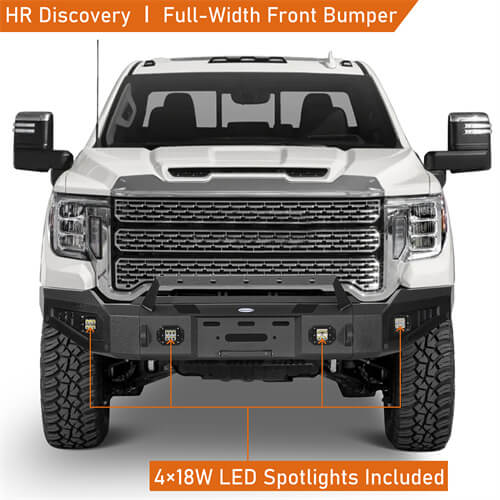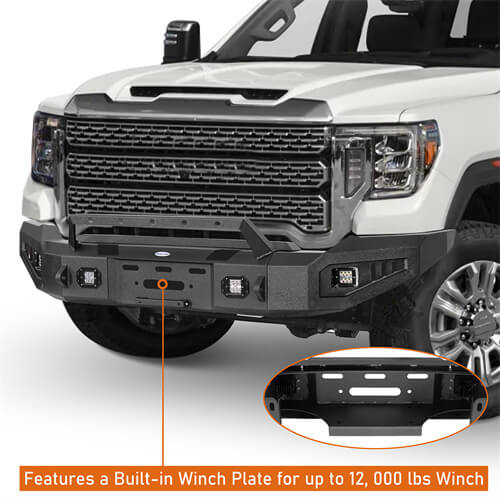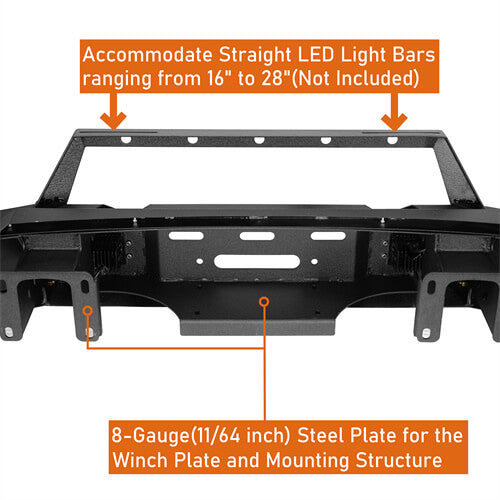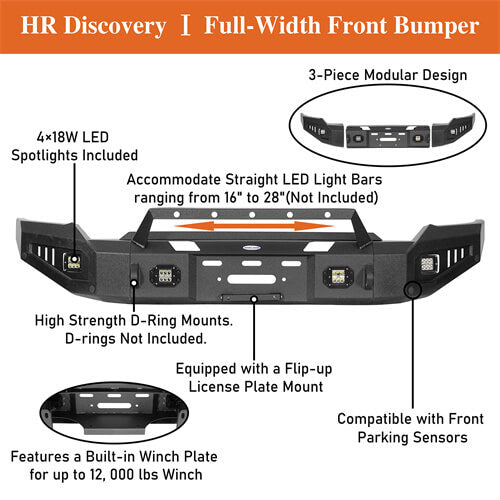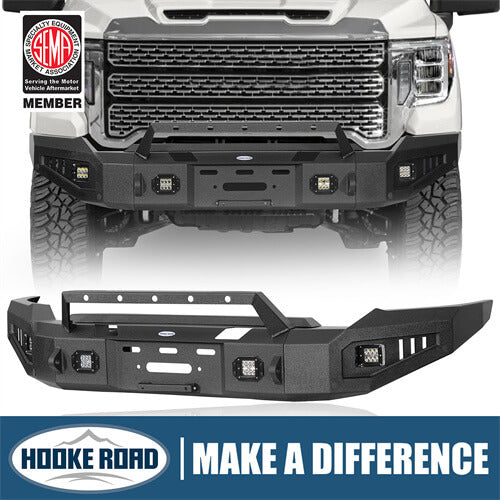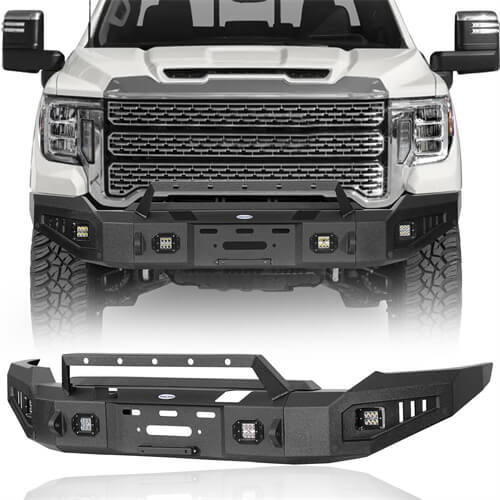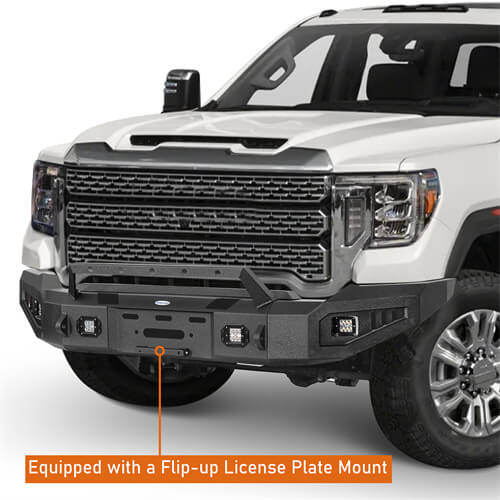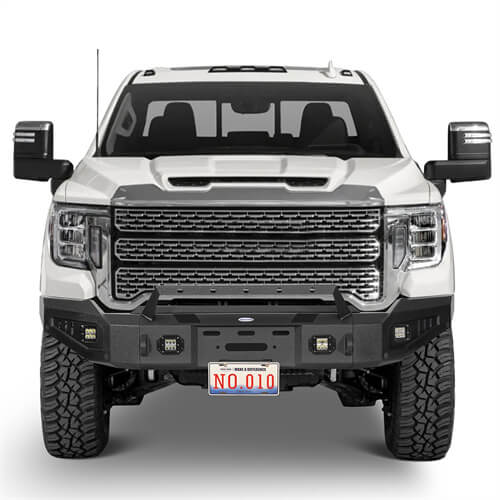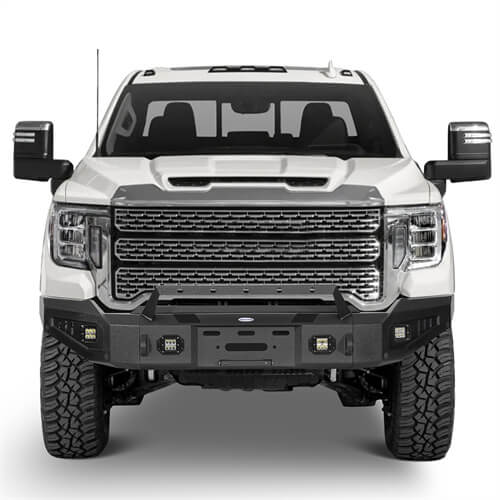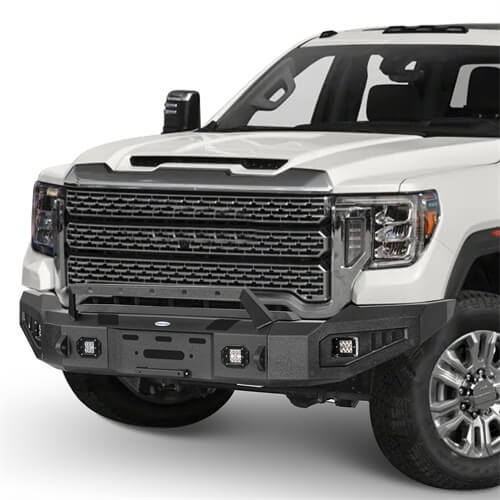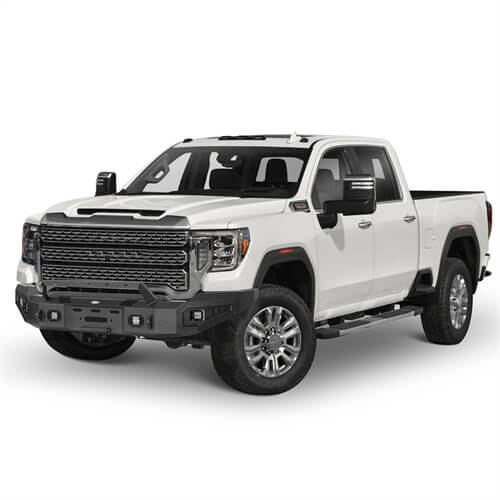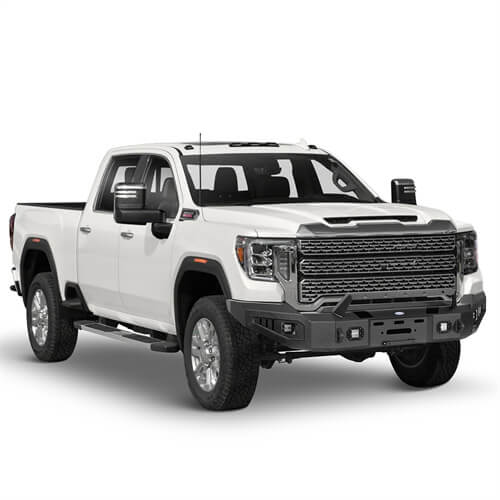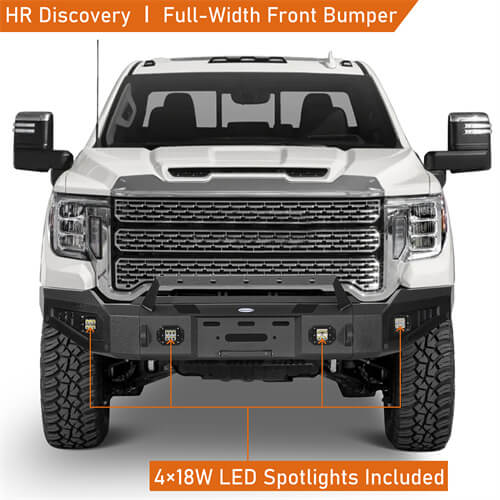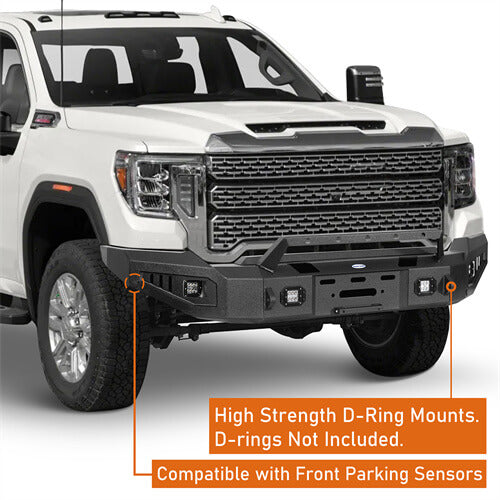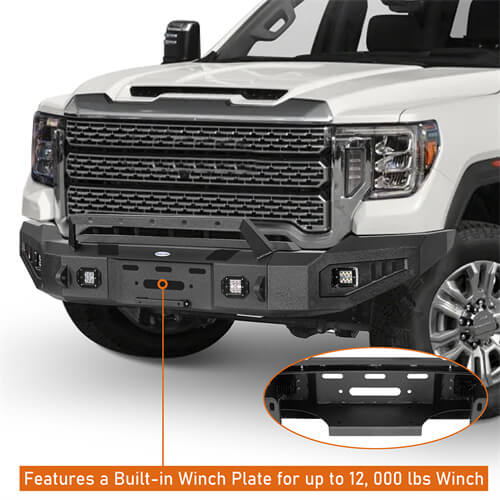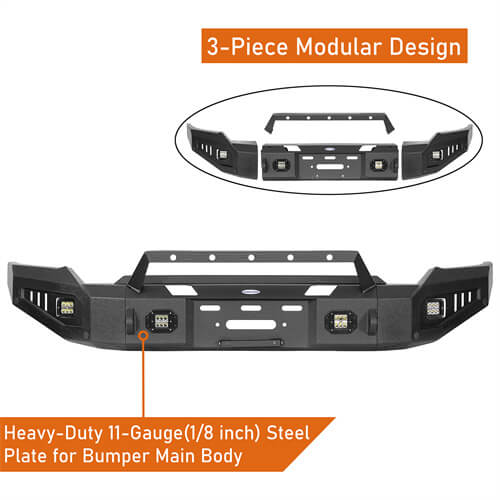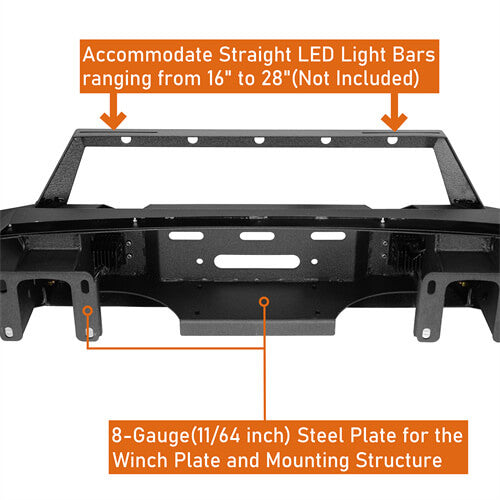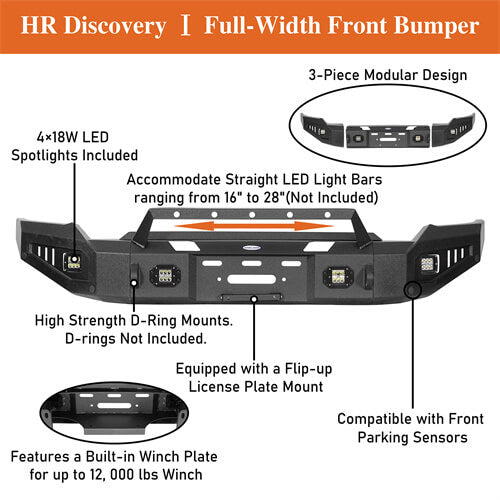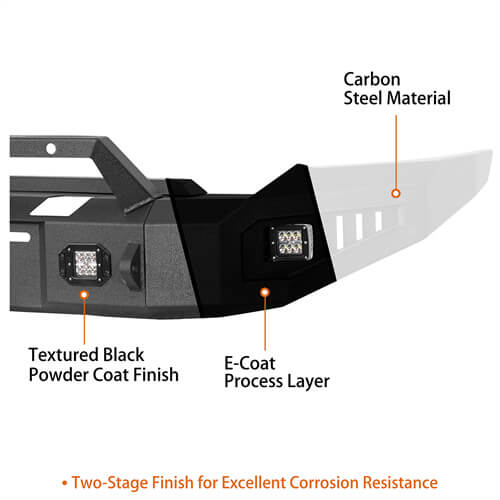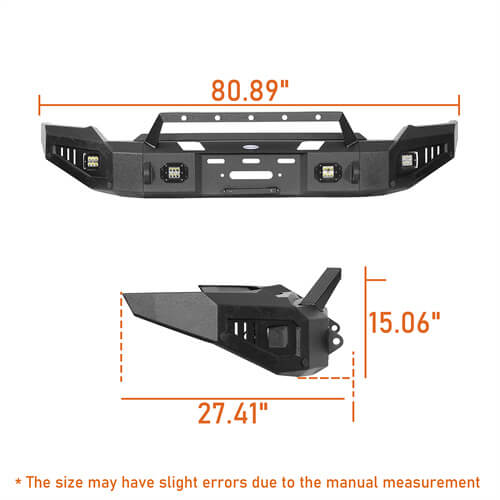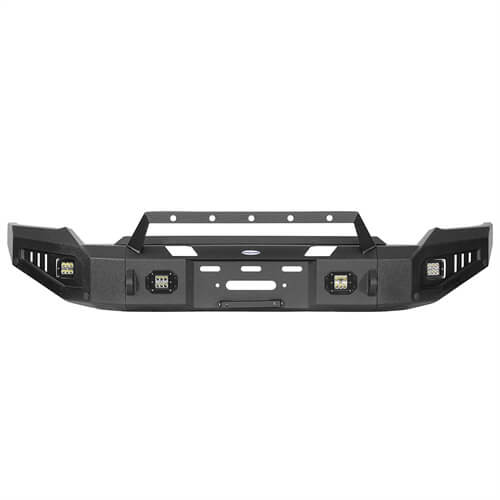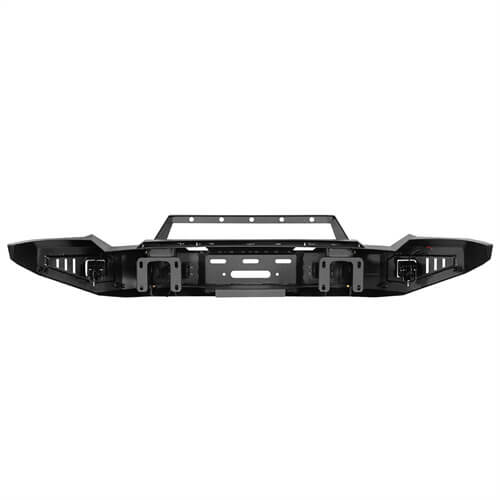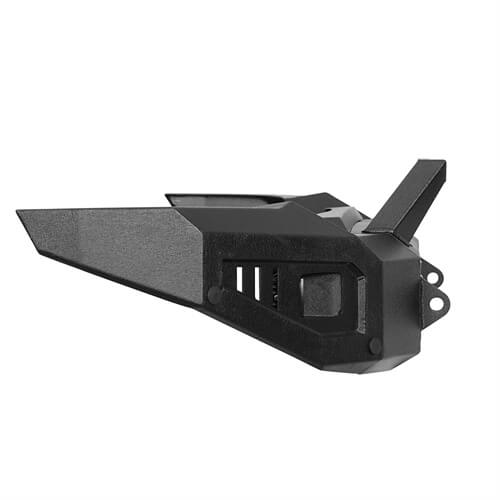 Name:Full-Width GMC Sierra Front Bumper For 2020-2023 GMC Sierra 2500HD/3500HD
GMC Sierra Front Bumper Feature
Compatible with 2011-2016 Ford F-250 Models
Bumper weight: about 86 lbs, 3-piece modular design
Heavy-duty, high tensile 11-gauge (1/8 in) steel for the bumper main body, 8-gauge(11/64 in) steel for mounting structure and winch plate
Textured black powder coat finish & Premium E-coating process inside
4×18W LED spotlights Included
Built-in winch plate for up to 12, 000 lbs winch
Equipped with a flip-up license plate mount
Compatible with factory parking sensors
Accommodate straight LED light bars ranging from 16" to 28" (Not Included)
Features high strength D-ring mounts, D-rings not included
Comes with a solid skid plate
Provides exceptional off-road protection with rugged design for adventurous journeys
No drill easy installation
GMC Sierra Front Bumper Installation Instructions
GMC Sierra Front Bumper Dimension
Front Side Protection. The HR Discovery I Front Bumper offers robust front-side protection with a durable and functional design suitable for diverse driving conditions. It has four 18W LED spotlights, enhancing visibility in various environments. The bumper features high-strength D-ring mounts, welded inside and out, with a robust 4.75-ton capacity (D-rings not included). Additionally, it includes a built-in winch plate capable of handling up to 12,000 lbs, providing enhanced recovery capabilities. The bumper is also designed with a convenient flip-up license plate mounting bracket for added versatility.


Heavy Duty Construction. This bumper boasts heavy-duty construction, utilizing high-tensile 11-gauge (1/8 in) steel for the main body, and robust 8-gauge (11/64 in) steel for both the mounting structure and winch plate. This construction ensures durability and strength in demanding off-road conditions. The bumper features a textured black powder coat finish. A premium E-coating process on the inside contributes to its longevity. This combination of materials and finishes provides a reliable and long-lasting solution for off-road enthusiasts seeking enhanced front-end protection.

Direct Bolt-On Installation. The bumper ensures an easy and direct bolt-on installation. By utilizing the existing factory hardware and mounting points, the installation process becomes straightforward. It involves removing the stock bumper, assembling the components of the new bumper, placing it onto the vehicle's frame, and securely fastening the bolts. This process avoids the need for cutting or modifications, offering a clean and hassle-free installation experience.
1 × Front Bumper Assembly
4 × LED Spotlights
1 × License Plate Mounting Bracket
1 × Mounting Hardware Kit
1 × Installation Instruction
2023 GMC Sierra 2500 HD AT4
2023 GMC Sierra 2500 HD Denali
2023 GMC Sierra 2500 HD Pro
2023 GMC Sierra 2500 HD SLE
2023 GMC Sierra 2500 HD SLT
2022 GMC Sierra 2500 HD AT4
2022 GMC Sierra 2500 HD Denali
2022 GMC Sierra 2500 HD Pro
2022 GMC Sierra 2500 HD SLE
2022 GMC Sierra 2500 HD SLT
2021 GMC Sierra 2500 HD AT4
2021 GMC Sierra 2500 HD Base
2021 GMC Sierra 2500 HD Denali
2021 GMC Sierra 2500 HD SLE
2021 GMC Sierra 2500 HD SLT
2020 GMC Sierra 2500 HD AT4
2020 GMC Sierra 2500 HD Base
2020 GMC Sierra 2500 HD Denali
2020 GMC Sierra 2500 HD SLE
2020 GMC Sierra 2500 HD SLT
Package Included
1 × Front Bumper Assembly
4 × LED Spotlights
1 × License Plate Mounting Bracket
1 × Mounting Hardware Kit
1 × Installation Instruction
Fitment
2023 GMC Sierra 2500 HD AT4
2023 GMC Sierra 2500 HD Denali
2023 GMC Sierra 2500 HD Pro
2023 GMC Sierra 2500 HD SLE
2023 GMC Sierra 2500 HD SLT
2022 GMC Sierra 2500 HD AT4
2022 GMC Sierra 2500 HD Denali
2022 GMC Sierra 2500 HD Pro
2022 GMC Sierra 2500 HD SLE
2022 GMC Sierra 2500 HD SLT
2021 GMC Sierra 2500 HD AT4
2021 GMC Sierra 2500 HD Base
2021 GMC Sierra 2500 HD Denali
2021 GMC Sierra 2500 HD SLE
2021 GMC Sierra 2500 HD SLT
2020 GMC Sierra 2500 HD AT4
2020 GMC Sierra 2500 HD Base
2020 GMC Sierra 2500 HD Denali
2020 GMC Sierra 2500 HD SLE
2020 GMC Sierra 2500 HD SLT