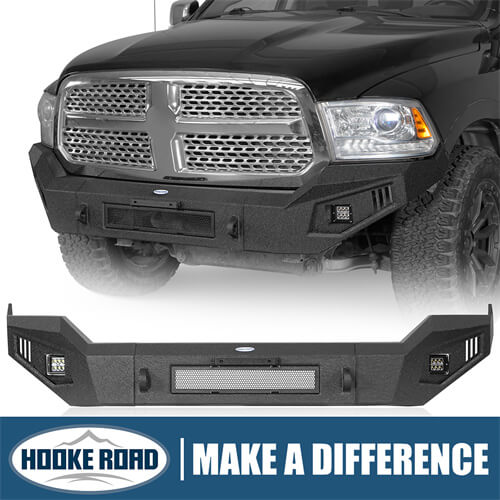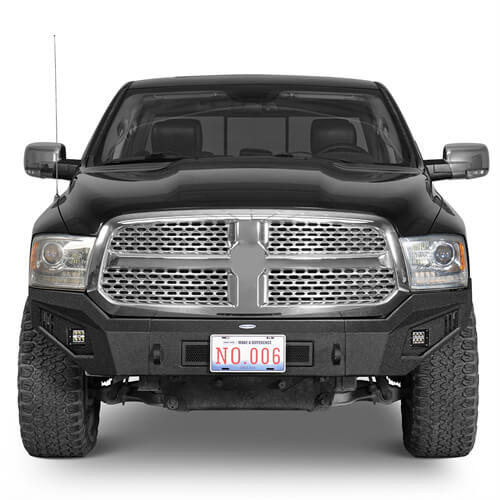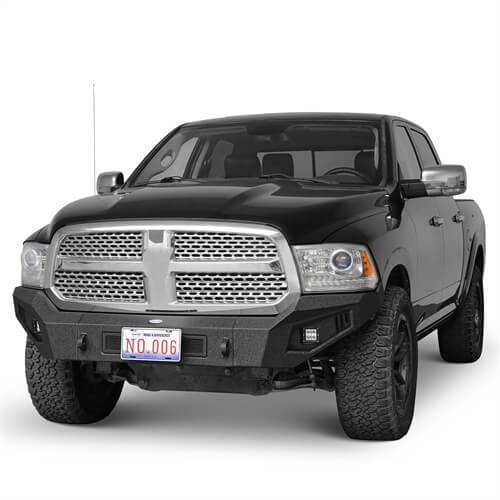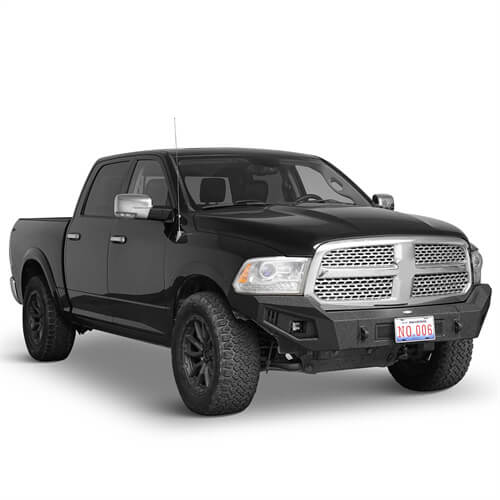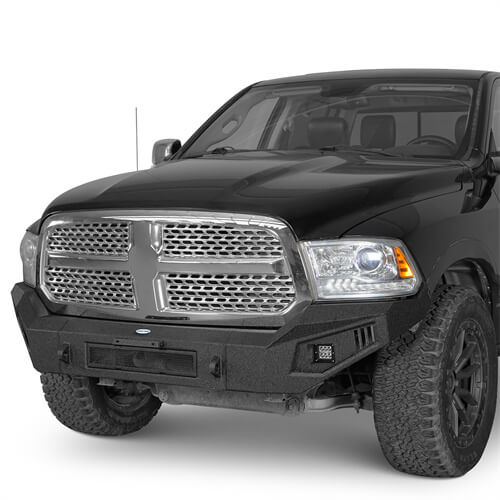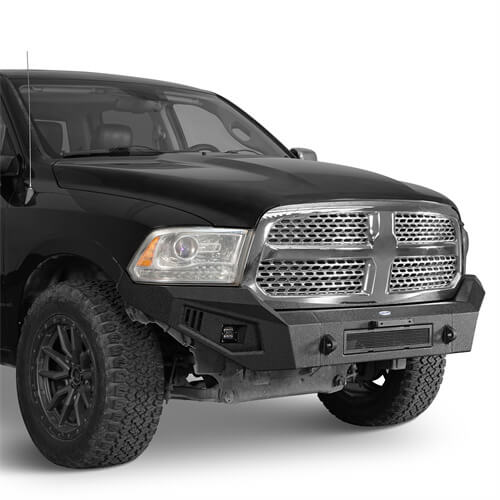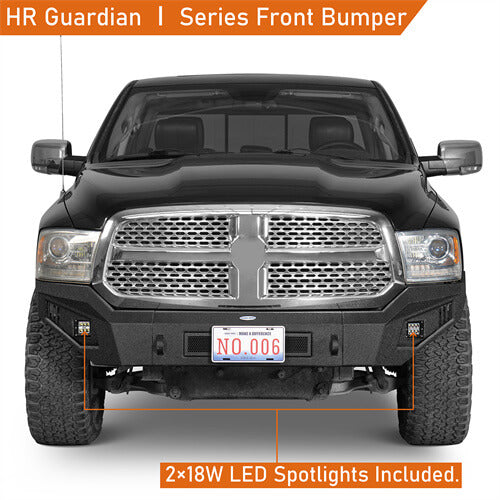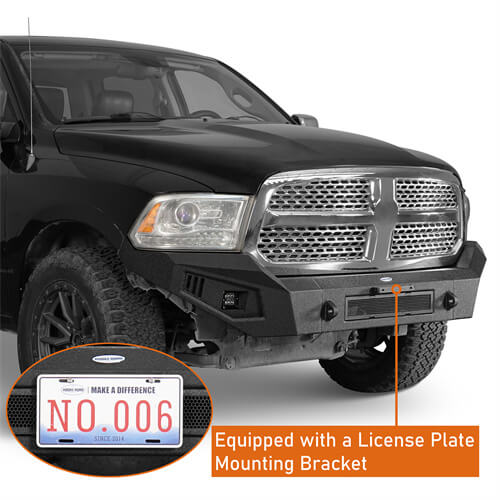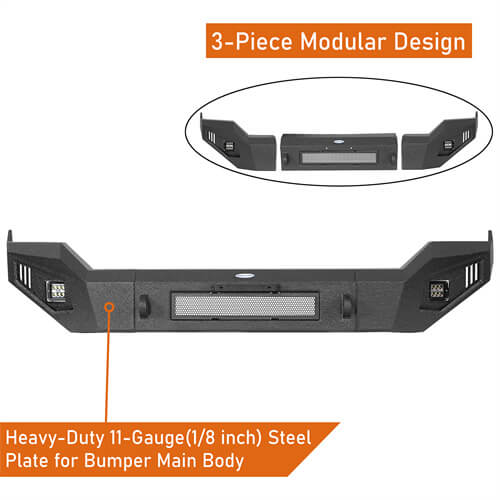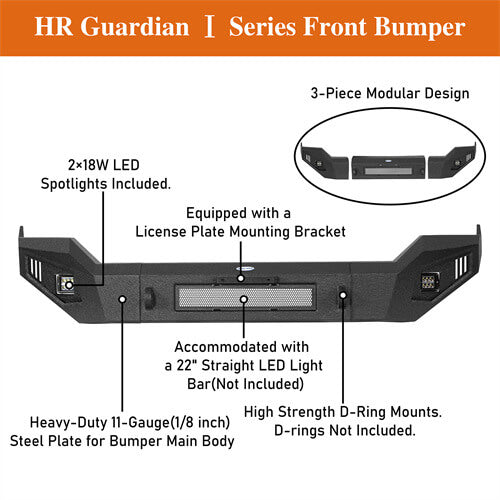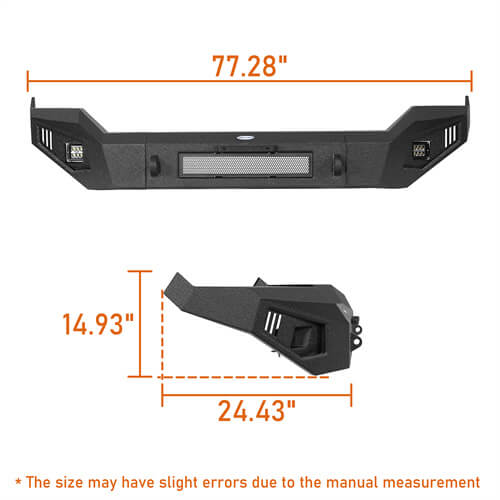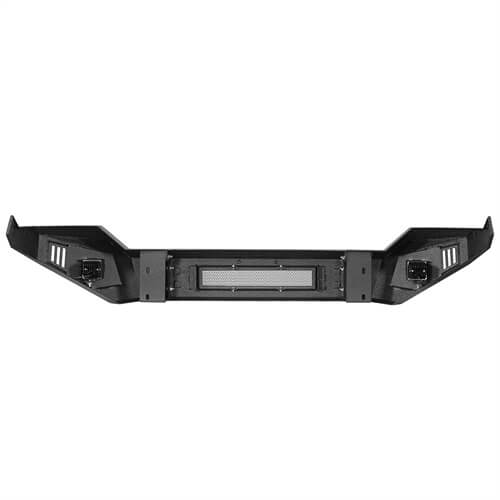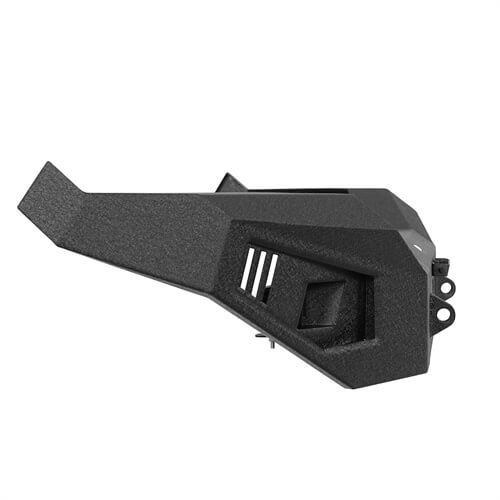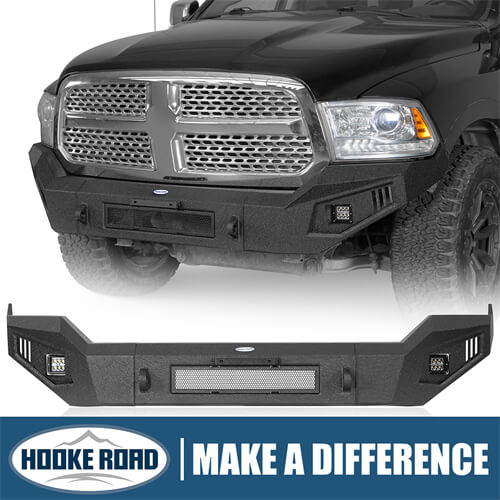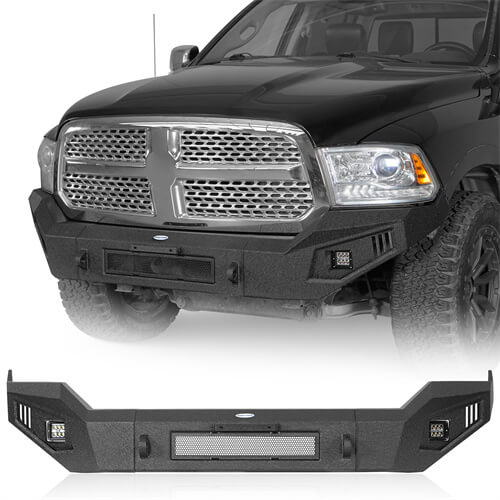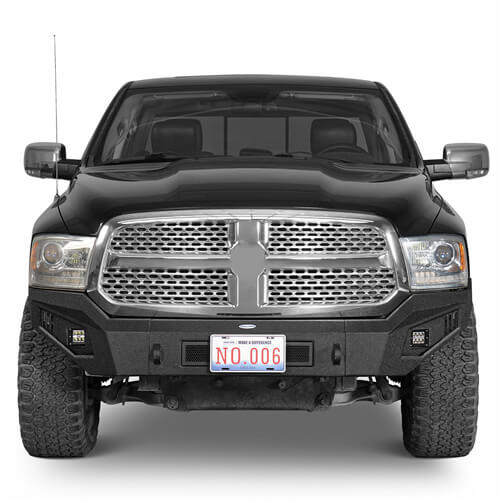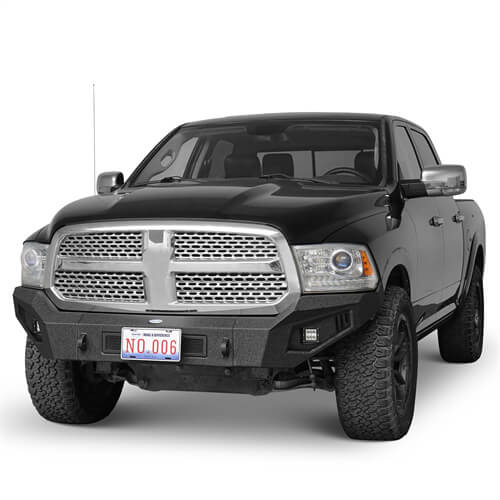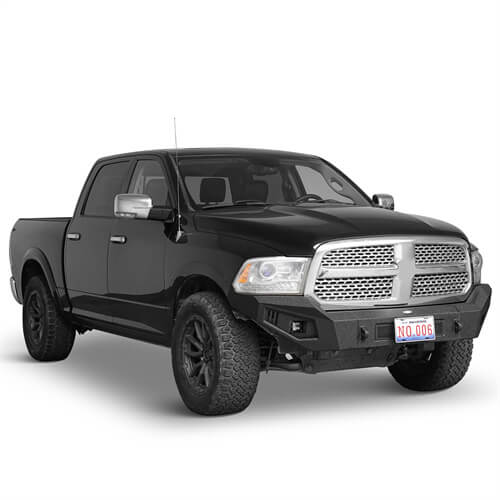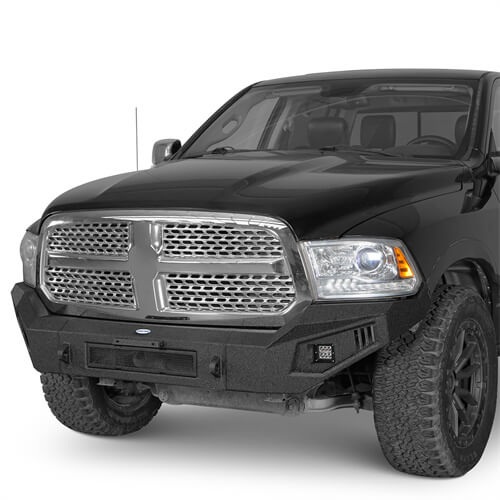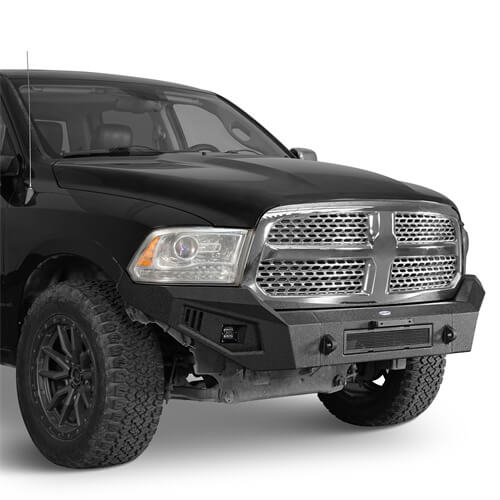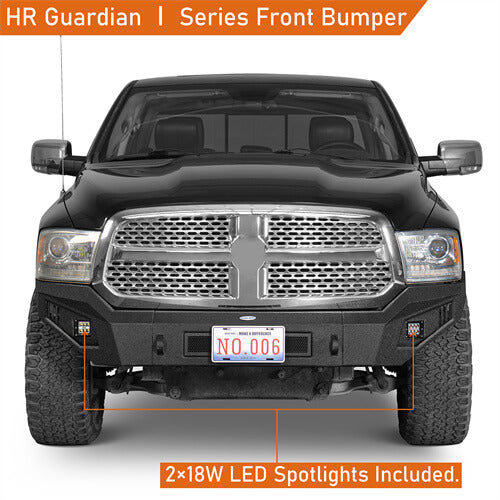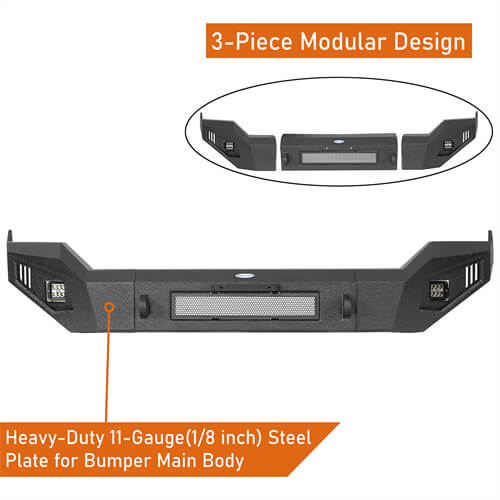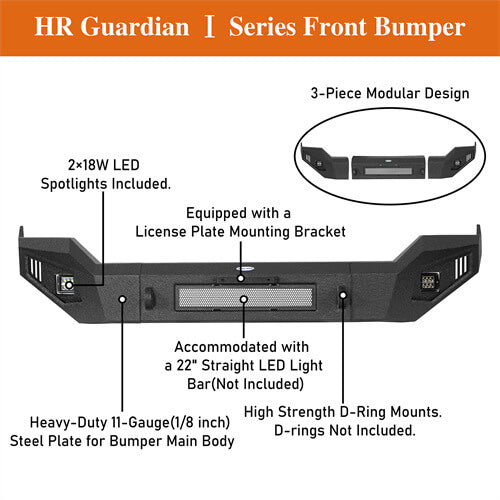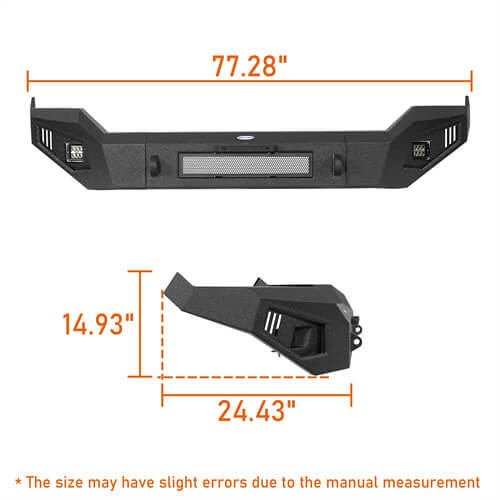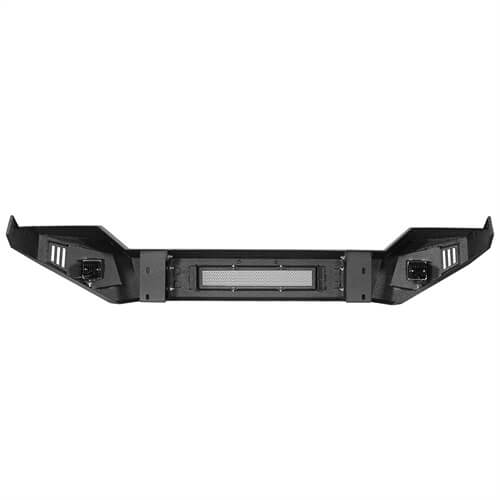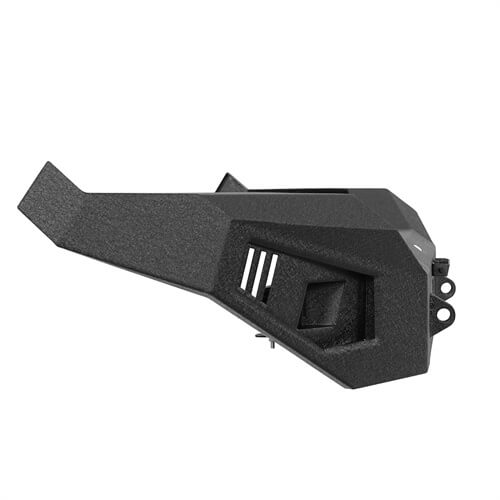 Name: Hooke Road 13-18 Ram 1500 Aftermarket Full Width Front Bumper w/ LED Spotlights
Feature
Fits for 2013-2018 Ram 1500 Models (Excluding Rebel)

Bumper weight: about 72 lbs

3-piece modular design, Rugged styling and excellent protection

Heavy-duty steel construction: 11-gauge(1/8 inch) steel for the bumper main body, 10-gauge(9/64 inch) steel for the mounting structure

Textured black powder coat finish & Premium E-coating process inside

Equipped with a license plate mount

2×18W LED square spotlights Included

Features high strength D-ring mounts, D-rings not included

Accommodates with a 22" straight LED light bar (Not Included)

Decorated with a honeycomb steel plate.

Not compatible with front parking sensors

Direct bolt-on installation. No drilling or cutting is required
Dimension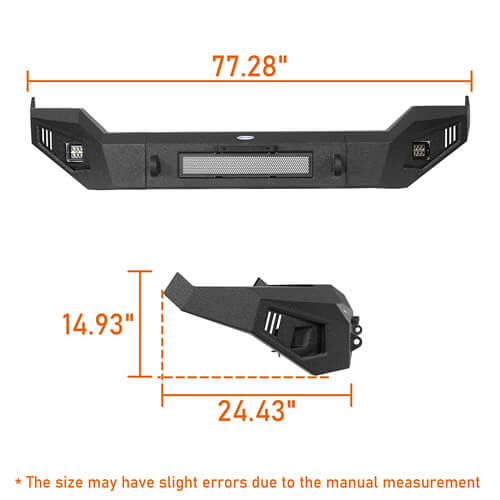 Strong Bumpers, Awesome Style.
The Hooke Road HR Guardian Ⅰ Full Width Front Bumper is a robust and functional addition to your truck. Its 3-piece modular design combines rugged styling with superior protection, ensuring your vehicle is equipped to handle challenging terrains and harsh conditions. The bumper's aggressive appearance is complemented by the inclusion of two 18W LED square spotlights, enhancing visibility during nighttime off-road adventures. High-strength D-ring mounts offer added functionality, while the honeycomb steel plate decoration contributes to its distinctive and rugged aesthetic. Additionally, the bumper's compatibility with a 22" straight LED light bar(Not included) further enhances its versatility and utility.
Solid Steel Construction.
Crafted from heavy-duty steel, the Front Bumper guarantees optimal performance and longevity. The bumper main body is constructed from 11-gauge (1/8 inch) steel, ensuring durability and resilience in demanding environments. The mounting structure, on the other hand, is composed of 10-gauge (9/64 inch) steel, providing robust support for the bumper and its accessories. The textured black powder coat finish, along with the premium E-coating process on the interior, not only enhances the bumper's visual appeal but also offers effective protection against rust and corrosion, extending the product's lifespan and maintaining its pristine appearance over time.
Direct Bolt-on Installation.
Installing the Front Bumper onto your vehicle is a straightforward process that requires no drilling or cutting. The bumper is designed for a direct bolt-on installation, facilitating a hassle-free setup without the need for extensive modifications. With its user-friendly installation approach, this bumper allows Ryou to quickly enhance both the functionality and appearance of their vehicles. Whether you're seeking increased protection during off-road expeditions or aiming to upgrade the aesthetic appeal of your truck, the HR Guardian Ⅰ Front Bumper offers an ideal solution for your needs.
1 x Front Bumper Assembly
1 x License Plate Mounting Bracket
2 × LED Spotlights
1 x Mounting Hardware Kit
1 x Installation Instruction
2018 Ram 1500 Big Horn
2018 Ram 1500 Express
2018 Ram 1500 HFE
2018 Ram 1500 Laramie
2018 Ram 1500 Lone Star
2018 Ram 1500 Outdoorsman
2018 Ram 1500 SLT
2018 Ram 1500 ST
2018 Ram 1500 SXT
2018 Ram 1500 Special Service Crew Cab
2018 Ram 1500 Sport
2018 Ram 1500 Tradesman
2017 Ram 1500 Big Horn
2017 Ram 1500 Express
2017 Ram 1500 Express
2017 Ram 1500 HFE
2017 Ram 1500 Laramie
2017 Ram 1500 Lone Star
2017 Ram 1500 Outdoorsman
2017 Ram 1500 SLT
2017 Ram 1500 ST
2017 Ram 1500 SXT
2017 Ram 1500 Special Service Crew Cab
2017 Ram 1500 Sport
2017 Ram 1500 Tradesman
2016 Ram 1500 Big Horn
2016 Ram 1500 Express
2016 Ram 1500 HFE
2016 Ram 1500 Laramie
2016 Ram 1500 Lone Star
2016 Ram 1500 Outdoorsman
2016 Ram 1500 SLT
2016 Ram 1500 ST
2016 Ram 1500 SXT
2015 Ram 1500 Big Horn
2015 Ram 1500 Express
2015 Ram 1500 HFE Standard Cab Pickup 2-Door
2015 Ram 1500 Laramie
2015 Ram 1500 Limited Crew Cab
2015 Ram 1500 Lone Star
2015 Ram 1500 Outdoorsman
2015 Ram 1500 SLT
2015 Ram 1500 ST
2015 Ram 1500 SXT
2015 Ram 1500 Special Service Crew Cab Pickup 4-Door
2015 Ram 1500 Sport
2015 Ram 1500 Tradesman
2014 Ram 1500 Big Horn
2014 Ram 1500 Express
2014 Ram 1500 HFE
2014 Ram 1500 Laramie
2014 Ram 1500 Lone Star
2014 Ram 1500 Outdoorsman
2014 Ram 1500 Limited Crew Cab
2014 Ram 1500 Lone Star
2014 Ram 1500 Outdoorsman
2014 Ram 1500 SLT
2014 Ram 1500 ST
2014 Ram 1500 SXT
2014 Ram 1500 Special Service Crew Cab Pickup 4-Door
2014 Ram 1500 Sport
2014 Ram 1500 Tradesman
2013 Ram 1500 Big Horn
2013 Ram 1500 Express
2013 Ram 1500 HFE Standard Cab Pickup 2-Door
2013 Ram 1500 Laramie
2013 Ram 1500 Limited Crew Cab
2013 Ram 1500 Lone Star
2013 Ram 1500 Outdoorsman
2013 Ram 1500 SLT
2013 Ram 1500 ST
2013 Ram 1500 SXT
2013 Ram 1500 Special Service Crew Cab Pickup 4-Door
2013 Ram 1500 Sport
2013 Ram 1500 Tradesman
Package Included
1 x Front Bumper Assembly
1 x License Plate Mounting Bracket
2 × LED Spotlights
1 x Mounting Hardware Kit
1 x Installation Instruction
Fitment
2018 Ram 1500 Big Horn
2018 Ram 1500 Express
2018 Ram 1500 HFE
2018 Ram 1500 Laramie
2018 Ram 1500 Lone Star
2018 Ram 1500 Outdoorsman
2018 Ram 1500 SLT
2018 Ram 1500 ST
2018 Ram 1500 SXT
2018 Ram 1500 Special Service Crew Cab
2018 Ram 1500 Sport
2018 Ram 1500 Tradesman
2017 Ram 1500 Big Horn
2017 Ram 1500 Express
2017 Ram 1500 Express
2017 Ram 1500 HFE
2017 Ram 1500 Laramie
2017 Ram 1500 Lone Star
2017 Ram 1500 Outdoorsman
2017 Ram 1500 SLT
2017 Ram 1500 ST
2017 Ram 1500 SXT
2017 Ram 1500 Special Service Crew Cab
2017 Ram 1500 Sport
2017 Ram 1500 Tradesman
2016 Ram 1500 Big Horn
2016 Ram 1500 Express
2016 Ram 1500 HFE
2016 Ram 1500 Laramie
2016 Ram 1500 Lone Star
2016 Ram 1500 Outdoorsman
2016 Ram 1500 SLT
2016 Ram 1500 ST
2016 Ram 1500 SXT
2015 Ram 1500 Big Horn
2015 Ram 1500 Express
2015 Ram 1500 HFE Standard Cab Pickup 2-Door
2015 Ram 1500 Laramie
2015 Ram 1500 Limited Crew Cab
2015 Ram 1500 Lone Star
2015 Ram 1500 Outdoorsman
2015 Ram 1500 SLT
2015 Ram 1500 ST
2015 Ram 1500 SXT
2015 Ram 1500 Special Service Crew Cab Pickup 4-Door
2015 Ram 1500 Sport
2015 Ram 1500 Tradesman
2014 Ram 1500 Big Horn
2014 Ram 1500 Express
2014 Ram 1500 HFE
2014 Ram 1500 Laramie
2014 Ram 1500 Lone Star
2014 Ram 1500 Outdoorsman
2014 Ram 1500 Limited Crew Cab
2014 Ram 1500 Lone Star
2014 Ram 1500 Outdoorsman
2014 Ram 1500 SLT
2014 Ram 1500 ST
2014 Ram 1500 SXT
2014 Ram 1500 Special Service Crew Cab Pickup 4-Door
2014 Ram 1500 Sport
2014 Ram 1500 Tradesman
2013 Ram 1500 Big Horn
2013 Ram 1500 Express
2013 Ram 1500 HFE Standard Cab Pickup 2-Door
2013 Ram 1500 Laramie
2013 Ram 1500 Limited Crew Cab
2013 Ram 1500 Lone Star
2013 Ram 1500 Outdoorsman
2013 Ram 1500 SLT
2013 Ram 1500 ST
2013 Ram 1500 SXT
2013 Ram 1500 Special Service Crew Cab Pickup 4-Door
2013 Ram 1500 Sport
2013 Ram 1500 Tradesman