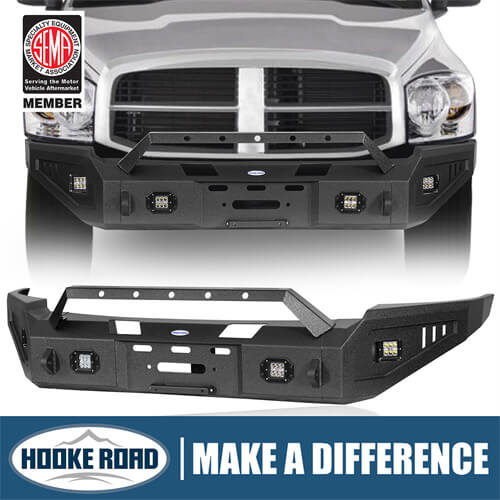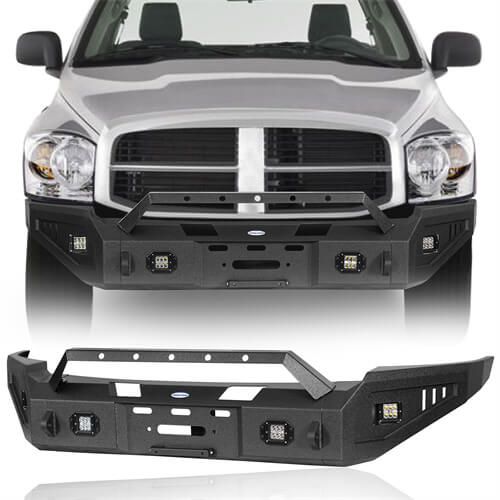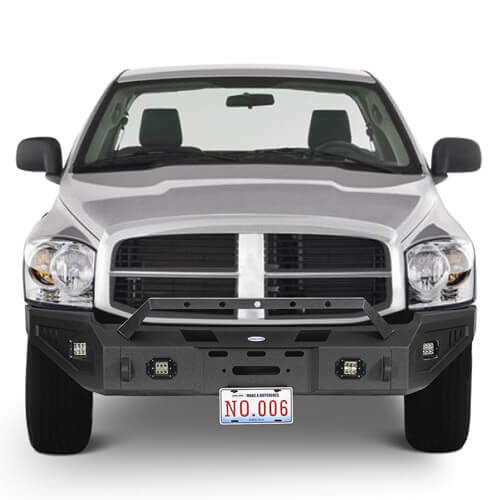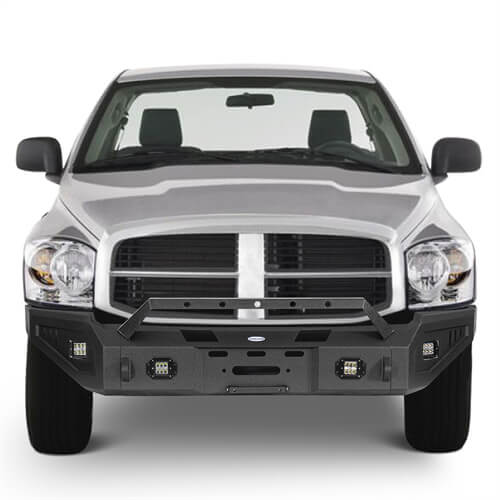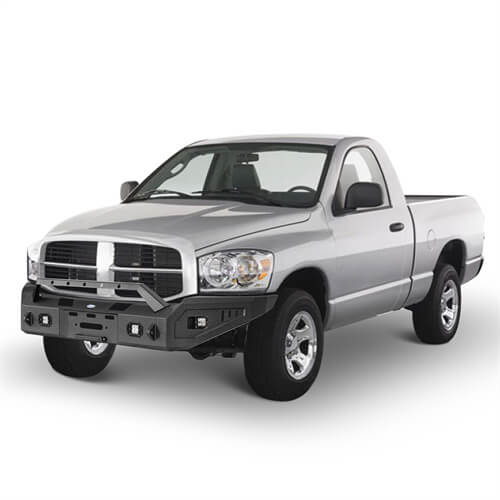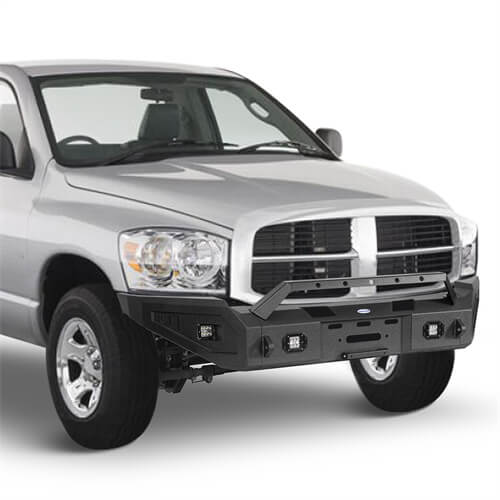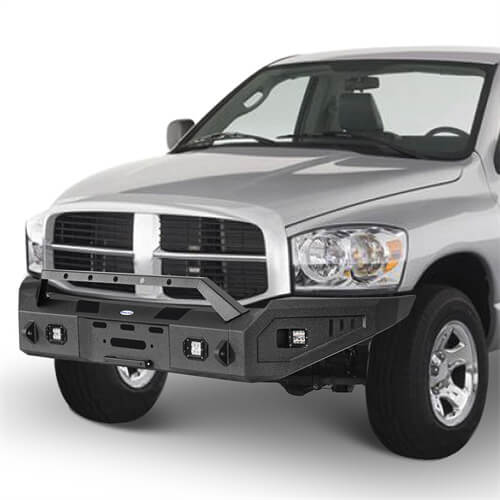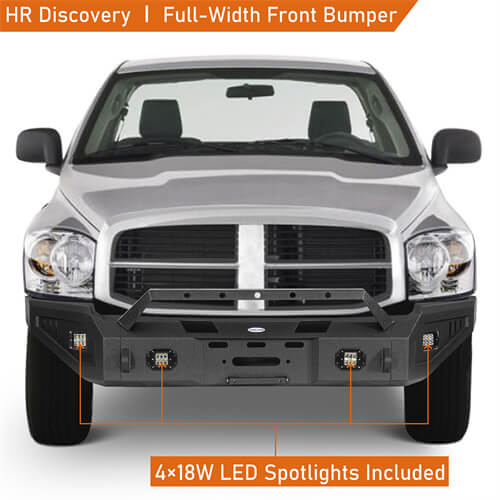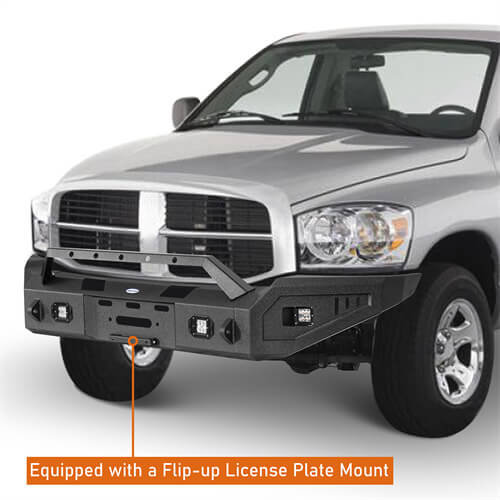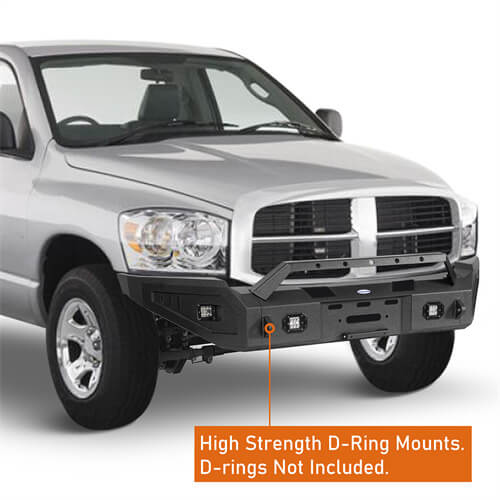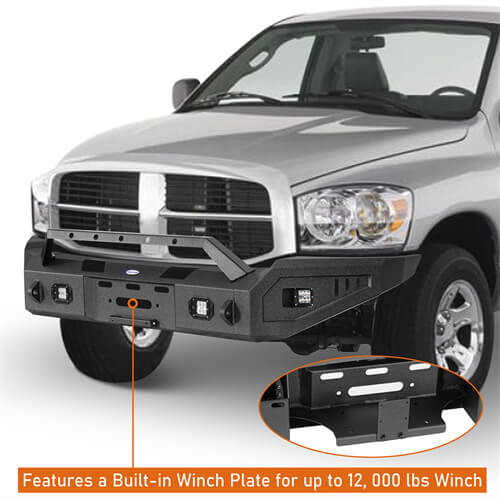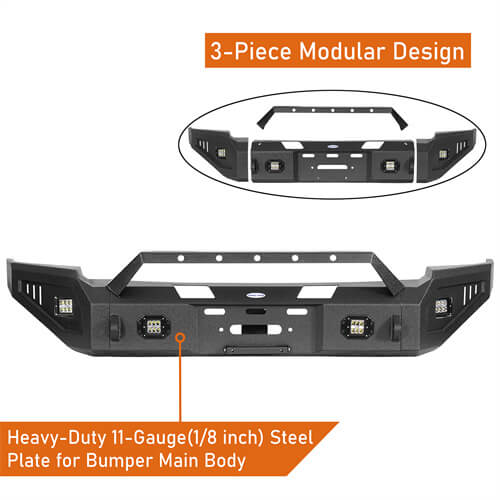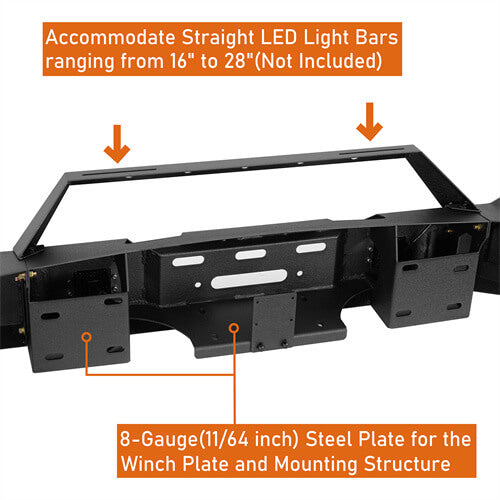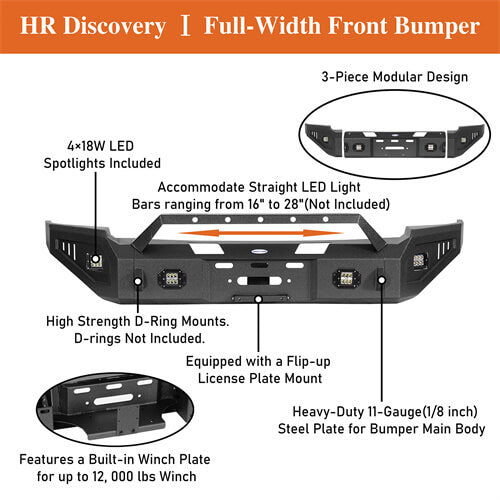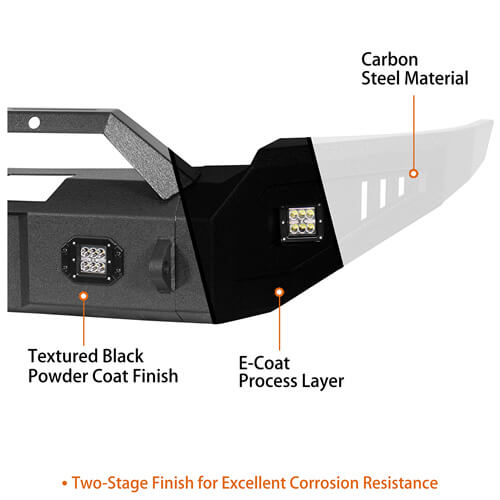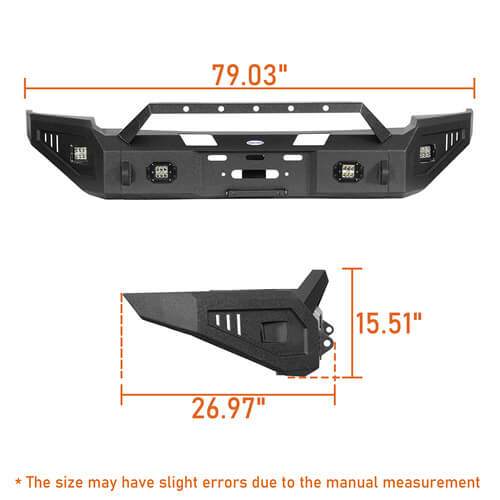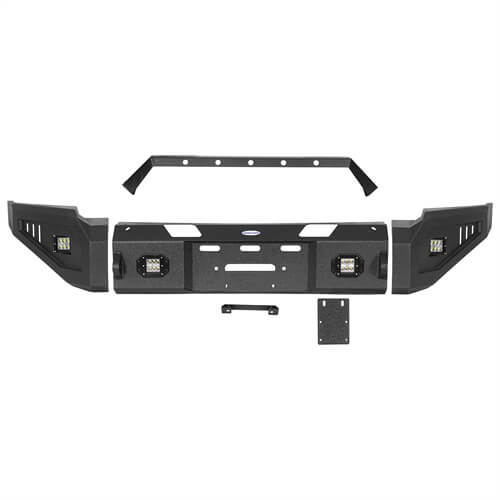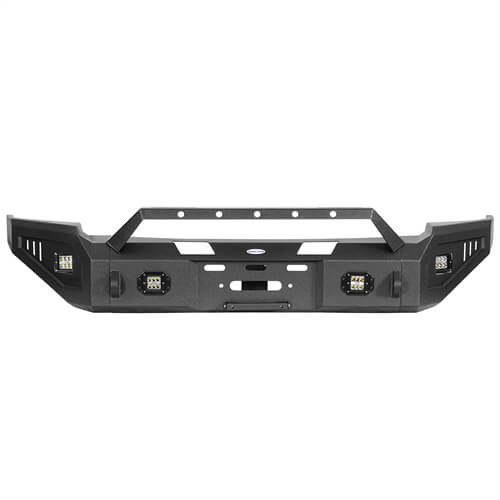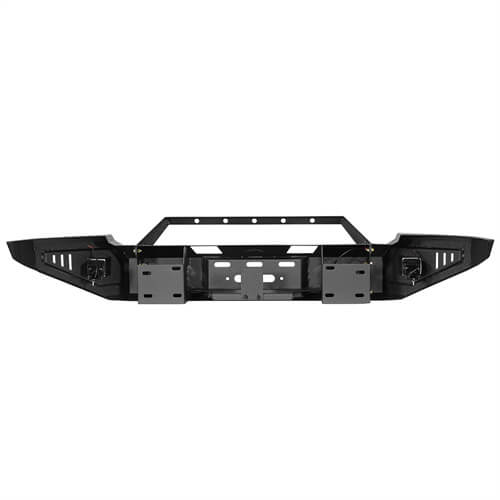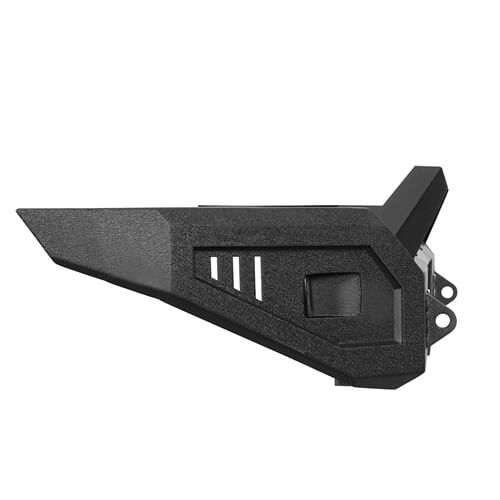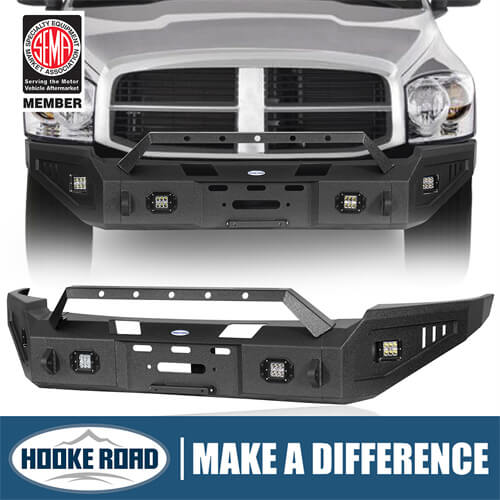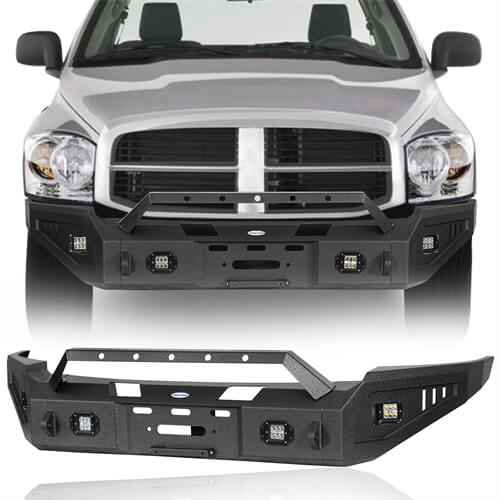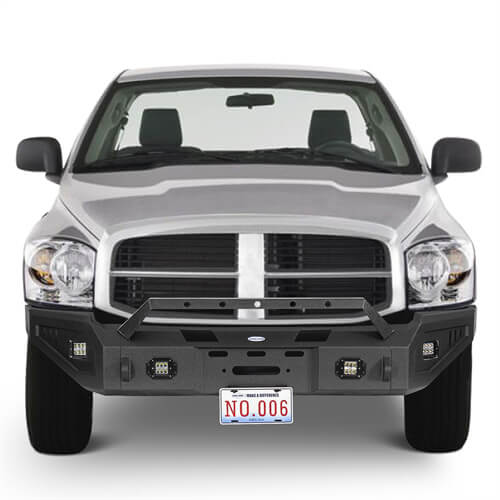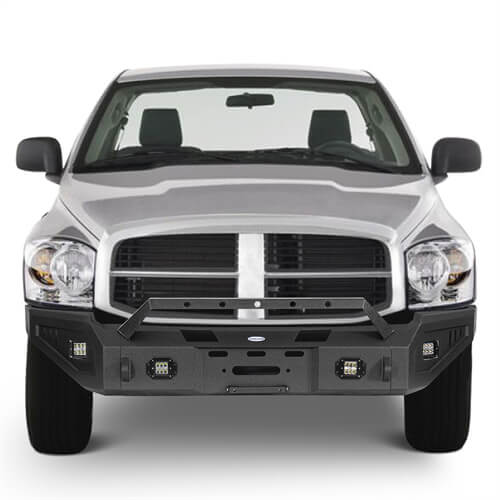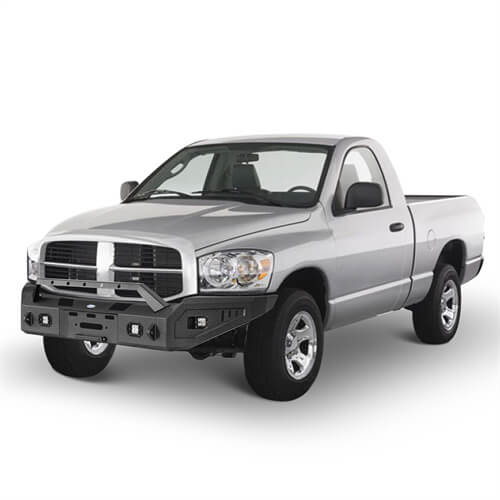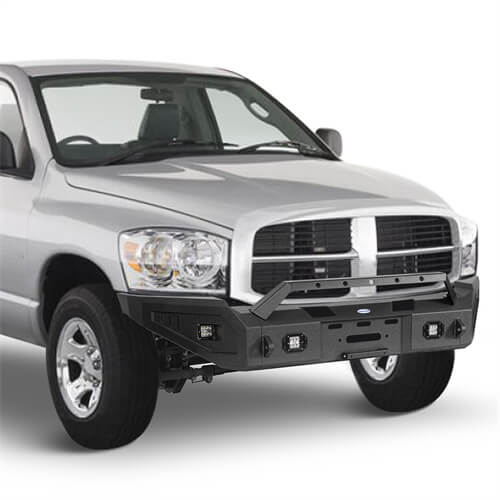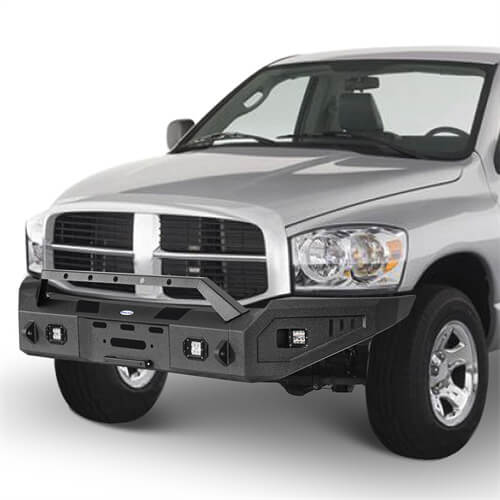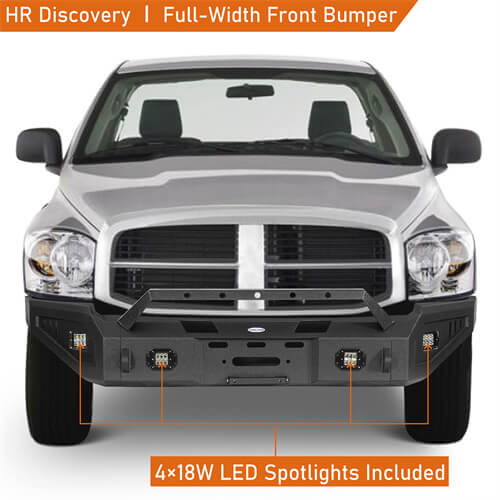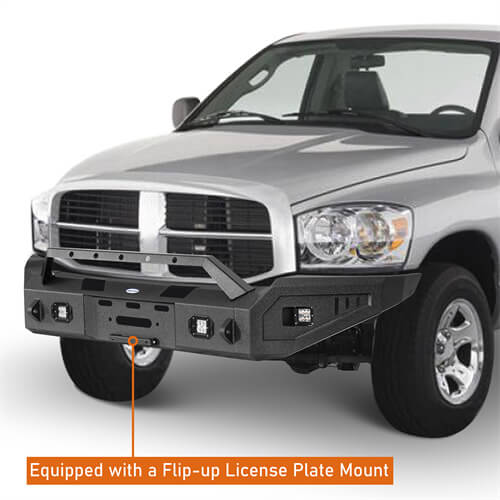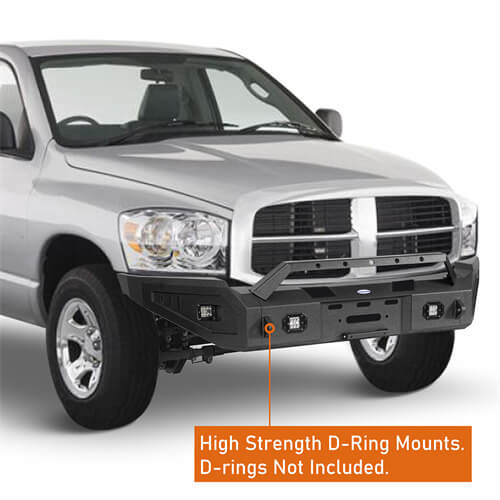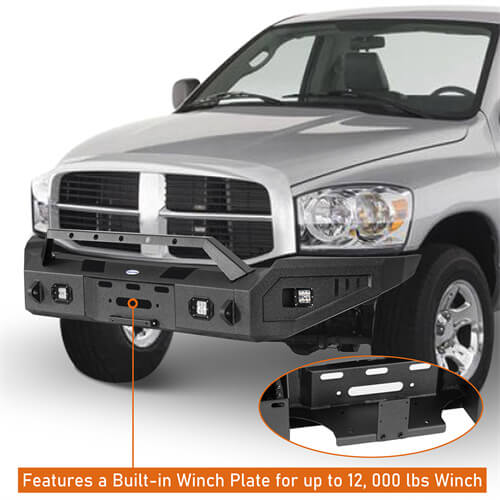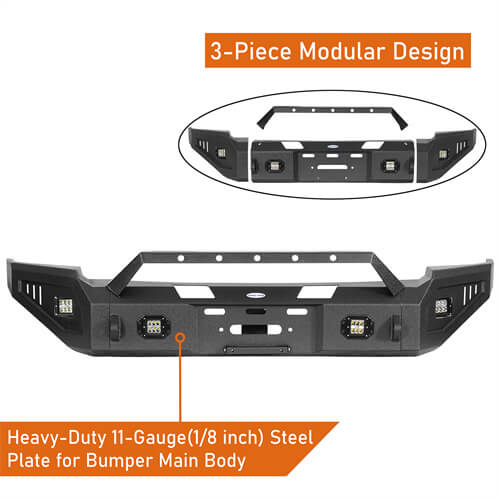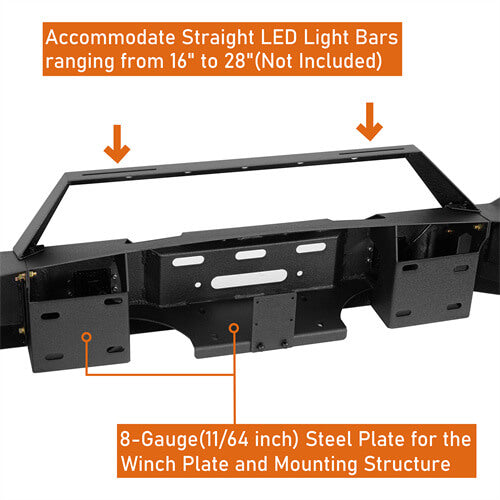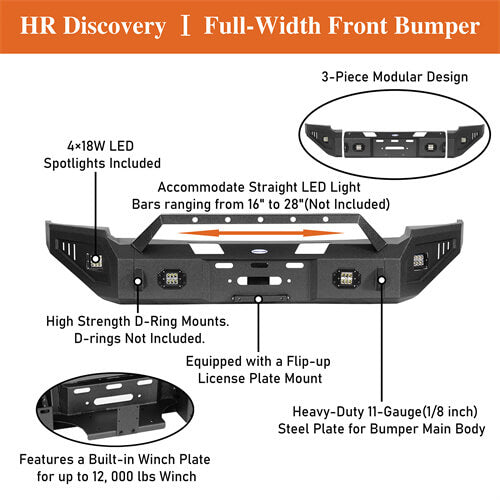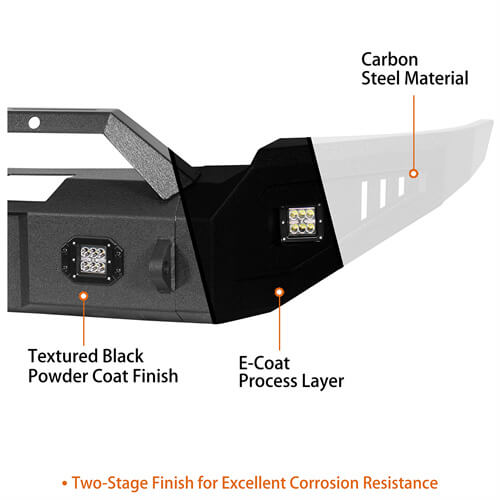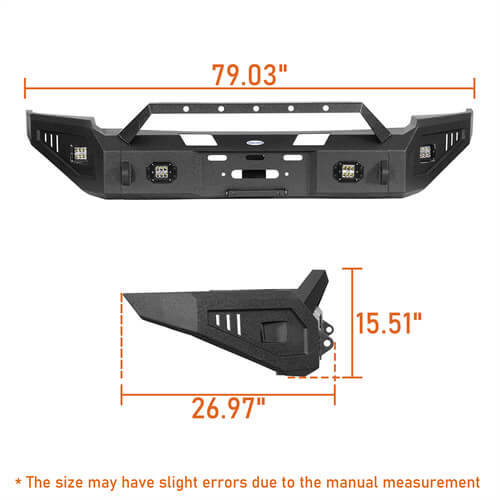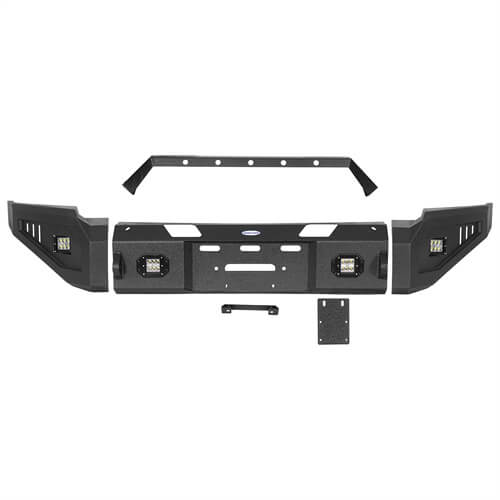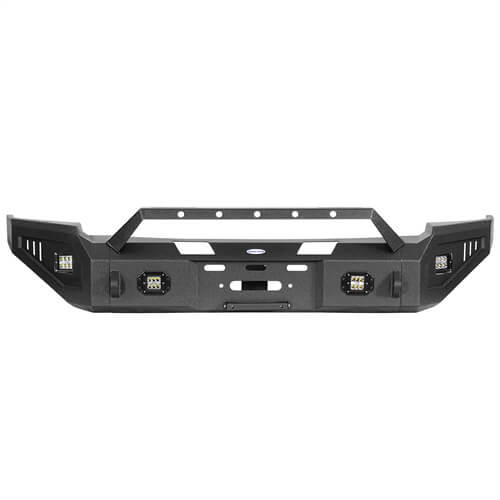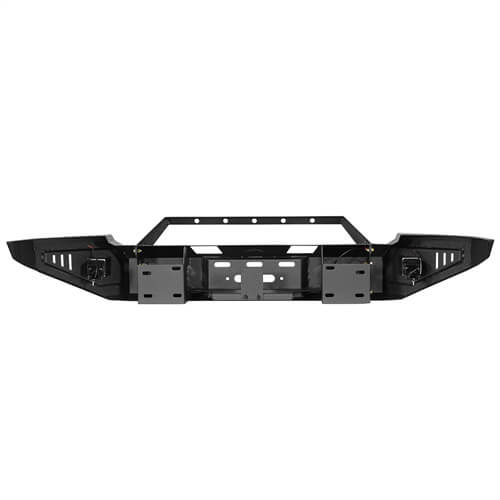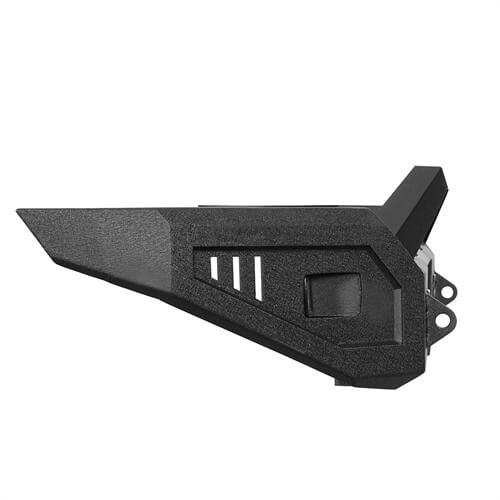 Name: Hooke Road Ram 1500 Full-Width Front Bumper w/ Winch Plate & LED Spotlights

Ram 1500 Front Bumper Feature
Compatible with 2006-2008 Ram 1500 Models
Bumper weight: about 85 lbs, 3-piece modular design
Heavy-duty, high tensile 11-gauge (1/8 in) steel for the bumper main body, 8-gauge(11/64 in) steel for mounting structure and winch palte
Textured black powder coat finish & Premium E-coating process inside
Includes 4×18W LED spotlights
Built-in winch plate accepts up to 12,000 lbs winch
Equipped with a flip-up license plate mounting bracket
Accommodate LED straight light bars ranging from 16" to 28" (Not Included)
Features high strength D-ring mounts, D-rings not included
Impressive design for both on-road and off-road use
Simple bolt-on installation, Mounting hardware included
Ram 1500 Front Bumper Installation Instructions
Ram 1500 Front Bumper Dimension
Superior Protection. Hooke Road's HR Discovery Ⅰ Full-Width Front Bumper is an embodiment of both style and utility, featuring a striking 3-piece modular design that seamlessly combines aesthetic appeal with off-road functionality. Crafted with an impressive design, this bumper ensures a commanding presence on and off the road. The inclusion of 4×18W LED spotlights not only enhances visibility but also contributes to the bumper's overall bold and rugged appearance. Designed for versatility, it accommodates LED straight light bars ranging from 16" to 28", providing adaptability to various lighting preferences (light bars not included). Additionally, the bumper integrates high-strength D-ring mounts and a built-in winch plate, capable of accommodating up to a 12,000 lbs winch, adding to its functionality and versatility.


Solid Steel Construction. Constructed with durability in mind, the Front Bumper is forged from heavy-duty, high-tensile 11-gauge (1/8 inch) steel for the main body, ensuring robust protection. The mounting structure and winch plate are crafted from 8-gauge (11/64 inch) steel, further enhancing its strength and resilience. The textured black powder coat finish, coupled with the premium E-coating process inside, not only provides a sleek appearance but also offers superior corrosion resistance. This combination of materials and finish ensures the bumper's longevity, making it a reliable choice for demanding off-road conditions.

Direct Blot-on Installation. The installation of the Front Bumper is designed with user convenience in mind. The straightforward bolt-on installation process eliminates the need for complex modifications. With basic hand tools and the included mounting hardware, users can complete the installation in a hassle-free manner. This user-friendly approach, along with the clear instructions provided, allows for a seamless integration of this robust front bumper onto your truck in about 2 hours. Please collaborate with 1-2 partners due to the heavy weight of the bumper.
1 × Front Bumper Assembly
4 × LED Spotlights
1 × License Plate Mount
1 × Mounting Hardware Kit
1 × Installation Instruction
2008 Dodge Ram 1500 Laramie
2008 Dodge Ram 1500 SLT
2008 Dodge Ram 1500 ST
2008 Dodge Ram 1500 SXT
2007 Dodge Ram 1500 Laramie
2007 Dodge Ram 1500 SLT
2007 Dodge Ram 1500 ST
2007 Dodge Ram 1500 Sport
2007 Dodge Ram 1500 TRX4
2006 Dodge Ram 1500 Laramie
2006 Dodge Ram 1500 SLT
2006 Dodge Ram 1500 SRT-10
2006 Dodge Ram 1500 ST
2006 Dodge Ram 1500 Sport
2006 Dodge Ram 1500 TRX4
Package Included
1 × Front Bumper Assembly
4 × LED Spotlights
1 × License Plate Mount
1 × Mounting Hardware Kit
1 × Installation Instruction
Fitment
2008 Dodge Ram 1500 Laramie
2008 Dodge Ram 1500 SLT
2008 Dodge Ram 1500 ST
2008 Dodge Ram 1500 SXT
2007 Dodge Ram 1500 Laramie
2007 Dodge Ram 1500 SLT
2007 Dodge Ram 1500 ST
2007 Dodge Ram 1500 Sport
2007 Dodge Ram 1500 TRX4
2006 Dodge Ram 1500 Laramie
2006 Dodge Ram 1500 SLT
2006 Dodge Ram 1500 SRT-10
2006 Dodge Ram 1500 ST
2006 Dodge Ram 1500 Sport
2006 Dodge Ram 1500 TRX4