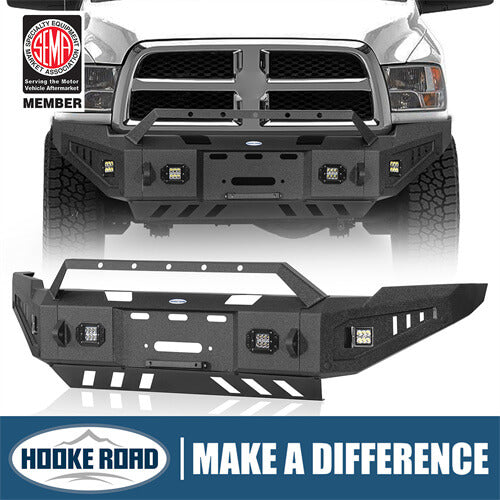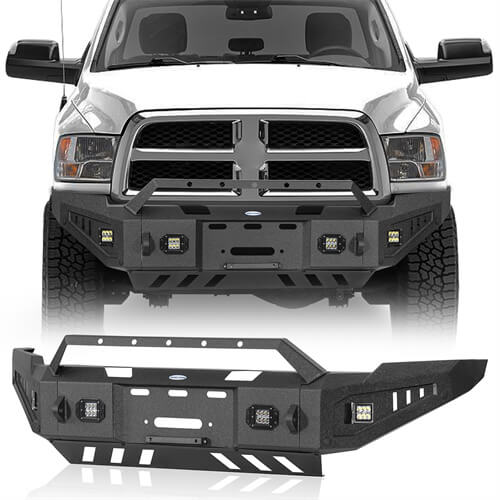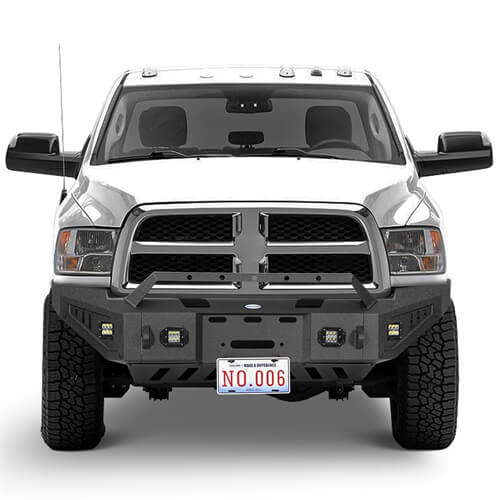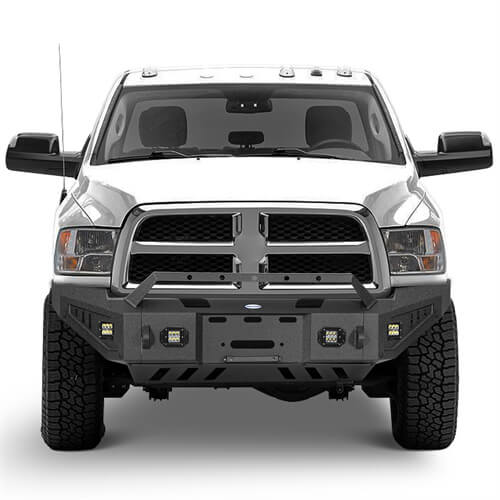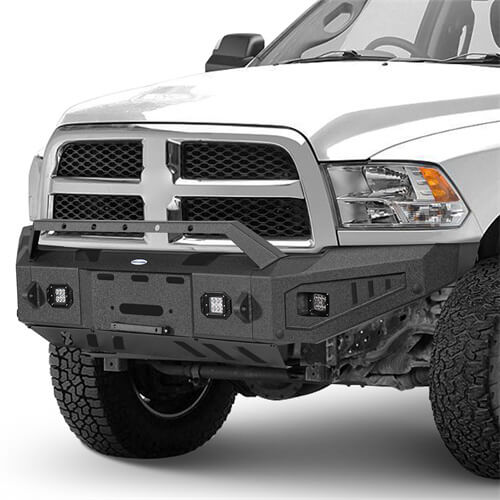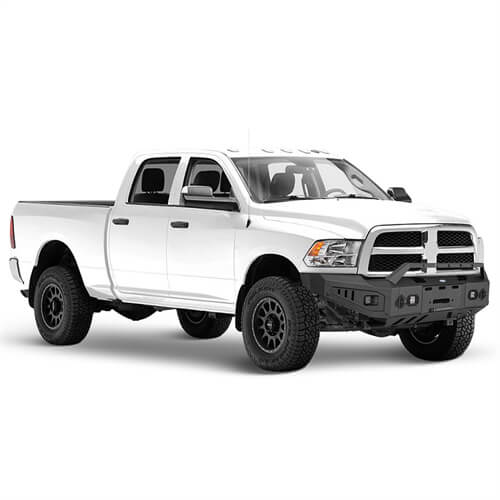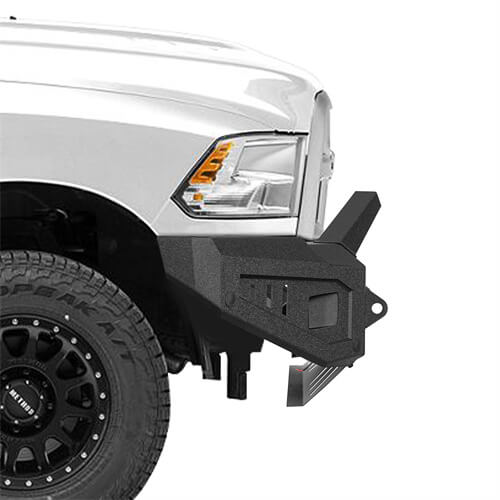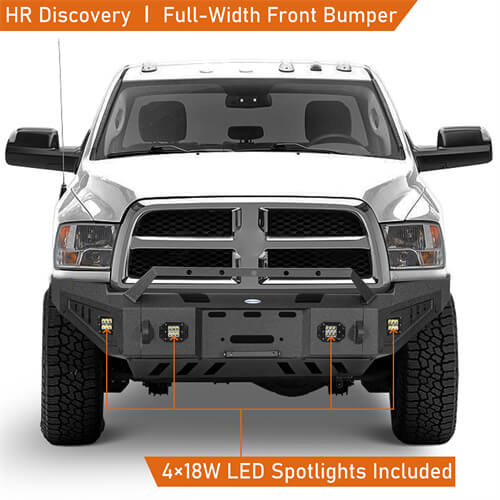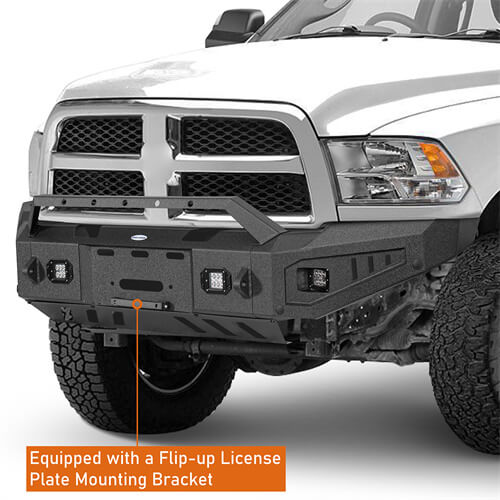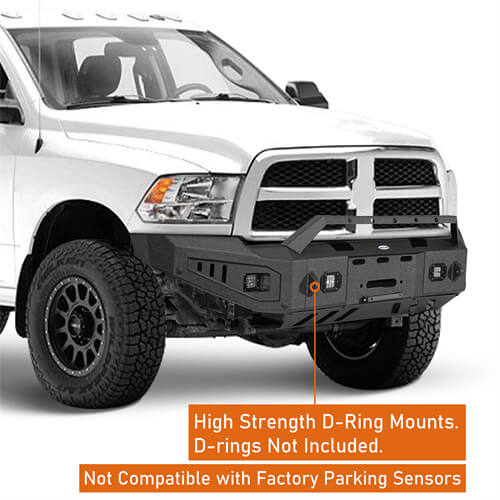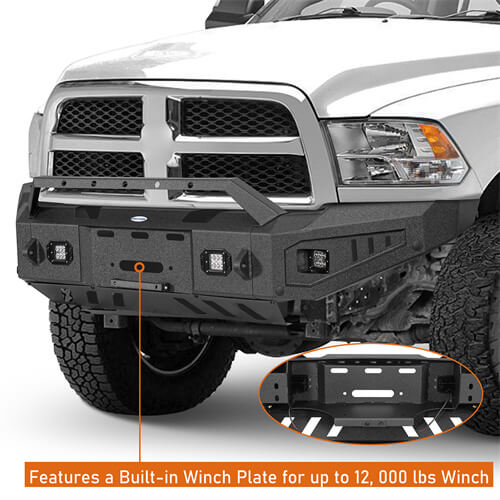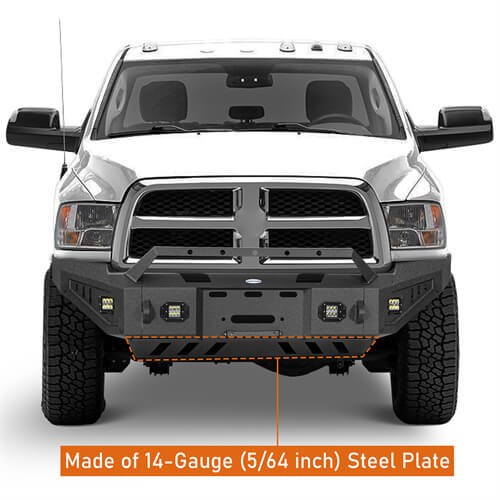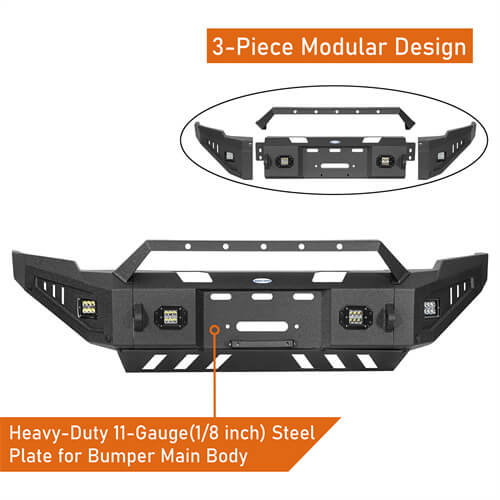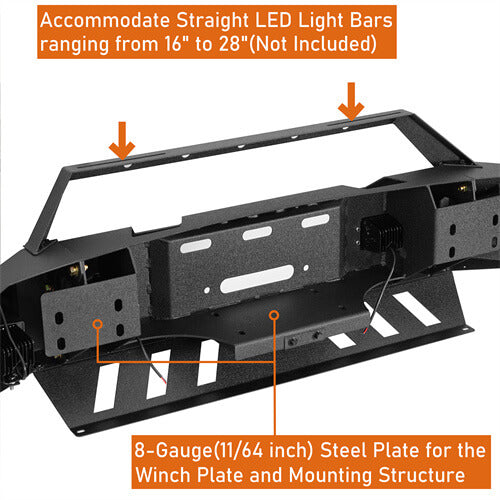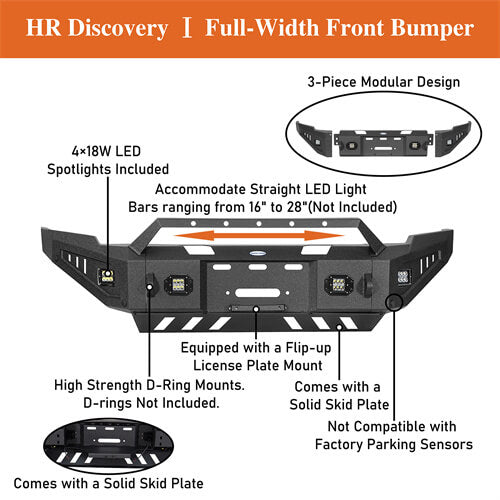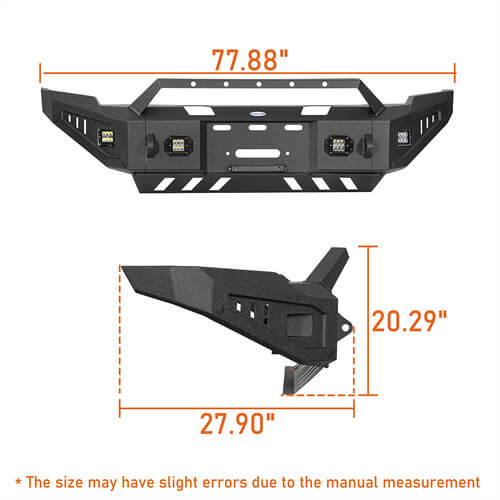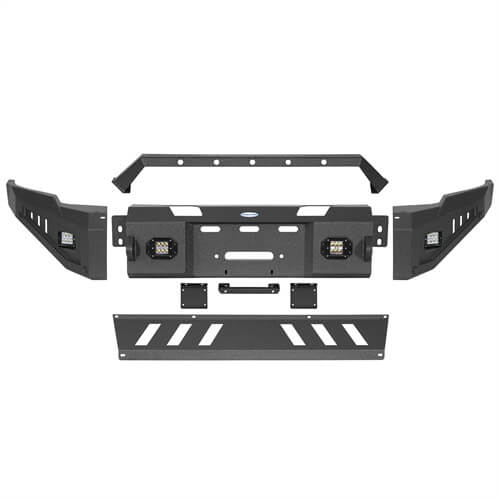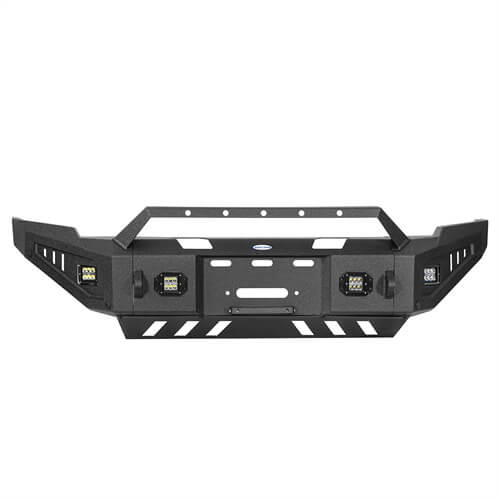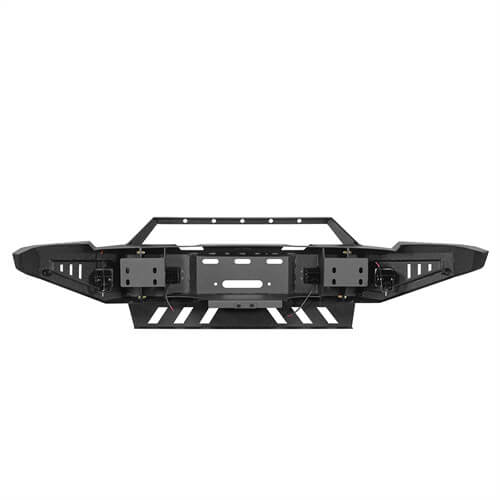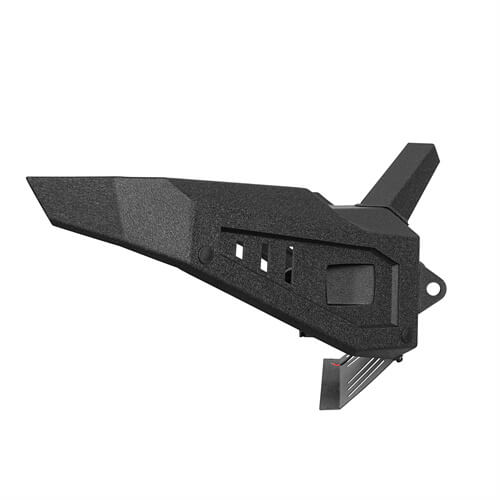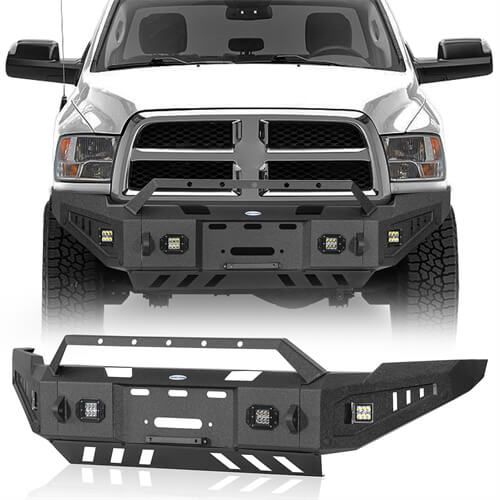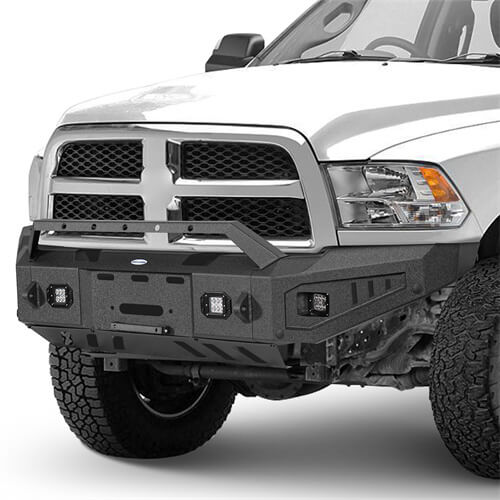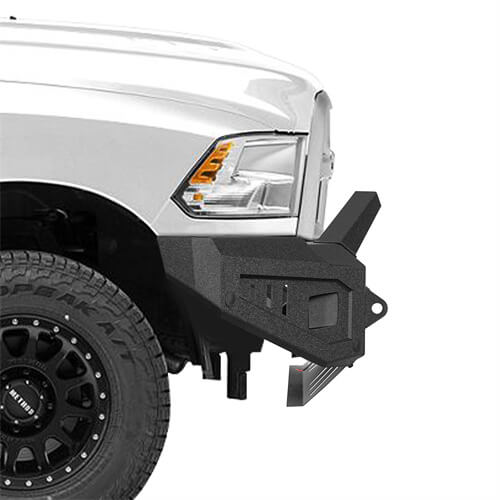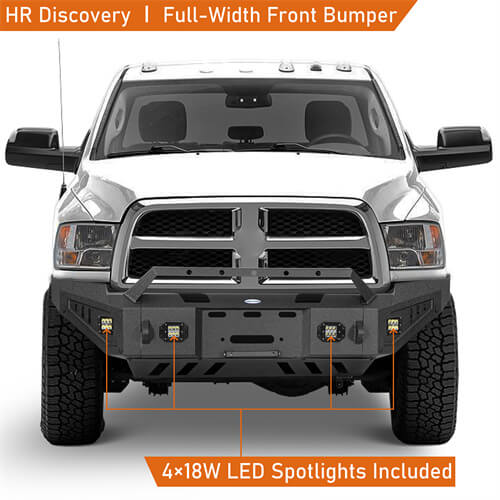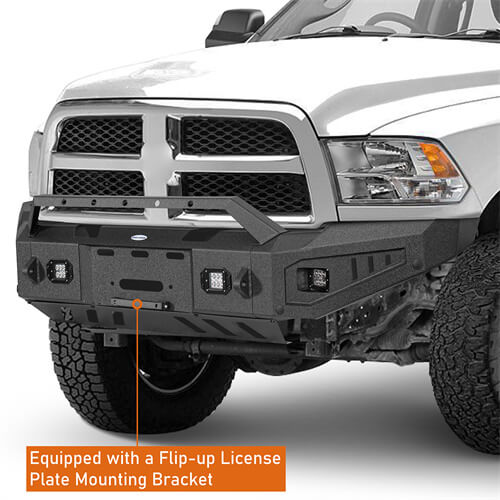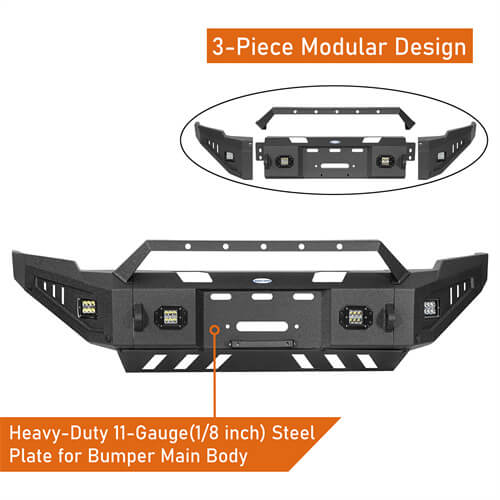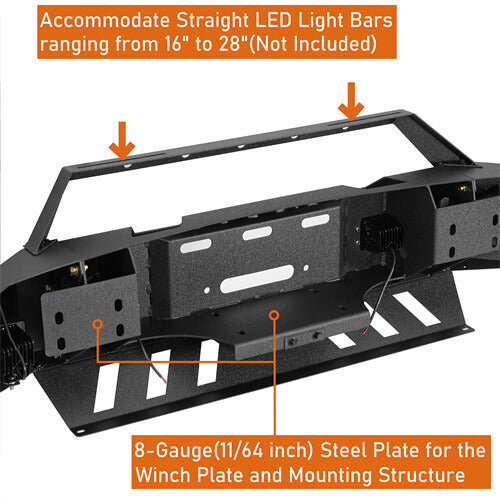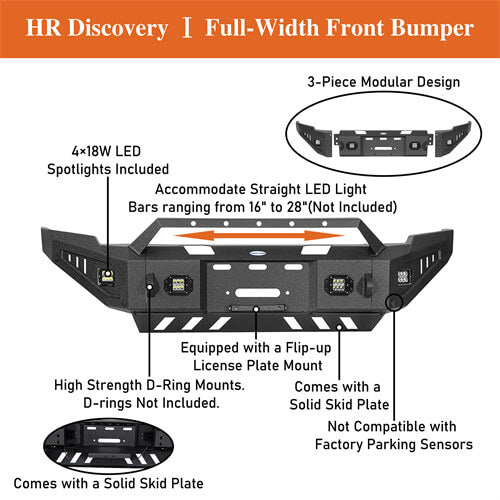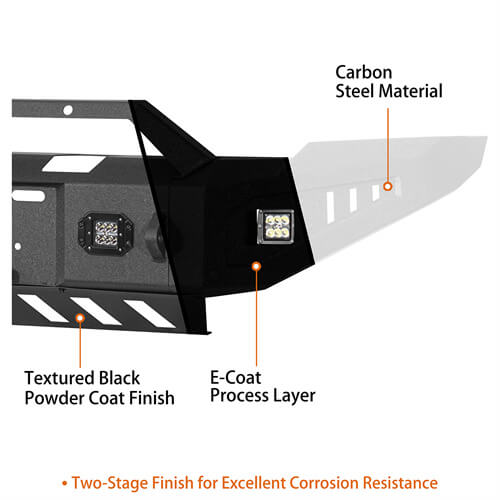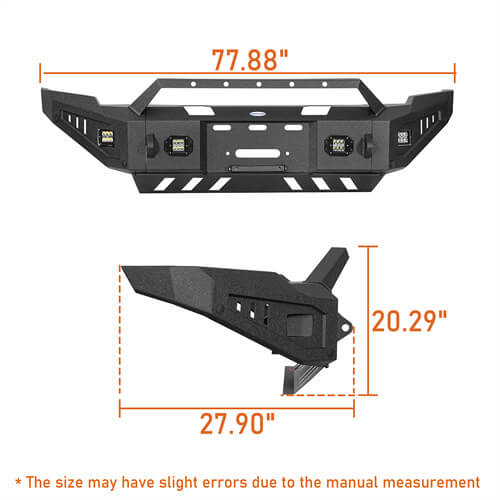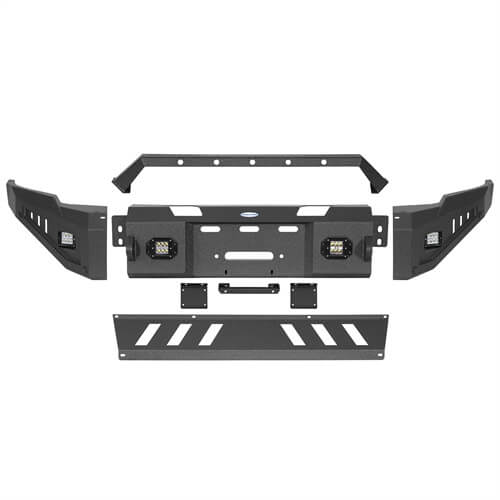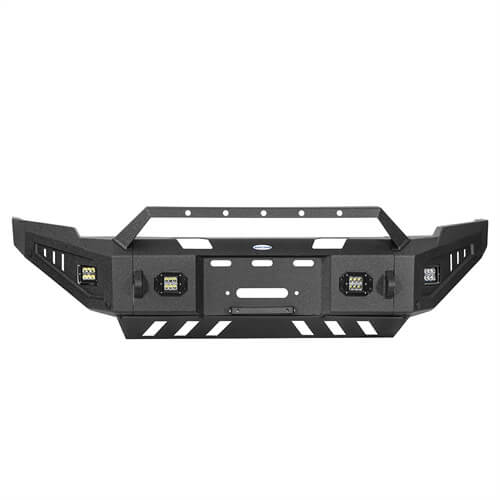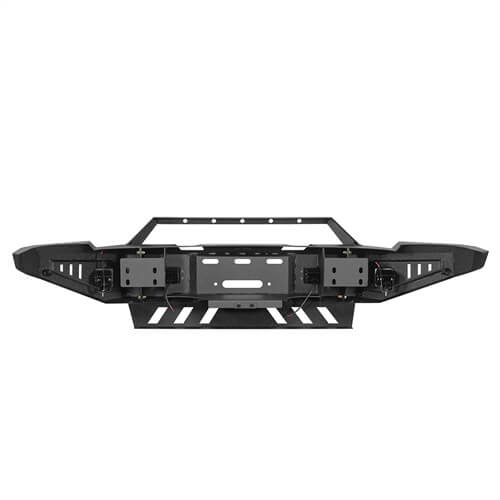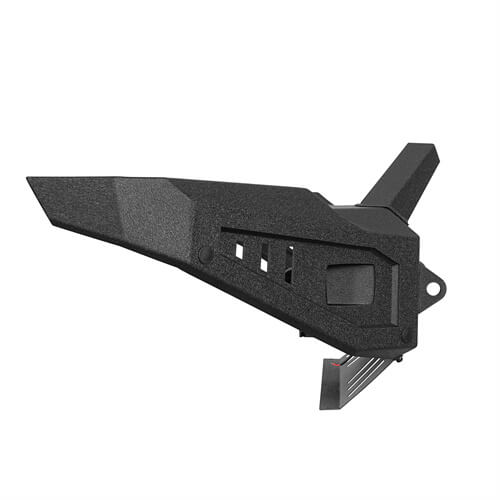 Name: Aftermarket Full-Width Ram 2500 Front Bumper w/ Winch Plate & LED Spotlights For 2010-2018 Ram 2500
Ram 2500 Front Bumper Feature
Compatible with 2010-2018 Ram 2500 Models
Bumper weight: about 95 lbs, 3-piece modular design
Heavy-duty, high tensile 11-gauge (1/8 in) steel for the bumper main body, 8-gauge(11/64 in) steel for mounting structure and winch plate
Textured black powder coat finish & Premium E-coating process inside
Includes 4×18W LED spotlights
Equipped with a solid skid plate
Built-in winch plate for up to 12, 000 lbs
Equipped with a flip-up license plate mounting bracket
Accommodate straight LED light bars ranging from 16" to 28" (Not Included)
Features high strength D-ring mounts, D-rings not included
A secure, snug fit ensures superb protection for various applications and environmental conditions
Not compatible with factory parking sensors
No drill easy installation with all installation materials included
Ram 2500 Front Bumper Installation Instructions
Ram 2500 Front Bumper Dimension
Off-Road Protection. The HR Discovery Ⅰ Full-Width Front Bumper is crafted for off-road vehicles, focusing on durability, adaptability, and added features to augment the vehicle's performance. The key features of this bumper include four 18W LED spotlights for varied illumination needs, and high-strength D-ring mounts (D-rings not included). With a solid skid plate, it offers additional protection to the vehicle's underside. The built-in winch plate is capable of supporting winches up to 12,000 lbs, enhancing recovery functions. Moreover, the bumper includes a flip-up license plate mounting bracket, ensuring compliance with regulations and adding convenience to the setup.


Heavy Duty Construction. This bumper boasts a robust construction with its bumper main body crafted from heavy-duty, high tensile 11-gauge (1/8 in) steel. Additionally, the mounting structure and winch plate are made using 8-gauge (11/64 in) steel, ensuring strong and durable support for the bumper's functionality. The bumper is finished with a textured black powder coat and a premium E-coating process applied internally, providing both an appealing appearance and enhanced protection against corrosion and wear.

Bolt-On Installation. The HR Discovery Ⅰ Full-Width Front Bumper is designed to be a straightforward and direct bolt-on replacement for the original stock bumper. The installation process involves removing the factory bumper, assembling the replacement bumper's parts, placing it onto the vehicle's frame, and securely fastening the bolts after positioning it correctly. The process does not necessitate any cutting or modifications, providing a clean and hassle-free installation experience.
1 × Front Bumper Assembly
4 × LED Spotlights
1 × Solid Skid Plate
1 × License Plate Mounting Bracket
1 × Mounting Hardware Kit
1 × Installation Instruction
2018、2017、2016、2015、2014、2013、2012、2011、2010 Ram 2500 Big Horn
2018、2017、2016、2015、2014、2013、2012、2011、2010 Ram 2500 Laramie
2018、2017、2016、2015、2014、2013、2012、2011、2010 Ram 2500 Limited
2018、2017、2016、2015、2014、2013、2012、2011、2010 Ram 2500 Outdoorsman
2018、2017、2016、2015、2014、2013、2012、2011、2010 Ram 2500 Power Wagon
2018、2017、2016、2015、2014、2013、2012、2011、2010 Ram 2500 SLT
2018、2017、2016、2015、2014、2013、2012、2011、2010 Ram 2500 ST
2018、2017、2016、2015、2014、2013、2012、2011、2010 Ram 2500 Sport
2018、2017、2016、2015、2014、2013、2012、2011、2010 Ram 2500 Tradesman
2018、2017、2016、2015、2014、2013、2012、2011、2010 Ram 3500 Big Horn
2018、2017、2016、2015、2014、2013、2012、2011、2010 Ram 3500 Laramie
2018、2017、2016、2015、2014、2013、2012、2011、2010 Ram 3500 Limited
2018、2017、2016、2015、2014、2013、2012、2011、2010 Ram 3500 SLT
2018、2017、2016、2015、2014、2013、2012、2011、2010 Ram 3500 ST
2018、2017、2016、2015、2014、2013、2012、2011、2010 Ram 3500 Tradesman
Package Included
1 × Front Bumper Assembly
4 × LED Spotlights
1 × Solid Skid Plate
1 × License Plate Mounting Bracket
1 × Mounting Hardware Kit
1 × Installation Instruction
Fitment
2018、2017、2016、2015、2014、2013、2012、2011、2010 Ram 2500 Big Horn
2018、2017、2016、2015、2014、2013、2012、2011、2010 Ram 2500 Laramie
2018、2017、2016、2015、2014、2013、2012、2011、2010 Ram 2500 Limited
2018、2017、2016、2015、2014、2013、2012、2011、2010 Ram 2500 Outdoorsman
2018、2017、2016、2015、2014、2013、2012、2011、2010 Ram 2500 Power Wagon
2018、2017、2016、2015、2014、2013、2012、2011、2010 Ram 2500 SLT
2018、2017、2016、2015、2014、2013、2012、2011、2010 Ram 2500 ST
2018、2017、2016、2015、2014、2013、2012、2011、2010 Ram 2500 Sport
2018、2017、2016、2015、2014、2013、2012、2011、2010 Ram 2500 Tradesman
2018、2017、2016、2015、2014、2013、2012、2011、2010 Ram 3500 Big Horn
2018、2017、2016、2015、2014、2013、2012、2011、2010 Ram 3500 Laramie
2018、2017、2016、2015、2014、2013、2012、2011、2010 Ram 3500 Limited
2018、2017、2016、2015、2014、2013、2012、2011、2010 Ram 3500 SLT
2018、2017、2016、2015、2014、2013、2012、2011、2010 Ram 3500 ST
2018、2017、2016、2015、2014、2013、2012、2011、2010 Ram 3500 Tradesman