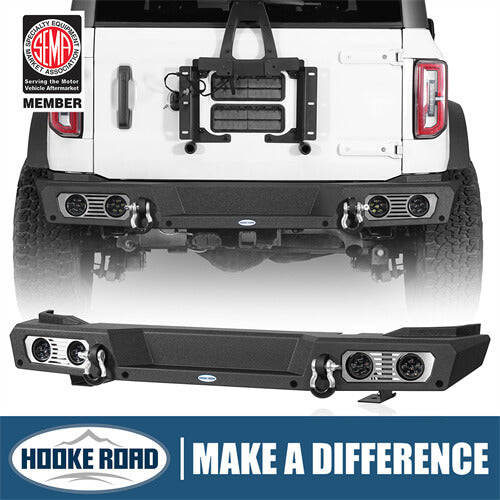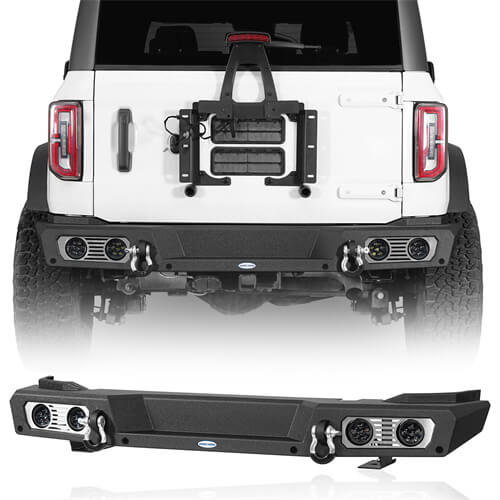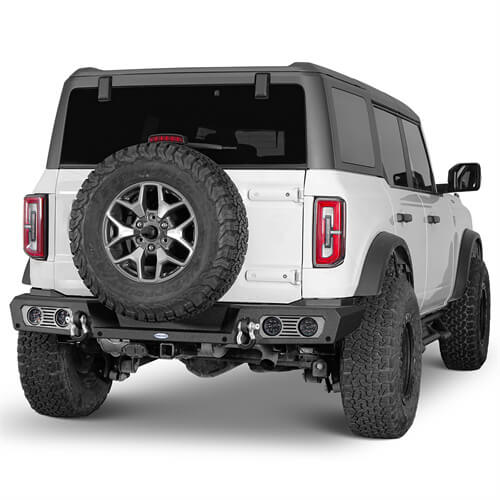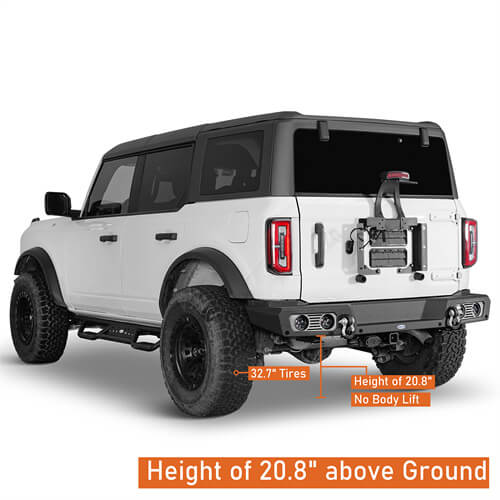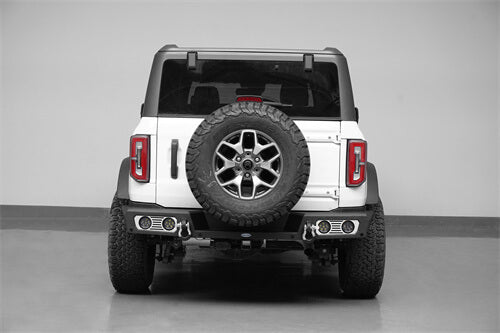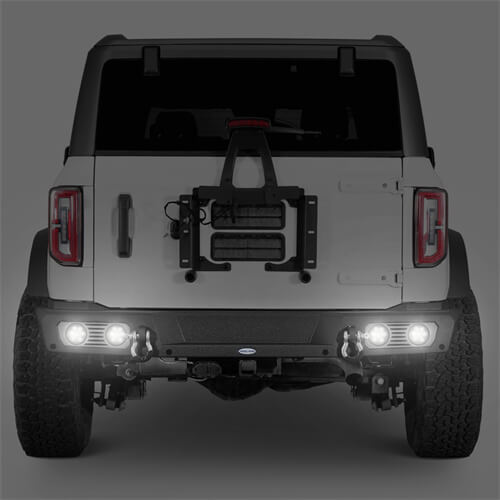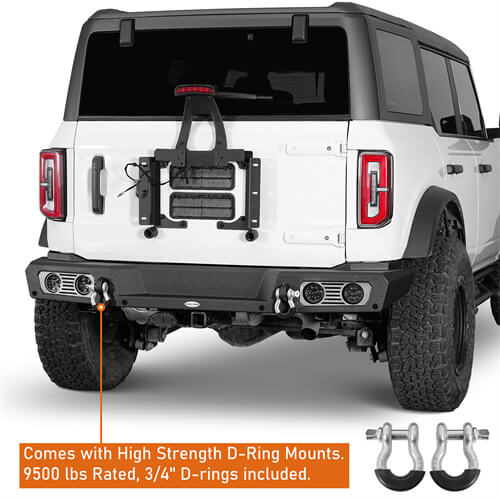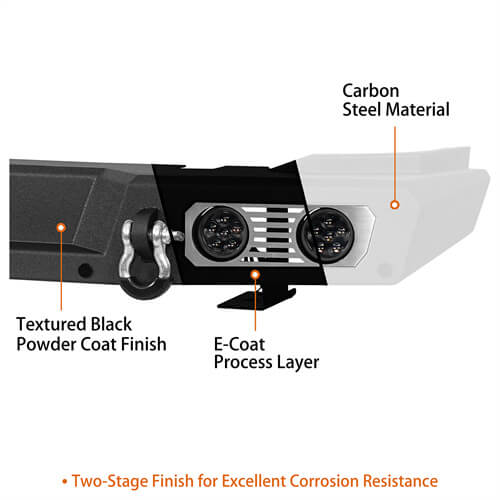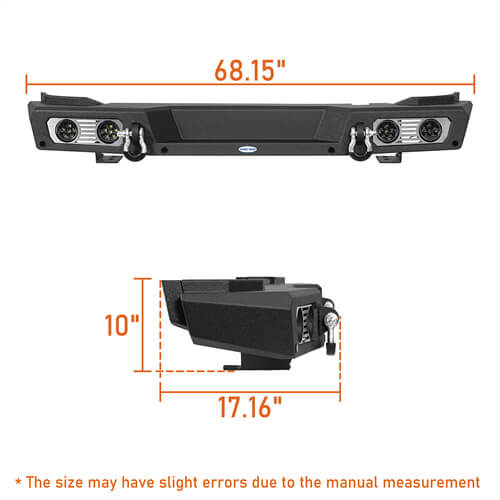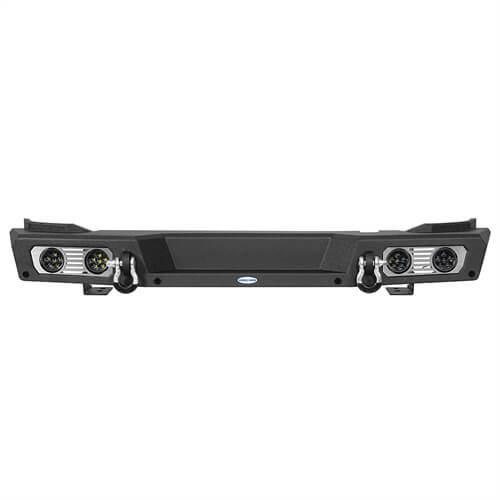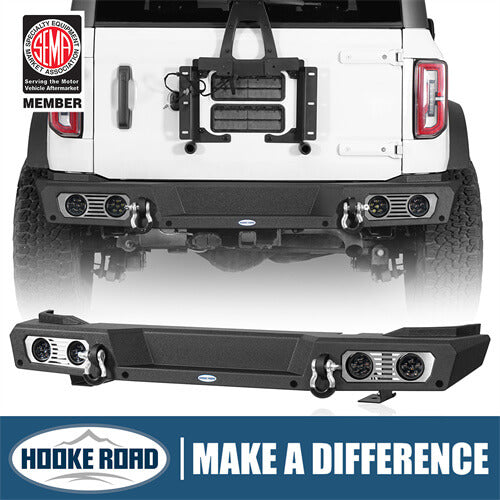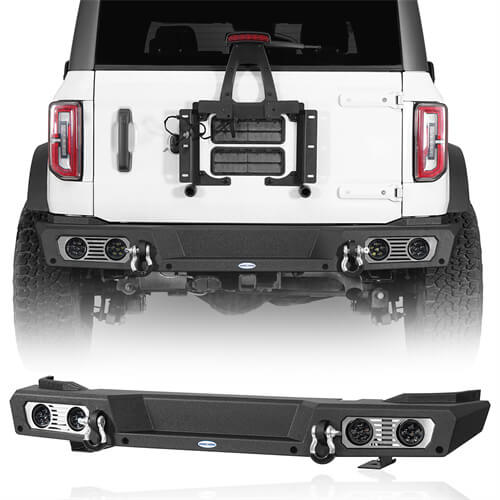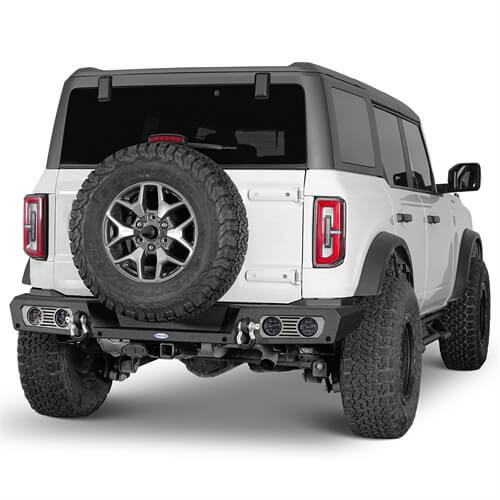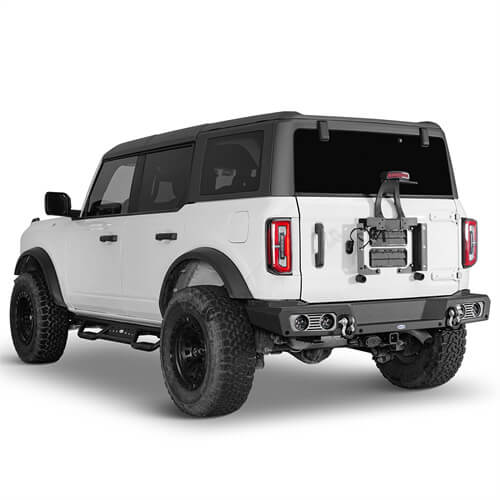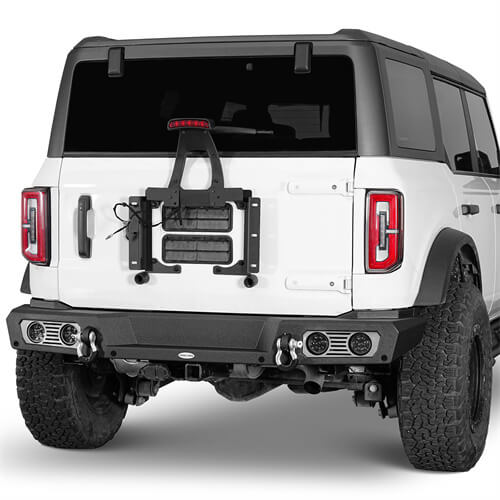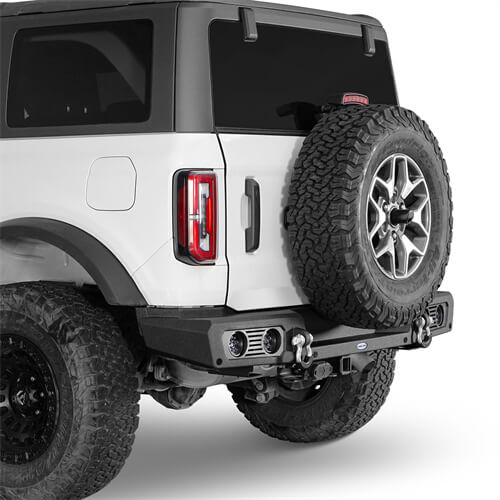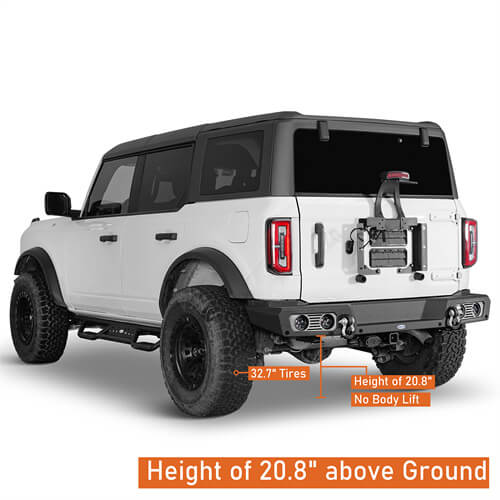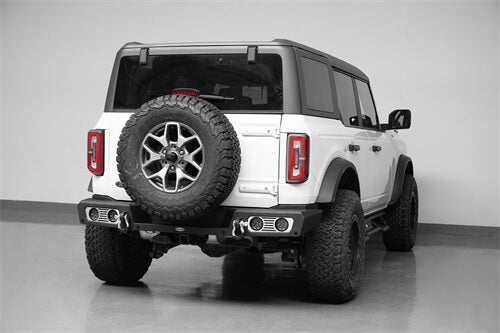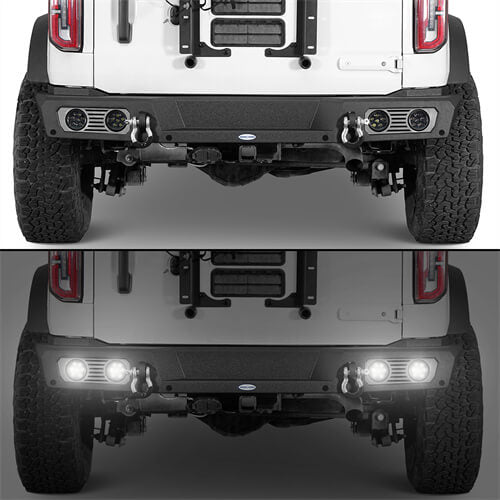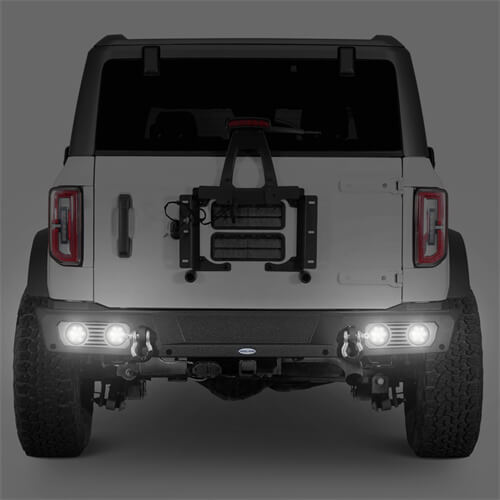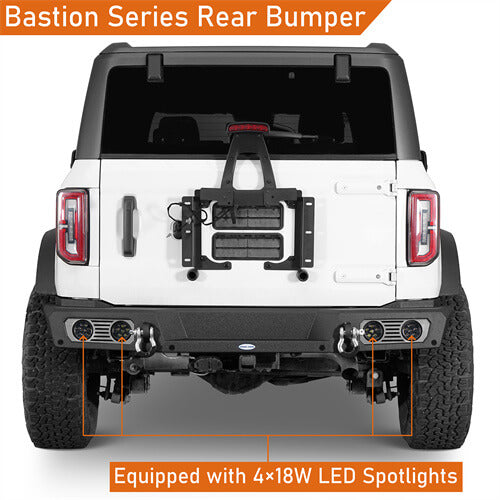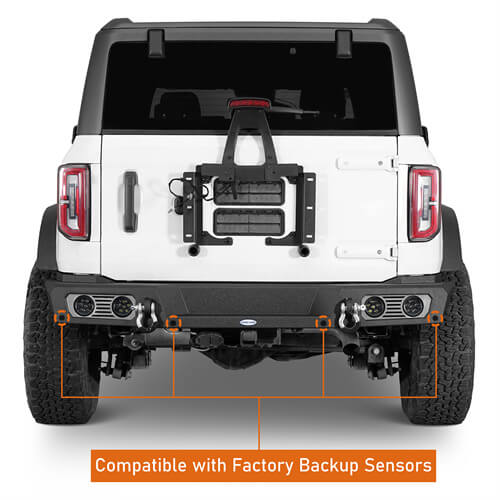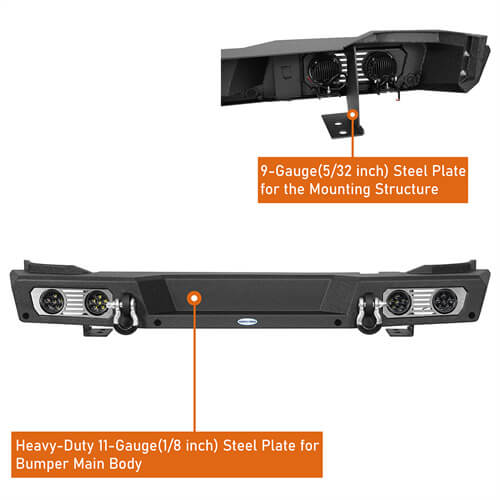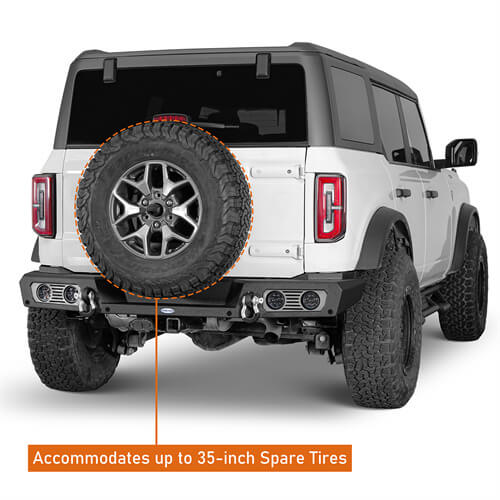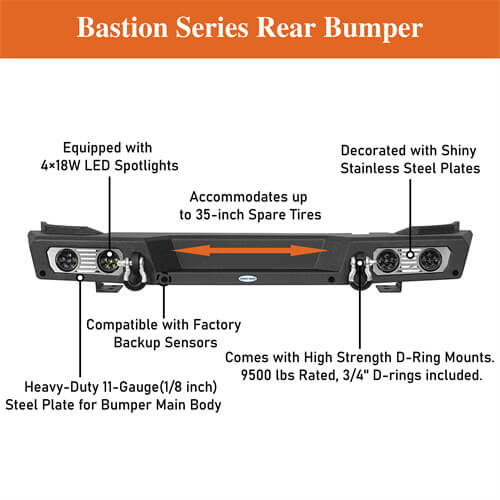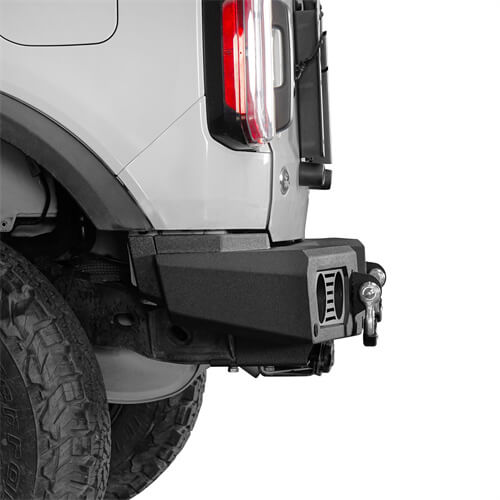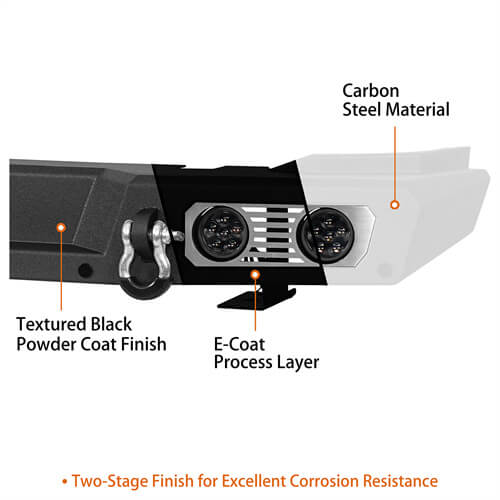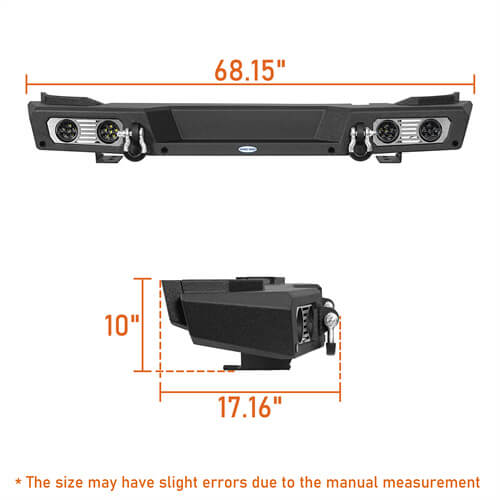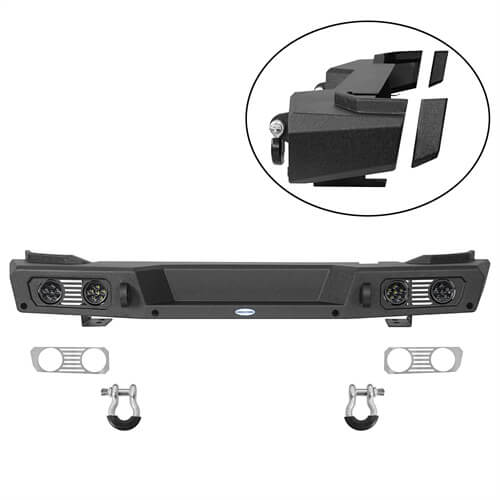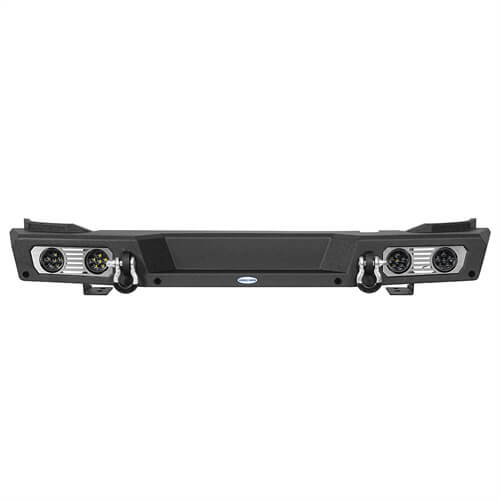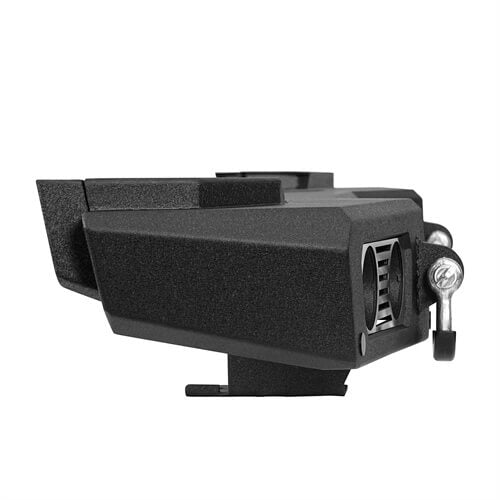 Name:Hooke Road Aftermarket Rear Bumper w/D-Rings & LED Lights Compatible with Ford Bronco Excluding Raptor
PRODUCT SPECIFICATIONS
Fits for 2021-2023 Ford Bronco Models (Excluding Raptor)
Bumper weight: about 67 lbs
Heavy-duty, high tensile 11-gauge(1/8 inch) steel for the bumper main body, 9-gauge (5/32 inch) steel for the mounting structure
Textured black powder coat finish & Premium E-coating process inside
High strength D-ring mounts; 9,500 lbs rated, 3/4" D-rings included
4×18W round LED spotlights included
Retains the factory receiver hitch
Compatible with factory back-up sensors
Accommodates up to a 35-inch spare tire
One piece structure, Perfect fit the body line
Aesthetic vintage design characterized by a broad and sturdy appearance
Decorated with shiny stainless steel sheet
Bolt-on installation w/ clear instruction, Mounting hardware included
DIMENSION
SOMETHING YOU MIGHT WANT TO KNOW

Rugged Styling. The Hooke Road Bastion Rear Bumper with LED Spotlights is an essential addition to the 21+ Bronco Excluding Raptor, offering both reliable function and an appealing appearance. Its one-piece structure seamlessly aligns with the vehicle's body line, imparting a vintage charm and a robust aesthetic. The bumper's broad and sturdy build is accented by a shiny stainless steel sheet, giving it a distinct and sophisticated look. Equipped with high strength D-ring mounts and 9,500 lbs rated 3/4" D-rings, along with 4×18W round LED spotlights, this bumper ensures enhanced functionality and improved visibility for any adventure.


Heavy Duty Construction. Crafted from heavy-duty, high tensile 11-gauge(1/8 inch) steel for the main body and 9-gauge (5/32 inch) steel for the mounting structure, the Bastion Rear Bumper is engineered for durability and resilience, making it capable of withstanding rugged off-road conditions. Its textured black powder coat finish, along with the premium E-coating process inside, not only adds a sleek touch but also provides reliable protection against rust and corrosion.

Easy Bolt-on Installation. Hooke Road engineered the Bastion Rear Bumper to be a direct bolt-on upgrade replacement for your original stock bumper reusing the factory mounting points. There is no cutting or modifications required for a simple straight forward install. With the help of a friend and a set of basic hand tools this BRear Bumper can be installed in about two hours.
1 × Rear Bumper Assembly
4 × LED Spotlights
2 × D-rings
1 × Mounting Hardware Kit
1 × Installation Instruction
2023 Ford Bronco Badlands Sport Utility
2023 Ford Bronco Base Sport Utility
2023 Ford Bronco Big Bend Sport Utility
2023 Ford Bronco Black Diamond Sport Utility
2023 Ford Bronco Everglades Sport Utility
2023 Ford Bronco Heritage Edition Sport Utility
2023 Ford Bronco Outer Banks Sport Utility
2023 Ford Bronco Wildtrak Sport Utility
2022 Ford Bronco Badlands Sport Utility
2022 Ford Bronco Base Sport Utility
2022 Ford Bronco Big Bend Sport Utility
2022 Ford Bronco Black Diamond Sport Utility
2022 Ford Bronco Everglades Sport Utility
2022 Ford Bronco Outer Banks Sport Utility
2022 Ford Bronco Wildtrak Sport Utility
2021 Ford Bronco Badlands Sport Utility
2021 Ford Bronco Base Sport Utility
2021 Ford Bronco Big Bend Sport Utility
2021 Ford Bronco Black Diamond Sport Utility
2021 Ford Bronco First Edition Sport Utility
2021 Ford Bronco Outer Banks Sport Utility
2021 Ford Bronco Wildtrak Sport Utility
Package Included
1 × Rear Bumper Assembly
4 × LED Spotlights
2 × D-rings
1 × Mounting Hardware Kit
1 × Installation Instruction
Fitment
2023 Ford Bronco Badlands Sport Utility
2023 Ford Bronco Base Sport Utility
2023 Ford Bronco Big Bend Sport Utility
2023 Ford Bronco Black Diamond Sport Utility
2023 Ford Bronco Everglades Sport Utility
2023 Ford Bronco Heritage Edition Sport Utility
2023 Ford Bronco Outer Banks Sport Utility
2023 Ford Bronco Wildtrak Sport Utility
2022 Ford Bronco Badlands Sport Utility
2022 Ford Bronco Base Sport Utility
2022 Ford Bronco Big Bend Sport Utility
2022 Ford Bronco Black Diamond Sport Utility
2022 Ford Bronco Everglades Sport Utility
2022 Ford Bronco Outer Banks Sport Utility
2022 Ford Bronco Wildtrak Sport Utility
2021 Ford Bronco Badlands Sport Utility
2021 Ford Bronco Base Sport Utility
2021 Ford Bronco Big Bend Sport Utility
2021 Ford Bronco Black Diamond Sport Utility
2021 Ford Bronco First Edition Sport Utility
2021 Ford Bronco Outer Banks Sport Utility
2021 Ford Bronco Wildtrak Sport Utility