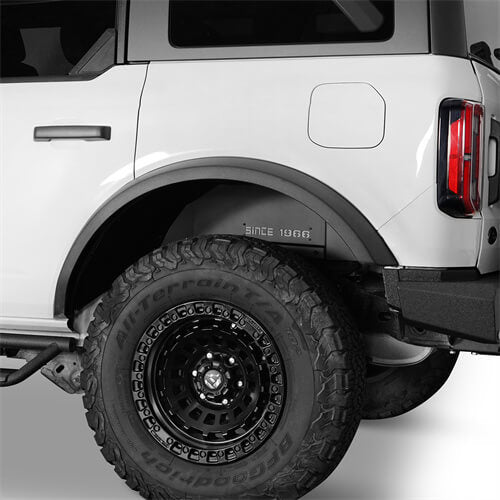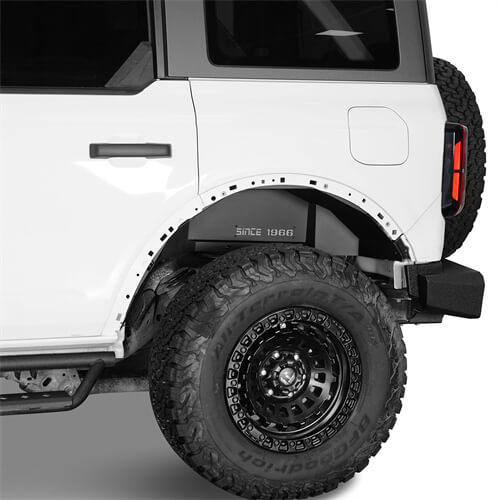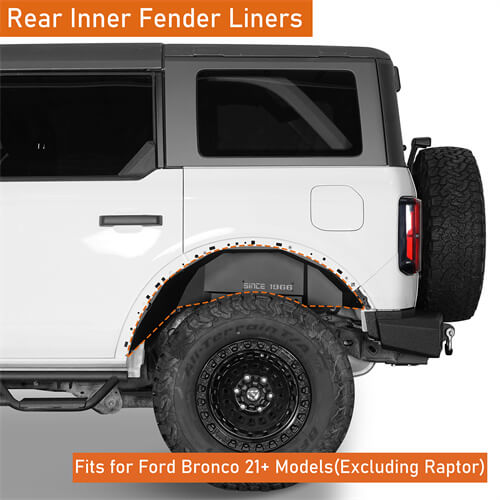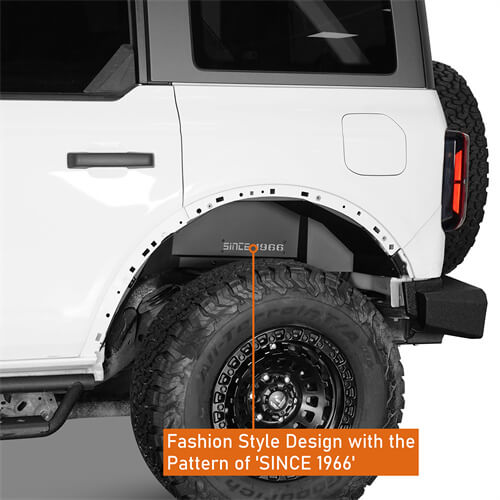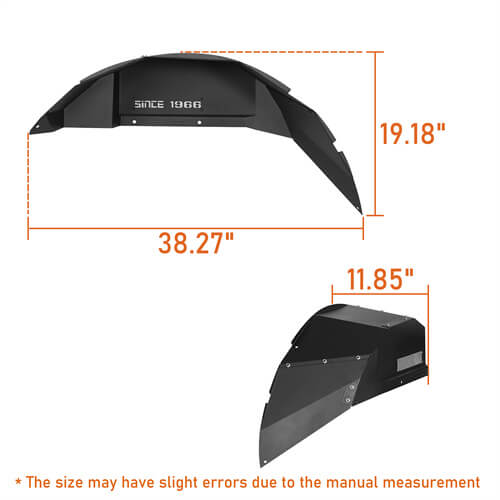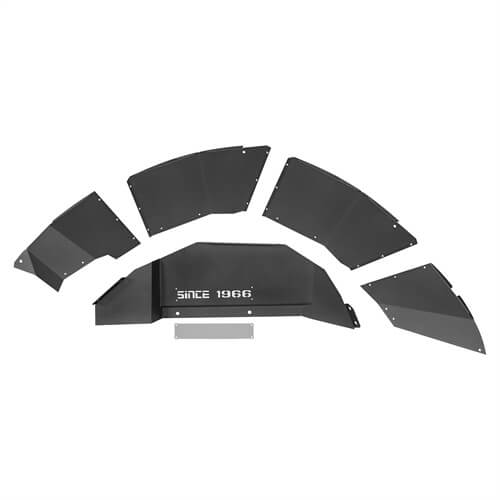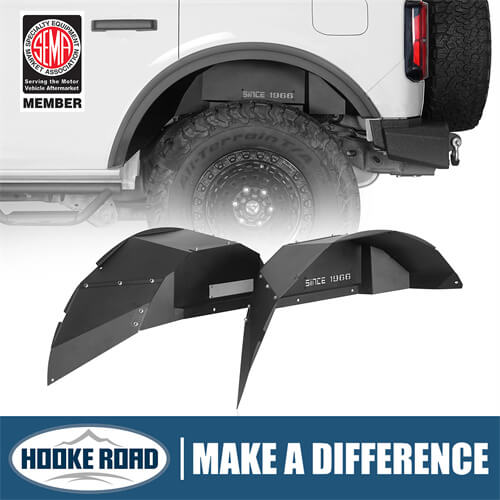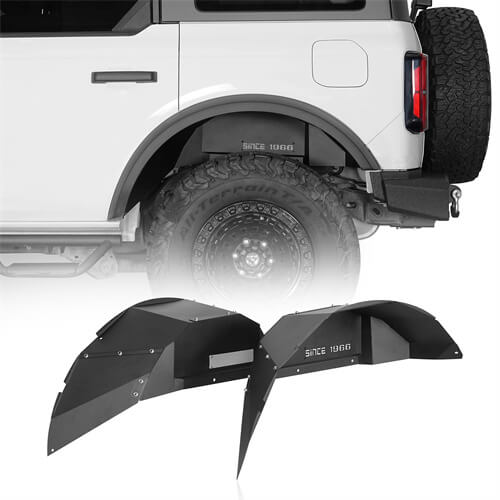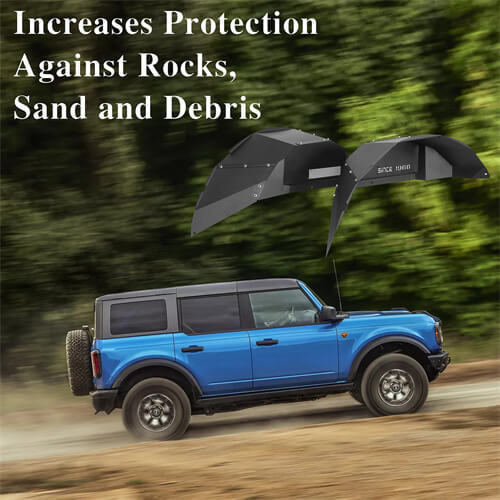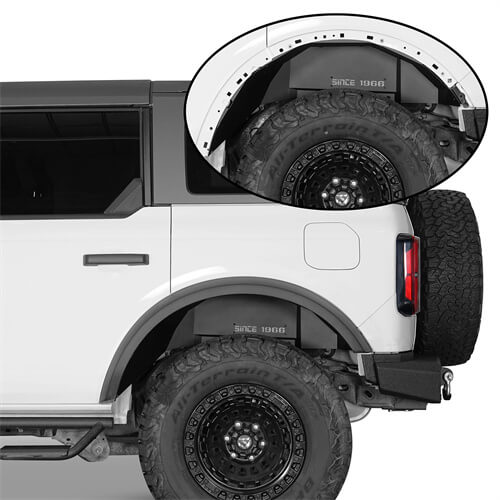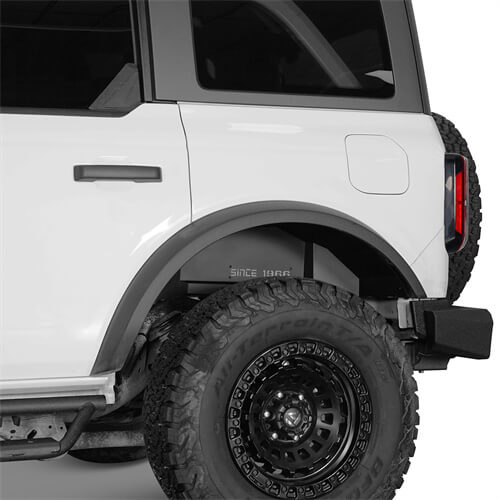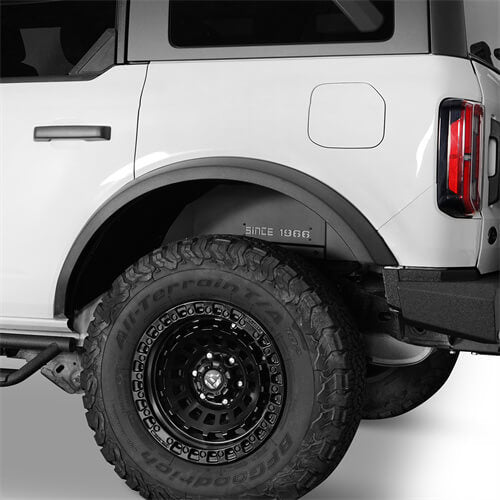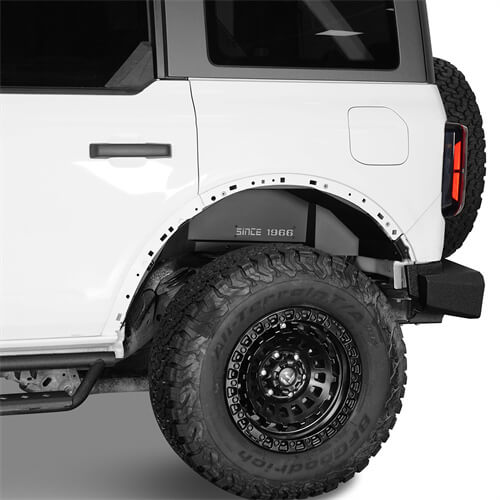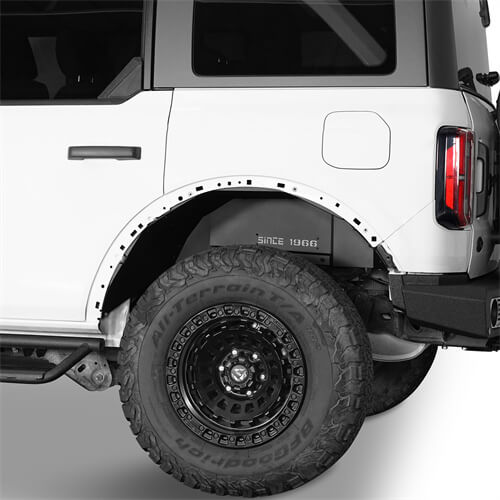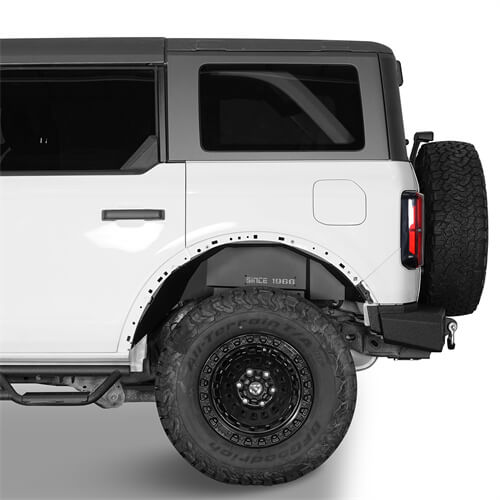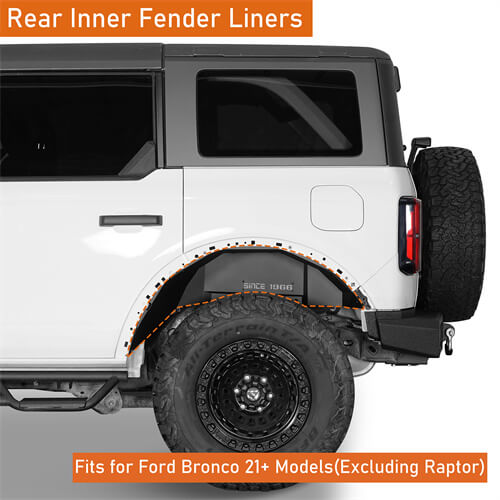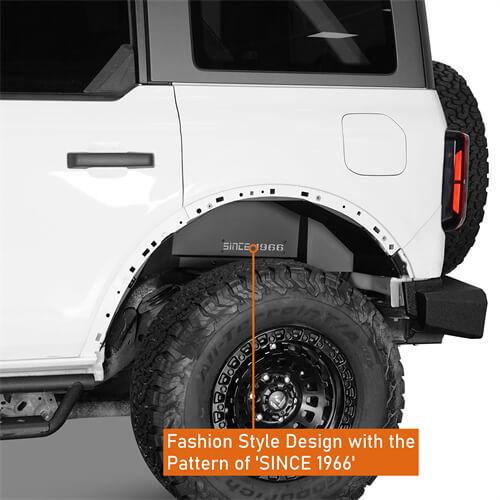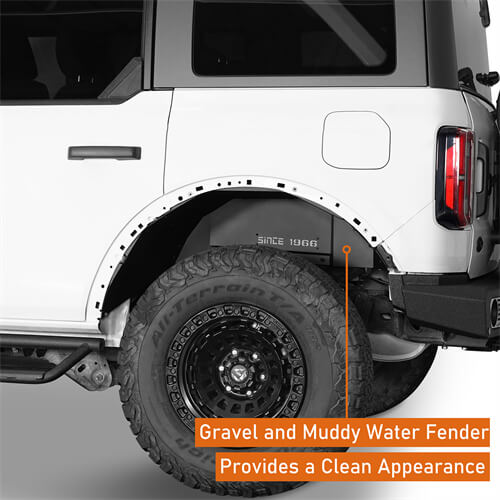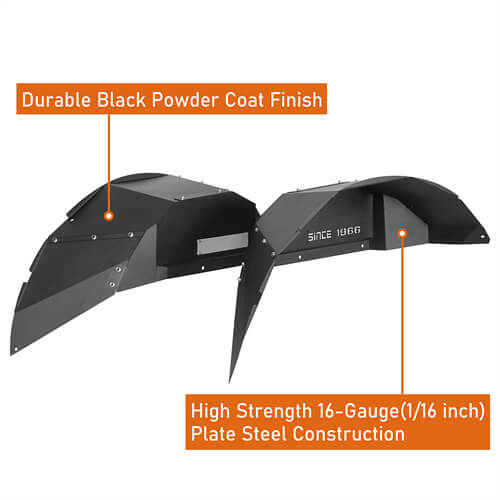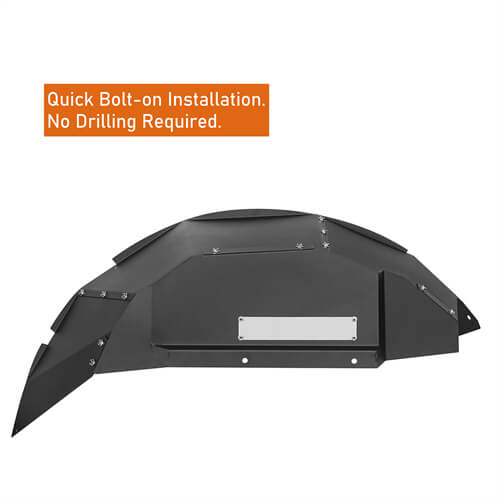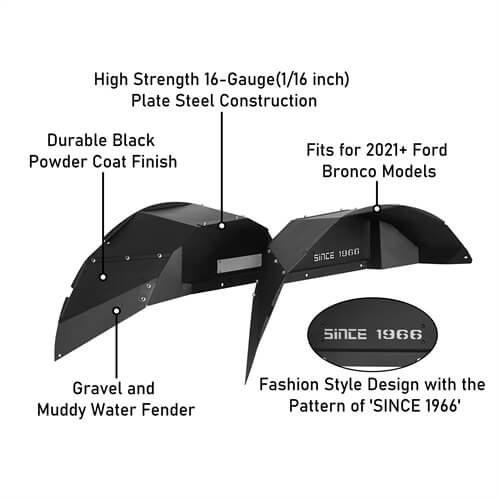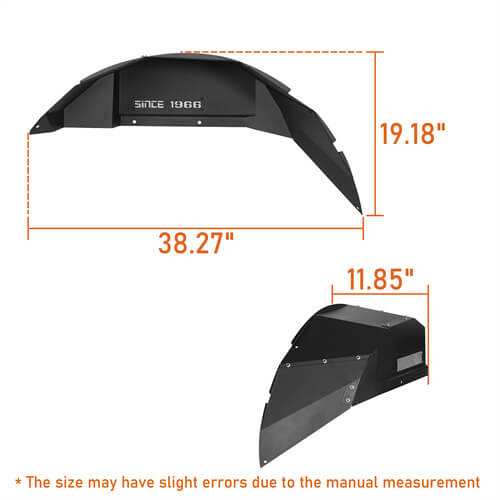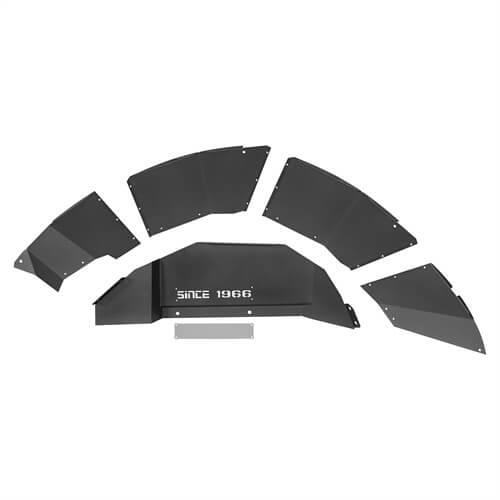 Name: Hooke Road Aftermarket Rear Wheel Well Liners For 2021-2023 Ford Bronco (Excluding Raptor)
FEATURE
Compatible with 2021-2023 Ford Bronco Models (Excluding Raptor)
Product weight: about 23 lbs
Made from 16-gauge(1/16 inch) steel plate
Durable black powder coat finish
Provides full cover and protection, Gravel and muddy water fender
Cleans up the inner fender area
Fashion style design with the pattern of 'SINCE 1966'
Both driver and passenger side liners included
Direct bolt-on installation, No drilling or cutting is required
DIMENSION
SOMETHING YOU MIGHT WANT TO KNOW
Full Protection. Hooke Road's Rear Inner Fender Liners provide essential protection against debris, rocks, and terrain damage. Elevate your setup with these liners, crafted from sturdy steel adorned with honeycomb mesh and the 'since 1966' pattern.


Sturdy Build. These Hooke Road Inner Fenders boast robust steel construction, perfect for rugged off-road conditions. A black powder coat adds superior rust and corrosion protection.

Effortless Bolt-On Installation. No drilling or cutting is needed for fitting. Use common hand tools and supplied hardware for direct installation. Begin by detaching original fender flares and liners. Then, position and secure new liners with provided screws. The whole process typically takes 40 minutes or less, perfect for DIY enthusiasts looking to save time and money.
2 × Rear Inner Fender Liners(Passenger & Driver Sides)
1 × Mounting Hardware Kit
1 × Installation Instruction
2023 Ford Bronco Badlands Sport Utility
2023 Ford Bronco Base Sport Utility
2023 Ford Bronco Big Bend Sport Utility
2023 Ford Bronco Black Diamond Sport Utility
2023 Ford Bronco Everglades Sport Utility
2023 Ford Bronco Heritage Edition Sport Utility
2023 Ford Bronco Outer Banks Sport Utility
2023 Ford Bronco Raptor Sport Utility
2023 Ford Bronco Wildtrak Sport Utility
2022 Ford Bronco Badlands Sport Utility
2022 Ford Bronco Base Sport Utility
2022 Ford Bronco Big Bend Sport Utility
2022 Ford Bronco Black Diamond Sport Utility
2022 Ford Bronco Everglades Sport Utility
2022 Ford Bronco Outer Banks Sport Utility
2022 Ford Bronco Raptor Sport Utility
2022 Ford Bronco Wildtrak Sport Utility
2021 Ford Bronco Badlands Sport Utility
2021 Ford Bronco Base Sport Utility
2021 Ford Bronco Big Bend Sport Utility
2021 Ford Bronco Black Diamond Sport Utility
2021 Ford Bronco First Edition Sport Utility
2021 Ford Bronco Outer Banks Sport Utility
2021 Ford Bronco Wildtrak Sport Utility
Package Included
2 × Rear Inner Fender Liners(Passenger & Driver Sides)
1 × Mounting Hardware Kit
1 × Installation Instruction
Fitment
2023 Ford Bronco Badlands Sport Utility
2023 Ford Bronco Base Sport Utility
2023 Ford Bronco Big Bend Sport Utility
2023 Ford Bronco Black Diamond Sport Utility
2023 Ford Bronco Everglades Sport Utility
2023 Ford Bronco Heritage Edition Sport Utility
2023 Ford Bronco Outer Banks Sport Utility
2023 Ford Bronco Raptor Sport Utility
2023 Ford Bronco Wildtrak Sport Utility
2022 Ford Bronco Badlands Sport Utility
2022 Ford Bronco Base Sport Utility
2022 Ford Bronco Big Bend Sport Utility
2022 Ford Bronco Black Diamond Sport Utility
2022 Ford Bronco Everglades Sport Utility
2022 Ford Bronco Outer Banks Sport Utility
2022 Ford Bronco Raptor Sport Utility
2022 Ford Bronco Wildtrak Sport Utility
2021 Ford Bronco Badlands Sport Utility
2021 Ford Bronco Base Sport Utility
2021 Ford Bronco Big Bend Sport Utility
2021 Ford Bronco Black Diamond Sport Utility
2021 Ford Bronco First Edition Sport Utility
2021 Ford Bronco Outer Banks Sport Utility
2021 Ford Bronco Wildtrak Sport Utility