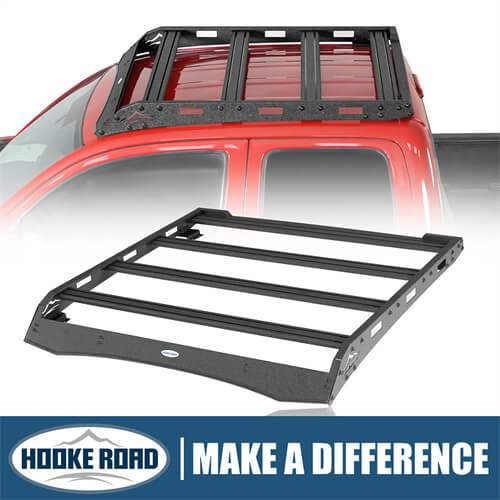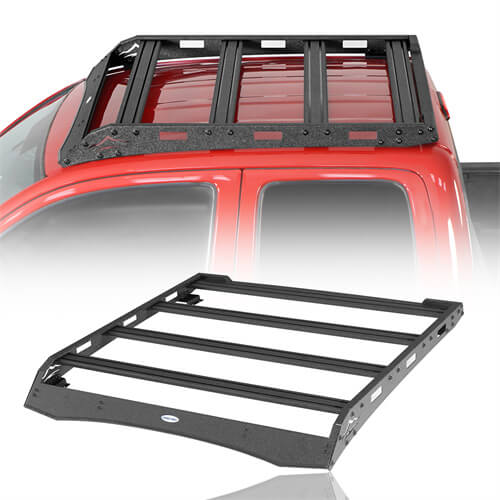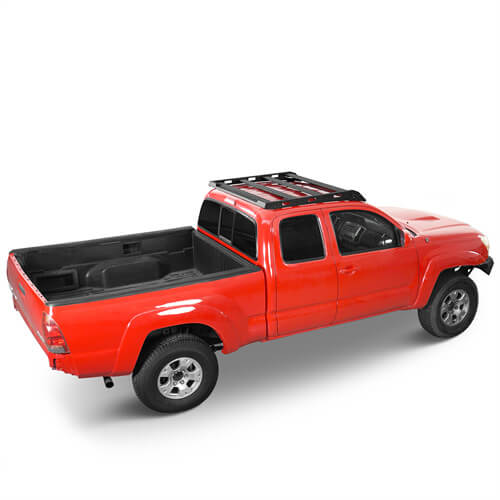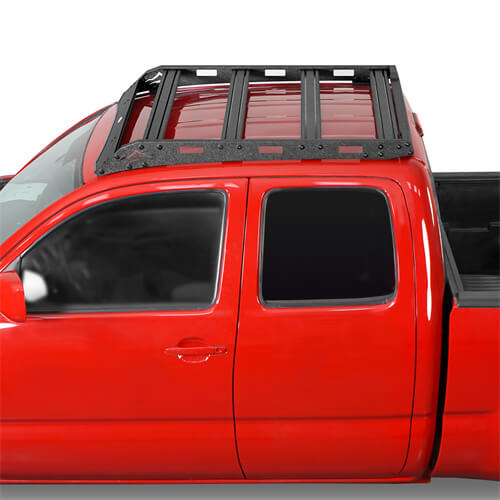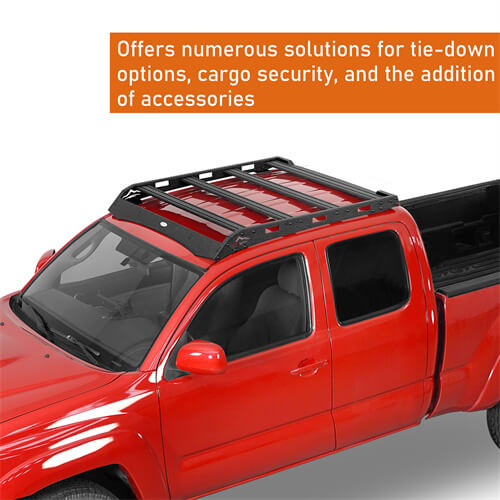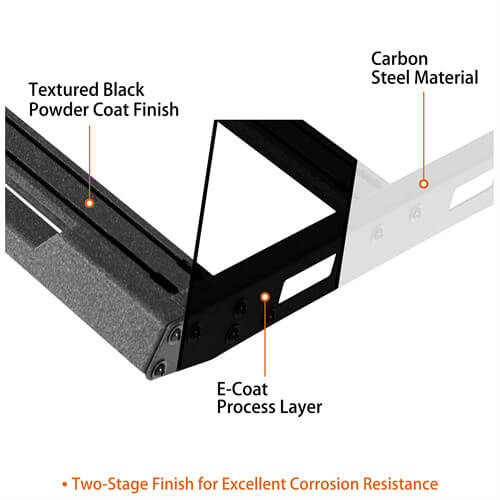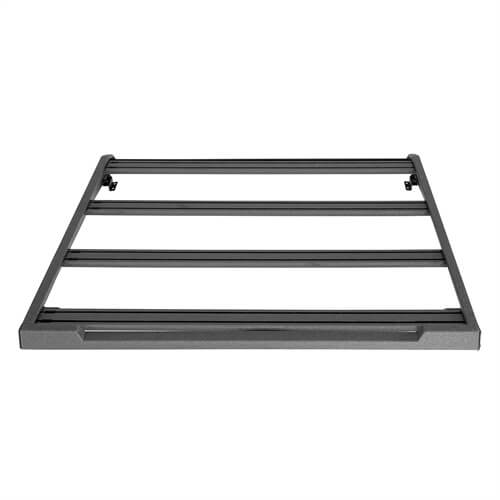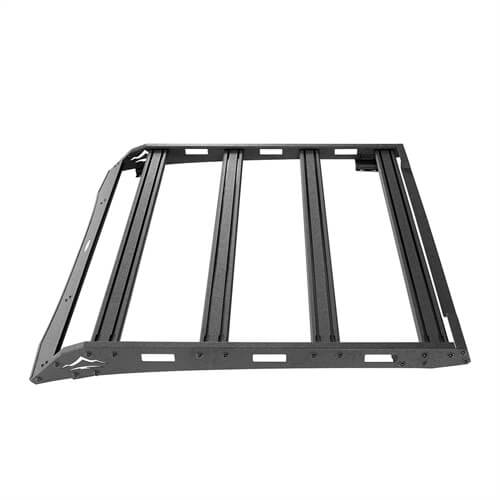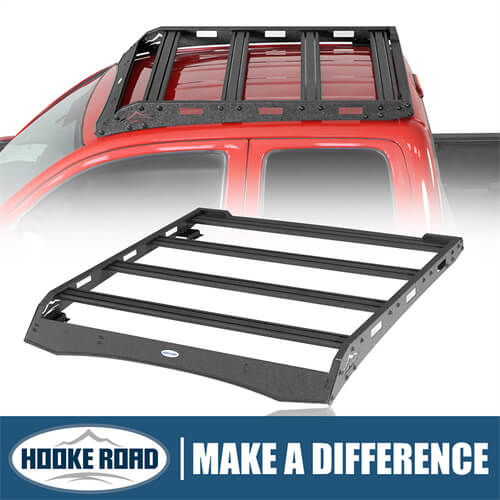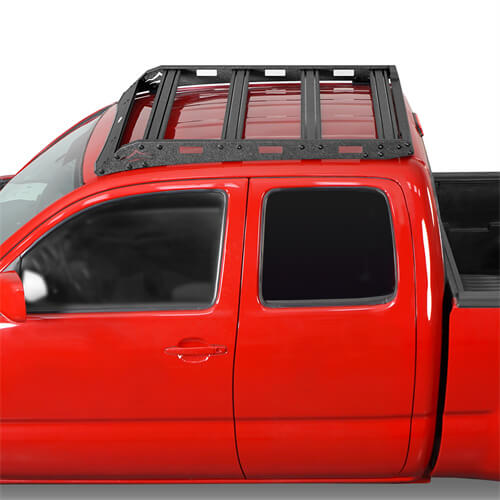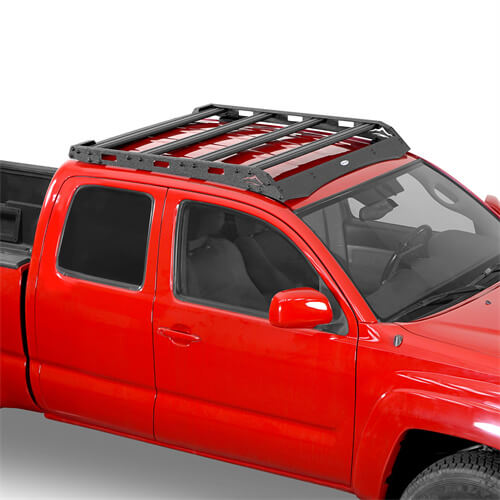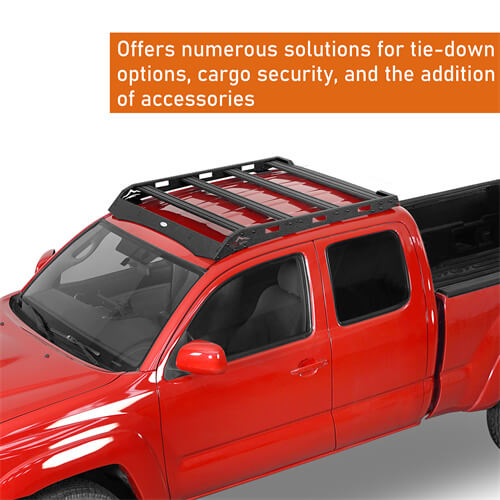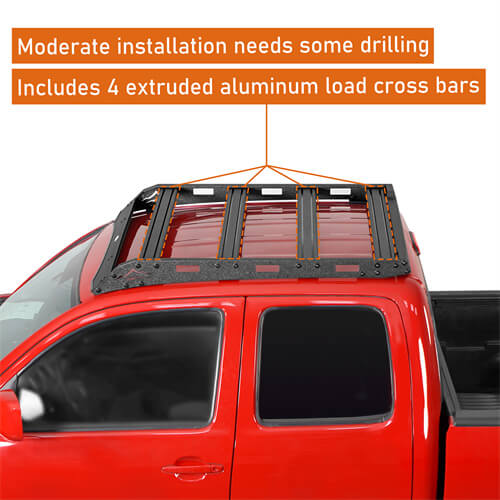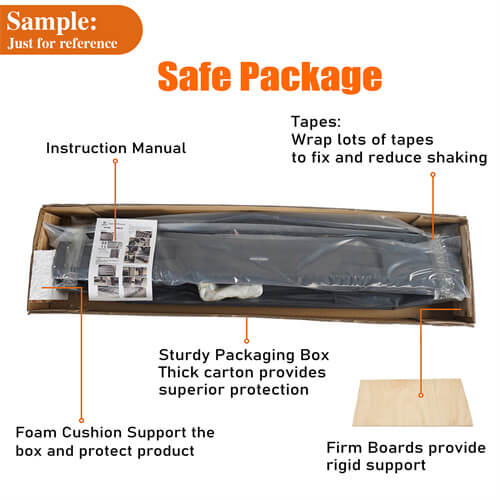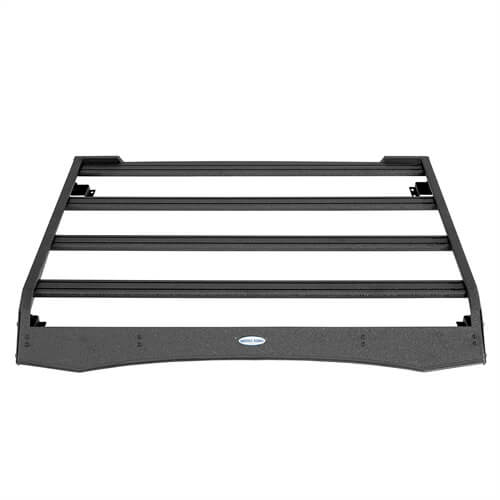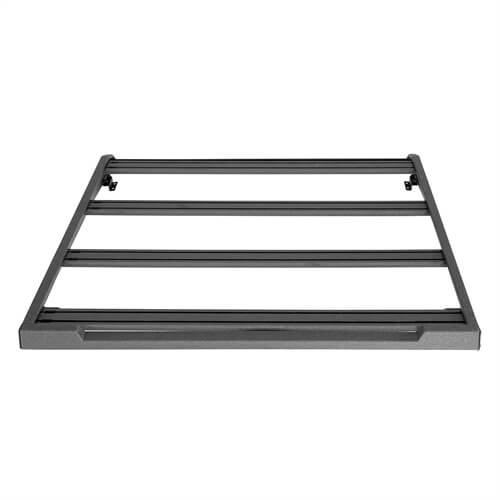 Name: Hooke Road Toyota Tacoma Access Cab Aluminum Roof Rack 
Feature
Compatible with 2005-2023 Toyota Tacoma Access Cab Models, Only suits the Access Cabs models, will not suit Double Cabs
Product weight: about 34 lbs
Dimension: about 47.6" wide and 49.0" long. Add around 3.8" to the height of your vehicle
Carrying capacity(evenly distributed) of up to 330 pounds
The 2 top facing T-slot channels offer numerous solutions for tie-down options, cargo security, and the addition of accessories such as lights, high lift jacks, shower systems, traction recovery boards, fuel containers, spare tires, etc
The T-slots on the tops of the slats accommodate standard 8mm T-slot nuts
Provides extra exterior cargo space
Includes 4 extruded aluminum load cross bars
Manufacture
The crossbars are made from a 3.2" x 0.8" aluminum extrusion and apply the textured black powder coat finish
Built-in side panel slots allow unlimited options for adding accessories such as handles, side lighting, awning mounts, and more.
The side panels, front and rear panels are made from high tensile 13-gauge(3/32 Inch) steel construction.
They are also treated with both a textured black powder coat finish and a premium E-coating process.
The installation does require drilling and installing rivet nuts into your factory drip rail.
Tools require a drill, a Metric M9 drill bit, a riveting nut gun, and a Metric M6 mandrel
Dimension
Something you want to know
Excellent Extra Storage Space. In instances where the imperative for supplementary cargo room is paramount, the Hooke Road Track Rack stands as an unwavering solution. Furnishing an expansive area, this rack accommodates the surplus equipment indispensable for your impending road expedition or trail escapade. Comprising 4 cargo-supporting cross bars and a front wind deflector, this rack adheres to a steadfast blueprint, assuring you of its stability. This design engenders a secure platform onto which you can confidently load your cargo.

Solid Construction. The cross bars are made from a 3.2" x 0.8" aluminum extrusion and apply the textured black powder coat finish. This roof rack panels are built from heavy-duty 13-gauge(3/32 Inch) steel to ensure maximum durability against heavy loads. It is coated with a durable black powder coating to ensure lasting protection against corrosion.

Moderate Installation. To set up the Hooke Road Discovery Roof Rack, drilling and rivet nut installation are required. Professional assistance is recommended. Assemble components into the roof rack, place it on the vehicle roof, attach mounting brackets, drill holes, insert rivet nuts, position the rack, and tighten bolts. Expect about 2 hours for installation, needing tools like a drill, Metric M9 drill bit, rivet nut gun, and Metric M6 mandrel.
1 × Roof Rack Assembly
4 × Mounting Bracket
1 × Mounting Hardware Kit
1 × Installation Instruction
2023 Toyota Tacoma SR5 Extended Cab Pickup 4-Door
2023 Toyota Tacoma SR5 Extended Cab Pickup 4-Door
2023 Toyota Tacoma SR Extended Cab Pickup 4-Door
2023 Toyota Tacoma SR Extended Cab Pickup 4-Door
2023 Toyota Tacoma TRD Off-Road Extended Cab Pickup 4-Door
2023 Toyota Tacoma TRD Sport Extended Cab Pickup 4-Door
2022 Toyota Tacoma SR5 Extended Cab Pickup 4-Door
2022 Toyota Tacoma SR5 Extended Cab Pickup 4-Door
2022 Toyota Tacoma SR Extended Cab Pickup 4-Door
2022 Toyota Tacoma SR Extended Cab Pickup 4-Door
2022 Toyota Tacoma TRD Off-Road Extended Cab Pickup 4-Door
2022 Toyota Tacoma TRD Sport Extended Cab Pickup 4-Door
2021 Toyota Tacoma SR5 Extended Cab Pickup 4-Door
2021 Toyota Tacoma SR5 Extended Cab Pickup 4-Door
2021 Toyota Tacoma SR Extended Cab Pickup 4-Door
2021 Toyota Tacoma SR Extended Cab Pickup 4-Door
2021 Toyota Tacoma TRD Off-Road Extended Cab Pickup 4-Door
2021 Toyota Tacoma TRD Sport Extended Cab Pickup 4-Door
2020 Toyota Tacoma SR5 Extended Cab Pickup 4-Door
2020 Toyota Tacoma SR5 Extended Cab Pickup 4-Door
2020 Toyota Tacoma SR Extended Cab Pickup 4-Door
2020 Toyota Tacoma SR Extended Cab Pickup 4-Door
2020 Toyota Tacoma TRD Off-Road Extended Cab Pickup 4-Door
2020 Toyota Tacoma TRD Sport Extended Cab Pickup 4-Door
2019 Toyota Tacoma SR5 Extended Cab Pickup 4-Door
2019 Toyota Tacoma SR5 Extended Cab Pickup 4-Door
2019 Toyota Tacoma SR Extended Cab Pickup 4-Door
2019 Toyota Tacoma SR Extended Cab Pickup 4-Door
2019 Toyota Tacoma TRD Off-Road Extended Cab Pickup 4-Door
2019 Toyota Tacoma TRD Sport Extended Cab Pickup 4-Door
2018 Toyota Tacoma SR5 Extended Cab Pickup 4-Door
2018 Toyota Tacoma SR5 Extended Cab Pickup 4-Door
2018 Toyota Tacoma SR Extended Cab Pickup 4-Door
2018 Toyota Tacoma SR Extended Cab Pickup 4-Door
2018 Toyota Tacoma TRD Off-Road Extended Cab Pickup 4-Door
2018 Toyota Tacoma TRD Sport Extended Cab Pickup 4-Door
2017 Toyota Tacoma SR5 Extended Cab Pickup 4-Door
2017 Toyota Tacoma SR5 Extended Cab Pickup 4-Door
2017 Toyota Tacoma SR Extended Cab Pickup 4-Door
2017 Toyota Tacoma SR Extended Cab Pickup 4-Door
2017 Toyota Tacoma TRD Off-Road Extended Cab Pickup 4-Door
2017 Toyota Tacoma TRD Sport Extended Cab Pickup 4-Door
2016 Toyota Tacoma SR5 Extended Cab Pickup 4-Door
2016 Toyota Tacoma SR5 Extended Cab Pickup 4-Door
2016 Toyota Tacoma SR Extended Cab Pickup 4-Door
2016 Toyota Tacoma SR Extended Cab Pickup 4-Door
2016 Toyota Tacoma TRD Off-Road Extended Cab Pickup 4-Door
2016 Toyota Tacoma TRD Sport Extended Cab Pickup 4-Door
2015 Toyota Tacoma Base Extended Cab Pickup 4-Door
2015 Toyota Tacoma Base Extended Cab Pickup 4-Door
2015 Toyota Tacoma Pre Runner Extended Cab Pickup 4-Door
2015 Toyota Tacoma Pre Runner Extended Cab Pickup 4-Door
2015 Toyota Tacoma TRD Pro Extended Cab Pickup 4-Door
2014 Toyota Tacoma Base Extended Cab Pickup 4-Door
2014 Toyota Tacoma Base Extended Cab Pickup 4-Door
2014 Toyota Tacoma Pre Runner Extended Cab Pickup 4-Door
2014 Toyota Tacoma Pre Runner Extended Cab Pickup 4-Door
2013 Toyota Tacoma Base Extended Cab Pickup 4-Door
2013 Toyota Tacoma Base Extended Cab Pickup 4-Door
2013 Toyota Tacoma Pre Runner Extended Cab Pickup 4-Door
2013 Toyota Tacoma Pre Runner Extended Cab Pickup 4-Door
2013 Toyota Tacoma X-Runner Extended Cab Pickup 4-Door
2012 Toyota Tacoma Base Extended Cab Pickup 4-Door
2012 Toyota Tacoma Base Extended Cab Pickup 4-Door
2012 Toyota Tacoma Pre Runner Extended Cab Pickup 4-Door
2012 Toyota Tacoma Pre Runner Extended Cab Pickup 4-Door
2012 Toyota Tacoma X-Runner Extended Cab Pickup 4-Door
2011 Toyota Tacoma Base Extended Cab Pickup 4-Door
2011 Toyota Tacoma Base Extended Cab Pickup 4-Door
2011 Toyota Tacoma Pre Runner Extended Cab Pickup 4-Door
2011 Toyota Tacoma Pre Runner Extended Cab Pickup 4-Door
2011 Toyota Tacoma X-Runner Extended Cab Pickup 4-Door
2010 Toyota Tacoma Base Extended Cab Pickup 4-Door
2010 Toyota Tacoma Base Extended Cab Pickup 4-Door
2010 Toyota Tacoma Pre Runner Extended Cab Pickup 4-Door
2010 Toyota Tacoma Pre Runner Extended Cab Pickup 4-Door
2010 Toyota Tacoma X-Runner Extended Cab Pickup 4-Door
2009 Toyota Tacoma Base Extended Cab Pickup 4-Door
2009 Toyota Tacoma Base Extended Cab Pickup 4-Door
2009 Toyota Tacoma Pre Runner Extended Cab Pickup 4-Door
2009 Toyota Tacoma Pre Runner Extended Cab Pickup 4-Door
2009 Toyota Tacoma X-Runner Extended Cab Pickup 4-Door
2008 Toyota Tacoma Base Extended Cab Pickup 4-Door
2008 Toyota Tacoma Base Extended Cab Pickup 4-Door
2008 Toyota Tacoma Pre Runner Extended Cab Pickup 4-Door
2008 Toyota Tacoma Pre Runner Extended Cab Pickup 4-Door
2008 Toyota Tacoma X-Runner Extended Cab Pickup 4-Door
2007 Toyota Tacoma Base Extended Cab Pickup 4-Door
2007 Toyota Tacoma Base Extended Cab Pickup 4-Door
2007 Toyota Tacoma Pre Runner Extended Cab Pickup 4-Door
2007 Toyota Tacoma Pre Runner Extended Cab Pickup 4-Door
2007 Toyota Tacoma X-Runner Extended Cab Pickup 4-Door
2006 Toyota Tacoma Base Extended Cab Pickup 4-Door
2006 Toyota Tacoma Base Extended Cab Pickup 4-Door
2006 Toyota Tacoma Pre Runner Extended Cab Pickup 4-Door
2006 Toyota Tacoma Pre Runner Extended Cab Pickup 4-Door
2006 Toyota Tacoma X-Runner Extended Cab Pickup 4-Door
2005 Toyota Tacoma Base Extended Cab Pickup 3-Door
2005 Toyota Tacoma Base Extended Cab Pickup 3-Door
2005 Toyota Tacoma Pre Runner Extended Cab Pickup 3-Door
2005 Toyota Tacoma Pre Runner Extended Cab Pickup 3-Door
2005 Toyota Tacoma X-Runner Extended Cab Pickup 3-Door
Package Included
1 × Roof Rack Assembly
4 × Mounting Bracket
1 × Mounting Hardware Kit
1 × Installation Instruction
Fitment
2023 Toyota Tacoma SR5 Extended Cab Pickup 4-Door
2023 Toyota Tacoma SR5 Extended Cab Pickup 4-Door
2023 Toyota Tacoma SR Extended Cab Pickup 4-Door
2023 Toyota Tacoma SR Extended Cab Pickup 4-Door
2023 Toyota Tacoma TRD Off-Road Extended Cab Pickup 4-Door
2023 Toyota Tacoma TRD Sport Extended Cab Pickup 4-Door
2022 Toyota Tacoma SR5 Extended Cab Pickup 4-Door
2022 Toyota Tacoma SR5 Extended Cab Pickup 4-Door
2022 Toyota Tacoma SR Extended Cab Pickup 4-Door
2022 Toyota Tacoma SR Extended Cab Pickup 4-Door
2022 Toyota Tacoma TRD Off-Road Extended Cab Pickup 4-Door
2022 Toyota Tacoma TRD Sport Extended Cab Pickup 4-Door
2021 Toyota Tacoma SR5 Extended Cab Pickup 4-Door
2021 Toyota Tacoma SR5 Extended Cab Pickup 4-Door
2021 Toyota Tacoma SR Extended Cab Pickup 4-Door
2021 Toyota Tacoma SR Extended Cab Pickup 4-Door
2021 Toyota Tacoma TRD Off-Road Extended Cab Pickup 4-Door
2021 Toyota Tacoma TRD Sport Extended Cab Pickup 4-Door
2020 Toyota Tacoma SR5 Extended Cab Pickup 4-Door
2020 Toyota Tacoma SR5 Extended Cab Pickup 4-Door
2020 Toyota Tacoma SR Extended Cab Pickup 4-Door
2020 Toyota Tacoma SR Extended Cab Pickup 4-Door
2020 Toyota Tacoma TRD Off-Road Extended Cab Pickup 4-Door
2020 Toyota Tacoma TRD Sport Extended Cab Pickup 4-Door
2019 Toyota Tacoma SR5 Extended Cab Pickup 4-Door
2019 Toyota Tacoma SR5 Extended Cab Pickup 4-Door
2019 Toyota Tacoma SR Extended Cab Pickup 4-Door
2019 Toyota Tacoma SR Extended Cab Pickup 4-Door
2019 Toyota Tacoma TRD Off-Road Extended Cab Pickup 4-Door
2019 Toyota Tacoma TRD Sport Extended Cab Pickup 4-Door
2018 Toyota Tacoma SR5 Extended Cab Pickup 4-Door
2018 Toyota Tacoma SR5 Extended Cab Pickup 4-Door
2018 Toyota Tacoma SR Extended Cab Pickup 4-Door
2018 Toyota Tacoma SR Extended Cab Pickup 4-Door
2018 Toyota Tacoma TRD Off-Road Extended Cab Pickup 4-Door
2018 Toyota Tacoma TRD Sport Extended Cab Pickup 4-Door
2017 Toyota Tacoma SR5 Extended Cab Pickup 4-Door
2017 Toyota Tacoma SR5 Extended Cab Pickup 4-Door
2017 Toyota Tacoma SR Extended Cab Pickup 4-Door
2017 Toyota Tacoma SR Extended Cab Pickup 4-Door
2017 Toyota Tacoma TRD Off-Road Extended Cab Pickup 4-Door
2017 Toyota Tacoma TRD Sport Extended Cab Pickup 4-Door
2016 Toyota Tacoma SR5 Extended Cab Pickup 4-Door
2016 Toyota Tacoma SR5 Extended Cab Pickup 4-Door
2016 Toyota Tacoma SR Extended Cab Pickup 4-Door
2016 Toyota Tacoma SR Extended Cab Pickup 4-Door
2016 Toyota Tacoma TRD Off-Road Extended Cab Pickup 4-Door
2016 Toyota Tacoma TRD Sport Extended Cab Pickup 4-Door
2015 Toyota Tacoma Base Extended Cab Pickup 4-Door
2015 Toyota Tacoma Base Extended Cab Pickup 4-Door
2015 Toyota Tacoma Pre Runner Extended Cab Pickup 4-Door
2015 Toyota Tacoma Pre Runner Extended Cab Pickup 4-Door
2015 Toyota Tacoma TRD Pro Extended Cab Pickup 4-Door
2014 Toyota Tacoma Base Extended Cab Pickup 4-Door
2014 Toyota Tacoma Base Extended Cab Pickup 4-Door
2014 Toyota Tacoma Pre Runner Extended Cab Pickup 4-Door
2014 Toyota Tacoma Pre Runner Extended Cab Pickup 4-Door
2013 Toyota Tacoma Base Extended Cab Pickup 4-Door
2013 Toyota Tacoma Base Extended Cab Pickup 4-Door
2013 Toyota Tacoma Pre Runner Extended Cab Pickup 4-Door
2013 Toyota Tacoma Pre Runner Extended Cab Pickup 4-Door
2013 Toyota Tacoma X-Runner Extended Cab Pickup 4-Door
2012 Toyota Tacoma Base Extended Cab Pickup 4-Door
2012 Toyota Tacoma Base Extended Cab Pickup 4-Door
2012 Toyota Tacoma Pre Runner Extended Cab Pickup 4-Door
2012 Toyota Tacoma Pre Runner Extended Cab Pickup 4-Door
2012 Toyota Tacoma X-Runner Extended Cab Pickup 4-Door
2011 Toyota Tacoma Base Extended Cab Pickup 4-Door
2011 Toyota Tacoma Base Extended Cab Pickup 4-Door
2011 Toyota Tacoma Pre Runner Extended Cab Pickup 4-Door
2011 Toyota Tacoma Pre Runner Extended Cab Pickup 4-Door
2011 Toyota Tacoma X-Runner Extended Cab Pickup 4-Door
2010 Toyota Tacoma Base Extended Cab Pickup 4-Door
2010 Toyota Tacoma Base Extended Cab Pickup 4-Door
2010 Toyota Tacoma Pre Runner Extended Cab Pickup 4-Door
2010 Toyota Tacoma Pre Runner Extended Cab Pickup 4-Door
2010 Toyota Tacoma X-Runner Extended Cab Pickup 4-Door
2009 Toyota Tacoma Base Extended Cab Pickup 4-Door
2009 Toyota Tacoma Base Extended Cab Pickup 4-Door
2009 Toyota Tacoma Pre Runner Extended Cab Pickup 4-Door
2009 Toyota Tacoma Pre Runner Extended Cab Pickup 4-Door
2009 Toyota Tacoma X-Runner Extended Cab Pickup 4-Door
2008 Toyota Tacoma Base Extended Cab Pickup 4-Door
2008 Toyota Tacoma Base Extended Cab Pickup 4-Door
2008 Toyota Tacoma Pre Runner Extended Cab Pickup 4-Door
2008 Toyota Tacoma Pre Runner Extended Cab Pickup 4-Door
2008 Toyota Tacoma X-Runner Extended Cab Pickup 4-Door
2007 Toyota Tacoma Base Extended Cab Pickup 4-Door
2007 Toyota Tacoma Base Extended Cab Pickup 4-Door
2007 Toyota Tacoma Pre Runner Extended Cab Pickup 4-Door
2007 Toyota Tacoma Pre Runner Extended Cab Pickup 4-Door
2007 Toyota Tacoma X-Runner Extended Cab Pickup 4-Door
2006 Toyota Tacoma Base Extended Cab Pickup 4-Door
2006 Toyota Tacoma Base Extended Cab Pickup 4-Door
2006 Toyota Tacoma Pre Runner Extended Cab Pickup 4-Door
2006 Toyota Tacoma Pre Runner Extended Cab Pickup 4-Door
2006 Toyota Tacoma X-Runner Extended Cab Pickup 4-Door
2005 Toyota Tacoma Base Extended Cab Pickup 3-Door
2005 Toyota Tacoma Base Extended Cab Pickup 3-Door
2005 Toyota Tacoma Pre Runner Extended Cab Pickup 3-Door
2005 Toyota Tacoma Pre Runner Extended Cab Pickup 3-Door
2005 Toyota Tacoma X-Runner Extended Cab Pickup 3-Door