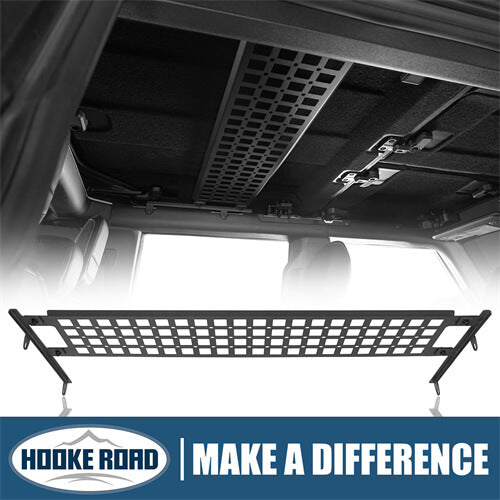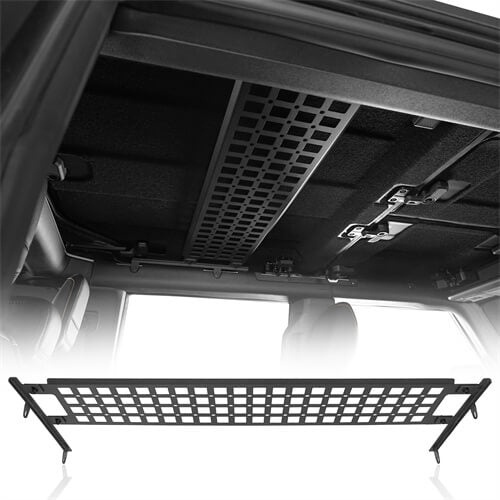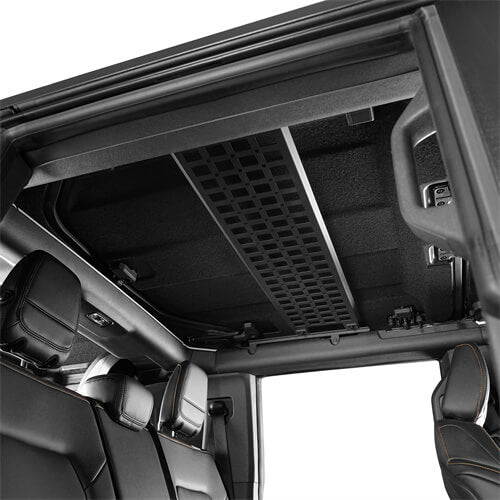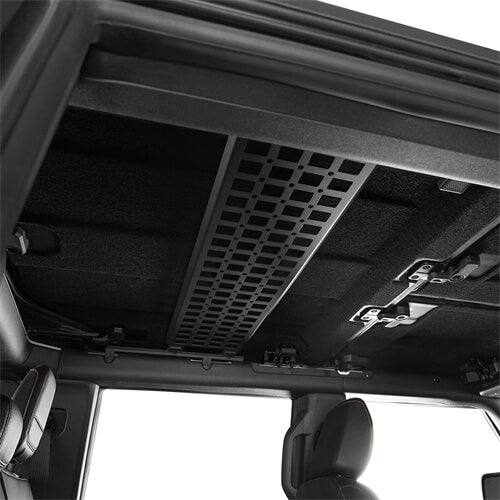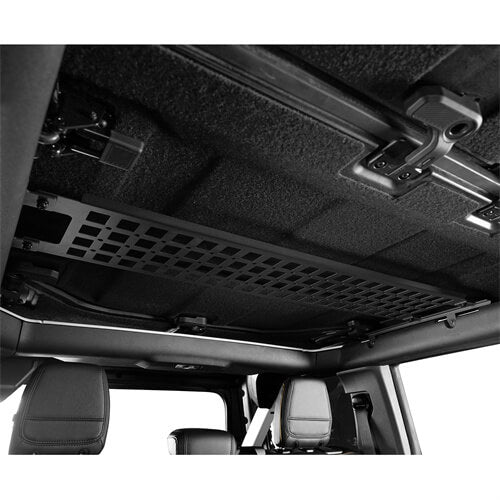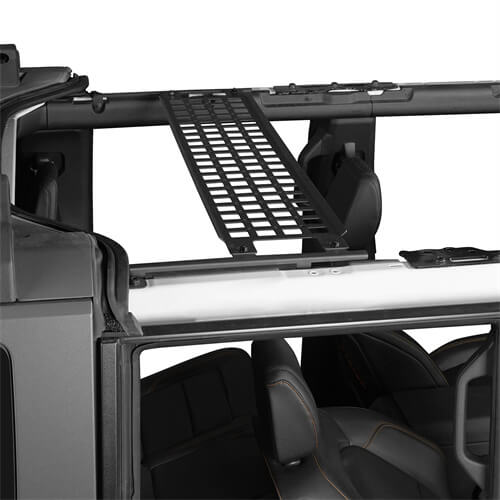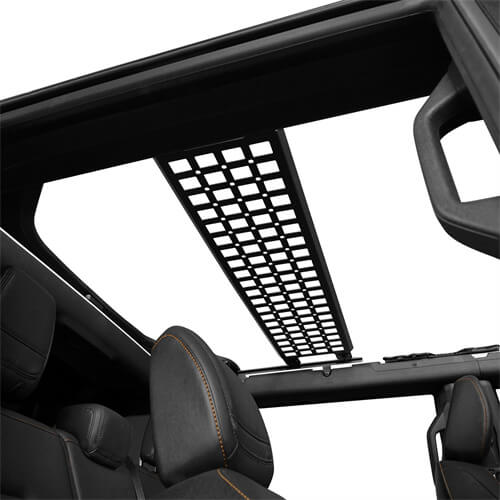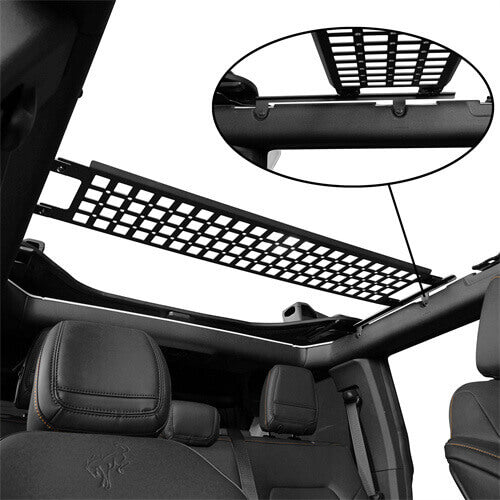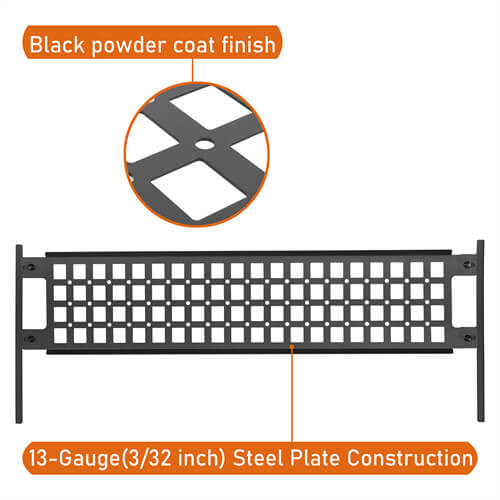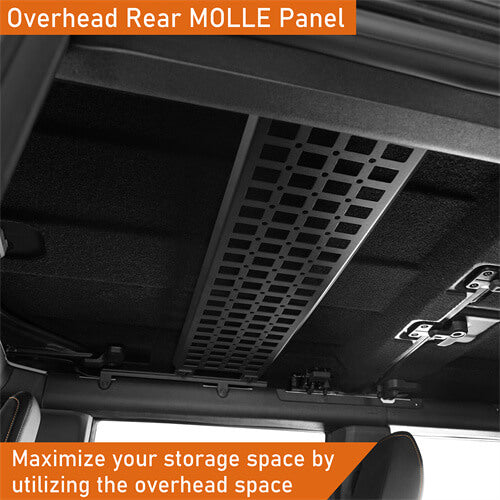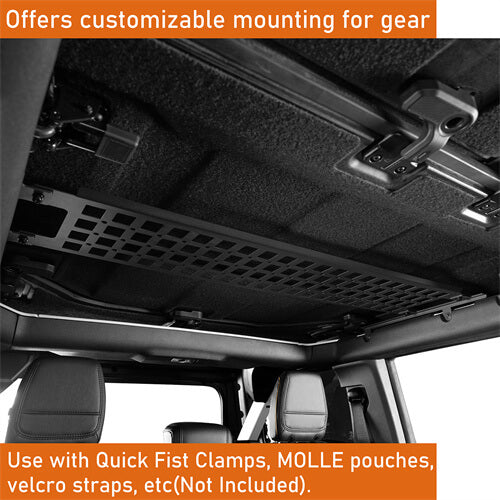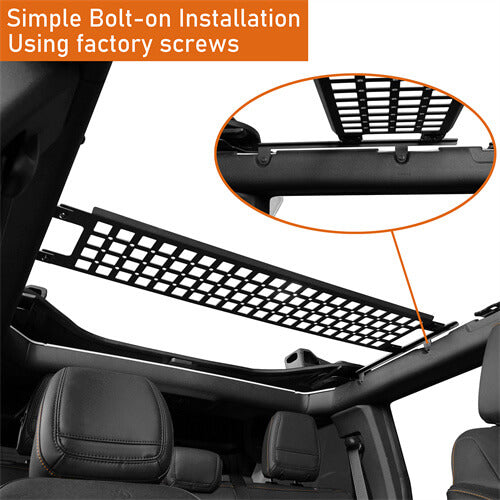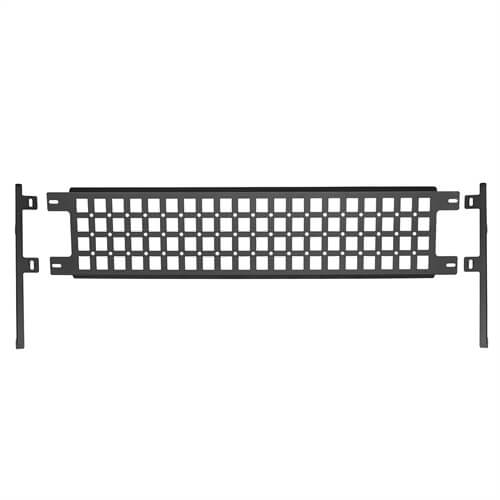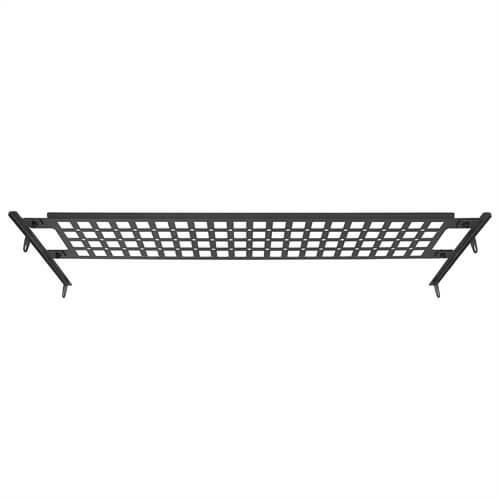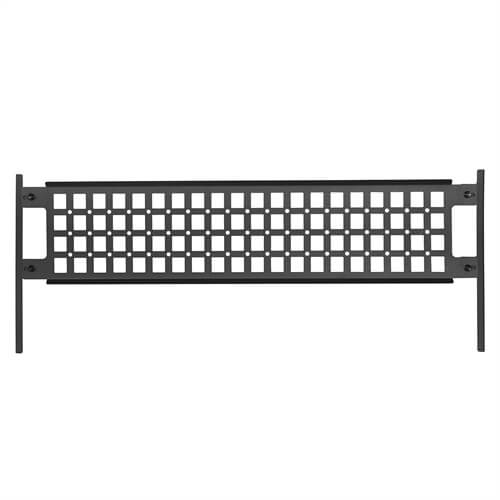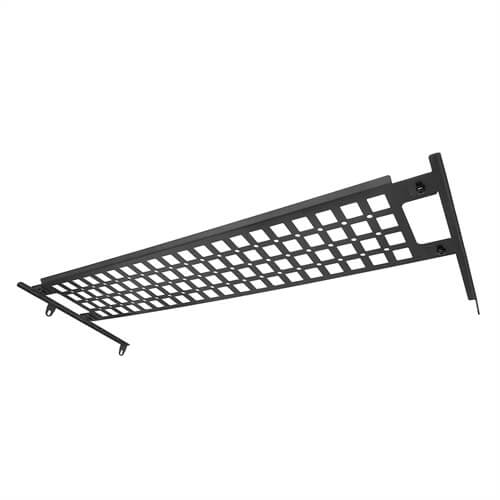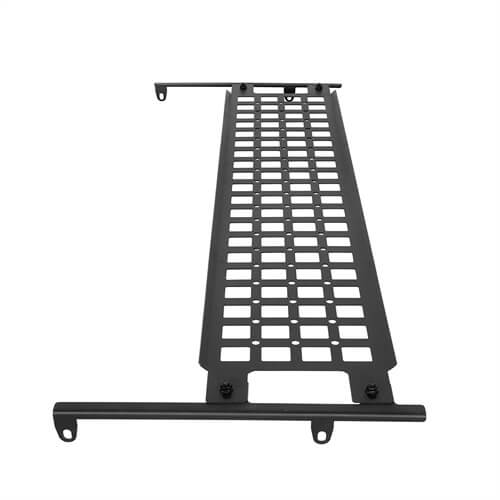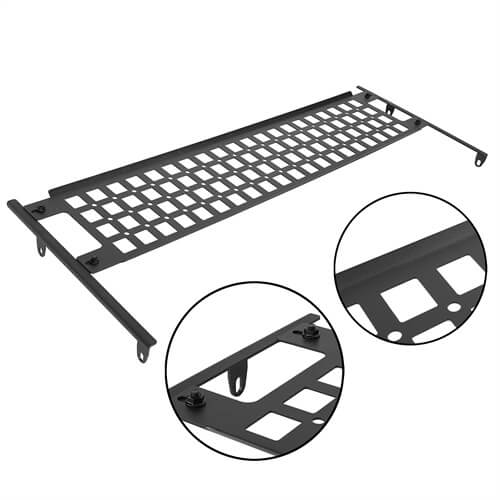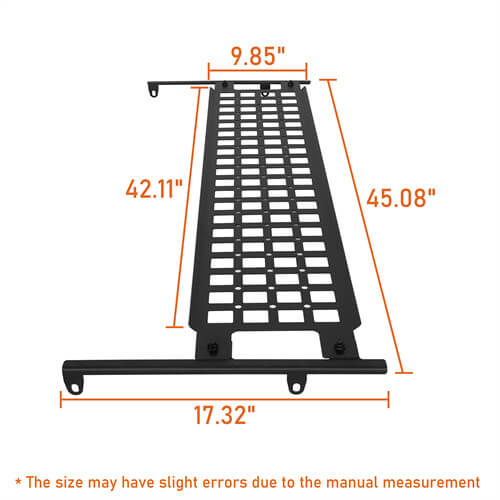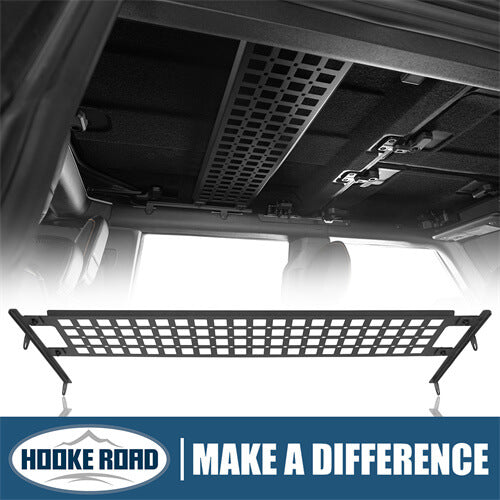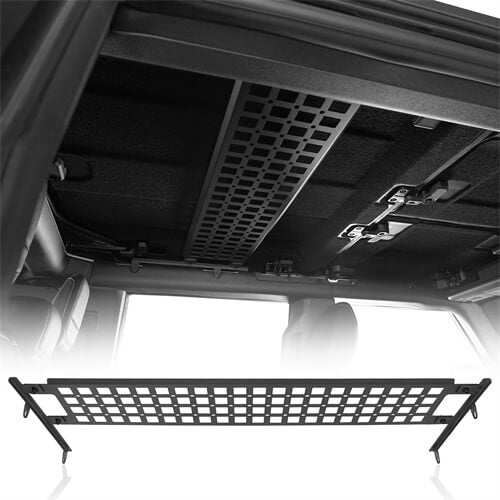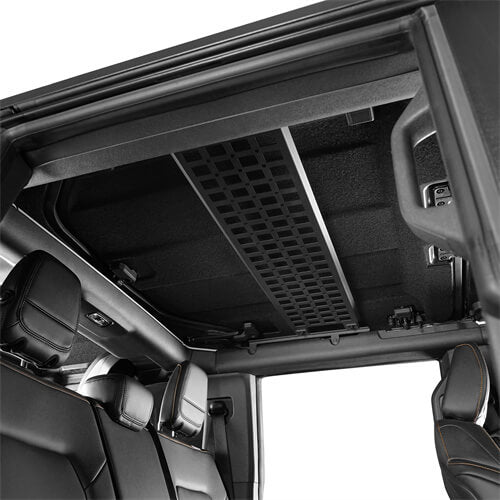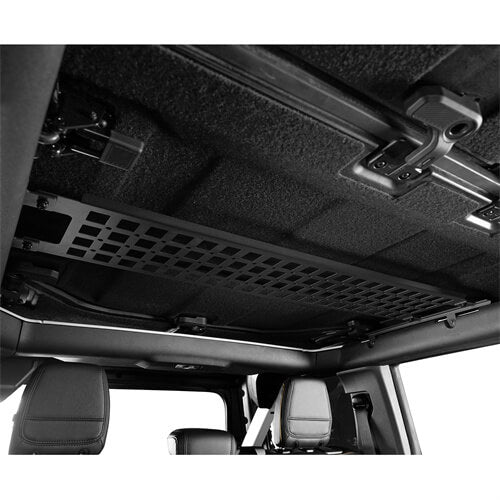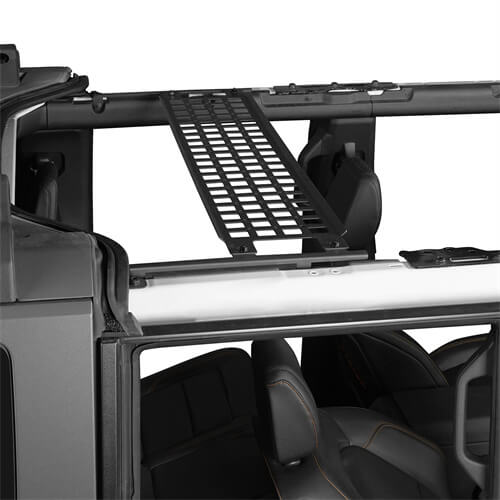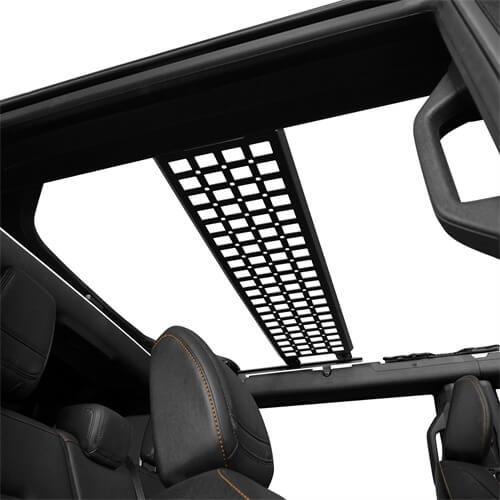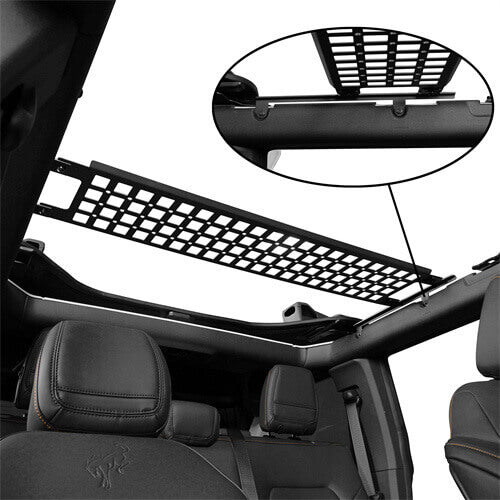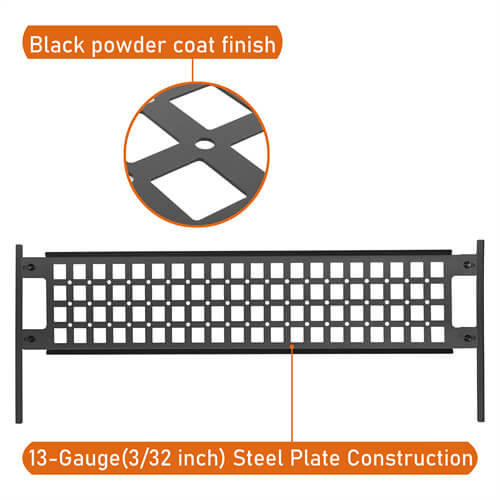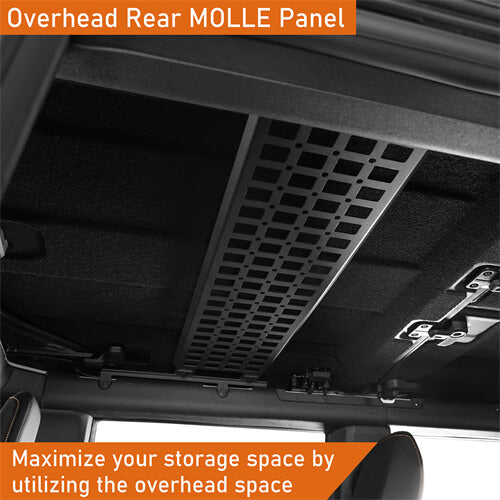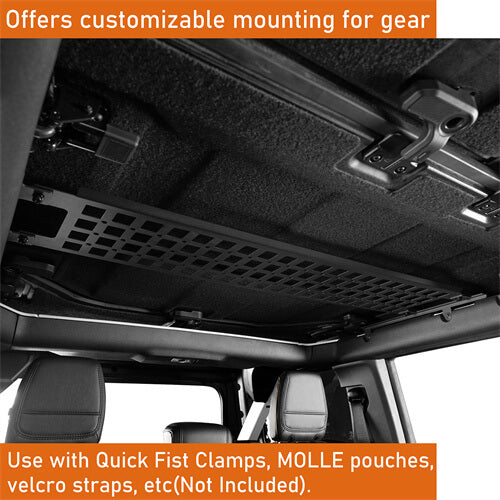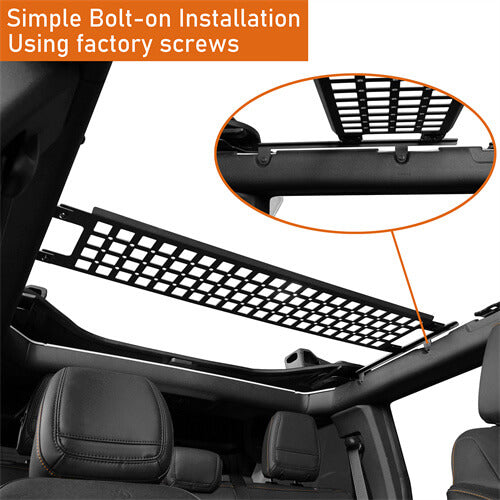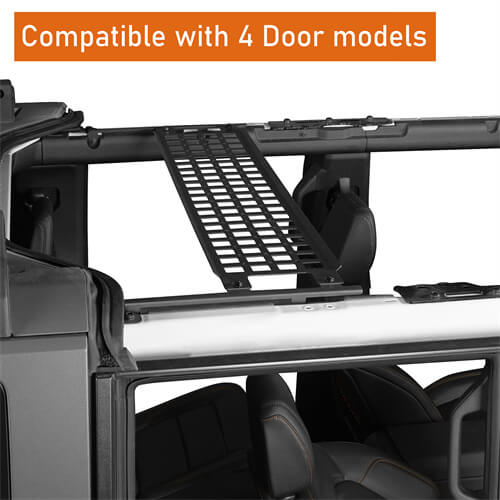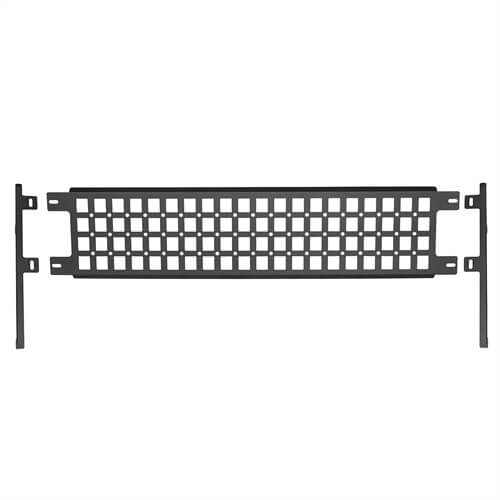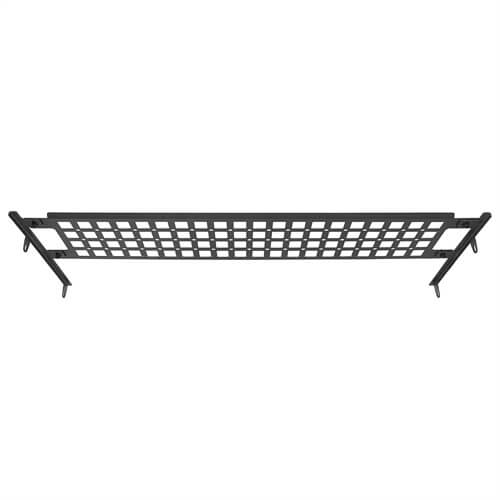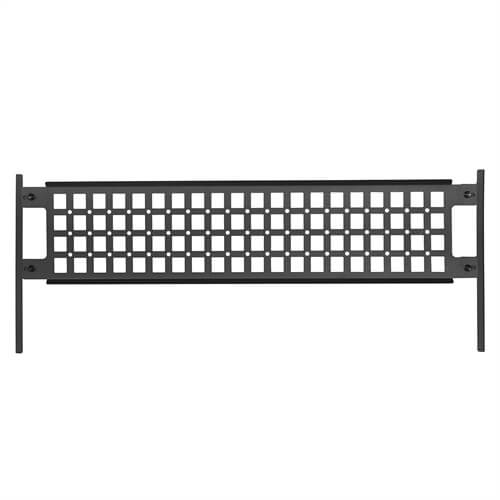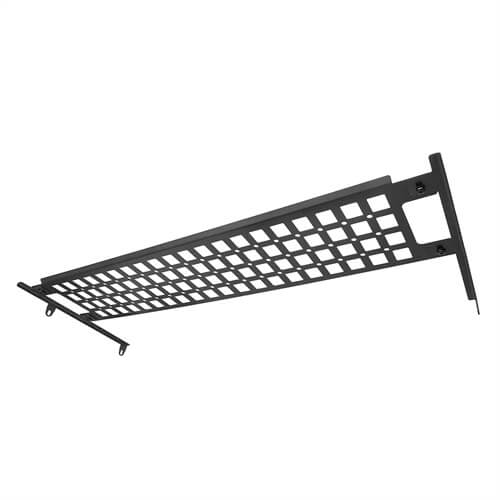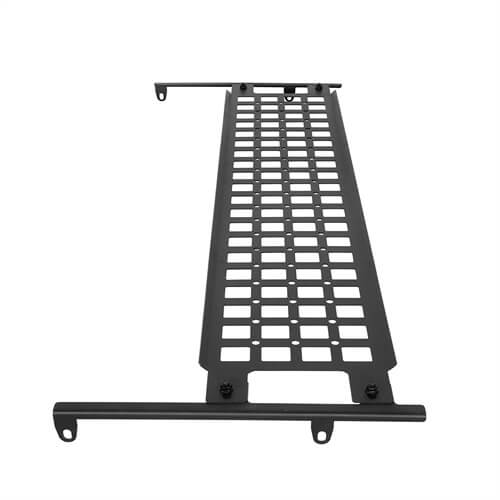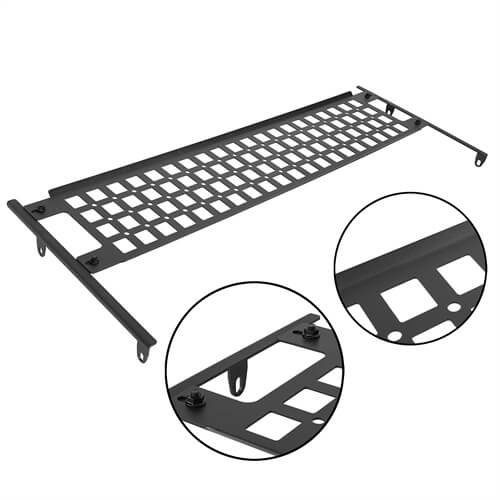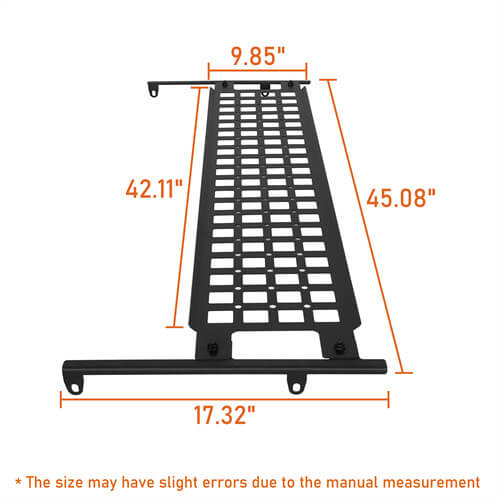 Name: HR 21-23 Bronco Molle Panel Rear Overhead MOLLE Storage Panel
Product details
Fits for 2021-2023 Ford Bronco 4-Door Models
Will work with top on, or top removed
Black powder coat finish
13-gauge(3/32 inch) steel plate construction
Dimension of the steel panel: about 42.1" L × 9.9" W
Maximize your storage space by utilizing the overhead space
Offers customizable mounting for gear.
Use with Quick Fist Clamps, MOLLE pouches, velcro straps, etc(Not included)
Mount magnetic items such as flashlights, tire pressure gauges, knives, etc
Simple bolt-on installation, Mounts to factory roll bar mounting points with factory bolts
Dimension
What you want to know
Get Organized. Designed to maximize the storage space by utilizing the available space. Offers customizable mounting for gear. The Hooke Road Rear Overhead MOLLE Panels attach rifles, bear spray, flashlights, tire frontpressure gauges, just about anything that you can think of that fits in pouches.

Quality construction. Made from durable 14-gauge(5/64 inch) steel, the Hooke Road Overhead MOLLE Panel features a black coat finish and is specially treated to resist scratches and blemishes.

Easy Installation. There is no drilling or cutting required. Assemble the steel molle panel with mounting brackets. Then put the panel onto the roll bar and fix it with basic hand tools using factory screws. It takes about 30 minutes to get it done.
Overhead MOLLE Panel
Mounting Hardware Kit
Installation Instruction
2023 Ford Bronco Badlands Sport Utility
2023 Ford Bronco Base Sport Utility
2023 Ford Bronco Big Bend Sport Utility
2023 Ford Bronco Black Diamond Sport Utility
2023 Ford Bronco Everglades Sport Utility
2023 Ford Bronco Heritage Edition Sport Utility
2023 Ford Bronco Outer Banks Sport Utility
2023 Ford Bronco Raptor Sport Utility
2023 Ford Bronco Wildtrak Sport Utility
2022 Ford Bronco Badlands Sport Utility
2022 Ford Bronco Base Sport Utility
2022 Ford Bronco Big Bend Sport Utility
2022 Ford Bronco Black Diamond Sport Utility
2022 Ford Bronco Everglades Sport Utility
2022 Ford Bronco Outer Banks Sport Utility
2022 Ford Bronco Raptor Sport Utility
2022 Ford Bronco Wildtrak Sport Utility
2021 Ford Bronco Badlands Sport Utility
2021 Ford Bronco Base Sport Utility
2021 Ford Bronco Big Bend Sport Utility
2021 Ford Bronco Black Diamond Sport Utility
2021 Ford Bronco First Edition Sport Utility
2021 Ford Bronco Outer Banks Sport Utility
2021 Ford Bronco Wildtrak Sport Utility
Package Included
Overhead MOLLE Panel
Mounting Hardware Kit
Installation Instruction
Fitment
2023 Ford Bronco Badlands Sport Utility
2023 Ford Bronco Base Sport Utility
2023 Ford Bronco Big Bend Sport Utility
2023 Ford Bronco Black Diamond Sport Utility
2023 Ford Bronco Everglades Sport Utility
2023 Ford Bronco Heritage Edition Sport Utility
2023 Ford Bronco Outer Banks Sport Utility
2023 Ford Bronco Raptor Sport Utility
2023 Ford Bronco Wildtrak Sport Utility
2022 Ford Bronco Badlands Sport Utility
2022 Ford Bronco Base Sport Utility
2022 Ford Bronco Big Bend Sport Utility
2022 Ford Bronco Black Diamond Sport Utility
2022 Ford Bronco Everglades Sport Utility
2022 Ford Bronco Outer Banks Sport Utility
2022 Ford Bronco Raptor Sport Utility
2022 Ford Bronco Wildtrak Sport Utility
2021 Ford Bronco Badlands Sport Utility
2021 Ford Bronco Base Sport Utility
2021 Ford Bronco Big Bend Sport Utility
2021 Ford Bronco Black Diamond Sport Utility
2021 Ford Bronco First Edition Sport Utility
2021 Ford Bronco Outer Banks Sport Utility
2021 Ford Bronco Wildtrak Sport Utility