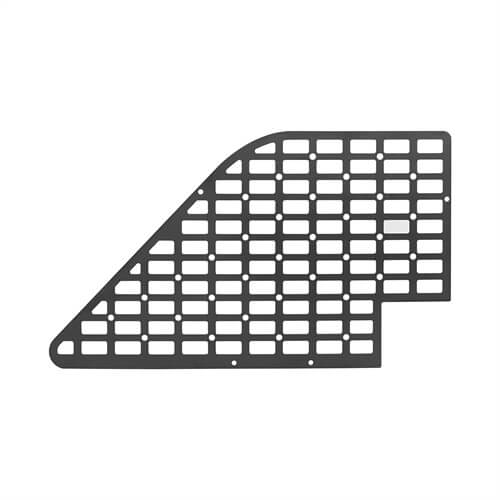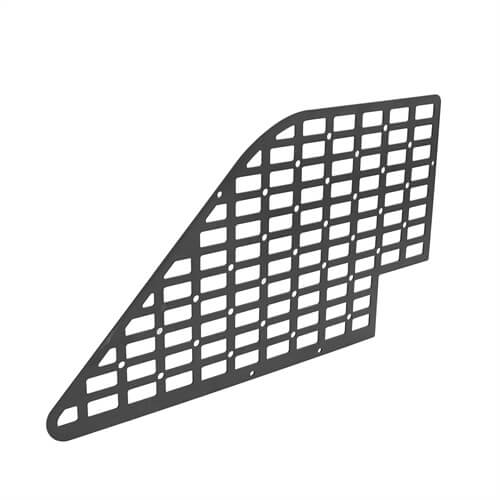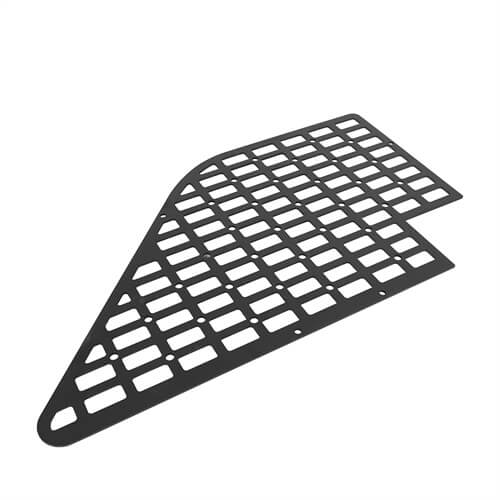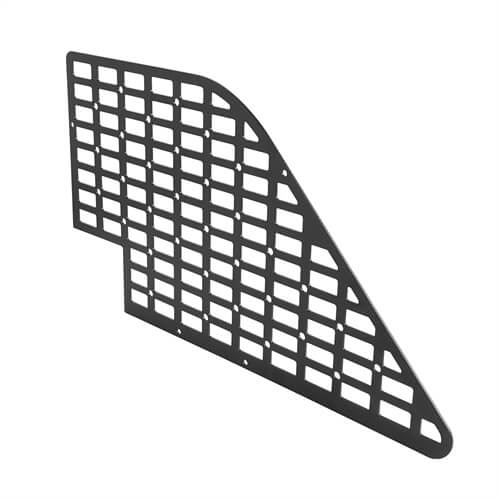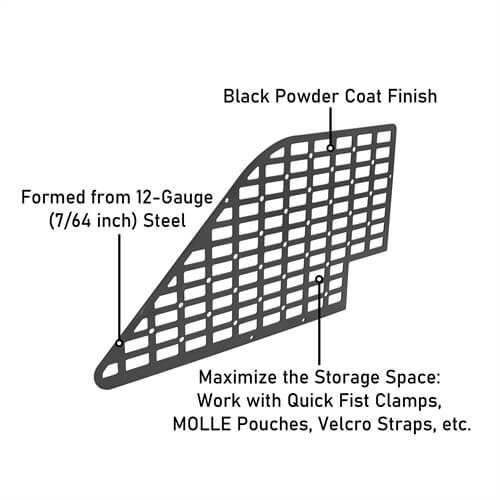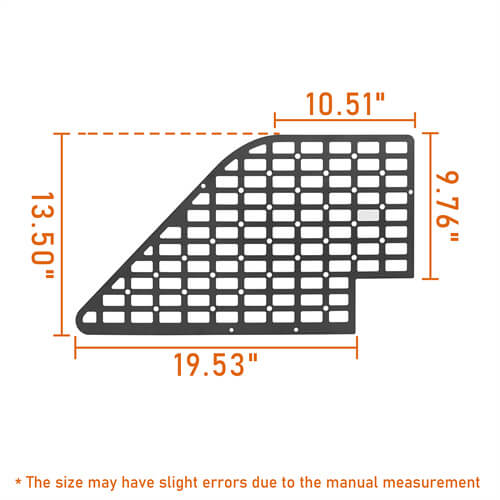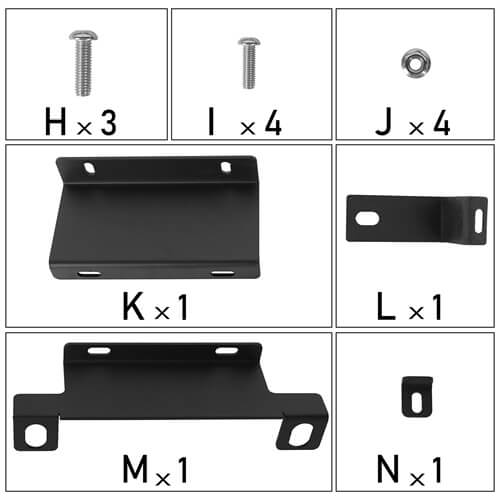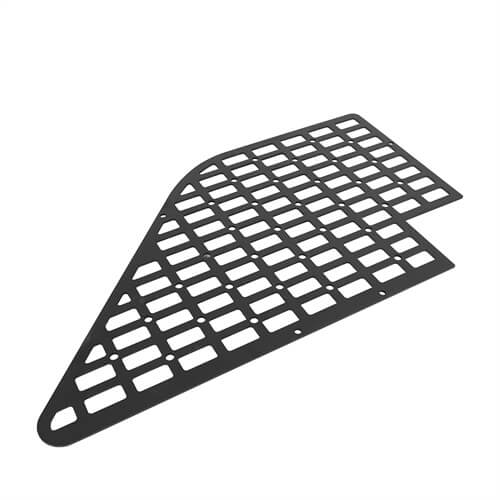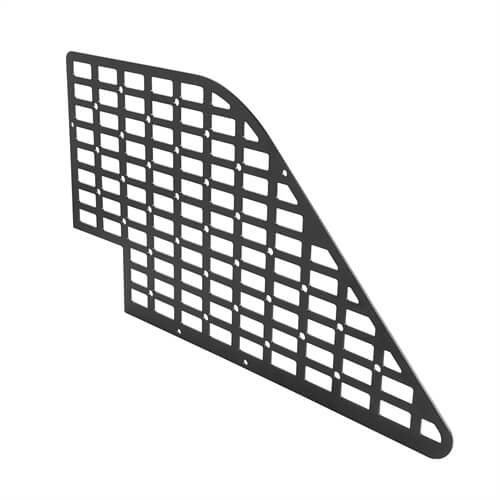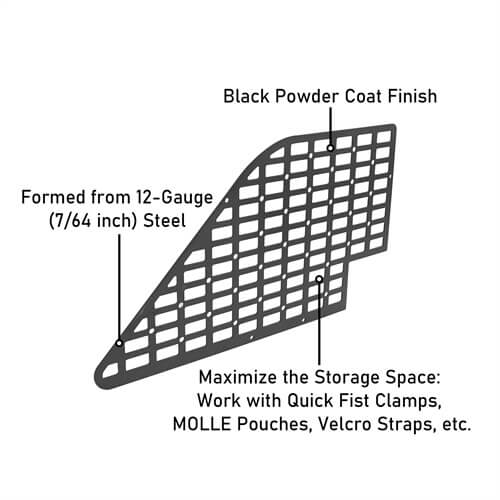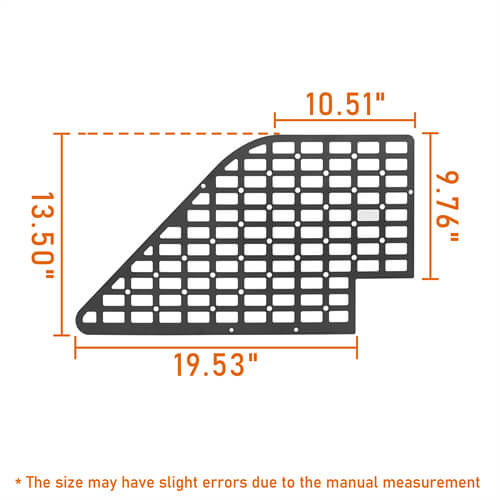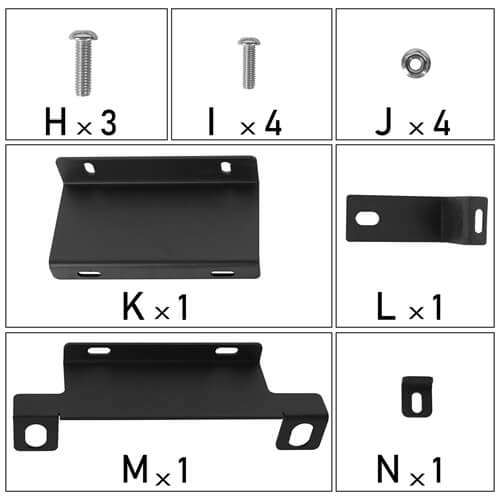 Name:Bronco Molle Panel Rear Window Flank Storage Panel For 21-22 Ford Bronco
FEATURE
Fits for 2021-2022 Ford Bronco 4-Door Models, Does not fit Bronco Sport,Works with a soft top or hard top
Made from 12-gauge(7/64 inch) steel, Black powder coat finish
Maximize the storage space in the rear cargo area. Use with Quick Fist Clamps, MOLLE pouches, velcro straps, etc
Steel construction which allows you to hold magnetic gear
Panel designed to hold a variety of accessories: first aid kits, camping gear, hydration packs, recovery equipment, fire extinguishers, flashlights, or anything you can fit into a Molle bag or pouch
Easy bolt-on installation, no drilling required
Sold individually, Works on either side of the vehicle
DETAILS
SOMETHING YOU MIGHT WANT TO KNOW
Customizable Storage. Designed to maximize the storage space in the trunk by utilizing the rear window area. Store those larger bags, bigger flash lights or that shovel you need for setting up a proper camp. Use the inner side during hard top season or both sides for maximum storage if you are going topless.

Quality construction. Made from durable steel construction, the Hooke Road Center Console Molle Storage Panel features a black coat finish and is specially treated to resist scratches and blemishes.

Simple Installation. There is no drilling or cutting need. Place the panel around the rear window and align it to the factory mounting holes. Then fix it with basic hand tools using your factory bolts. It takes about 1 hour to get it done.
Molle Panel
Mounting Hardware Kit
Installation Instruction
2023 Ford Bronco Badlands
2023 Ford Bronco Base
2023 Ford Bronco Big Bend
2023 Ford Bronco Black Diamond
2023 Ford Bronco Everglades
2023 Ford Bronco Heritage Edition
2023 Ford Bronco Outer Banks
2023 Ford Bronco Raptor
2023 Ford Bronco Wildtrak
2022 Ford Bronco Badlands
2022 Ford Bronco Base
2022 Ford Bronco Big Bend
2022 Ford Bronco Black Diamond
2022 Ford Bronco Everglades
2022 Ford Bronco Outer Banks
2022 Ford Bronco Raptor
2022 Ford Bronco Wildtrak
2021 Ford Bronco Badlands
2021 Ford Bronco Base
2021 Ford Bronco Big Bend
2021 Ford Bronco Black Diamond
2021 Ford Bronco First Edition
2021 Ford Bronco Outer Banks
2021 Ford Bronco Wildtrak
Package Included
Molle Panel
Mounting Hardware Kit
Installation Instruction
Fitment
2023 Ford Bronco Badlands
2023 Ford Bronco Base
2023 Ford Bronco Big Bend
2023 Ford Bronco Black Diamond
2023 Ford Bronco Everglades
2023 Ford Bronco Heritage Edition
2023 Ford Bronco Outer Banks
2023 Ford Bronco Raptor
2023 Ford Bronco Wildtrak
2022 Ford Bronco Badlands
2022 Ford Bronco Base
2022 Ford Bronco Big Bend
2022 Ford Bronco Black Diamond
2022 Ford Bronco Everglades
2022 Ford Bronco Outer Banks
2022 Ford Bronco Raptor
2022 Ford Bronco Wildtrak
2021 Ford Bronco Badlands
2021 Ford Bronco Base
2021 Ford Bronco Big Bend
2021 Ford Bronco Black Diamond
2021 Ford Bronco First Edition
2021 Ford Bronco Outer Banks
2021 Ford Bronco Wildtrak