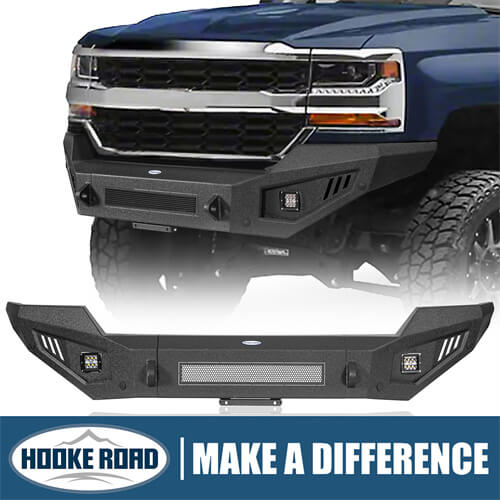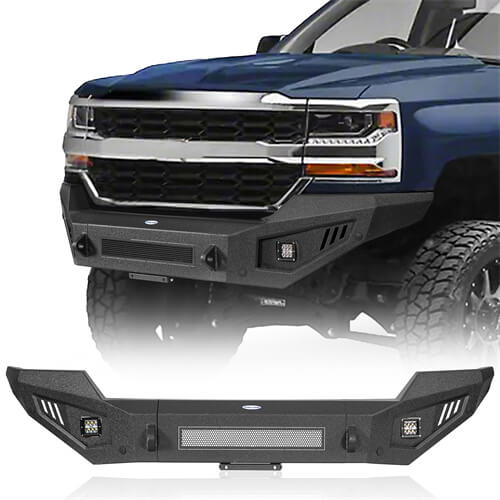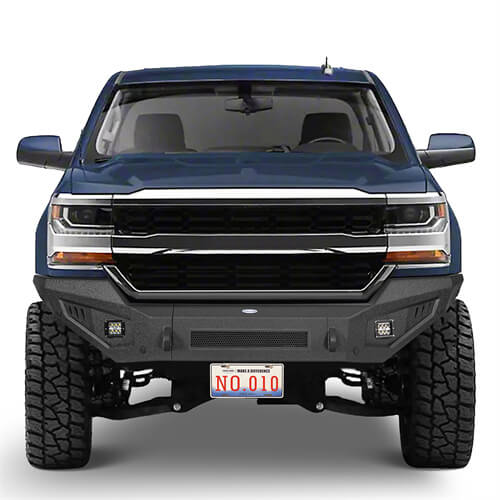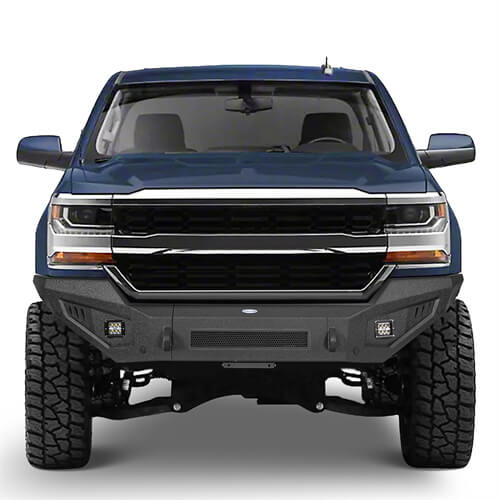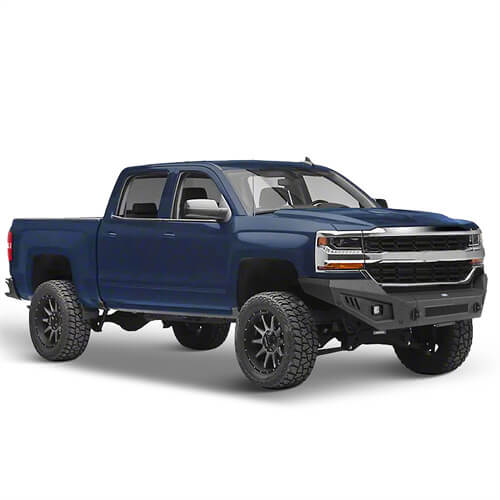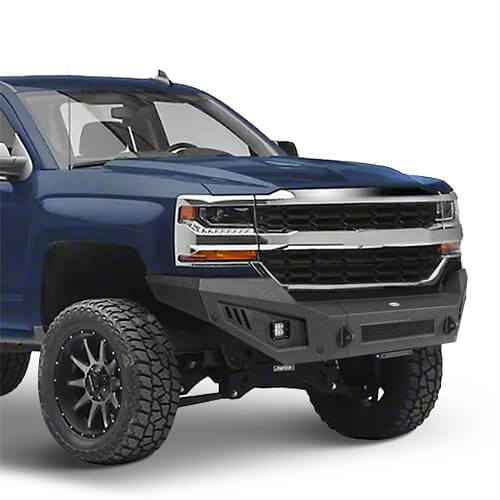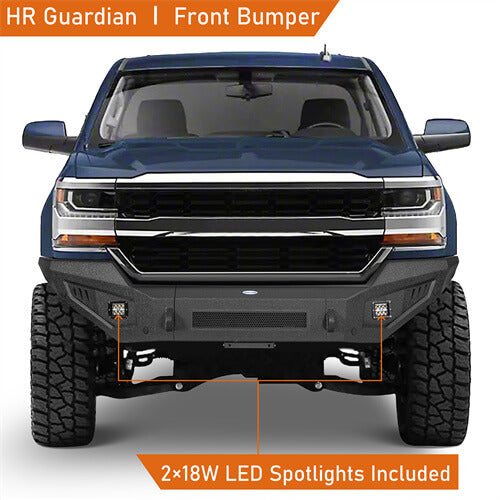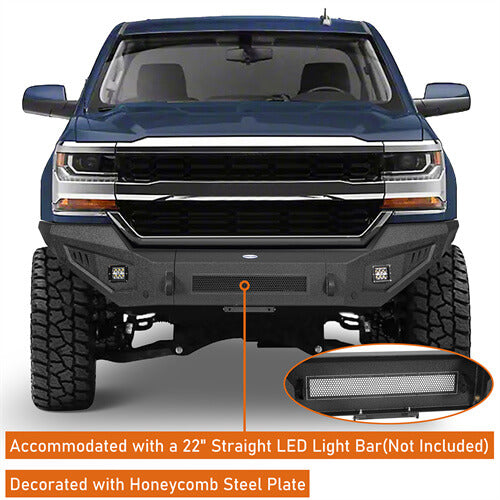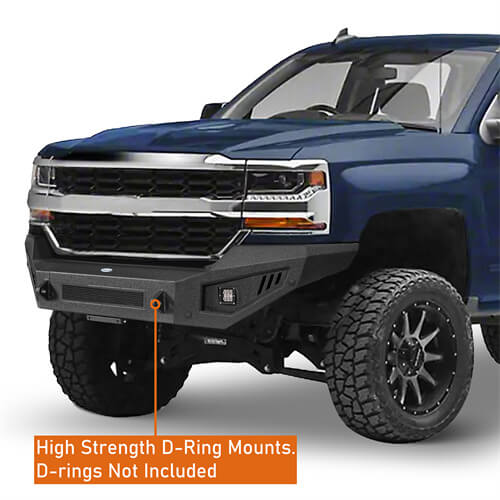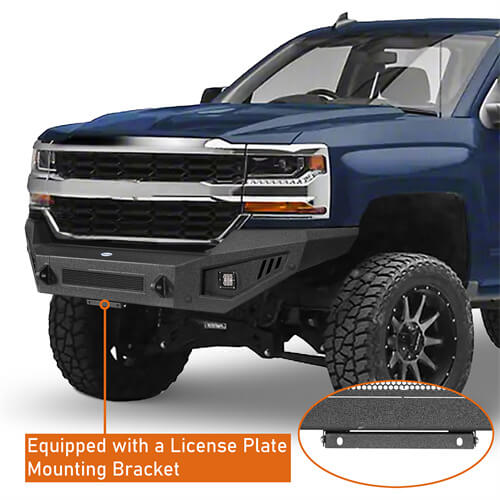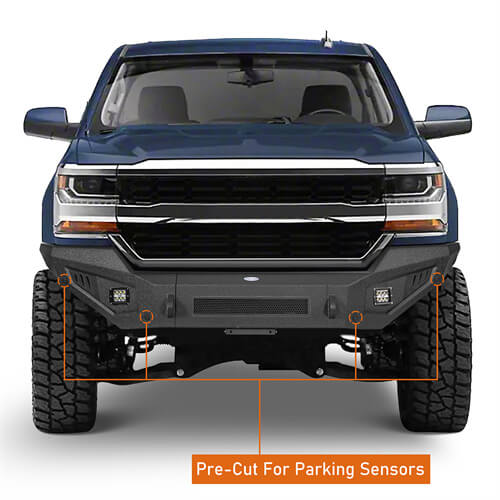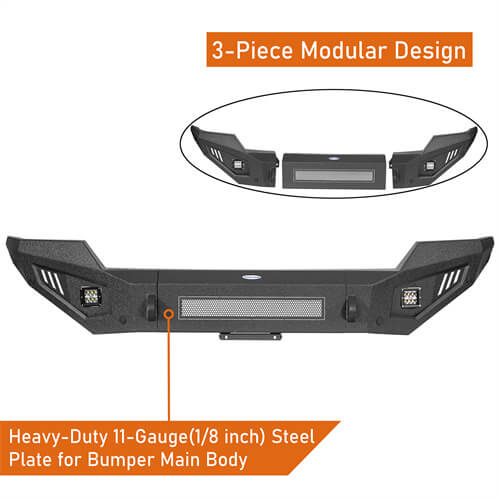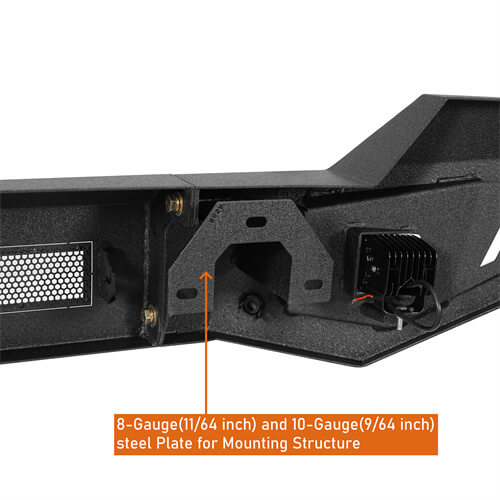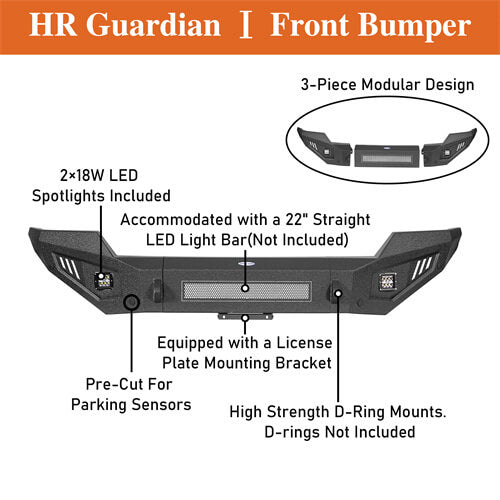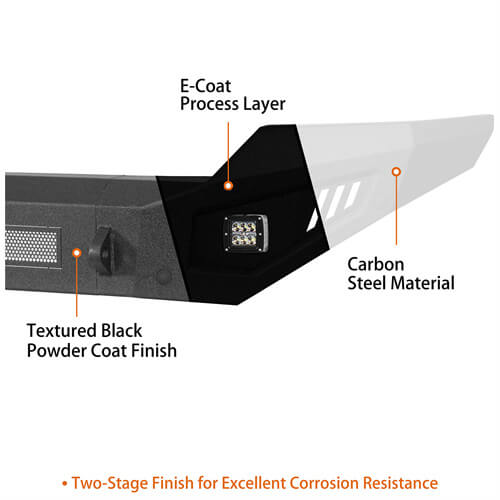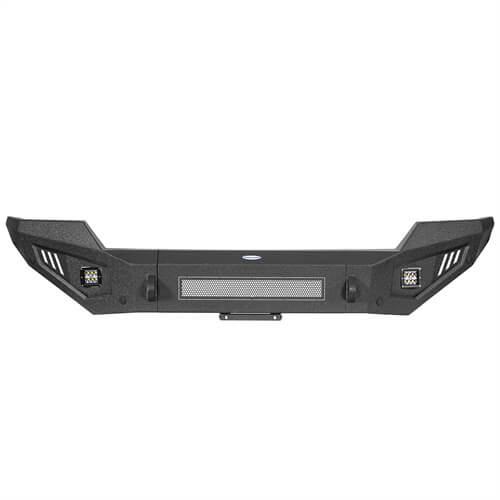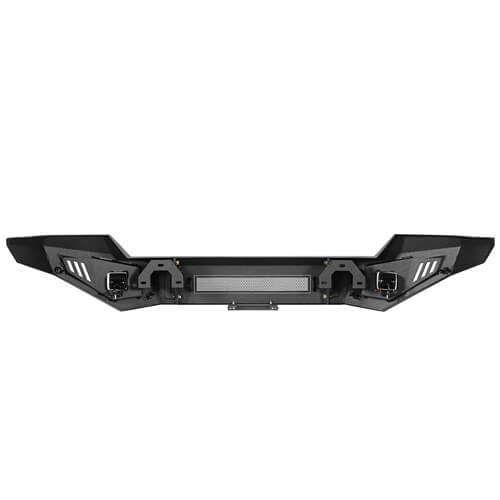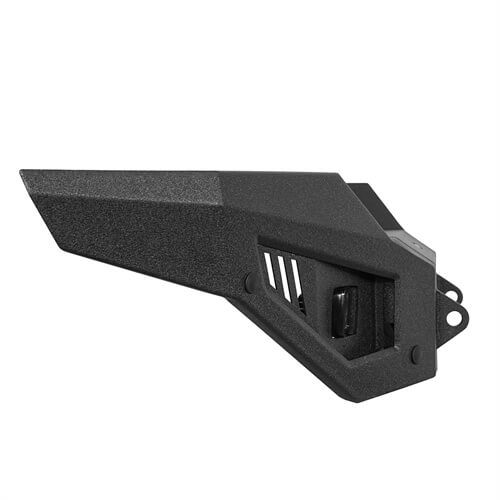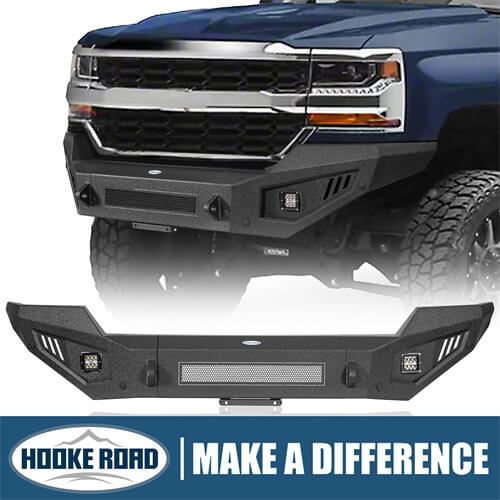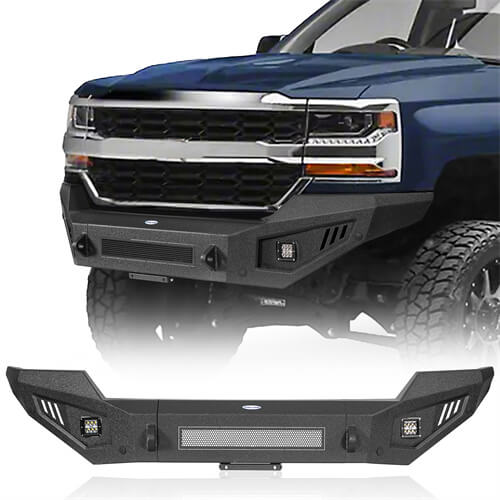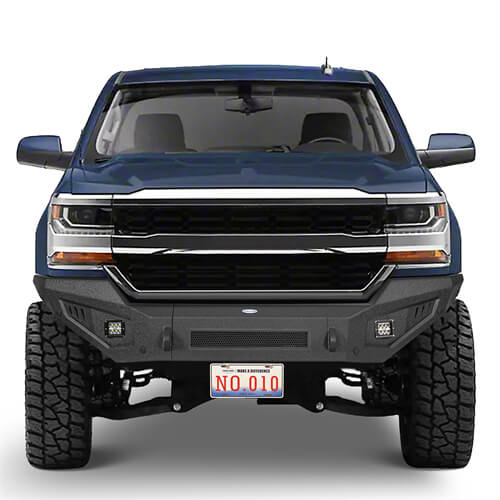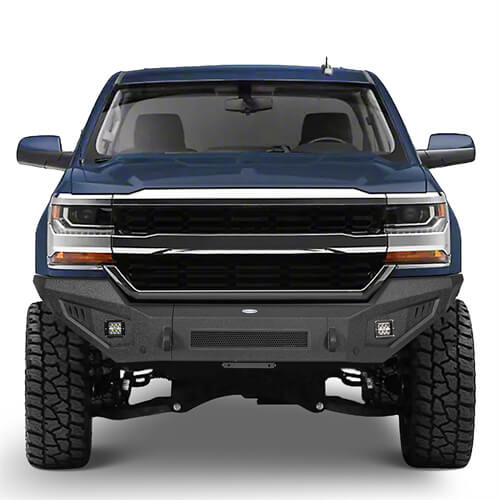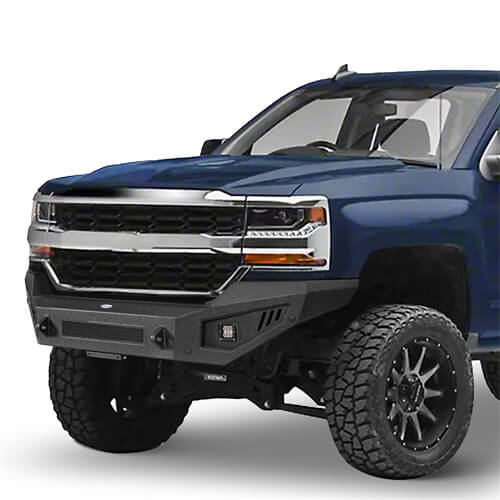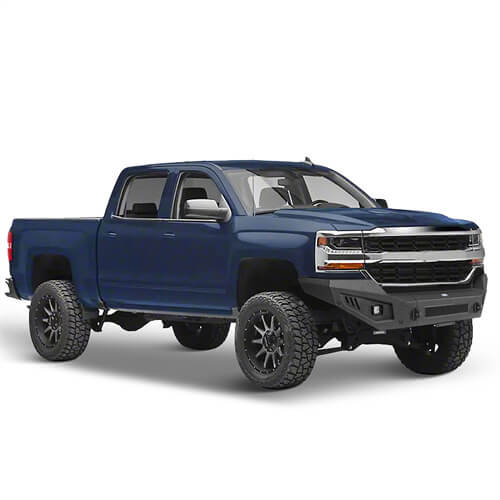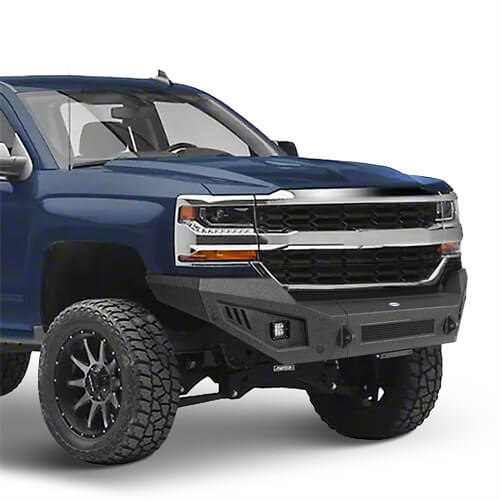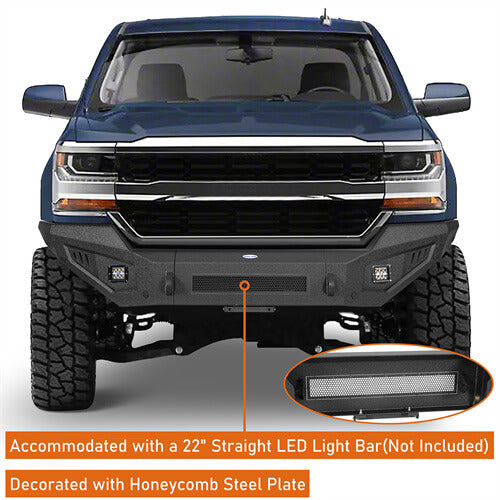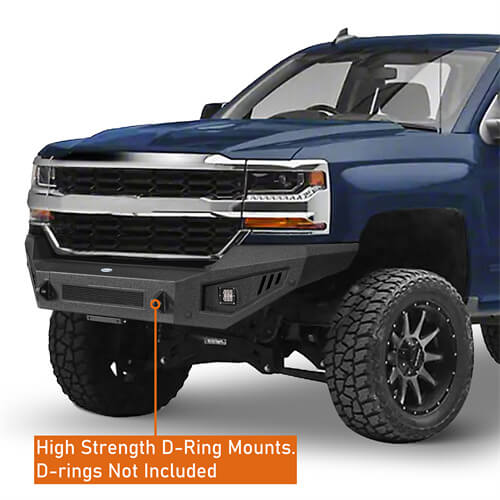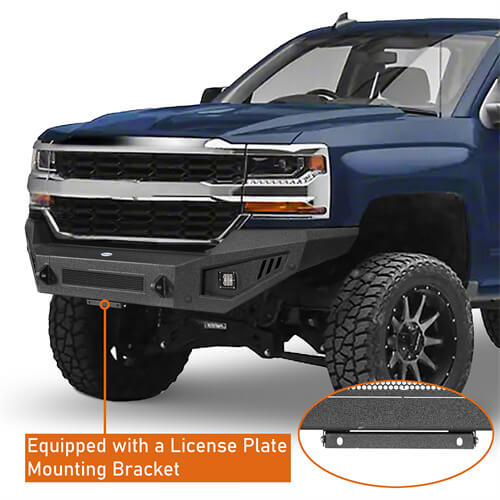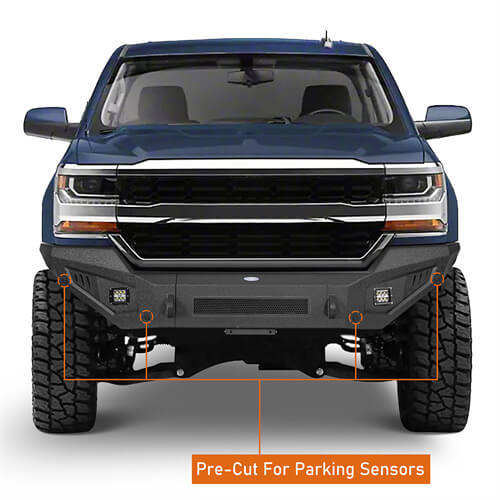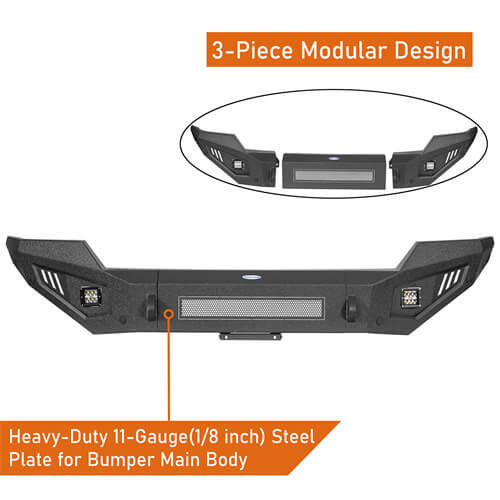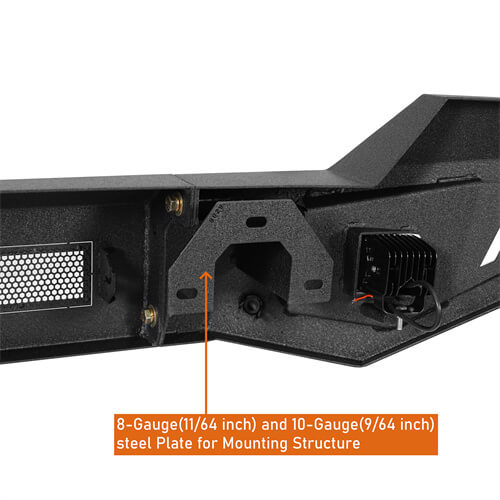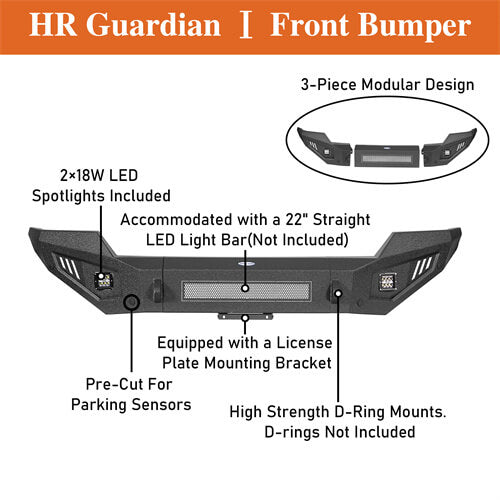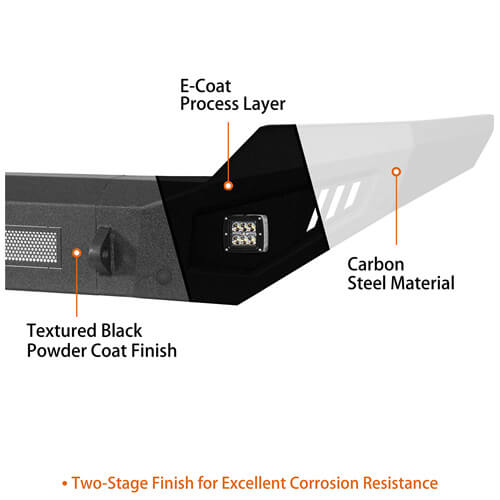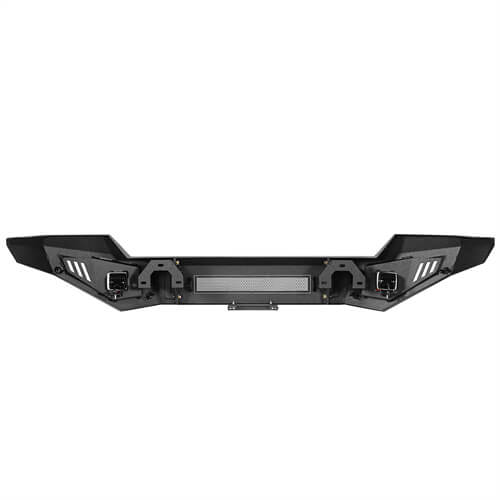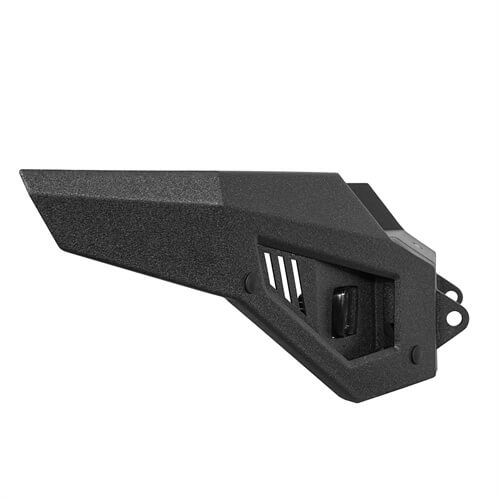 Name: Hooke Road 2016-2018 Chevy Silverado 1500 Front Bumper 
Feature
Fits for 2016-2018 Chevy Silverado 1500 Models
Bumper weight: about 66 lbs, 3-piece modular design
Heavy-duty steel construction, 11-gauge(1/8 inch) steel for the bumper main body, 8-gauge(11/64 inch) and 10-gauge(11/64 inch) steel for the mounting structure
Textured black powder coat finish & Premium E-coating process inside
2×18W LED square white spotlights Included
Features high strength D-ring mounts, D-rings not included.
Equipped with a flip-up license plate mount
Accommodates with a 22" straight LED light bar (Not Included)
Decorated with a honeycomb steel plate
Compatible with front parking sensors
Perfectly fits the vehicle body contour
Direct bolt-on installation, No drilling or cutting is required
Dimension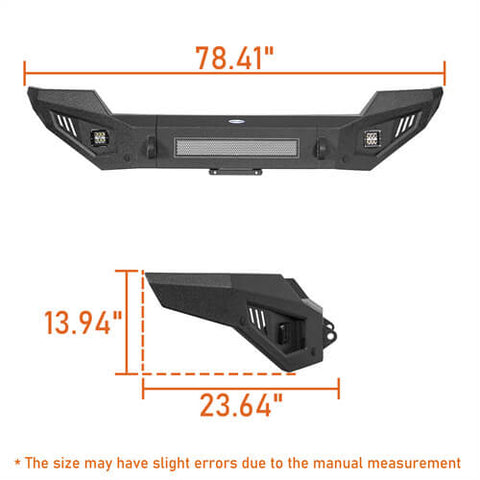 Aggressive Styling. The Hooke Road HR Guardian Ⅰ Full Width Front Bumper is meticulously engineered to provide exceptional functionality and a sleek appearance for the Silverado 1500 2016-2018 models. Its 3-piece modular design not only seamlessly integrates with the vehicle's body contour but also offers robust protection and a rugged aesthetic. The inclusion of two 18W LED square spotlights ensures enhanced visibility, making it an ideal choice for driving in low-light conditions. With high-strength D-ring mounts, a license plate mounting bracket, and a honeycomb steel plate, this bumper combines practicality with a distinctive design, delivering both reliability and visual appeal.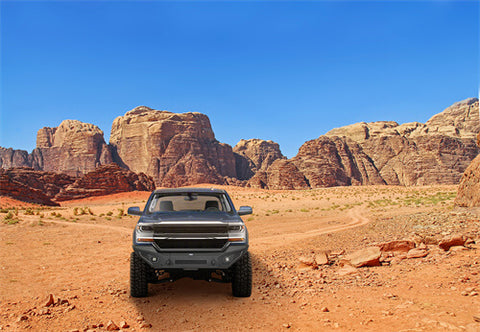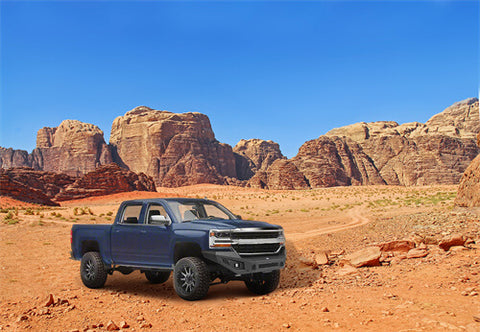 High Quality Construction. Constructed from heavy-duty steel, the Front Bumper is built to withstand the rigors of off-road adventures and challenging environments. The bumper main body is crafted from 11-gauge (1/8 inch) steel, providing a sturdy foundation for robust performance and long-term durability. The mounting structure, made of 8-gauge (11/64 inch) steel, offers exceptional support, ensuring that the bumper remains securely attached and functional under various conditions. The textured black powder coat finish, coupled with the premium E-coating process on the interior, not only enhances the bumper's resistance to corrosion but also adds a sleek, refined appearance.

Direct Bolt-On Installation. Installing the Front Bumper onto your truck is a straightforward process that requires no drilling or cutting. The bumper is designed for a direct bolt-on installation, ensuring a hassle-free and efficient upgrade to your vehicle. With clear instructions and all necessary hardware included, this bumper allows for easy and seamless integration, enabling Chevy Silverado owners to enhance both the functionality and appearance of their trucks with minimal effort. Whether you're seeking improved protection for your vehicle or aiming to elevate its visual appeal, the HR Guardian Ⅰ Full Width Front Bumper offers a practical and stylish solution that seamlessly meets your needs.
1 x Front Bumper Assembly
1 x License Plate Mount
2 × LED Spotlights
1 x Mounting Hardware Kit
1 x Installation Instruction
2018 Chevrolet Silverado 1500 Custom
2018 Chevrolet Silverado 1500 High Country
2018 Chevrolet Silverado 1500 LS
2018 Chevrolet Silverado 1500 LT
2018 Chevrolet Silverado 1500 LTZ
2018 Chevrolet Silverado 1500 SSV
2018 Chevrolet Silverado 1500 WT
2017 Chevrolet Silverado 1500 Custom
2017 Chevrolet Silverado 1500 High Country
2017 Chevrolet Silverado 1500 LS
2017 Chevrolet Silverado 1500 LT
2017 Chevrolet Silverado 1500 LTZ
2017 Chevrolet Silverado 1500 SSV
2017 Chevrolet Silverado 1500 WT 2016 Chevrolet Silverado 1500 Base
2016 Chevrolet Silverado 1500 Custom
2016 Chevrolet Silverado 1500 High Country
2016 Chevrolet Silverado 1500 LS
2016 Chevrolet Silverado 1500 LT
2016 Chevrolet Silverado 1500 LTZ
2016 Chevrolet Silverado 1500 SSV
2016 Chevrolet Silverado 1500 WT
Package Included
1 x Front Bumper Assembly
1 x License Plate Mount
2 × LED Spotlights
1 x Mounting Hardware Kit
1 x Installation Instruction
Fitment
2018 Chevrolet Silverado 1500 Custom
2018 Chevrolet Silverado 1500 High Country
2018 Chevrolet Silverado 1500 LS
2018 Chevrolet Silverado 1500 LT
2018 Chevrolet Silverado 1500 LTZ
2018 Chevrolet Silverado 1500 SSV
2018 Chevrolet Silverado 1500 WT
2017 Chevrolet Silverado 1500 Custom
2017 Chevrolet Silverado 1500 High Country
2017 Chevrolet Silverado 1500 LS
2017 Chevrolet Silverado 1500 LT
2017 Chevrolet Silverado 1500 LTZ
2017 Chevrolet Silverado 1500 SSV
2017 Chevrolet Silverado 1500 WT 2016 Chevrolet Silverado 1500 Base
2016 Chevrolet Silverado 1500 Custom
2016 Chevrolet Silverado 1500 High Country
2016 Chevrolet Silverado 1500 LS
2016 Chevrolet Silverado 1500 LT
2016 Chevrolet Silverado 1500 LTZ
2016 Chevrolet Silverado 1500 SSV
2016 Chevrolet Silverado 1500 WT