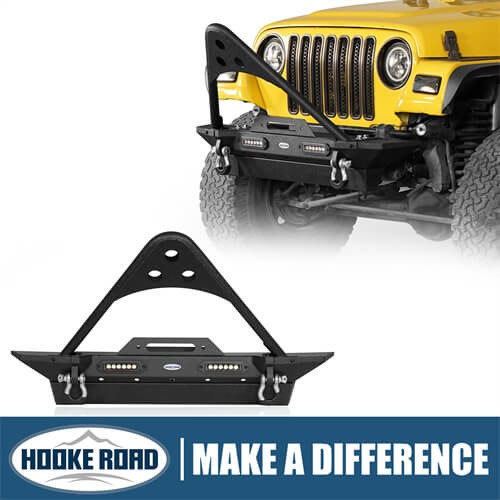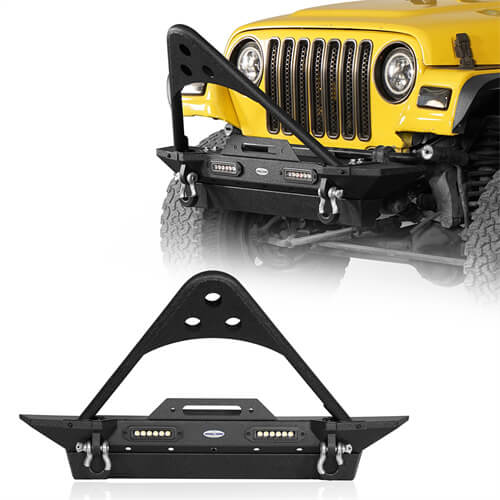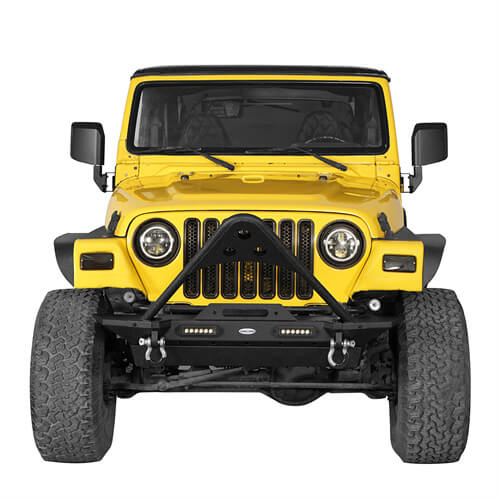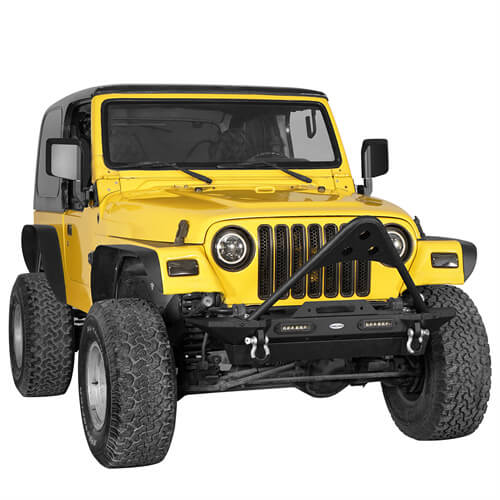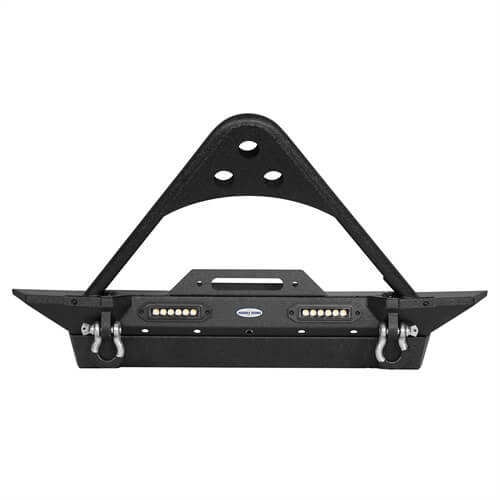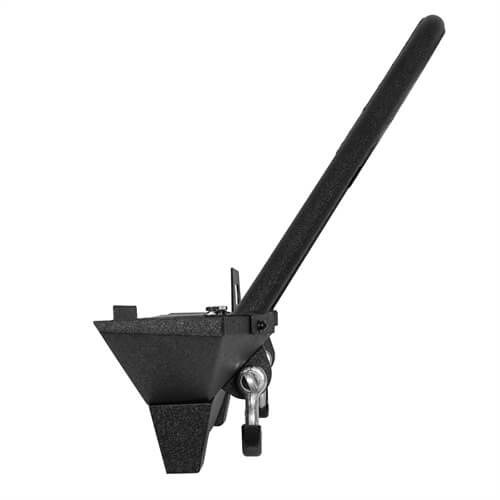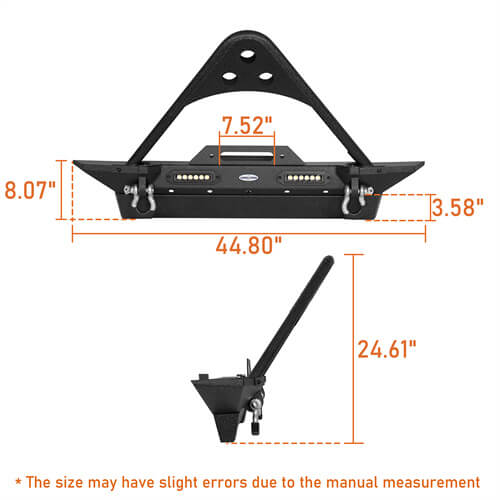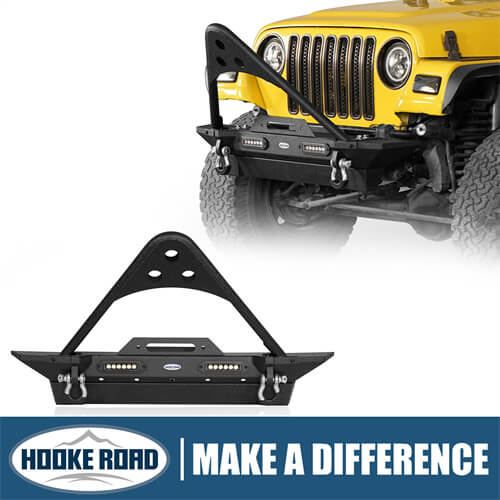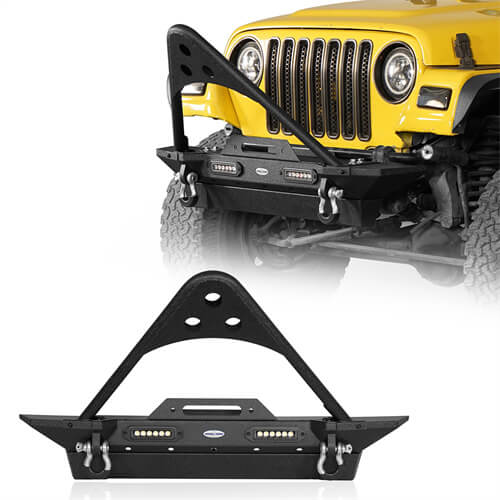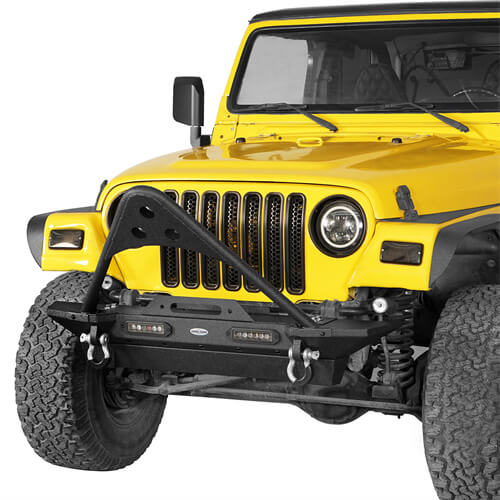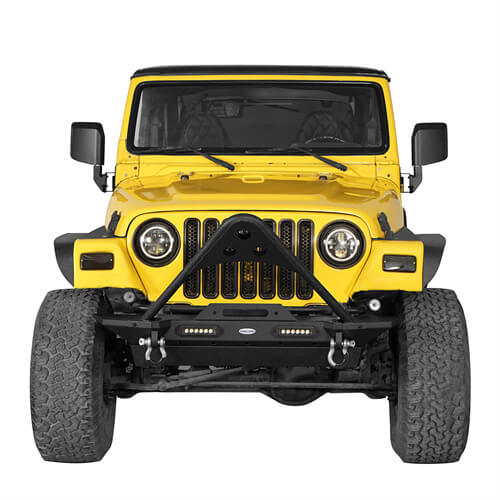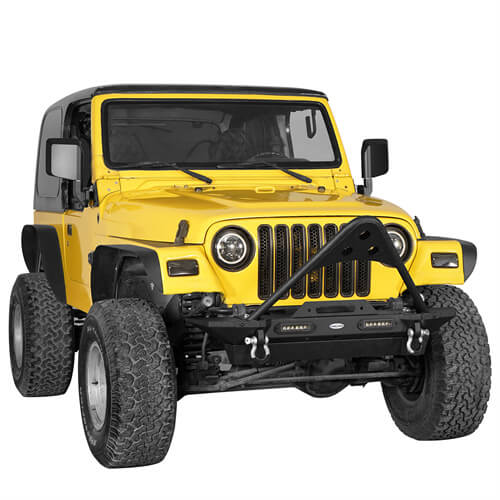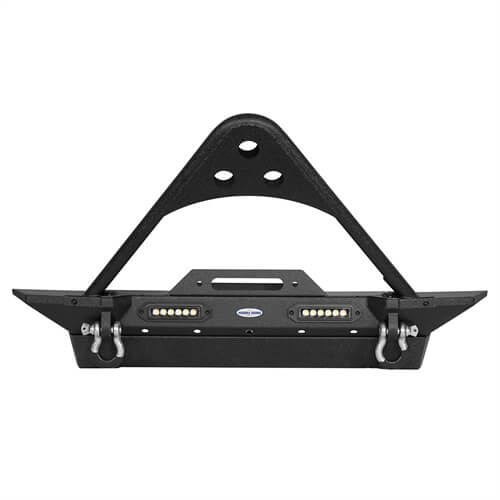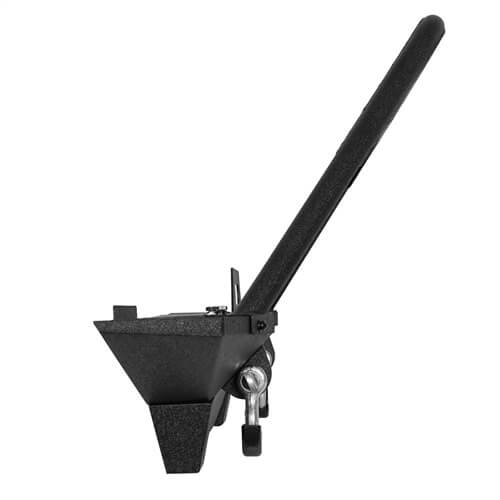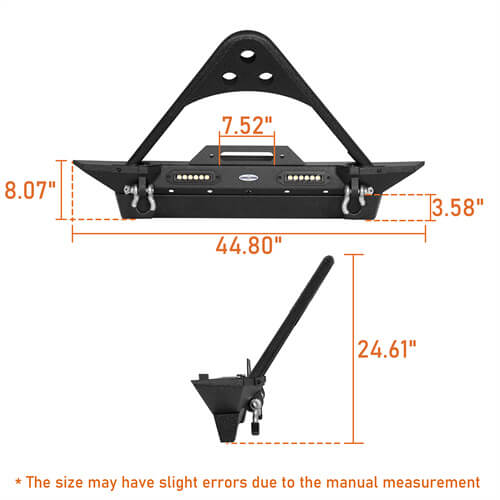 Name: Hooke Road Jeep Wrangler YJ &TJ DESTROYER Stinger Front Bumper

Fits for 1987-2006 Jeep Wrangler YJ & TJ Models
Heavy-Duty, High Tensile 1/4" and 3/16" Steel Construction
Textured Black Powder Coat Finish
Built-in Winch Plate for up to 12000 lbs
9500 lbs Rated,3/4'' D-Rings
Bumper Weight: 72 lbs
Bolt-on Installation
Dimension
1 x Jeep TJ DESTROYER Stinger Front Bumper w/Winch Plate
2 x D-rings
2 x 18w High Power LED Spotlights
Mounting Hardware
* The item includes two packages: Package A & Package B
2006 Jeep TJ Rubicon Sport Utility 2-Door
2006 Jeep TJ SE Sport Utility 2-Door
2006 Jeep TJ Sport Sport Utility 2-Door
2006 Jeep TJ Unlimited Rubicon Sport Utility 2-Door
2006 Jeep TJ Unlimited Sport Utility 2-Door
2006 Jeep Wrangler 65th Anniversary Edition Sport Utility 2-Door
2006 Jeep Wrangler Rubicon Sport Utility 2-Door
2006 Jeep Wrangler SE Sport Utility 2-Door
2006 Jeep Wrangler Sport Sport Utility 2-Door
2006 Jeep Wrangler Unlimited Rubicon Sport Utility 2-Door
2006 Jeep Wrangler Unlimited Sport Utility 2-Door
2006 Jeep Wrangler X 65 Aniversario Sport Utility 2-Door
2006 Jeep Wrangler X Sport Utility 2-Door
2005 Jeep TJ Rubicon Sport Utility 2-Door
2005 Jeep TJ SE Sport Utility 2-Door
2005 Jeep TJ Sport Sport Utility 2-Door
2005 Jeep TJ Unlimited Rubicon Sport Utility 2-Door
2005 Jeep TJ Unlimited Sport Utility 2-Door
2005 Jeep Wrangler Rubicon Sport Utility 2-Door
2005 Jeep Wrangler SE Sport Utility 2-Door
2005 Jeep Wrangler Sport Sport Utility 2-Door
2005 Jeep Wrangler Unlimited Rubicon Sport Utility 2-Door
2005 Jeep Wrangler Unlimited Sport Utility 2-Door
2005 Jeep Wrangler X Sport Utility 2-Door
2004 Jeep TJ Rubicon Sport Utility 2-Door
2004 Jeep TJ SE Sport Utility 2-Door
2004 Jeep TJ Sahara Sport Utility 2-Door
2004 Jeep TJ Sport Sport Utility 2-Door
2004 Jeep TJ Unlimited Sport Utility 2-Door
2004 Jeep Wrangler Rubicon Sport Utility 2-Door
2004 Jeep Wrangler SE Sport Utility 2-Door
2004 Jeep Wrangler Sahara Sport Utility 2-Door
2004 Jeep Wrangler Sport Sport Utility 2-Door
2004 Jeep Wrangler Unlimited Sport Utility 2-Door
2004 Jeep Wrangler X Sport Utility 2-Door
2003 Jeep TJ Rubicon Sport Utility 2-Door
2003 Jeep TJ SE Sport Utility 2-Door
2003 Jeep TJ Sahara Sport Utility 2-Door
2003 Jeep TJ Sport Sport Utility 2-Door
2003 Jeep Wrangler Rubicon Sport Utility 2-Door
2003 Jeep Wrangler SE Sport Utility 2-Door
2003 Jeep Wrangler Sahara Sport Utility 2-Door
2003 Jeep Wrangler Sport Sport Utility 2-Door
2003 Jeep Wrangler X AT Sport Utility 2-Door
2003 Jeep Wrangler X Sport Utility 2-Door
2002 Jeep TJ SE Sport Utility 2-Door
2002 Jeep TJ Sahara Sport Utility 2-Door
2002 Jeep TJ Sport Sport Utility 2-Door
2002 Jeep Wrangler SE Sport Utility 2-Door
2002 Jeep Wrangler Sahara Sport Utility 2-Door
2002 Jeep Wrangler Sport Sport Utility 2-Door
2002 Jeep Wrangler X Sport Utility 2-Door
2001 Jeep TJ SE Sport Utility 2-Door
2001 Jeep TJ Sahara Sport Utility 2-Door
2001 Jeep TJ Sport Sport Utility 2-Door
2001 Jeep Wrangler 60 Aniversario Sport Utility 2-Door
2001 Jeep Wrangler SE Sport Utility 2-Door
2001 Jeep Wrangler Sahara Sport Utility 2-Door
2001 Jeep Wrangler Sport Sport Utility 2-Door
2000 Jeep TJ SE Sport Utility 2-Door
2000 Jeep TJ Sahara Sport Utility 2-Door
2000 Jeep TJ Sport Sport Utility 2-Door
2000 Jeep Wrangler SE Sport Utility 2-Door
2000 Jeep Wrangler Sahara Sport Utility 2-Door
2000 Jeep Wrangler Sport Sport Utility 2-Door
1999 Jeep TJ SE Sport Utility 2-Door
1999 Jeep TJ Sahara Sport Utility 2-Door
1999 Jeep TJ Sport Sport Utility 2-Door
1999 Jeep Wrangler SE Sport Utility 2-Door
1999 Jeep Wrangler Sahara Sport Utility 2-Door
1999 Jeep Wrangler Sport Sport Utility 2-Door
1998 Jeep TJ SE Sport Utility 2-Door
1998 Jeep TJ Sahara Sport Utility 2-Door
1998 Jeep TJ Sport Sport Utility 2-Door
1998 Jeep Wrangler SE Sport Utility 2-Door
1998 Jeep Wrangler Sahara Sport Utility 2-Door
1998 Jeep Wrangler Sport Sport Utility 2-Door
1997 Jeep TJ SE Sport Utility 2-Door
1997 Jeep TJ Sahara Sport Utility 2-Door
1997 Jeep TJ Sport Sport Utility 2-Door
1997 Jeep Wrangler Base Sport Utility 2-Door
1997 Jeep Wrangler SE Sport Utility 2-Door
1997 Jeep Wrangler Sahara Sport Utility 2-Door
1997 Jeep Wrangler Sport Sport Utility 2-Door
1995 Jeep Wrangler Base Sport Utility 2-Door
1995 Jeep Wrangler Rio Grande Sport Utility 2-Door
1995 Jeep Wrangler SE Sport Utility 2-Door
1995 Jeep Wrangler Sahara Sport Utility 2-Door
1994 Jeep Wrangler Base Sport Utility 2-Door
1994 Jeep Wrangler Renegade Sport Utility 2-Door
1994 Jeep Wrangler SE Sport Utility 2-Door
1994 Jeep Wrangler S Sport Utility 2-Door
1994 Jeep Wrangler Sahara Sport Utility 2-Door
1993 Jeep Wrangler Base Sport Utility 2-Door
1993 Jeep Wrangler Renegade Sport Utility 2-Door
1993 Jeep Wrangler S Sport Utility 2-Door
1993 Jeep Wrangler Sahara Sport Utility 2-Door
1992 Jeep Wrangler Base Sport Utility 2-Door
1992 Jeep Wrangler Islander Sport Utility 2-Door
1992 Jeep Wrangler Renegade Sport Utility 2-Door
1992 Jeep Wrangler S Sport Utility 2-Door
1992 Jeep Wrangler Sahara Sport Utility 2-Door
1991 Jeep Wrangler Base Sport Utility 2-Door
1991 Jeep Wrangler Islander Sport Utility 2-Door
1991 Jeep Wrangler Renegade Sport Utility 2-Door
1991 Jeep Wrangler S Sport Utility 2-Door
1991 Jeep Wrangler Sahara Sport Utility 2-Door
1990 Jeep Wrangler Base Sport Utility 2-Door
1990 Jeep Wrangler Islander Sport Utility 2-Door
1990 Jeep Wrangler Laredo Sport Utility 2-Door
1990 Jeep Wrangler Sahara Sport Utility 2-Door
1989 Jeep Wrangler Base Sport Utility 2-Door
1989 Jeep Wrangler Islander Sport Utility 2-Door
1989 Jeep Wrangler Laredo Sport Utility 2-Door
1989 Jeep Wrangler Sahara Sport Utility 2-Door
1988 Jeep Wrangler Base Sport Utility 2-Door
1988 Jeep Wrangler Islander Sport Utility 2-Door
1988 Jeep Wrangler Laredo Sport Utility 2-Door
1988 Jeep Wrangler S Sport Utility 2-Door
1988 Jeep Wrangler Sahara Sport Utility 2-Door
1988 Jeep Wrangler Sport Sport Utility 2-Door
1987 Jeep Wrangler Base Sport Utility 2-Door
1987 Jeep Wrangler Laredo Sport Utility 2-Door
1987 Jeep Wrangler Sport Sport Utility 2-Door
Package Included
1 x Jeep TJ DESTROYER Stinger Front Bumper w/Winch Plate
2 x D-rings
2 x 18w High Power LED Spotlights
Mounting Hardware
* The item includes two packages: Package A & Package B
Fitment
2006 Jeep TJ Rubicon Sport Utility 2-Door
2006 Jeep TJ SE Sport Utility 2-Door
2006 Jeep TJ Sport Sport Utility 2-Door
2006 Jeep TJ Unlimited Rubicon Sport Utility 2-Door
2006 Jeep TJ Unlimited Sport Utility 2-Door
2006 Jeep Wrangler 65th Anniversary Edition Sport Utility 2-Door
2006 Jeep Wrangler Rubicon Sport Utility 2-Door
2006 Jeep Wrangler SE Sport Utility 2-Door
2006 Jeep Wrangler Sport Sport Utility 2-Door
2006 Jeep Wrangler Unlimited Rubicon Sport Utility 2-Door
2006 Jeep Wrangler Unlimited Sport Utility 2-Door
2006 Jeep Wrangler X 65 Aniversario Sport Utility 2-Door
2006 Jeep Wrangler X Sport Utility 2-Door
2005 Jeep TJ Rubicon Sport Utility 2-Door
2005 Jeep TJ SE Sport Utility 2-Door
2005 Jeep TJ Sport Sport Utility 2-Door
2005 Jeep TJ Unlimited Rubicon Sport Utility 2-Door
2005 Jeep TJ Unlimited Sport Utility 2-Door
2005 Jeep Wrangler Rubicon Sport Utility 2-Door
2005 Jeep Wrangler SE Sport Utility 2-Door
2005 Jeep Wrangler Sport Sport Utility 2-Door
2005 Jeep Wrangler Unlimited Rubicon Sport Utility 2-Door
2005 Jeep Wrangler Unlimited Sport Utility 2-Door
2005 Jeep Wrangler X Sport Utility 2-Door
2004 Jeep TJ Rubicon Sport Utility 2-Door
2004 Jeep TJ SE Sport Utility 2-Door
2004 Jeep TJ Sahara Sport Utility 2-Door
2004 Jeep TJ Sport Sport Utility 2-Door
2004 Jeep TJ Unlimited Sport Utility 2-Door
2004 Jeep Wrangler Rubicon Sport Utility 2-Door
2004 Jeep Wrangler SE Sport Utility 2-Door
2004 Jeep Wrangler Sahara Sport Utility 2-Door
2004 Jeep Wrangler Sport Sport Utility 2-Door
2004 Jeep Wrangler Unlimited Sport Utility 2-Door
2004 Jeep Wrangler X Sport Utility 2-Door
2003 Jeep TJ Rubicon Sport Utility 2-Door
2003 Jeep TJ SE Sport Utility 2-Door
2003 Jeep TJ Sahara Sport Utility 2-Door
2003 Jeep TJ Sport Sport Utility 2-Door
2003 Jeep Wrangler Rubicon Sport Utility 2-Door
2003 Jeep Wrangler SE Sport Utility 2-Door
2003 Jeep Wrangler Sahara Sport Utility 2-Door
2003 Jeep Wrangler Sport Sport Utility 2-Door
2003 Jeep Wrangler X AT Sport Utility 2-Door
2003 Jeep Wrangler X Sport Utility 2-Door
2002 Jeep TJ SE Sport Utility 2-Door
2002 Jeep TJ Sahara Sport Utility 2-Door
2002 Jeep TJ Sport Sport Utility 2-Door
2002 Jeep Wrangler SE Sport Utility 2-Door
2002 Jeep Wrangler Sahara Sport Utility 2-Door
2002 Jeep Wrangler Sport Sport Utility 2-Door
2002 Jeep Wrangler X Sport Utility 2-Door
2001 Jeep TJ SE Sport Utility 2-Door
2001 Jeep TJ Sahara Sport Utility 2-Door
2001 Jeep TJ Sport Sport Utility 2-Door
2001 Jeep Wrangler 60 Aniversario Sport Utility 2-Door
2001 Jeep Wrangler SE Sport Utility 2-Door
2001 Jeep Wrangler Sahara Sport Utility 2-Door
2001 Jeep Wrangler Sport Sport Utility 2-Door
2000 Jeep TJ SE Sport Utility 2-Door
2000 Jeep TJ Sahara Sport Utility 2-Door
2000 Jeep TJ Sport Sport Utility 2-Door
2000 Jeep Wrangler SE Sport Utility 2-Door
2000 Jeep Wrangler Sahara Sport Utility 2-Door
2000 Jeep Wrangler Sport Sport Utility 2-Door
1999 Jeep TJ SE Sport Utility 2-Door
1999 Jeep TJ Sahara Sport Utility 2-Door
1999 Jeep TJ Sport Sport Utility 2-Door
1999 Jeep Wrangler SE Sport Utility 2-Door
1999 Jeep Wrangler Sahara Sport Utility 2-Door
1999 Jeep Wrangler Sport Sport Utility 2-Door
1998 Jeep TJ SE Sport Utility 2-Door
1998 Jeep TJ Sahara Sport Utility 2-Door
1998 Jeep TJ Sport Sport Utility 2-Door
1998 Jeep Wrangler SE Sport Utility 2-Door
1998 Jeep Wrangler Sahara Sport Utility 2-Door
1998 Jeep Wrangler Sport Sport Utility 2-Door
1997 Jeep TJ SE Sport Utility 2-Door
1997 Jeep TJ Sahara Sport Utility 2-Door
1997 Jeep TJ Sport Sport Utility 2-Door
1997 Jeep Wrangler Base Sport Utility 2-Door
1997 Jeep Wrangler SE Sport Utility 2-Door
1997 Jeep Wrangler Sahara Sport Utility 2-Door
1997 Jeep Wrangler Sport Sport Utility 2-Door
1995 Jeep Wrangler Base Sport Utility 2-Door
1995 Jeep Wrangler Rio Grande Sport Utility 2-Door
1995 Jeep Wrangler SE Sport Utility 2-Door
1995 Jeep Wrangler Sahara Sport Utility 2-Door
1994 Jeep Wrangler Base Sport Utility 2-Door
1994 Jeep Wrangler Renegade Sport Utility 2-Door
1994 Jeep Wrangler SE Sport Utility 2-Door
1994 Jeep Wrangler S Sport Utility 2-Door
1994 Jeep Wrangler Sahara Sport Utility 2-Door
1993 Jeep Wrangler Base Sport Utility 2-Door
1993 Jeep Wrangler Renegade Sport Utility 2-Door
1993 Jeep Wrangler S Sport Utility 2-Door
1993 Jeep Wrangler Sahara Sport Utility 2-Door
1992 Jeep Wrangler Base Sport Utility 2-Door
1992 Jeep Wrangler Islander Sport Utility 2-Door
1992 Jeep Wrangler Renegade Sport Utility 2-Door
1992 Jeep Wrangler S Sport Utility 2-Door
1992 Jeep Wrangler Sahara Sport Utility 2-Door
1991 Jeep Wrangler Base Sport Utility 2-Door
1991 Jeep Wrangler Islander Sport Utility 2-Door
1991 Jeep Wrangler Renegade Sport Utility 2-Door
1991 Jeep Wrangler S Sport Utility 2-Door
1991 Jeep Wrangler Sahara Sport Utility 2-Door
1990 Jeep Wrangler Base Sport Utility 2-Door
1990 Jeep Wrangler Islander Sport Utility 2-Door
1990 Jeep Wrangler Laredo Sport Utility 2-Door
1990 Jeep Wrangler Sahara Sport Utility 2-Door
1989 Jeep Wrangler Base Sport Utility 2-Door
1989 Jeep Wrangler Islander Sport Utility 2-Door
1989 Jeep Wrangler Laredo Sport Utility 2-Door
1989 Jeep Wrangler Sahara Sport Utility 2-Door
1988 Jeep Wrangler Base Sport Utility 2-Door
1988 Jeep Wrangler Islander Sport Utility 2-Door
1988 Jeep Wrangler Laredo Sport Utility 2-Door
1988 Jeep Wrangler S Sport Utility 2-Door
1988 Jeep Wrangler Sahara Sport Utility 2-Door
1988 Jeep Wrangler Sport Sport Utility 2-Door
1987 Jeep Wrangler Base Sport Utility 2-Door
1987 Jeep Wrangler Laredo Sport Utility 2-Door
1987 Jeep Wrangler Sport Sport Utility 2-Door
It fits on a YJ without any modification.!
Mine didn't include the winch plate I had to buy one somewhere else. The winch has to be installed before the bumper is. The round crossmember in the front blocks access to the rear winch bolts. So won't nobody be stealing your winch...1994 Jeep YJ and it was a bolt on part!
Good Quality
Exactly what i expected, it's really nice, and the LED lights work really good as well!
Looks great
Easy to install. Looks great. As far as stopping you from Rolling on your top I wouldn't recommend it. The stinger is not very sturdy at all
Love it
Excellent products would definitely recommend