Hooke Road Full Width Front Bumper w/LED Light Bar(10-18 Ram 2500)- HR
Like to Join in Discount List
P.O. Box Address is not available. Please Offer the physical address on checkout.
Offroad Life 4x4 Enthousiast
Offroad Life Enthousiast · Trucks & Wrangler Mods
Name: Ram 2500  Front Bumper w/LED Light Bar for Ram 2500 2010-2018
Feature
Fit for 2010-2018 Ram 2500 Models
Bumper Weight: About 73 lbs
3-Piece Modular Design, Features a Sleek Style that Compliments your Truck's Body Lines
Adequate Lighting for Safe Driving: Includes 2×18w LED White Spotlights & a 120W LED white Spot Flood Combo Light Bar(22 In).
Equipped with a Strong Skid Plate
Pre Cutouts that Works with Factory Tow Hooks
Heavy-Duty Steel Construction: 11-Gauge(1/8 Inch) for the Bumper Body, 8-Gauge(11/64 Inch) Steel for the Mounting Structure Plate
Simple Bolt-On Installation; No Drilling is Required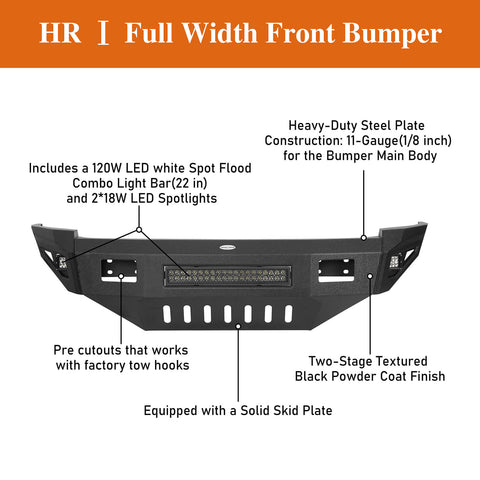 Package Included:
1 x Dodge Ram 2500 Front Bumper
1 x Light Bar
2 x LED Spotlights
Mounting Hardware Kit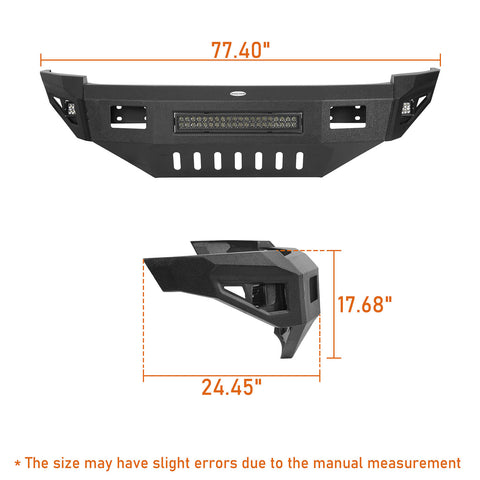 Please Double-check the distance between front bumper edge and fender below to Purchase What you Like.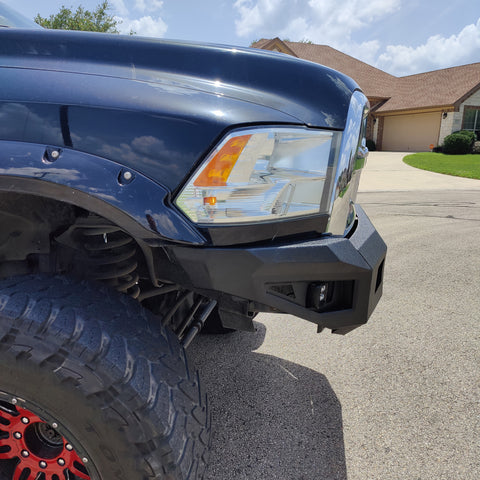 Accent Your Truck.
Install this Dodge Ram 2500 Front Bumper on your truck to accentuate its rugged appearance. This Ram 2500 Front Bumper has a sleek low profile design and follow vehicle's contour. It also has 2×18w LED white spotlights and a 120W LED white light bar to provide adequate lighting at night for safe driving. The Ram Front Bumper boosts its overall appearance with an aggressive, heavy-duty style that compliments your truck's body lines.
Strength and Durability.
This Ram 2500 Front Bumper is designed to take the challenges of the roads head-on. It is made using 11-gauge(1/8 inch) for the bumper main body, 8-gauge(11/64 inch) steel for the mounting structure plate. These structure plates are for maximum durability and years and reliable service. Additionally, a textured black powder-coated finish completes this front bumper for an intimidating appeal and lasting protection against corrosion.
Convenient Bolt-On Installation.
The brand engineered their bumper to be a direct bolt-on replacement for the original stock bumper reusing the factory hardware and mounting points. First, uninstall the factory bumper. Then assemble the parts to be a bumper. Lastly, place the bumper onto the car frame and tighten up all the bolts after adjusting the bumper position. There is no cutting or modifications required for a clean straightforward installation. All you need to complete the installation are basic hand tools and about 2 hours.
SEMA Membership.
The Brand has been certified as a member of SEMA. We are studious and gradually grow up to be a professional aftermarket retailer. As a SEMA member, we make, buy, sell and use all kinds of specialty parts and accessories to make vehicles more attractive, more unique, more convenient, faster, safer, more fun, and even like-new again. Wish you have a terrific off-road experience with our products.