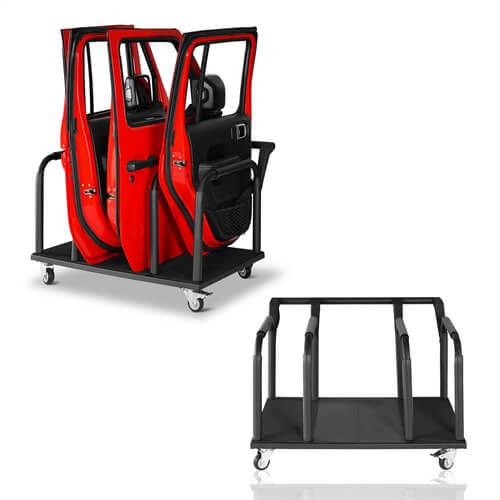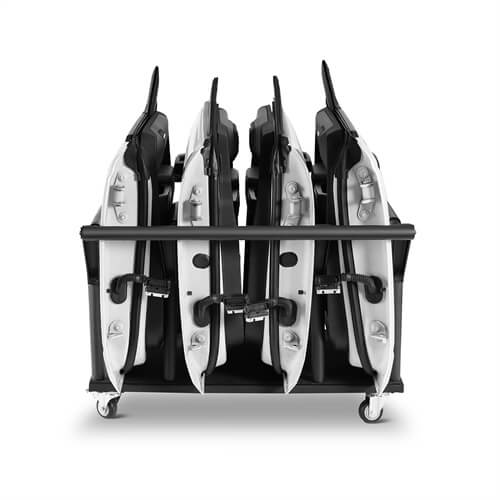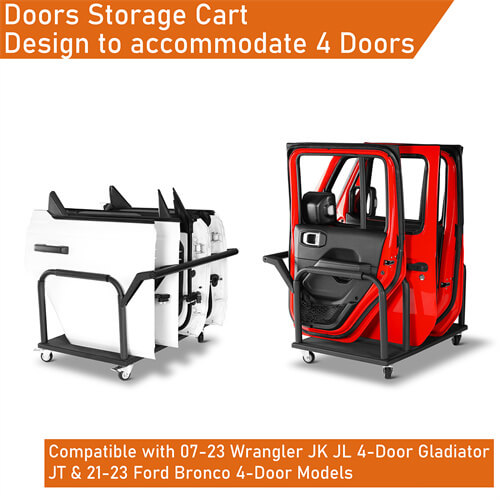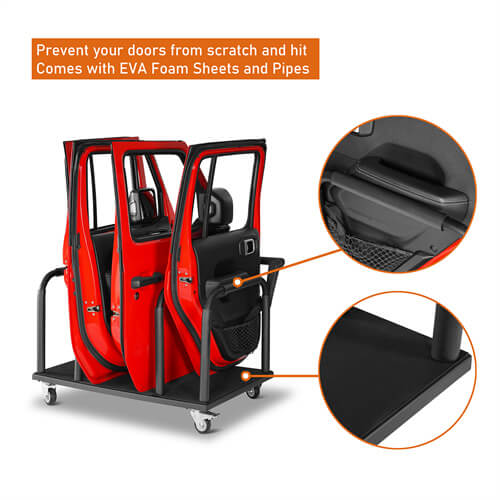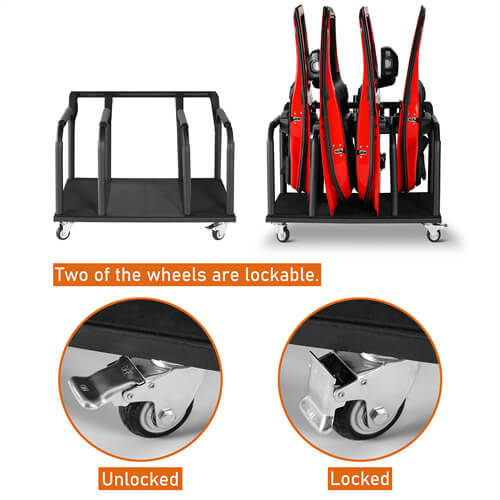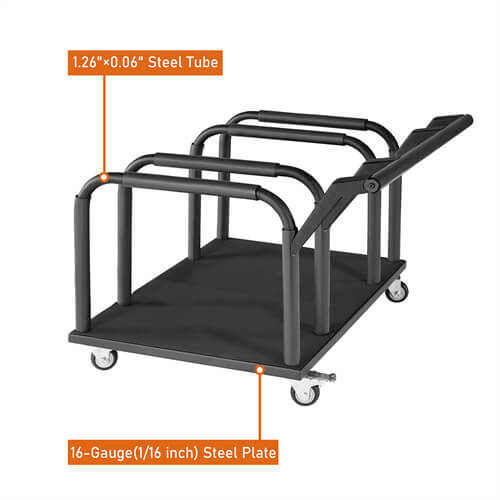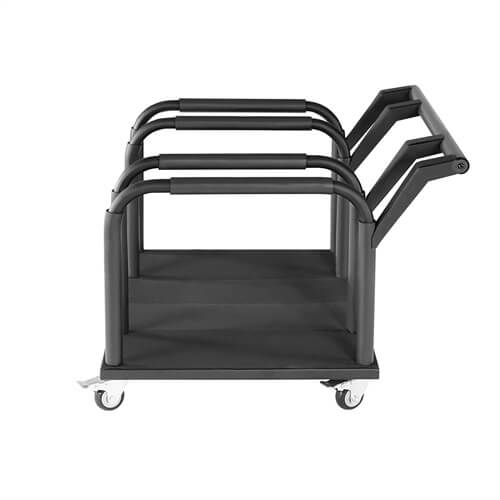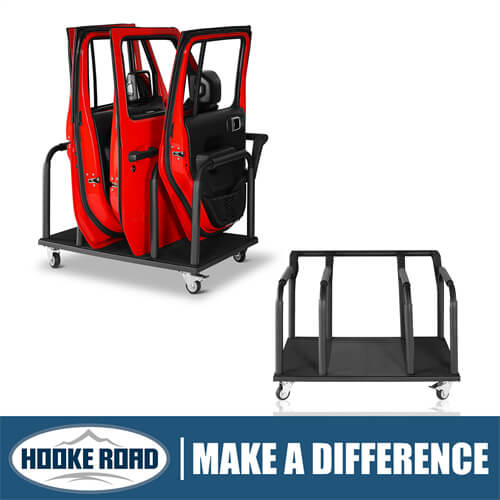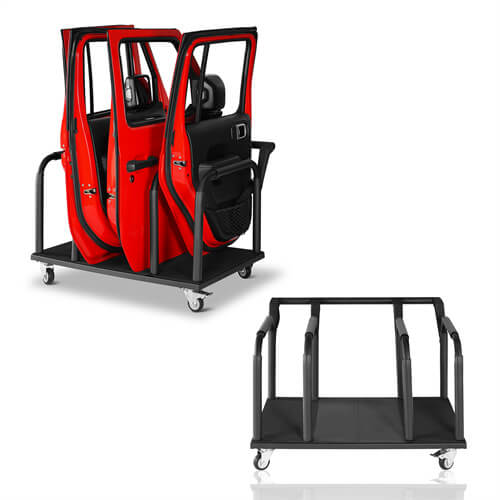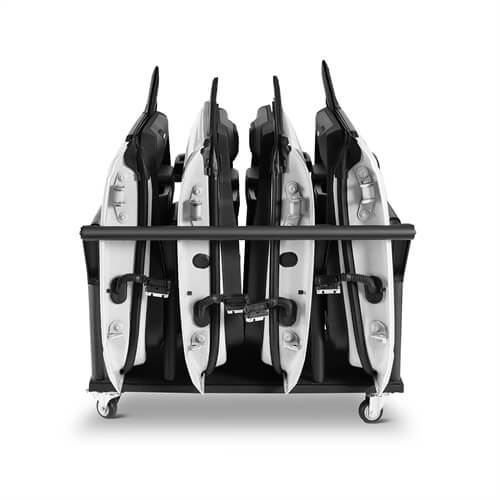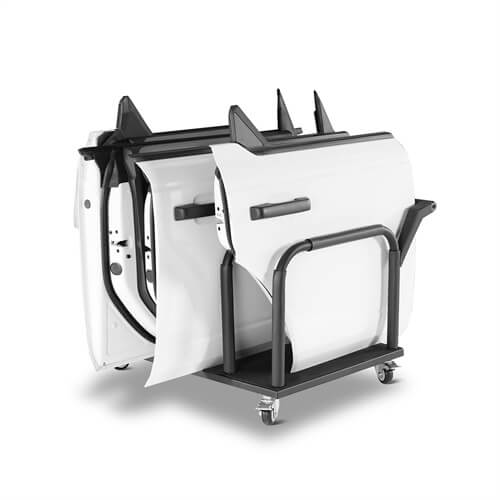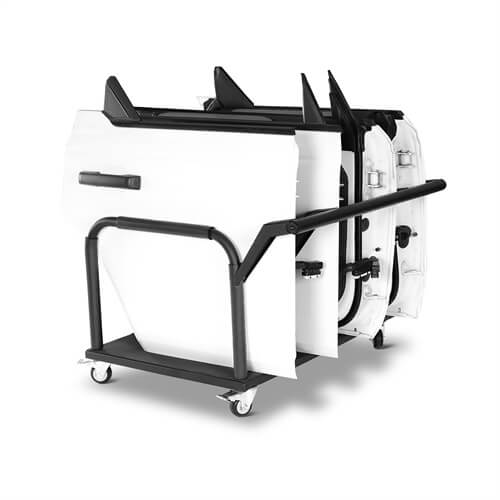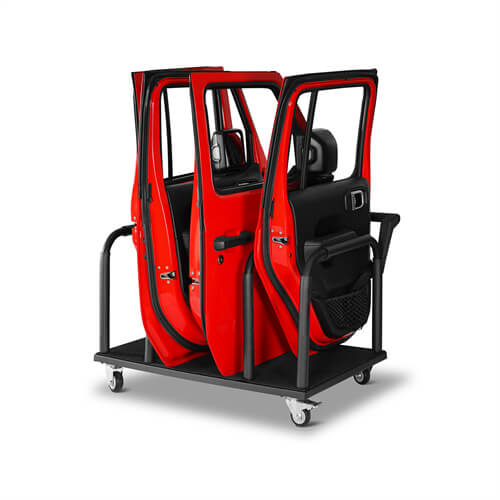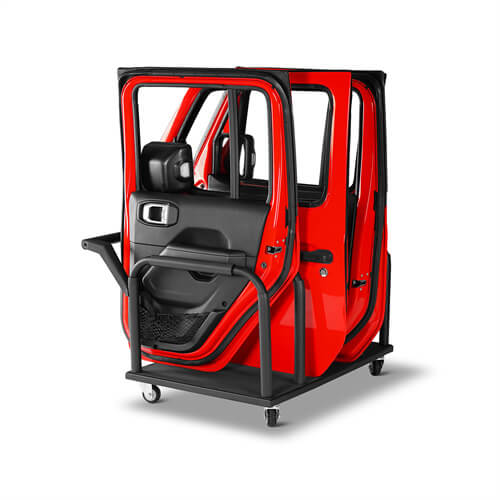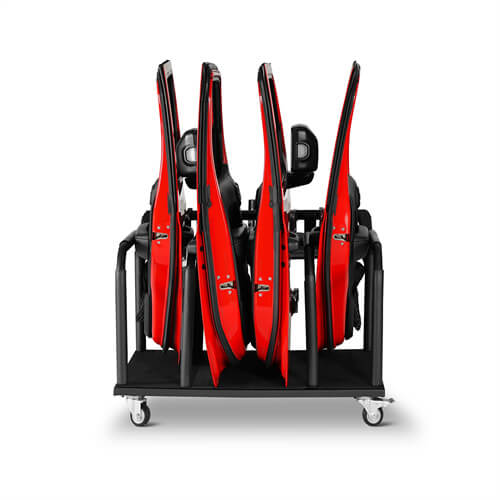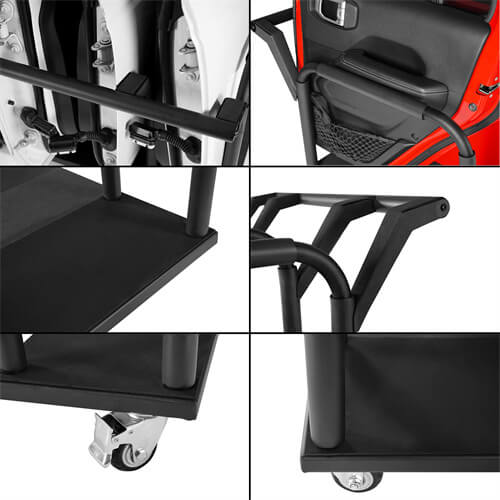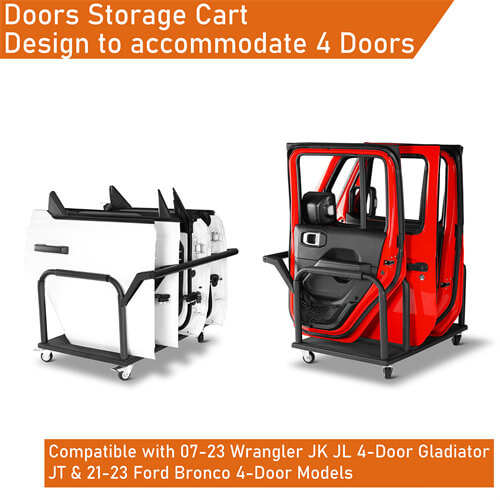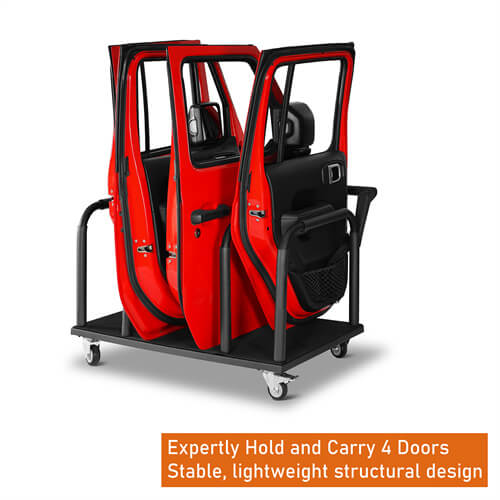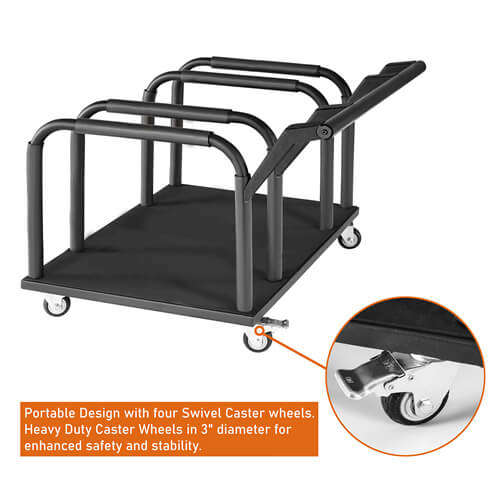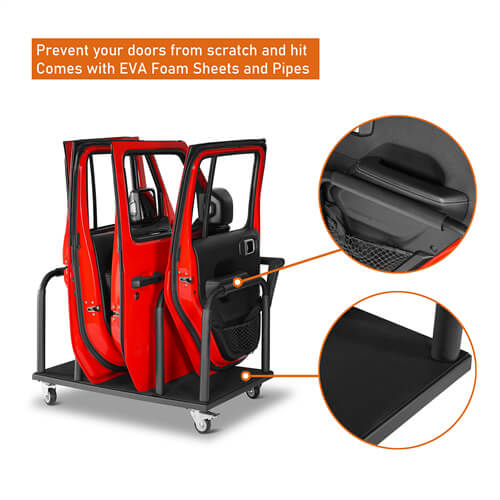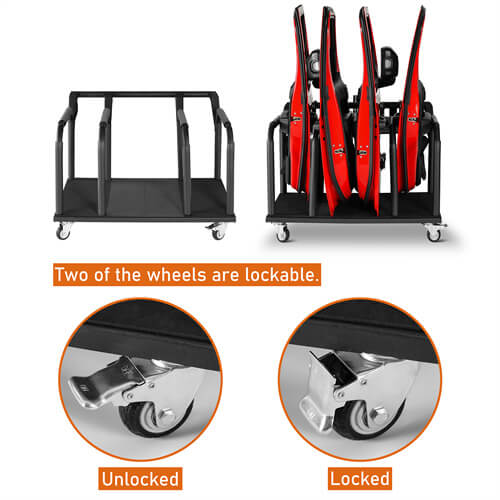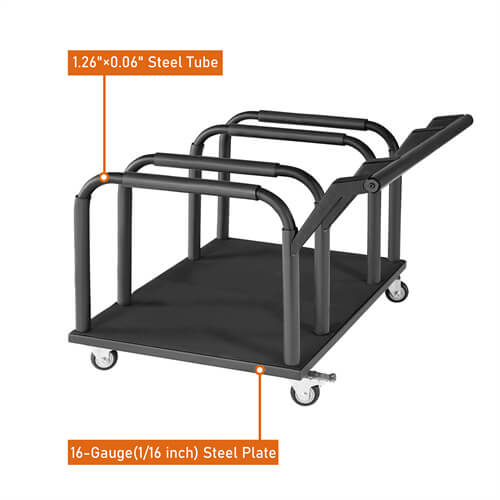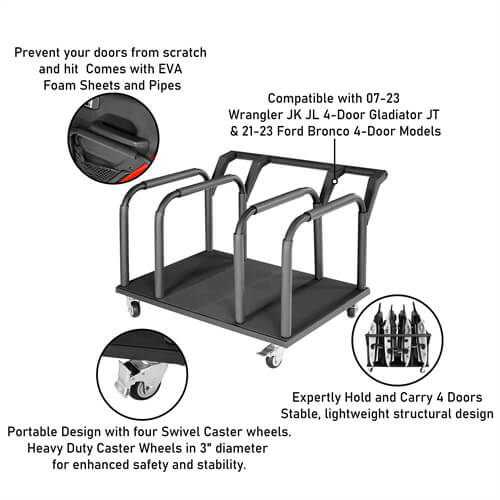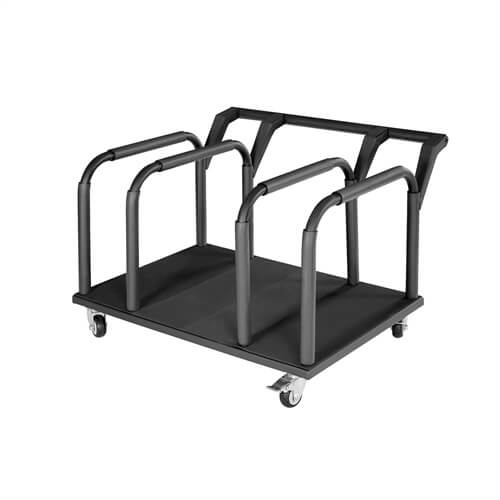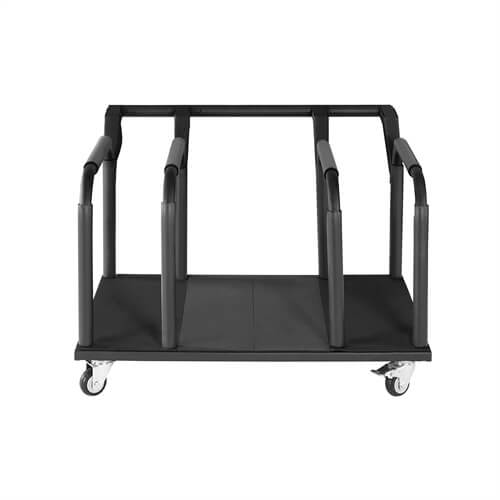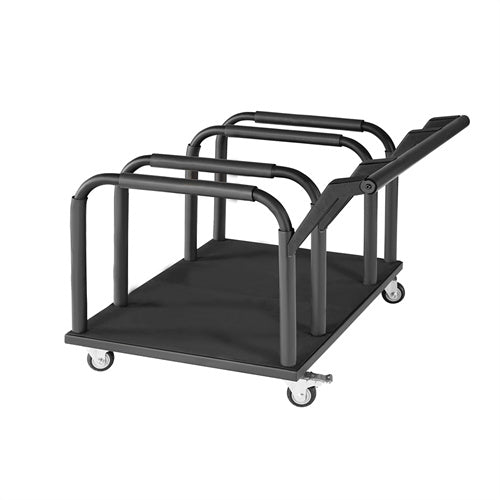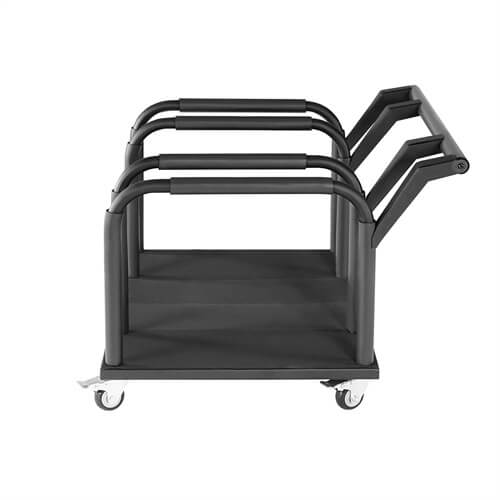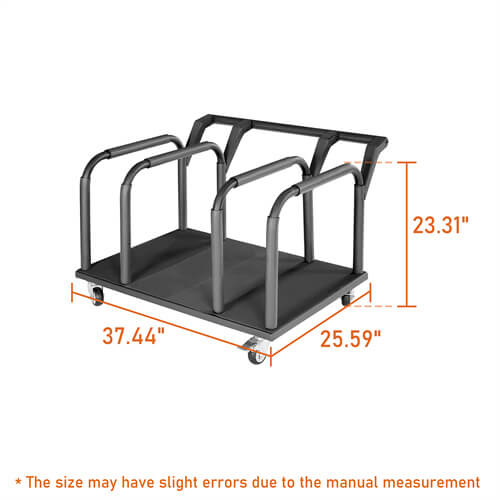 Name: Hooke Road Jeep & Ford Bronco Doors Storage Cart for 4 Doors
Feature
Fits for 2007-2023 Jeep Wrangler JK JL 4-Door Gladiator JT & 2021-2023 Ford Bronco 4-Door Models
Product weight: about 47 lbs
Made from 16-gauge(1/16) steel plate and 1.26"×0.06" steel tube
Durable black powder coat finish & Premium E-coating process inside
Provides a sturdy unit that expertly holds 4 doors, Keep your doors off the floor and free from damage
Boasts an efficient use of space, The four doors are placed vertically on the cart and surrounded by structure tubes
Holds both factory doors and tube doors, with this cart you don't need to hang those heavy doors on the wall anymore
Easy bolt-on installation, Mounting hardware included
Portable design
Portable design, Smooth swivel caster wheels glide the doors to any area of the garage or shop with your hands
Equipped with four heavt duty wheels in 3" diameter, two of which are lockable, you can easily move the cart to any area with your hands, and securely lock it in place when needed
Comes with thick EVA foam sheets and pipes that prevent your doors from scratch and hit
Dimension
Ingenious Storage Cart Solution. The Hooke Road Doors Storage Cart Door Sliding Rack is a versatile solution designed for storing and transporting four doors. It serves as a sturdy unit that expertly holds your doors, keeping them elevated and free from damage. This cart excels in space efficiency, with the four doors positioned vertically and surrounded by structural tubes. The portable design includes smooth swivel caster wheels that effortlessly glide the doors to any area of your garage or shop, simplifying door handling. Equipped with four heavy-duty 3" diameter wheels, two of which are lockable, you can easily move and securely lock the cart in place when needed. To ensure your doors remain scratch-free, the cart comes with thick EVA foam sheets and pipes, providing effective protection.

Stable and Lightweight Structure. Crafted for durability, the storage cart is constructed from robust 16-gauge (1/16 inch) steel plates and 1.26"×0.06" steel tubes. These materials ensure the cart's strength and longevity. To enhance its durability and resistance to environmental factors, it's coated with a durable black powder finish. Inside, a premium E-coating process adds an additional layer of protection. Despite its strength, the cart remains lightweight at about 47 lbs, making it easy to handle.

Quick Bolt-on Installation. Setting up the Hooke Road Doors Storage Cart is a breeze with its easy bolt-on installation. The necessary mounting hardware is included with the cart, ensuring a straightforward assembly process. It's compatible with Wrangler, Gladiator JT and Bronco Models, making it a versatile and convenient solution for door storage and organization. Whether you're in your garage or shop, this cart's portability and protective features simplify door handling and storage.
1 × Storage Cart Assembly
4 × Caster Wheels
1 × EVA Foam Pads and Pipes
1 × Installation Instruction
2023 Ford Bronco Badlands Sport Utility
2023 Ford Bronco Base Sport Utility
2023 Ford Bronco Big Bend Sport Utility
2023 Ford Bronco Black Diamond Sport Utility
2023 Ford Bronco Everglades Sport Utility
2023 Ford Bronco Heritage Edition Sport Utility
2023 Ford Bronco Outer Banks Sport Utility
2023 Ford Bronco Raptor Sport Utility
2023 Ford Bronco Wildtrak Sport Utility
2022 Ford Bronco Badlands Sport Utility
2022 Ford Bronco Base Sport Utility
2022 Ford Bronco Big Bend Sport Utility
2022 Ford Bronco Black Diamond Sport Utility
2022 Ford Bronco Everglades Sport Utility
2022 Ford Bronco Outer Banks Sport Utility
2022 Ford Bronco Raptor Sport Utility
2022 Ford Bronco Wildtrak Sport Utility
2021 Ford Bronco Badlands Sport Utility
2021 Ford Bronco Base Sport Utility
2021 Ford Bronco Big Bend Sport Utility
2021 Ford Bronco Black Diamond Sport Utility
2021 Ford Bronco First Edition Sport Utility
2021 Ford Bronco Outer Banks Sport Utility
2021 Ford Bronco Wildtrak Sport Utility
2023 Jeep Gladiator High Altitude Crew Cab Pickup 4-Door
2023 Jeep Gladiator High Altitude Crew Cab Pickup 4-Door
2023 Jeep Gladiator Mojave Crew Cab Pickup 4-Door
2023 Jeep Gladiator Overland Crew Cab Pickup 4-Door
2023 Jeep Gladiator Rubicon Crew Cab Pickup 4-Door
2023 Jeep Gladiator Sport Crew Cab Pickup 4-Door
2023 Jeep Gladiator Sport S Crew Cab Pickup 4-Door
2023 Jeep Gladiator Sport S Crew Cab Pickup 4-Door
2023 Jeep Gladiator Willys Crew Cab Pickup 4-Door
2023 Jeep Gladiator Willys Crew Cab Pickup 4-Door
2023 Jeep Gladiator Willys Sport Crew Cab Pickup 4-Door
2023 Jeep Gladiator Willys Sport Crew Cab Pickup 4-Door
2022 Jeep Gladiator Altitude Crew Cab Pickup 4-Door
2022 Jeep Gladiator Altitude Crew Cab Pickup 4-Door
2022 Jeep Gladiator High Altitude Crew Cab Pickup 4-Door
2022 Jeep Gladiator High Altitude Crew Cab Pickup 4-Door
2022 Jeep Gladiator Mojave Crew Cab Pickup 4-Door
2022 Jeep Gladiator Overland Crew Cab Pickup 4-Door
2022 Jeep Gladiator Overland Crew Cab Pickup 4-Door
2022 Jeep Gladiator Rubicon Crew Cab Pickup 4-Door
2022 Jeep Gladiator Rubicon Crew Cab Pickup 4-Door
2022 Jeep Gladiator Sport Crew Cab Pickup 4-Door
2022 Jeep Gladiator Sport Crew Cab Pickup 4-Door
2022 Jeep Gladiator Sport S Crew Cab Pickup 4-Door
2022 Jeep Gladiator Sport S Crew Cab Pickup 4-Door
2022 Jeep Gladiator Willys Crew Cab Pickup 4-Door
2022 Jeep Gladiator Willys Crew Cab Pickup 4-Door
2022 Jeep Gladiator Willys Sport Crew Cab Pickup 4-Door
2022 Jeep Gladiator Willys Sport Crew Cab Pickup 4-Door
2021 Jeep Gladiator 80th Anniversary Crew Cab Pickup 4-Door
2021 Jeep Gladiator 80th Anniversary Crew Cab Pickup 4-Door
2021 Jeep Gladiator High Altitude Crew Cab Pickup 4-Door
2021 Jeep Gladiator High Altitude Crew Cab Pickup 4-Door
2021 Jeep Gladiator Mojave Crew Cab Pickup 4-Door
2021 Jeep Gladiator Overland Crew Cab Pickup 4-Door
2021 Jeep Gladiator Overland Crew Cab Pickup 4-Door
2021 Jeep Gladiator Rubicon Crew Cab Pickup 4-Door
2021 Jeep Gladiator Rubicon Crew Cab Pickup 4-Door
2021 Jeep Gladiator Sport Crew Cab Pickup 4-Door
2021 Jeep Gladiator Sport Crew Cab Pickup 4-Door
2021 Jeep Gladiator Sport S Crew Cab Pickup 4-Door
2021 Jeep Gladiator Sport S Crew Cab Pickup 4-Door
2021 Jeep Gladiator Willys Crew Cab Pickup 4-Door
2021 Jeep Gladiator Willys Crew Cab Pickup 4-Door
2021 Jeep Gladiator Willys Sport Crew Cab Pickup 4-Door
2021 Jeep Gladiator Willys Sport Crew Cab Pickup 4-Door
2020 Jeep Gladiator Altitude Crew Cab Pickup 4-Door
2020 Jeep Gladiator Launch Edition Crew Cab Pickup 4-Door
2020 Jeep Gladiator Mojave Crew Cab Pickup 4-Door
2020 Jeep Gladiator North Edition Crew Cab Pickup 4-Door
2020 Jeep Gladiator Overland Crew Cab Pickup 4-Door
2020 Jeep Gladiator Rubicon Crew Cab Pickup 4-Door
2020 Jeep Gladiator Sport Crew Cab Pickup 4-Door
2020 Jeep Gladiator Sport S Crew Cab Pickup 4-Door
2023 Jeep Wrangler Unlimited High Altitude 4xe Sport Utility 4-Door
2023 Jeep Wrangler Unlimited High Altitude Sport Utility 4-Door
2023 Jeep Wrangler Unlimited Rubicon 4xe Sport Utility 4-Door
2023 Jeep Wrangler Unlimited Rubicon 392 Sport Utility 4-Door
2023 Jeep Wrangler Unlimited Rubicon Sport Utility 4-Door
2023 Jeep Wrangler Unlimited Sahara 4xe Sport Utility 4-Door
2023 Jeep Wrangler Unlimited Sahara Altitude Sport Utility 4-Door
2023 Jeep Wrangler Unlimited Sahara High Altitude Sport Utility 4-Door
2023 Jeep Wrangler Unlimited Sahara Sport Utility 4-Door
2023 Jeep Wrangler Unlimited Sport Altitude Sport Utility 4-Door
2023 Jeep Wrangler Unlimited Sport S Sport Utility 4-Door
2023 Jeep Wrangler Unlimited Sport Sport Utility 4-Door
2023 Jeep Wrangler Unlimited Willys 4xe Sport Utility 4-Door
2023 Jeep Wrangler Unlimited Willys Sport Sport Utility 4-Door
2023 Jeep Wrangler Unlimited Willys Sport Utility 4-Door
2022 Jeep Wrangler Unlimited Rubicon 392 Sport Utility 4-Door
2022 Jeep Wrangler Unlimited Rubicon Sport Utility 4-Door
2022 Jeep Wrangler Unlimited Sahara Altitude Sport Utility 4-Door
2022 Jeep Wrangler Unlimited Sahara High Altitude Sport Utility 4-Door
2022 Jeep Wrangler Unlimited Sahara Sport Utility 4-Door
2022 Jeep Wrangler Unlimited Sport Altitude Sport Utility 4-Door
2022 Jeep Wrangler Unlimited Sport S Sport Utility 4-Door
2022 Jeep Wrangler Unlimited Sport Sport Utility 4-Door
2022 Jeep Wrangler Unlimited Willys Sport Sport Utility 4-Door
2022 Jeep Wrangler Unlimited Willys Sport Utility 4-Door
2021 Jeep Wrangler Unlimited 80th Anniversary Sport Utility 4-Door
2021 Jeep Wrangler Unlimited Freedom Sport Utility 4-Door
2021 Jeep Wrangler Unlimited High Altitude Sport Utility 4-Door
2021 Jeep Wrangler Unlimited Islander Sport Utility 4-Door
2021 Jeep Wrangler Unlimited Rubicon 392 Sport Utility 4-Door
2021 Jeep Wrangler Unlimited Rubicon Sport Utility 4-Door
2021 Jeep Wrangler Unlimited Sahara Altitude Sport Utility 4-Door
2021 Jeep Wrangler Unlimited Sahara High Altitude Sport Utility 4-Door
2021 Jeep Wrangler Unlimited Sahara Sport Utility 4-Door
2021 Jeep Wrangler Unlimited Sport Altitude Sport Utility 4-Door
2021 Jeep Wrangler Unlimited Sport S Sport Utility 4-Door
2021 Jeep Wrangler Unlimited Sport Sport Utility 4-Door
2021 Jeep Wrangler Unlimited Willys Sport Sport Utility 4-Door
2021 Jeep Wrangler Unlimited Willys Sport Utility 4-Door
2020 Jeep Wrangler Unlimited Black and Tan Sport Utility 4-Door
2020 Jeep Wrangler Unlimited Freedom Sport Utility 4-Door
2020 Jeep Wrangler Unlimited North Edition Sport Utility 4-Door
2020 Jeep Wrangler Unlimited Recon Sport Utility 4-Door
2020 Jeep Wrangler Unlimited Rubicon Deluxe Sport Utility 4-Door
2020 Jeep Wrangler Unlimited Rubicon Sport Utility 4-Door
2020 Jeep Wrangler Unlimited Rubicon Xtreme Sport Utility 4-Door
2020 Jeep Wrangler Unlimited Sahara Altitude Sport Utility 4-Door
2020 Jeep Wrangler Unlimited Sahara Sport Utility 4-Door
2020 Jeep Wrangler Unlimited Sport Altitude Sport Utility 4-Door
2020 Jeep Wrangler Unlimited Sport S Sport Utility 4-Door
2020 Jeep Wrangler Unlimited Sport Sport Utility 4-Door
2020 Jeep Wrangler Unlimited Willys Sport Utility 2-Door
2020 Jeep Wrangler Unlimited Willys Sport Utility 4-Door
2019 Jeep Wrangler Rubicon Deluxe Sport Utility 2-Door
2019 Jeep Wrangler Unlimited Moab Sport Utility 4-Door
2019 Jeep Wrangler Unlimited Rubicon Sport Utility 4-Door
2019 Jeep Wrangler Unlimited Sahara Altitude Sport Utility 4-Door
2019 Jeep Wrangler Unlimited Sahara Sport Utility 4-Door
2019 Jeep Wrangler Unlimited Sport S Sport Utility 4-Door
2019 Jeep Wrangler Unlimited Sport Sport Utility 4-Door
2018 Jeep Wrangler Unlimited Moab Sport Utility 4-Door
2018 Jeep Wrangler Unlimited Moab Sport Utility 4-Door
2018 Jeep Wrangler Unlimited Rubicon Sport Utility 4-Door
2018 Jeep Wrangler Unlimited Sahara Sport Utility 4-Door
2018 Jeep Wrangler Unlimited Sport S Sport Utility 4-Door
2018 Jeep Wrangler Unlimited Sport Sport Utility 4-Door
2018 Jeep Wrangler JK Unlimited Rubicon Sport Utility 4-Door
2018 Jeep Wrangler JK Unlimited Sahara Sport Utility 4-Door
2018 Jeep Wrangler JK Unlimited Sport S Sport Utility 4-Door
2018 Jeep Wrangler JK Unlimited Sport Sport Utility 4-Door
2018 Jeep Wrangler JK Unlimited Willys Wheeler Sport Utility 4-Door
2017 Jeep Wrangler Unlimited Rubicon Sport Utility 4-Door
2017 Jeep Wrangler Unlimited Sahara Sport Utility 4-Door
2017 Jeep Wrangler Unlimited Smoky Mountain Sport Utility 4-Door
2017 Jeep Wrangler Unlimited Sport Sport Utility 4-Door
2017 Jeep Wrangler Unlimited Winter Edition Sport Utility 4-Door
2016 Jeep Wrangler Unlimited 75th Anniversary Sport Utility 4-Door
2016 Jeep Wrangler Unlimited Black Bear Sport Utility 4-Door
2016 Jeep Wrangler Unlimited Rubicon Sport Utility 4-Door
2016 Jeep Wrangler Unlimited Sahara Sport Utility 4-Door
2016 Jeep Wrangler Unlimited Sport S Sport Utility 4-Door
2016 Jeep Wrangler Unlimited Sport Sport Utility 4-Door
2015 Jeep Wrangler Freedom Edition Sport Utility 2-Door
2015 Jeep Wrangler Freedom Edition Sport Utility 4-Door
2015 Jeep Wrangler Unlimited Altitude Sport Utility 4-Door
2015 Jeep Wrangler Unlimited Hard Rock Sport Utility 4-Door
2015 Jeep Wrangler Unlimited Rubicon Sport Utility 4-Door
2015 Jeep Wrangler Unlimited Sahara Sport Utility 4-Door
2015 Jeep Wrangler Unlimited Sport Sport Utility 4-Door
2015 Jeep Wrangler Willys Wheeler Sport Utility 4-Door
2015 Jeep Wrangler X Edition Sport Utility 4-Door
2014 Jeep Wrangler Altitude Sport Utility 4-Door
2014 Jeep Wrangler Freedom Edition Sport Utility 4-Door
2014 Jeep Wrangler Polar Edition Sport Utility 4-Door
2014 Jeep Wrangler Unlimited Dragon Edition Sport Utility 4-Door
2014 Jeep Wrangler Unlimited Rubicon Sport Utility 4-Door
2014 Jeep Wrangler Unlimited Sahara Sport Utility 4-Door
2014 Jeep Wrangler Unlimited Sport Sport Utility 4-Door
2014 Jeep Wrangler Unlimited Willys Wheeler Sport Utility 4-Door
2013 Jeep Wrangler Unlimited Rubicon Sport Utility 4-Door
2013 Jeep Wrangler Unlimited Sahara Sport Utility 4-Door
2013 Jeep Wrangler Unlimited Sport Sport Utility 4-Door
2012 Jeep Wrangler Unlimited Altitude Sport Utility 4-Door
2012 Jeep Wrangler Unlimited Mountain Sport Utility 4-Door
2012 Jeep Wrangler Unlimited Rubicon Sport Utility 4-Door
2012 Jeep Wrangler Unlimited Sahara Sport Utility 4-Door
2012 Jeep Wrangler Unlimited Sport Sport Utility 4-Door
2012 Jeep Wrangler Unlimited Sport Utility 4-Door
2011 Jeep Wrangler Unlimited 70th Anniversary Sport Utility 4-Door
2011 Jeep Wrangler Unlimited Rubicon Sport Utility 4-Door
2011 Jeep Wrangler Unlimited Sahara Sport Utility 4-Door
2011 Jeep Wrangler Unlimited Sport Sport Utility 4-Door
2011 Jeep Wrangler Unlimited X Sport Utility 4-Door
2010 Jeep Wrangler Unlimited Mountain Sport Utility 4-Door
2010 Jeep Wrangler Unlimited Rubicon Sport Utility 4-Door
2010 Jeep Wrangler Unlimited Sahara Sport Utility 4-Door
2010 Jeep Wrangler Unlimited Sport Sport Utility 4-Door
2010 Jeep Wrangler Unlimited X Sport Utility 4-Door
2009 Jeep Wrangler Unlimited Rubicon Sport Utility 4-Door
2009 Jeep Wrangler Unlimited Sahara Sport Utility 4-Door
2009 Jeep Wrangler Unlimited X Sport Utility 4-Door
2008 Jeep Wrangler Unlimited Rubicon Sport Utility 4-Door
2008 Jeep Wrangler Unlimited Sahara Sport Utility 4-Door
2008 Jeep Wrangler Unlimited X Sport Utility 4-Door
2007 Jeep Wrangler Unlimited Rubicon Sport Utility 4-Door
2007 Jeep Wrangler Unlimited Sahara Sport Utility 4-Door
2007 Jeep Wrangler Unlimited X Sport Utility 4-Door
2018 Jeep Wrangler Rubicon
2018 Jeep Wrangler Sport S
2018 Jeep Wrangler Sport
2018 Jeep Wrangler Unlimited Moab
2018 Jeep Wrangler Unlimited Rubicon
2018 Jeep Wrangler Unlimited Sahara
2018 Jeep Wrangler Unlimited Sport S
2018 Jeep Wrangler Unlimited Sport
2018 Jeep Wrangler JK Rubicon
2018 Jeep Wrangler JK Sahara
2018 Jeep Wrangler JK Sport S
2018 Jeep Wrangler JK Sport
2018 Jeep Wrangler JK Unlimited Rubicon
2018 Jeep Wrangler JK Unlimited Sahara
2018 Jeep Wrangler JK Unlimited Sport S
2018 Jeep Wrangler JK Unlimited Sport
2018 Jeep Wrangler JK Unlimited Willys Wheeler
2017 Jeep Wrangler Rubicon
2017 Jeep Wrangler Sahara
2017 Jeep Wrangler Sport
2017 Jeep Wrangler Unlimited Rubicon
2017 Jeep Wrangler Unlimited Sahara
2017 Jeep Wrangler Unlimited Smoky Mountain
2017 Jeep Wrangler Unlimited Sport
2017 Jeep Wrangler Unlimited Winter Edition
2016 Jeep Wrangler 75th Anniversary
2016 Jeep Wrangler Rubicon
2016 Jeep Wrangler Sahara
2016 Jeep Wrangler Sport S
2016 Jeep Wrangler Sport
2016 Jeep Wrangler Unlimited 75th Anniversary
2016 Jeep Wrangler Unlimited Black Bear
2016 Jeep Wrangler Unlimited Rubicon
2016 Jeep Wrangler Unlimited Sahara
2016 Jeep Wrangler Unlimited Sport S
2016 Jeep Wrangler Unlimited Sport
2015 Jeep Wrangler Freedom Edition
2015 Jeep Wrangler Rubicon
2015 Jeep Wrangler Sahara
2015 Jeep Wrangler Sport
2015 Jeep Wrangler Unlimited Altitude
2015 Jeep Wrangler Unlimited Hard Rock
2015 Jeep Wrangler Unlimited Rubicon
2015 Jeep Wrangler Unlimited Sahara
2015 Jeep Wrangler Unlimited Sport
2015 Jeep Wrangler Willys Wheeler
2015 Jeep Wrangler X Edition
2014 Jeep Wrangler Altitude
2014 Jeep Wrangler Freedom Edition
2014 Jeep Wrangler Polar Edition
2014 Jeep Wrangler Rubicon
2014 Jeep Wrangler Sahara
2014 Jeep Wrangler Sport
2014 Jeep Wrangler Unlimited Dragon Edition
2014 Jeep Wrangler Unlimited Rubicon
2014 Jeep Wrangler Unlimited Sahara
2014 Jeep Wrangler Unlimited Sport
2014 Jeep Wrangler Unlimited Willys Wheeler
2014 Jeep Wrangler Willys Wheeler
2013 Jeep Wrangler Rubicon
2013 Jeep Wrangler Sahara
2013 Jeep Wrangler Sport
2013 Jeep Wrangler Unlimited Rubicon
2013 Jeep Wrangler Unlimited Sahara
2013 Jeep Wrangler Unlimited Sport
2012 Jeep Wrangler Rubicon
2012 Jeep Wrangler Sahara
2012 Jeep Wrangler Sport
2012 Jeep Wrangler Unlimited Altitude
2012 Jeep Wrangler Unlimited Mountain
2012 Jeep Wrangler Unlimited Rubicon
2012 Jeep Wrangler Unlimited Sahara
2012 Jeep Wrangler Unlimited Sport
2012 Jeep Wrangler Unlimited
2011 Jeep Wrangler 70th Anniversary
2011 Jeep Wrangler Rubicon
2011 Jeep Wrangler Sahara
2011 Jeep Wrangler Sport
2011 Jeep Wrangler Unlimited 70th Anniversary
2011 Jeep Wrangler Unlimited Rubicon
2011 Jeep Wrangler Unlimited Sahara
2011 Jeep Wrangler Unlimited Sport
2011 Jeep Wrangler Unlimited X
2011 Jeep Wrangler X
2010 Jeep Wrangler Islander
2010 Jeep Wrangler Rubicon
2010 Jeep Wrangler Sahara
2010 Jeep Wrangler Sport
2010 Jeep Wrangler Unlimited Mountain
2010 Jeep Wrangler Unlimited Rubicon
2010 Jeep Wrangler Unlimited Sahara
2010 Jeep Wrangler Unlimited Sport
2010 Jeep Wrangler Unlimited X
2010 Jeep Wrangler X
2009 Jeep Wrangler Rubicon
2009 Jeep Wrangler Sahara
2009 Jeep Wrangler Unlimited Rubicon
2009 Jeep Wrangler Unlimited Sahara
2009 Jeep Wrangler Unlimited X
2009 Jeep Wrangler X-S
2009 Jeep Wrangler X
2008 Jeep Wrangler Rubicon
2008 Jeep Wrangler Sahara
2008 Jeep Wrangler Unlimited Rubicon
2008 Jeep Wrangler Unlimited Sahara
2008 Jeep Wrangler Unlimited X
2008 Jeep Wrangler X
2007 Jeep Wrangler Rubicon
2007 Jeep Wrangler Sahara
2007 Jeep Wrangler Unlimited Rubicon
2007 Jeep Wrangler Unlimited Sahara
2007 Jeep Wrangler Unlimited X
2007 Jeep Wrangler X
Package Included
1 × Storage Cart Assembly
4 × Caster Wheels
1 × EVA Foam Pads and Pipes
1 × Installation Instruction
Fitment
2023 Ford Bronco Badlands Sport Utility
2023 Ford Bronco Base Sport Utility
2023 Ford Bronco Big Bend Sport Utility
2023 Ford Bronco Black Diamond Sport Utility
2023 Ford Bronco Everglades Sport Utility
2023 Ford Bronco Heritage Edition Sport Utility
2023 Ford Bronco Outer Banks Sport Utility
2023 Ford Bronco Raptor Sport Utility
2023 Ford Bronco Wildtrak Sport Utility
2022 Ford Bronco Badlands Sport Utility
2022 Ford Bronco Base Sport Utility
2022 Ford Bronco Big Bend Sport Utility
2022 Ford Bronco Black Diamond Sport Utility
2022 Ford Bronco Everglades Sport Utility
2022 Ford Bronco Outer Banks Sport Utility
2022 Ford Bronco Raptor Sport Utility
2022 Ford Bronco Wildtrak Sport Utility
2021 Ford Bronco Badlands Sport Utility
2021 Ford Bronco Base Sport Utility
2021 Ford Bronco Big Bend Sport Utility
2021 Ford Bronco Black Diamond Sport Utility
2021 Ford Bronco First Edition Sport Utility
2021 Ford Bronco Outer Banks Sport Utility
2021 Ford Bronco Wildtrak Sport Utility
2023 Jeep Gladiator High Altitude Crew Cab Pickup 4-Door
2023 Jeep Gladiator High Altitude Crew Cab Pickup 4-Door
2023 Jeep Gladiator Mojave Crew Cab Pickup 4-Door
2023 Jeep Gladiator Overland Crew Cab Pickup 4-Door
2023 Jeep Gladiator Rubicon Crew Cab Pickup 4-Door
2023 Jeep Gladiator Sport Crew Cab Pickup 4-Door
2023 Jeep Gladiator Sport S Crew Cab Pickup 4-Door
2023 Jeep Gladiator Sport S Crew Cab Pickup 4-Door
2023 Jeep Gladiator Willys Crew Cab Pickup 4-Door
2023 Jeep Gladiator Willys Crew Cab Pickup 4-Door
2023 Jeep Gladiator Willys Sport Crew Cab Pickup 4-Door
2023 Jeep Gladiator Willys Sport Crew Cab Pickup 4-Door
2022 Jeep Gladiator Altitude Crew Cab Pickup 4-Door
2022 Jeep Gladiator Altitude Crew Cab Pickup 4-Door
2022 Jeep Gladiator High Altitude Crew Cab Pickup 4-Door
2022 Jeep Gladiator High Altitude Crew Cab Pickup 4-Door
2022 Jeep Gladiator Mojave Crew Cab Pickup 4-Door
2022 Jeep Gladiator Overland Crew Cab Pickup 4-Door
2022 Jeep Gladiator Overland Crew Cab Pickup 4-Door
2022 Jeep Gladiator Rubicon Crew Cab Pickup 4-Door
2022 Jeep Gladiator Rubicon Crew Cab Pickup 4-Door
2022 Jeep Gladiator Sport Crew Cab Pickup 4-Door
2022 Jeep Gladiator Sport Crew Cab Pickup 4-Door
2022 Jeep Gladiator Sport S Crew Cab Pickup 4-Door
2022 Jeep Gladiator Sport S Crew Cab Pickup 4-Door
2022 Jeep Gladiator Willys Crew Cab Pickup 4-Door
2022 Jeep Gladiator Willys Crew Cab Pickup 4-Door
2022 Jeep Gladiator Willys Sport Crew Cab Pickup 4-Door
2022 Jeep Gladiator Willys Sport Crew Cab Pickup 4-Door
2021 Jeep Gladiator 80th Anniversary Crew Cab Pickup 4-Door
2021 Jeep Gladiator 80th Anniversary Crew Cab Pickup 4-Door
2021 Jeep Gladiator High Altitude Crew Cab Pickup 4-Door
2021 Jeep Gladiator High Altitude Crew Cab Pickup 4-Door
2021 Jeep Gladiator Mojave Crew Cab Pickup 4-Door
2021 Jeep Gladiator Overland Crew Cab Pickup 4-Door
2021 Jeep Gladiator Overland Crew Cab Pickup 4-Door
2021 Jeep Gladiator Rubicon Crew Cab Pickup 4-Door
2021 Jeep Gladiator Rubicon Crew Cab Pickup 4-Door
2021 Jeep Gladiator Sport Crew Cab Pickup 4-Door
2021 Jeep Gladiator Sport Crew Cab Pickup 4-Door
2021 Jeep Gladiator Sport S Crew Cab Pickup 4-Door
2021 Jeep Gladiator Sport S Crew Cab Pickup 4-Door
2021 Jeep Gladiator Willys Crew Cab Pickup 4-Door
2021 Jeep Gladiator Willys Crew Cab Pickup 4-Door
2021 Jeep Gladiator Willys Sport Crew Cab Pickup 4-Door
2021 Jeep Gladiator Willys Sport Crew Cab Pickup 4-Door
2020 Jeep Gladiator Altitude Crew Cab Pickup 4-Door
2020 Jeep Gladiator Launch Edition Crew Cab Pickup 4-Door
2020 Jeep Gladiator Mojave Crew Cab Pickup 4-Door
2020 Jeep Gladiator North Edition Crew Cab Pickup 4-Door
2020 Jeep Gladiator Overland Crew Cab Pickup 4-Door
2020 Jeep Gladiator Rubicon Crew Cab Pickup 4-Door
2020 Jeep Gladiator Sport Crew Cab Pickup 4-Door
2020 Jeep Gladiator Sport S Crew Cab Pickup 4-Door
2023 Jeep Wrangler Unlimited High Altitude 4xe Sport Utility 4-Door
2023 Jeep Wrangler Unlimited High Altitude Sport Utility 4-Door
2023 Jeep Wrangler Unlimited Rubicon 4xe Sport Utility 4-Door
2023 Jeep Wrangler Unlimited Rubicon 392 Sport Utility 4-Door
2023 Jeep Wrangler Unlimited Rubicon Sport Utility 4-Door
2023 Jeep Wrangler Unlimited Sahara 4xe Sport Utility 4-Door
2023 Jeep Wrangler Unlimited Sahara Altitude Sport Utility 4-Door
2023 Jeep Wrangler Unlimited Sahara High Altitude Sport Utility 4-Door
2023 Jeep Wrangler Unlimited Sahara Sport Utility 4-Door
2023 Jeep Wrangler Unlimited Sport Altitude Sport Utility 4-Door
2023 Jeep Wrangler Unlimited Sport S Sport Utility 4-Door
2023 Jeep Wrangler Unlimited Sport Sport Utility 4-Door
2023 Jeep Wrangler Unlimited Willys 4xe Sport Utility 4-Door
2023 Jeep Wrangler Unlimited Willys Sport Sport Utility 4-Door
2023 Jeep Wrangler Unlimited Willys Sport Utility 4-Door
2022 Jeep Wrangler Unlimited Rubicon 392 Sport Utility 4-Door
2022 Jeep Wrangler Unlimited Rubicon Sport Utility 4-Door
2022 Jeep Wrangler Unlimited Sahara Altitude Sport Utility 4-Door
2022 Jeep Wrangler Unlimited Sahara High Altitude Sport Utility 4-Door
2022 Jeep Wrangler Unlimited Sahara Sport Utility 4-Door
2022 Jeep Wrangler Unlimited Sport Altitude Sport Utility 4-Door
2022 Jeep Wrangler Unlimited Sport S Sport Utility 4-Door
2022 Jeep Wrangler Unlimited Sport Sport Utility 4-Door
2022 Jeep Wrangler Unlimited Willys Sport Sport Utility 4-Door
2022 Jeep Wrangler Unlimited Willys Sport Utility 4-Door
2021 Jeep Wrangler Unlimited 80th Anniversary Sport Utility 4-Door
2021 Jeep Wrangler Unlimited Freedom Sport Utility 4-Door
2021 Jeep Wrangler Unlimited High Altitude Sport Utility 4-Door
2021 Jeep Wrangler Unlimited Islander Sport Utility 4-Door
2021 Jeep Wrangler Unlimited Rubicon 392 Sport Utility 4-Door
2021 Jeep Wrangler Unlimited Rubicon Sport Utility 4-Door
2021 Jeep Wrangler Unlimited Sahara Altitude Sport Utility 4-Door
2021 Jeep Wrangler Unlimited Sahara High Altitude Sport Utility 4-Door
2021 Jeep Wrangler Unlimited Sahara Sport Utility 4-Door
2021 Jeep Wrangler Unlimited Sport Altitude Sport Utility 4-Door
2021 Jeep Wrangler Unlimited Sport S Sport Utility 4-Door
2021 Jeep Wrangler Unlimited Sport Sport Utility 4-Door
2021 Jeep Wrangler Unlimited Willys Sport Sport Utility 4-Door
2021 Jeep Wrangler Unlimited Willys Sport Utility 4-Door
2020 Jeep Wrangler Unlimited Black and Tan Sport Utility 4-Door
2020 Jeep Wrangler Unlimited Freedom Sport Utility 4-Door
2020 Jeep Wrangler Unlimited North Edition Sport Utility 4-Door
2020 Jeep Wrangler Unlimited Recon Sport Utility 4-Door
2020 Jeep Wrangler Unlimited Rubicon Deluxe Sport Utility 4-Door
2020 Jeep Wrangler Unlimited Rubicon Sport Utility 4-Door
2020 Jeep Wrangler Unlimited Rubicon Xtreme Sport Utility 4-Door
2020 Jeep Wrangler Unlimited Sahara Altitude Sport Utility 4-Door
2020 Jeep Wrangler Unlimited Sahara Sport Utility 4-Door
2020 Jeep Wrangler Unlimited Sport Altitude Sport Utility 4-Door
2020 Jeep Wrangler Unlimited Sport S Sport Utility 4-Door
2020 Jeep Wrangler Unlimited Sport Sport Utility 4-Door
2020 Jeep Wrangler Unlimited Willys Sport Utility 2-Door
2020 Jeep Wrangler Unlimited Willys Sport Utility 4-Door
2019 Jeep Wrangler Rubicon Deluxe Sport Utility 2-Door
2019 Jeep Wrangler Unlimited Moab Sport Utility 4-Door
2019 Jeep Wrangler Unlimited Rubicon Sport Utility 4-Door
2019 Jeep Wrangler Unlimited Sahara Altitude Sport Utility 4-Door
2019 Jeep Wrangler Unlimited Sahara Sport Utility 4-Door
2019 Jeep Wrangler Unlimited Sport S Sport Utility 4-Door
2019 Jeep Wrangler Unlimited Sport Sport Utility 4-Door
2018 Jeep Wrangler Unlimited Moab Sport Utility 4-Door
2018 Jeep Wrangler Unlimited Moab Sport Utility 4-Door
2018 Jeep Wrangler Unlimited Rubicon Sport Utility 4-Door
2018 Jeep Wrangler Unlimited Sahara Sport Utility 4-Door
2018 Jeep Wrangler Unlimited Sport S Sport Utility 4-Door
2018 Jeep Wrangler Unlimited Sport Sport Utility 4-Door
2018 Jeep Wrangler JK Unlimited Rubicon Sport Utility 4-Door
2018 Jeep Wrangler JK Unlimited Sahara Sport Utility 4-Door
2018 Jeep Wrangler JK Unlimited Sport S Sport Utility 4-Door
2018 Jeep Wrangler JK Unlimited Sport Sport Utility 4-Door
2018 Jeep Wrangler JK Unlimited Willys Wheeler Sport Utility 4-Door
2017 Jeep Wrangler Unlimited Rubicon Sport Utility 4-Door
2017 Jeep Wrangler Unlimited Sahara Sport Utility 4-Door
2017 Jeep Wrangler Unlimited Smoky Mountain Sport Utility 4-Door
2017 Jeep Wrangler Unlimited Sport Sport Utility 4-Door
2017 Jeep Wrangler Unlimited Winter Edition Sport Utility 4-Door
2016 Jeep Wrangler Unlimited 75th Anniversary Sport Utility 4-Door
2016 Jeep Wrangler Unlimited Black Bear Sport Utility 4-Door
2016 Jeep Wrangler Unlimited Rubicon Sport Utility 4-Door
2016 Jeep Wrangler Unlimited Sahara Sport Utility 4-Door
2016 Jeep Wrangler Unlimited Sport S Sport Utility 4-Door
2016 Jeep Wrangler Unlimited Sport Sport Utility 4-Door
2015 Jeep Wrangler Freedom Edition Sport Utility 2-Door
2015 Jeep Wrangler Freedom Edition Sport Utility 4-Door
2015 Jeep Wrangler Unlimited Altitude Sport Utility 4-Door
2015 Jeep Wrangler Unlimited Hard Rock Sport Utility 4-Door
2015 Jeep Wrangler Unlimited Rubicon Sport Utility 4-Door
2015 Jeep Wrangler Unlimited Sahara Sport Utility 4-Door
2015 Jeep Wrangler Unlimited Sport Sport Utility 4-Door
2015 Jeep Wrangler Willys Wheeler Sport Utility 4-Door
2015 Jeep Wrangler X Edition Sport Utility 4-Door
2014 Jeep Wrangler Altitude Sport Utility 4-Door
2014 Jeep Wrangler Freedom Edition Sport Utility 4-Door
2014 Jeep Wrangler Polar Edition Sport Utility 4-Door
2014 Jeep Wrangler Unlimited Dragon Edition Sport Utility 4-Door
2014 Jeep Wrangler Unlimited Rubicon Sport Utility 4-Door
2014 Jeep Wrangler Unlimited Sahara Sport Utility 4-Door
2014 Jeep Wrangler Unlimited Sport Sport Utility 4-Door
2014 Jeep Wrangler Unlimited Willys Wheeler Sport Utility 4-Door
2013 Jeep Wrangler Unlimited Rubicon Sport Utility 4-Door
2013 Jeep Wrangler Unlimited Sahara Sport Utility 4-Door
2013 Jeep Wrangler Unlimited Sport Sport Utility 4-Door
2012 Jeep Wrangler Unlimited Altitude Sport Utility 4-Door
2012 Jeep Wrangler Unlimited Mountain Sport Utility 4-Door
2012 Jeep Wrangler Unlimited Rubicon Sport Utility 4-Door
2012 Jeep Wrangler Unlimited Sahara Sport Utility 4-Door
2012 Jeep Wrangler Unlimited Sport Sport Utility 4-Door
2012 Jeep Wrangler Unlimited Sport Utility 4-Door
2011 Jeep Wrangler Unlimited 70th Anniversary Sport Utility 4-Door
2011 Jeep Wrangler Unlimited Rubicon Sport Utility 4-Door
2011 Jeep Wrangler Unlimited Sahara Sport Utility 4-Door
2011 Jeep Wrangler Unlimited Sport Sport Utility 4-Door
2011 Jeep Wrangler Unlimited X Sport Utility 4-Door
2010 Jeep Wrangler Unlimited Mountain Sport Utility 4-Door
2010 Jeep Wrangler Unlimited Rubicon Sport Utility 4-Door
2010 Jeep Wrangler Unlimited Sahara Sport Utility 4-Door
2010 Jeep Wrangler Unlimited Sport Sport Utility 4-Door
2010 Jeep Wrangler Unlimited X Sport Utility 4-Door
2009 Jeep Wrangler Unlimited Rubicon Sport Utility 4-Door
2009 Jeep Wrangler Unlimited Sahara Sport Utility 4-Door
2009 Jeep Wrangler Unlimited X Sport Utility 4-Door
2008 Jeep Wrangler Unlimited Rubicon Sport Utility 4-Door
2008 Jeep Wrangler Unlimited Sahara Sport Utility 4-Door
2008 Jeep Wrangler Unlimited X Sport Utility 4-Door
2007 Jeep Wrangler Unlimited Rubicon Sport Utility 4-Door
2007 Jeep Wrangler Unlimited Sahara Sport Utility 4-Door
2007 Jeep Wrangler Unlimited X Sport Utility 4-Door
2018 Jeep Wrangler Rubicon
2018 Jeep Wrangler Sport S
2018 Jeep Wrangler Sport
2018 Jeep Wrangler Unlimited Moab
2018 Jeep Wrangler Unlimited Rubicon
2018 Jeep Wrangler Unlimited Sahara
2018 Jeep Wrangler Unlimited Sport S
2018 Jeep Wrangler Unlimited Sport
2018 Jeep Wrangler JK Rubicon
2018 Jeep Wrangler JK Sahara
2018 Jeep Wrangler JK Sport S
2018 Jeep Wrangler JK Sport
2018 Jeep Wrangler JK Unlimited Rubicon
2018 Jeep Wrangler JK Unlimited Sahara
2018 Jeep Wrangler JK Unlimited Sport S
2018 Jeep Wrangler JK Unlimited Sport
2018 Jeep Wrangler JK Unlimited Willys Wheeler
2017 Jeep Wrangler Rubicon
2017 Jeep Wrangler Sahara
2017 Jeep Wrangler Sport
2017 Jeep Wrangler Unlimited Rubicon
2017 Jeep Wrangler Unlimited Sahara
2017 Jeep Wrangler Unlimited Smoky Mountain
2017 Jeep Wrangler Unlimited Sport
2017 Jeep Wrangler Unlimited Winter Edition
2016 Jeep Wrangler 75th Anniversary
2016 Jeep Wrangler Rubicon
2016 Jeep Wrangler Sahara
2016 Jeep Wrangler Sport S
2016 Jeep Wrangler Sport
2016 Jeep Wrangler Unlimited 75th Anniversary
2016 Jeep Wrangler Unlimited Black Bear
2016 Jeep Wrangler Unlimited Rubicon
2016 Jeep Wrangler Unlimited Sahara
2016 Jeep Wrangler Unlimited Sport S
2016 Jeep Wrangler Unlimited Sport
2015 Jeep Wrangler Freedom Edition
2015 Jeep Wrangler Rubicon
2015 Jeep Wrangler Sahara
2015 Jeep Wrangler Sport
2015 Jeep Wrangler Unlimited Altitude
2015 Jeep Wrangler Unlimited Hard Rock
2015 Jeep Wrangler Unlimited Rubicon
2015 Jeep Wrangler Unlimited Sahara
2015 Jeep Wrangler Unlimited Sport
2015 Jeep Wrangler Willys Wheeler
2015 Jeep Wrangler X Edition
2014 Jeep Wrangler Altitude
2014 Jeep Wrangler Freedom Edition
2014 Jeep Wrangler Polar Edition
2014 Jeep Wrangler Rubicon
2014 Jeep Wrangler Sahara
2014 Jeep Wrangler Sport
2014 Jeep Wrangler Unlimited Dragon Edition
2014 Jeep Wrangler Unlimited Rubicon
2014 Jeep Wrangler Unlimited Sahara
2014 Jeep Wrangler Unlimited Sport
2014 Jeep Wrangler Unlimited Willys Wheeler
2014 Jeep Wrangler Willys Wheeler
2013 Jeep Wrangler Rubicon
2013 Jeep Wrangler Sahara
2013 Jeep Wrangler Sport
2013 Jeep Wrangler Unlimited Rubicon
2013 Jeep Wrangler Unlimited Sahara
2013 Jeep Wrangler Unlimited Sport
2012 Jeep Wrangler Rubicon
2012 Jeep Wrangler Sahara
2012 Jeep Wrangler Sport
2012 Jeep Wrangler Unlimited Altitude
2012 Jeep Wrangler Unlimited Mountain
2012 Jeep Wrangler Unlimited Rubicon
2012 Jeep Wrangler Unlimited Sahara
2012 Jeep Wrangler Unlimited Sport
2012 Jeep Wrangler Unlimited
2011 Jeep Wrangler 70th Anniversary
2011 Jeep Wrangler Rubicon
2011 Jeep Wrangler Sahara
2011 Jeep Wrangler Sport
2011 Jeep Wrangler Unlimited 70th Anniversary
2011 Jeep Wrangler Unlimited Rubicon
2011 Jeep Wrangler Unlimited Sahara
2011 Jeep Wrangler Unlimited Sport
2011 Jeep Wrangler Unlimited X
2011 Jeep Wrangler X
2010 Jeep Wrangler Islander
2010 Jeep Wrangler Rubicon
2010 Jeep Wrangler Sahara
2010 Jeep Wrangler Sport
2010 Jeep Wrangler Unlimited Mountain
2010 Jeep Wrangler Unlimited Rubicon
2010 Jeep Wrangler Unlimited Sahara
2010 Jeep Wrangler Unlimited Sport
2010 Jeep Wrangler Unlimited X
2010 Jeep Wrangler X
2009 Jeep Wrangler Rubicon
2009 Jeep Wrangler Sahara
2009 Jeep Wrangler Unlimited Rubicon
2009 Jeep Wrangler Unlimited Sahara
2009 Jeep Wrangler Unlimited X
2009 Jeep Wrangler X-S
2009 Jeep Wrangler X
2008 Jeep Wrangler Rubicon
2008 Jeep Wrangler Sahara
2008 Jeep Wrangler Unlimited Rubicon
2008 Jeep Wrangler Unlimited Sahara
2008 Jeep Wrangler Unlimited X
2008 Jeep Wrangler X
2007 Jeep Wrangler Rubicon
2007 Jeep Wrangler Sahara
2007 Jeep Wrangler Unlimited Rubicon
2007 Jeep Wrangler Unlimited Sahara
2007 Jeep Wrangler Unlimited X
2007 Jeep Wrangler X