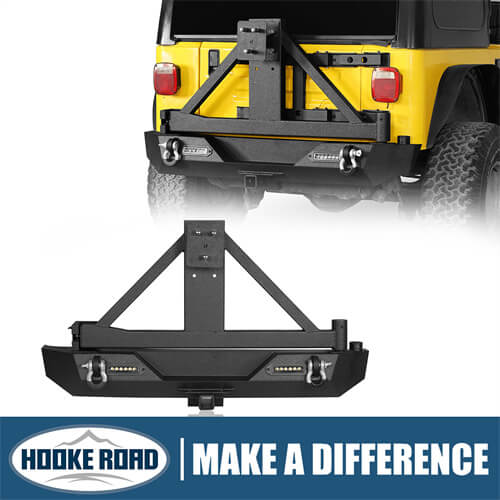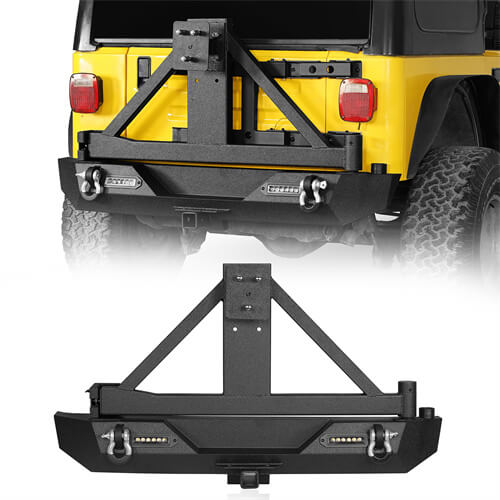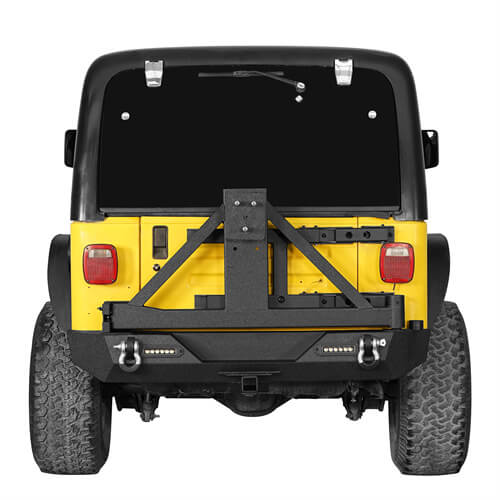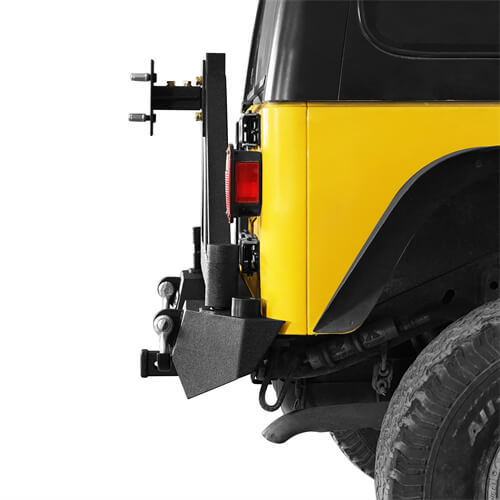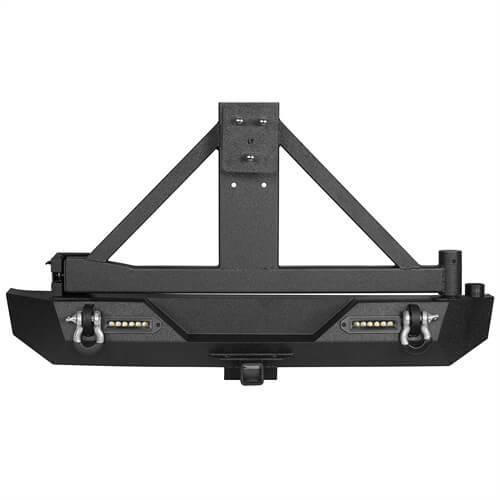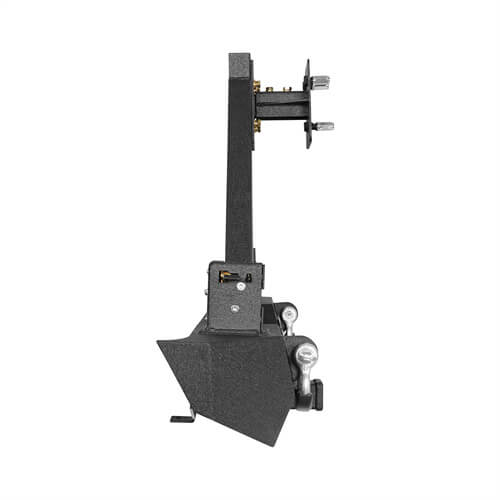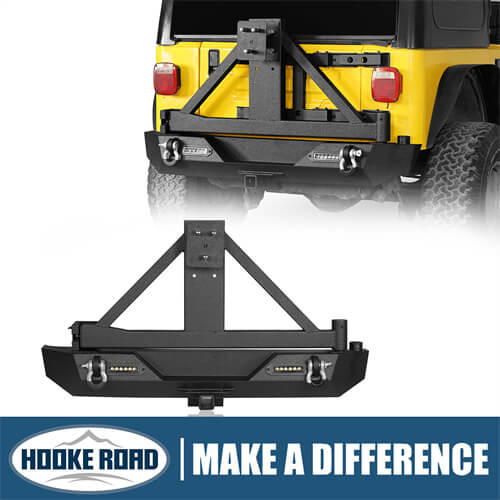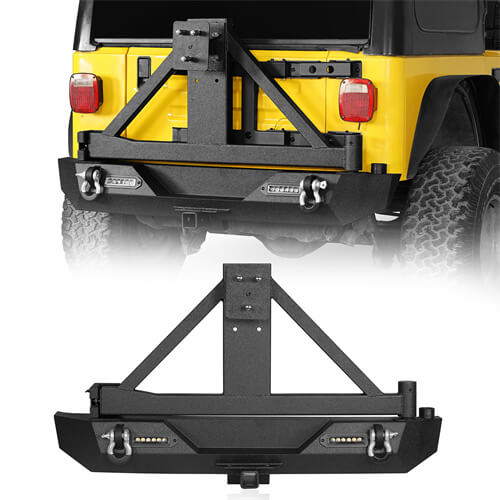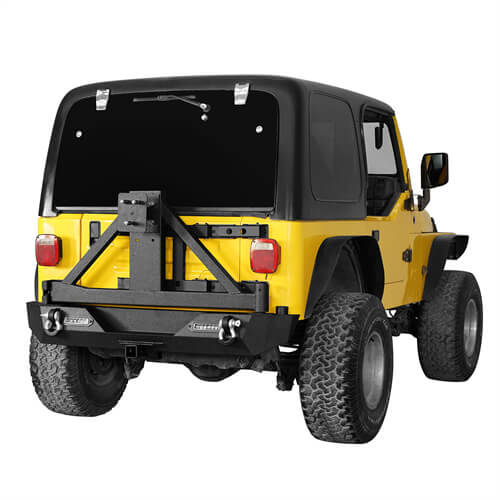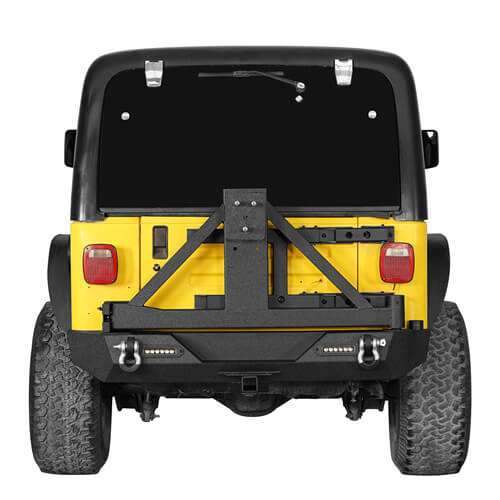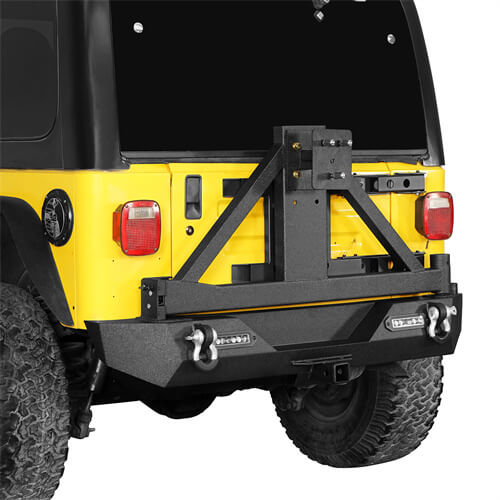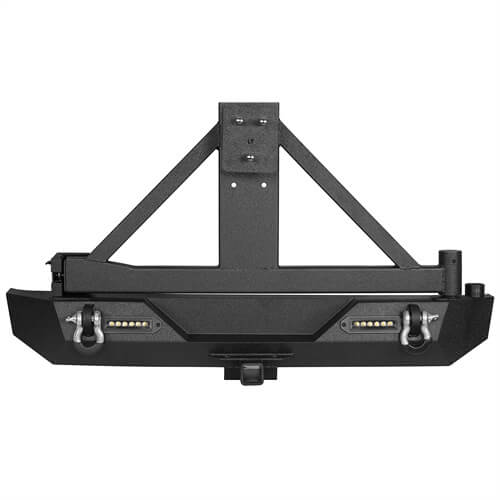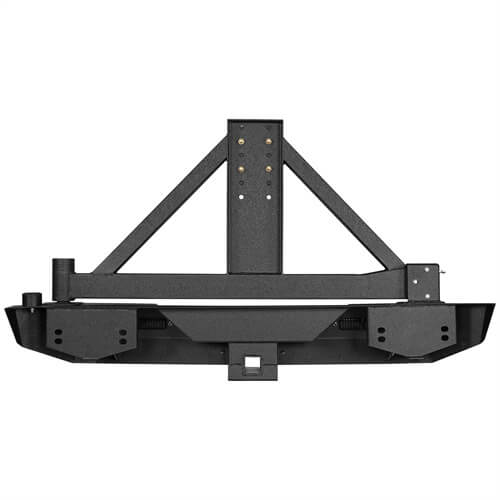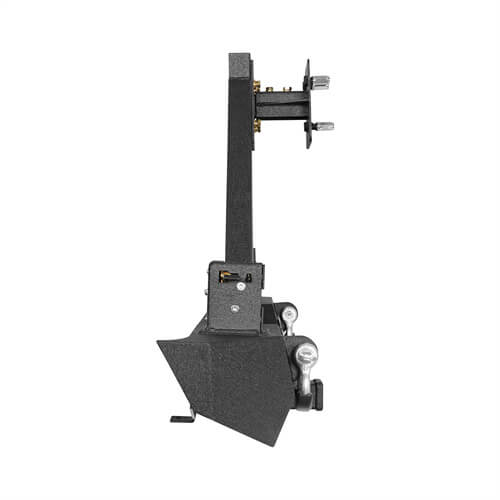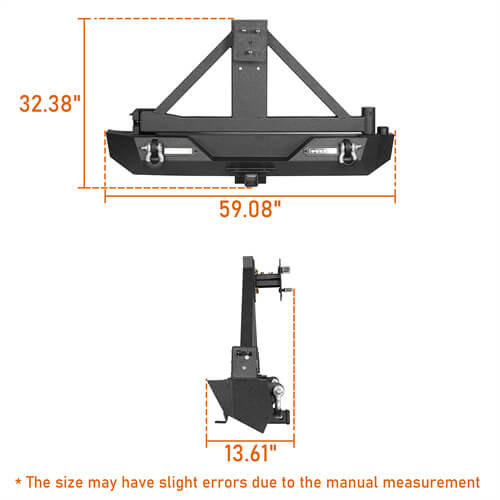 Name: Jeep Wrangler TJ Rear Bumper w/Tire Carrier
Feature
Weight:136.6 lbs
Rear Bumper w/ Swing Out Tire Carrier
High Strength D-Ring Mounts Included
9,500 lb. Rated D-Rings Included
Integrated 2" Receiver Hitch
2x 18W High Powered LED Floodlights Included
Can Accommodate Up to 37" Tires
New Type Lock w/ a Double Latch System for a Secure Hold
Heavy-Duty, High Strength Steel Construction
Textured Black Powder Coat Finish
Bolt-On Installation
1 x Jeep Wrangler Rear Bumper with Tire Carrier w/Receiver Hitch
Mounting Hardware
* The item includes two packages: Package A & Package B
2006 Jeep TJ Rubicon Sport Utility 2-Door
2006 Jeep TJ SE Sport Utility 2-Door
2006 Jeep TJ Sport Sport Utility 2-Door
2006 Jeep TJ Unlimited Rubicon Sport Utility 2-Door
2006 Jeep TJ Unlimited Sport Utility 2-Door
2006 Jeep Wrangler 65th Anniversary Edition Sport Utility 2-Door
2006 Jeep Wrangler Rubicon Sport Utility 2-Door
2006 Jeep Wrangler SE Sport Utility 2-Door
2006 Jeep Wrangler Sport Sport Utility 2-Door
2006 Jeep Wrangler Unlimited Rubicon Sport Utility 2-Door
2006 Jeep Wrangler Unlimited Sport Utility 2-Door
2006 Jeep Wrangler X 65 Aniversario Sport Utility 2-Door
2006 Jeep Wrangler X Sport Utility 2-Door
2005 Jeep TJ Rubicon Sport Utility 2-Door
2005 Jeep TJ SE Sport Utility 2-Door
2005 Jeep TJ Sport Sport Utility 2-Door
2005 Jeep TJ Unlimited Rubicon Sport Utility 2-Door
2005 Jeep TJ Unlimited Sport Utility 2-Door
2005 Jeep Wrangler Rubicon Sport Utility 2-Door
2005 Jeep Wrangler SE Sport Utility 2-Door
2005 Jeep Wrangler Sport Sport Utility 2-Door
2005 Jeep Wrangler Unlimited Rubicon Sport Utility 2-Door
2005 Jeep Wrangler Unlimited Sport Utility 2-Door
2005 Jeep Wrangler X Sport Utility 2-Door
2004 Jeep TJ Rubicon Sport Utility 2-Door
2004 Jeep TJ SE Sport Utility 2-Door
2004 Jeep TJ Sahara Sport Utility 2-Door
2004 Jeep TJ Sport Sport Utility 2-Door
2004 Jeep TJ Unlimited Sport Utility 2-Door
2004 Jeep Wrangler Rubicon Sport Utility 2-Door
2004 Jeep Wrangler SE Sport Utility 2-Door
2004 Jeep Wrangler Sahara Sport Utility 2-Door
2004 Jeep Wrangler Sport Sport Utility 2-Door
2004 Jeep Wrangler Unlimited Sport Utility 2-Door
2004 Jeep Wrangler X Sport Utility 2-Door
2003 Jeep TJ Rubicon Sport Utility 2-Door
2003 Jeep TJ SE Sport Utility 2-Door
2003 Jeep TJ Sahara Sport Utility 2-Door
2003 Jeep TJ Sport Sport Utility 2-Door
2003 Jeep Wrangler Rubicon Sport Utility 2-Door
2003 Jeep Wrangler SE Sport Utility 2-Door
2003 Jeep Wrangler Sahara Sport Utility 2-Door
2003 Jeep Wrangler Sport Sport Utility 2-Door
2003 Jeep Wrangler X AT Sport Utility 2-Door
2003 Jeep Wrangler X Sport Utility 2-Door
2002 Jeep TJ SE Sport Utility 2-Door
2002 Jeep TJ Sahara Sport Utility 2-Door
2002 Jeep TJ Sport Sport Utility 2-Door
2002 Jeep Wrangler SE Sport Utility 2-Door
2002 Jeep Wrangler Sahara Sport Utility 2-Door
2002 Jeep Wrangler Sport Sport Utility 2-Door
2002 Jeep Wrangler X Sport Utility 2-Door
2001 Jeep TJ SE Sport Utility 2-Door
2001 Jeep TJ Sahara Sport Utility 2-Door
2001 Jeep TJ Sport Sport Utility 2-Door
2001 Jeep Wrangler 60 Aniversario Sport Utility 2-Door
2001 Jeep Wrangler SE Sport Utility 2-Door
2001 Jeep Wrangler Sahara Sport Utility 2-Door
2001 Jeep Wrangler Sport Sport Utility 2-Door
2000 Jeep TJ SE Sport Utility 2-Door
2000 Jeep TJ Sahara Sport Utility 2-Door
2000 Jeep TJ Sport Sport Utility 2-Door
2000 Jeep Wrangler SE Sport Utility 2-Door
2000 Jeep Wrangler Sahara Sport Utility 2-Door
2000 Jeep Wrangler Sport Sport Utility 2-Door
1999 Jeep TJ SE Sport Utility 2-Door
1999 Jeep TJ Sahara Sport Utility 2-Door
1999 Jeep TJ Sport Sport Utility 2-Door
1999 Jeep Wrangler SE Sport Utility 2-Door
1999 Jeep Wrangler Sahara Sport Utility 2-Door
1999 Jeep Wrangler Sport Sport Utility 2-Door
1998 Jeep TJ SE Sport Utility 2-Door
1998 Jeep TJ Sahara Sport Utility 2-Door
1998 Jeep TJ Sport Sport Utility 2-Door
1998 Jeep Wrangler SE Sport Utility 2-Door
1998 Jeep Wrangler Sahara Sport Utility 2-Door
1998 Jeep Wrangler Sport Sport Utility 2-Door
1997 Jeep TJ SE Sport Utility 2-Door
1997 Jeep TJ Sahara Sport Utility 2-Door
1997 Jeep TJ Sport Sport Utility 2-Door
1997 Jeep Wrangler Base Sport Utility 2-Door
1997 Jeep Wrangler SE Sport Utility 2-Door
1997 Jeep Wrangler Sahara Sport Utility 2-Door
1997 Jeep Wrangler Sport Sport Utility 2-Door
1995 Jeep Wrangler Base Sport Utility 2-Door
1995 Jeep Wrangler Rio Grande Sport Utility 2-Door
1995 Jeep Wrangler SE Sport Utility 2-Door
1995 Jeep Wrangler Sahara Sport Utility 2-Door
1994 Jeep Wrangler Base Sport Utility 2-Door
1994 Jeep Wrangler Renegade Sport Utility 2-Door
1994 Jeep Wrangler SE Sport Utility 2-Door
1994 Jeep Wrangler S Sport Utility 2-Door
1994 Jeep Wrangler Sahara Sport Utility 2-Door
1993 Jeep Wrangler Base Sport Utility 2-Door
1993 Jeep Wrangler Renegade Sport Utility 2-Door
1993 Jeep Wrangler S Sport Utility 2-Door
1993 Jeep Wrangler Sahara Sport Utility 2-Door
1992 Jeep Wrangler Base Sport Utility 2-Door
1992 Jeep Wrangler Islander Sport Utility 2-Door
1992 Jeep Wrangler Renegade Sport Utility 2-Door
1992 Jeep Wrangler S Sport Utility 2-Door
1992 Jeep Wrangler Sahara Sport Utility 2-Door
1991 Jeep Wrangler Base Sport Utility 2-Door
1991 Jeep Wrangler Islander Sport Utility 2-Door
1991 Jeep Wrangler Renegade Sport Utility 2-Door
1991 Jeep Wrangler S Sport Utility 2-Door
1991 Jeep Wrangler Sahara Sport Utility 2-Door
1990 Jeep Wrangler Base Sport Utility 2-Door
1990 Jeep Wrangler Islander Sport Utility 2-Door
1990 Jeep Wrangler Laredo Sport Utility 2-Door
1990 Jeep Wrangler Sahara Sport Utility 2-Door
1989 Jeep Wrangler Base Sport Utility 2-Door
1989 Jeep Wrangler Islander Sport Utility 2-Door
1989 Jeep Wrangler Laredo Sport Utility 2-Door
1989 Jeep Wrangler Sahara Sport Utility 2-Door
1988 Jeep Wrangler Base Sport Utility 2-Door
1988 Jeep Wrangler Islander Sport Utility 2-Door
1988 Jeep Wrangler Laredo Sport Utility 2-Door
1988 Jeep Wrangler S Sport Utility 2-Door
1988 Jeep Wrangler Sahara Sport Utility 2-Door
1988 Jeep Wrangler Sport Sport Utility 2-Door
1987 Jeep Wrangler Base Sport Utility 2-Door
1987 Jeep Wrangler Laredo Sport Utility 2-Door
1987 Jeep Wrangler Sport Sport Utility 2-Door
Package Included
1 x Jeep Wrangler Rear Bumper with Tire Carrier w/Receiver Hitch
Mounting Hardware
* The item includes two packages: Package A & Package B
Fitment
2006 Jeep TJ Rubicon Sport Utility 2-Door
2006 Jeep TJ SE Sport Utility 2-Door
2006 Jeep TJ Sport Sport Utility 2-Door
2006 Jeep TJ Unlimited Rubicon Sport Utility 2-Door
2006 Jeep TJ Unlimited Sport Utility 2-Door
2006 Jeep Wrangler 65th Anniversary Edition Sport Utility 2-Door
2006 Jeep Wrangler Rubicon Sport Utility 2-Door
2006 Jeep Wrangler SE Sport Utility 2-Door
2006 Jeep Wrangler Sport Sport Utility 2-Door
2006 Jeep Wrangler Unlimited Rubicon Sport Utility 2-Door
2006 Jeep Wrangler Unlimited Sport Utility 2-Door
2006 Jeep Wrangler X 65 Aniversario Sport Utility 2-Door
2006 Jeep Wrangler X Sport Utility 2-Door
2005 Jeep TJ Rubicon Sport Utility 2-Door
2005 Jeep TJ SE Sport Utility 2-Door
2005 Jeep TJ Sport Sport Utility 2-Door
2005 Jeep TJ Unlimited Rubicon Sport Utility 2-Door
2005 Jeep TJ Unlimited Sport Utility 2-Door
2005 Jeep Wrangler Rubicon Sport Utility 2-Door
2005 Jeep Wrangler SE Sport Utility 2-Door
2005 Jeep Wrangler Sport Sport Utility 2-Door
2005 Jeep Wrangler Unlimited Rubicon Sport Utility 2-Door
2005 Jeep Wrangler Unlimited Sport Utility 2-Door
2005 Jeep Wrangler X Sport Utility 2-Door
2004 Jeep TJ Rubicon Sport Utility 2-Door
2004 Jeep TJ SE Sport Utility 2-Door
2004 Jeep TJ Sahara Sport Utility 2-Door
2004 Jeep TJ Sport Sport Utility 2-Door
2004 Jeep TJ Unlimited Sport Utility 2-Door
2004 Jeep Wrangler Rubicon Sport Utility 2-Door
2004 Jeep Wrangler SE Sport Utility 2-Door
2004 Jeep Wrangler Sahara Sport Utility 2-Door
2004 Jeep Wrangler Sport Sport Utility 2-Door
2004 Jeep Wrangler Unlimited Sport Utility 2-Door
2004 Jeep Wrangler X Sport Utility 2-Door
2003 Jeep TJ Rubicon Sport Utility 2-Door
2003 Jeep TJ SE Sport Utility 2-Door
2003 Jeep TJ Sahara Sport Utility 2-Door
2003 Jeep TJ Sport Sport Utility 2-Door
2003 Jeep Wrangler Rubicon Sport Utility 2-Door
2003 Jeep Wrangler SE Sport Utility 2-Door
2003 Jeep Wrangler Sahara Sport Utility 2-Door
2003 Jeep Wrangler Sport Sport Utility 2-Door
2003 Jeep Wrangler X AT Sport Utility 2-Door
2003 Jeep Wrangler X Sport Utility 2-Door
2002 Jeep TJ SE Sport Utility 2-Door
2002 Jeep TJ Sahara Sport Utility 2-Door
2002 Jeep TJ Sport Sport Utility 2-Door
2002 Jeep Wrangler SE Sport Utility 2-Door
2002 Jeep Wrangler Sahara Sport Utility 2-Door
2002 Jeep Wrangler Sport Sport Utility 2-Door
2002 Jeep Wrangler X Sport Utility 2-Door
2001 Jeep TJ SE Sport Utility 2-Door
2001 Jeep TJ Sahara Sport Utility 2-Door
2001 Jeep TJ Sport Sport Utility 2-Door
2001 Jeep Wrangler 60 Aniversario Sport Utility 2-Door
2001 Jeep Wrangler SE Sport Utility 2-Door
2001 Jeep Wrangler Sahara Sport Utility 2-Door
2001 Jeep Wrangler Sport Sport Utility 2-Door
2000 Jeep TJ SE Sport Utility 2-Door
2000 Jeep TJ Sahara Sport Utility 2-Door
2000 Jeep TJ Sport Sport Utility 2-Door
2000 Jeep Wrangler SE Sport Utility 2-Door
2000 Jeep Wrangler Sahara Sport Utility 2-Door
2000 Jeep Wrangler Sport Sport Utility 2-Door
1999 Jeep TJ SE Sport Utility 2-Door
1999 Jeep TJ Sahara Sport Utility 2-Door
1999 Jeep TJ Sport Sport Utility 2-Door
1999 Jeep Wrangler SE Sport Utility 2-Door
1999 Jeep Wrangler Sahara Sport Utility 2-Door
1999 Jeep Wrangler Sport Sport Utility 2-Door
1998 Jeep TJ SE Sport Utility 2-Door
1998 Jeep TJ Sahara Sport Utility 2-Door
1998 Jeep TJ Sport Sport Utility 2-Door
1998 Jeep Wrangler SE Sport Utility 2-Door
1998 Jeep Wrangler Sahara Sport Utility 2-Door
1998 Jeep Wrangler Sport Sport Utility 2-Door
1997 Jeep TJ SE Sport Utility 2-Door
1997 Jeep TJ Sahara Sport Utility 2-Door
1997 Jeep TJ Sport Sport Utility 2-Door
1997 Jeep Wrangler Base Sport Utility 2-Door
1997 Jeep Wrangler SE Sport Utility 2-Door
1997 Jeep Wrangler Sahara Sport Utility 2-Door
1997 Jeep Wrangler Sport Sport Utility 2-Door
1995 Jeep Wrangler Base Sport Utility 2-Door
1995 Jeep Wrangler Rio Grande Sport Utility 2-Door
1995 Jeep Wrangler SE Sport Utility 2-Door
1995 Jeep Wrangler Sahara Sport Utility 2-Door
1994 Jeep Wrangler Base Sport Utility 2-Door
1994 Jeep Wrangler Renegade Sport Utility 2-Door
1994 Jeep Wrangler SE Sport Utility 2-Door
1994 Jeep Wrangler S Sport Utility 2-Door
1994 Jeep Wrangler Sahara Sport Utility 2-Door
1993 Jeep Wrangler Base Sport Utility 2-Door
1993 Jeep Wrangler Renegade Sport Utility 2-Door
1993 Jeep Wrangler S Sport Utility 2-Door
1993 Jeep Wrangler Sahara Sport Utility 2-Door
1992 Jeep Wrangler Base Sport Utility 2-Door
1992 Jeep Wrangler Islander Sport Utility 2-Door
1992 Jeep Wrangler Renegade Sport Utility 2-Door
1992 Jeep Wrangler S Sport Utility 2-Door
1992 Jeep Wrangler Sahara Sport Utility 2-Door
1991 Jeep Wrangler Base Sport Utility 2-Door
1991 Jeep Wrangler Islander Sport Utility 2-Door
1991 Jeep Wrangler Renegade Sport Utility 2-Door
1991 Jeep Wrangler S Sport Utility 2-Door
1991 Jeep Wrangler Sahara Sport Utility 2-Door
1990 Jeep Wrangler Base Sport Utility 2-Door
1990 Jeep Wrangler Islander Sport Utility 2-Door
1990 Jeep Wrangler Laredo Sport Utility 2-Door
1990 Jeep Wrangler Sahara Sport Utility 2-Door
1989 Jeep Wrangler Base Sport Utility 2-Door
1989 Jeep Wrangler Islander Sport Utility 2-Door
1989 Jeep Wrangler Laredo Sport Utility 2-Door
1989 Jeep Wrangler Sahara Sport Utility 2-Door
1988 Jeep Wrangler Base Sport Utility 2-Door
1988 Jeep Wrangler Islander Sport Utility 2-Door
1988 Jeep Wrangler Laredo Sport Utility 2-Door
1988 Jeep Wrangler S Sport Utility 2-Door
1988 Jeep Wrangler Sahara Sport Utility 2-Door
1988 Jeep Wrangler Sport Sport Utility 2-Door
1987 Jeep Wrangler Base Sport Utility 2-Door
1987 Jeep Wrangler Laredo Sport Utility 2-Door
1987 Jeep Wrangler Sport Sport Utility 2-Door
Can be great, poor quality control.
Overall this could be a great bumper and tire carrier. However my bumper and tire carrier both had poor quality control. I had to re-drill one hole in the bumper and route out extra metal on the tore carrier latch. The nut mechanism would not align properly to allow both bolts to be installed together. I had to route out part of the tire carrier frame to attach the bolts and the latch is a little off center. It still closes fine. Customer service gave prompt response and a discount for my time and effort.
Great Value!
I had thought at this price I was going to get just abumper & tire carrier. But I was surprised by the quality & fit of the bumper!Also the tire carrier is mounted with tapered bearings to insure smooth operation.The bumper also has led lights built in the bumper (I did not hook them up)Any problems in the future Il adjust the review, but so far it is 5 stars.
great for price
all bolt holes linded up very well built and heavy duty the reverse lights are very bright all the hardware is included only thing they could add is instructions for someone who doesn't know how to install it, it fit my 1997 tj perfect
Good quality
Like the bumper just recieved it missing a piece. Customer support has been great about helping. Can't wait to get the missing piece and put it on my jeep.
Thank you for your affirmation, we will do better with your support!
Have a nice day!
Rear bumper with tire carrier
A bit flimsy. Designed for a freeway fourwheeeler. Lots of flex in the bumper when opening and closing tire carrier. Would not want to hook anything to the d-rings and pull against it. For true off-roading may want something a bit more sturdy. Other than that it looks good.