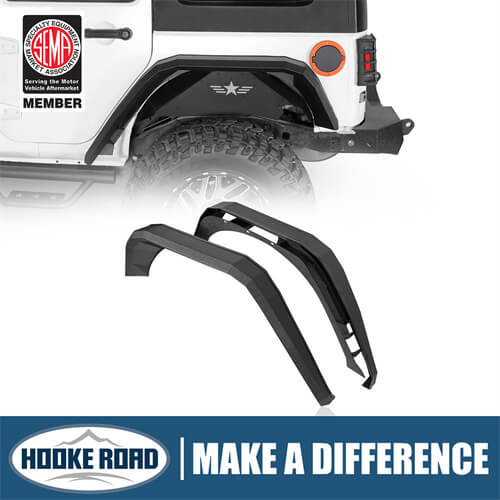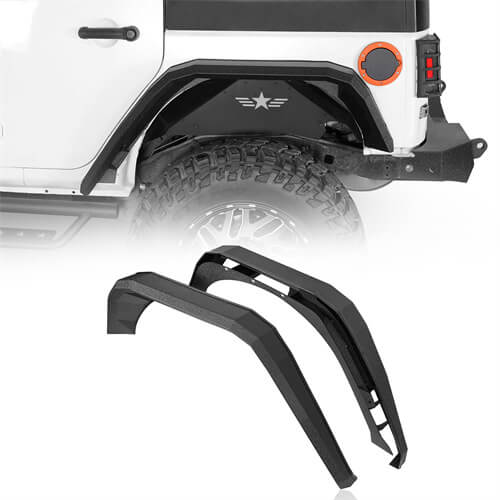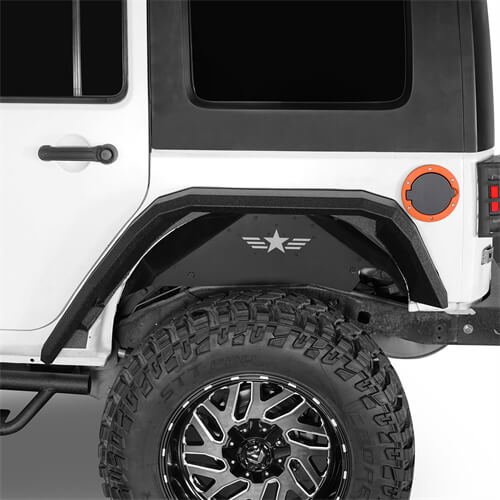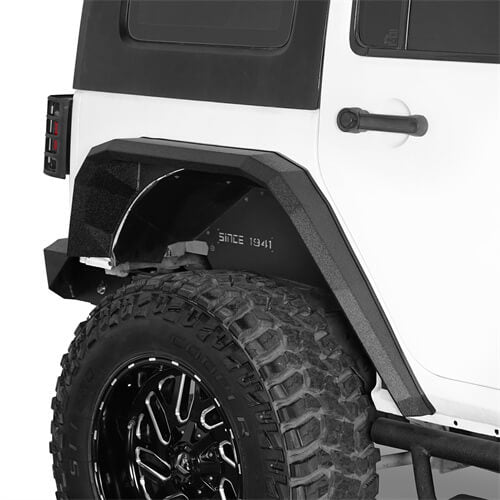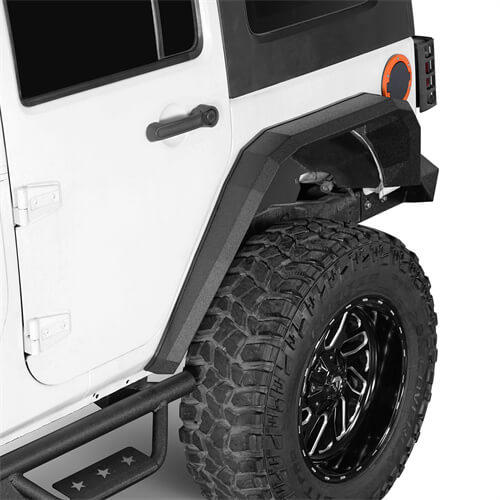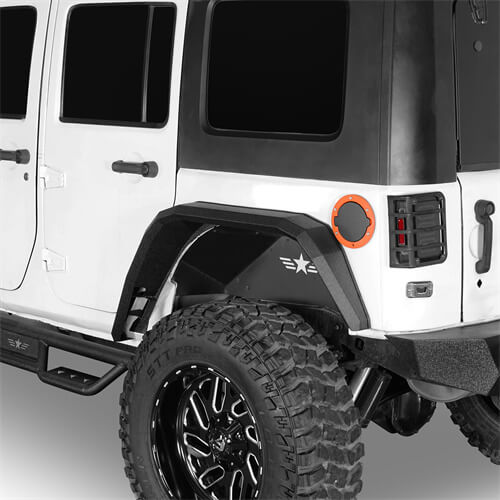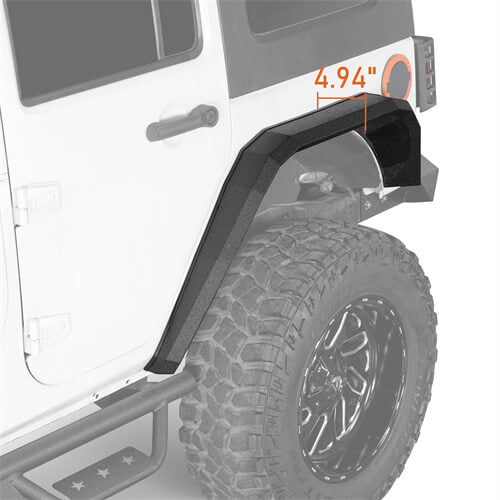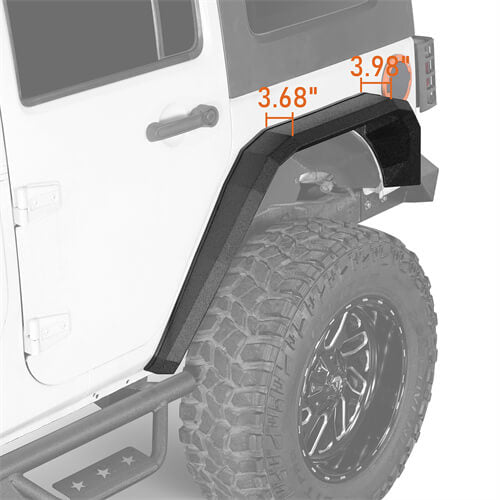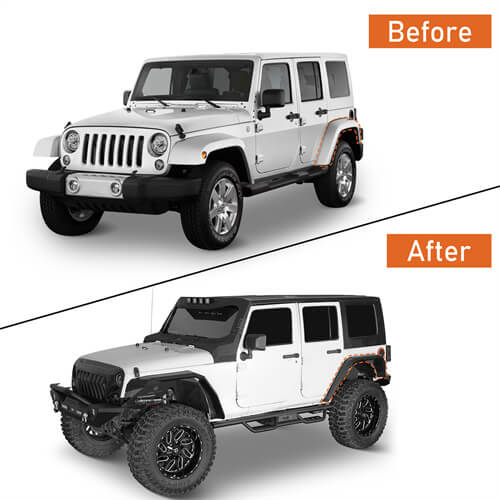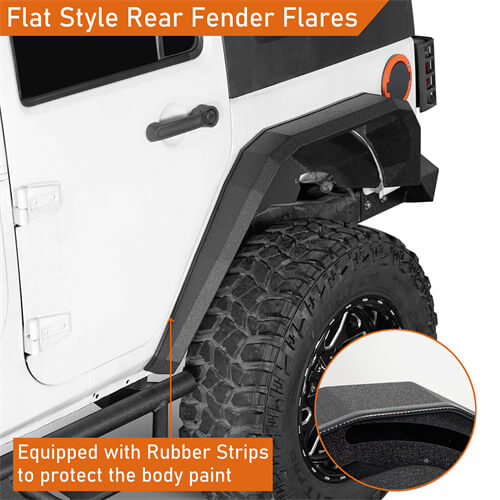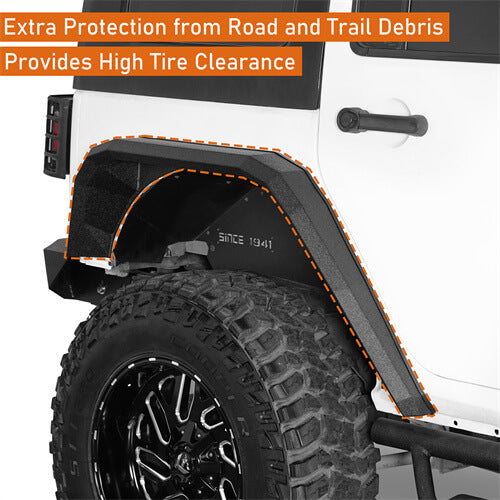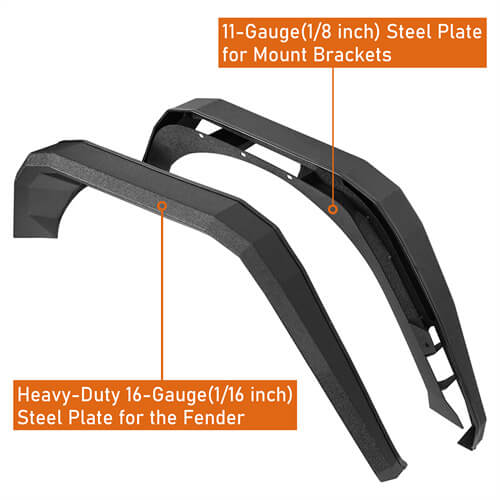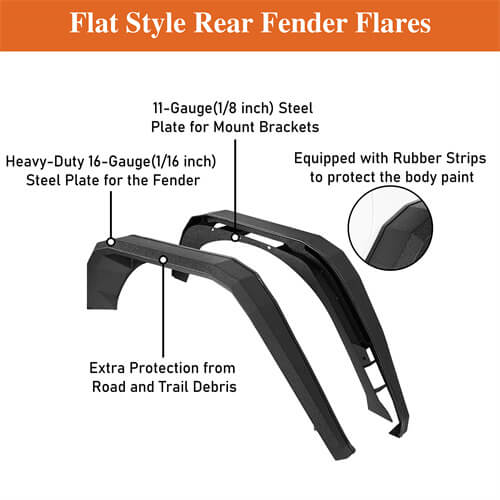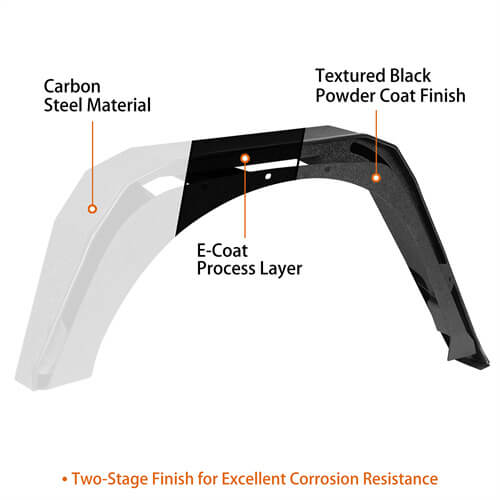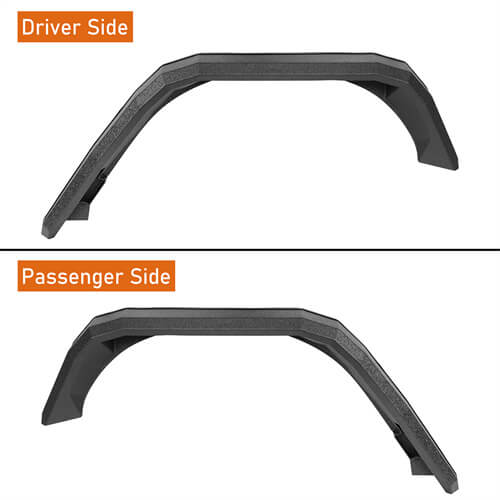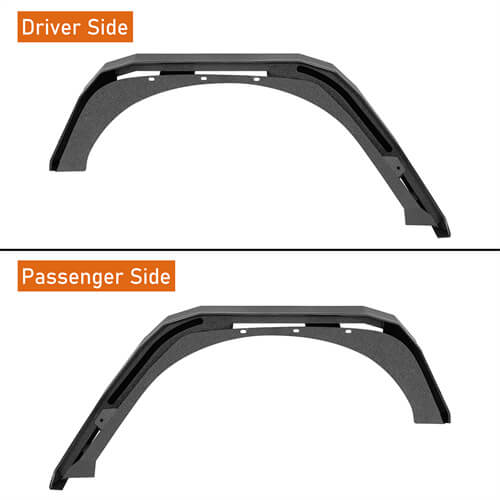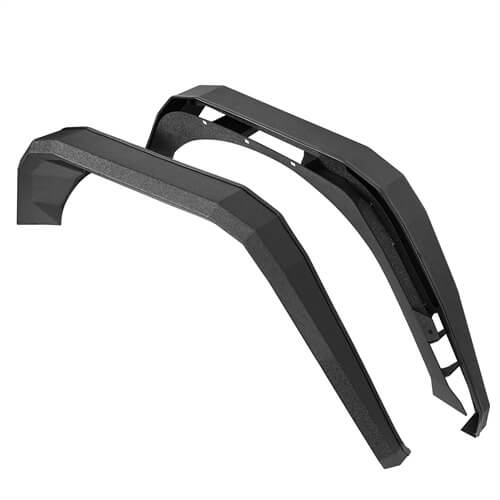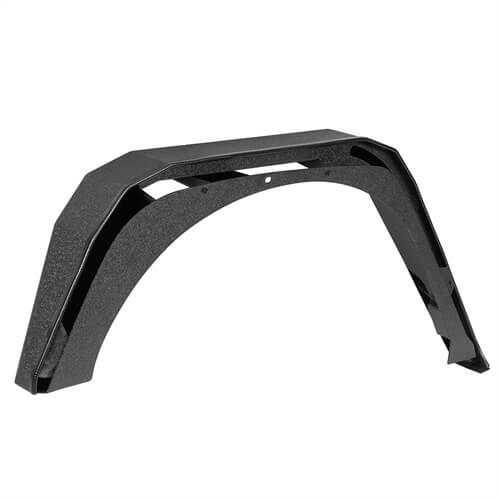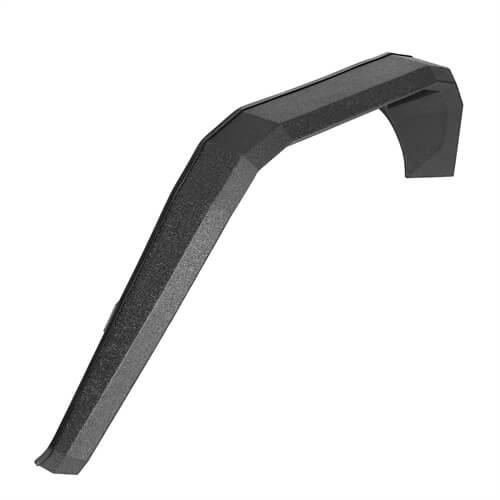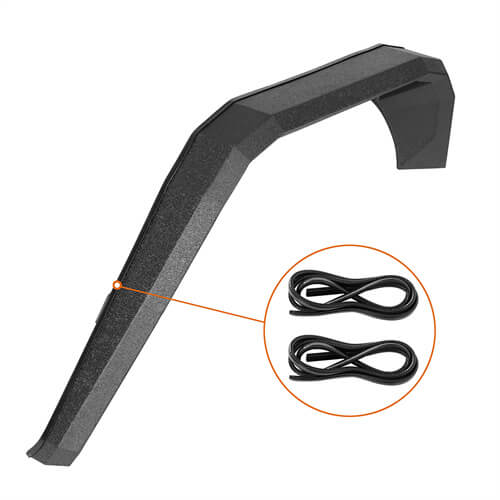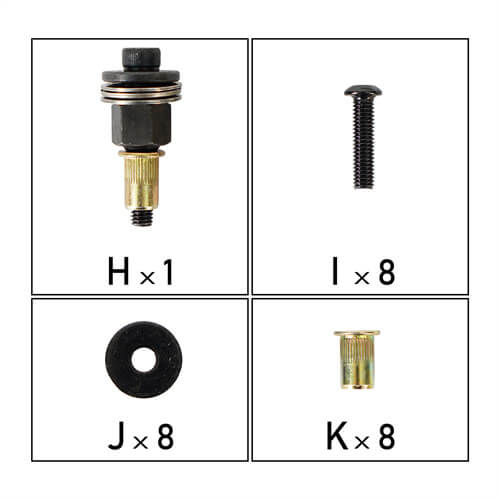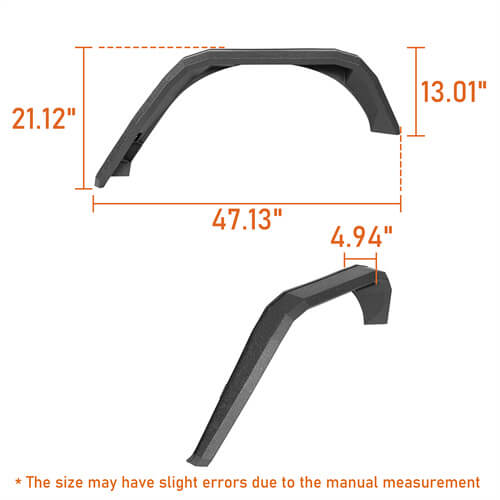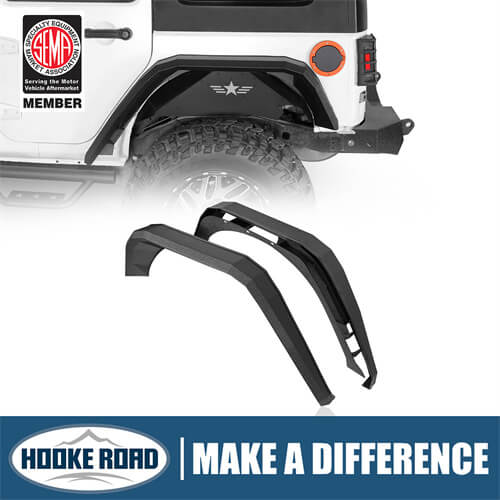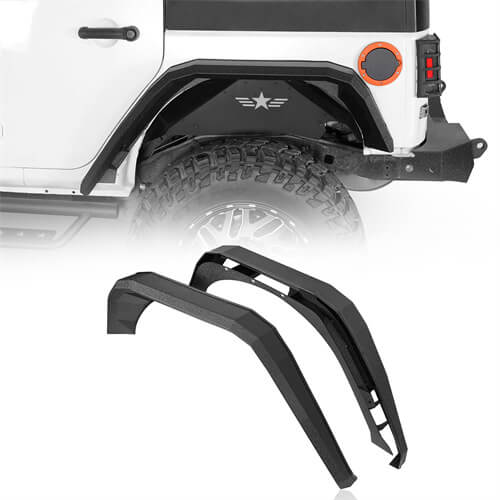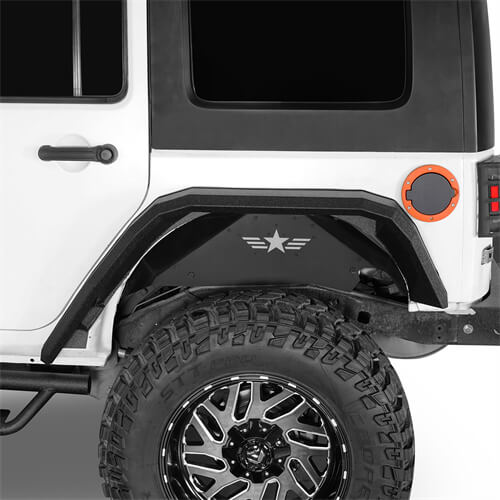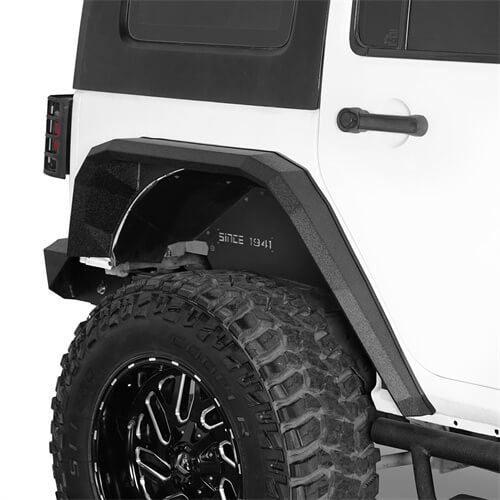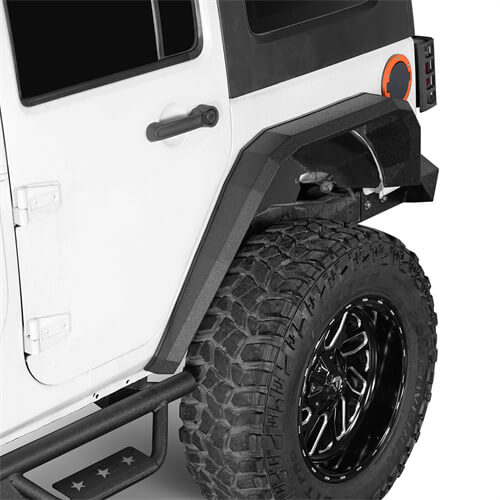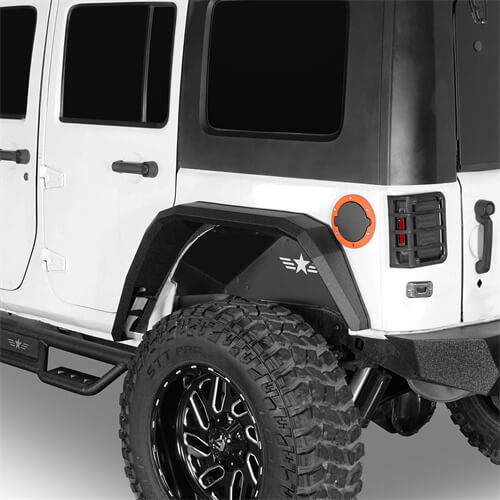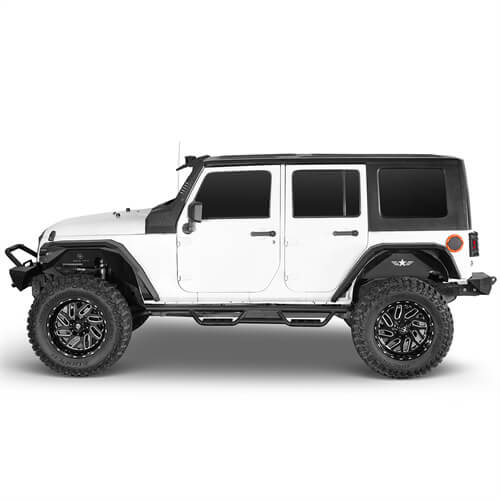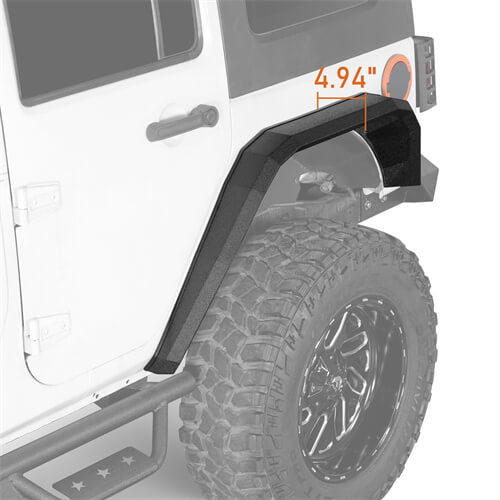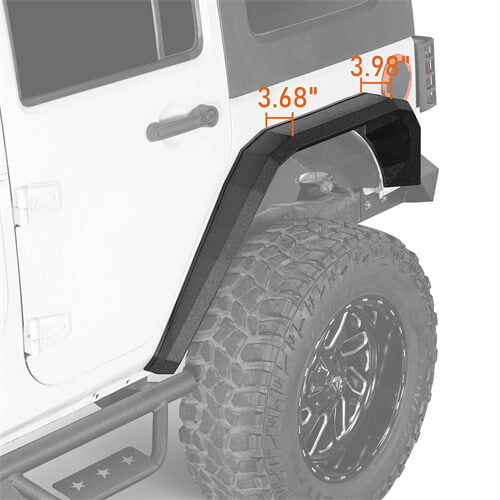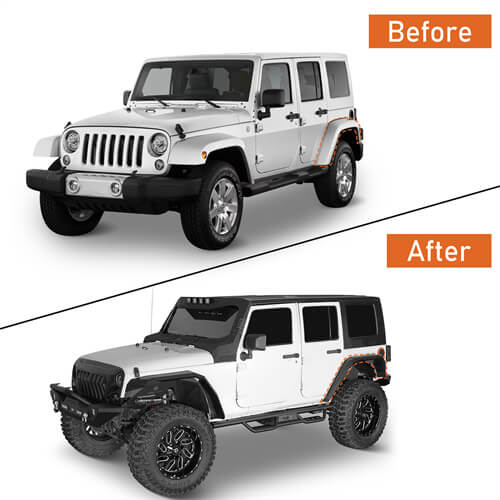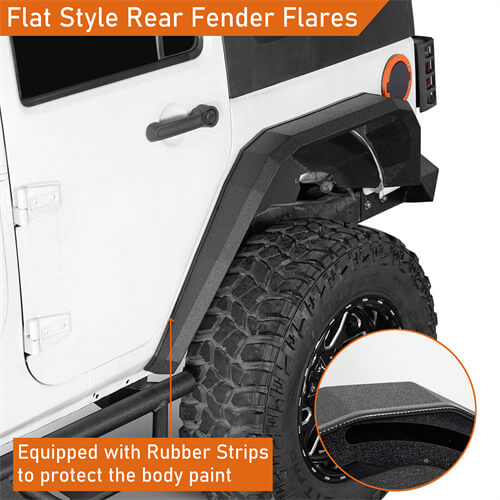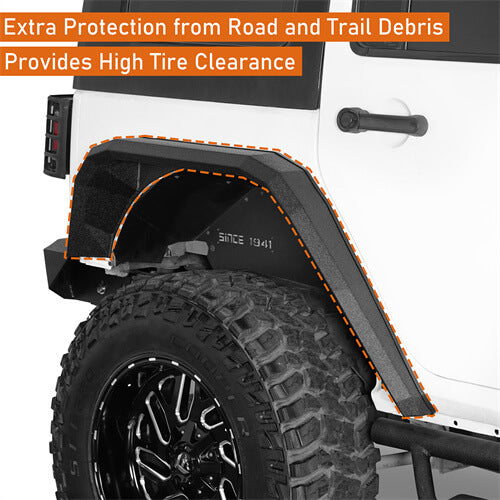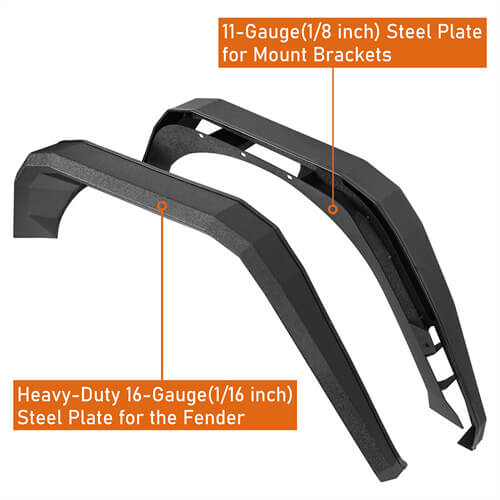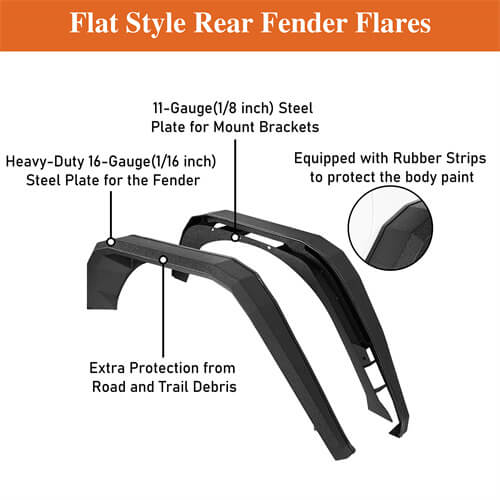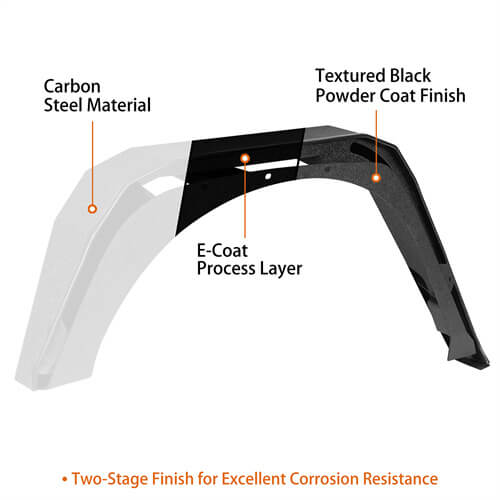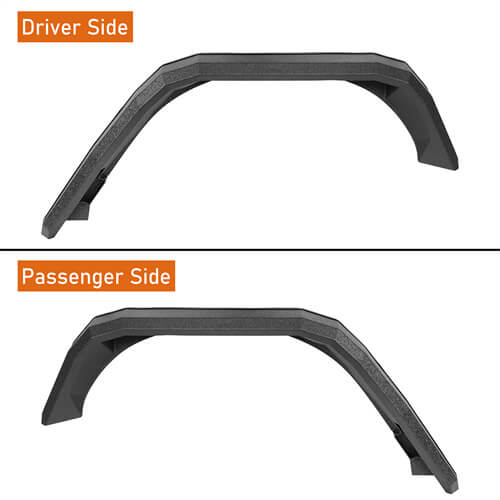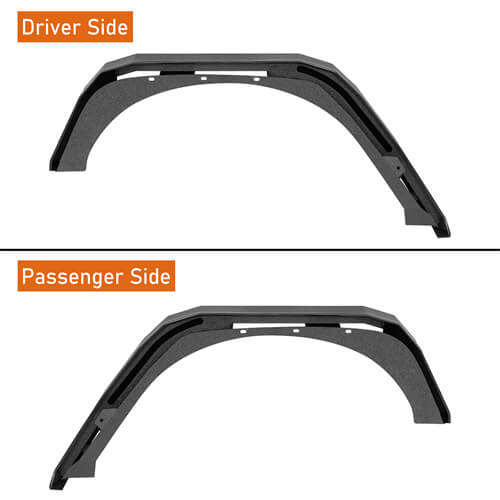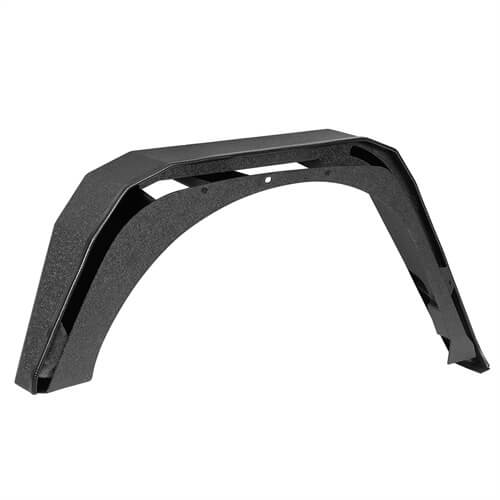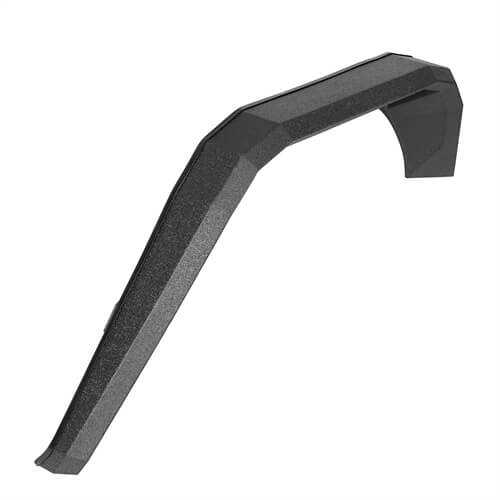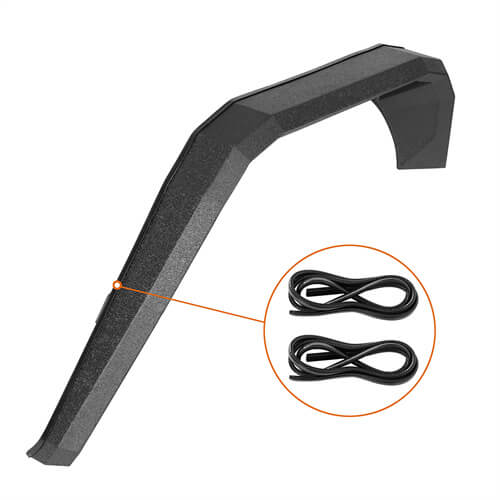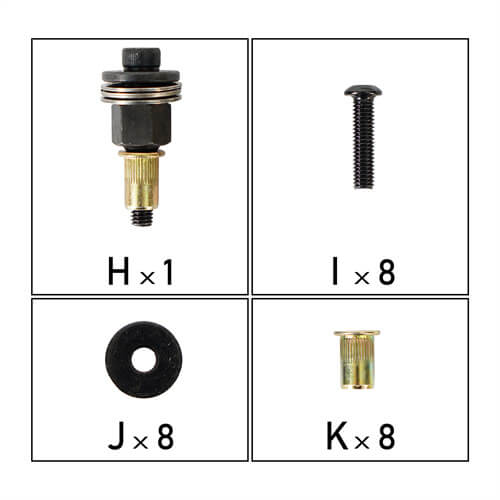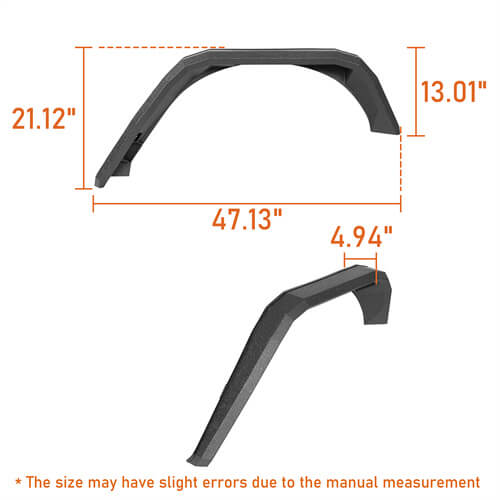 Name: 2007-2018 Jeep Wrangler JK Flat Rear Fender Flares
Feature
Fits for 2007-2018 Jeep Wrangler JK Models
Product weight: about 39 lbs
Heavy-duty 16-gauge(1/16 inch) steel plate for the fender, and 11-gauge(1/8 inch) steel for the mounting brackets.
Textured black powder coat finish & Premium E-coating process inside
Provides extra protection from road debris, Features a width of 3.7-inch on the top of the fender flares
Increases tire clearance for bigger tires
Sold as pairs: Driver side and passenger side fender flares included
Simple bolt-on installation, Mounting hardware included
Dimension
Protection and Style. Add extra protection to your JK, while improving its style, with a set of Hooke Road Rear Fender Flares. Featuring a flat fender design, these Flares will open up your Wrangler's wheel wells for a more aggressive off-road appearance. These Flat Flares not only provide additional tire coverage to protect your rig from flying debris, but they also give you a little extra room when upgrading to a beefier set of tires.

Heavy-Duty Construction. Manufactured for maximum durability, these Hooke Road Flares are crafted from 16-gauge steel plate allowing them to take on anything the trail throws at them. These Flat Fender Flares are finished in a 2-stage epoxy pre-coating and high-grade, textured black powder coating for durability and long-lasting corrosion resistance.

Direct Bolt-on Installation. No drilling is required to complete a firm installation. Remove the factory fender flares first. Then insert rivet nuts with the rivet nut tool. At last, place the fender flares and tighten up with the supplied bolts. The installation could be completed in about 1.5 hours depending on your mechanical level.
2× Rear Fender Flares(Driver and Passenger Sides)
2× Rubber Strips
1× Mounting Hardware Kit
1× Installation Instruction
2018 Jeep Wrangler (JK) Rubicon (2-Door)
2018 Jeep Wrangler (JK) Sahara (2-Door)
2018 Jeep Wrangler (JK) Sport (2-Door)
2018 Jeep Wrangler (JK) Unlimited Rubicon (4-Door)
2018 Jeep Wrangler (JK) Unlimited Sahara (4-Door)
2018 Jeep Wrangler (JK) Unlimited Sport (4-Door)
2017 Jeep Wrangler (JK) Rubicon (2-Door)
2017 Jeep Wrangler (JK) Sahara (2-Door)
2017 Jeep Wrangler (JK) Sport (2-Door)
2017 Jeep Wrangler (JK) Unlimited Rubicon (4-Door)
2017 Jeep Wrangler (JK) Unlimited Sahara (4-Door)
2017 Jeep Wrangler (JK) Unlimited Sport (4-Door)
2016 Jeep Wrangler (JK) Rubicon (2-Door)
2016 Jeep Wrangler (JK) Sahara (2-Door)
2016 Jeep Wrangler (JK) Sport (2-Door)
2016 Jeep Wrangler (JK) Unlimited Rubicon (4-Door)
2016 Jeep Wrangler (JK) Unlimited Sahara (4-Door)
2016 Jeep Wrangler (JK) Unlimited Sport (4-Door)
2016 Jeep Wrangler (JK) Unlimited Sport S (4-Door)
2016 Jeep Wrangler (JK) Sport S (2-Door)
2016 Jeep Wrangler (JK) 75th Anniversary (2-Door)
2016 Jeep Wrangler (JK) Unlimited 75th Anniversary (4-Door)
2015 Jeep Wrangler (JK) Rubicon (2-Door)
2015 Jeep Wrangler (JK) Sahara (2-Door)
2015 Jeep Wrangler (JK) Sport (2-Door)
2015 Jeep Wrangler (JK) Unlimited Rubicon (4-Door)
2015 Jeep Wrangler (JK) Unlimited Sahara (4-Door)
2015 Jeep Wrangler (JK) Unlimited Sport (4-Door)
2014 Jeep Wrangler (JK) Rubicon (2-Door)
2014 Jeep Wrangler (JK) Sahara (2-Door)
2014 Jeep Wrangler (JK) Sport (2-Door)
2014 Jeep Wrangler (JK) Unlimited Rubicon (4-Door)
2014 Jeep Wrangler (JK) Unlimited Sahara (4-Door)
2014 Jeep Wrangler (JK) Unlimited Sport (4-Door)
2013 Jeep Wrangler (JK) Rubicon (2-Door)
2013 Jeep Wrangler (JK) Sahara (2-Door)
2013 Jeep Wrangler (JK) Sport (2-Door)
2013 Jeep Wrangler (JK) Unlimited Rubicon (4-Door)
2013 Jeep Wrangler (JK) Unlimited Sport (4-Door)
2013 Jeep Wrangler (JK) Unlimited Sahara (4-Door)
2012 Jeep Wrangler (JK) Rubicon (2-Door)
2012 Jeep Wrangler (JK) Sahara (2-Door)
2012 Jeep Wrangler (JK) Sport (2-Door)
2012 Jeep Wrangler (JK) Unlimited Rubicon (4-Door)
2012 Jeep Wrangler (JK) Unlimited Sahara (4-Door)
2012 Jeep Wrangler (JK) Unlimited Sport (4-Door)
2011 Jeep Wrangler (JK) Rubicon (2-Door)
2011 Jeep Wrangler (JK) Sahara (2-Door)
2011 Jeep Wrangler (JK) Sport (2-Door)
2011 Jeep Wrangler (JK) Unlimited Rubicon (4-Door)
2011 Jeep Wrangler (JK) Unlimited Sahara (4-Door)
2011 Jeep Wrangler (JK) Unlimited Sport (4-Door)
2011 Jeep Wrangler (JK) 70th Anniversary (2-Door)
2011 Jeep Wrangler (JK) Unlimited 70th Anniversary (4-Door)
2010 Jeep Wrangler (JK) Rubicon (2-Door)
2010 Jeep Wrangler (JK) Sahara (2-Door)
2010 Jeep Wrangler (JK) Unlimited Rubicon (4-Door)
2010 Jeep Wrangler (JK) Unlimited Sahara (4-Door)
2010 Jeep Wrangler (JK) Unlimited X (4-Door)
2010 Jeep Wrangler (JK) X (2-Door)
2010 Jeep Wrangler (JK) Sport (2-Door)
2010 Jeep Wrangler (JK) Unlimited Sport (4-Door)
2009 Jeep Wrangler (JK) Rubicon (2-Door)
2009 Jeep Wrangler (JK) Sahara (2-Door)
2009 Jeep Wrangler (JK) Unlimited Rubicon (4-Door)
2009 Jeep Wrangler (JK) Unlimited Sahara (4-Door)
2009 Jeep Wrangler (JK) Unlimited X (4-Door)
2009 Jeep Wrangler (JK) X (2-Door)
2008 Jeep Wrangler (JK) X (2-Door)
2008 Jeep Wrangler (JK) Unlimited X (4-Door)
2008 Jeep Wrangler (JK) Unlimited Sahara (4-Door)
2008 Jeep Wrangler (JK) Unlimited Rubicon (4-Door)
2008 Jeep Wrangler (JK) Sahara (2-Door)
2008 Jeep Wrangler (JK) Rubicon (2-Door)
2007 Jeep Wrangler (JK) Rubicon (2-Door)
2007 Jeep Wrangler (JK) Sahara (2-Door)
2007 Jeep Wrangler (JK) Unlimited Rubicon (4-Door)
2007 Jeep Wrangler (JK) Unlimited Sahara (4-Door)
2007 Jeep Wrangler (JK) Unlimited X (4-Door)
2007 Jeep Wrangler (JK) X (2-Door)
Package Included
2× Rear Fender Flares(Driver and Passenger Sides)
2× Rubber Strips
1× Mounting Hardware Kit
1× Installation Instruction
Fitment
2018 Jeep Wrangler (JK) Rubicon (2-Door)
2018 Jeep Wrangler (JK) Sahara (2-Door)
2018 Jeep Wrangler (JK) Sport (2-Door)
2018 Jeep Wrangler (JK) Unlimited Rubicon (4-Door)
2018 Jeep Wrangler (JK) Unlimited Sahara (4-Door)
2018 Jeep Wrangler (JK) Unlimited Sport (4-Door)
2017 Jeep Wrangler (JK) Rubicon (2-Door)
2017 Jeep Wrangler (JK) Sahara (2-Door)
2017 Jeep Wrangler (JK) Sport (2-Door)
2017 Jeep Wrangler (JK) Unlimited Rubicon (4-Door)
2017 Jeep Wrangler (JK) Unlimited Sahara (4-Door)
2017 Jeep Wrangler (JK) Unlimited Sport (4-Door)
2016 Jeep Wrangler (JK) Rubicon (2-Door)
2016 Jeep Wrangler (JK) Sahara (2-Door)
2016 Jeep Wrangler (JK) Sport (2-Door)
2016 Jeep Wrangler (JK) Unlimited Rubicon (4-Door)
2016 Jeep Wrangler (JK) Unlimited Sahara (4-Door)
2016 Jeep Wrangler (JK) Unlimited Sport (4-Door)
2016 Jeep Wrangler (JK) Unlimited Sport S (4-Door)
2016 Jeep Wrangler (JK) Sport S (2-Door)
2016 Jeep Wrangler (JK) 75th Anniversary (2-Door)
2016 Jeep Wrangler (JK) Unlimited 75th Anniversary (4-Door)
2015 Jeep Wrangler (JK) Rubicon (2-Door)
2015 Jeep Wrangler (JK) Sahara (2-Door)
2015 Jeep Wrangler (JK) Sport (2-Door)
2015 Jeep Wrangler (JK) Unlimited Rubicon (4-Door)
2015 Jeep Wrangler (JK) Unlimited Sahara (4-Door)
2015 Jeep Wrangler (JK) Unlimited Sport (4-Door)
2014 Jeep Wrangler (JK) Rubicon (2-Door)
2014 Jeep Wrangler (JK) Sahara (2-Door)
2014 Jeep Wrangler (JK) Sport (2-Door)
2014 Jeep Wrangler (JK) Unlimited Rubicon (4-Door)
2014 Jeep Wrangler (JK) Unlimited Sahara (4-Door)
2014 Jeep Wrangler (JK) Unlimited Sport (4-Door)
2013 Jeep Wrangler (JK) Rubicon (2-Door)
2013 Jeep Wrangler (JK) Sahara (2-Door)
2013 Jeep Wrangler (JK) Sport (2-Door)
2013 Jeep Wrangler (JK) Unlimited Rubicon (4-Door)
2013 Jeep Wrangler (JK) Unlimited Sport (4-Door)
2013 Jeep Wrangler (JK) Unlimited Sahara (4-Door)
2012 Jeep Wrangler (JK) Rubicon (2-Door)
2012 Jeep Wrangler (JK) Sahara (2-Door)
2012 Jeep Wrangler (JK) Sport (2-Door)
2012 Jeep Wrangler (JK) Unlimited Rubicon (4-Door)
2012 Jeep Wrangler (JK) Unlimited Sahara (4-Door)
2012 Jeep Wrangler (JK) Unlimited Sport (4-Door)
2011 Jeep Wrangler (JK) Rubicon (2-Door)
2011 Jeep Wrangler (JK) Sahara (2-Door)
2011 Jeep Wrangler (JK) Sport (2-Door)
2011 Jeep Wrangler (JK) Unlimited Rubicon (4-Door)
2011 Jeep Wrangler (JK) Unlimited Sahara (4-Door)
2011 Jeep Wrangler (JK) Unlimited Sport (4-Door)
2011 Jeep Wrangler (JK) 70th Anniversary (2-Door)
2011 Jeep Wrangler (JK) Unlimited 70th Anniversary (4-Door)
2010 Jeep Wrangler (JK) Rubicon (2-Door)
2010 Jeep Wrangler (JK) Sahara (2-Door)
2010 Jeep Wrangler (JK) Unlimited Rubicon (4-Door)
2010 Jeep Wrangler (JK) Unlimited Sahara (4-Door)
2010 Jeep Wrangler (JK) Unlimited X (4-Door)
2010 Jeep Wrangler (JK) X (2-Door)
2010 Jeep Wrangler (JK) Sport (2-Door)
2010 Jeep Wrangler (JK) Unlimited Sport (4-Door)
2009 Jeep Wrangler (JK) Rubicon (2-Door)
2009 Jeep Wrangler (JK) Sahara (2-Door)
2009 Jeep Wrangler (JK) Unlimited Rubicon (4-Door)
2009 Jeep Wrangler (JK) Unlimited Sahara (4-Door)
2009 Jeep Wrangler (JK) Unlimited X (4-Door)
2009 Jeep Wrangler (JK) X (2-Door)
2008 Jeep Wrangler (JK) X (2-Door)
2008 Jeep Wrangler (JK) Unlimited X (4-Door)
2008 Jeep Wrangler (JK) Unlimited Sahara (4-Door)
2008 Jeep Wrangler (JK) Unlimited Rubicon (4-Door)
2008 Jeep Wrangler (JK) Sahara (2-Door)
2008 Jeep Wrangler (JK) Rubicon (2-Door)
2007 Jeep Wrangler (JK) Rubicon (2-Door)
2007 Jeep Wrangler (JK) Sahara (2-Door)
2007 Jeep Wrangler (JK) Unlimited Rubicon (4-Door)
2007 Jeep Wrangler (JK) Unlimited Sahara (4-Door)
2007 Jeep Wrangler (JK) Unlimited X (4-Door)
2007 Jeep Wrangler (JK) X (2-Door)