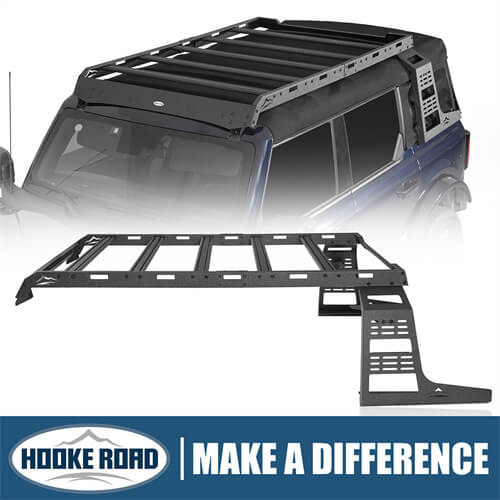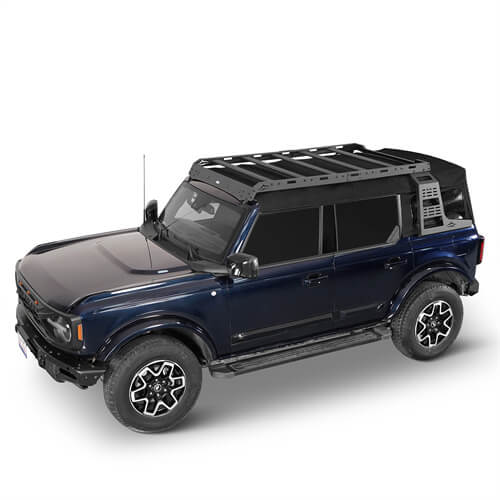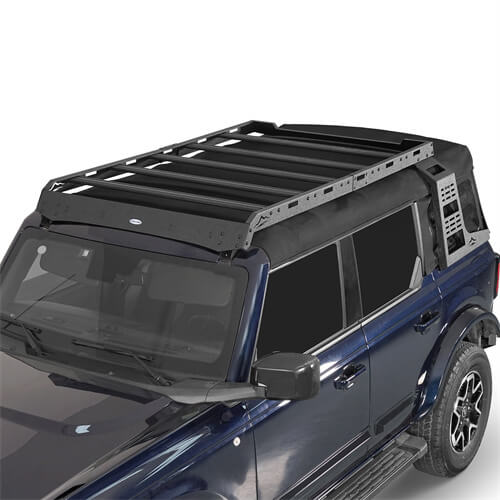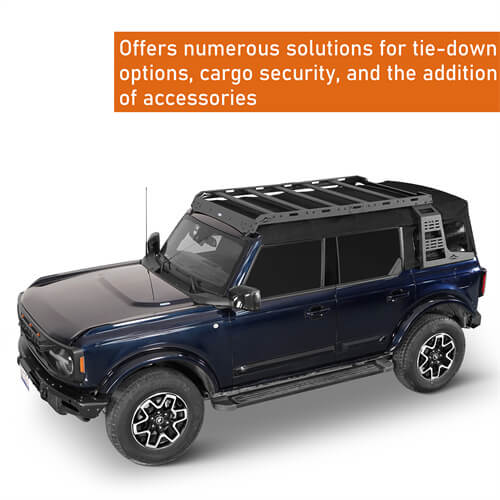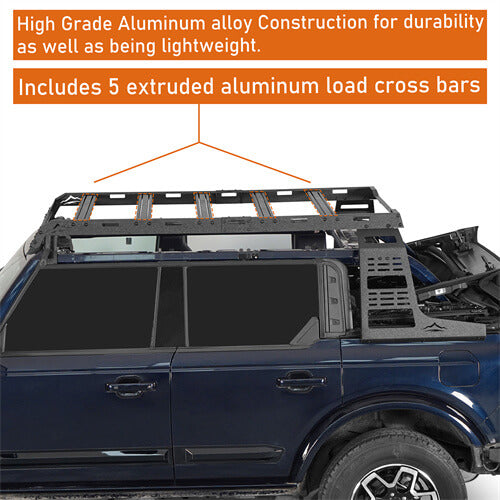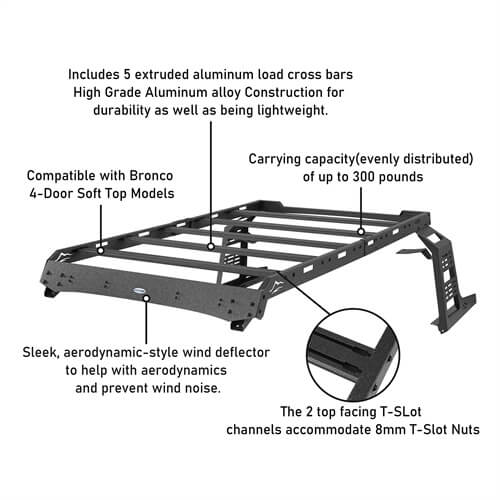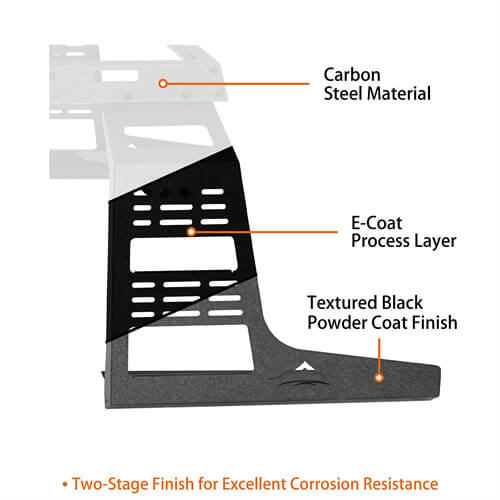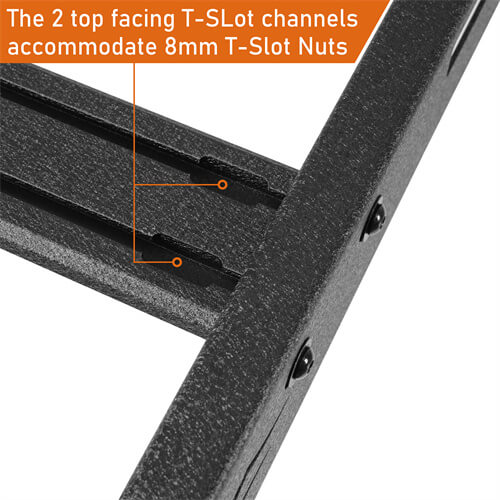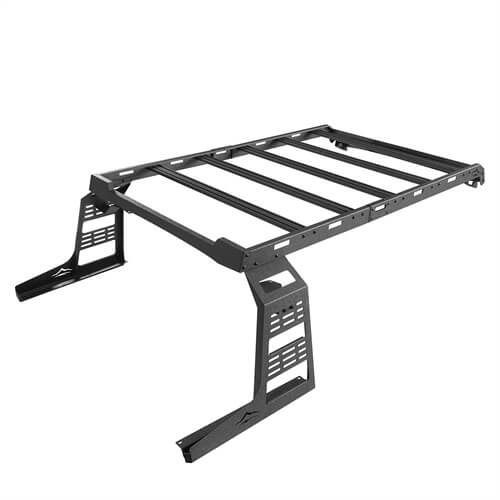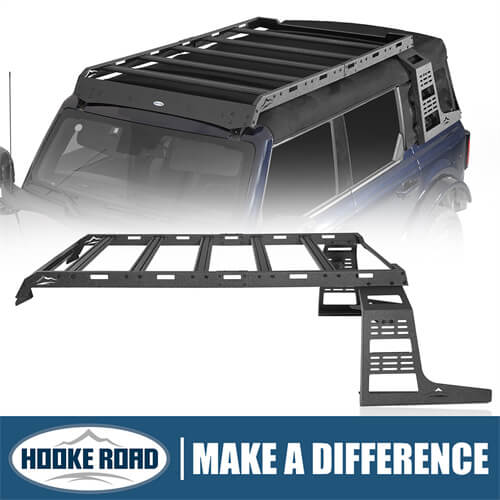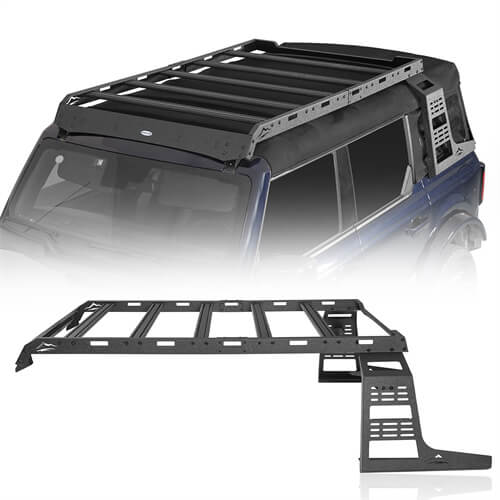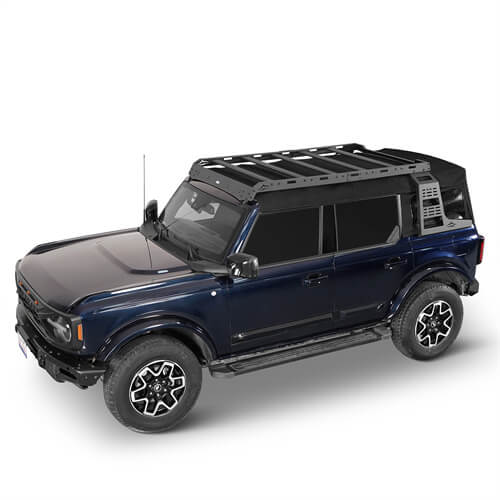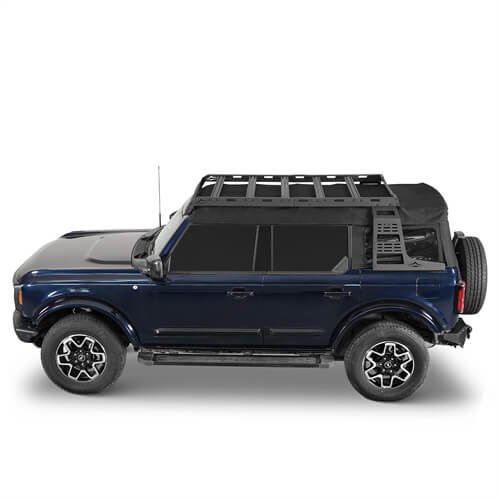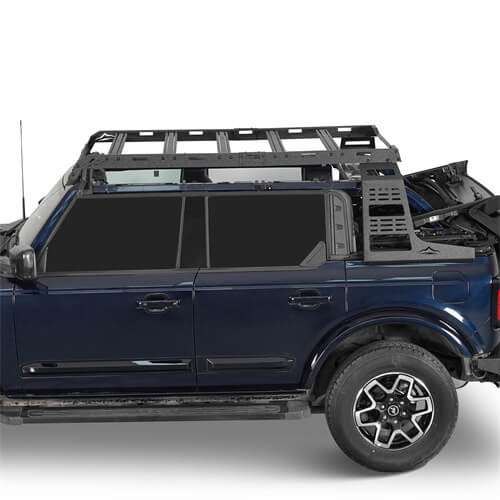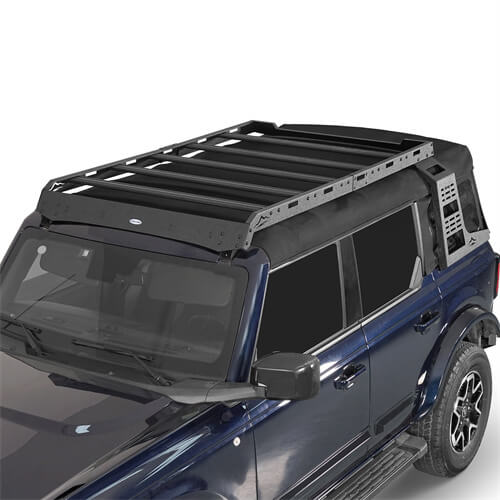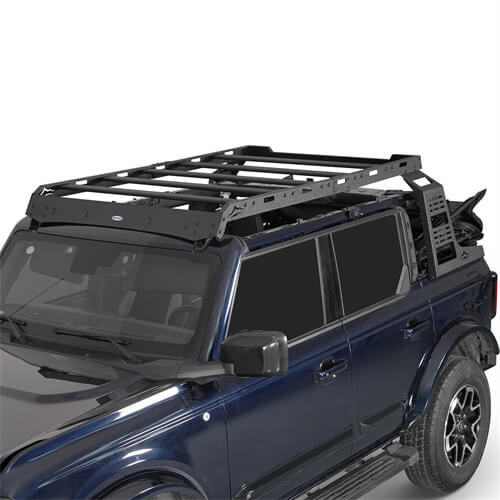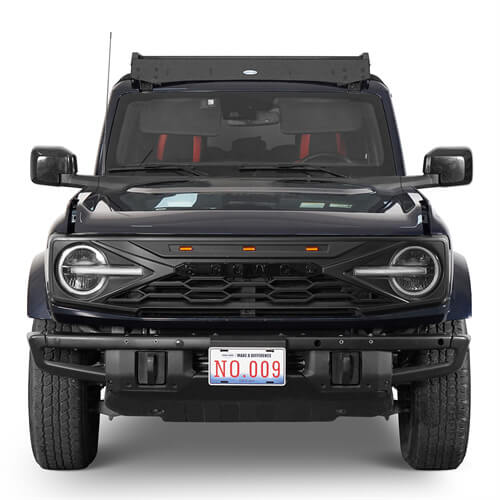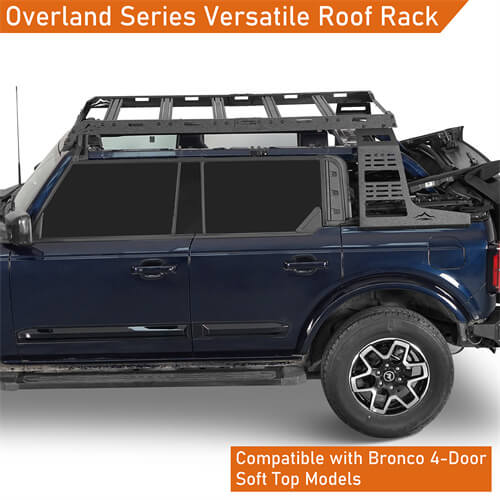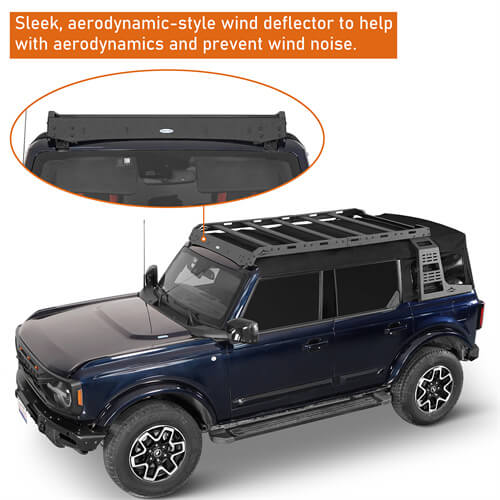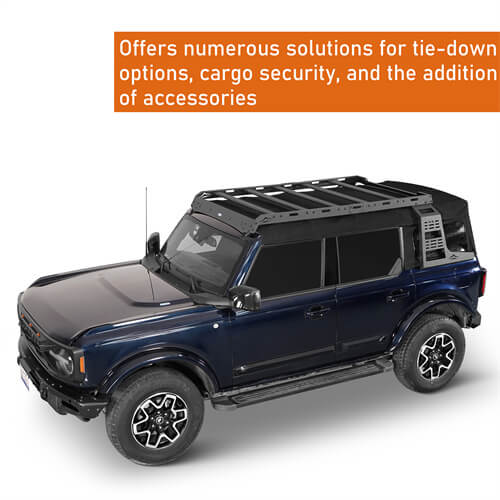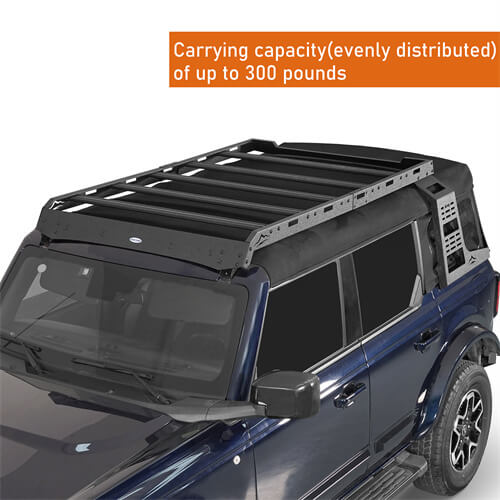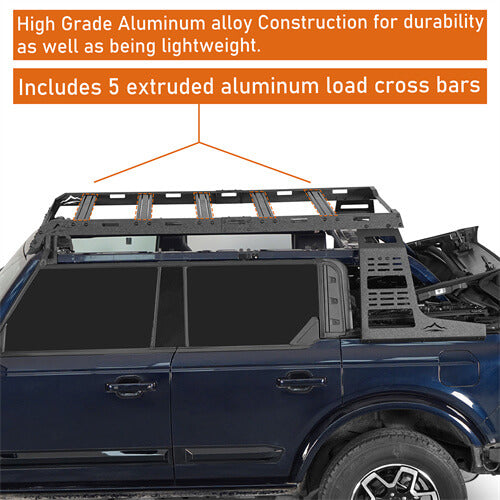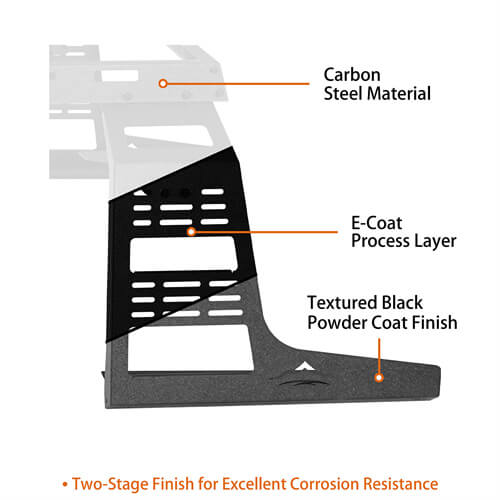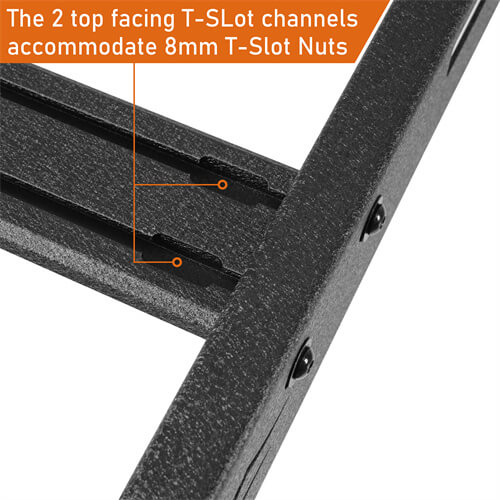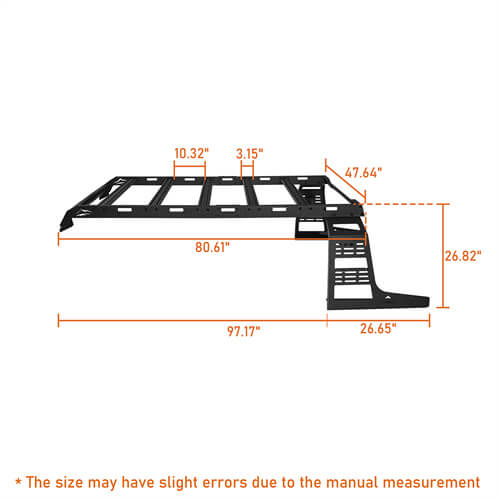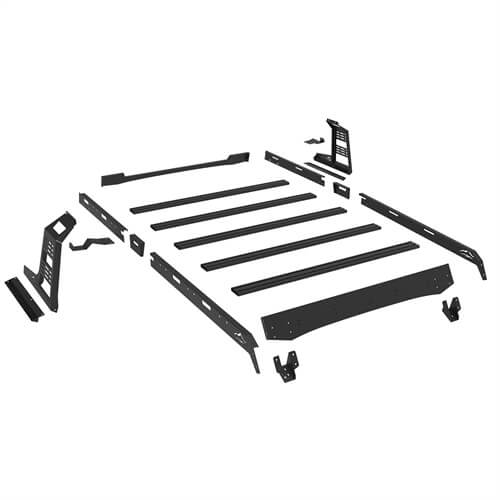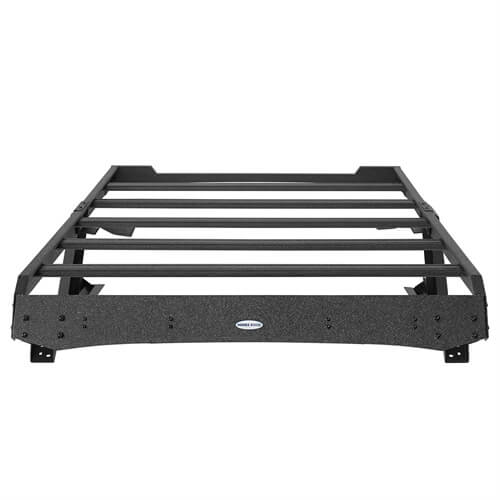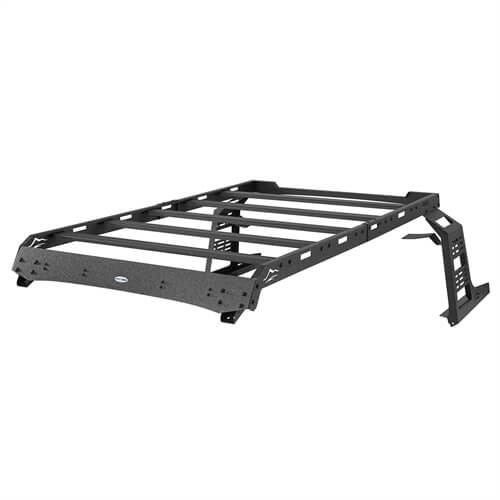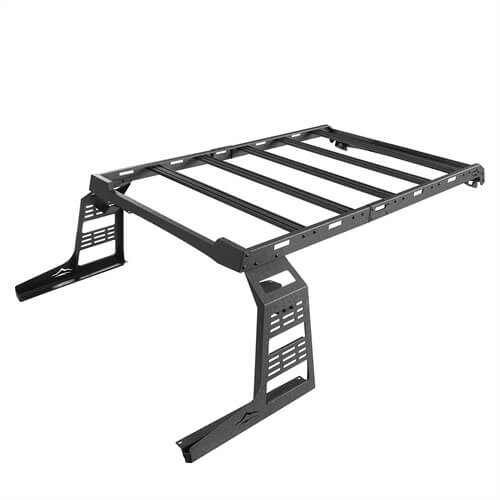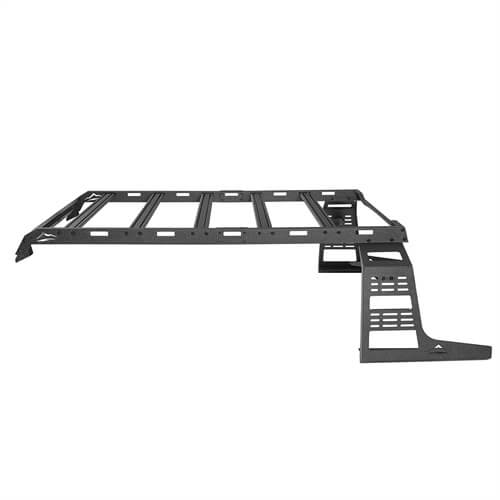 NAME: Hooke Road 2021-2023 Ford Bronco Soft Top 4-Door Aluminum Roof Rack Cargo Rack

FEATURE
Compatible with 2021-2023 Ford Bronco 4-Door Soft Top Models
Product weight: about 86 lbs
Dimension: about 47.6 in width and 80.6 in length
The side panels, front and rear panels are made from high tensile 13-gauge(3/32 Inch) steel construction
They are also treated with both a textured black powder coat finish and a premium E-coating process
Includes 5 extruded aluminum load cross bars
The crossbars are made from a 3.2" x 0.8" aluminum extrusion and apply the textured black powder coat finish
The 2 top facing T-slot channels offer numerous solutions for tie-down options, cargo security, and the addition of accessories such as lights, high lift jacks, roof top tents, shower systems, traction recovery boards, fuel containers, spare tires, bike mounts, etc
The T-slots on the tops of the slats accommodate standard 8mm T-slot nuts
Soft top functionality is limited to cargo flip-up only (The rack needs to be removed for full functionality)
Simple bolt-on installation, No drilling or modification is required
Includes rubber trim and all necessary hardware for installation
Overland Series Versatile Roof Rack

Sleek, slim, and minimal design
Provides extra exterior cargo space
Carrying capacity(evenly distributed) of up to 300 pounds
Front wind fairing matches the contour of the roof and windshield for a superior fit and improved aerodynamics
Built-in side panel slots allow unlimited options for adding accessories such as handles, side lighting, awning mounts, and more
Accommodate an LED light bar within 28 in(Not Included). The T-slots on the front wind fairing accommodate standard 6mm T-slot nuts
Features side MOLLE panels for attaching your gear
DIMENSION
Excellent Extra Storage Space. When extra cargo space is absolutely needed, you can rely on this Hooke Road Roof Rack. It provides a large space for all the extra gear you need to bring along in your next road trip or trail adventure. The 2 top facing T-slot channels offer numerous solutions for tie-down options. With its secure design, you can place your cargo on it with great confidence.


Solid Construction. The cross bars are made from a 3.2" x 0.8" aluminum extrusion and apply the textured black powder coat finish. These roof rack panels are built from heavy-duty 13-gauge(3/32 Inch) steel to ensure maximum durability against heavy loads. It is coated with a durable black powder coating to provide lasting protection against corrosion.

Simple to Install. First, assemble all the components to be a roof rack. Secondly, lift the roof rack to the roof of the vehicle. Then install the mounting bracket onto the roof and connect them to the roof rack. After adjusting the position of the rack, tighten up all the bolts. You should expect to take up to hours to install this unit, based on your level of mechanical skills. Some basic hand tools are required.

1 × Roof Rack Assembly
2 × Side Mounting Panels
6 × Mounting Brackets
1 × Mounting Hardware Kit
1 × Installation Instruction
2023 Ford Bronco Badlands Sport Utility
2023 Ford Bronco Base Sport Utility
2023 Ford Bronco Big Bend Sport Utility
2023 Ford Bronco Black Diamond Sport Utility
2023 Ford Bronco Everglades Sport Utility
2023 Ford Bronco Heritage Edition Sport Utility
2023 Ford Bronco Outer Banks Sport Utility
2023 Ford Bronco Wildtrak Sport Utility
2022 Ford Bronco Badlands Sport Utility
2022 Ford Bronco Base Sport Utility
2022 Ford Bronco Big Bend Sport Utility
2022 Ford Bronco Black Diamond Sport Utility
2022 Ford Bronco Everglades Sport Utility
2022 Ford Bronco Outer Banks Sport Utility
2022 Ford Bronco Wildtrak Sport Utility
2021 Ford Bronco Badlands Sport Utility
2021 Ford Bronco Base Sport Utility
2021 Ford Bronco Big Bend Sport Utility
2021 Ford Bronco Black Diamond Sport Utility
2021 Ford Bronco First Edition Sport Utility
2021 Ford Bronco Outer Banks Sport Utility
2021 Ford Bronco Wildtrak Sport Utility
Package Included
1 × Roof Rack Assembly
2 × Side Mounting Panels
6 × Mounting Brackets
1 × Mounting Hardware Kit
1 × Installation Instruction
Fitment
2023 Ford Bronco Badlands Sport Utility
2023 Ford Bronco Base Sport Utility
2023 Ford Bronco Big Bend Sport Utility
2023 Ford Bronco Black Diamond Sport Utility
2023 Ford Bronco Everglades Sport Utility
2023 Ford Bronco Heritage Edition Sport Utility
2023 Ford Bronco Outer Banks Sport Utility
2023 Ford Bronco Wildtrak Sport Utility
2022 Ford Bronco Badlands Sport Utility
2022 Ford Bronco Base Sport Utility
2022 Ford Bronco Big Bend Sport Utility
2022 Ford Bronco Black Diamond Sport Utility
2022 Ford Bronco Everglades Sport Utility
2022 Ford Bronco Outer Banks Sport Utility
2022 Ford Bronco Wildtrak Sport Utility
2021 Ford Bronco Badlands Sport Utility
2021 Ford Bronco Base Sport Utility
2021 Ford Bronco Big Bend Sport Utility
2021 Ford Bronco Black Diamond Sport Utility
2021 Ford Bronco First Edition Sport Utility
2021 Ford Bronco Outer Banks Sport Utility
2021 Ford Bronco Wildtrak Sport Utility