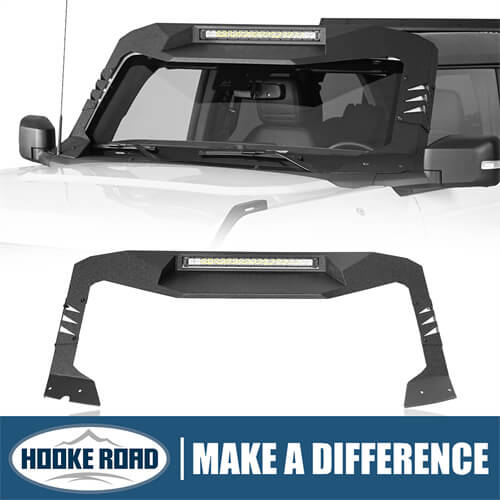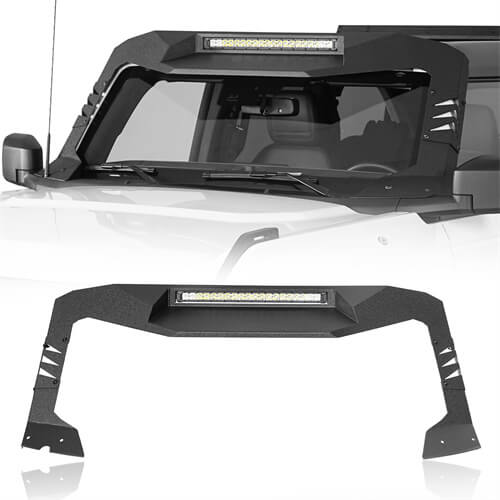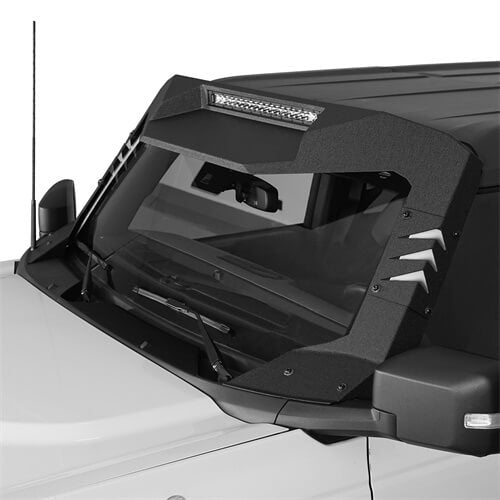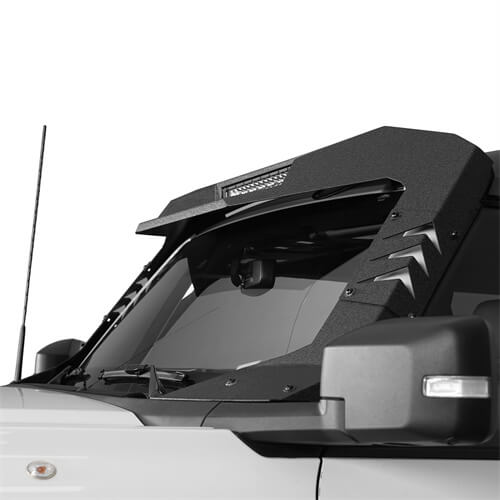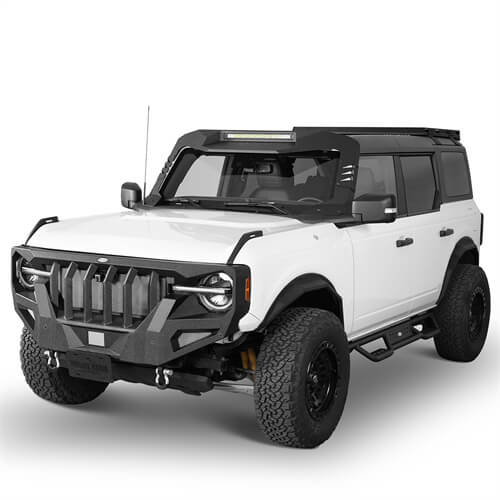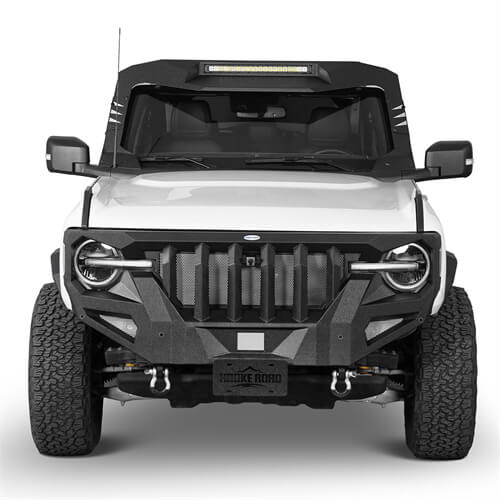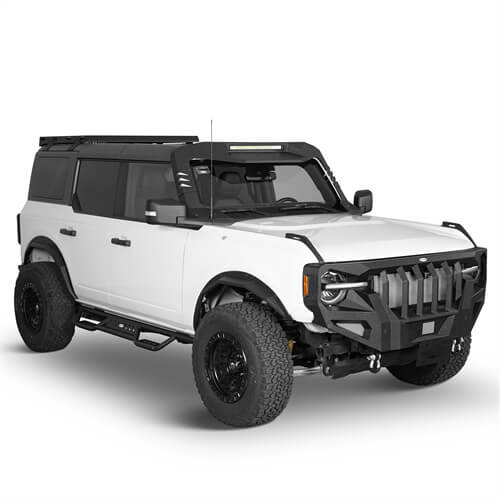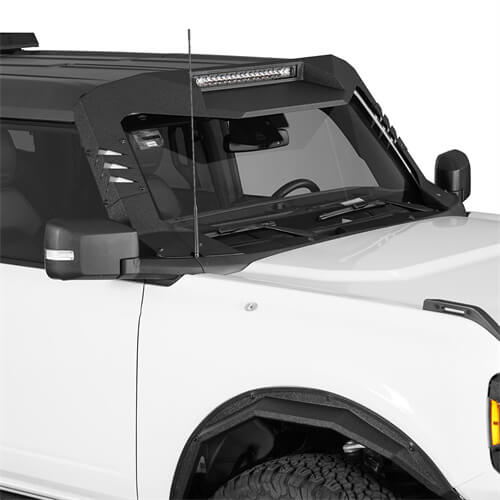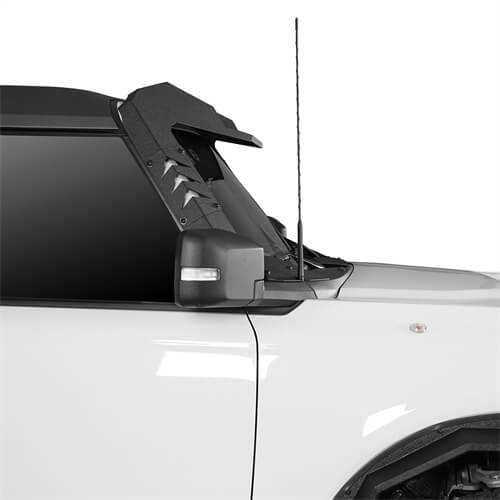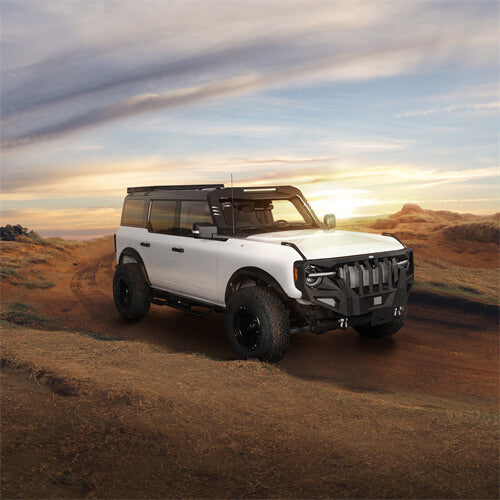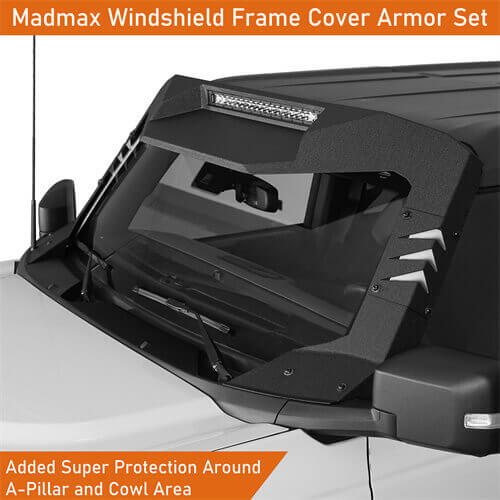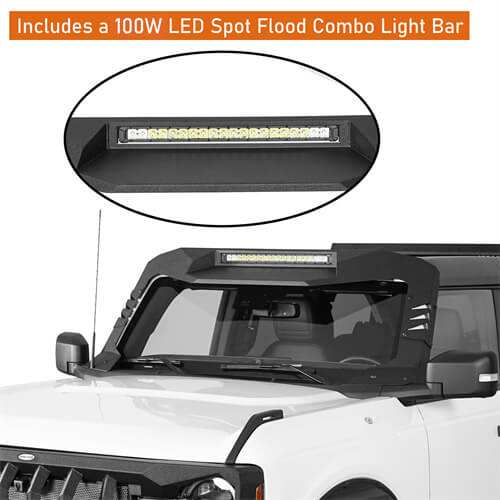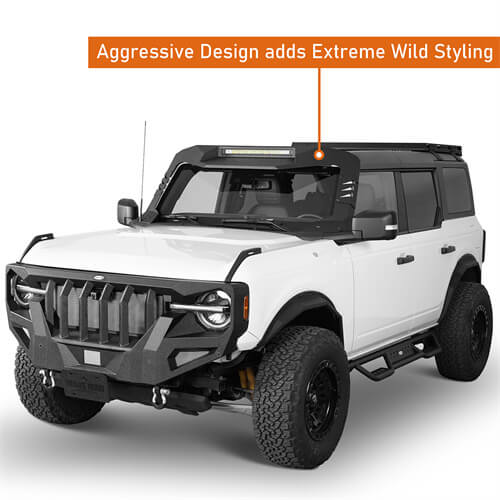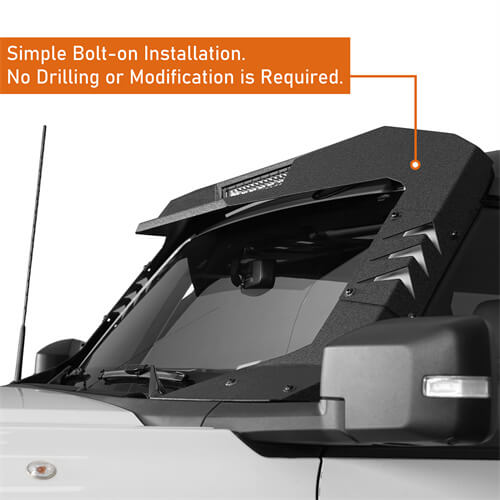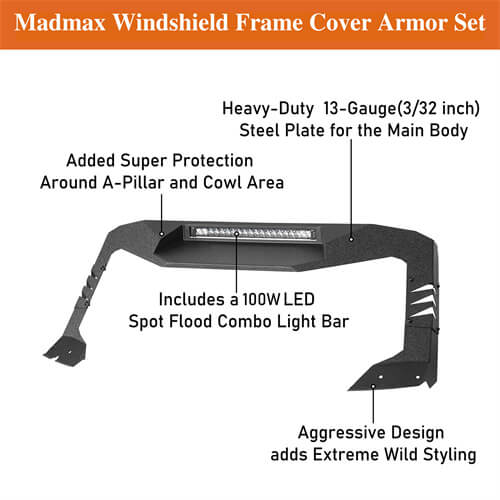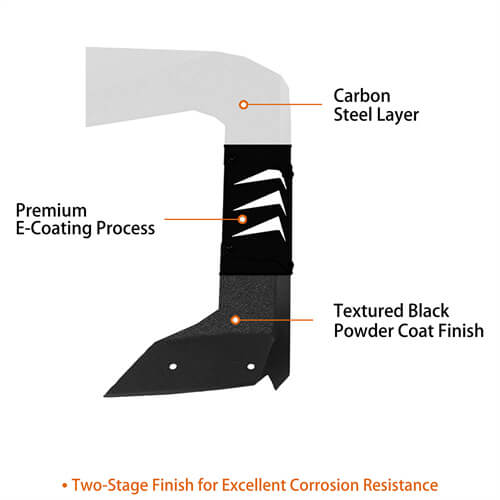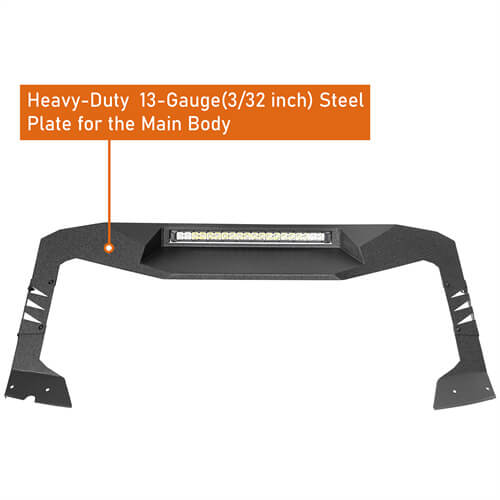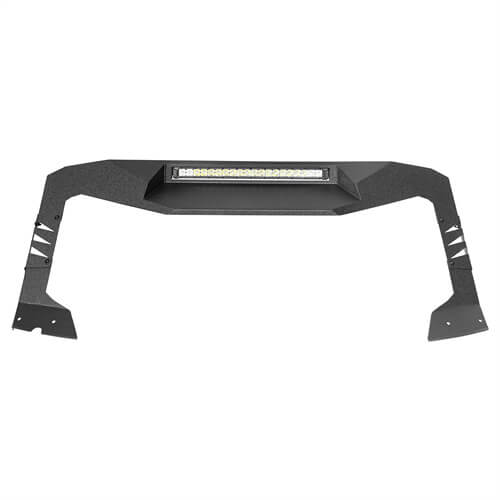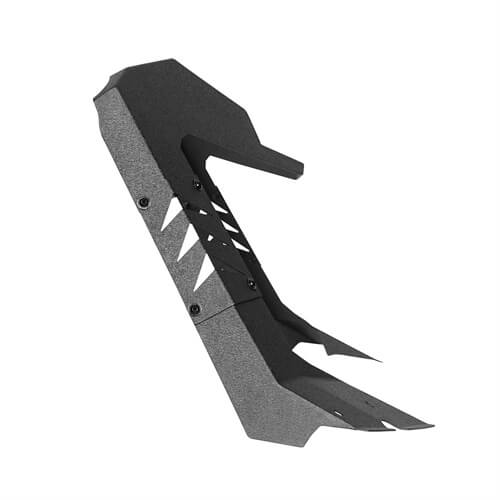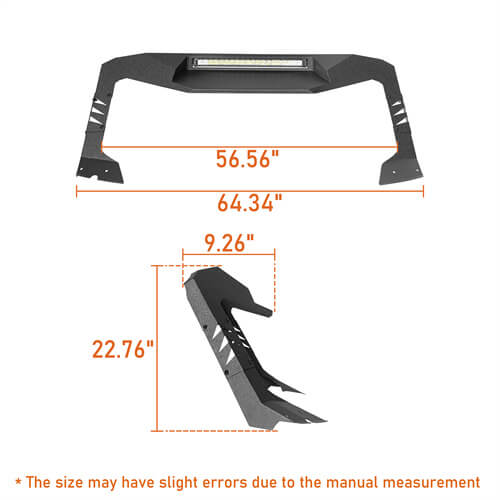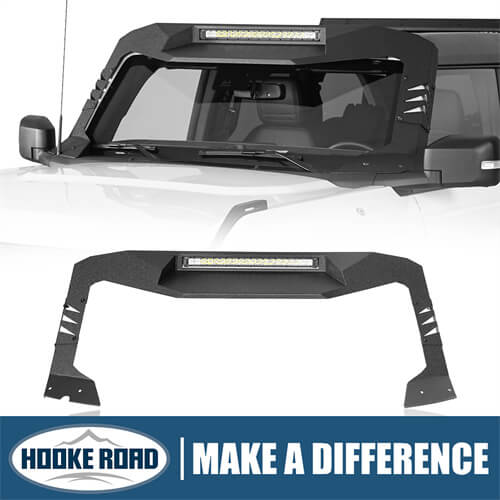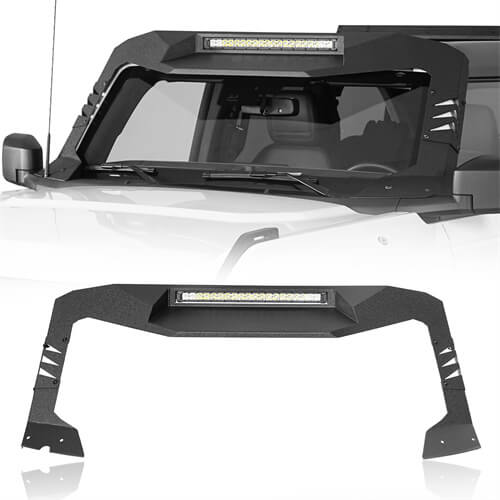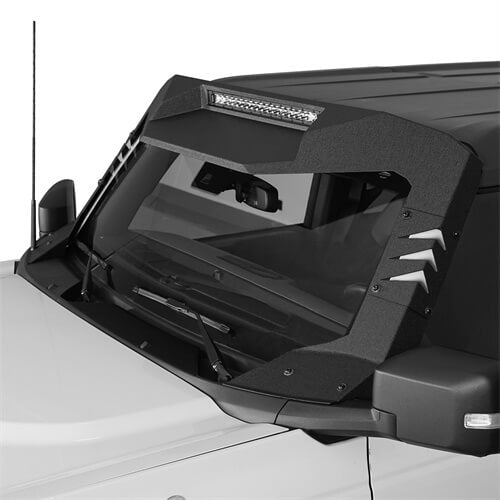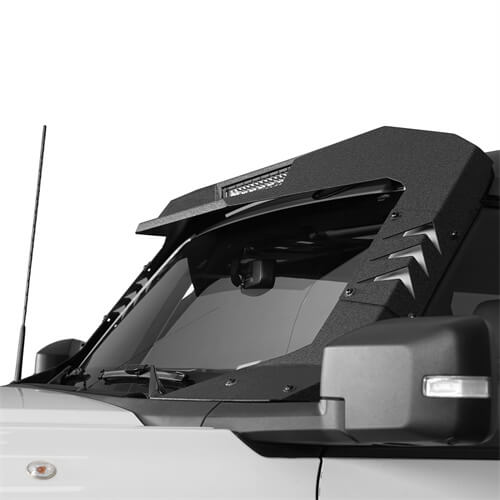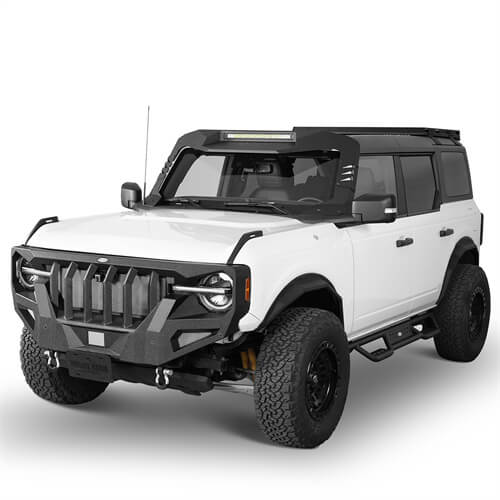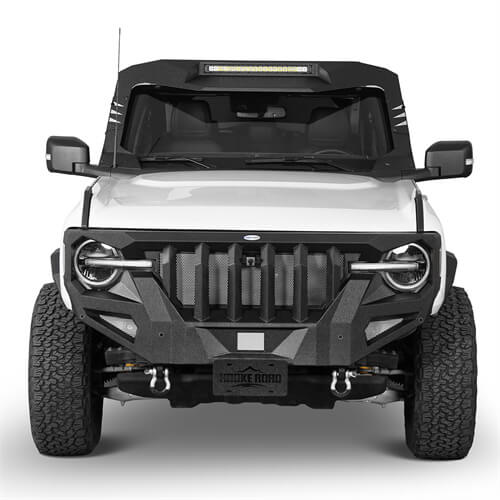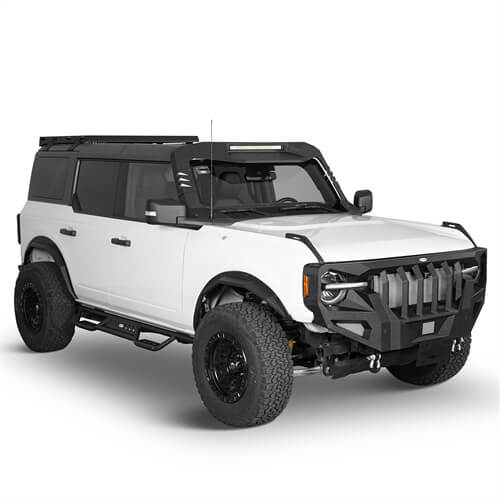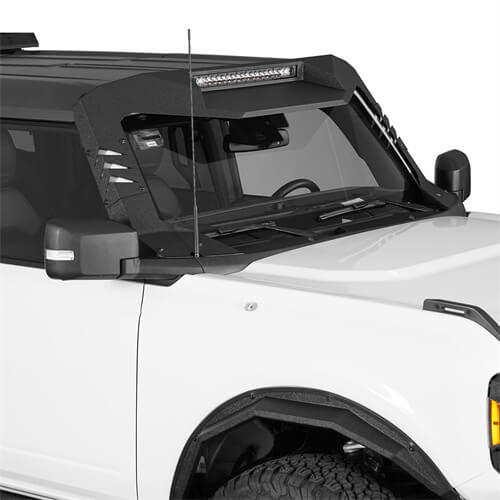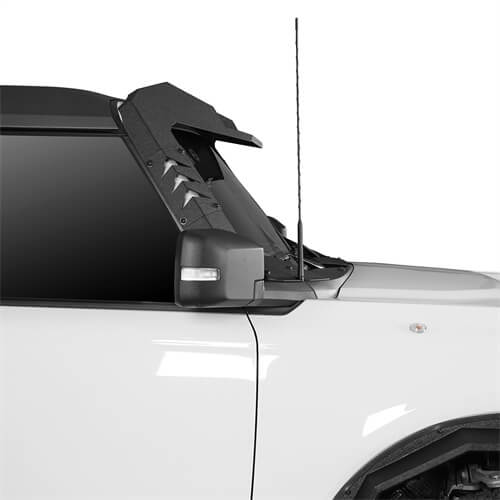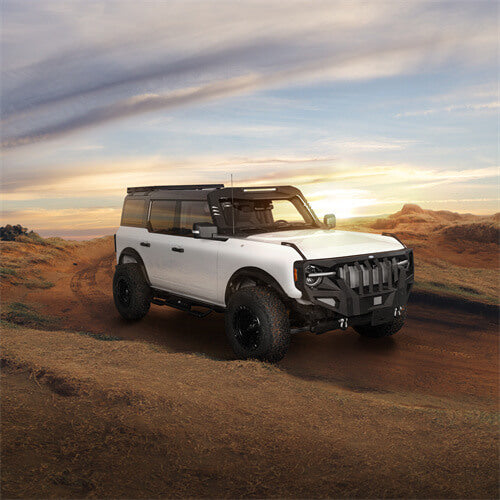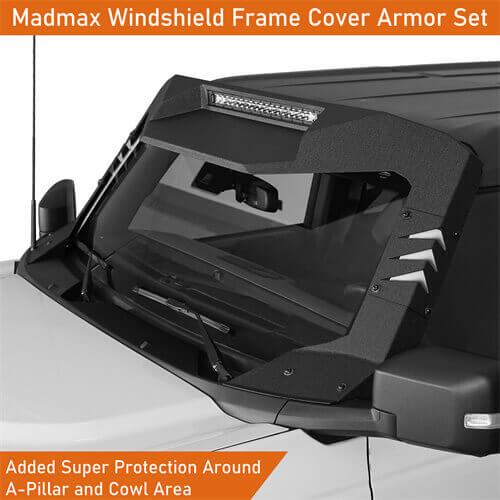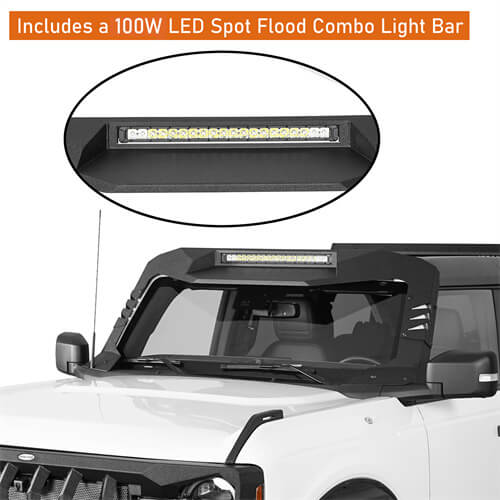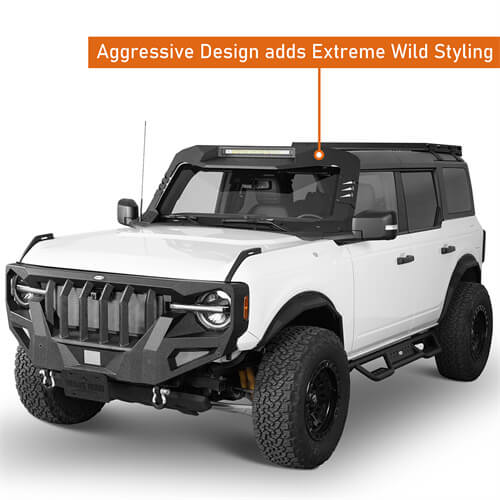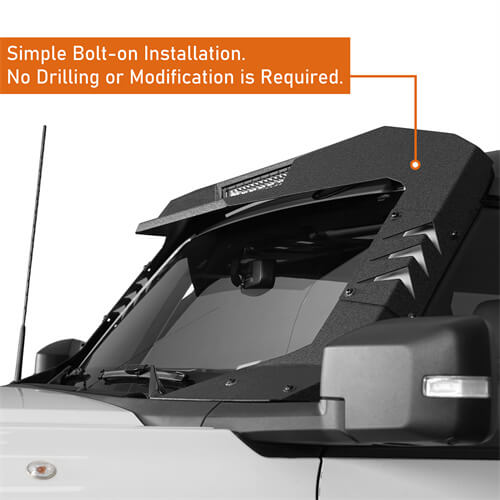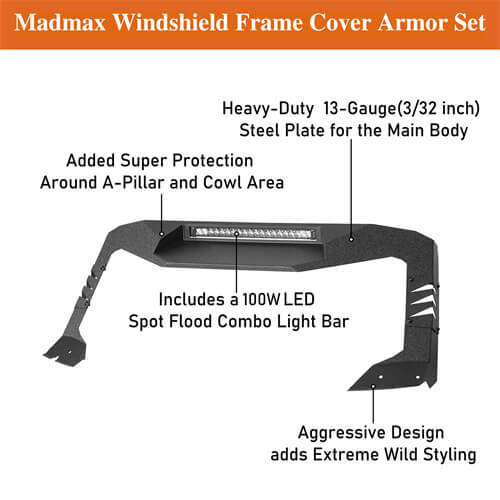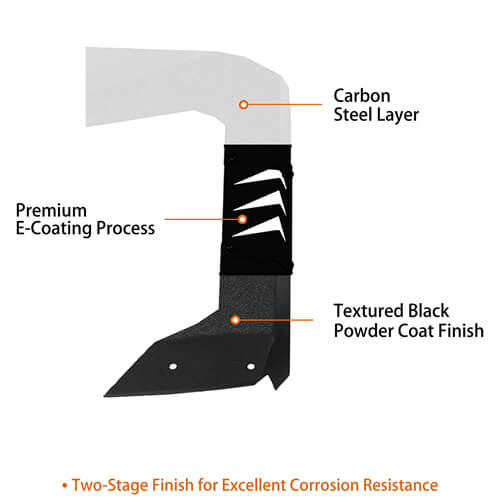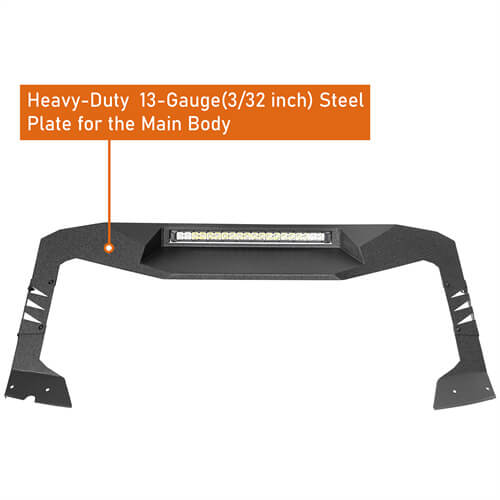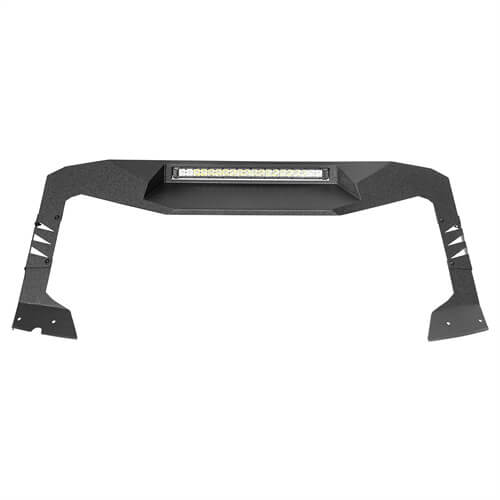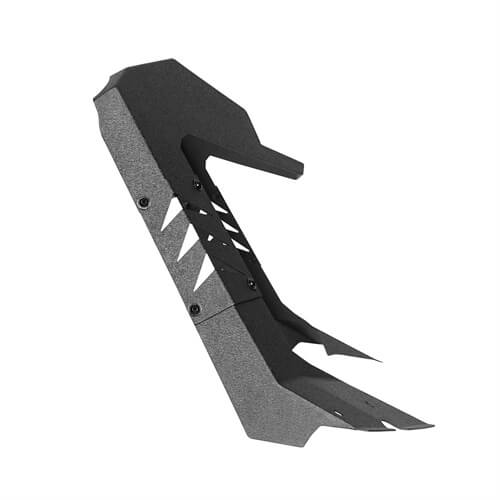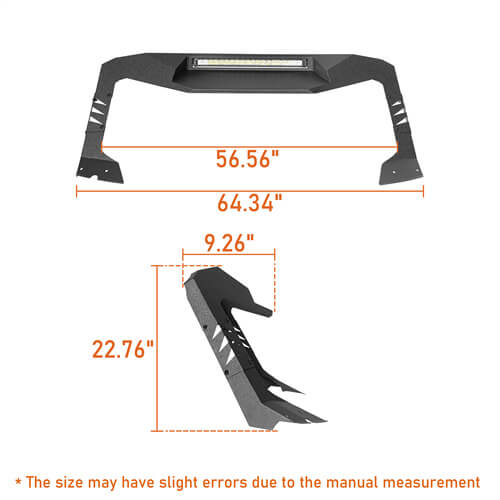 Name: HR 21-23 Bronco Madmax Windshield Frame Cover Visor w/LED Light Bar

Product details
Compatible with 2021-2023 Ford Bronco Models
Product weight: about 42 lbs
Heavy-duty, high tensile 13-gauge(3/32 Inch) steel for the main body
Textured black powder coat finish & Premium E-coating process inside
Comes with a 100W LED spot flood combo light bar insert that provides excellent front visibility at night
Simple bolt-on installation. No required for drilling or cutting
Dimension
Feature design

Combines Roof Visor and Cowl;Added super protection around A-pillar and cowl area
Unique styling,The aggressive design makes your vehicle an Armour Style Beast
Outer Sun Visor helps shade the eyes of drivers and passengers from the glare of sunlight
What you want to know
Unique styling. Add extreme wild styling to your Bronco with a set of Hooke Road Madmax Windshield Frame Cover. Designed with the combined Roof Visor and Cowl, this armor set features super protection around the a-pillar and cowl area. Additional features include an integrated LED light bar insert that improves your lighting conditions significantly at night. The heavy-duty design is perfect for off-road adventures. All of this configuration and unique appearance will make your Wrangler stand out among a series of off-road cars.
Heavy Duty Construction. This windshield frame cover is CNC-cut, formed, and MIG/TIG-welded to perfectly fit on your vehicle. It is built from heavy-duty 13-gauge steel to ensure maximum durability. It is coated with a durable black powder coating to ensure lasting protection against corrosion.
Simple Bolt-on Installation. There is no drilling required. First, install the brackets around the windshield and A-pillar. Second, assemble the other parts to be a set of Windshield Frame Cover, place it around the windshield, and connect with the brackets. Then adjust the position of the product carefully. At last, tighten all the bolts. Some basic hand tools are needed. It takes about 1.5 hours to complete the installation.
1 × Windshield Frame Cover Assembly
1 × LED Light Bar
1 × Mounting Hardware Kit
1 × Installation Instruction
2023 Ford Bronco Badlands Sport Utility
2023 Ford Bronco Base Sport Utility
2023 Ford Bronco Big Bend Sport Utility
2023 Ford Bronco Black Diamond Sport Utility
2023 Ford Bronco Everglades Sport Utility
2023 Ford Bronco Heritage Edition Sport Utility
2023 Ford Bronco Outer Banks Sport Utility
2023 Ford Bronco Raptor Sport Utility
2023 Ford Bronco Wildtrak Sport Utility
2022 Ford Bronco Badlands Sport Utility
2022 Ford Bronco Base Sport Utility
2022 Ford Bronco Big Bend Sport Utility
2022 Ford Bronco Black Diamond Sport Utility
2022 Ford Bronco Everglades Sport Utility
2022 Ford Bronco Outer Banks Sport Utility
2022 Ford Bronco Raptor Sport Utility
2022 Ford Bronco Wildtrak Sport Utility
2021 Ford Bronco Badlands Sport Utility
2021 Ford Bronco Base Sport Utility
2021 Ford Bronco Big Bend Sport Utility
2021 Ford Bronco Black Diamond Sport Utility
2021 Ford Bronco First Edition Sport Utility
2021 Ford Bronco Outer Banks Sport Utility
2021 Ford Bronco Wildtrak Sport Utility
Package Included
1 × Windshield Frame Cover Assembly
1 × LED Light Bar
1 × Mounting Hardware Kit
1 × Installation Instruction
Fitment
2023 Ford Bronco Badlands Sport Utility
2023 Ford Bronco Base Sport Utility
2023 Ford Bronco Big Bend Sport Utility
2023 Ford Bronco Black Diamond Sport Utility
2023 Ford Bronco Everglades Sport Utility
2023 Ford Bronco Heritage Edition Sport Utility
2023 Ford Bronco Outer Banks Sport Utility
2023 Ford Bronco Raptor Sport Utility
2023 Ford Bronco Wildtrak Sport Utility
2022 Ford Bronco Badlands Sport Utility
2022 Ford Bronco Base Sport Utility
2022 Ford Bronco Big Bend Sport Utility
2022 Ford Bronco Black Diamond Sport Utility
2022 Ford Bronco Everglades Sport Utility
2022 Ford Bronco Outer Banks Sport Utility
2022 Ford Bronco Raptor Sport Utility
2022 Ford Bronco Wildtrak Sport Utility
2021 Ford Bronco Badlands Sport Utility
2021 Ford Bronco Base Sport Utility
2021 Ford Bronco Big Bend Sport Utility
2021 Ford Bronco Black Diamond Sport Utility
2021 Ford Bronco First Edition Sport Utility
2021 Ford Bronco Outer Banks Sport Utility
2021 Ford Bronco Wildtrak Sport Utility