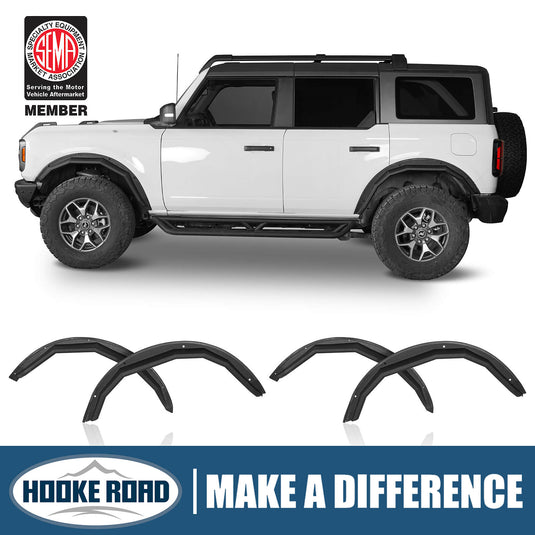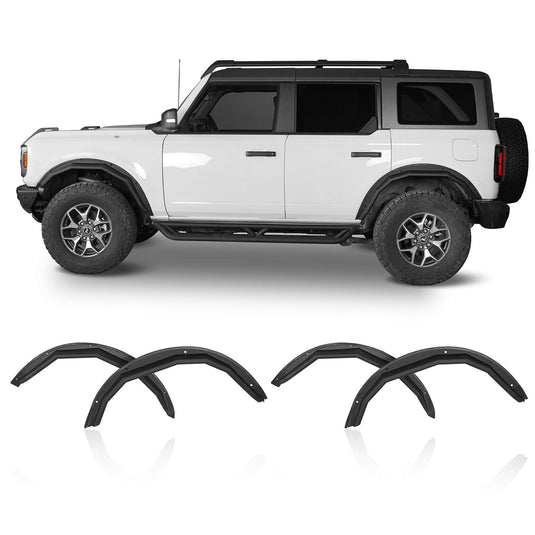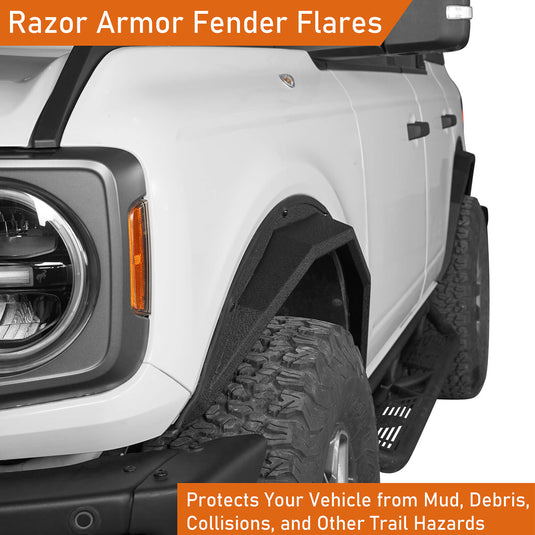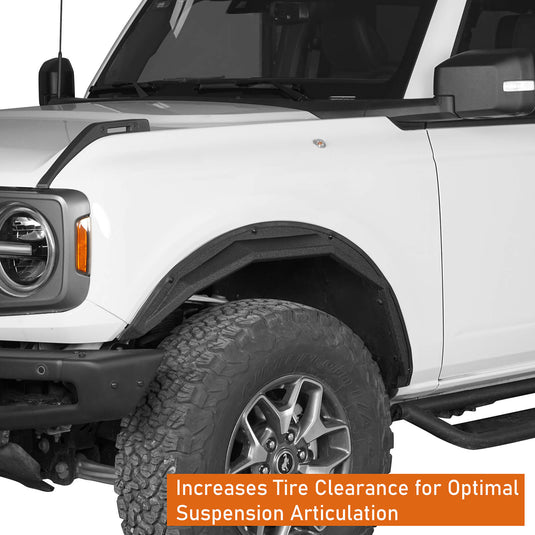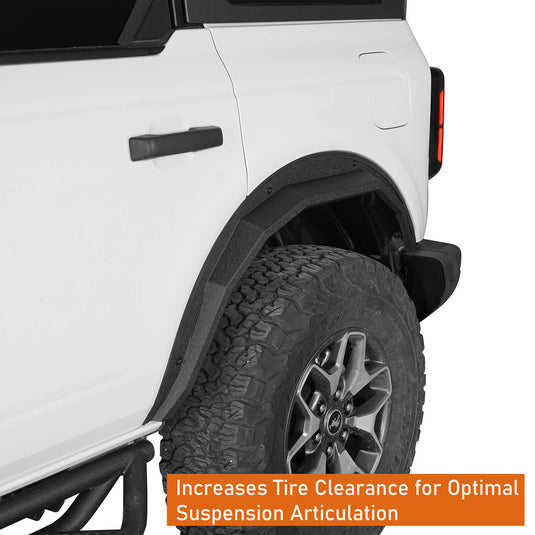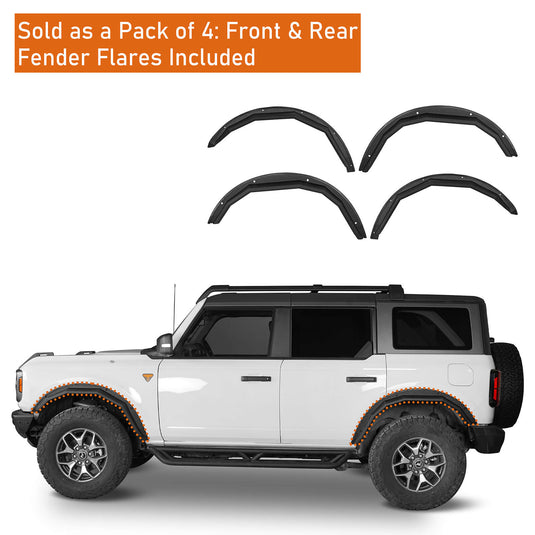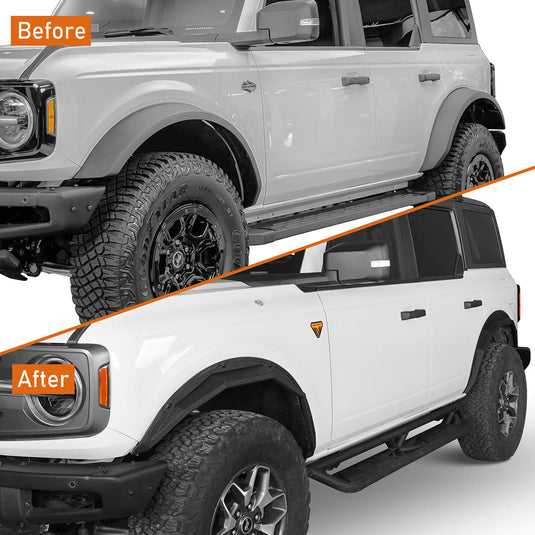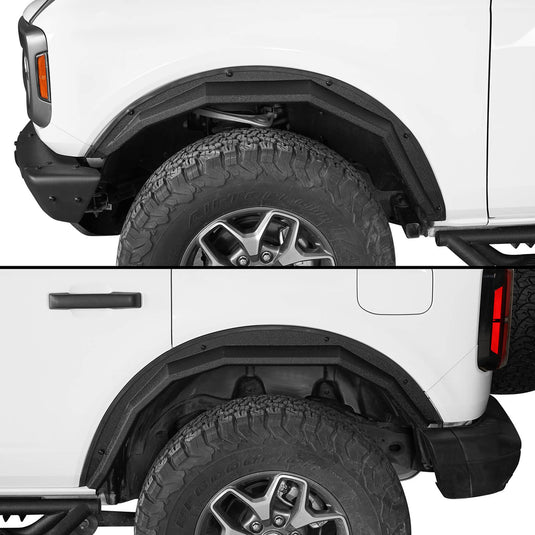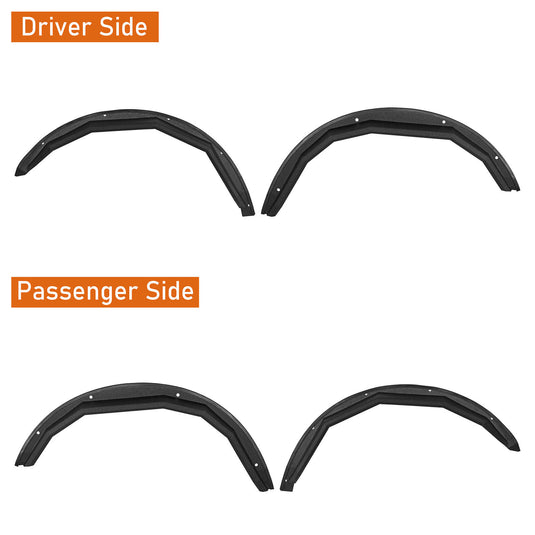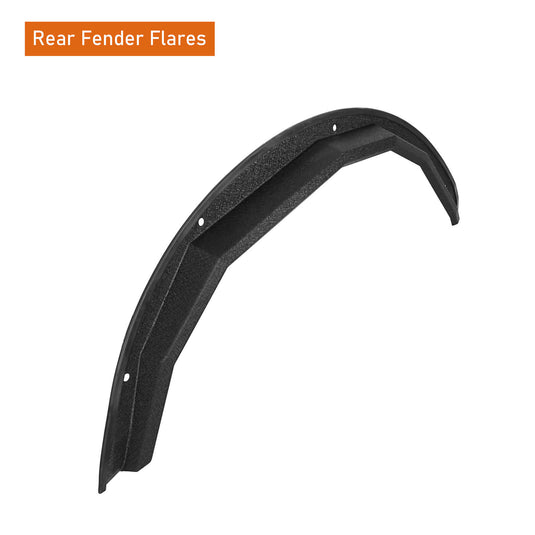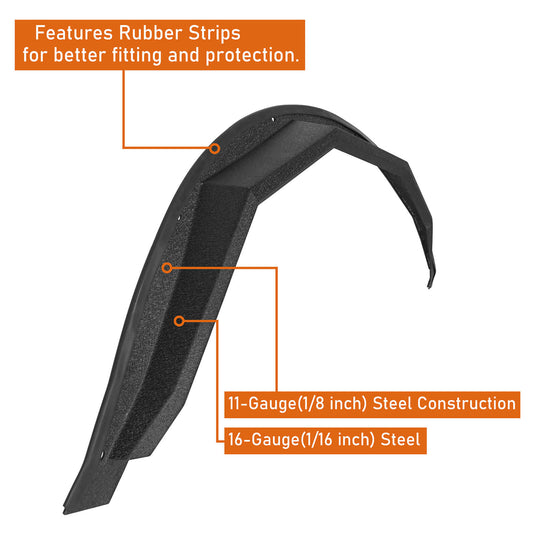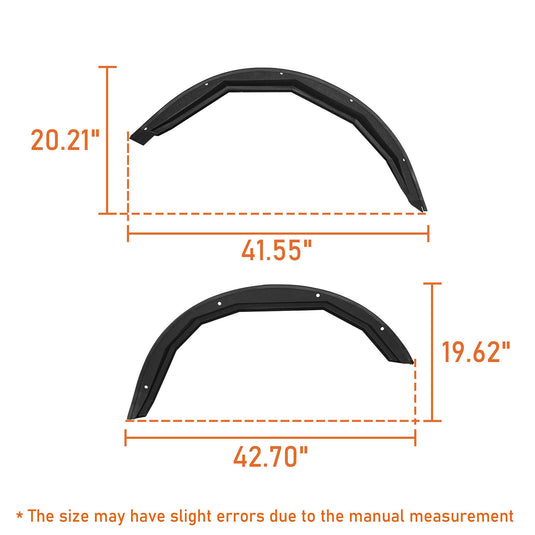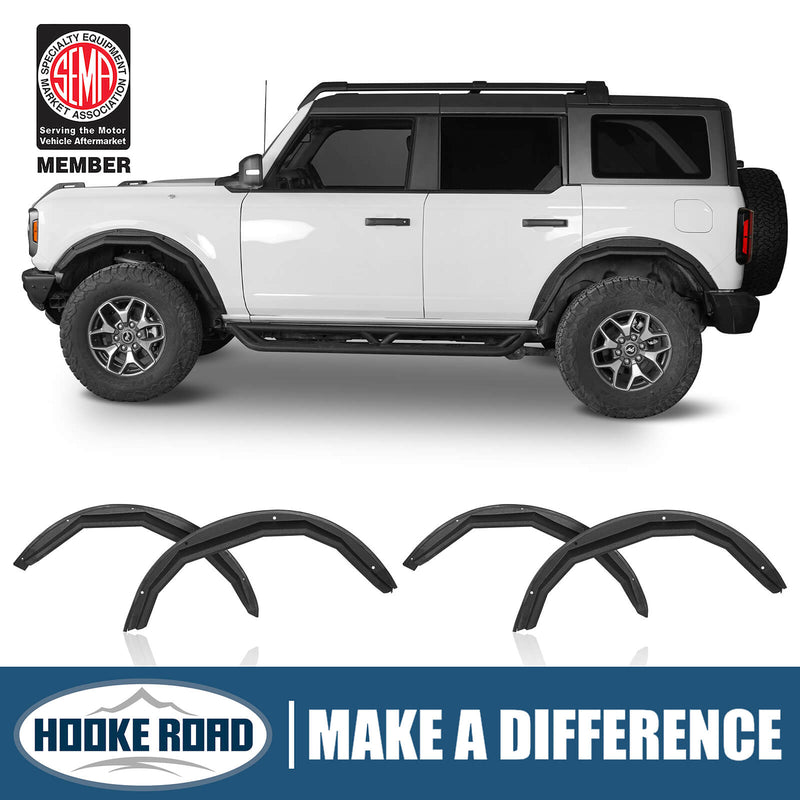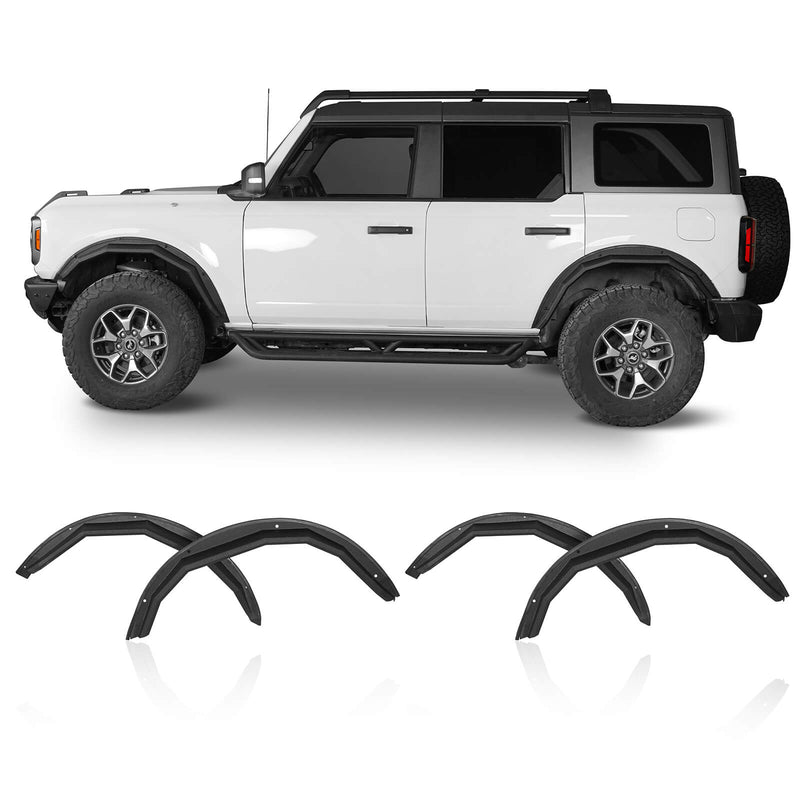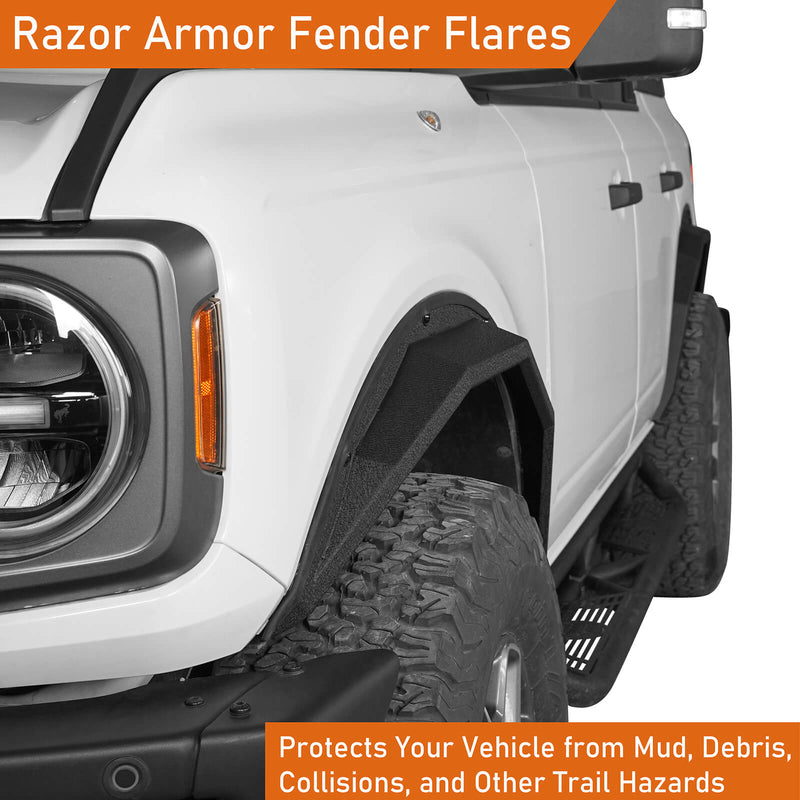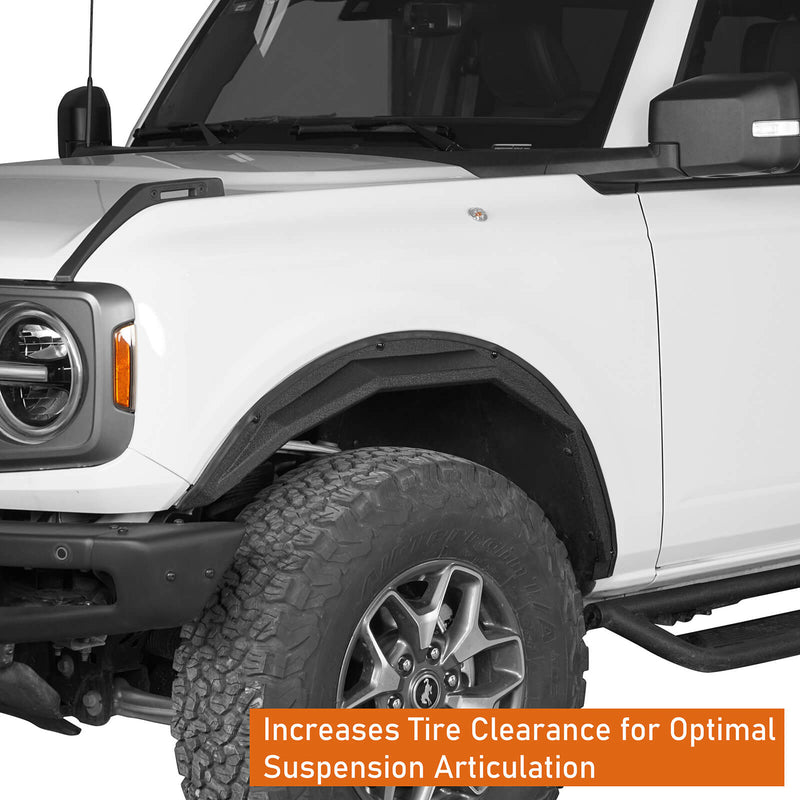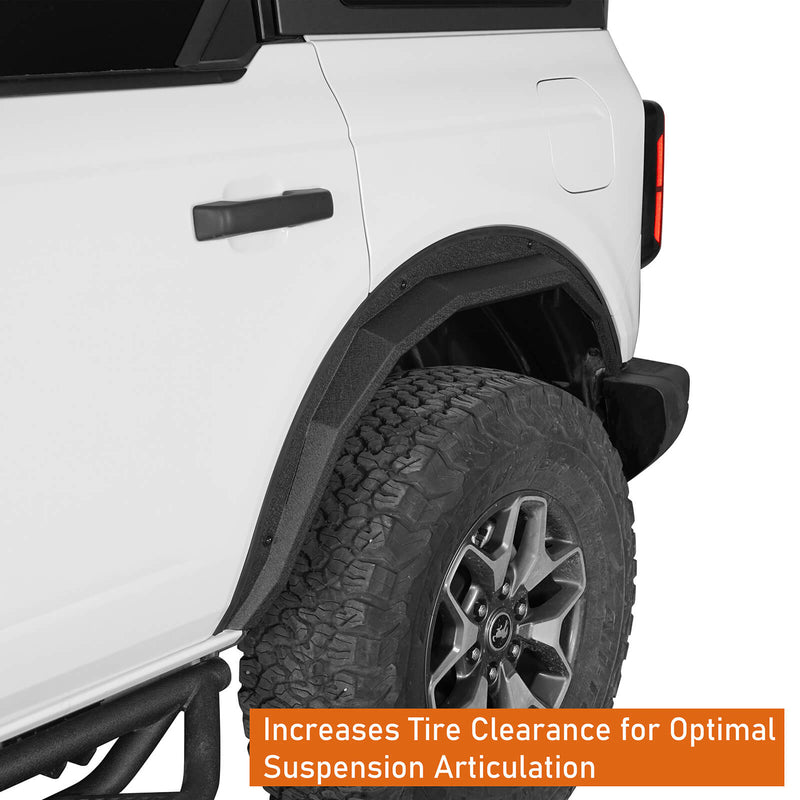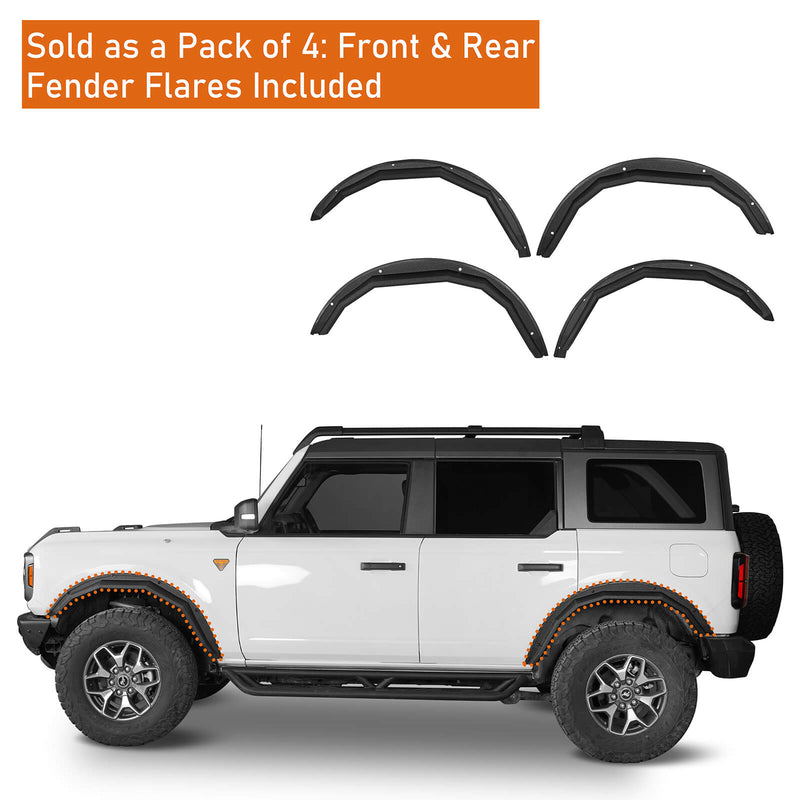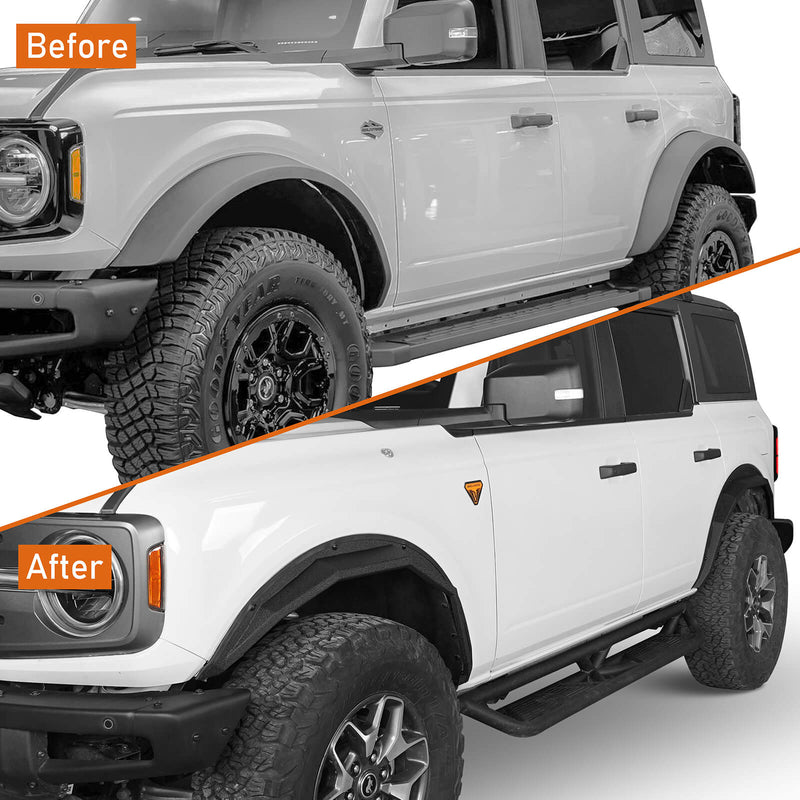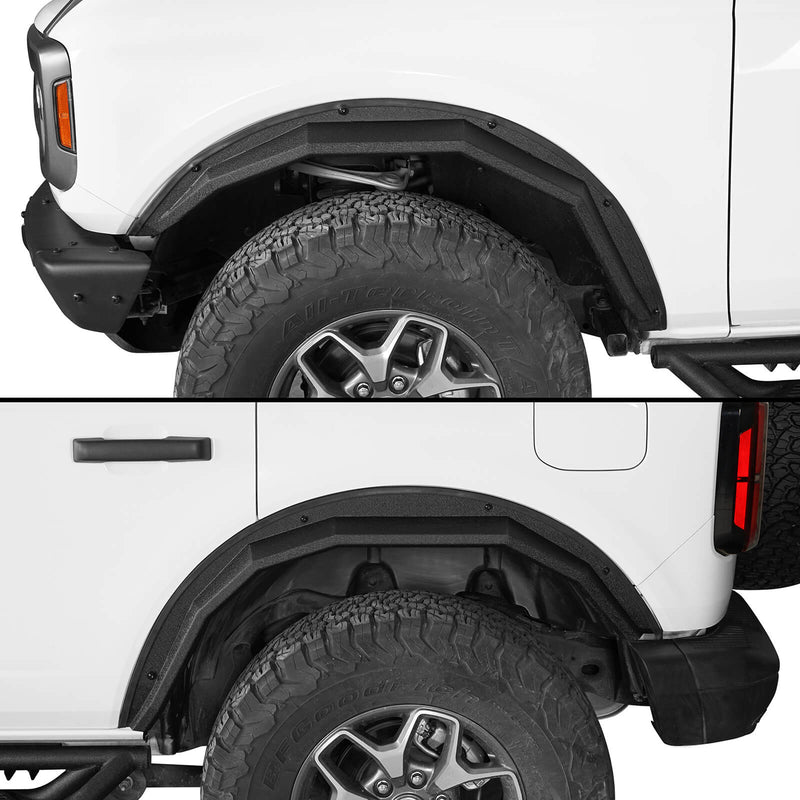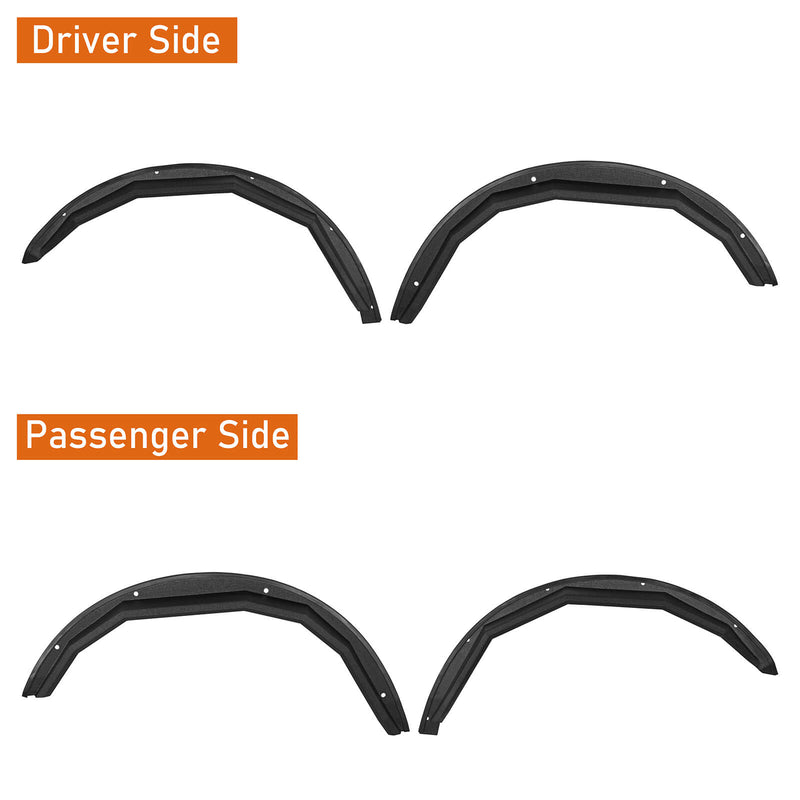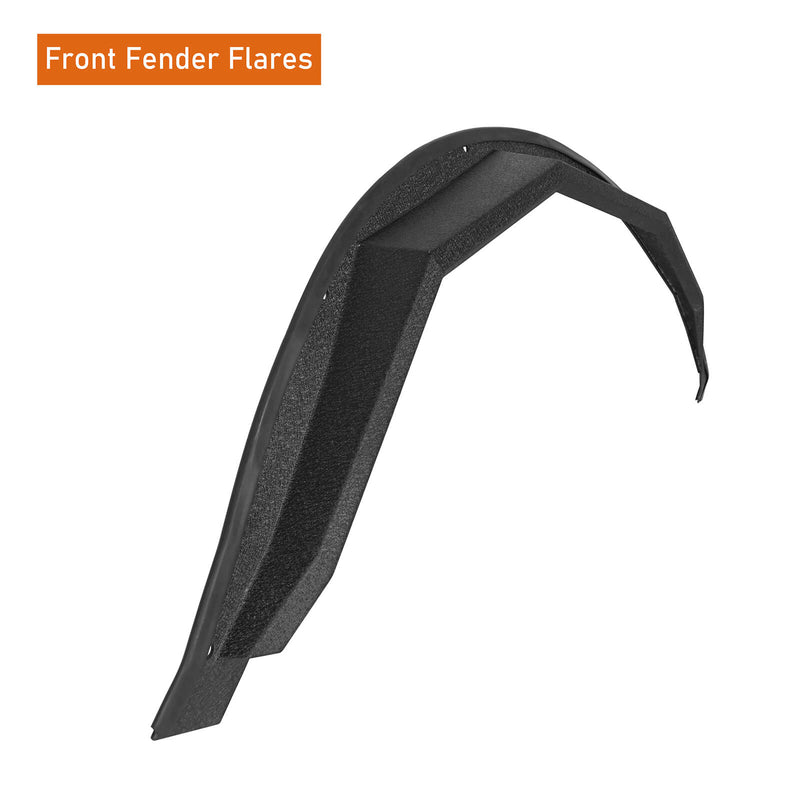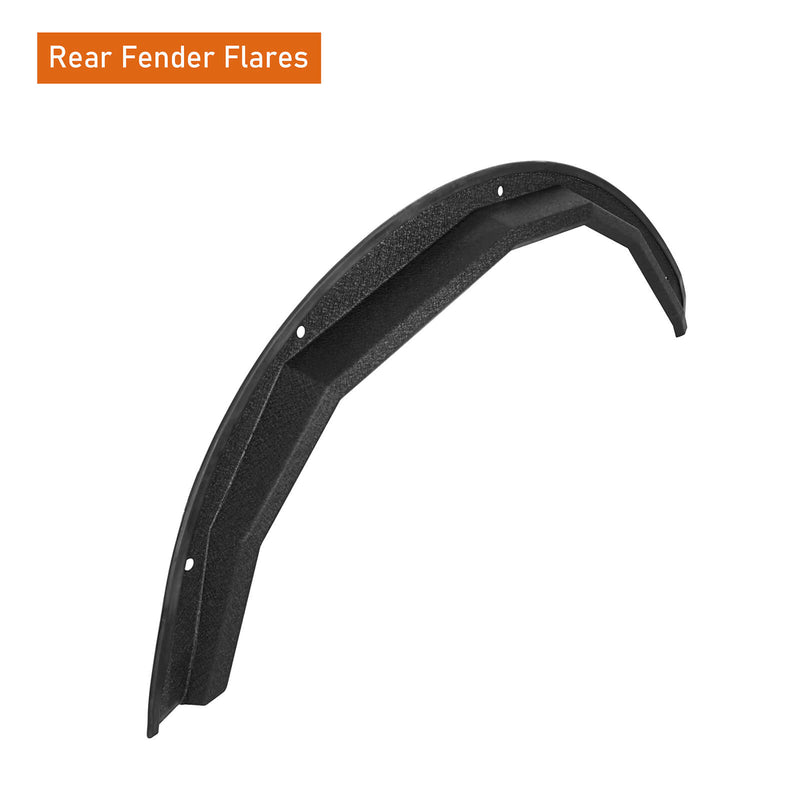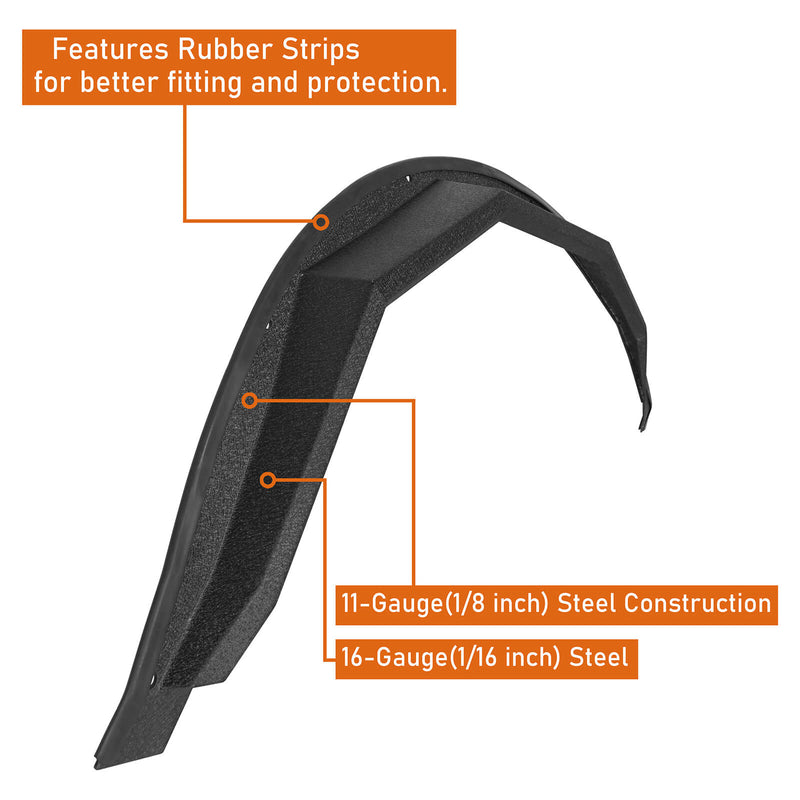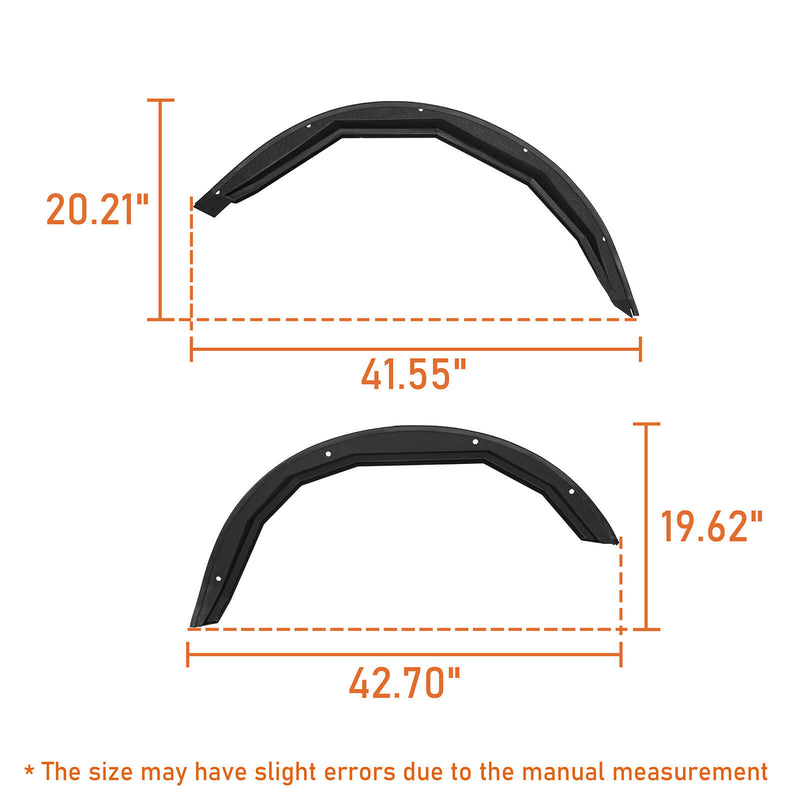 Name: Hooke Road Razor Armor Front & Rear Fender Flares Kit Compatible with Ford Bronco 21-23 4-Door(Excluding Raptor)
Hooke Road manufactures their Fender from steel to ensure superior strength and unmatched ruggedness. These flares are coated with a textured black powder finish to deliver a formidable, aggressive look, while providing an enduring resistance to corrosion. Adorned with rubber strips for shielding and precision, the fender flares seamlessly blends aesthetics with practicality.
PRODUCT SPECIFICATIONS
Parts

Front & Rear Fender Flares Kit

Vehicle Service Type

Fits for:

2021-2023 Ford Bronco 4-Door Models(Excluding Raptor)

Brand

Material

High strength 11-gauge(1/8 inch) and 16-gauge(1/16 inch) steel construction

Color

Black

Installation time

About 2 hours, 1-2 people may be needed.
HIGHLIGHS
Protects your vehicle from mud, debris, collisions, and other trail hazards
Increases tire clearance for optimal suspension articulation
Features rubber strips to protect your vehicle and get a better fitting
Textured black powder coat finish & Premium E-coating process inside
DIMENSION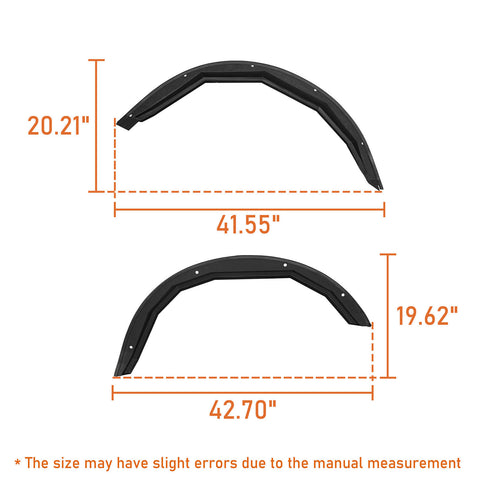 DETAILS
Product weight: about 25 lbs
Straight-forward bolt-on installation
SOMETHING YOU MIGHT WANT TO KNOW
Protection and Style. Add extra protection to your vehicle, while improving its style, with a set of Hooke Road Front & Rear Fender Flares. Featuring a multi plates design, these Flares will open up your vehicle's wheel wells for a more aggressive off-road appearance. These Flares not only provide additional tire coverage to protect your rig from flying debris, but they also give you a little extra room when upgrading to a beefier set of tires.

Bolt-on Installation. The installation is an effortless and bolt-on process, requiring no drilling, and is completed with basic hand tools. This user-friendly installation process ensures that your vehicle can enjoy its new-found style and protection within a mere 1 hour.
4 × Fender Flares(Passenger and Driver Sides)
4 × Rubber Strips
1 × Mounting Hardware Kit
1 × Installation Instruction
2023 Ford Bronco Badlands Sport Utility
2023 Ford Bronco Base Sport Utility
2023 Ford Bronco Big Bend Sport Utility
2023 Ford Bronco Black Diamond Sport Utility
2023 Ford Bronco Everglades Sport Utility
2023 Ford Bronco Heritage Edition Sport Utility
2023 Ford Bronco Outer Banks Sport Utility
2023 Ford Bronco Raptor Sport Utility
2023 Ford Bronco Wildtrak Sport Utility
2022 Ford Bronco Badlands Sport Utility
2022 Ford Bronco Base Sport Utility
2022 Ford Bronco Big Bend Sport Utility
2022 Ford Bronco Black Diamond Sport Utility
2022 Ford Bronco Everglades Sport Utility
2022 Ford Bronco Outer Banks Sport Utility
2022 Ford Bronco Raptor Sport Utility
2022 Ford Bronco Wildtrak Sport Utility
2021 Ford Bronco Badlands Sport Utility
2021 Ford Bronco Base Sport Utility
2021 Ford Bronco Big Bend Sport Utility
2021 Ford Bronco Black Diamond Sport Utility
2021 Ford Bronco First Edition Sport Utility
2021 Ford Bronco Outer Banks Sport Utility
2021 Ford Bronco Wildtrak Sport Utility
Package Included
4 × Fender Flares(Passenger and Driver Sides)
4 × Rubber Strips
1 × Mounting Hardware Kit
1 × Installation Instruction
Fitment
2023 Ford Bronco Badlands Sport Utility
2023 Ford Bronco Base Sport Utility
2023 Ford Bronco Big Bend Sport Utility
2023 Ford Bronco Black Diamond Sport Utility
2023 Ford Bronco Everglades Sport Utility
2023 Ford Bronco Heritage Edition Sport Utility
2023 Ford Bronco Outer Banks Sport Utility
2023 Ford Bronco Raptor Sport Utility
2023 Ford Bronco Wildtrak Sport Utility
2022 Ford Bronco Badlands Sport Utility
2022 Ford Bronco Base Sport Utility
2022 Ford Bronco Big Bend Sport Utility
2022 Ford Bronco Black Diamond Sport Utility
2022 Ford Bronco Everglades Sport Utility
2022 Ford Bronco Outer Banks Sport Utility
2022 Ford Bronco Raptor Sport Utility
2022 Ford Bronco Wildtrak Sport Utility
2021 Ford Bronco Badlands Sport Utility
2021 Ford Bronco Base Sport Utility
2021 Ford Bronco Big Bend Sport Utility
2021 Ford Bronco Black Diamond Sport Utility
2021 Ford Bronco First Edition Sport Utility
2021 Ford Bronco Outer Banks Sport Utility
2021 Ford Bronco Wildtrak Sport Utility