Name:HookeRoad Ford Bronco Steel Tailgate Table Storage Lock Box 

Whether you're camping, tailgating or heading to the beach, this Hooke Road Tailgate Storage Box will not only secure your valuables with an integrated keyed lock, it will protect your valuables from the elements and keep them safe. Best of all, this tailgate storage box with a lid can also be used as a temporary table type whenever the top is opened and supported.
PRODUCT SPECIFICATIONS
| | |
| --- | --- |
| Parts | Tailgate Table Storage Lock Box |
| Brand | |
| Material | Construction from 16-gauge(1/16 inch) steel  |
| Color | Black |
| Installation time | About 1 hour, 1-2 people may be needed. |
HIGHLIGHS
Fit Like a Glove:  Fits for 2021-2022 Ford Bronco Models
New version:  Large Box design offers a spacious storage room that can provide a handy work station or cooking center while out on an off-road adventure
Measures about 27.9" x 6.5" x 13.4" when folded and adds up to 2400 cubic inches of storage space 
The lid supports up to 30 lbs for use as a table
Secures with pick-resistant lock and comes with two keys
DETAILS
Package Weight: 27.9 lbs
Moderate installation needs drilling. Tools require a drill, a rivet nut gun, and a 6mm metric mandrel.
Black powder coat finish 
Includes two small tables inside for various items;Versatile and convenient design for a camp
DIMENSION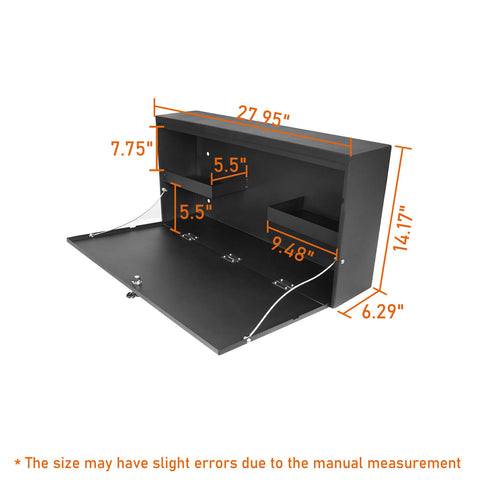 SOMETHING YOU MIGHT WANT TO KNOW
Leave Room For the Party Supplies. This table is constructed from high-quality steel for maximum durability. It features a black powder coat, easy to clean finish, ensuring it can withstand even the harshest weather conditions for years to come. Featuring two small tables inside for various items, it provides space for items assortment.

Moderate Installation. Some drilling is required to complete a firm installation. Also, you need to prepare professional drill tools. First, mark the positions on the plastic tailgate plate. Second, use a drill tool kit to drill mounting holes on the surface. Third, bolt on the storage box onto the tailgate using supplied bolts. It should take about 1 hour or less based on your operation skill.

SEMA Membership. The Hooke Road Brand has been certified as a member of SEMA. We are studious and have gradually grown up to be a professional aftermarket retailer. As a SEMA member, we make, buy, sell and use all kinds of specialty parts and accessories to make vehicles more attractive, more unique, more convenient, faster, safer, more fun, and even like-new again. Wish you have a terrific off-road experience with our products.
2 × Mounting Brackets
Installation Instruction
2023 Ford Bronco Badlands Sport Utility
2023 Ford Bronco Base Sport Utility
2023 Ford Bronco Big Bend Sport Utility
2023 Ford Bronco Black Diamond Sport Utility
2023 Ford Bronco Everglades Sport Utility
2023 Ford Bronco Heritage Edition Sport Utility
2023 Ford Bronco Outer Banks Sport Utility
2023 Ford Bronco Raptor Sport Utility
2023 Ford Bronco Wildtrak Sport Utility
2022 Ford Bronco Badlands Sport Utility
2022 Ford Bronco Base Sport Utility
2022 Ford Bronco Big Bend Sport Utility
2022 Ford Bronco Black Diamond Sport Utility
2022 Ford Bronco Everglades Sport Utility
2022 Ford Bronco Outer Banks Sport Utility
2022 Ford Bronco Raptor Sport Utility
2022 Ford Bronco Wildtrak Sport Utility
2021 Ford Bronco Badlands Sport Utility
2021 Ford Bronco Base Sport Utility
2021 Ford Bronco Big Bend Sport Utility
2021 Ford Bronco Black Diamond Sport Utility
2021 Ford Bronco First Edition Sport Utility
2021 Ford Bronco Outer Banks Sport Utility
2021 Ford Bronco Wildtrak Sport Utility
Package Included
2 × Mounting Brackets
Installation Instruction
Fitment
2023 Ford Bronco Badlands Sport Utility
2023 Ford Bronco Base Sport Utility
2023 Ford Bronco Big Bend Sport Utility
2023 Ford Bronco Black Diamond Sport Utility
2023 Ford Bronco Everglades Sport Utility
2023 Ford Bronco Heritage Edition Sport Utility
2023 Ford Bronco Outer Banks Sport Utility
2023 Ford Bronco Raptor Sport Utility
2023 Ford Bronco Wildtrak Sport Utility
2022 Ford Bronco Badlands Sport Utility
2022 Ford Bronco Base Sport Utility
2022 Ford Bronco Big Bend Sport Utility
2022 Ford Bronco Black Diamond Sport Utility
2022 Ford Bronco Everglades Sport Utility
2022 Ford Bronco Outer Banks Sport Utility
2022 Ford Bronco Raptor Sport Utility
2022 Ford Bronco Wildtrak Sport Utility
2021 Ford Bronco Badlands Sport Utility
2021 Ford Bronco Base Sport Utility
2021 Ford Bronco Big Bend Sport Utility
2021 Ford Bronco Black Diamond Sport Utility
2021 Ford Bronco First Edition Sport Utility
2021 Ford Bronco Outer Banks Sport Utility
2021 Ford Bronco Wildtrak Sport Utility