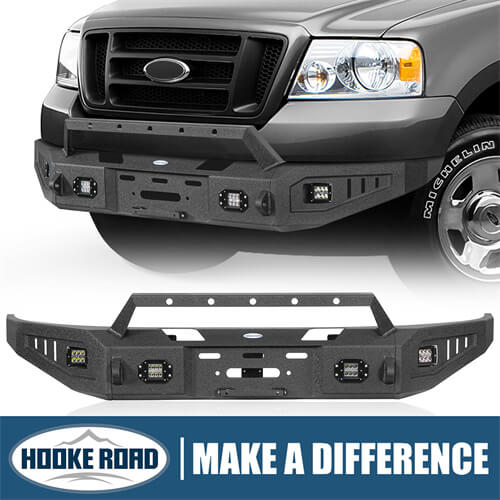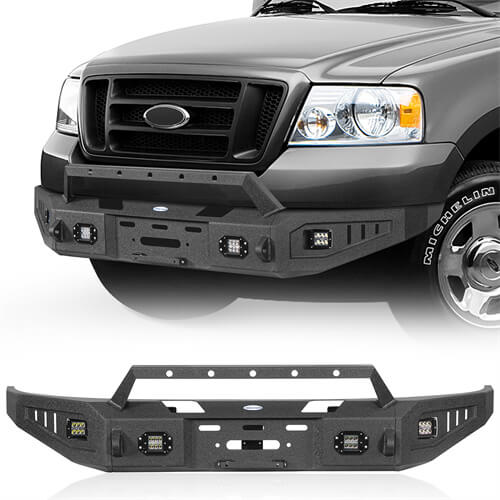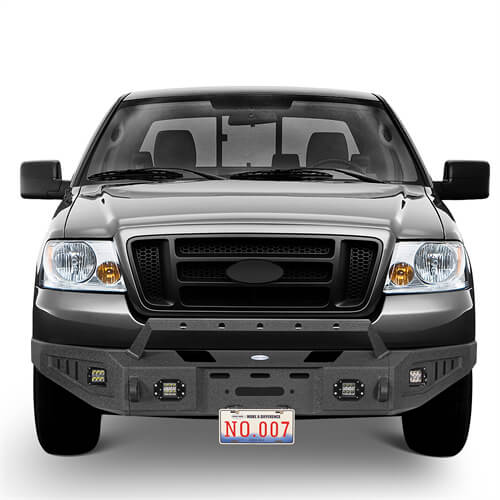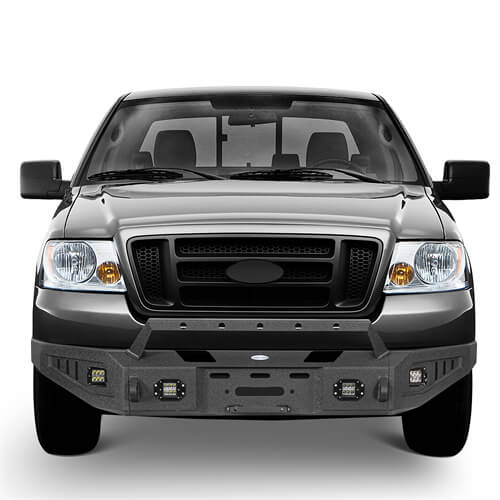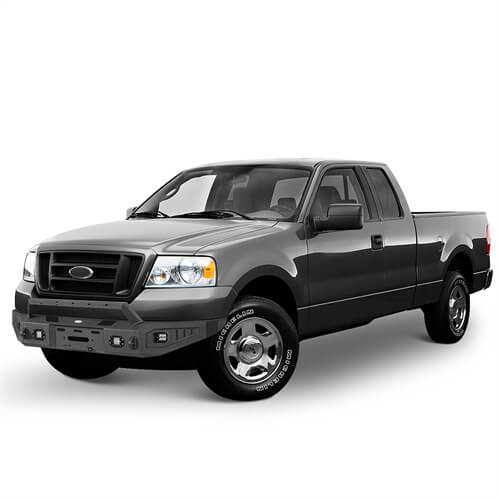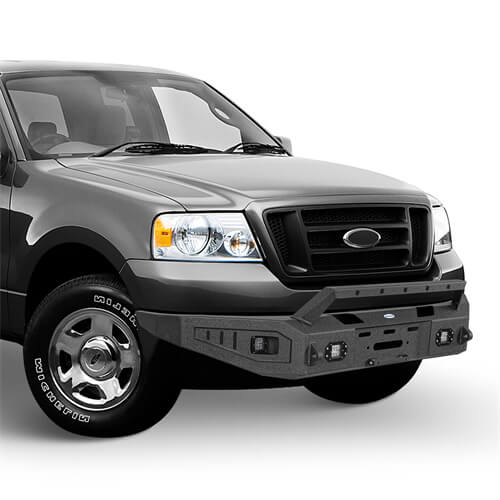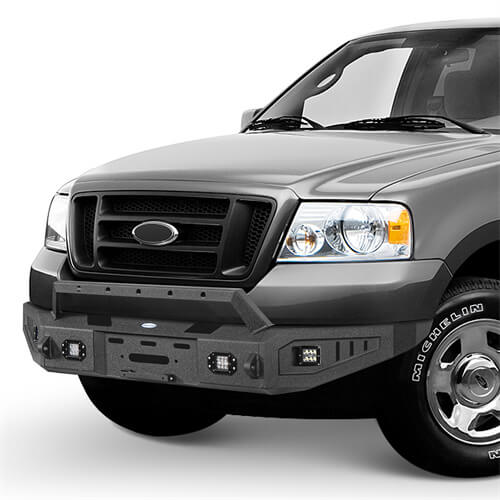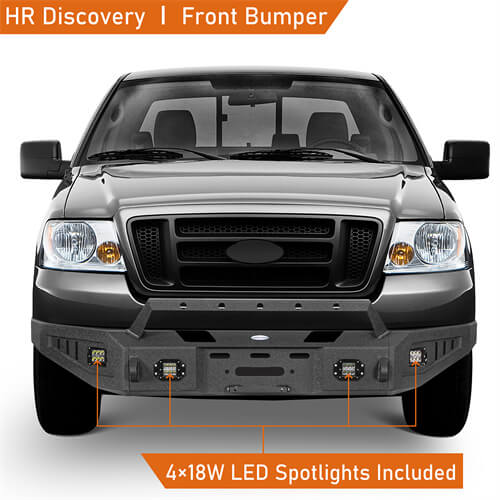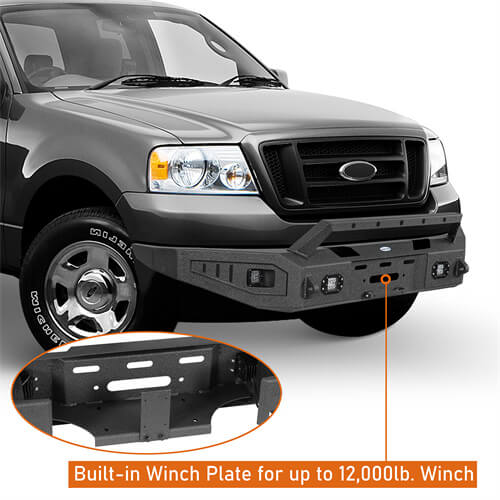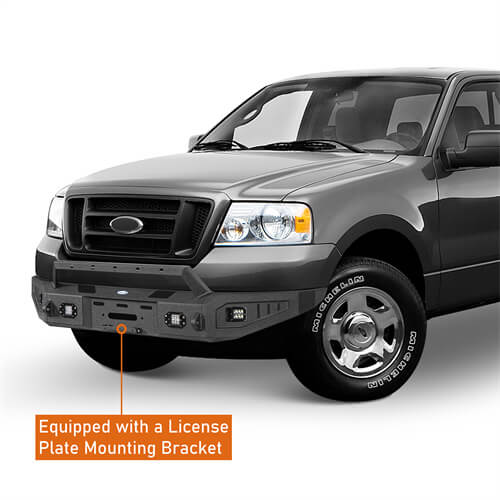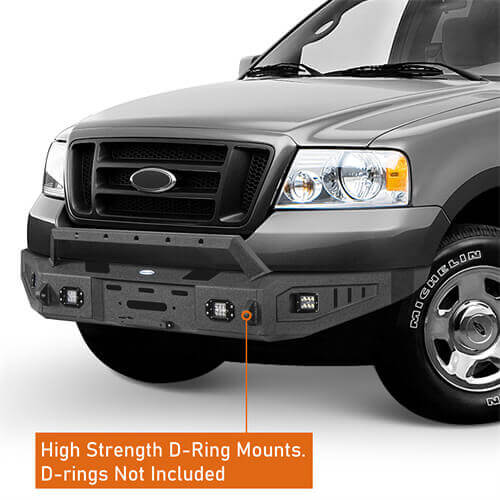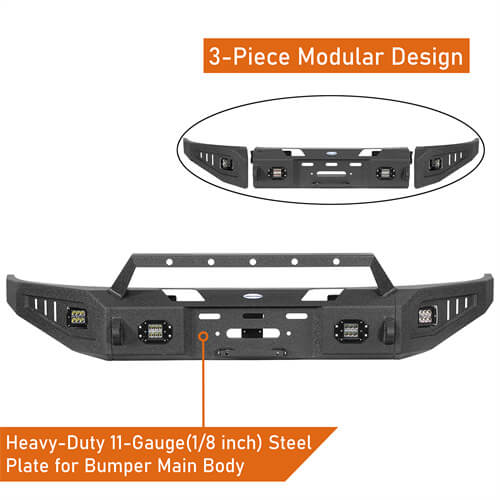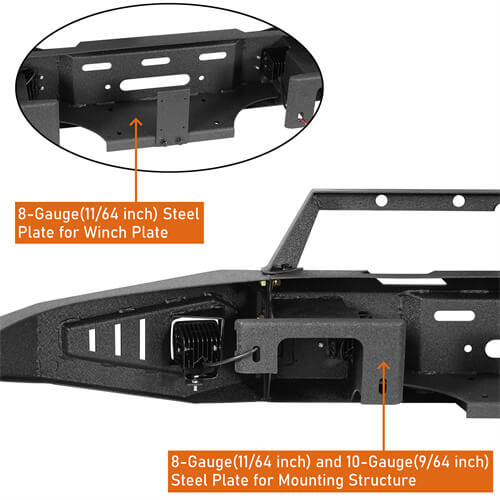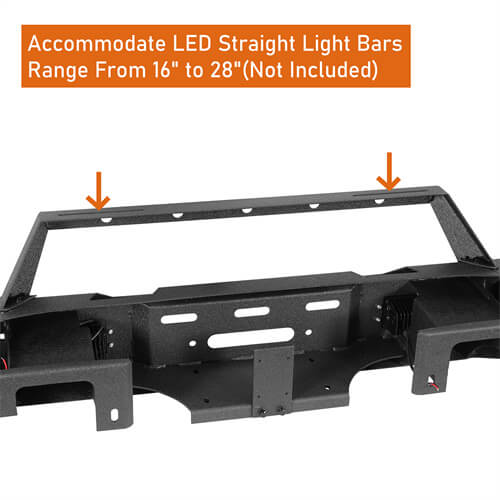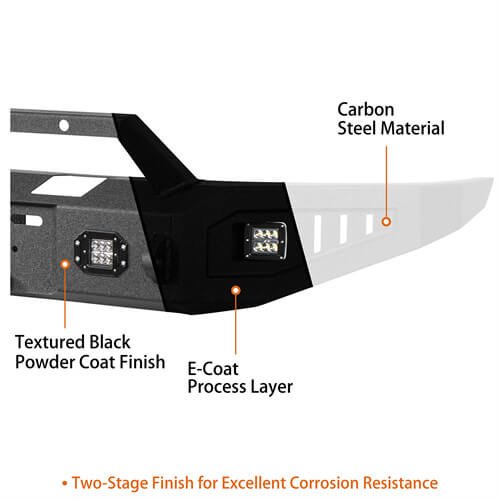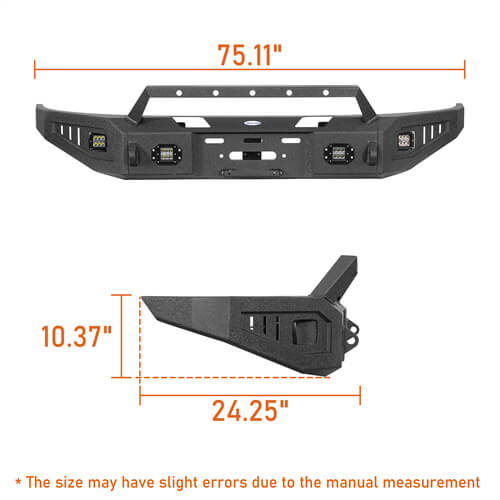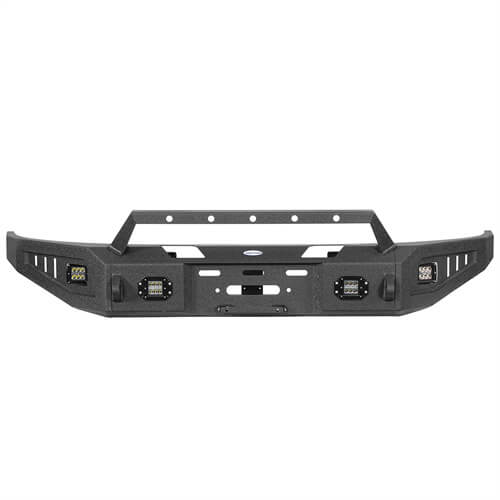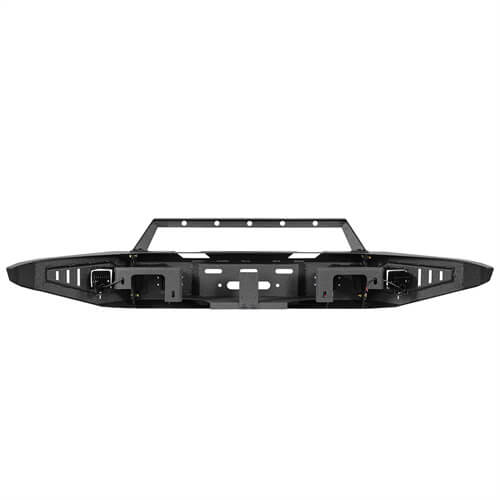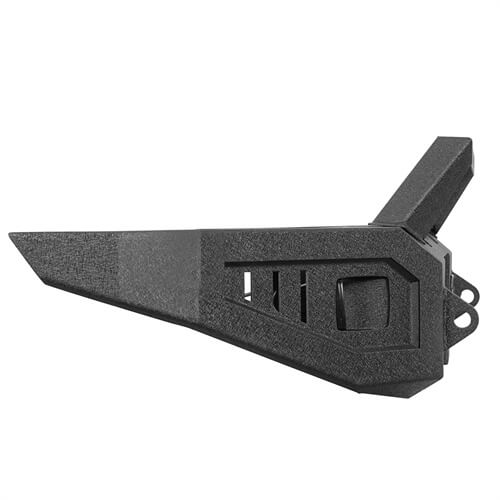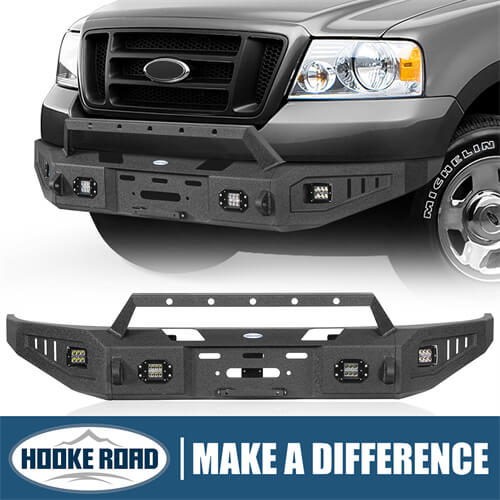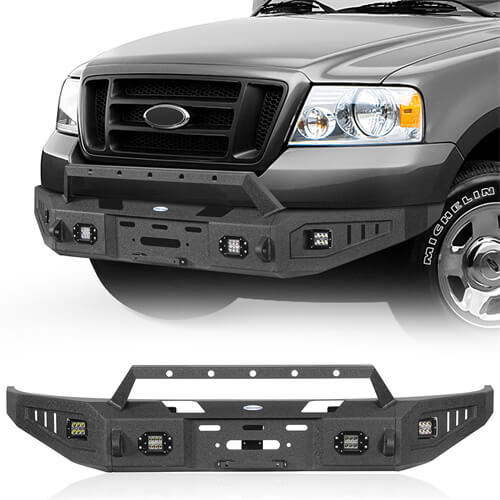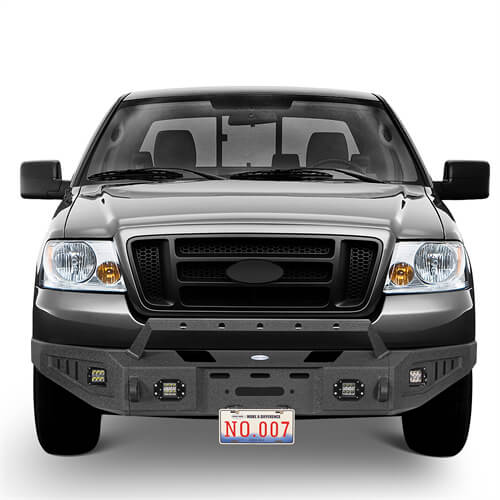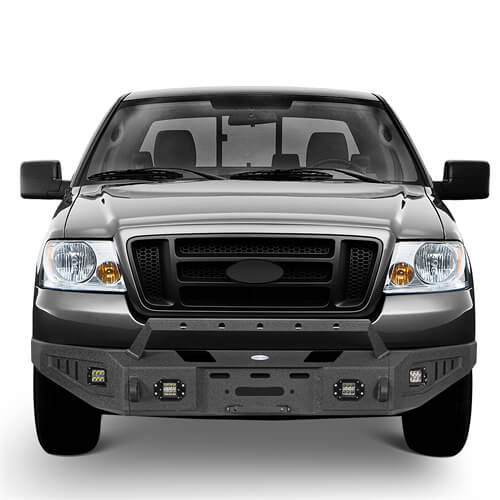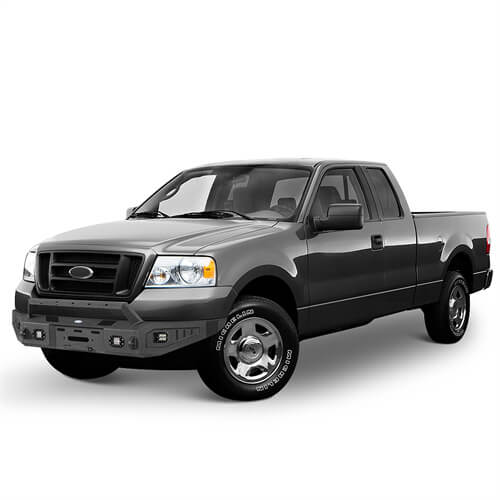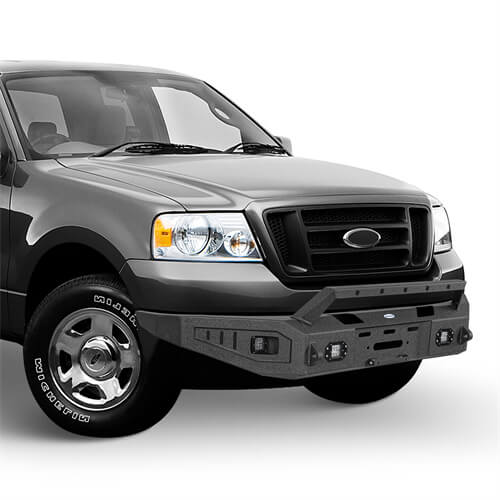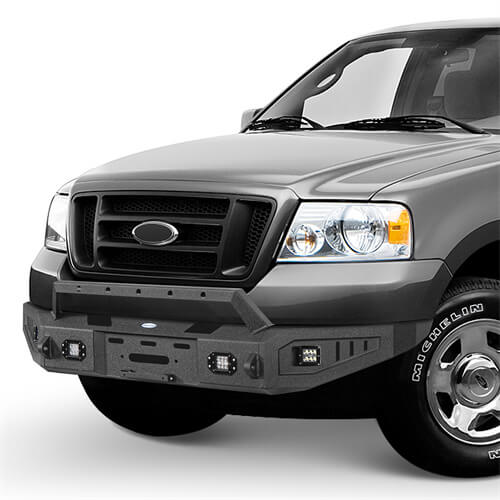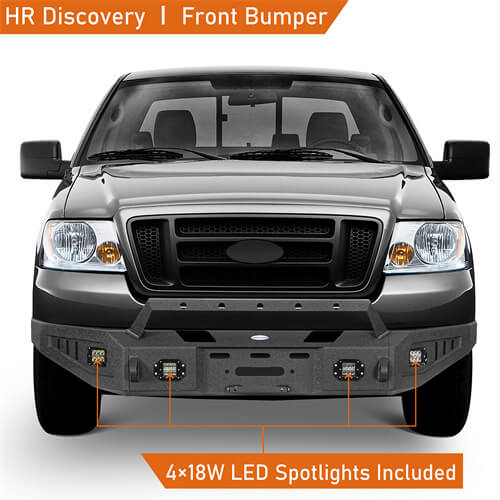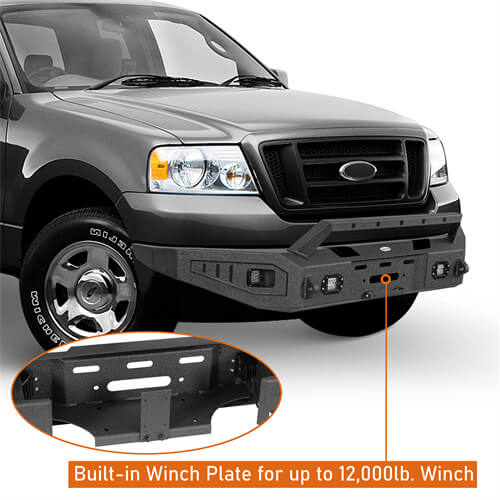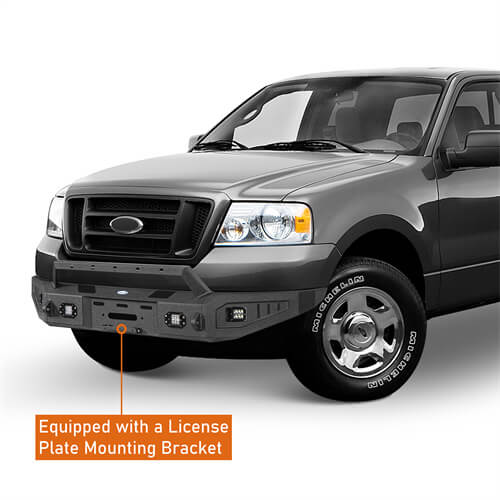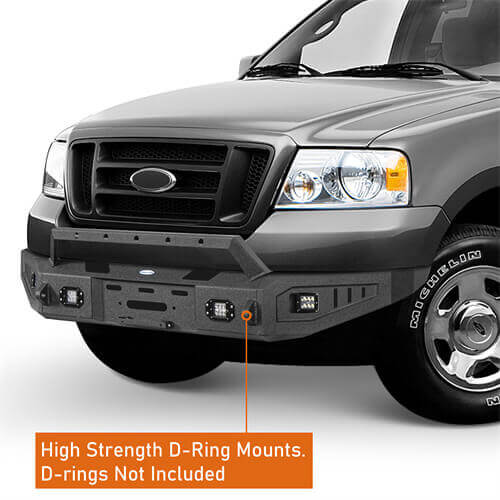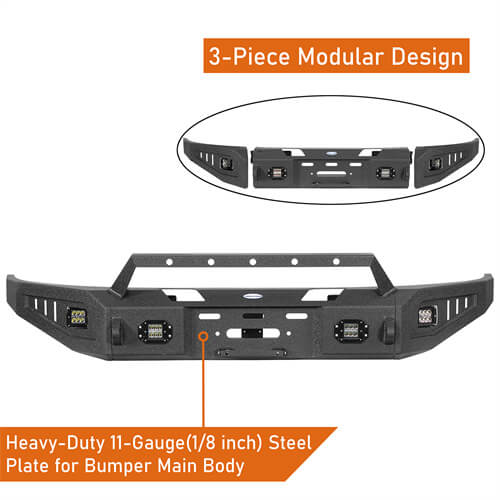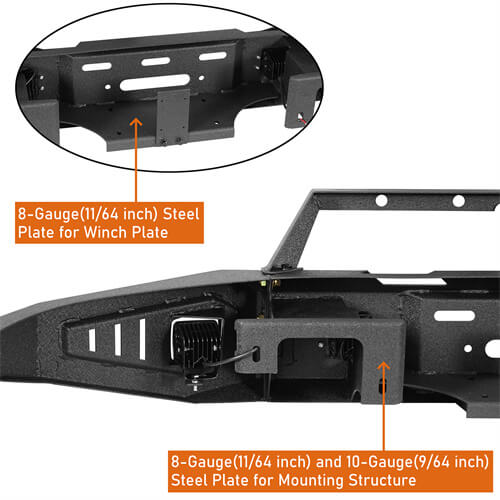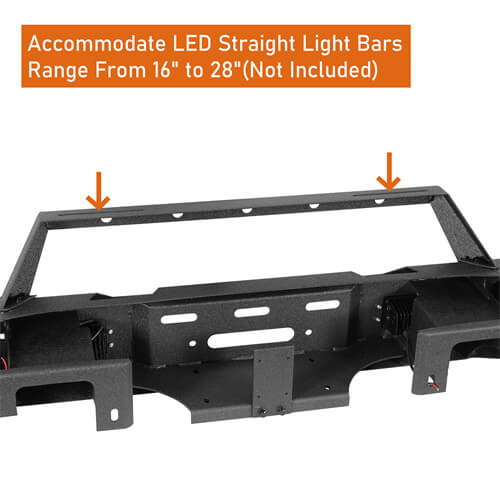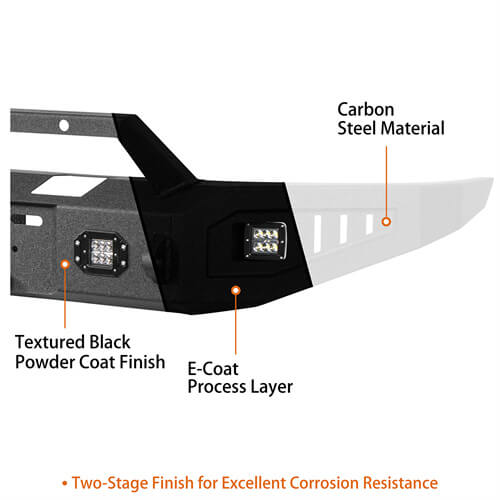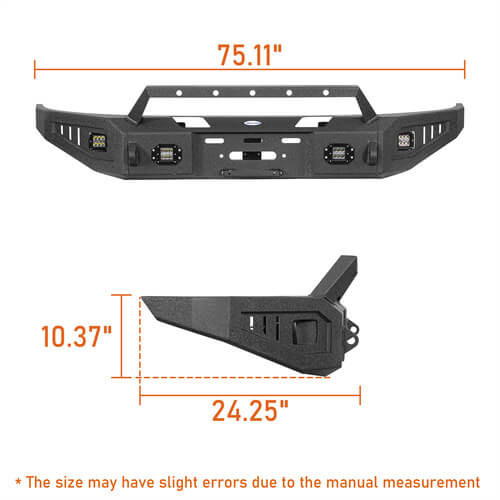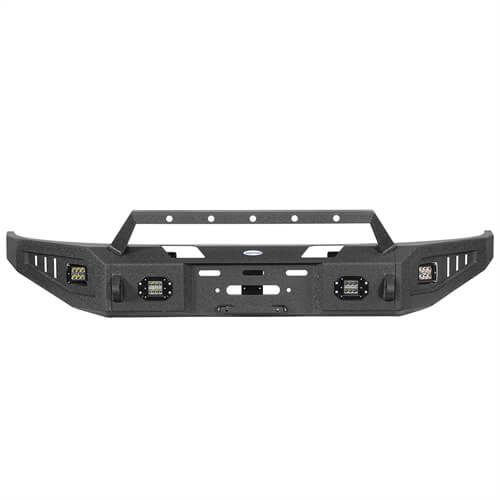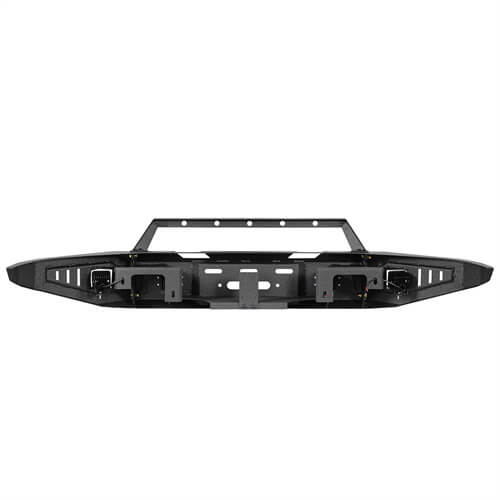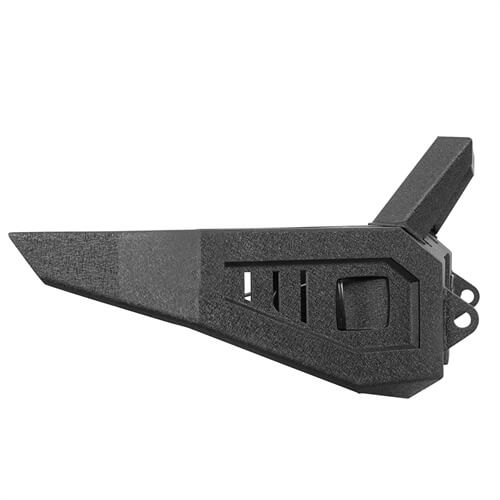 Name: Hooke Road 2004-2008 Ford F-150 Front Bumper w/ Winch Plate & 4 LED Spotlights



Feature
Fits for 2004-2008 Ford F-150 Models
Heavy-duty steel construction: 11-gauge(1/8 Inch) steel for the bumper main body, 10-gauge(9/64 Inch) steel for the winch plate and mounting structure plate
Textured black powder coat finish & Premium E-coating process inside
Bumper weight: about 82 lbs, 3-piece modular design
Equipped with a flip-up license plate mounting bracket
Built-in winch plate for up to 12,000 lbs winch
Rugged styling and excellent protection
Features high strength D-ring mounts welded both inside and out with a 4.75-ton capacity, D-rings not included
Comes with 4×18w white LED spotlights
Accommodates straight LED light bars ranging from 16" to 28" (Not Included)
Easy bolt-on installation without drilling or cutting
Dimension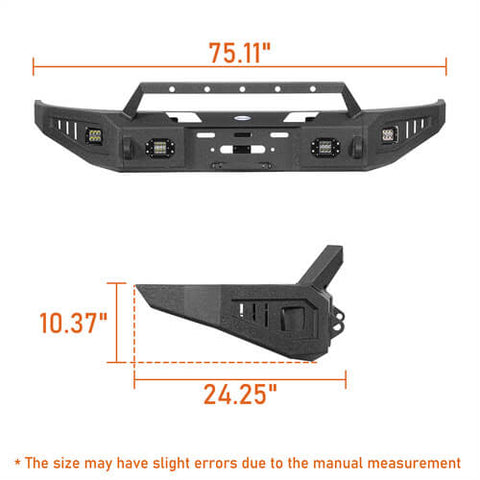 Strong Bumpers, Awesome Style. The Hooke Road HR Discovery Ⅰ Full Width Front Bumper is an essential addition to the F-150 2004-2008 models, combining robust functionality with an eye-catching design. Its 3-piece modular construction ensures superior protection and stability, making it an ideal choice for those seeking enhanced safety during off-road excursions. The bumper's rugged styling exudes confidence, highlighting its ability to withstand the challenges of various terrains while offering an aesthetic upgrade to the vehicle's front profile. Equipped with high-strength D-ring mounts, 4 LED spotlights, and a flip-up license plate mounting bracket, this bumper strikes the perfect balance between practicality and a striking visual presence, catering to both performance and appearance enthusiasts.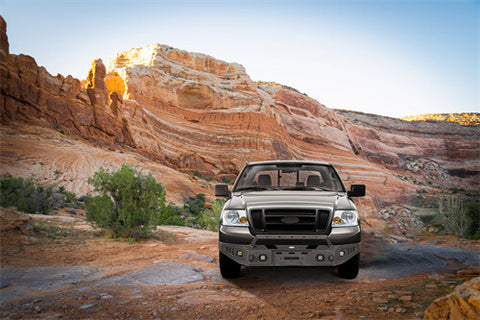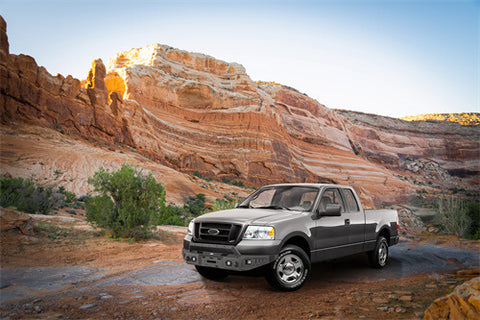 Heavy-Duty Construction. Crafted from heavy-duty steel, the Front Bumper is designed to endure the demands of rigorous off-road adventures and everyday use. The bumper main body, constructed with 11-gauge (1/8 Inch) steel, ensures a sturdy and resilient framework, providing the necessary support and protection required for challenging driving conditions. Additionally, the winch plate and mounting structure plate, made of 10-gauge (9/64 Inch) steel, offer exceptional durability, enhancing the bumper's ability to withstand impacts and various forms of external pressure. The textured black powder coat finish, coupled with the premium E-coating process applied to the interior, not only contributes to the bumper's overall durability but also enhances its resistance to rust and corrosion, guaranteeing a long-lasting, sleek appearance that stands the test of time.

Bolt-on Installation. Hooke Road engineered their Front Bumper to be a direct bolt-on upgrade replacement for your original stock bumper reusing the factory mounting points. There is no cutting, drilling, or modifications required for a simple straightforward install. With the help of a friend and a set of basic hand tools, this bumper can be installed in about two hours.
1 × Front Bumper Assembly
4 × LED Spotlights
1 × Winch Plate
1 x License Plate Mounting Bracket
1 × Mounting Hardware Kit
1 × Installation Instruction
2008 Ford F-150 FX2
2008 Ford F-150 FX4
2008 Ford F-150 Flotillera
2008 Ford F-150 Harley-Davidson Edition
2008 Ford F-150 King Ranch
2008 Ford F-150 Lariat
2008 Ford F-150 Limited
2008 Ford F-150 STX
2008 Ford F-150 THE 60TH ANNIVERSARY EDITION
2008 Ford F-150 XL
2008 Ford F-150 XLT
2008 Ford F-150 XTR
2007 Ford F-150 FX2
2007 Ford F-150 FX4
2007 Ford F-150 Flotillera
2007 Ford F-150 Harley-Davidson Edition
2007 Ford F-150 King Ranch
2007 Ford F-150 Lariat
2007 Ford F-150 XL
2007 Ford F-150 XLT
2006 Ford F-150 FX2
2006 Ford F-150 FX4
2006 Ford F-150 Flotillera
2006 Ford F-150 Harley-Davidson Edition
2006 Ford F-150 King Ranch2006 Ford F-150 Lariat
2006 Ford F-150 STX
2006 Ford F-150 XL
2006 Ford F-150 XLT
2005 Ford F-150 FX2
2005 Ford F-150 FX4
2005 Ford F-150 Flotillera
2005 Ford F-150 Harley-Davidson Edition
2005 Ford F-150 King Ranch2006 Ford F-150 Lariat
2005 Ford F-150 STX
2005 Ford F-150 XL
2005 Ford F-150 XLT
2004 Ford F-150 FX2
2004 Ford F-150 FX4
2004 Ford F-150 Flotillera
2004 Ford F-150 Harley-Davidson Edition
2004 Ford F-150 King Ranch2006 Ford F-150 Lariat
2004 Ford F-150 STX
2004 Ford F-150 XL
2004 Ford F-150 XLT
Package Included
1 × Front Bumper Assembly
4 × LED Spotlights
1 × Winch Plate
1 x License Plate Mounting Bracket
1 × Mounting Hardware Kit
1 × Installation Instruction
Fitment
2008 Ford F-150 FX2
2008 Ford F-150 FX4
2008 Ford F-150 Flotillera
2008 Ford F-150 Harley-Davidson Edition
2008 Ford F-150 King Ranch
2008 Ford F-150 Lariat
2008 Ford F-150 Limited
2008 Ford F-150 STX
2008 Ford F-150 THE 60TH ANNIVERSARY EDITION
2008 Ford F-150 XL
2008 Ford F-150 XLT
2008 Ford F-150 XTR
2007 Ford F-150 FX2
2007 Ford F-150 FX4
2007 Ford F-150 Flotillera
2007 Ford F-150 Harley-Davidson Edition
2007 Ford F-150 King Ranch
2007 Ford F-150 Lariat
2007 Ford F-150 XL
2007 Ford F-150 XLT
2006 Ford F-150 FX2
2006 Ford F-150 FX4
2006 Ford F-150 Flotillera
2006 Ford F-150 Harley-Davidson Edition
2006 Ford F-150 King Ranch2006 Ford F-150 Lariat
2006 Ford F-150 STX
2006 Ford F-150 XL
2006 Ford F-150 XLT
2005 Ford F-150 FX2
2005 Ford F-150 FX4
2005 Ford F-150 Flotillera
2005 Ford F-150 Harley-Davidson Edition
2005 Ford F-150 King Ranch2006 Ford F-150 Lariat
2005 Ford F-150 STX
2005 Ford F-150 XL
2005 Ford F-150 XLT
2004 Ford F-150 FX2
2004 Ford F-150 FX4
2004 Ford F-150 Flotillera
2004 Ford F-150 Harley-Davidson Edition
2004 Ford F-150 King Ranch2006 Ford F-150 Lariat
2004 Ford F-150 STX
2004 Ford F-150 XL
2004 Ford F-150 XLT