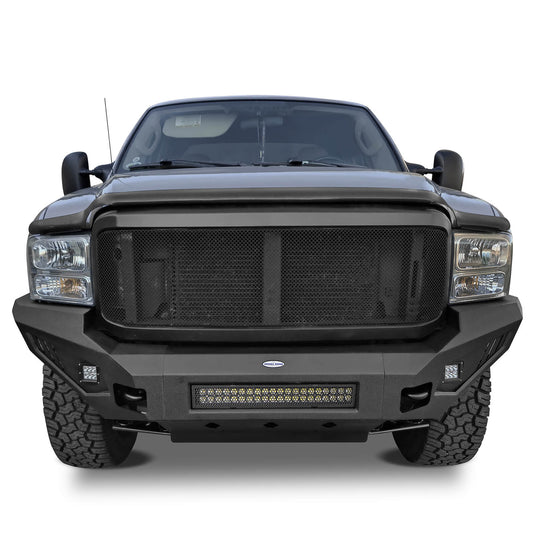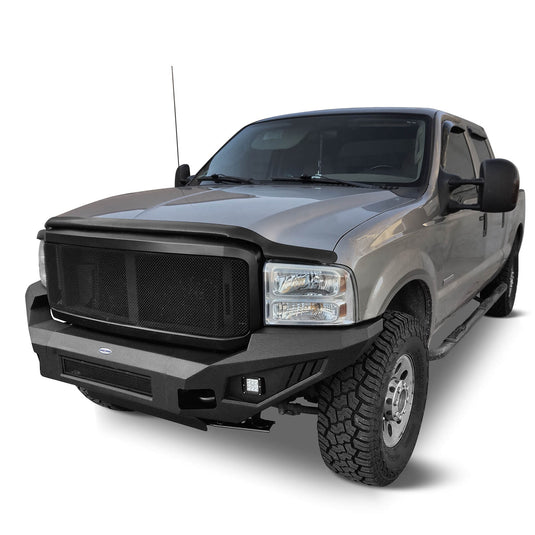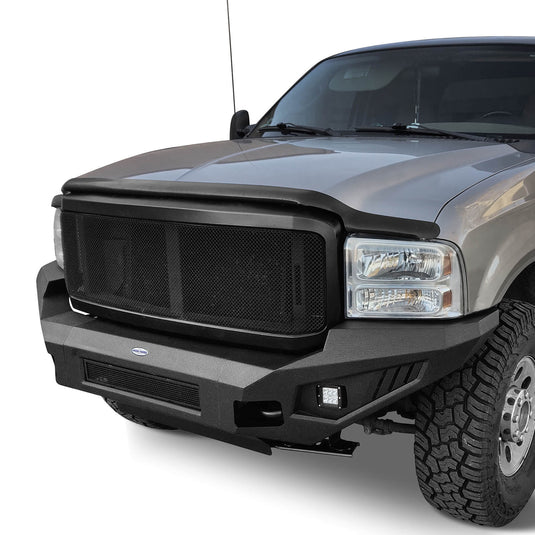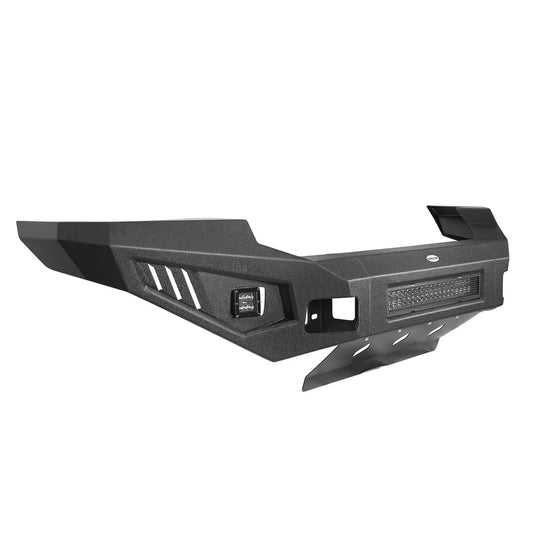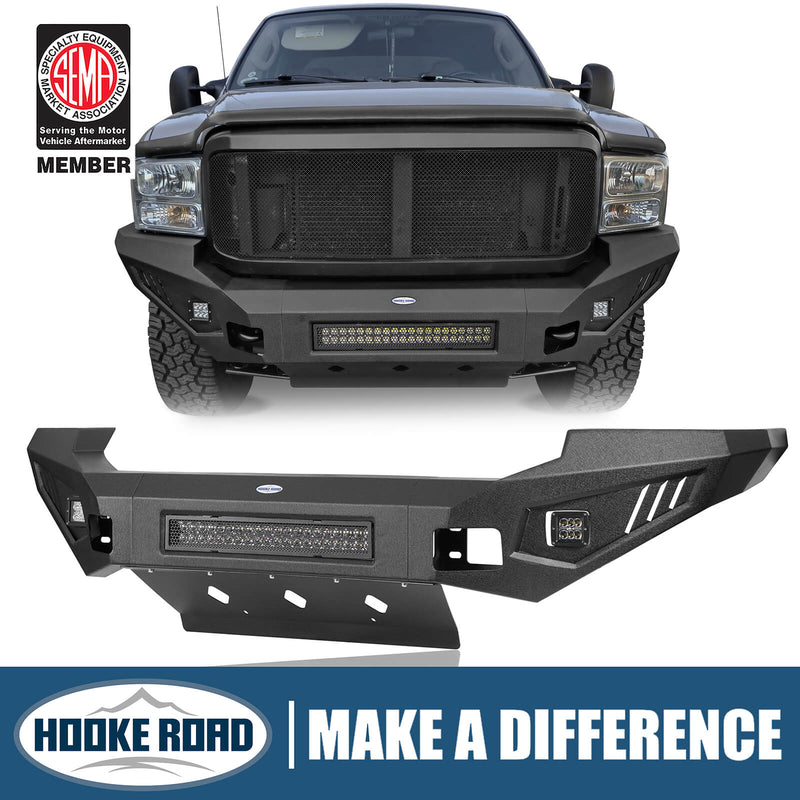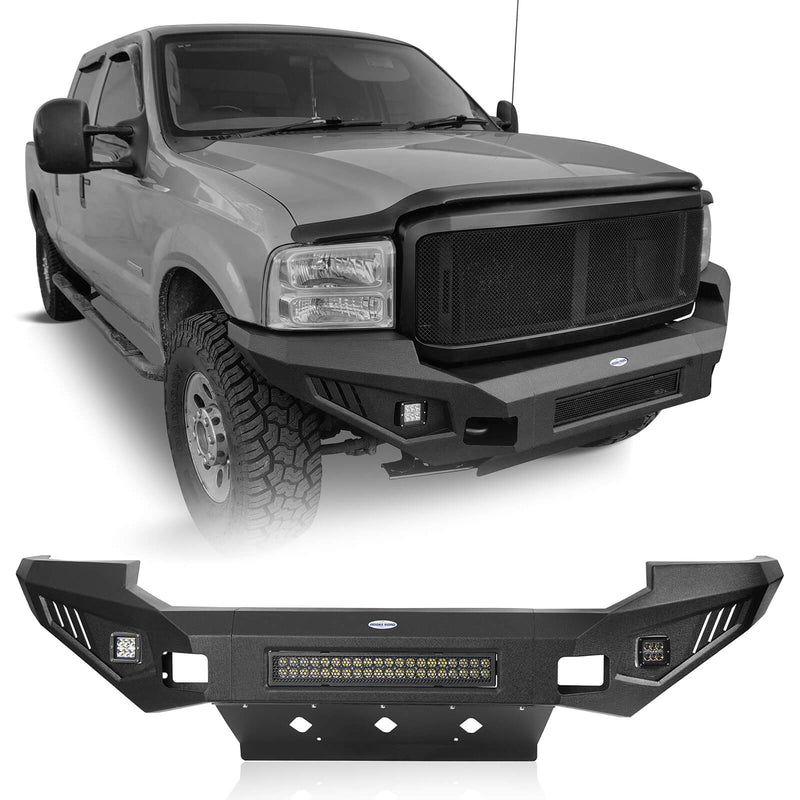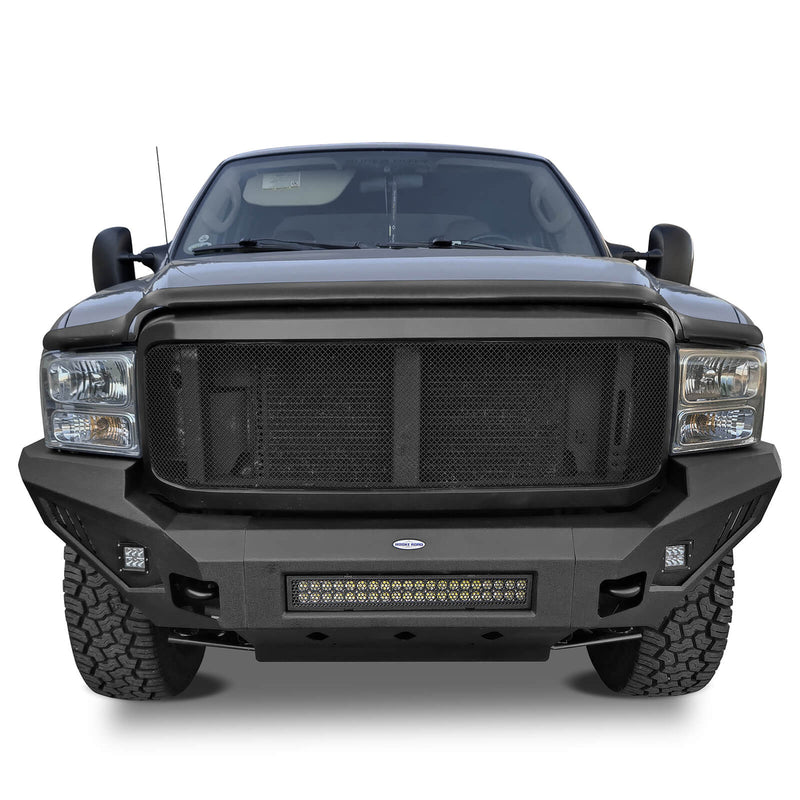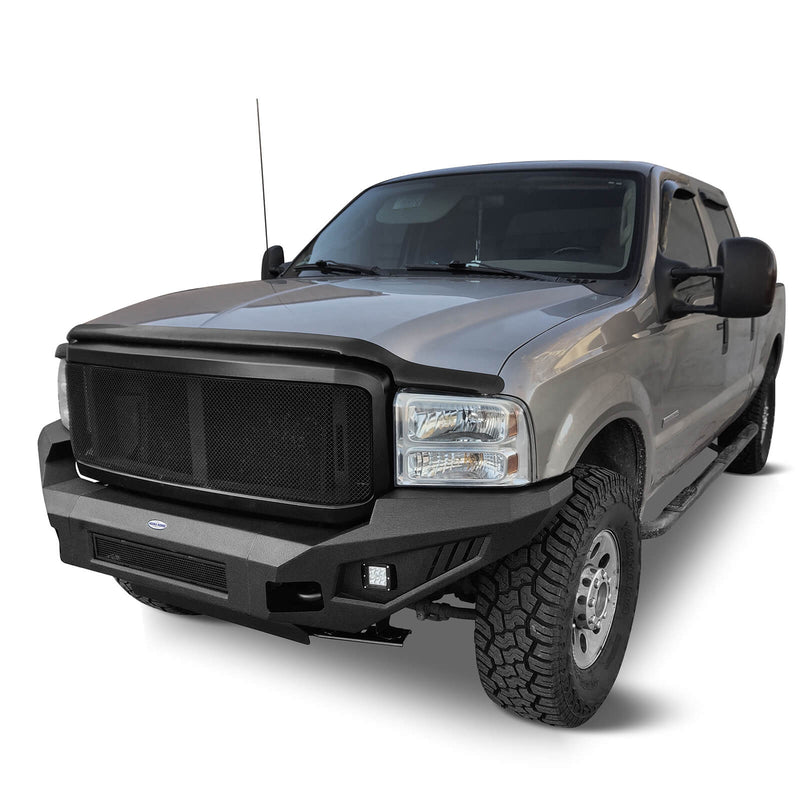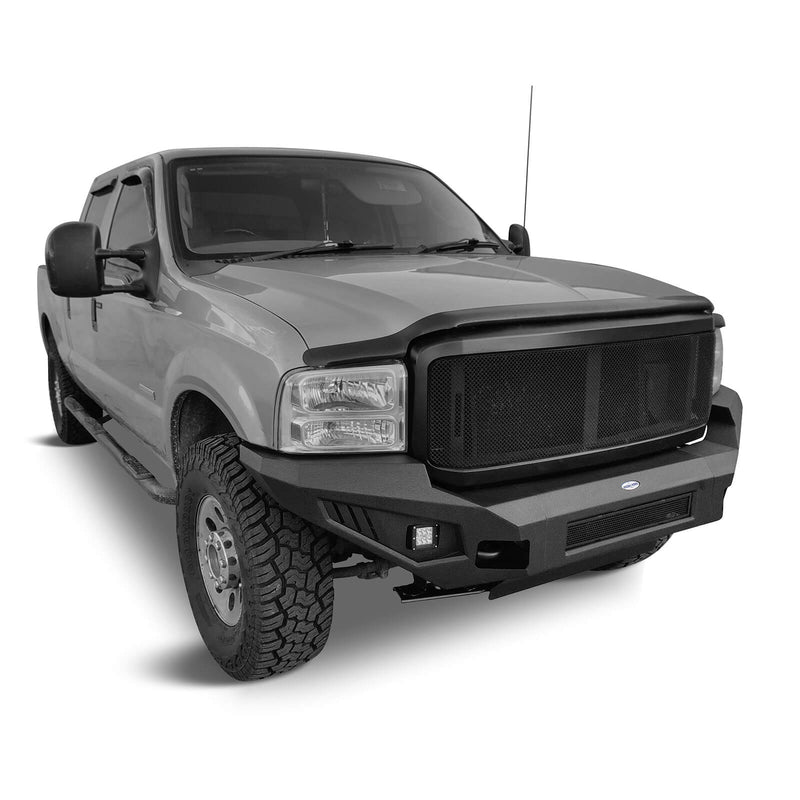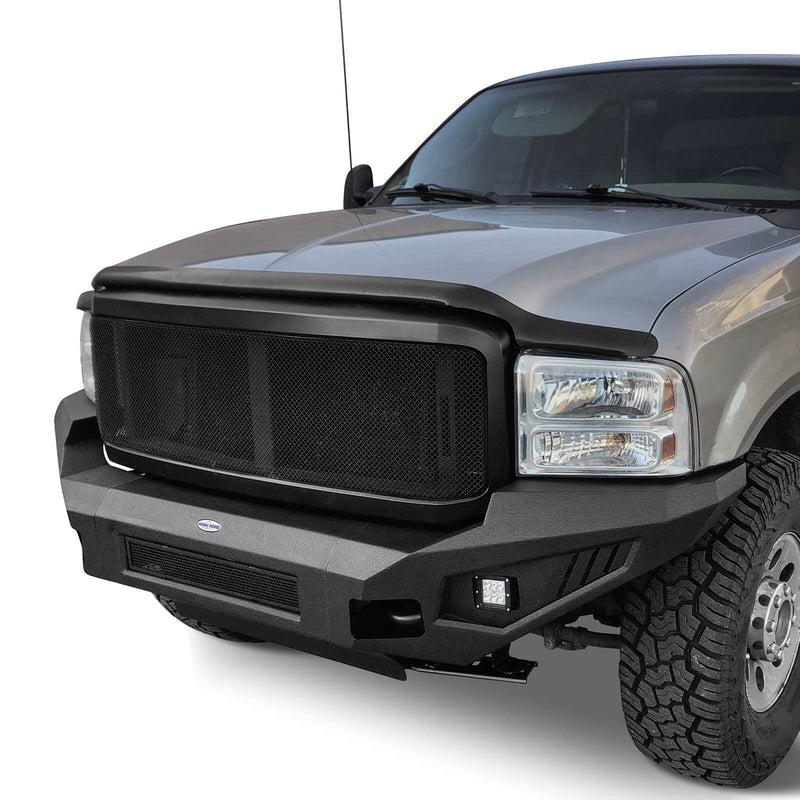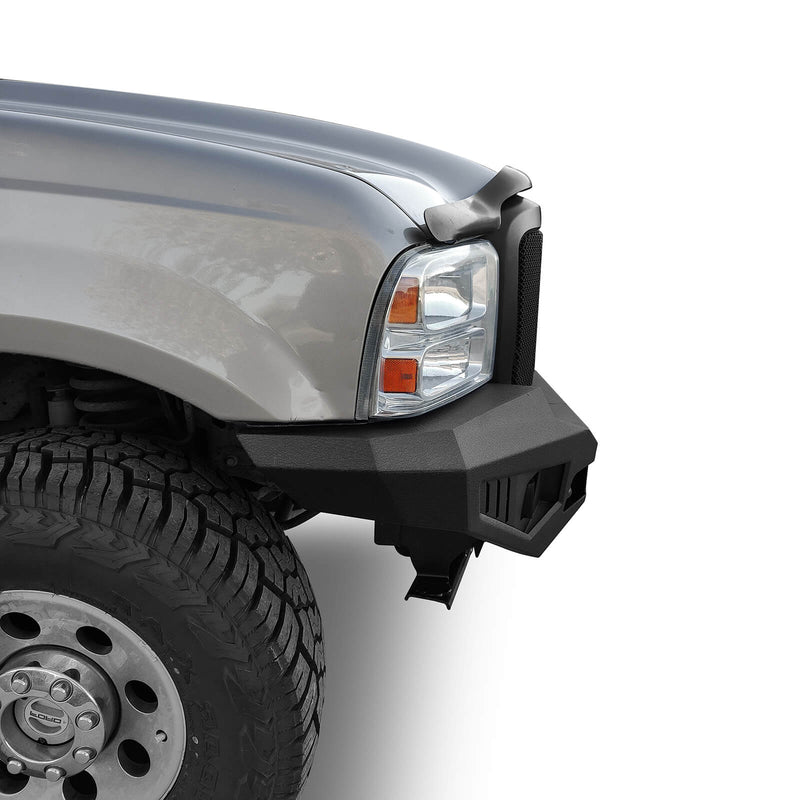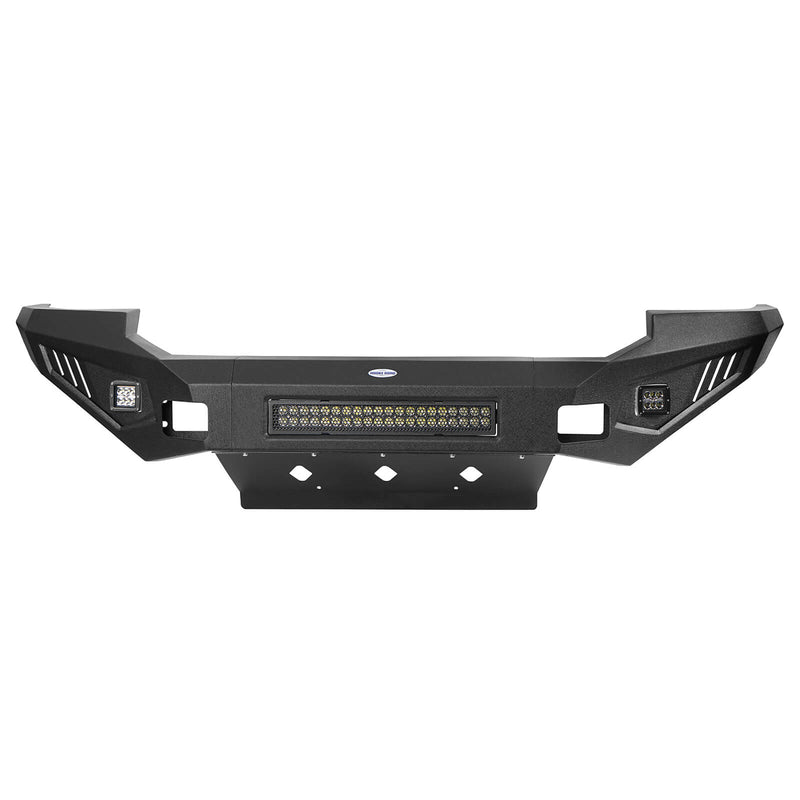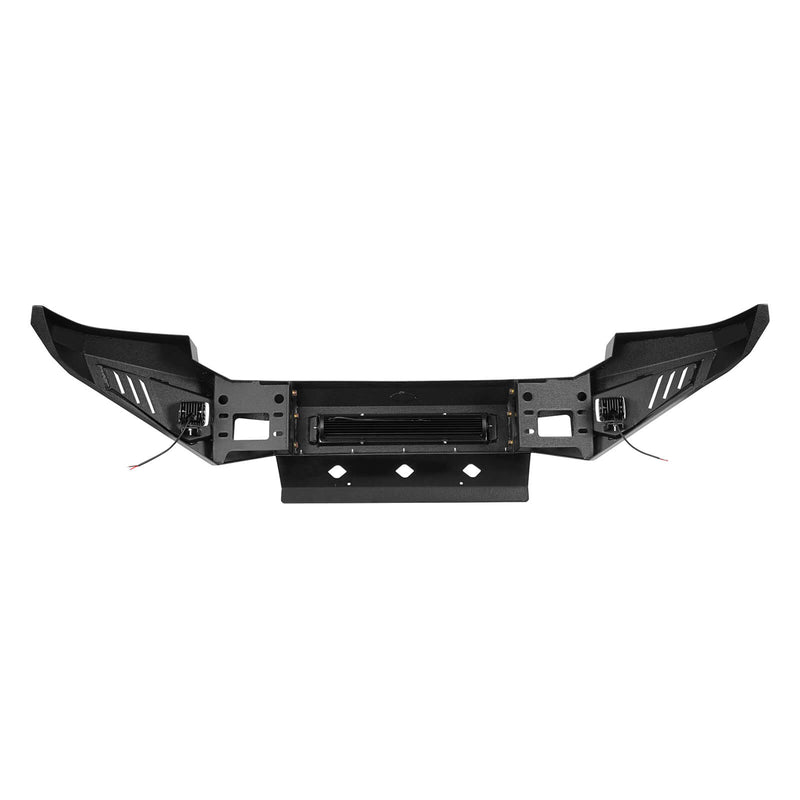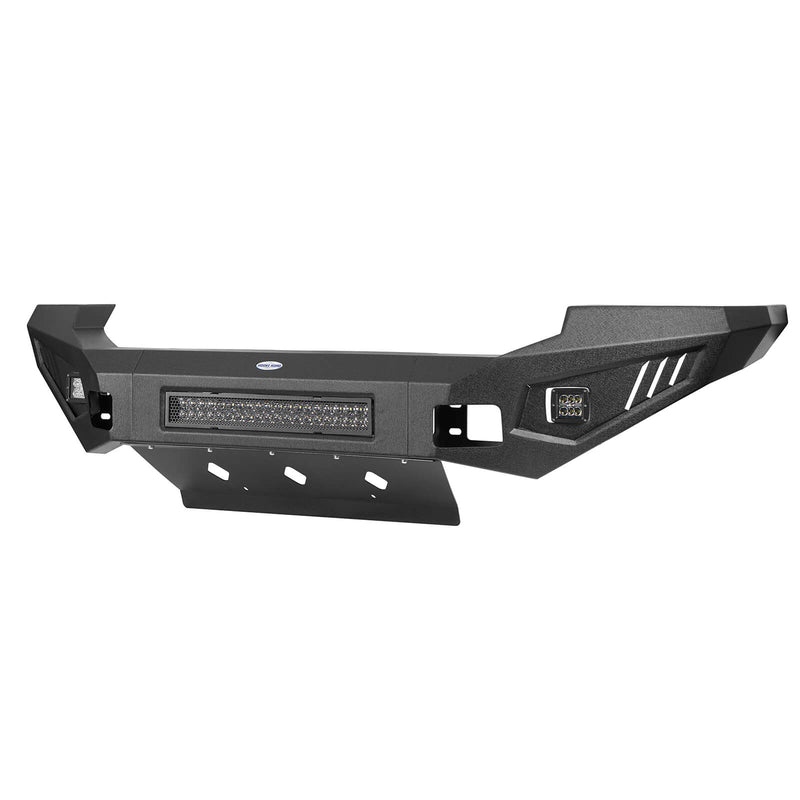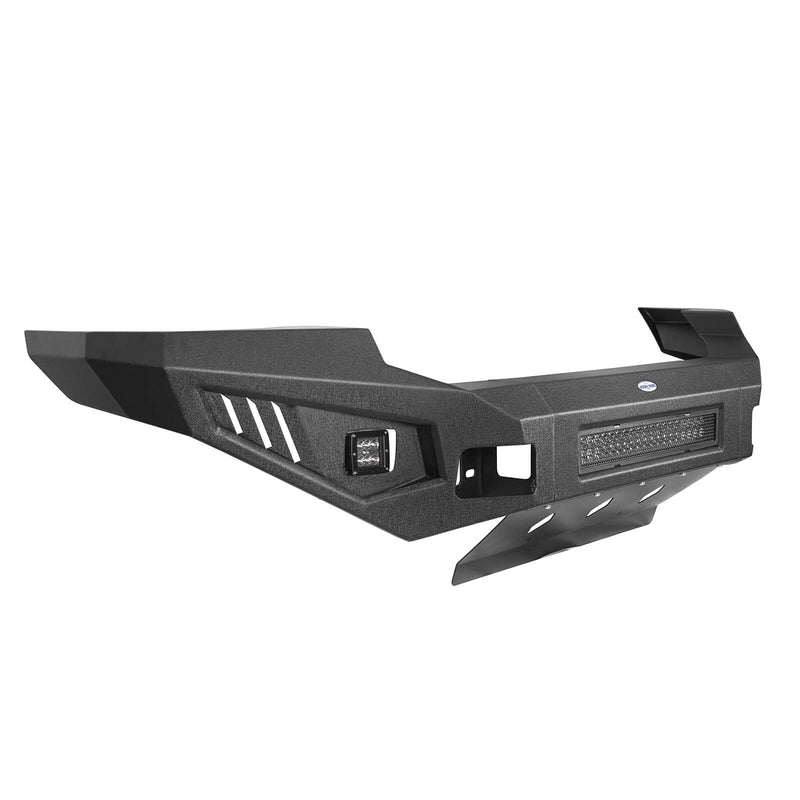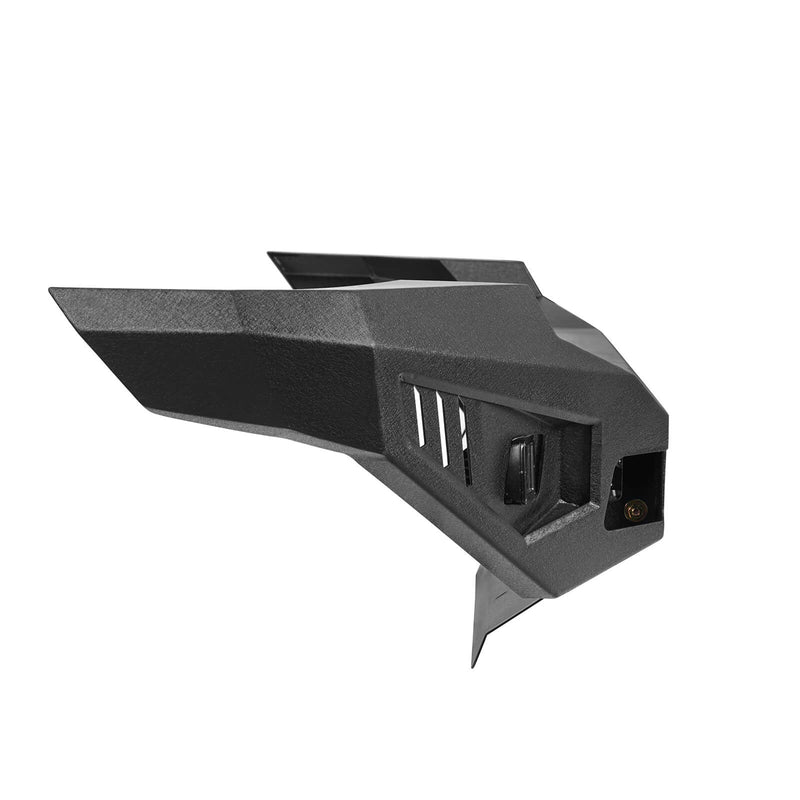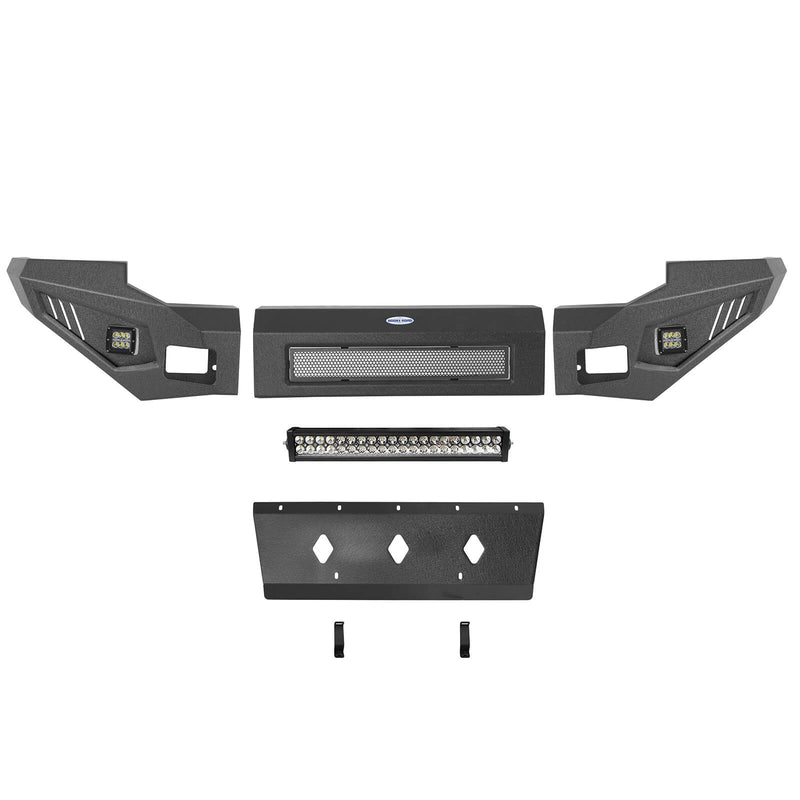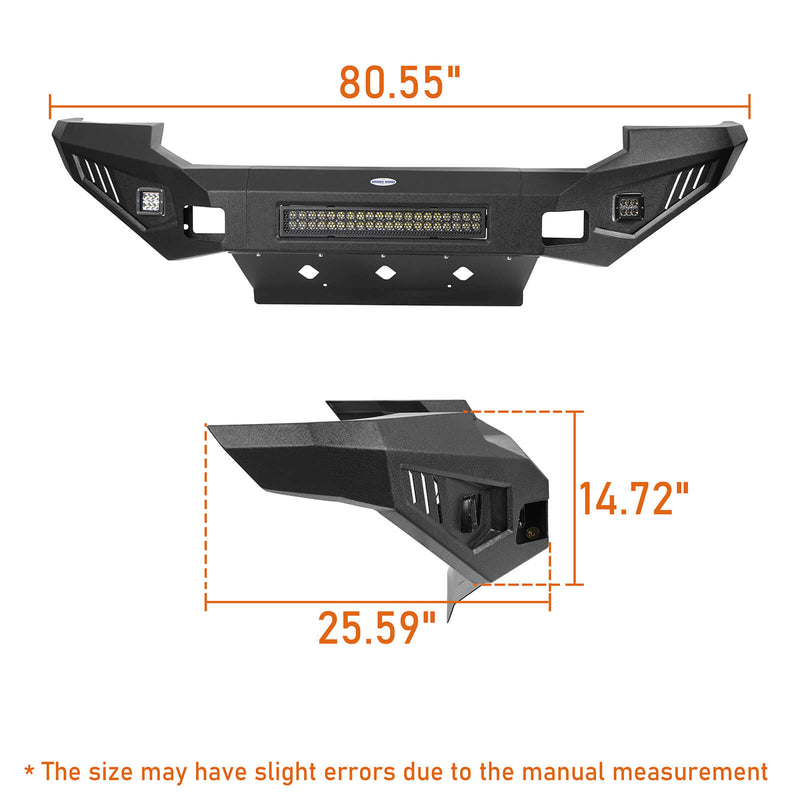 Name: Ford F-250 F-350 Full Width Front Bumper

Please Double-check All of the Item Pictures to Purchase What you Like
Feature
Fit for 2005-2007 Ford F-250 F-350 Models
Bumper Weight: About 83 lbs
Comes with a Solid Skid Plate
Equipped with a 120w High Power LED Flood Spot Combo Light Bar(22 Inches) & 2×18w LED Spotlights
Pre Cutouts that work with Factory Tow Hooks
Classic Styling and Excellent Protection. Perfectly Follows the Body Lines
Heavy-Duty Steel Construction: 11-Gauge(1/8 Inch) Steel for the Bumper Body, 8-Gauge(11/64 Inch) Steel for the Mounting Structure Plate
Textured Black Powder Coat Finish & Premium E-coating Process Inside
Simple Bolt-On Installation; No Drilling is Required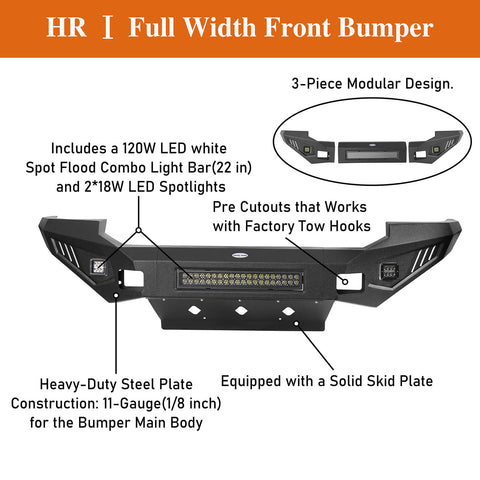 Strong Bumpers, Awesome Style. Are you ready to take your F-250's bumper game to the next level? Then check out the Ford F-250 Full Width Front Bumper – Textured Black. Comes with a solid skid plate that provides underhood protection. Its durable construction and off-road ready design provide you with attitude and style for years to come.

LED Lights Included. Perfect for night-time excursions, Hooke Road had the forethought to design their Bumper with a 120w high power LED flood spot combo light bar and 2×18w LED spotlights included. These powerful LED auxiliary spotlights will ensure complete confidence in any night time adventure.

Heavy-Duty Construction. Manufactured for maximum durability, this Ford F-250 Full Width Front Bumper is fabricated from 11-gauge(1/8 Inch) and 8-gauge(11/64 Inch) steel plates. Hooke Road then powder coats their bumper in a 2-stage, textured black powder coat finish for long-lasting durability and corrosion resistance.

Bolt-on Installation. Hooke Road engineered their Front Bumper to be a direct bolt-on upgrade replacement for your original stock bumper reusing the factory mounting points. There is no cutting, drilling, or modifications required for a simple straight forward install. With the help of a friend and a set of basic hand tools, this Ford F-250 Full Width Front Bumpercan be installed in about two hours.

SEMA Membership. The Hooke Road Brand has been certified as a member of SEMA. We are studious and gradually grow up to be a professional aftermarket retailer. As a SEMA member, we make, buy, sell and use all kinds of specialty parts and accessories to make vehicles more attractive, more unique, more convenient, faster, safer, more fun, and even like-new again. Wish you have a terrific off-road experience with our products.
1 x Ford F-250 Front Bumper w/ LED Light Bar
1 x Skid Plate
2 x LED Spotlights
Mounting Hardware Kit
2007 Ford F-250 Doble Cab
2007 Ford F-250 Flotillera
2007 Ford F-250 XL
2007 Ford F-250 XLT
2007 Ford F-250 Super Duty Harley-Davidson Edition
2007 Ford F-250 Super Duty King Ranch
2007 Ford F-250 Super Duty Lariat 2007 Ford F-250 Super Duty XL
2007 Ford F-250 Super Duty XLT
2007 Ford F-350 XL
2007 Ford F-350 Super Duty King Ranch
2007 Ford F-350 Super Duty Lariat
2007 Ford F-350 Super Duty XL
2007 Ford F-350 Super Duty XLT
2006 Ford F-250 Flotillera
2006 Ford F-250 XL
2006 Ford F-250 Super Duty Harley-Davidson Edition
2006 Ford F-250 Super Duty King Ranch
2006 Ford F-250 Super Duty Lariat
2006 Ford F-250 Super Duty XL
2006 Ford F-250 Super Duty XLT
2006 Ford F-350 XL
2006 Ford F-350 Super Duty Harley-Davidson Edition
2006 Ford F-350 Super Duty King Ranch
2006 Ford F-350 Super Duty Lariat
2006 Ford F-350 Super Duty XL
2006 Ford F-350 Super Duty XLT
2005 Ford F-250 Flotillera
2005 Ford F-250 XL
2005 Ford F-250 Super Duty Harley-Davidson Edition
2005 Ford F-250 Super Duty King Ranch
2005 Ford F-250 Super Duty Lariat
2005 Ford F-250 Super Duty XL
2005 Ford F-250 Super Duty XLT
2005 Ford F-350 XL
2005 Ford F-350 Super Duty Harley-Davidson Edition
2005 Ford F-350 Super Duty King Ranch
2005 Ford F-350 Super Duty Lariat
2005 Ford F-350 Super Duty XL
2005 Ford F-350 Super Duty XLT

Package Included
1 x Ford F-250 Front Bumper w/ LED Light Bar
1 x Skid Plate
2 x LED Spotlights
Mounting Hardware Kit
Fitment
2007 Ford F-250 Doble Cab
2007 Ford F-250 Flotillera
2007 Ford F-250 XL
2007 Ford F-250 XLT
2007 Ford F-250 Super Duty Harley-Davidson Edition
2007 Ford F-250 Super Duty King Ranch
2007 Ford F-250 Super Duty Lariat 2007 Ford F-250 Super Duty XL
2007 Ford F-250 Super Duty XLT
2007 Ford F-350 XL
2007 Ford F-350 Super Duty King Ranch
2007 Ford F-350 Super Duty Lariat
2007 Ford F-350 Super Duty XL
2007 Ford F-350 Super Duty XLT
2006 Ford F-250 Flotillera
2006 Ford F-250 XL
2006 Ford F-250 Super Duty Harley-Davidson Edition
2006 Ford F-250 Super Duty King Ranch
2006 Ford F-250 Super Duty Lariat
2006 Ford F-250 Super Duty XL
2006 Ford F-250 Super Duty XLT
2006 Ford F-350 XL
2006 Ford F-350 Super Duty Harley-Davidson Edition
2006 Ford F-350 Super Duty King Ranch
2006 Ford F-350 Super Duty Lariat
2006 Ford F-350 Super Duty XL
2006 Ford F-350 Super Duty XLT
2005 Ford F-250 Flotillera
2005 Ford F-250 XL
2005 Ford F-250 Super Duty Harley-Davidson Edition
2005 Ford F-250 Super Duty King Ranch
2005 Ford F-250 Super Duty Lariat
2005 Ford F-250 Super Duty XL
2005 Ford F-250 Super Duty XLT
2005 Ford F-350 XL
2005 Ford F-350 Super Duty Harley-Davidson Edition
2005 Ford F-350 Super Duty King Ranch
2005 Ford F-350 Super Duty Lariat
2005 Ford F-350 Super Duty XL
2005 Ford F-350 Super Duty XLT