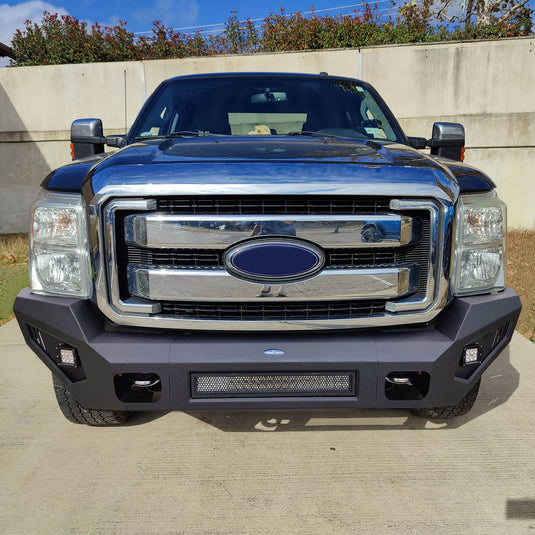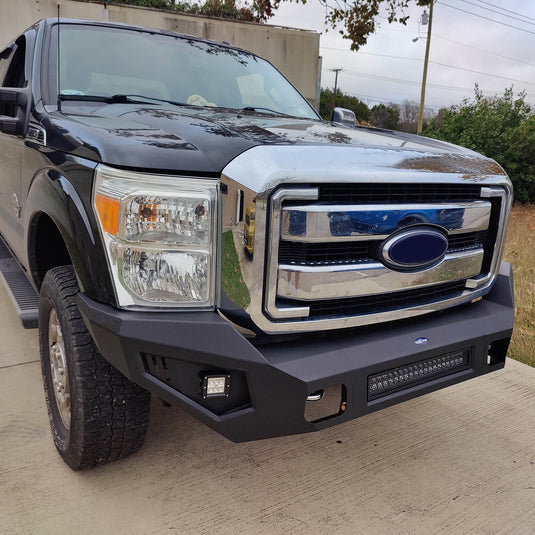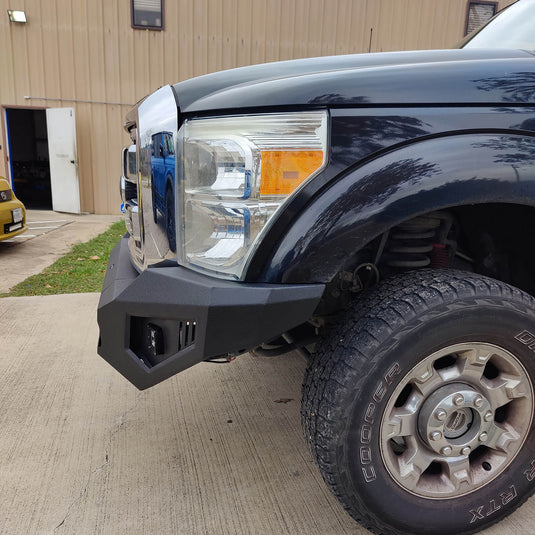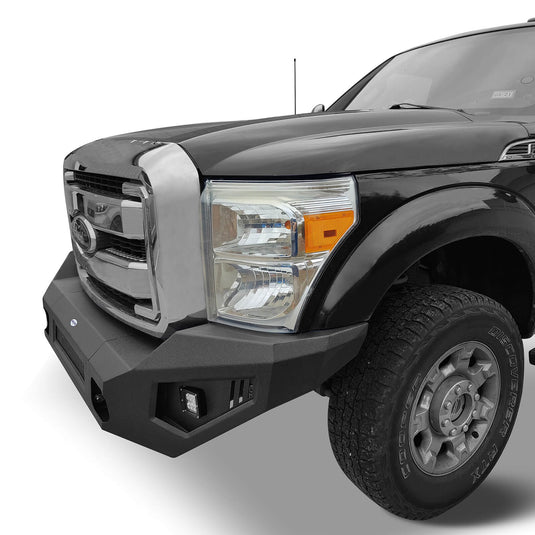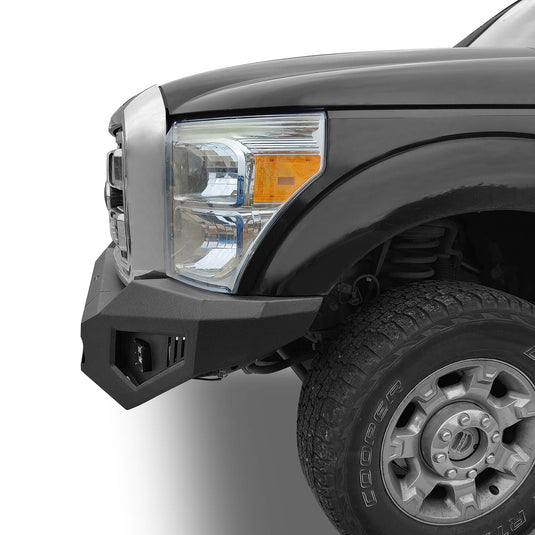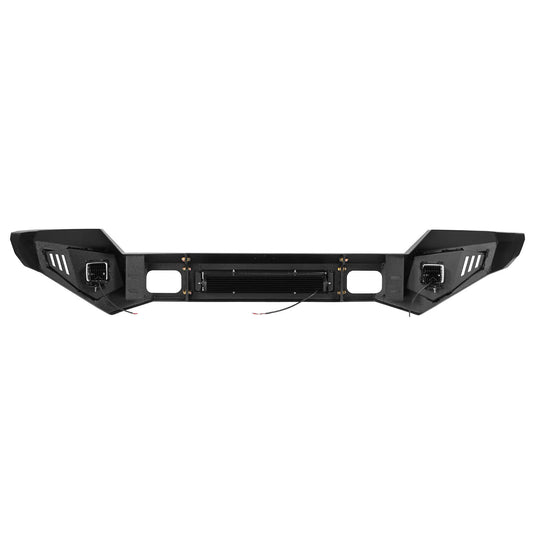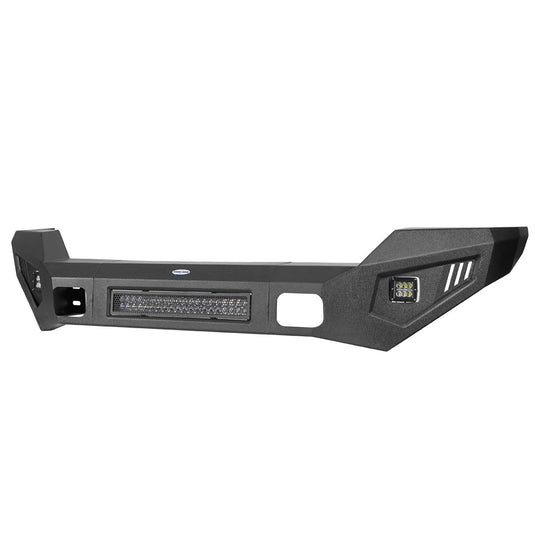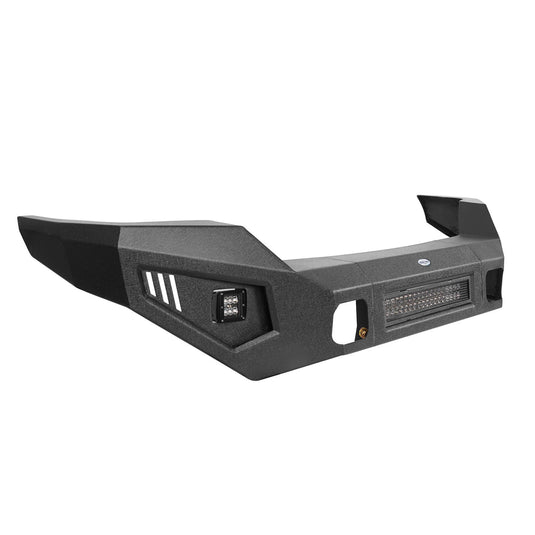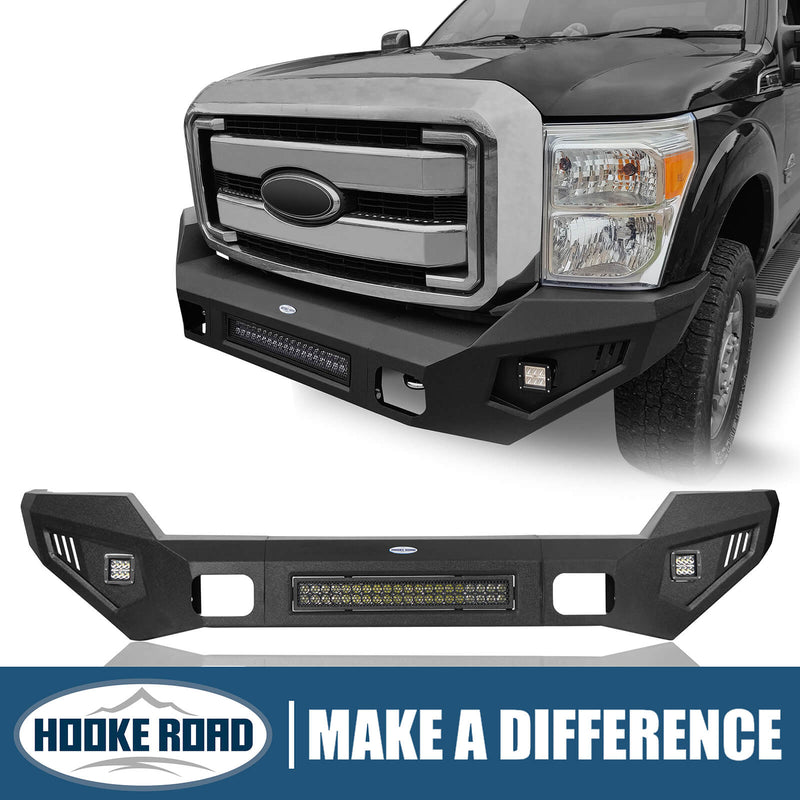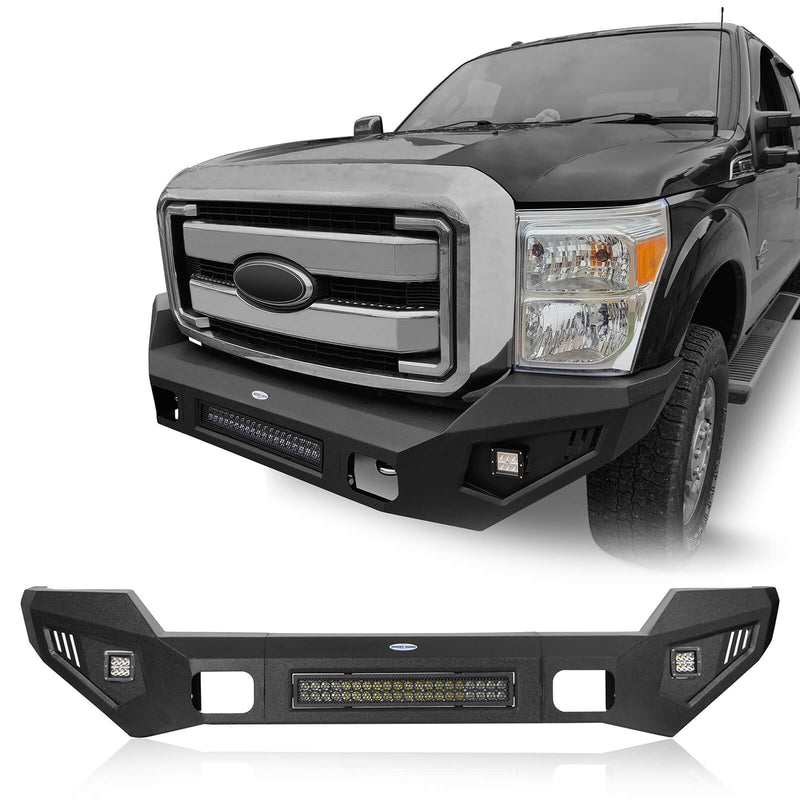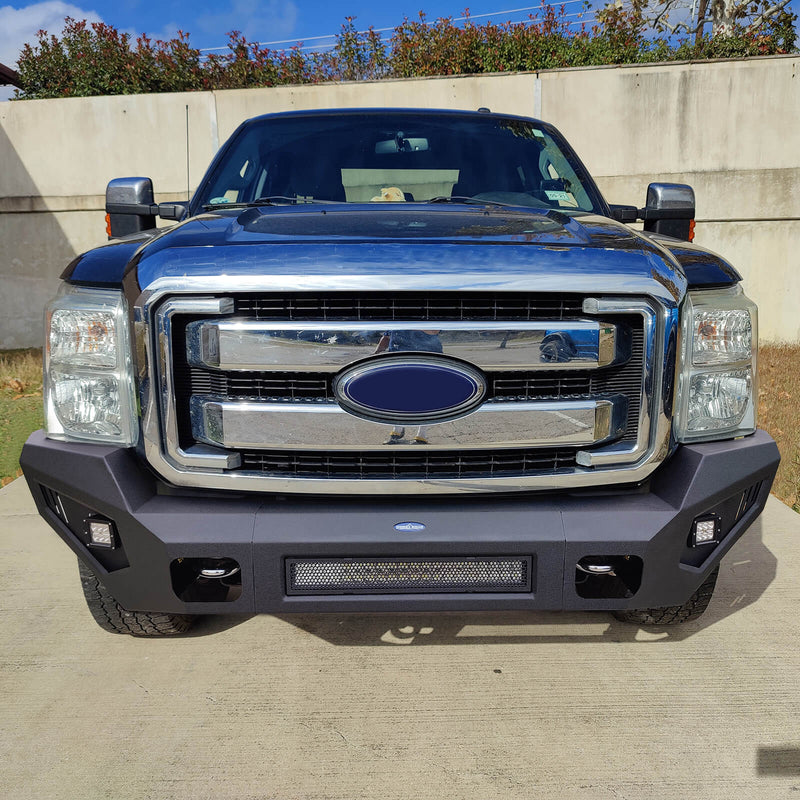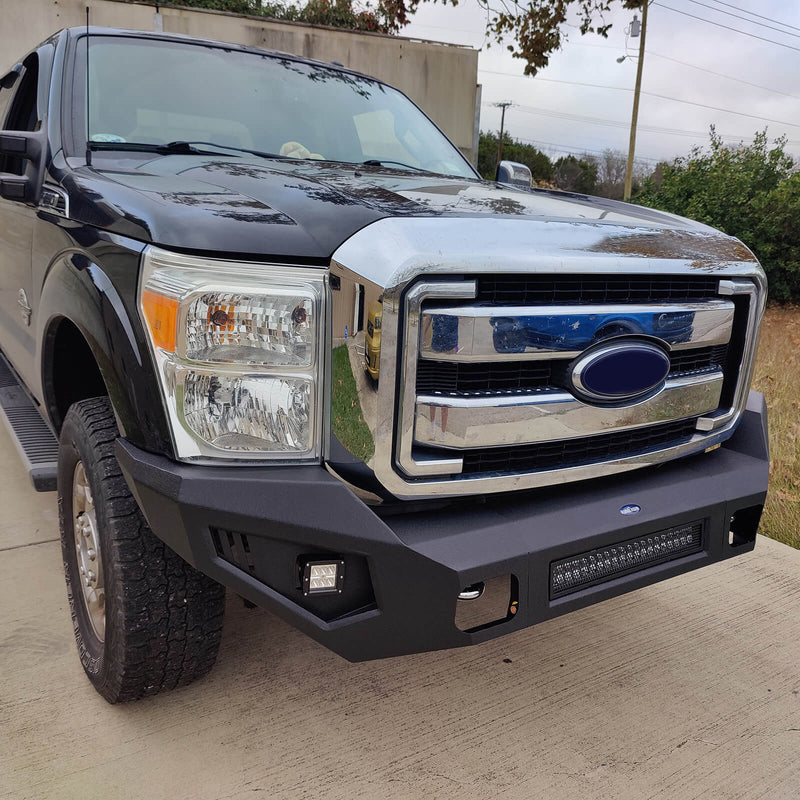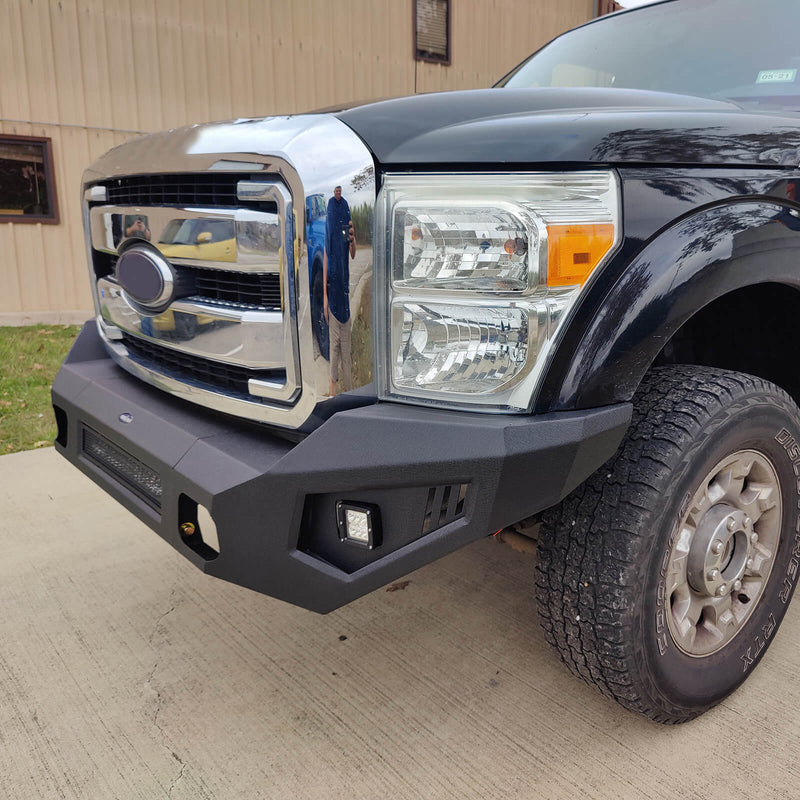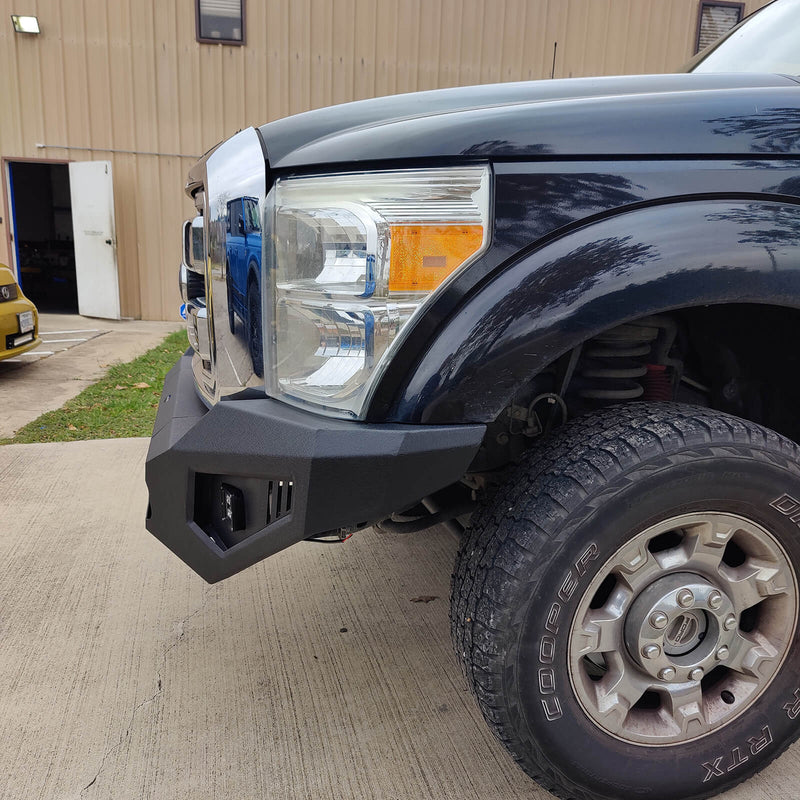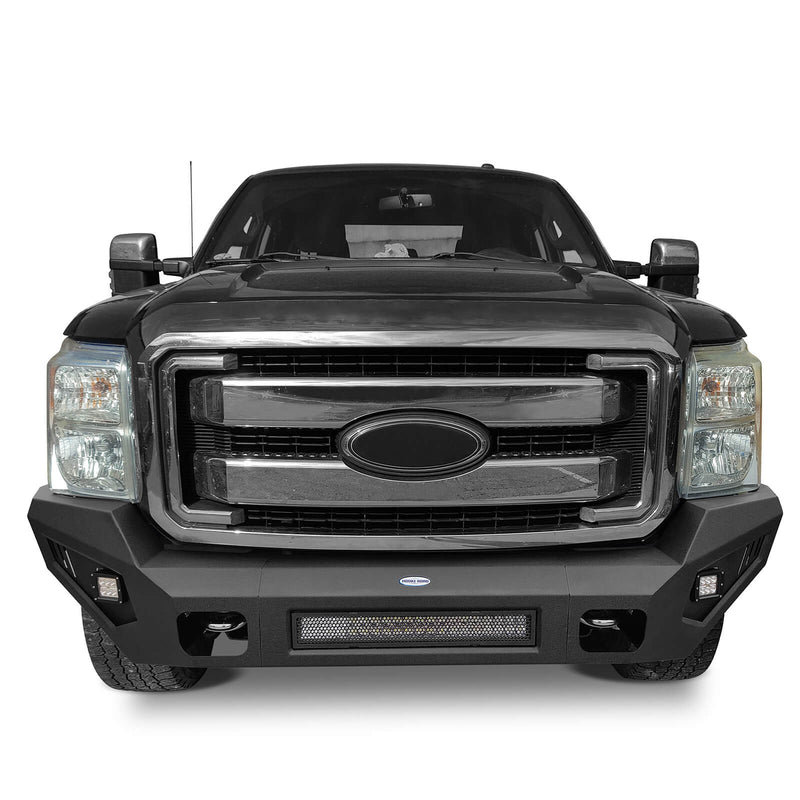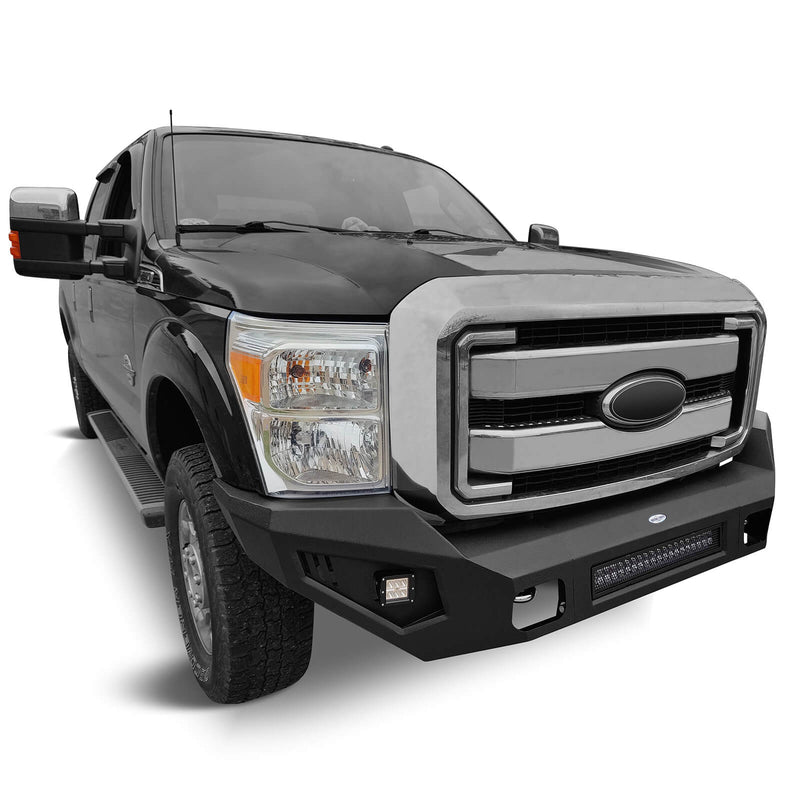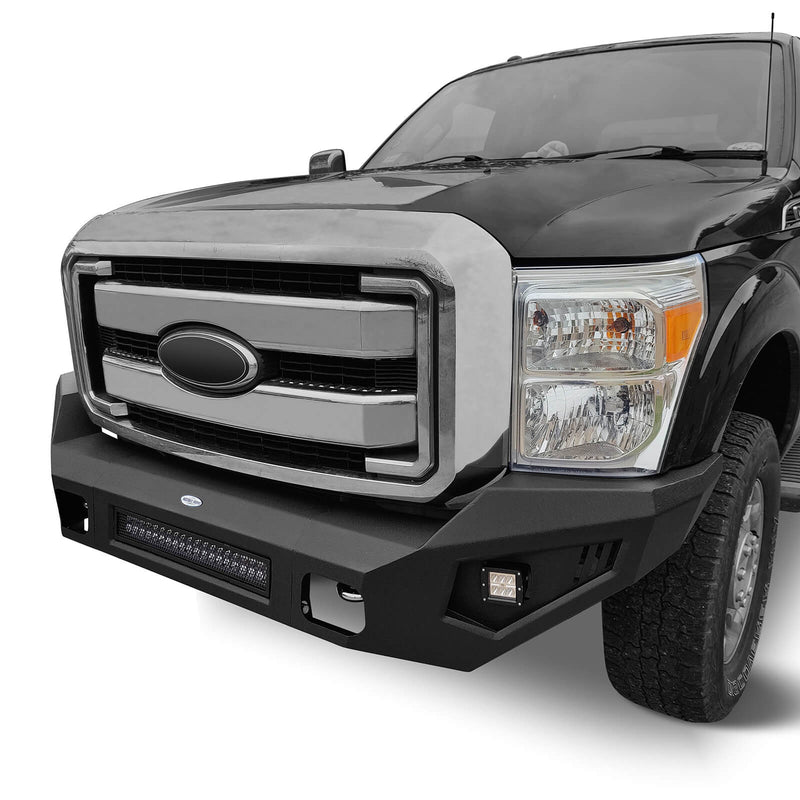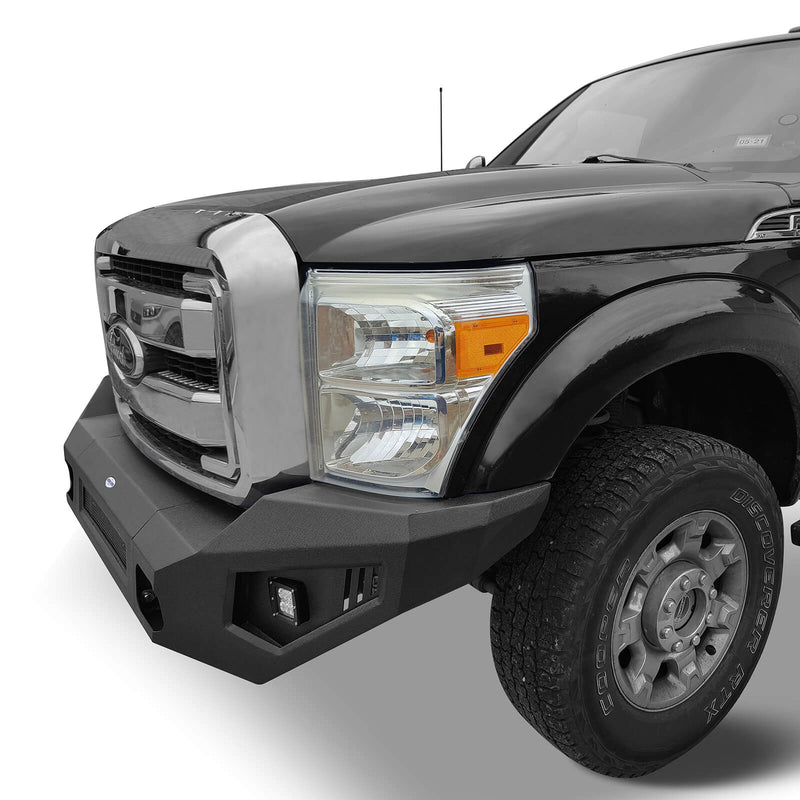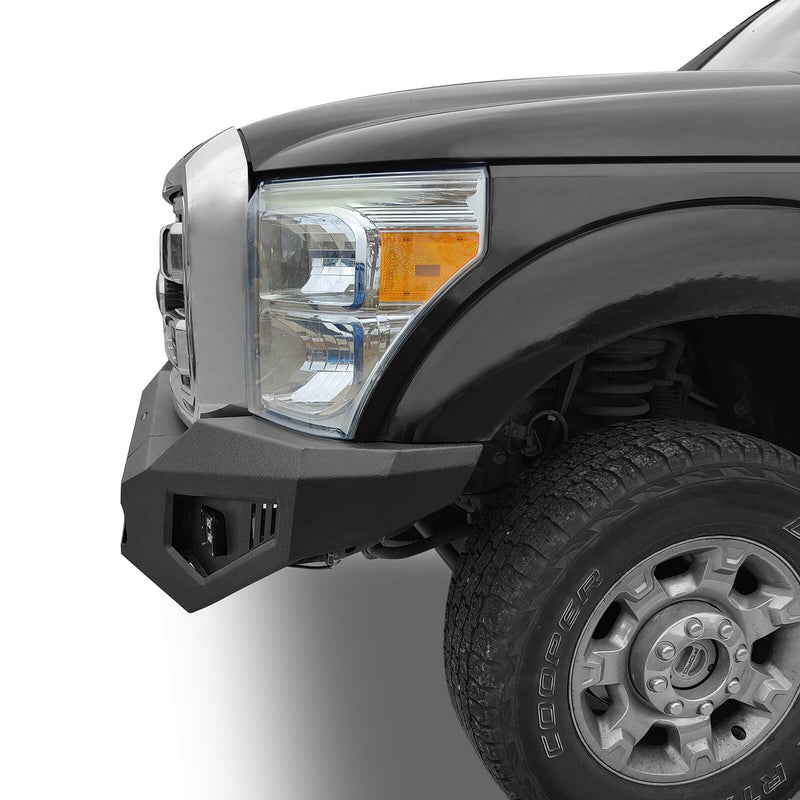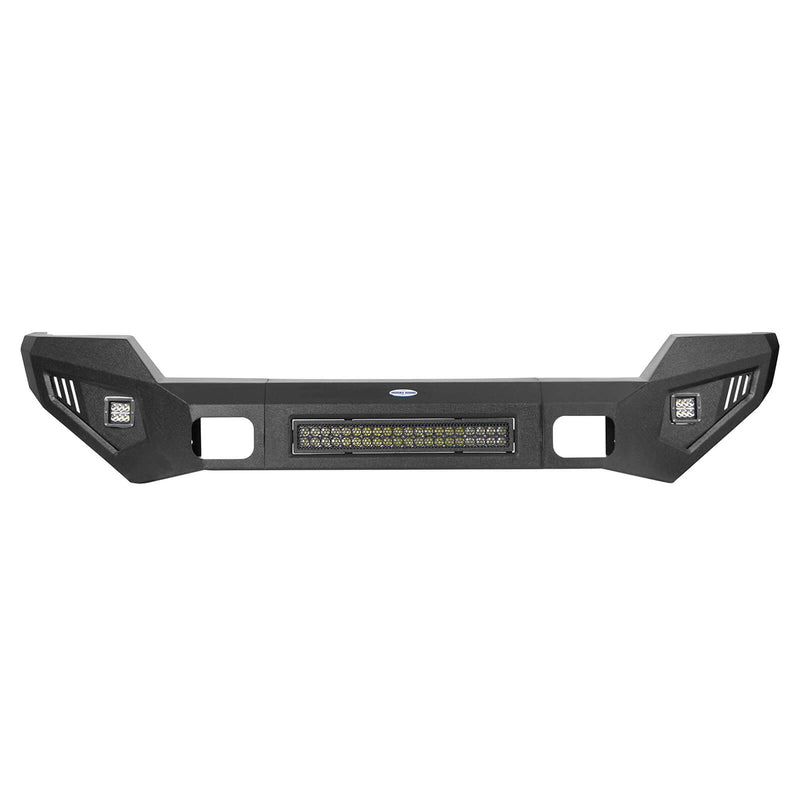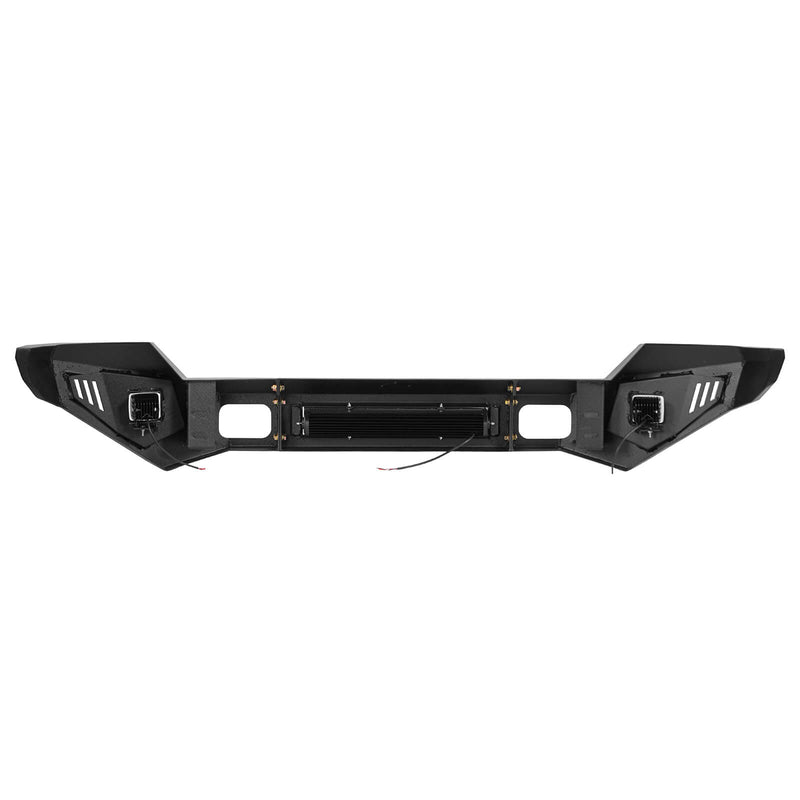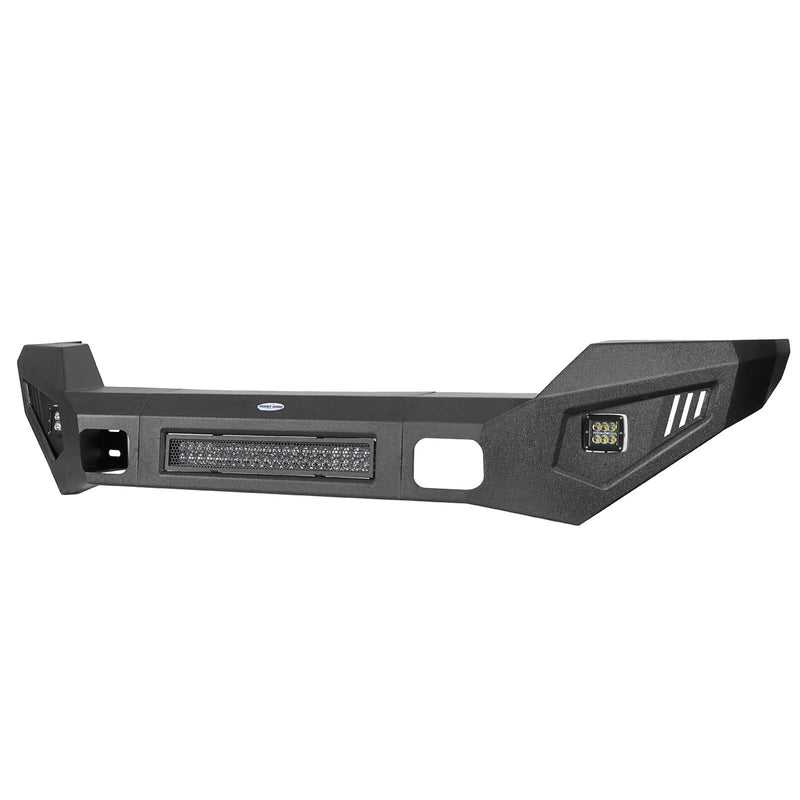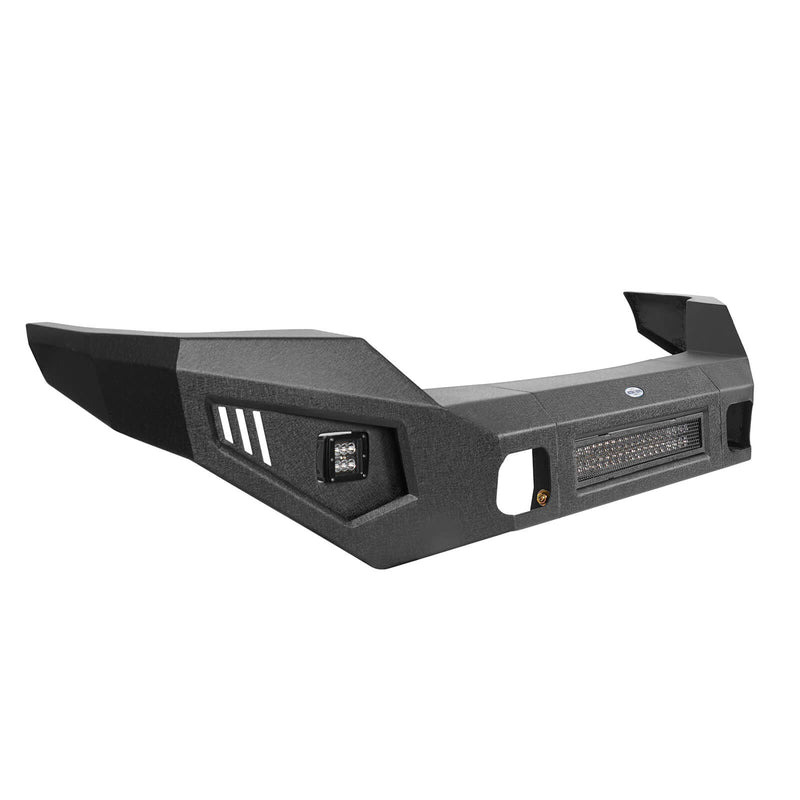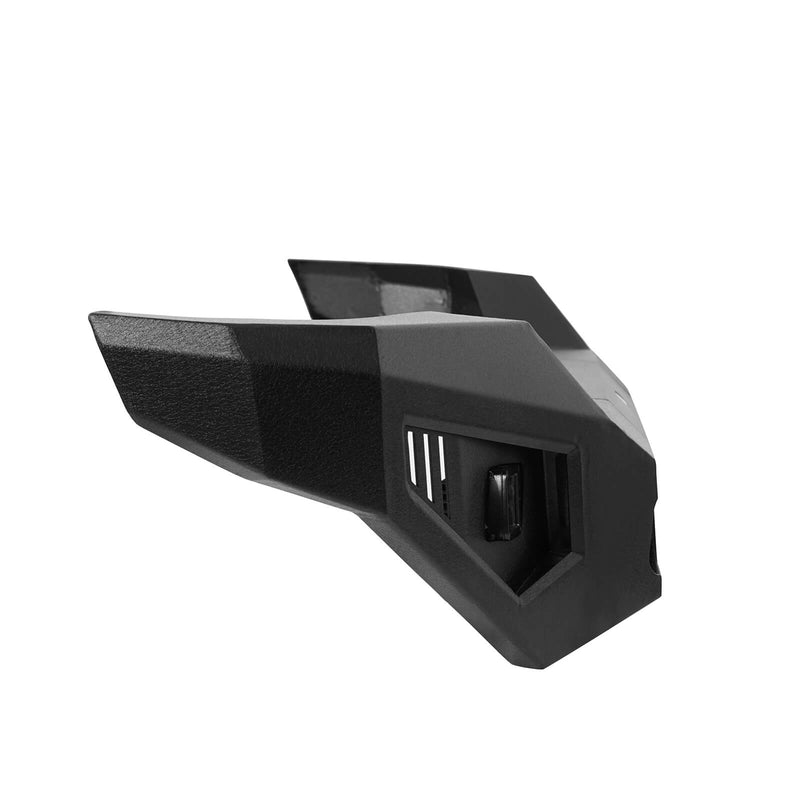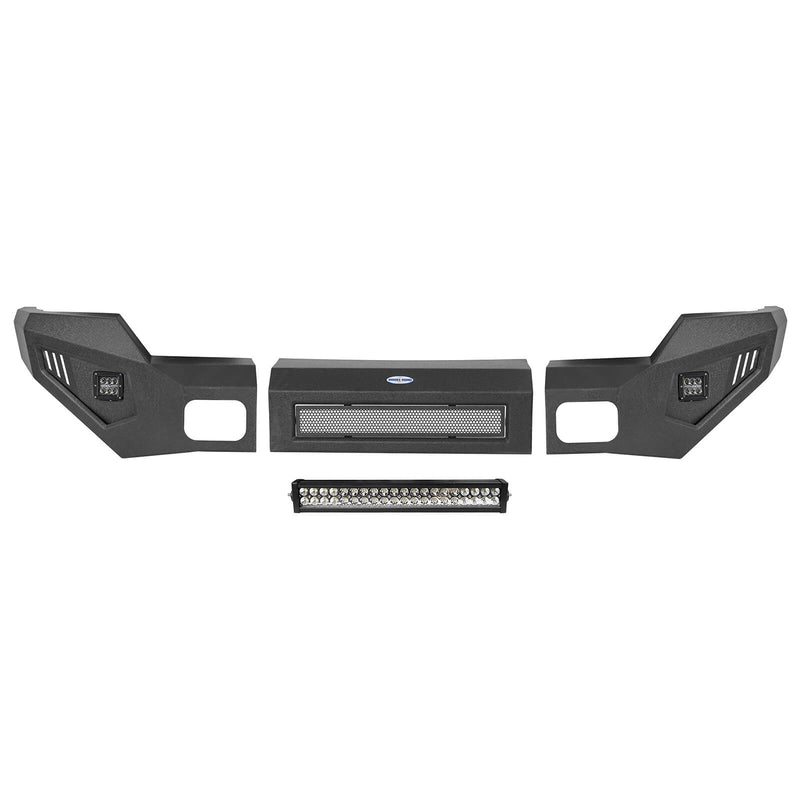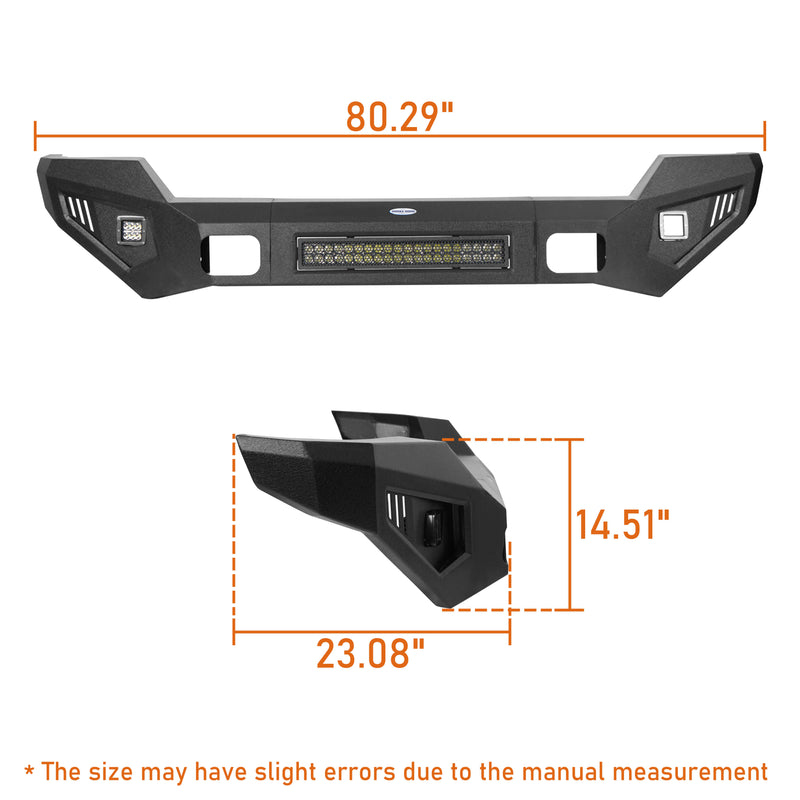 Name: Ford F-250 F-350 Full Width Front Bumper

Please Double-check All of the Item Pictures to Purchase What you Like
Feature
Fit for 2011-2016 Ford F-250 F-350 Models
Bumper Weight: About 74 lbs
Equipped with a 120w High Power LED Flood Spot Combo Light Bar(22 Inches) & 2×18w LED Spotlights
Pre Cutouts that work with Factory Tow Hooks
Classic Styling and Excellent Protection. Perfectly Follows the Body Lines
Heavy-Duty Steel Construction: 11-Gauge(1/8 Inch) Steel for the Bumper Body, 8-Gauge(11/64 Inch) Steel for Sleek styling and excellent protection. Perfectly follows the body lines.
Textured Black Powder Coat Finish & Premium E-coating Process Inside
Simple Bolt-On Installation; No Drilling is Required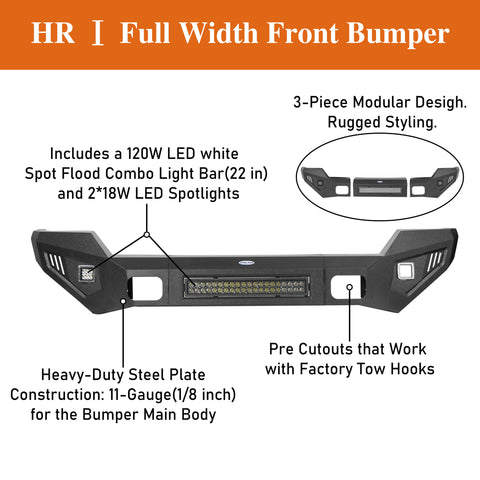 Protection and Style. Add spectacular protection to your front end with this Ford F-250 Full Width Front Bumper. This bumper is strong, but lightweight, and looks beautiful in the front of your Super Duty. There are a 120w high power LED flood spot combo light bar(22 inches) and 2×18w LED spotlights that provide adequate lighting at night for safe driving.

Heavy-Duty Construction. Manufactured for maximum durability, this Ford F-250 Full Width Front Bumper is fabricated from 11-gauge(1/8 Inch) and 8-gauge(11/64 Inch) steel plates. Hooke Road then powder coats bumper in a 2-stage, textured black powder coat finish for long-lasting durability and corrosion resistance.

Bolt-on Installation. This Ford F-250 Full Width Front Bumper mounts to the factory mounting slots of your vehicle's body frame. The installation process completes with light mechanical skills. There are no cutting, drilling, or modifications required for a simple straightforward install. With the help of a friend and a set of basic hand tools, this Bumper can be installed in about two hours.

SEMA Membership. The Hooke Road Brand has been certified as a member of SEMA. We are studious and gradually grow up to be a professional aftermarket retailer. As a SEMA member, we make, buy, sell and use all kinds of specialty parts and accessories to make vehicles more attractive, more unique, more convenient, faster, safer, more fun, and even like-new again. Wish you have a terrific off-road experience with our products.
1 x Ford F-250 Front Bumper w/ LED Light Bar
2 x LED Spotlights
Mounting Hardware Kit
2016 Ford F-250 Super Duty Base
2016 Ford F-250 Super Duty King Ranch
2016 Ford F-250 Super Duty Lariat
2016 Ford F-250 Super Duty Platinum
2016 Ford F-250 Super Duty XL
2016 Ford F-250 Super Duty XLT
2016 Ford F-350 XL
2016 Ford F-350 XLT
2016 Ford F-350 Super Duty King Ranch
2016 Ford F-350 Super Duty Lariat
2016 Ford F-350 Super Duty Platinum
2016 Ford F-350 Super Duty XL
2016 Ford F-350 Super Duty XLT
2015 Ford F-250 Super Duty Base
2015 Ford F-250 Super Duty King Ranch
2015 Ford F-250 Super Duty Lariat
2015 Ford F-250 Super Duty Platinum
2015 Ford F-250 Super Duty XL
2015 Ford F-250 Super Duty XLT
2015 Ford F-350 XL
2015 Ford F-350 Super Duty King Ranch
2015 Ford F-350 Super Duty Lariat
2015 Ford F-350 Super Duty Platinum
2015 Ford F-350 Super Duty XL
2015 Ford F-350 Super Duty XLT
2014 Ford F-250 Super Duty FX4
2014 Ford F-250 Super Duty King Ranch
2014 Ford F-250 Super Duty Lariat
2014 Ford F-250 Super Duty Platinum
2014 Ford F-250 Super Duty XL
2014 Ford F-250 Super Duty XLT
2014 Ford F-350 XL
2014 Ford F-350 XLT
2014 Ford F-350 Super Duty King Ranch
2014 Ford F-350 Super Duty Lariat
2014 Ford F-350 Super Duty Platinum
2014 Ford F-350 Super Duty XL
2014 Ford F-350 Super Duty XLT
2013 Ford F-250 Super Duty FX4
2013 Ford F-250 Super Duty King Ranch
2013 Ford F-250 Super Duty Lariat
2013 Ford F-250 Super Duty Platinum
2013 Ford F-250 Super Duty XL
2013 Ford F-250 Super Duty XLT
2013 Ford F-350 XL
2013 Ford F-350 XLT
2013 Ford F-350 Super Duty King Ranch
2013 Ford F-350 Super Duty Lariat
2013 Ford F-350 Super Duty Platinum
2013 Ford F-350 Super Duty XL
2013 Ford F-350 Super Duty XLT
2012 Ford F-250 Super Duty FX4
2012 Ford F-250 Super Duty King Ranch
2012 Ford F-250 Super Duty Lariat
2012 Ford F-250 Super Duty XL
2012 Ford F-250 Super Duty XLT
2012 Ford F-350 XL
2012 Ford F-350 XLT
2012 Ford F-350 Super Duty King Ranch
2012 Ford F-350 Super Duty Lariat
2012 Ford F-350 Super Duty XL
2012 Ford F-350 Super Duty XLT
2011 Ford F-250 Super Duty FX4
2011 Ford F-250 Super Duty King Ranch
2011 Ford F-250 Super Duty Lariat
2011 Ford F-250 Super Duty XL
2011 Ford F-250 Super Duty XLT
2011 Ford F-350 XL
2011 Ford F-350 XLT
2011 Ford F-350 Super Duty King Ranch
2011 Ford F-350 Super Duty Lariat
2011 Ford F-350 Super Duty XL
2011 Ford F-350 Super Duty XLT
Package Included
1 x Ford F-250 Front Bumper w/ LED Light Bar
2 x LED Spotlights
Mounting Hardware Kit
Fitment
2016 Ford F-250 Super Duty Base
2016 Ford F-250 Super Duty King Ranch
2016 Ford F-250 Super Duty Lariat
2016 Ford F-250 Super Duty Platinum
2016 Ford F-250 Super Duty XL
2016 Ford F-250 Super Duty XLT
2016 Ford F-350 XL
2016 Ford F-350 XLT
2016 Ford F-350 Super Duty King Ranch
2016 Ford F-350 Super Duty Lariat
2016 Ford F-350 Super Duty Platinum
2016 Ford F-350 Super Duty XL
2016 Ford F-350 Super Duty XLT
2015 Ford F-250 Super Duty Base
2015 Ford F-250 Super Duty King Ranch
2015 Ford F-250 Super Duty Lariat
2015 Ford F-250 Super Duty Platinum
2015 Ford F-250 Super Duty XL
2015 Ford F-250 Super Duty XLT
2015 Ford F-350 XL
2015 Ford F-350 Super Duty King Ranch
2015 Ford F-350 Super Duty Lariat
2015 Ford F-350 Super Duty Platinum
2015 Ford F-350 Super Duty XL
2015 Ford F-350 Super Duty XLT
2014 Ford F-250 Super Duty FX4
2014 Ford F-250 Super Duty King Ranch
2014 Ford F-250 Super Duty Lariat
2014 Ford F-250 Super Duty Platinum
2014 Ford F-250 Super Duty XL
2014 Ford F-250 Super Duty XLT
2014 Ford F-350 XL
2014 Ford F-350 XLT
2014 Ford F-350 Super Duty King Ranch
2014 Ford F-350 Super Duty Lariat
2014 Ford F-350 Super Duty Platinum
2014 Ford F-350 Super Duty XL
2014 Ford F-350 Super Duty XLT
2013 Ford F-250 Super Duty FX4
2013 Ford F-250 Super Duty King Ranch
2013 Ford F-250 Super Duty Lariat
2013 Ford F-250 Super Duty Platinum
2013 Ford F-250 Super Duty XL
2013 Ford F-250 Super Duty XLT
2013 Ford F-350 XL
2013 Ford F-350 XLT
2013 Ford F-350 Super Duty King Ranch
2013 Ford F-350 Super Duty Lariat
2013 Ford F-350 Super Duty Platinum
2013 Ford F-350 Super Duty XL
2013 Ford F-350 Super Duty XLT
2012 Ford F-250 Super Duty FX4
2012 Ford F-250 Super Duty King Ranch
2012 Ford F-250 Super Duty Lariat
2012 Ford F-250 Super Duty XL
2012 Ford F-250 Super Duty XLT
2012 Ford F-350 XL
2012 Ford F-350 XLT
2012 Ford F-350 Super Duty King Ranch
2012 Ford F-350 Super Duty Lariat
2012 Ford F-350 Super Duty XL
2012 Ford F-350 Super Duty XLT
2011 Ford F-250 Super Duty FX4
2011 Ford F-250 Super Duty King Ranch
2011 Ford F-250 Super Duty Lariat
2011 Ford F-250 Super Duty XL
2011 Ford F-250 Super Duty XLT
2011 Ford F-350 XL
2011 Ford F-350 XLT
2011 Ford F-350 Super Duty King Ranch
2011 Ford F-350 Super Duty Lariat
2011 Ford F-350 Super Duty XL
2011 Ford F-350 Super Duty XLT