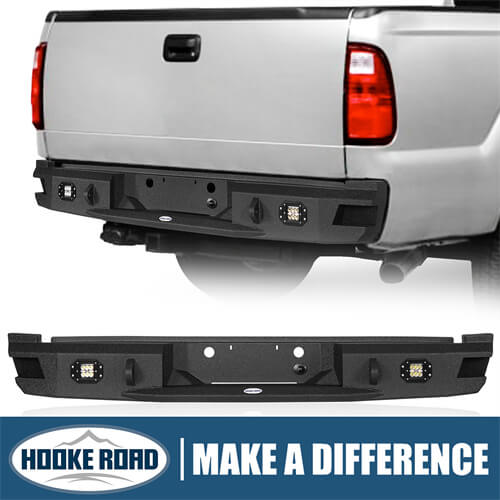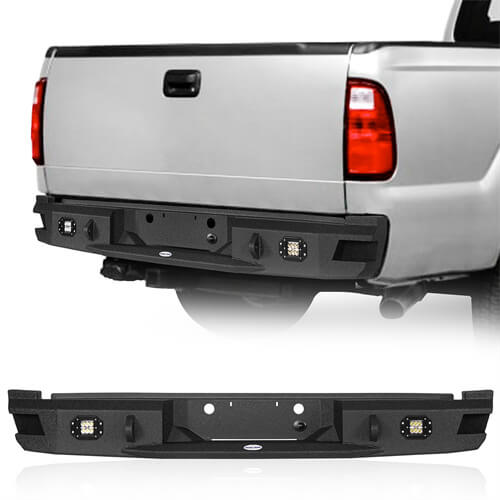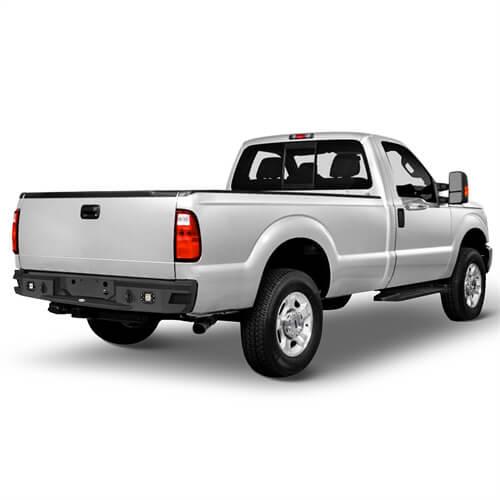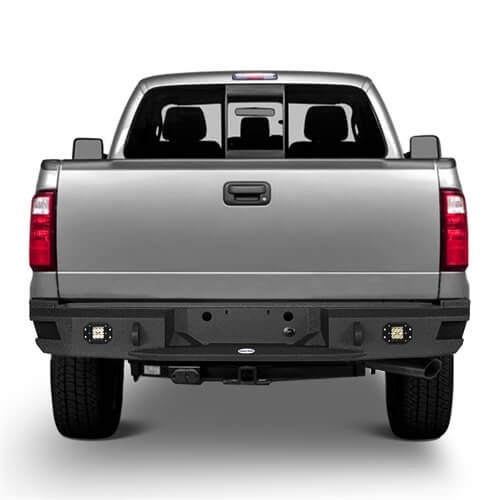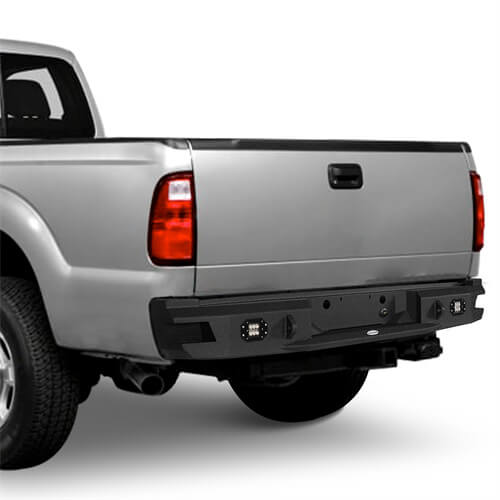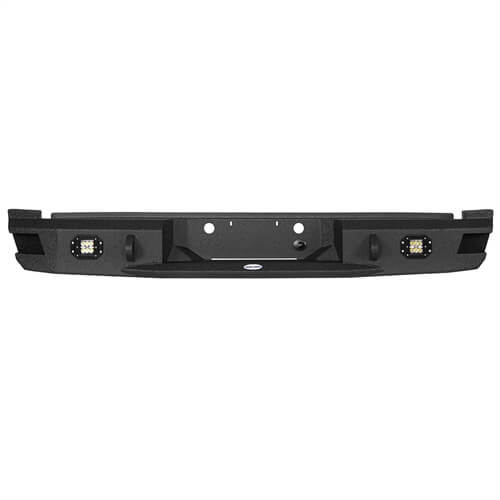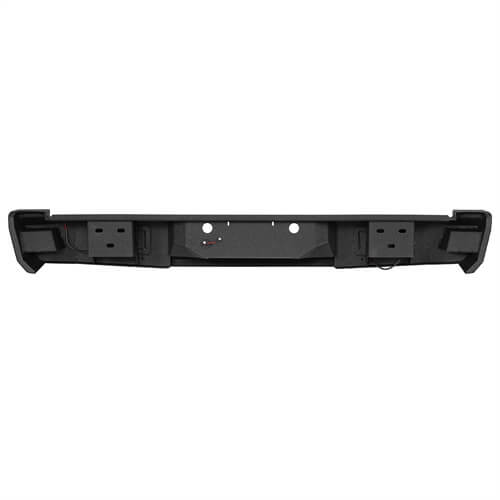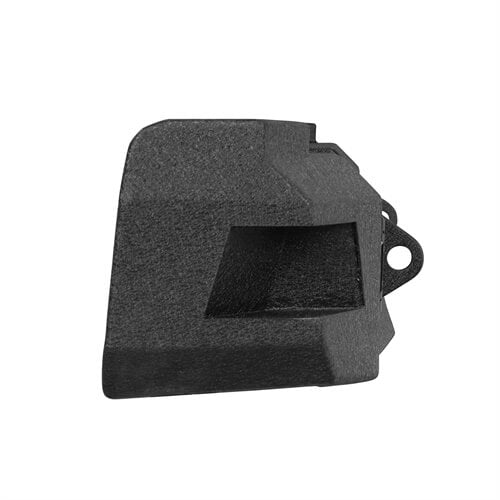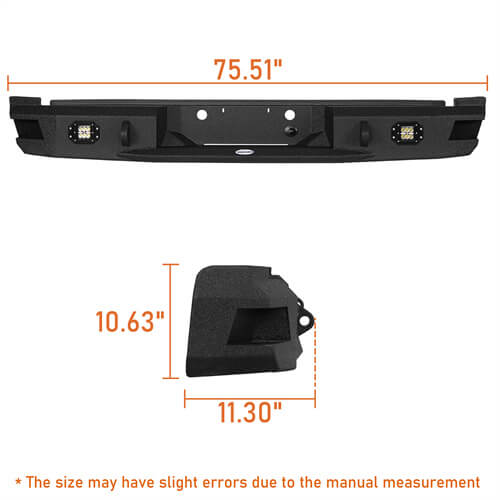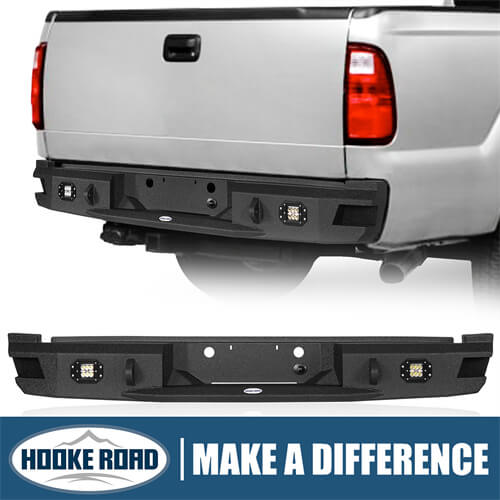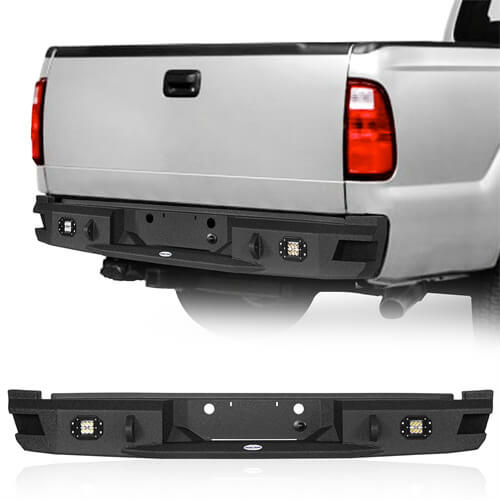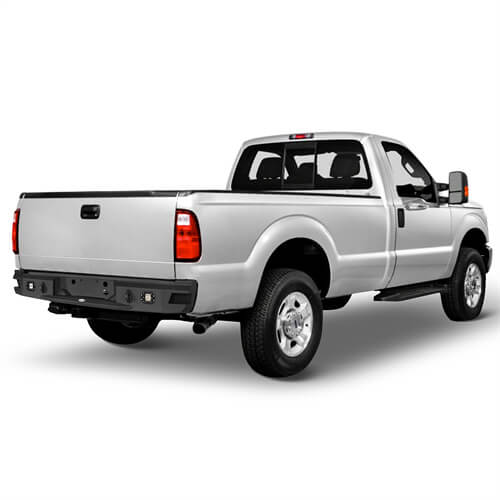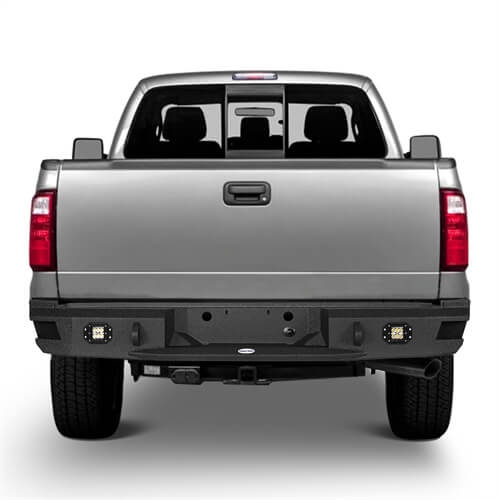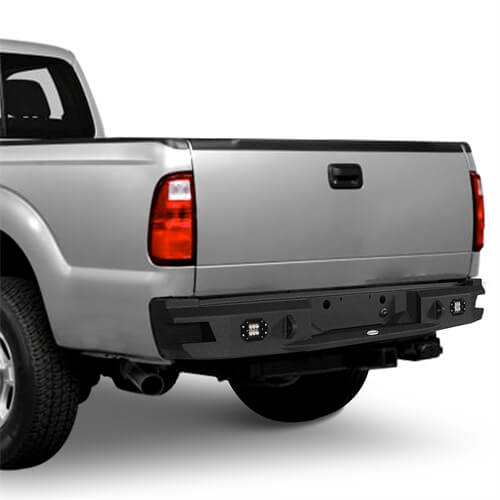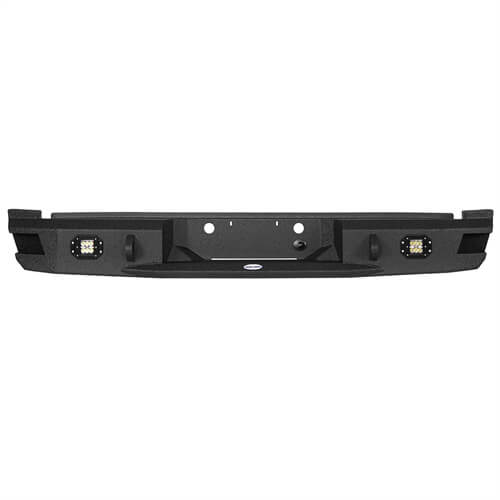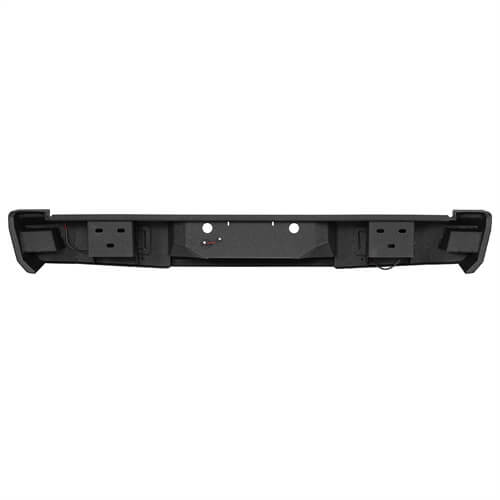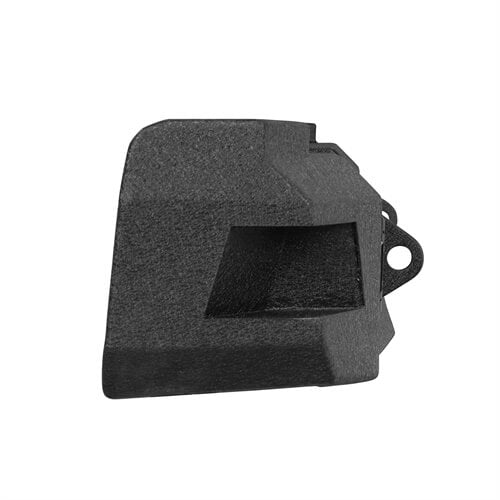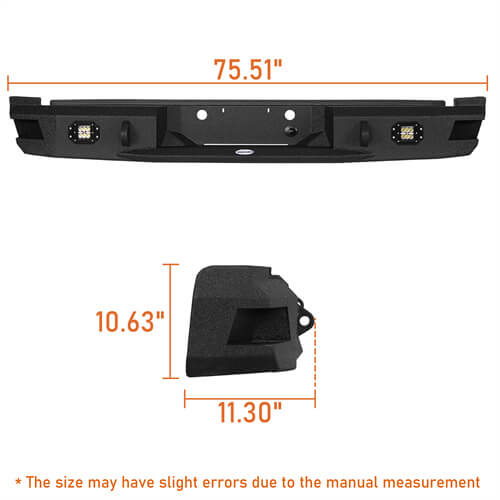 Name: Ford F-250 F-350 Rear Bumper

Please Double-check All of the Item Pictures to Purchase What you Like
Feature
Fit for 2011-2016 Ford F-250 F-350 Models; Not Compatible with Factory Backup Sensors
Bumper Weight: About 79 lbs
One-Piece, Fully-Welded Structure. Protects Rear End against Rugged Adventures.
Includes 2×18w LED White Square Floodlights
Equipped with a License Plate Light. Includes Holes for Mounting License Plate in the Middle of the Bumper.
Equipped with a 120w High Power LED Flood Spot Combo Light Bar(22 Inches) & 2×18w LED Spotlights
High Strength Shackle Mounts Welded Both Inside and Out with a 4.75-ton Capacity. Includes 9500 lbs Rated
Integrated Corner Side Steps for Convenient Access to the Truck Bed
Heavy-Duty Steel Construction: 11-Gauge(1/8 Inch) Steel for the Bumper Body, 8-Gauge(11/64 Inch) Steel for the Mounting Structure Plate and Brackets
Textured Black Powder Coat Finish & Premium E-coating Process Inside
Simple Bolt-On Installation; No Drilling is Required
Enhanced Form and Functionality. Designed to offer both form and function for your F-250 Super Duty, Hooke Road's Ford F-250 Rear Bumper is an ideal addition for serious off-roaders and more cautious drivers alike. Featuring a rugged style that helps your rig stand out from the pack, this hardcore bumper is the perfect upgrade from your boring stock bumper. Not only does the bumper look tough, but it is heavy-duty enough to easily protect your truck from serious damage from debris and obstacles, keeping your Super Duty in ideal condition.

Built from Durable Steel. Made from 8-gauge(11/64 inch) and 11-gauge(1/8 Inch) steel plates, this Ford F-250 Rear Bumper will remain intact even when you're driving in the most formidable off-road terrains. What's more, it's covered in a high-quality textured black finish, which fortifies its structure from the damaging effects of rust and corrosion.

A Straightforward Install. This Ford F-250 Rear Bumper is designed to directly bolt onto your truck's OE location, so installing it is an easy task. Durable hardware is included. The procedure can be completed in no more than 2 hours with a help of a friend.

E-Coating Process. E-coat systems can deliver a wide range of lacquer and paint finishes with a combination of state-of-the-art performance and decorative effects. The product percent of pass reaches 100% after the salt spray test.
1 x Ford F-250 Rear Bumper w/ a license plate light
2 x Mounting Brackets
2 x LED Floodlights
Mounting Hardware Kit
2016 Ford F-250 Super Duty Base
2016 Ford F-250 Super Duty King Ranch
2016 Ford F-250 Super Duty Lariat
2016 Ford F-250 Super Duty Platinum
2016 Ford F-250 Super Duty XL
2016 Ford F-250 Super Duty XLT
2016 Ford F-350 XL
2016 Ford F-350 XLT
2016 Ford F-350 Super Duty King Ranch
2016 Ford F-350 Super Duty Lariat
2016 Ford F-350 Super Duty Platinum
2016 Ford F-350 Super Duty XL
2016 Ford F-350 Super Duty XLT
2015 Ford F-250 Super Duty Base
2015 Ford F-250 Super Duty King Ranch
2015 Ford F-250 Super Duty Lariat
2015 Ford F-250 Super Duty Platinum
2015 Ford F-250 Super Duty XL
2015 Ford F-250 Super Duty XLT
2015 Ford F-350 XL
2015 Ford F-350 Super Duty King Ranch
2015 Ford F-350 Super Duty Lariat
2015 Ford F-350 Super Duty Platinum
2015 Ford F-350 Super Duty XL
2015 Ford F-350 Super Duty XLT
2014 Ford F-250 Super Duty FX4
2014 Ford F-250 Super Duty King Ranch
2014 Ford F-250 Super Duty Lariat
2014 Ford F-250 Super Duty Platinum
2014 Ford F-250 Super Duty XL
2014 Ford F-250 Super Duty XLT
2014 Ford F-350 XL
2014 Ford F-350 XLT
2014 Ford F-350 Super Duty King Ranch
2014 Ford F-350 Super Duty Lariat
2014 Ford F-350 Super Duty Platinum
2014 Ford F-350 Super Duty XL
2014 Ford F-350 Super Duty XLT
2013 Ford F-250 Super Duty FX4
2013 Ford F-250 Super Duty King Ranch
2013 Ford F-250 Super Duty Lariat
2013 Ford F-250 Super Duty Platinum
2013 Ford F-250 Super Duty XL
2013 Ford F-250 Super Duty XLT
2013 Ford F-350 XL
2013 Ford F-350 XLT
2013 Ford F-350 Super Duty King Ranch
2013 Ford F-350 Super Duty Lariat
2013 Ford F-350 Super Duty Platinum
2013 Ford F-350 Super Duty XL
2013 Ford F-350 Super Duty XLT
2012 Ford F-250 Super Duty FX4
2012 Ford F-250 Super Duty King Ranch
2012 Ford F-250 Super Duty Lariat
2012 Ford F-250 Super Duty XL
2012 Ford F-250 Super Duty XLT
2012 Ford F-350 XL
2012 Ford F-350 XLT
2012 Ford F-350 Super Duty King Ranch
2012 Ford F-350 Super Duty Lariat
2012 Ford F-350 Super Duty XL
2012 Ford F-350 Super Duty XLT
2011 Ford F-250 Super Duty FX4
2011 Ford F-250 Super Duty King Ranch
2011 Ford F-250 Super Duty Lariat
2011 Ford F-250 Super Duty XL
2011 Ford F-250 Super Duty XLT
2011 Ford F-350 XL
2011 Ford F-350 XLT
2011 Ford F-350 Super Duty King Ranch
2011 Ford F-350 Super Duty Lariat
2011 Ford F-350 Super Duty XL
2011 Ford F-350 Super Duty XLT
Package Included
1 x Ford F-250 Rear Bumper w/ a license plate light
2 x Mounting Brackets
2 x LED Floodlights
Mounting Hardware Kit
Fitment
2016 Ford F-250 Super Duty Base
2016 Ford F-250 Super Duty King Ranch
2016 Ford F-250 Super Duty Lariat
2016 Ford F-250 Super Duty Platinum
2016 Ford F-250 Super Duty XL
2016 Ford F-250 Super Duty XLT
2016 Ford F-350 XL
2016 Ford F-350 XLT
2016 Ford F-350 Super Duty King Ranch
2016 Ford F-350 Super Duty Lariat
2016 Ford F-350 Super Duty Platinum
2016 Ford F-350 Super Duty XL
2016 Ford F-350 Super Duty XLT
2015 Ford F-250 Super Duty Base
2015 Ford F-250 Super Duty King Ranch
2015 Ford F-250 Super Duty Lariat
2015 Ford F-250 Super Duty Platinum
2015 Ford F-250 Super Duty XL
2015 Ford F-250 Super Duty XLT
2015 Ford F-350 XL
2015 Ford F-350 Super Duty King Ranch
2015 Ford F-350 Super Duty Lariat
2015 Ford F-350 Super Duty Platinum
2015 Ford F-350 Super Duty XL
2015 Ford F-350 Super Duty XLT
2014 Ford F-250 Super Duty FX4
2014 Ford F-250 Super Duty King Ranch
2014 Ford F-250 Super Duty Lariat
2014 Ford F-250 Super Duty Platinum
2014 Ford F-250 Super Duty XL
2014 Ford F-250 Super Duty XLT
2014 Ford F-350 XL
2014 Ford F-350 XLT
2014 Ford F-350 Super Duty King Ranch
2014 Ford F-350 Super Duty Lariat
2014 Ford F-350 Super Duty Platinum
2014 Ford F-350 Super Duty XL
2014 Ford F-350 Super Duty XLT
2013 Ford F-250 Super Duty FX4
2013 Ford F-250 Super Duty King Ranch
2013 Ford F-250 Super Duty Lariat
2013 Ford F-250 Super Duty Platinum
2013 Ford F-250 Super Duty XL
2013 Ford F-250 Super Duty XLT
2013 Ford F-350 XL
2013 Ford F-350 XLT
2013 Ford F-350 Super Duty King Ranch
2013 Ford F-350 Super Duty Lariat
2013 Ford F-350 Super Duty Platinum
2013 Ford F-350 Super Duty XL
2013 Ford F-350 Super Duty XLT
2012 Ford F-250 Super Duty FX4
2012 Ford F-250 Super Duty King Ranch
2012 Ford F-250 Super Duty Lariat
2012 Ford F-250 Super Duty XL
2012 Ford F-250 Super Duty XLT
2012 Ford F-350 XL
2012 Ford F-350 XLT
2012 Ford F-350 Super Duty King Ranch
2012 Ford F-350 Super Duty Lariat
2012 Ford F-350 Super Duty XL
2012 Ford F-350 Super Duty XLT
2011 Ford F-250 Super Duty FX4
2011 Ford F-250 Super Duty King Ranch
2011 Ford F-250 Super Duty Lariat
2011 Ford F-250 Super Duty XL
2011 Ford F-250 Super Duty XLT
2011 Ford F-350 XL
2011 Ford F-350 XLT
2011 Ford F-350 Super Duty King Ranch
2011 Ford F-350 Super Duty Lariat
2011 Ford F-350 Super Duty XL
2011 Ford F-350 Super Duty XLT