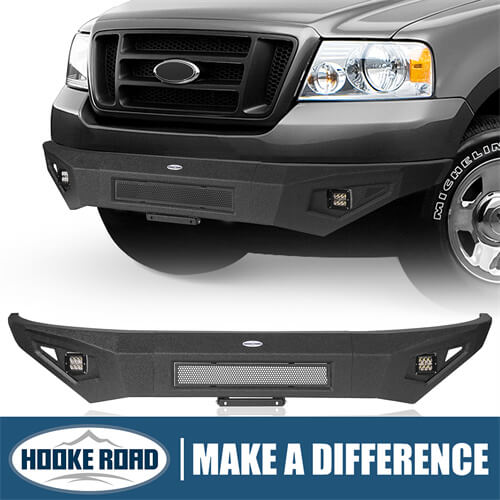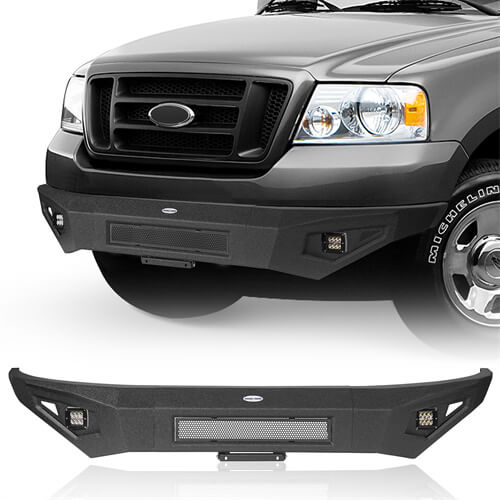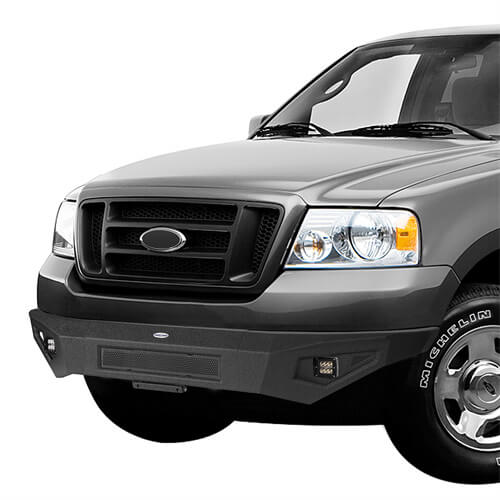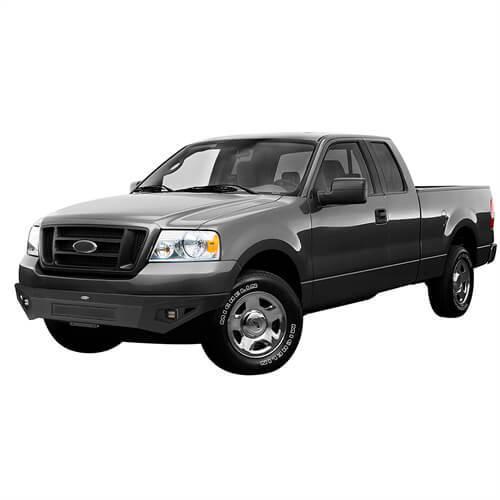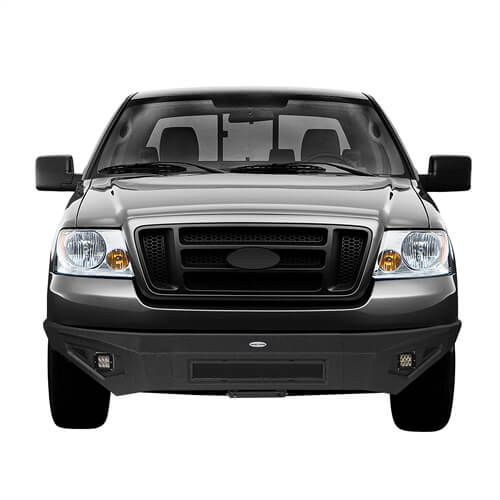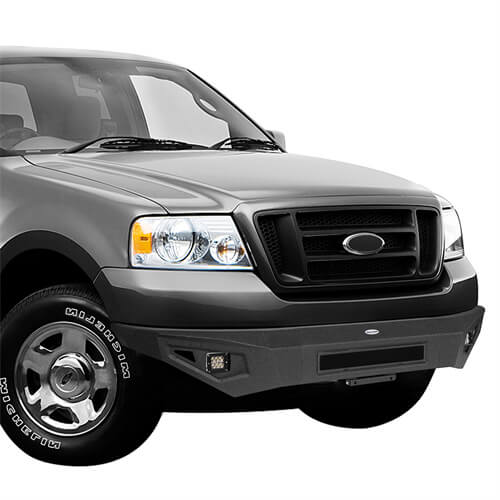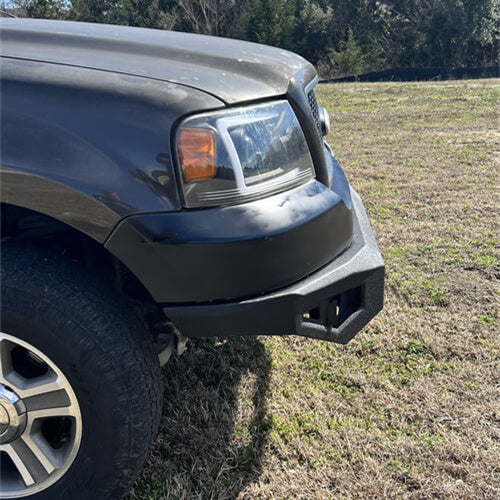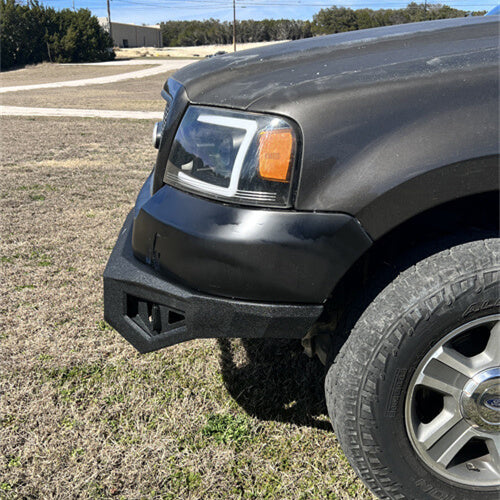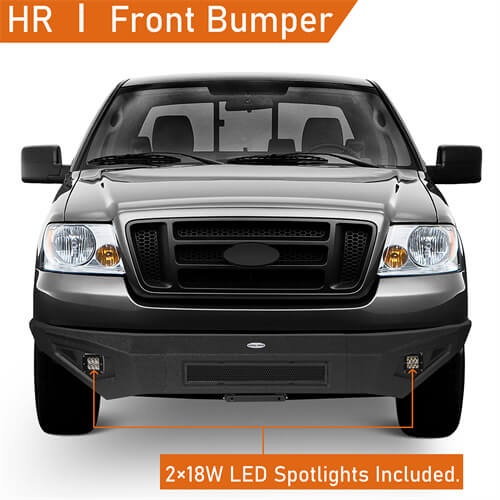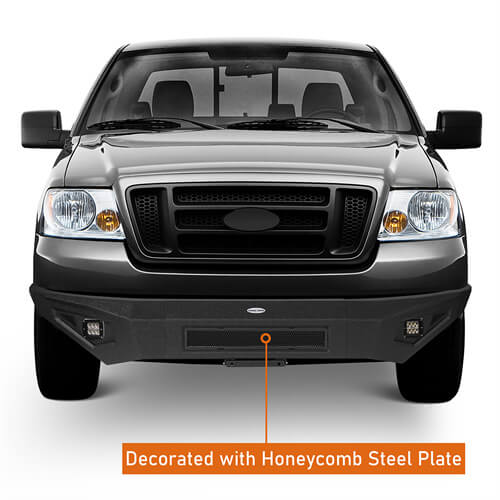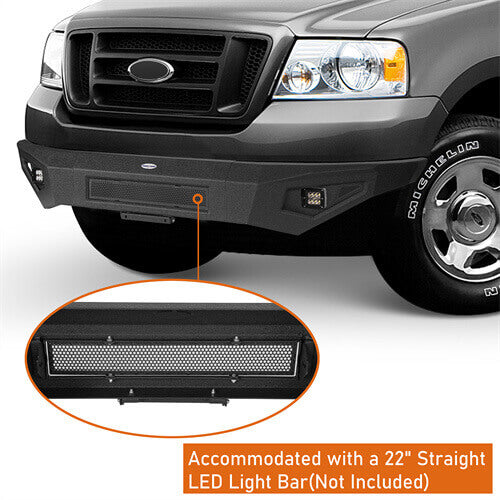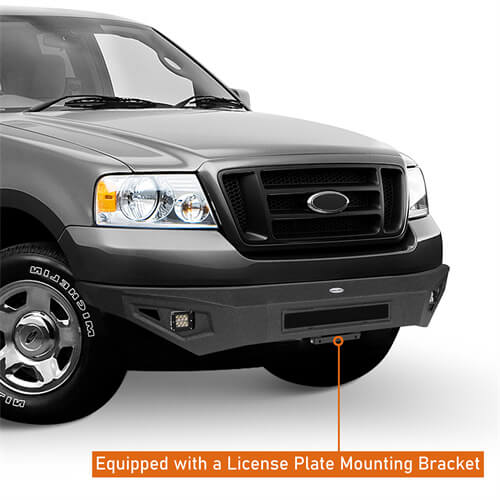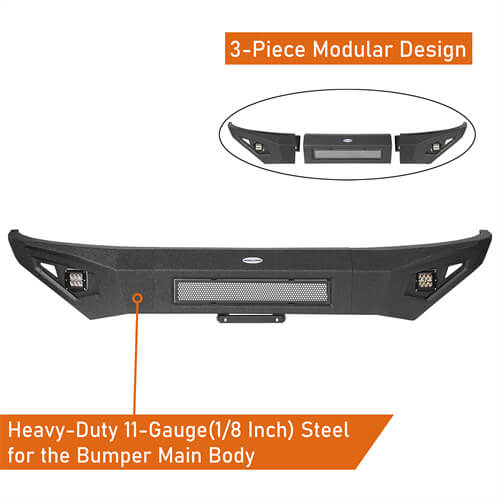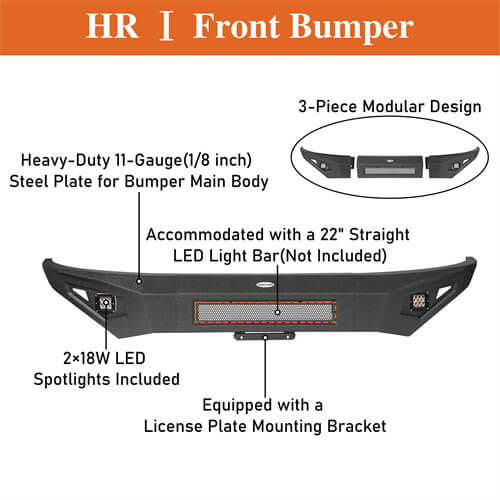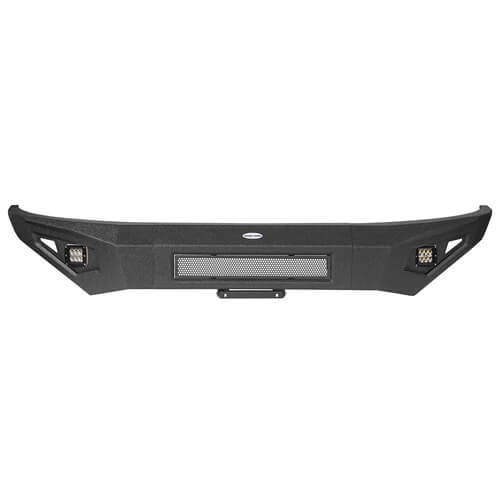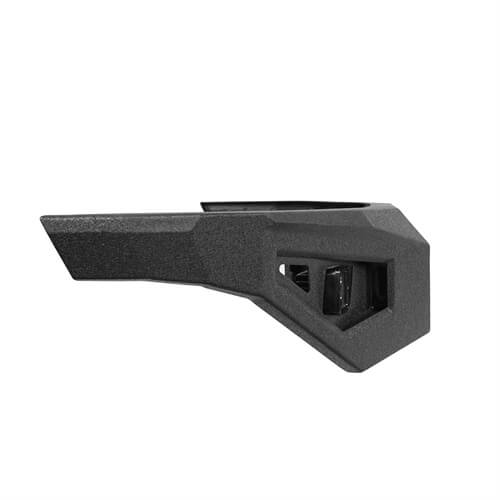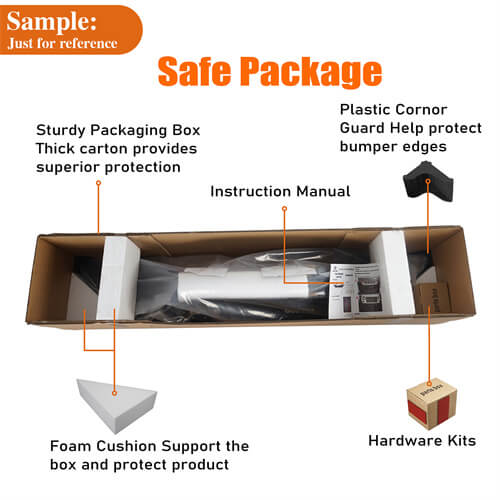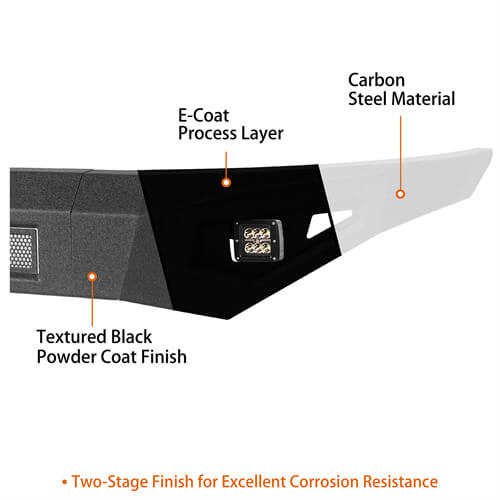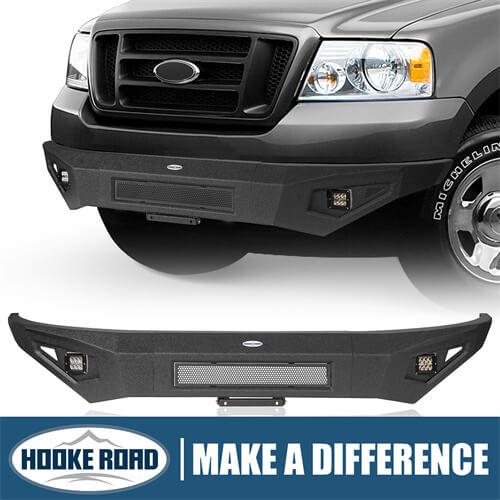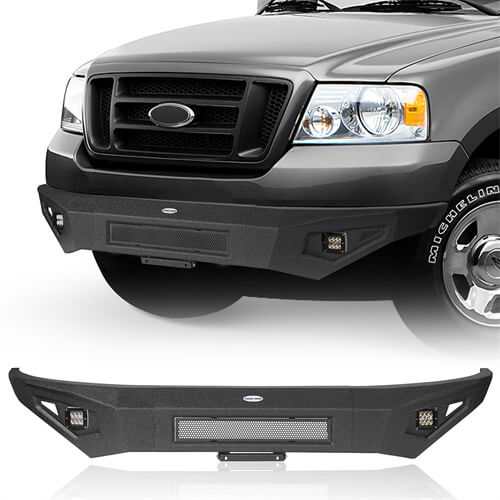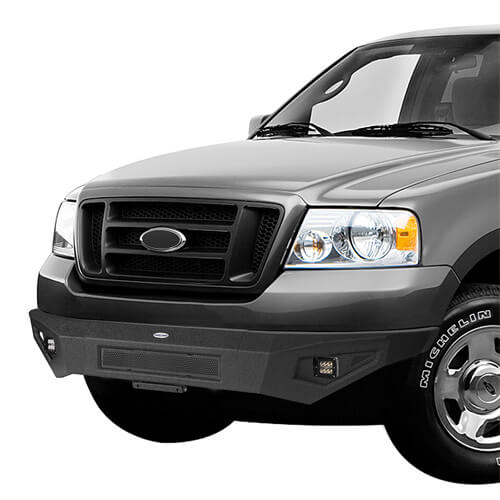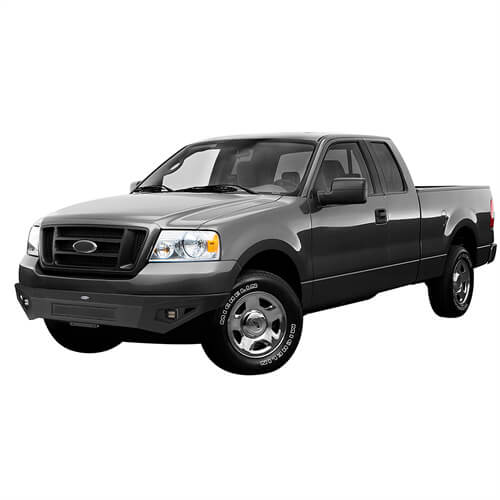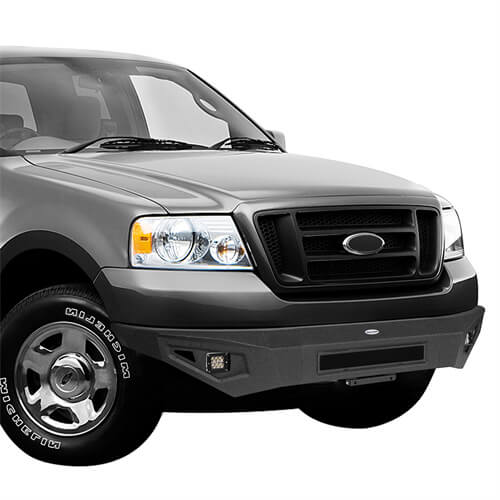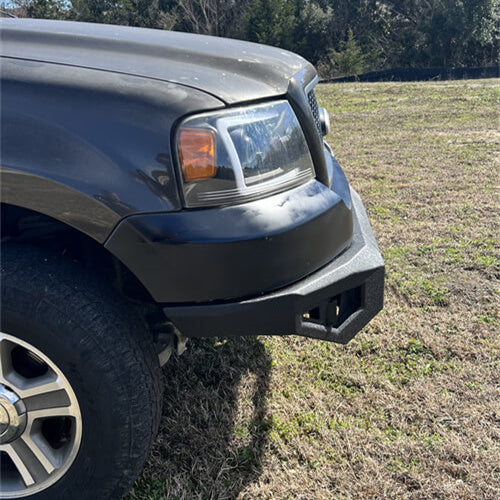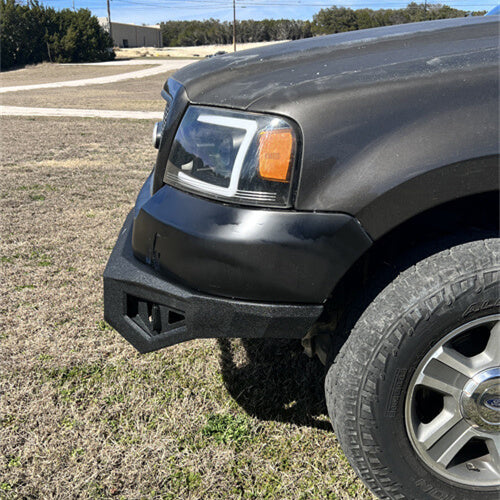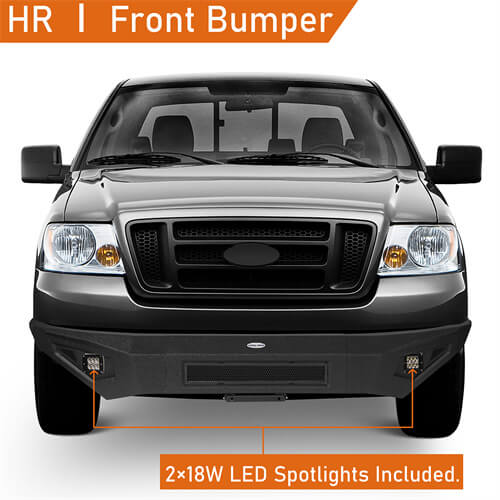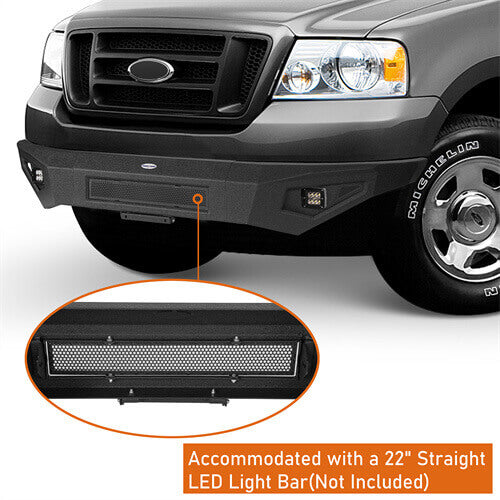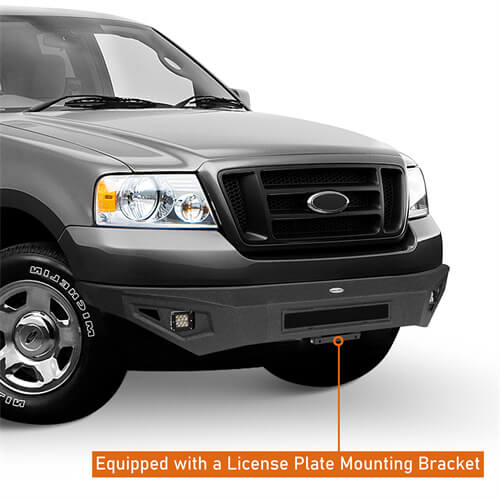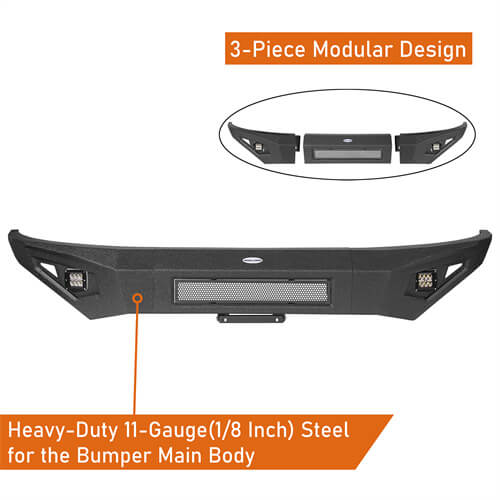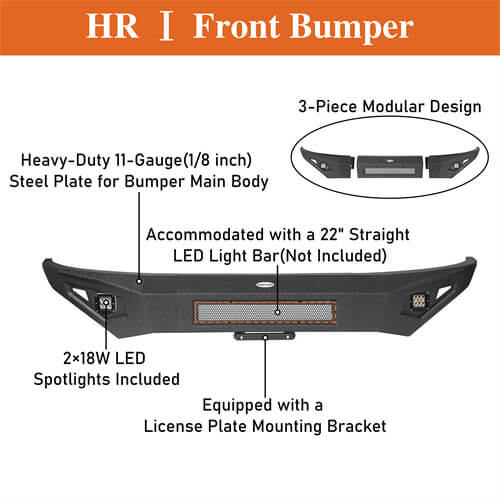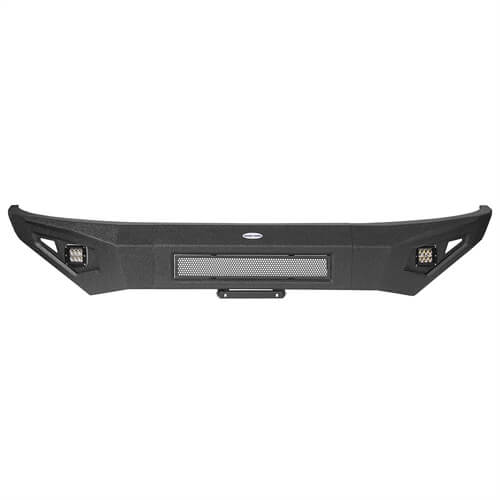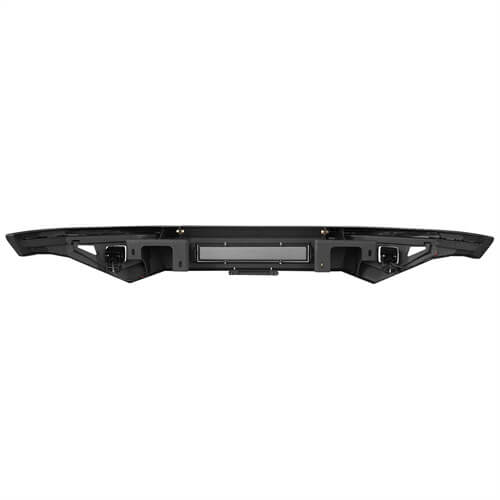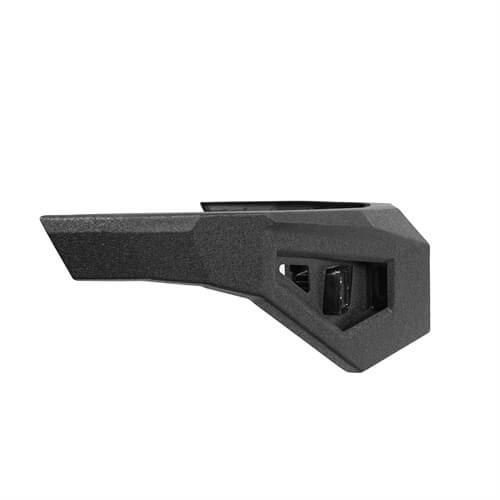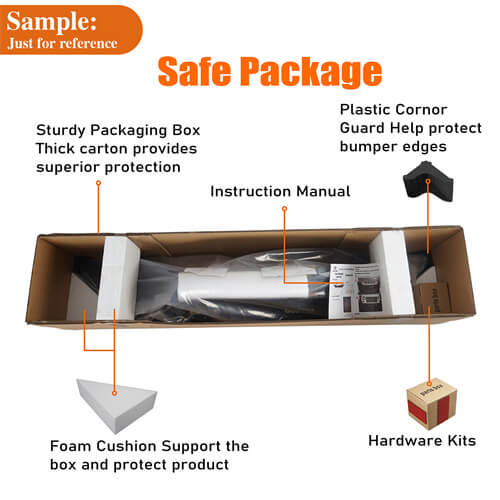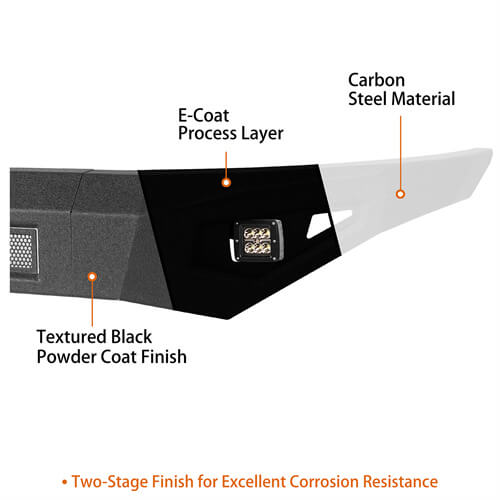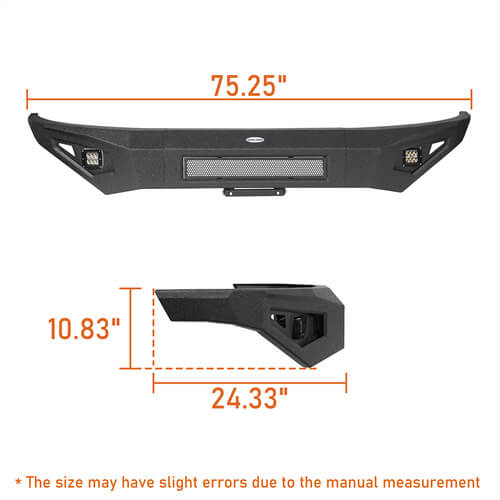 Name: Ford F-150 Off-Road Steel Full Width Front Bumper w/LED Lights
Are you looking for Ford F-150 Front Bumpers? The Hooke Road HR I Full Width Front Bumper is designed to provide both functionality and a rugged off-road appearance for your Ford F-150 04-08. This bumper features a three piece modular design. Its rugged styling enhances the overall aesthetic of your vehicle, giving it a tough and aggressive look that is perfect for off-road adventures. The bumper decorated with honeycomb steel plate features integrated 2x18W LED spotlights for enhanced visibility, and it can also accommodate  with a 22" Straight LED Light Bar(Not Included). Additionally, it comes equipped with a license plate mounting bracket, maintaining a cohesive look.
Feature
Fits for 2004-2008 Ford F-150 Models
Bumper weight: about 70 lbs, 3-piece modular design
Heavy-duty steel construction: 11-gauge(1/8 inch) plate for the bumper main body
Textured black powder coat finish & Premium E-coating process inside
Features 2×18W LED spotlights
Accommodated with a 22" straight LED light bar (not included)
Equipped with a license plate mounting bracket
Decorated with honeycomb steel plate
Easy bolt-on installation without drilling or cutting
Dimension
Something you want to know
High Quality Construction. Constructed with heavy-duty steel, this front bumper ensures durability and strength to withstand the demands of off-road driving. The bumper main body is made from 11-gauge (1/8 inch) plate, providing robust protection against potential impacts and obstacles. To enhance its longevity and resistance to corrosion, the bumper is finished with a textured black powder coat and undergoes a premium E-coating process on the inside. With a weight of approximately 70 lbs, this bumper strikes a balance between sturdiness and practicality.

Easy to install.Installing the Hooke Road HR I Full Width Front Bumper is a hassle-free process that doesn't require drilling or cutting. The bumper is designed for easy bolt-on installation, meaning it can be directly mounted to the existing factory locations on your Ford F-150 04-08. All the necessary mounting hardware is included in the package, eliminating the need for additional purchases or modifications. With its user-friendly installation process, you can quickly and easily enhance your vehicle's front-end protection and off-road capability.
1 × Front Bumper Assembly
2 × LED Spotlights
1 × License Plate Mounting Bracket
1 × Mounting Hardware Kit
1 × Installation Instruction
2008 Ford F-150 FX2
2008 Ford F-150 FX4
2008 Ford F-150 Flotillera
2008 Ford F-150 Harley-Davidson Edition
2008 Ford F-150 King Ranch
2008 Ford F-150 Lariat
2008 Ford F-150 Limited
2008 Ford F-150 STX
2008 Ford F-150 THE 60TH ANNIVERSARY EDITION
2008 Ford F-150 XL
2008 Ford F-150 XLT
2008 Ford F-150 XTR
2007 Ford F-150 FX2
2007 Ford F-150 FX4
2007 Ford F-150 Flotillera
2007 Ford F-150 Harley-Davidson Edition
2007 Ford F-150 King Ranch
2007 Ford F-150 Lariat
2007 Ford F-150 XL
2007 Ford F-150 XLT
2006 Ford F-150 FX2
2006 Ford F-150 FX4
2006 Ford F-150 Flotillera
2006 Ford F-150 Harley-Davidson Edition
2006 Ford F-150 King Ranch2006 Ford F-150 Lariat
2006 Ford F-150 STX
2006 Ford F-150 XL
2006 Ford F-150 XLT
2005 Ford F-150 FX2
2005 Ford F-150 FX4
2005 Ford F-150 Flotillera
2005 Ford F-150 Harley-Davidson Edition
2005 Ford F-150 King Ranch2006 Ford F-150 Lariat
2005 Ford F-150 STX
2005 Ford F-150 XL
2005 Ford F-150 XLT
2004 Ford F-150 FX2
2004 Ford F-150 FX4
2004 Ford F-150 Flotillera
2004 Ford F-150 Harley-Davidson Edition
2004 Ford F-150 King Ranch2006 Ford F-150 Lariat
2004 Ford F-150 STX
2004 Ford F-150 XL
2004 Ford F-150 XLT
Package Included
1 × Front Bumper Assembly
2 × LED Spotlights
1 × License Plate Mounting Bracket
1 × Mounting Hardware Kit
1 × Installation Instruction
Fitment
2008 Ford F-150 FX2
2008 Ford F-150 FX4
2008 Ford F-150 Flotillera
2008 Ford F-150 Harley-Davidson Edition
2008 Ford F-150 King Ranch
2008 Ford F-150 Lariat
2008 Ford F-150 Limited
2008 Ford F-150 STX
2008 Ford F-150 THE 60TH ANNIVERSARY EDITION
2008 Ford F-150 XL
2008 Ford F-150 XLT
2008 Ford F-150 XTR
2007 Ford F-150 FX2
2007 Ford F-150 FX4
2007 Ford F-150 Flotillera
2007 Ford F-150 Harley-Davidson Edition
2007 Ford F-150 King Ranch
2007 Ford F-150 Lariat
2007 Ford F-150 XL
2007 Ford F-150 XLT
2006 Ford F-150 FX2
2006 Ford F-150 FX4
2006 Ford F-150 Flotillera
2006 Ford F-150 Harley-Davidson Edition
2006 Ford F-150 King Ranch2006 Ford F-150 Lariat
2006 Ford F-150 STX
2006 Ford F-150 XL
2006 Ford F-150 XLT
2005 Ford F-150 FX2
2005 Ford F-150 FX4
2005 Ford F-150 Flotillera
2005 Ford F-150 Harley-Davidson Edition
2005 Ford F-150 King Ranch2006 Ford F-150 Lariat
2005 Ford F-150 STX
2005 Ford F-150 XL
2005 Ford F-150 XLT
2004 Ford F-150 FX2
2004 Ford F-150 FX4
2004 Ford F-150 Flotillera
2004 Ford F-150 Harley-Davidson Edition
2004 Ford F-150 King Ranch2006 Ford F-150 Lariat
2004 Ford F-150 STX
2004 Ford F-150 XL
2004 Ford F-150 XLT