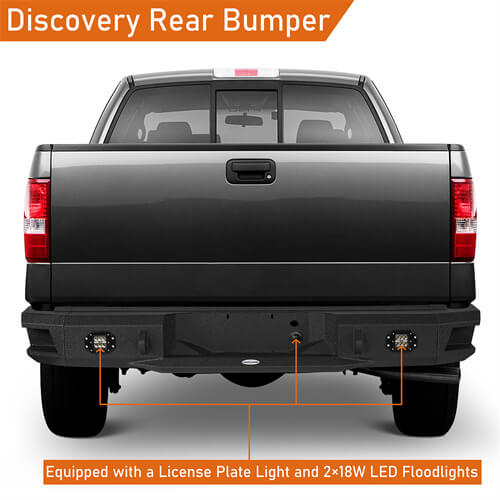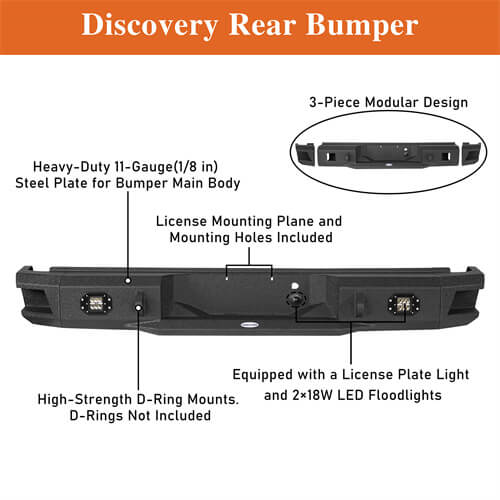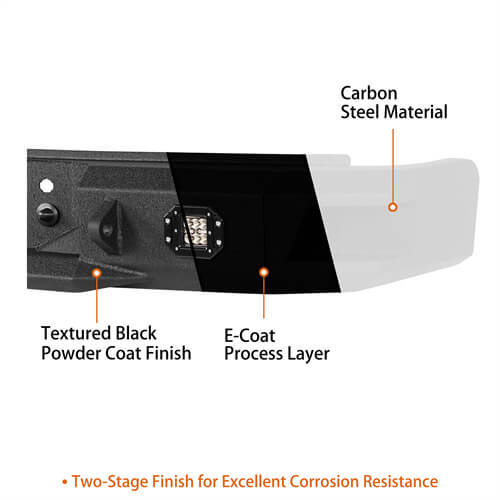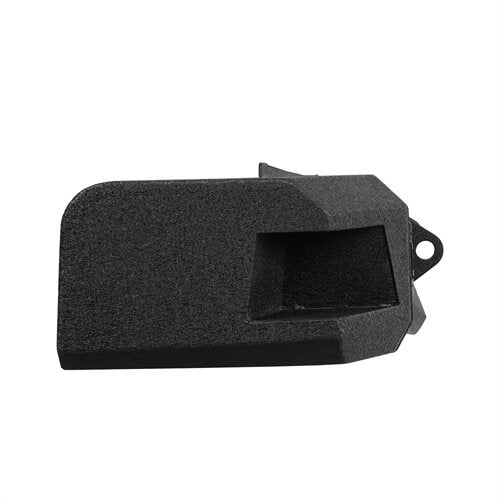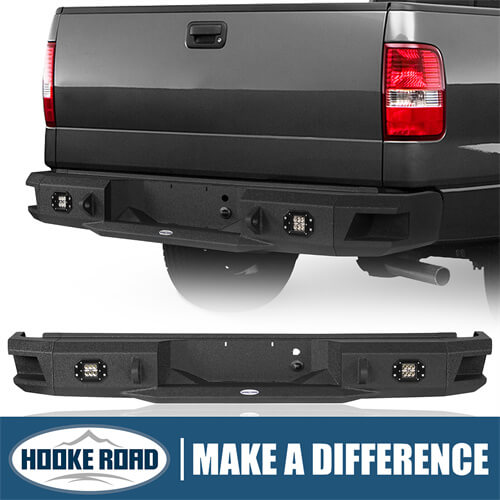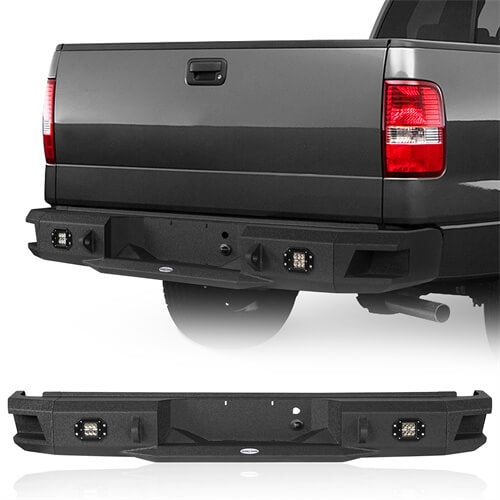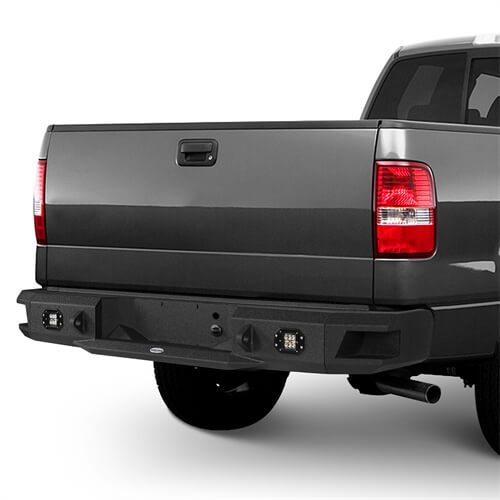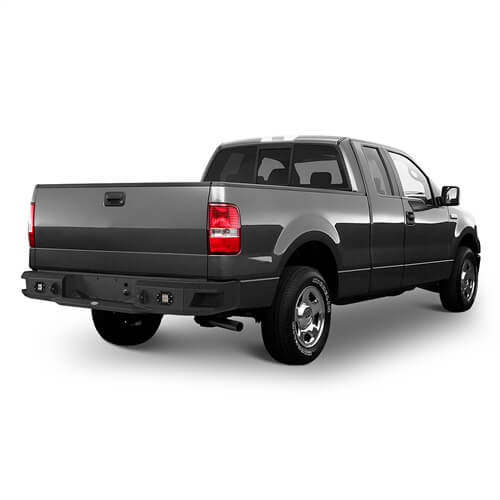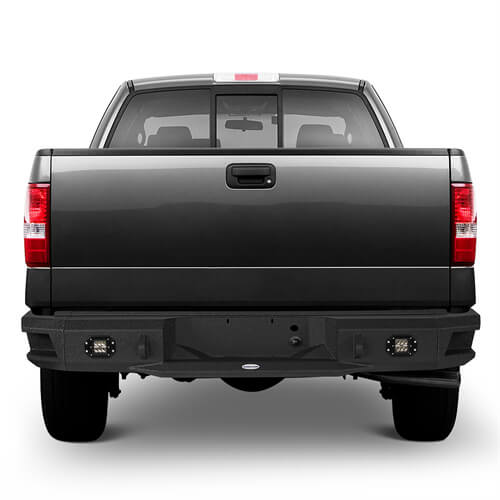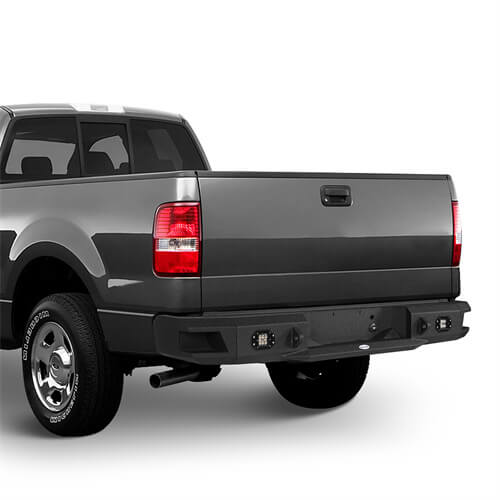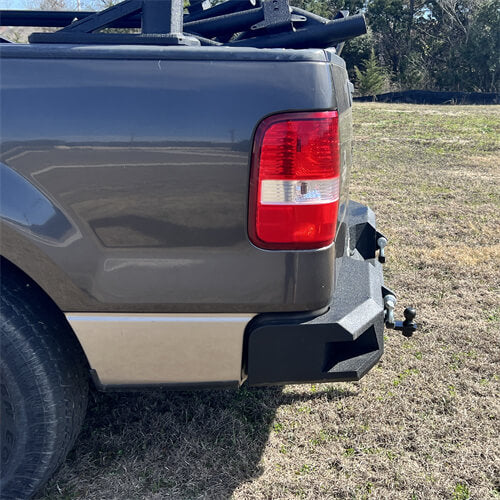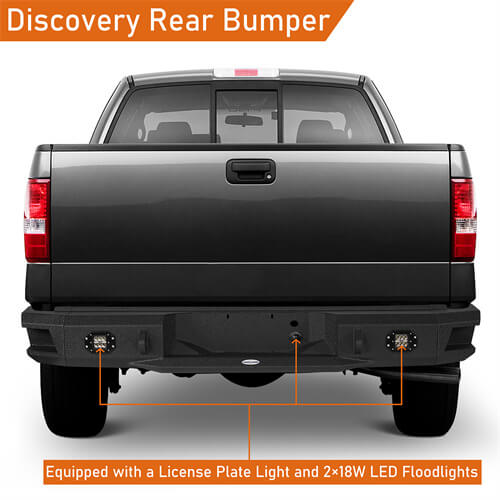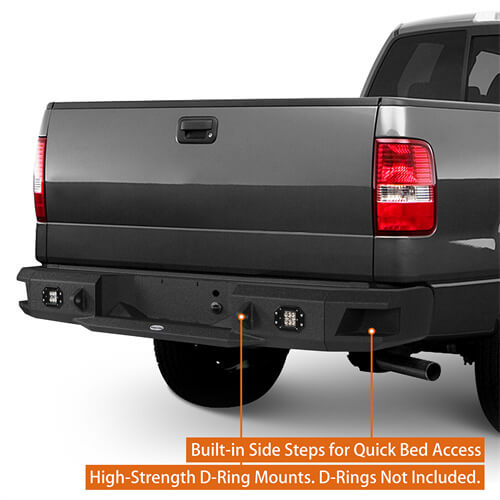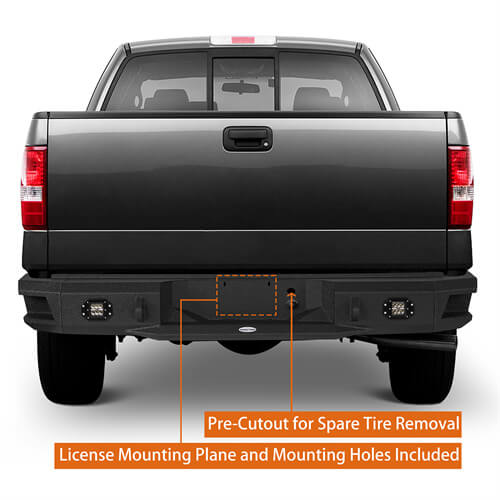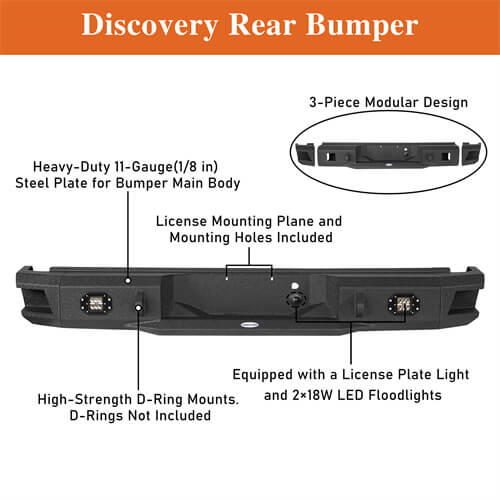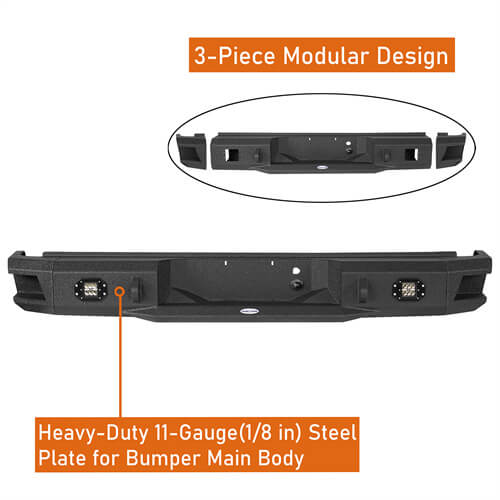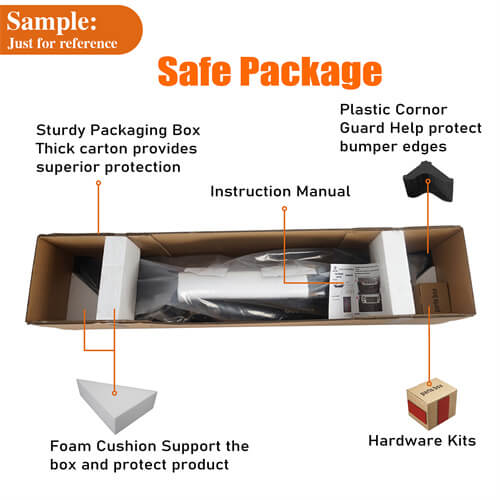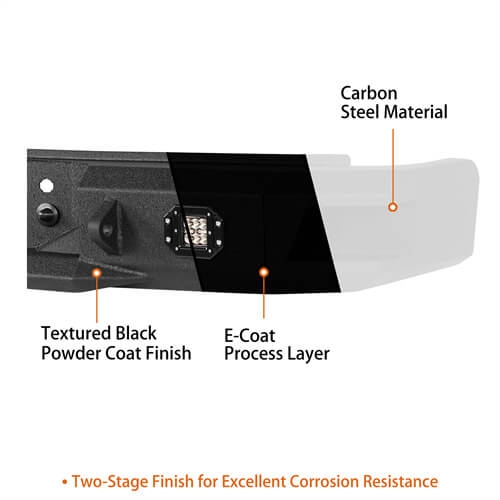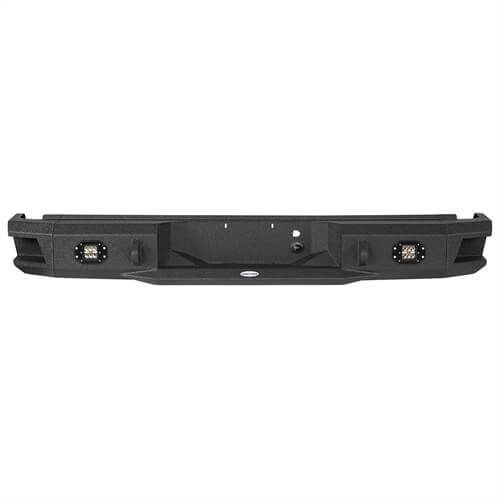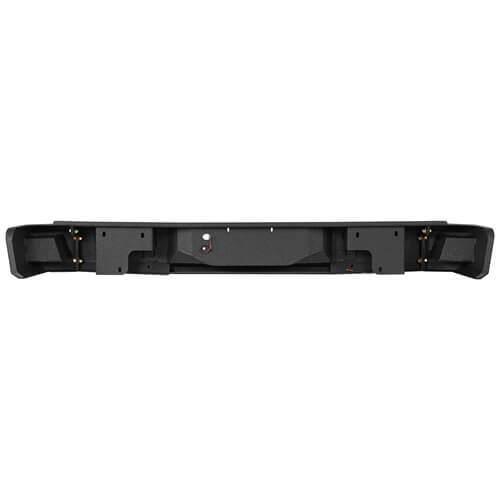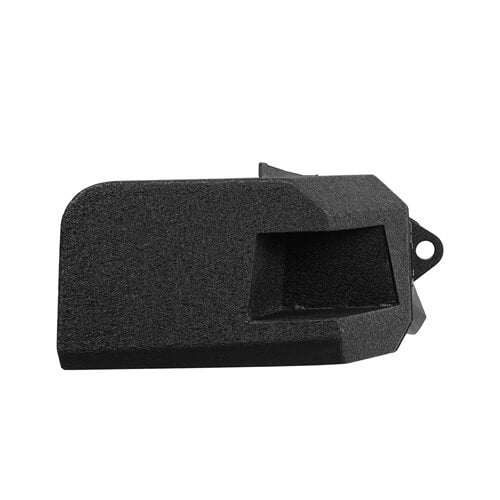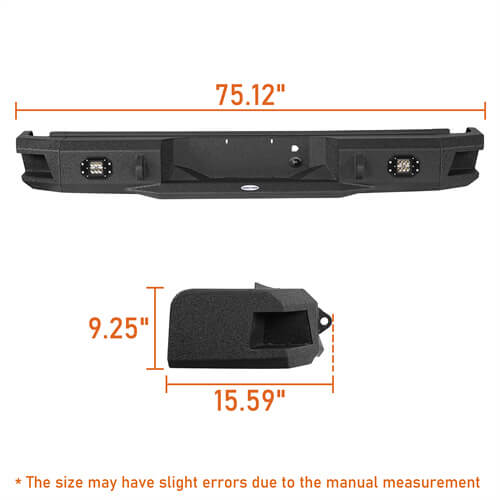 Name: 06-08 Ford F-150 Off-Road Steel Rear Bumper w/License Plate Light

Are you looking or Ford F-150 Rear Bumpers? The Hooke Road Discovery Rear Bumper is not just any accessory, but a remarkable addition to the your truck. The bumper's 3-piece modular design gives it a sleek appearance that enhances the vehicle's overall look while providing functional protection for the rear end. The bumper comes with a license plate light and two 18w LED floodlights that make it ideal for use in low-light conditions. The inclusion of a license plate placing plane and mounting holes means that the installer won't have to go through the hassle of drilling new holes, making installation much easier.

Feature
Fits for 2006-2008 Ford F-150 Models
Bumper weight: about 74 lbs, 3-piece modular design
Heavy-duty, high tensile 11-gauge(1/8 inch) steel for the bumper main body
Textured black powder coat finish & Premium E-coating process inside
Includes a license plate light and 2×18w LED floodlights
License plate placing plane and mounting holes included
Works with the factory hitch receiver
Equipped with a pre-cutout for spare tire removal
Features high strength D-ring mounts, D-rings not included.
Integrated center and side steps for convenient access to the truck bed
Simple bolt-on installation
Dimension
Something you want to know
Heavy-Duty Steel Construction. The Discovery Rear Bumper is constructed using heavy-duty, high tensile 11-gauge (1/8 inch) steel, which guarantees that it can handle even the toughest impacts. The bumper's textured black powder coat finish and premium E-coating process on the inside make it resistant to corrosion, ensuring its longevity and aesthetic appeal. The bumper's weight, which is about 74 lbs, further illustrates its robustness and durability, making it an excellent investment for any truck owner looking for reliable rear-end protection.

Direct-Fit Installation. To install this rear bumper, you only need basic hand tools as there is no need for drilling or cutting. Firstly, remove the factory bumper, then place the new bumper onto the vehicle's frame and keep the bolts loose. Finally, adjust the position of the bumper and tighten all bolts. The whole process usually takes around 2 hours.
1 × Rear Bumper
1 × License Plate Light & 2 × LED Floodlights
1 × Mounting Hardware Kit
1 × Installation Instruction
2008 Ford F-150 FX2
2008 Ford F-150 FX4
2008 Ford F-150 Flotillera
2008 Ford F-150 Harley-Davidson Edition
2008 Ford F-150 King Ranch
2008 Ford F-150 Lariat
2008 Ford F-150 Limited
2008 Ford F-150 STX
2008 Ford F-150 THE 60TH ANNIVERSARY EDITION
2008 Ford F-150 XL
2008 Ford F-150 XLT
2008 Ford F-150 XTR
2007 Ford F-150 FX2
2007 Ford F-150 FX4
2007 Ford F-150 Flotillera
2007 Ford F-150 Harley-Davidson Edition
2007 Ford F-150 King Ranch
2007 Ford F-150 Lariat
2007 Ford F-150 STX
2007 Ford F-150 XL
2007 Ford F-150 XLT
2006 Ford F-150 FX2
2006 Ford F-150 FX4
2006 Ford F-150 Flotillera
2006 Ford F-150 Harley-Davidson Edition
2006 Ford F-150 King Ranch2006 Ford F-150 Lariat
2006 Ford F-150 STX
2006 Ford F-150 XL
2006 Ford F-150 XLT
Package Included
1 × Rear Bumper
1 × License Plate Light & 2 × LED Floodlights
1 × Mounting Hardware Kit
1 × Installation Instruction
Fitment
2008 Ford F-150 FX2
2008 Ford F-150 FX4
2008 Ford F-150 Flotillera
2008 Ford F-150 Harley-Davidson Edition
2008 Ford F-150 King Ranch
2008 Ford F-150 Lariat
2008 Ford F-150 Limited
2008 Ford F-150 STX
2008 Ford F-150 THE 60TH ANNIVERSARY EDITION
2008 Ford F-150 XL
2008 Ford F-150 XLT
2008 Ford F-150 XTR
2007 Ford F-150 FX2
2007 Ford F-150 FX4
2007 Ford F-150 Flotillera
2007 Ford F-150 Harley-Davidson Edition
2007 Ford F-150 King Ranch
2007 Ford F-150 Lariat
2007 Ford F-150 STX
2007 Ford F-150 XL
2007 Ford F-150 XLT
2006 Ford F-150 FX2
2006 Ford F-150 FX4
2006 Ford F-150 Flotillera
2006 Ford F-150 Harley-Davidson Edition
2006 Ford F-150 King Ranch2006 Ford F-150 Lariat
2006 Ford F-150 STX
2006 Ford F-150 XL
2006 Ford F-150 XLT