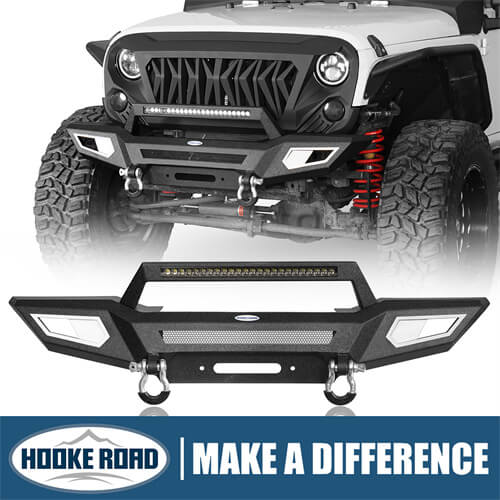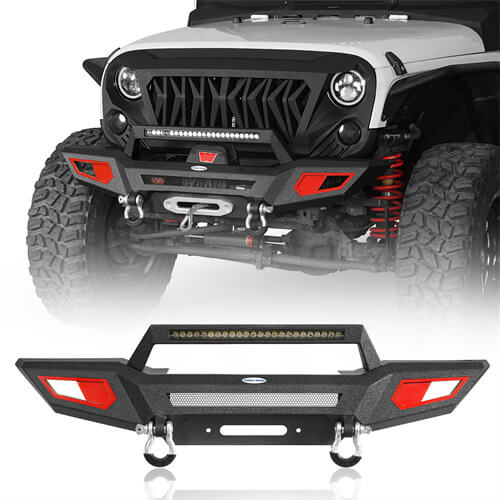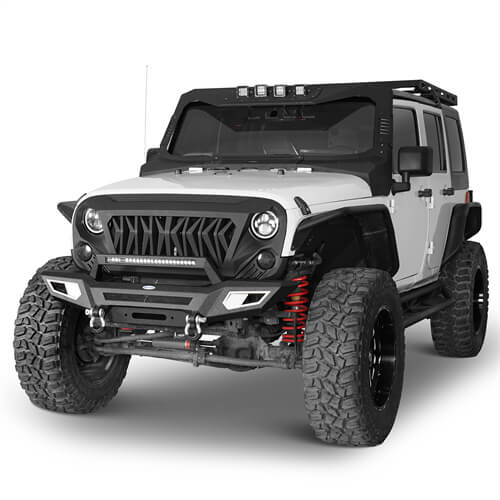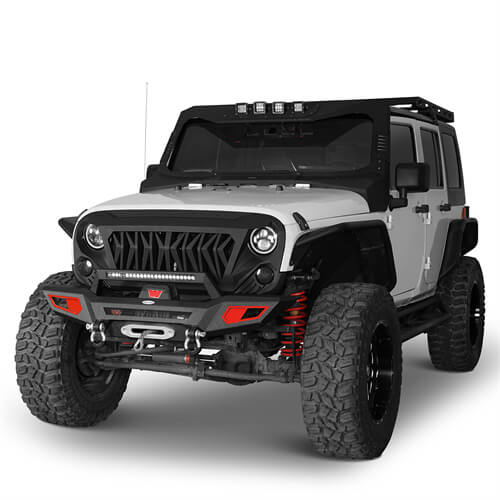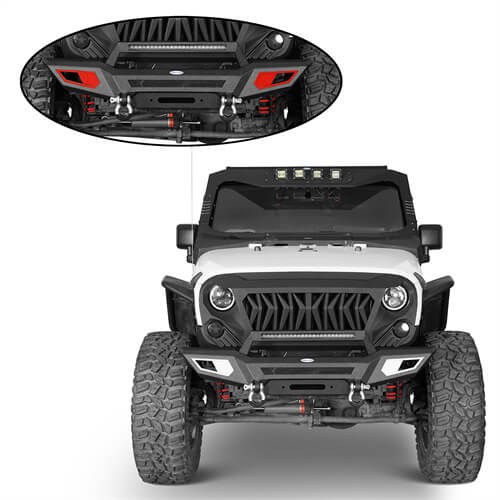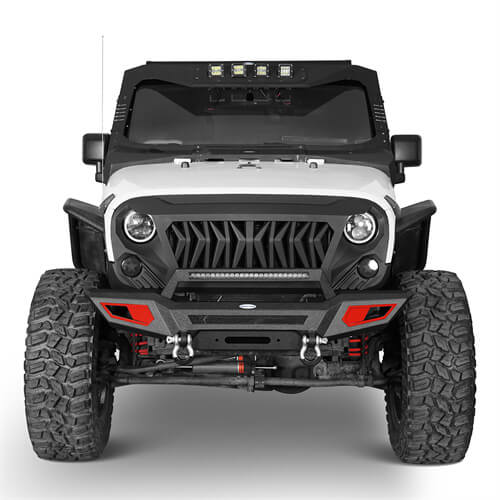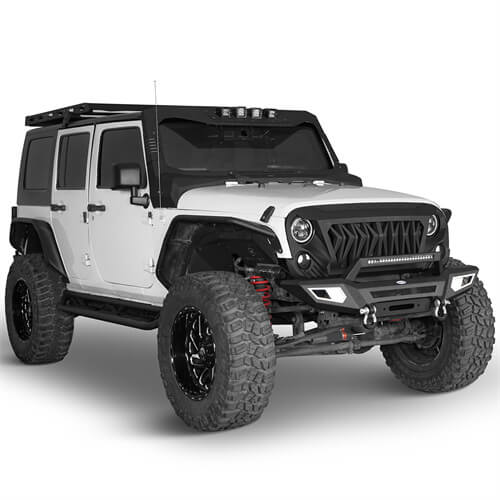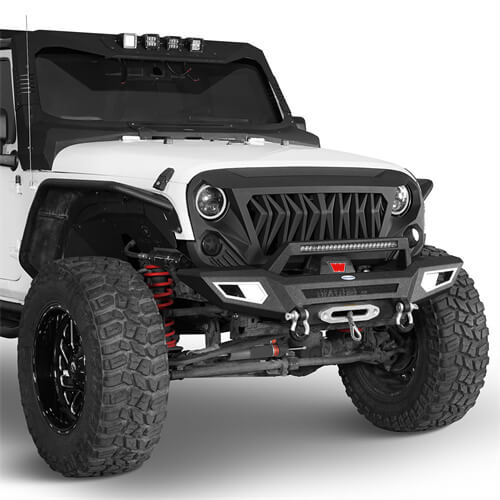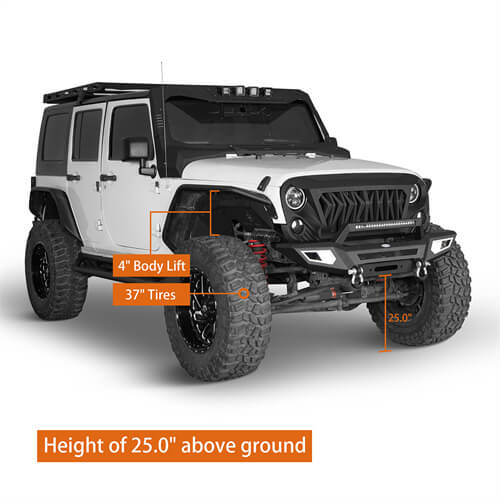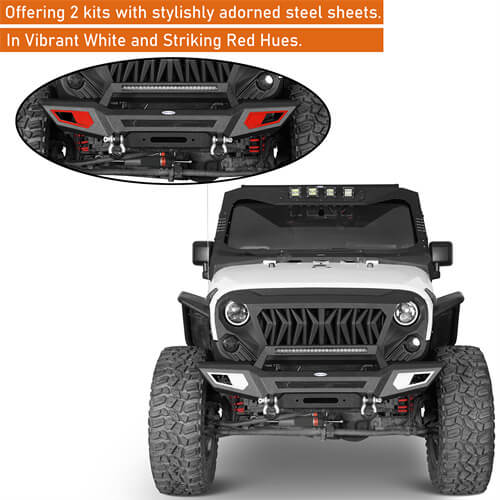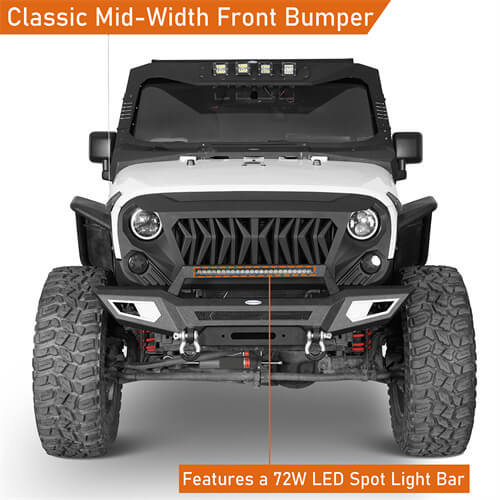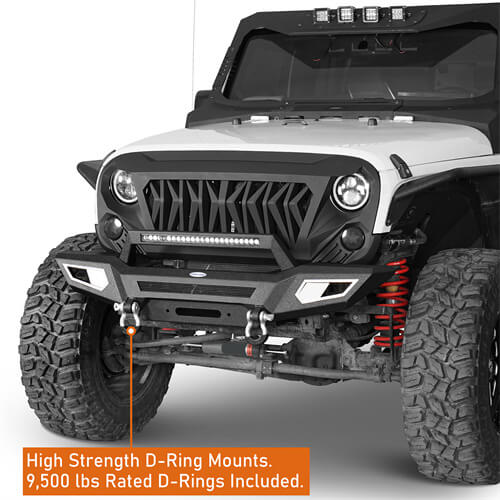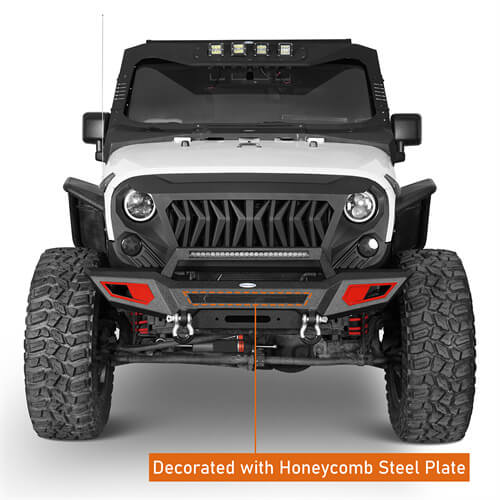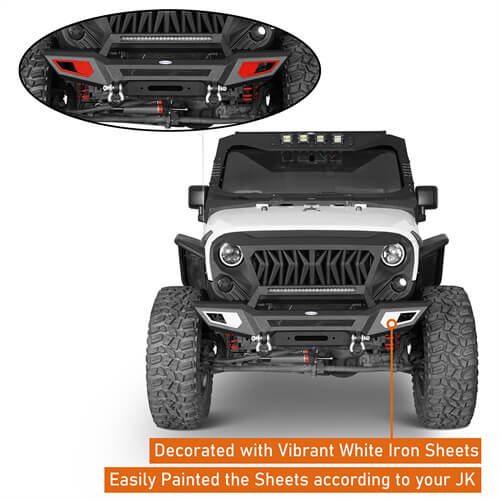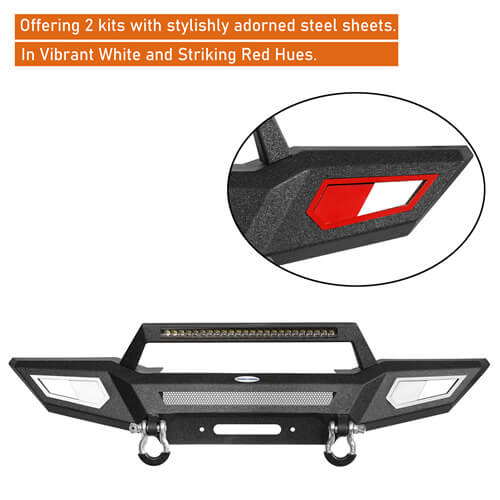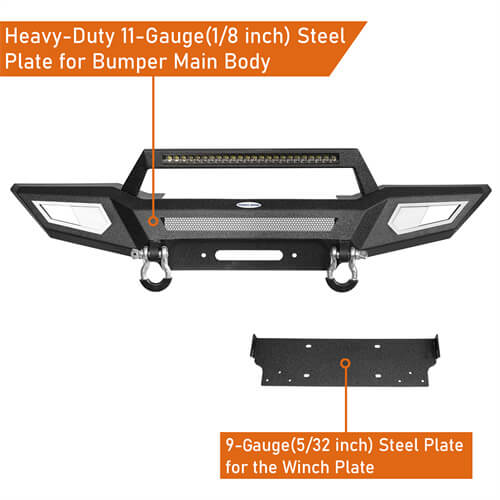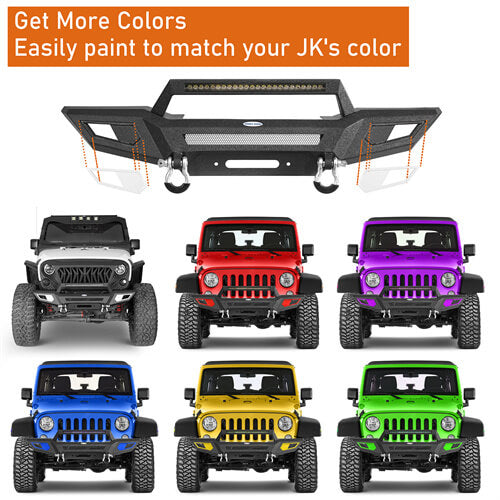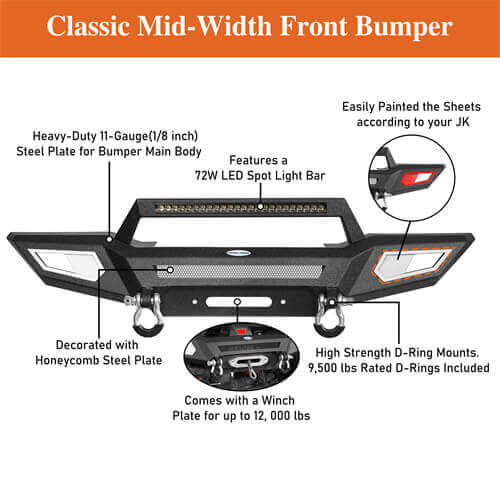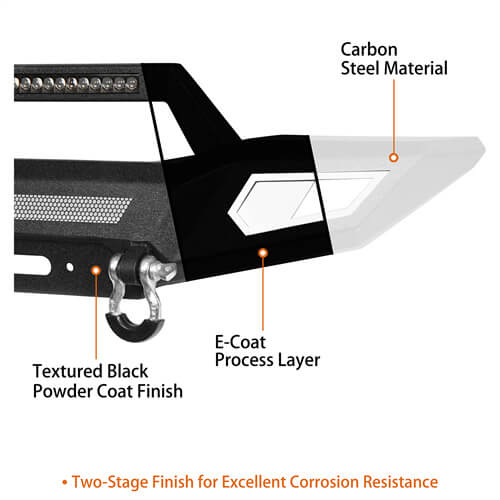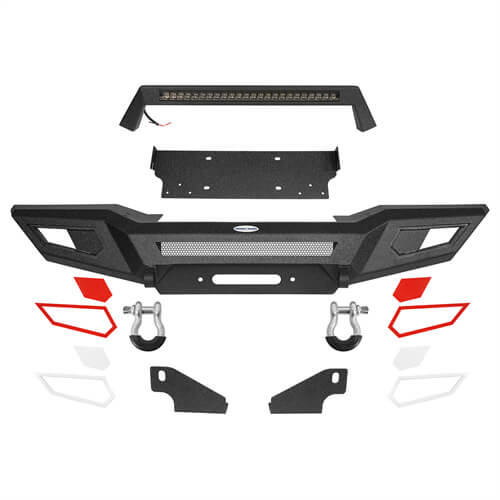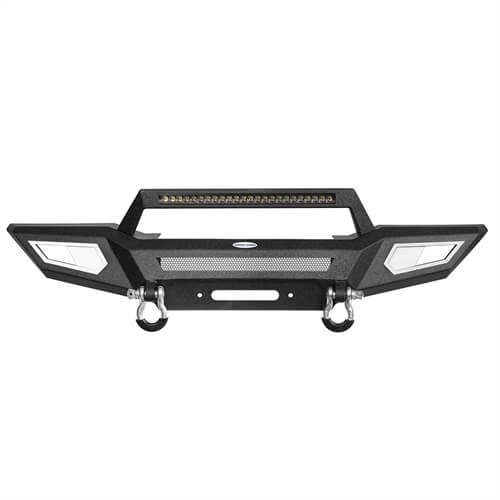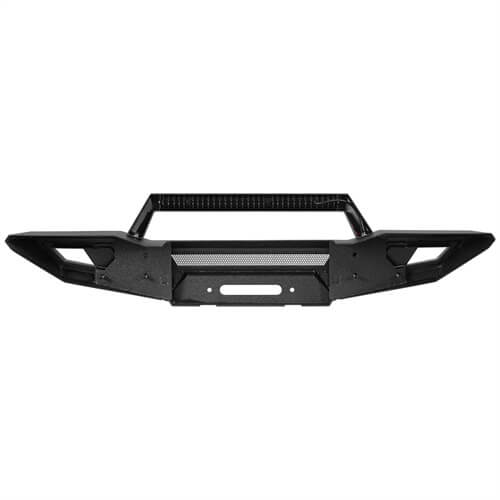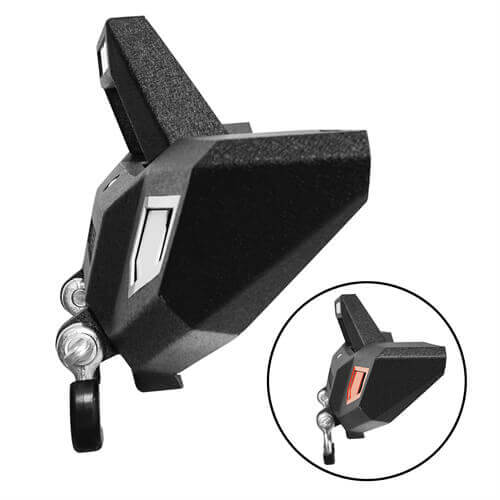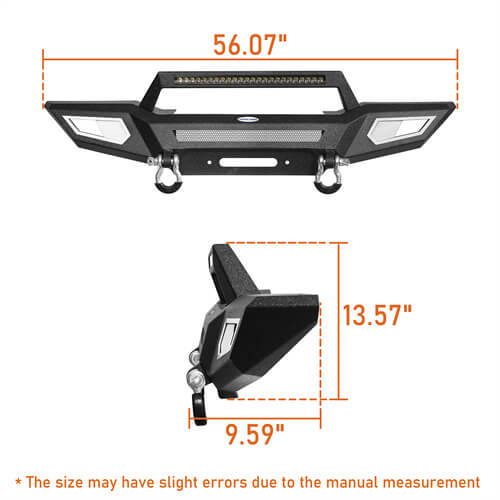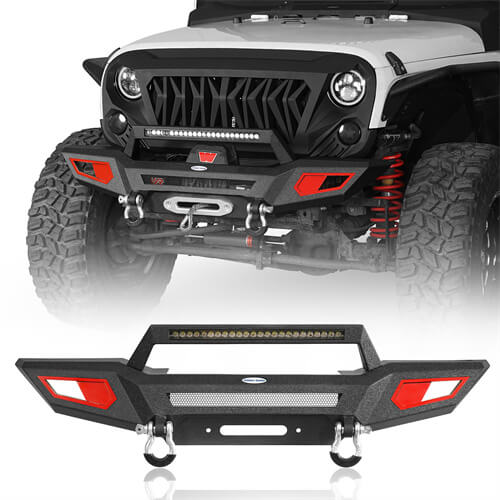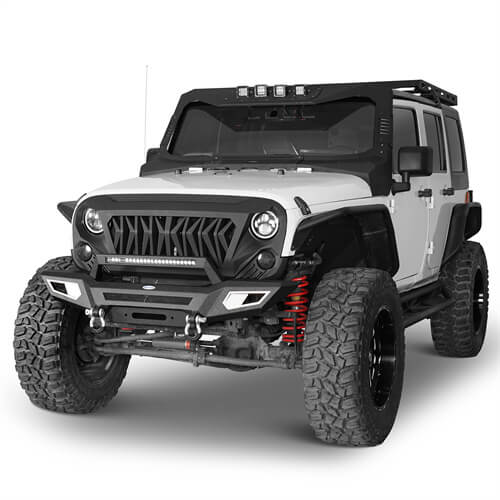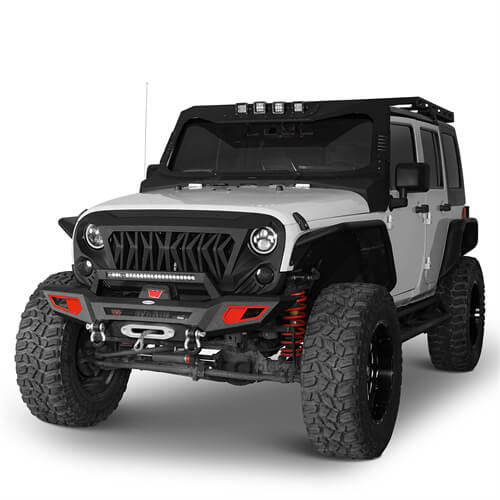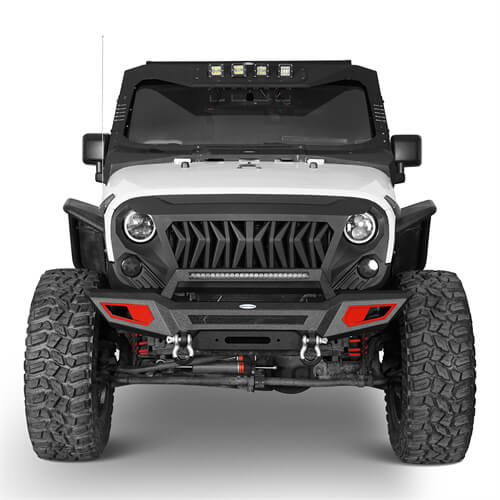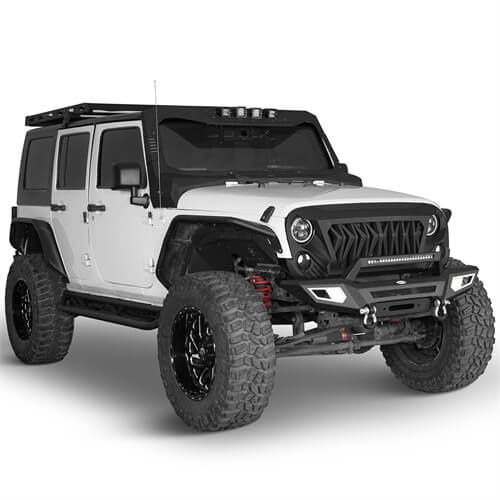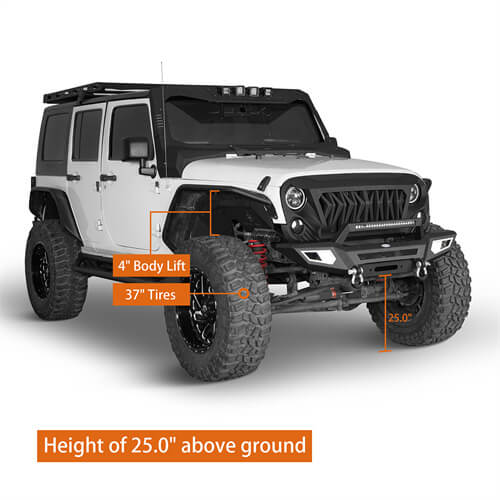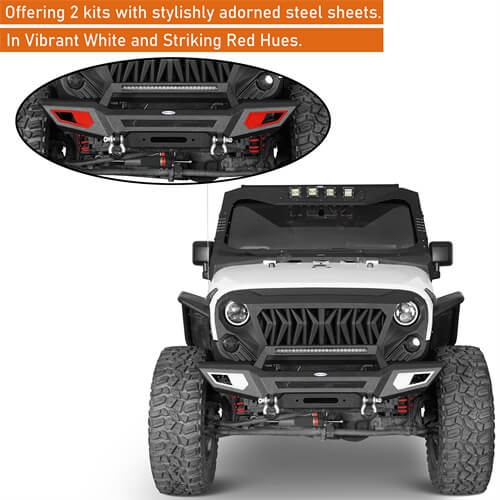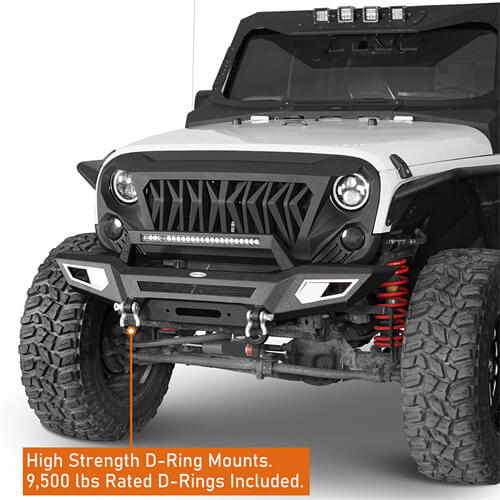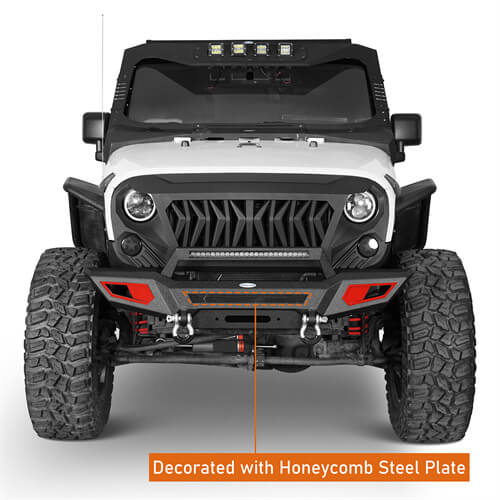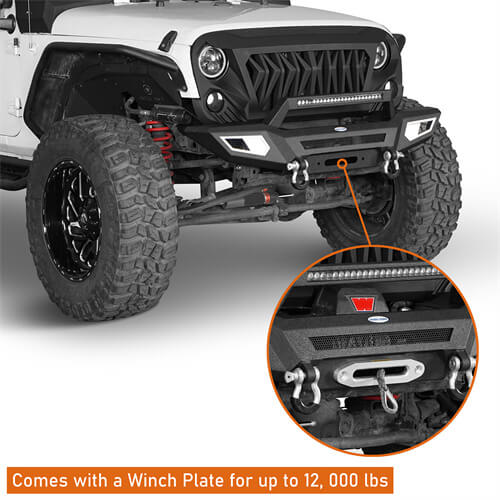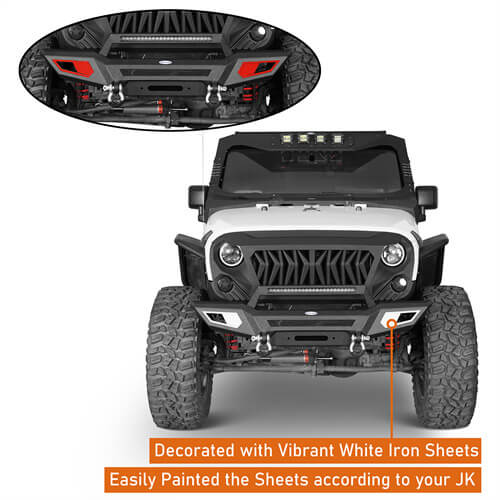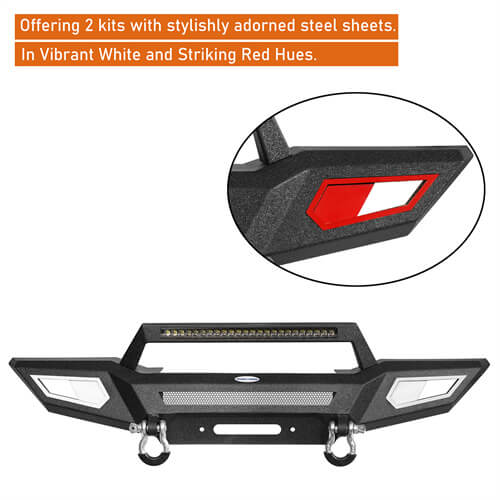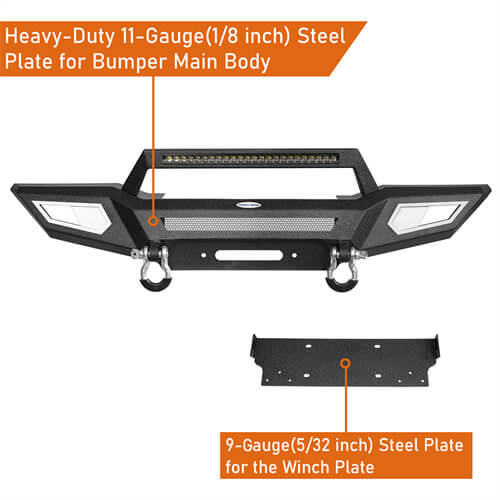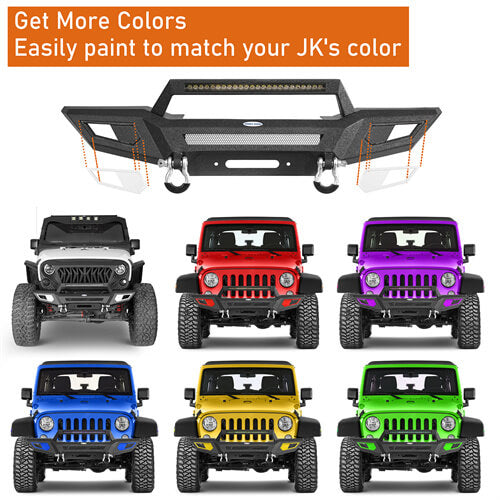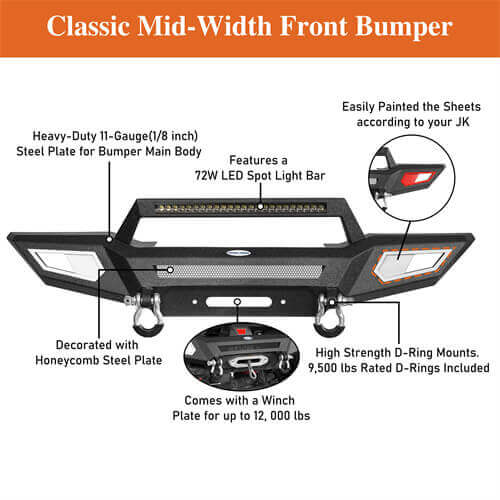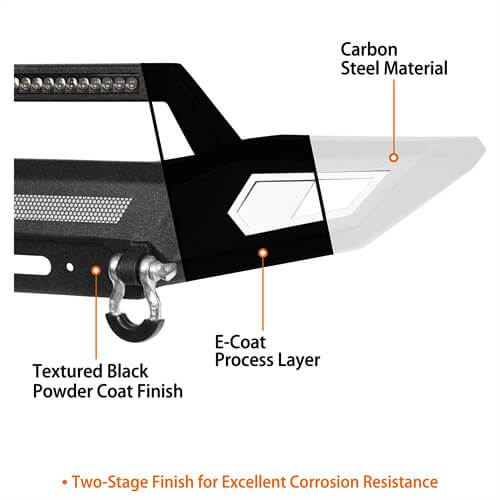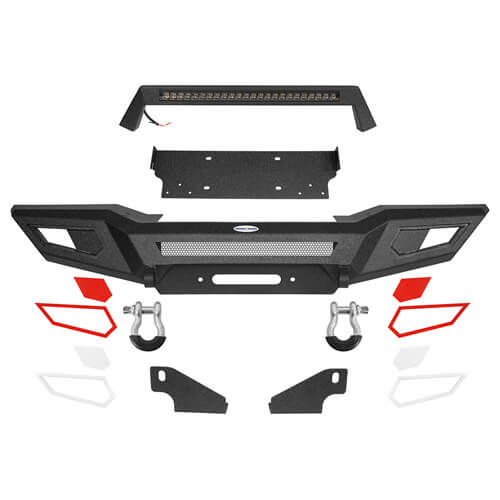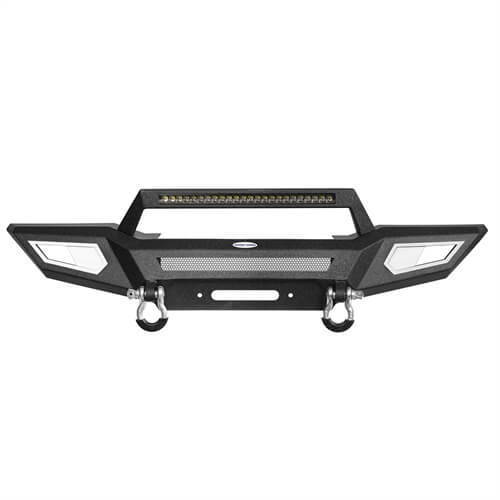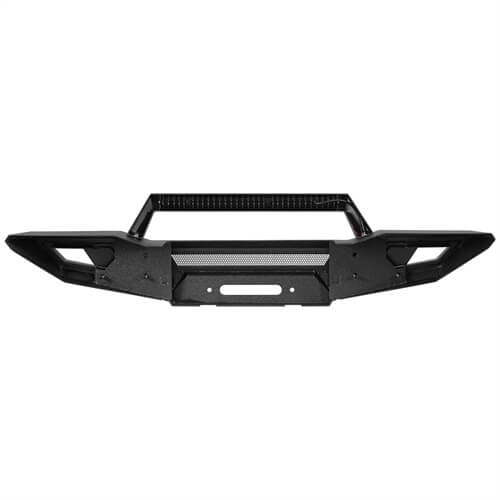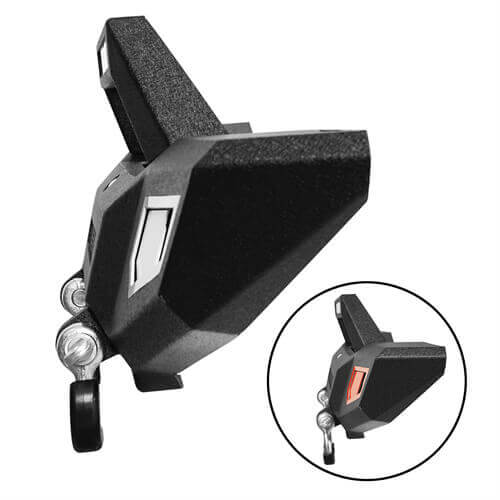 Name: Hooke Road 

Jeep Wrangler JK

Mid-width Front Bumper 4x4 jeep parts

Are you looking for JK Front Bumpers? 
The Hooke Road Classic Mid-width Front Bumper is a perfect combination of function and style for your JK. Its aggressive design with sharp angles and a low-profile grille guard gives your vehicle a bold and commanding appearance.
Detail of this Jeep JK Front Bumper
Perfect For Off-Road Use. The bumper features a winch plate capable of handling weights up to 12,000 lbs, providing you with the power and capability for off-road recovery. Additionally, it comes with completely welded D-ring mounts and 9,500 lbs rated 3/4" D-rings, ensuring secure attachment points for your recovery equipment. To add a touch of style and customization, the bumper includes two kits of steel sheets in vibrant white and striking red hues, allowing you to paint them to match your vehicle's color scheme.
Feature
Fits for 2007-2018 Jeep Wrangler JK Models
Bumper weight: about 59 lbs
Heavy-duty steel construction: 11-gauge(1/8 inch) plate for the bumper main body, 9-gauge(5/32 inch) steel plate for the winch plate
Textured black powder coat finish & Premium E-coating process inside
Sports a low-profile grille guard
Come with a winch plate that rated up to 12,000 lbs
Completely welded D-ring mounts
9,500 lbs rated 3/4"D-rings included
D-rings w/ rubber rings to provide extra protection against abrasion
Features a 72W LED spotlight bar
Aggressive design with sharp shape
Offering 2 kits of stylishly adorned steel sheets in vibrant white and striking red hues
DIY by painting the white steel sheets to match your JK
Straight-forward bolt-on installation
Dimension
1 × Front Bumper Assembly
1 × Winch Plate
1 × Red sheets & 1 × White sheets
1 × LED Light Bar
2 × D-Rings
1 × Mounting Hardware Kit
1 × Installation Instruction
2018 Jeep Wrangler (JK) Rubicon (2-Door)
2018 Jeep Wrangler (JK) Sahara (2-Door)
2018 Jeep Wrangler (JK) Sport (2-Door)
2018 Jeep Wrangler (JK) Unlimited Rubicon (4-Door)
2018 Jeep Wrangler (JK) Unlimited Sahara (4-Door)
2018 Jeep Wrangler (JK) Unlimited Sport (4-Door)
2017 Jeep Wrangler (JK) Rubicon (2-Door)
2017 Jeep Wrangler (JK) Sahara (2-Door)
2017 Jeep Wrangler (JK) Sport (2-Door)
2017 Jeep Wrangler (JK) Unlimited Rubicon (4-Door)
2017 Jeep Wrangler (JK) Unlimited Sahara (4-Door)
2017 Jeep Wrangler (JK) Unlimited Sport (4-Door)
2016 Jeep Wrangler (JK) Rubicon (2-Door)
2016 Jeep Wrangler (JK) Sahara (2-Door)
2016 Jeep Wrangler (JK) Sport (2-Door)
2016 Jeep Wrangler (JK) Unlimited Rubicon (4-Door)
2016 Jeep Wrangler (JK) Unlimited Sahara (4-Door)
2016 Jeep Wrangler (JK) Unlimited Sport (4-Door)
2016 Jeep Wrangler (JK) Unlimited Sport S (4-Door)
2016 Jeep Wrangler (JK) Sport S (2-Door)
2016 Jeep Wrangler (JK) 75th Anniversary (2-Door)
2016 Jeep Wrangler (JK) Unlimited 75th Anniversary (4-Door)
2015 Jeep Wrangler (JK) Rubicon (2-Door)
2015 Jeep Wrangler (JK) Sahara (2-Door)
2015 Jeep Wrangler (JK) Sport (2-Door)
2015 Jeep Wrangler (JK) Unlimited Rubicon (4-Door)
2015 Jeep Wrangler (JK) Unlimited Sahara (4-Door)
2015 Jeep Wrangler (JK) Unlimited Sport (4-Door)
2014 Jeep Wrangler (JK) Rubicon (2-Door)
2014 Jeep Wrangler (JK) Sahara (2-Door)
2014 Jeep Wrangler (JK) Sport (2-Door)
2014 Jeep Wrangler (JK) Unlimited Rubicon (4-Door)
2014 Jeep Wrangler (JK) Unlimited Sahara (4-Door)
2014 Jeep Wrangler (JK) Unlimited Sport (4-Door)
2013 Jeep Wrangler (JK) Rubicon (2-Door)
2013 Jeep Wrangler (JK) Sahara (2-Door)
2013 Jeep Wrangler (JK) Sport (2-Door)
2013 Jeep Wrangler (JK) Unlimited Rubicon (4-Door)
2013 Jeep Wrangler (JK) Unlimited Sport (4-Door)
2013 Jeep Wrangler (JK) Unlimited Sahara (4-Door)
2012 Jeep Wrangler (JK) Rubicon (2-Door)
2012 Jeep Wrangler (JK) Sahara (2-Door)
2012 Jeep Wrangler (JK) Sport (2-Door)
2012 Jeep Wrangler (JK) Unlimited Rubicon (4-Door)
2012 Jeep Wrangler (JK) Unlimited Sahara (4-Door)
2012 Jeep Wrangler (JK) Unlimited Sport (4-Door)
2011 Jeep Wrangler (JK) Rubicon (2-Door)
2011 Jeep Wrangler (JK) Sahara (2-Door)
2011 Jeep Wrangler (JK) Sport (2-Door)
2011 Jeep Wrangler (JK) Unlimited Rubicon (4-Door)
2011 Jeep Wrangler (JK) Unlimited Sahara (4-Door)
2011 Jeep Wrangler (JK) Unlimited Sport (4-Door)
2011 Jeep Wrangler (JK) 70th Anniversary (2-Door)
2011 Jeep Wrangler (JK) Unlimited 70th Anniversary (4-Door)
2010 Jeep Wrangler (JK) Rubicon (2-Door)
2010 Jeep Wrangler (JK) Sahara (2-Door)
2010 Jeep Wrangler (JK) Unlimited Rubicon (4-Door)
2010 Jeep Wrangler (JK) Unlimited Sahara (4-Door)
2010 Jeep Wrangler (JK) Unlimited X (4-Door)
2010 Jeep Wrangler (JK) X (2-Door)
2010 Jeep Wrangler (JK) Sport (2-Door)
2010 Jeep Wrangler (JK) Unlimited Sport (4-Door)
2009 Jeep Wrangler (JK) Rubicon (2-Door)
2009 Jeep Wrangler (JK) Sahara (2-Door)
2009 Jeep Wrangler (JK) Unlimited Rubicon (4-Door)
2009 Jeep Wrangler (JK) Unlimited Sahara (4-Door)
2009 Jeep Wrangler (JK) Unlimited X (4-Door)
2009 Jeep Wrangler (JK) X (2-Door)
2008 Jeep Wrangler (JK) X (2-Door)
2008 Jeep Wrangler (JK) Unlimited X (4-Door)
2008 Jeep Wrangler (JK) Unlimited Sahara (4-Door)
2008 Jeep Wrangler (JK) Unlimited Rubicon (4-Door)
2008 Jeep Wrangler (JK) Sahara (2-Door)
2008 Jeep Wrangler (JK) Rubicon (2-Door)
2007 Jeep Wrangler (JK) Rubicon (2-Door)
2007 Jeep Wrangler (JK) Sahara (2-Door)
2007 Jeep Wrangler (JK) Unlimited Rubicon (4-Door)
2007 Jeep Wrangler (JK) Unlimited Sahara (4-Door)
2007 Jeep Wrangler (JK) Unlimited X (4-Door)
2007 Jeep Wrangler (JK) X (2-Door)
Package Included
1 × Front Bumper Assembly
1 × Winch Plate
1 × Red sheets & 1 × White sheets
1 × LED Light Bar
2 × D-Rings
1 × Mounting Hardware Kit
1 × Installation Instruction
Fitment
2018 Jeep Wrangler (JK) Rubicon (2-Door)
2018 Jeep Wrangler (JK) Sahara (2-Door)
2018 Jeep Wrangler (JK) Sport (2-Door)
2018 Jeep Wrangler (JK) Unlimited Rubicon (4-Door)
2018 Jeep Wrangler (JK) Unlimited Sahara (4-Door)
2018 Jeep Wrangler (JK) Unlimited Sport (4-Door)
2017 Jeep Wrangler (JK) Rubicon (2-Door)
2017 Jeep Wrangler (JK) Sahara (2-Door)
2017 Jeep Wrangler (JK) Sport (2-Door)
2017 Jeep Wrangler (JK) Unlimited Rubicon (4-Door)
2017 Jeep Wrangler (JK) Unlimited Sahara (4-Door)
2017 Jeep Wrangler (JK) Unlimited Sport (4-Door)
2016 Jeep Wrangler (JK) Rubicon (2-Door)
2016 Jeep Wrangler (JK) Sahara (2-Door)
2016 Jeep Wrangler (JK) Sport (2-Door)
2016 Jeep Wrangler (JK) Unlimited Rubicon (4-Door)
2016 Jeep Wrangler (JK) Unlimited Sahara (4-Door)
2016 Jeep Wrangler (JK) Unlimited Sport (4-Door)
2016 Jeep Wrangler (JK) Unlimited Sport S (4-Door)
2016 Jeep Wrangler (JK) Sport S (2-Door)
2016 Jeep Wrangler (JK) 75th Anniversary (2-Door)
2016 Jeep Wrangler (JK) Unlimited 75th Anniversary (4-Door)
2015 Jeep Wrangler (JK) Rubicon (2-Door)
2015 Jeep Wrangler (JK) Sahara (2-Door)
2015 Jeep Wrangler (JK) Sport (2-Door)
2015 Jeep Wrangler (JK) Unlimited Rubicon (4-Door)
2015 Jeep Wrangler (JK) Unlimited Sahara (4-Door)
2015 Jeep Wrangler (JK) Unlimited Sport (4-Door)
2014 Jeep Wrangler (JK) Rubicon (2-Door)
2014 Jeep Wrangler (JK) Sahara (2-Door)
2014 Jeep Wrangler (JK) Sport (2-Door)
2014 Jeep Wrangler (JK) Unlimited Rubicon (4-Door)
2014 Jeep Wrangler (JK) Unlimited Sahara (4-Door)
2014 Jeep Wrangler (JK) Unlimited Sport (4-Door)
2013 Jeep Wrangler (JK) Rubicon (2-Door)
2013 Jeep Wrangler (JK) Sahara (2-Door)
2013 Jeep Wrangler (JK) Sport (2-Door)
2013 Jeep Wrangler (JK) Unlimited Rubicon (4-Door)
2013 Jeep Wrangler (JK) Unlimited Sport (4-Door)
2013 Jeep Wrangler (JK) Unlimited Sahara (4-Door)
2012 Jeep Wrangler (JK) Rubicon (2-Door)
2012 Jeep Wrangler (JK) Sahara (2-Door)
2012 Jeep Wrangler (JK) Sport (2-Door)
2012 Jeep Wrangler (JK) Unlimited Rubicon (4-Door)
2012 Jeep Wrangler (JK) Unlimited Sahara (4-Door)
2012 Jeep Wrangler (JK) Unlimited Sport (4-Door)
2011 Jeep Wrangler (JK) Rubicon (2-Door)
2011 Jeep Wrangler (JK) Sahara (2-Door)
2011 Jeep Wrangler (JK) Sport (2-Door)
2011 Jeep Wrangler (JK) Unlimited Rubicon (4-Door)
2011 Jeep Wrangler (JK) Unlimited Sahara (4-Door)
2011 Jeep Wrangler (JK) Unlimited Sport (4-Door)
2011 Jeep Wrangler (JK) 70th Anniversary (2-Door)
2011 Jeep Wrangler (JK) Unlimited 70th Anniversary (4-Door)
2010 Jeep Wrangler (JK) Rubicon (2-Door)
2010 Jeep Wrangler (JK) Sahara (2-Door)
2010 Jeep Wrangler (JK) Unlimited Rubicon (4-Door)
2010 Jeep Wrangler (JK) Unlimited Sahara (4-Door)
2010 Jeep Wrangler (JK) Unlimited X (4-Door)
2010 Jeep Wrangler (JK) X (2-Door)
2010 Jeep Wrangler (JK) Sport (2-Door)
2010 Jeep Wrangler (JK) Unlimited Sport (4-Door)
2009 Jeep Wrangler (JK) Rubicon (2-Door)
2009 Jeep Wrangler (JK) Sahara (2-Door)
2009 Jeep Wrangler (JK) Unlimited Rubicon (4-Door)
2009 Jeep Wrangler (JK) Unlimited Sahara (4-Door)
2009 Jeep Wrangler (JK) Unlimited X (4-Door)
2009 Jeep Wrangler (JK) X (2-Door)
2008 Jeep Wrangler (JK) X (2-Door)
2008 Jeep Wrangler (JK) Unlimited X (4-Door)
2008 Jeep Wrangler (JK) Unlimited Sahara (4-Door)
2008 Jeep Wrangler (JK) Unlimited Rubicon (4-Door)
2008 Jeep Wrangler (JK) Sahara (2-Door)
2008 Jeep Wrangler (JK) Rubicon (2-Door)
2007 Jeep Wrangler (JK) Rubicon (2-Door)
2007 Jeep Wrangler (JK) Sahara (2-Door)
2007 Jeep Wrangler (JK) Unlimited Rubicon (4-Door)
2007 Jeep Wrangler (JK) Unlimited Sahara (4-Door)
2007 Jeep Wrangler (JK) Unlimited X (4-Door)
2007 Jeep Wrangler (JK) X (2-Door)