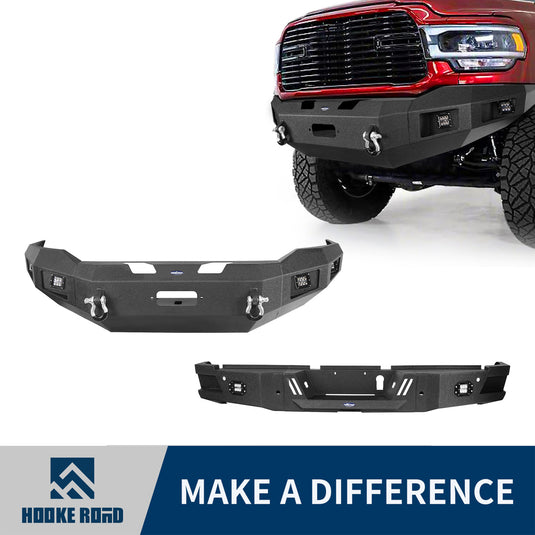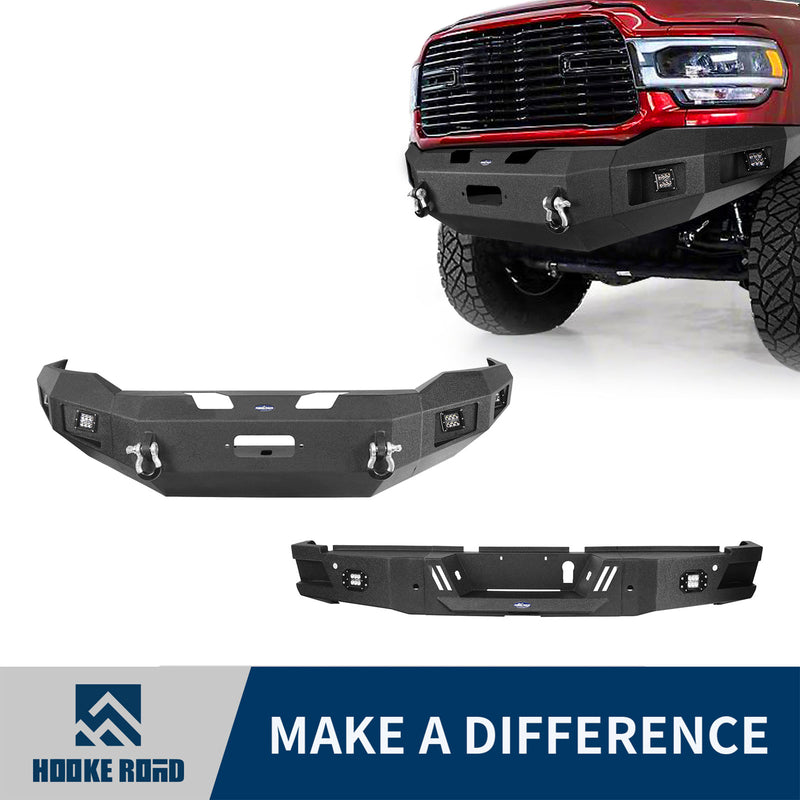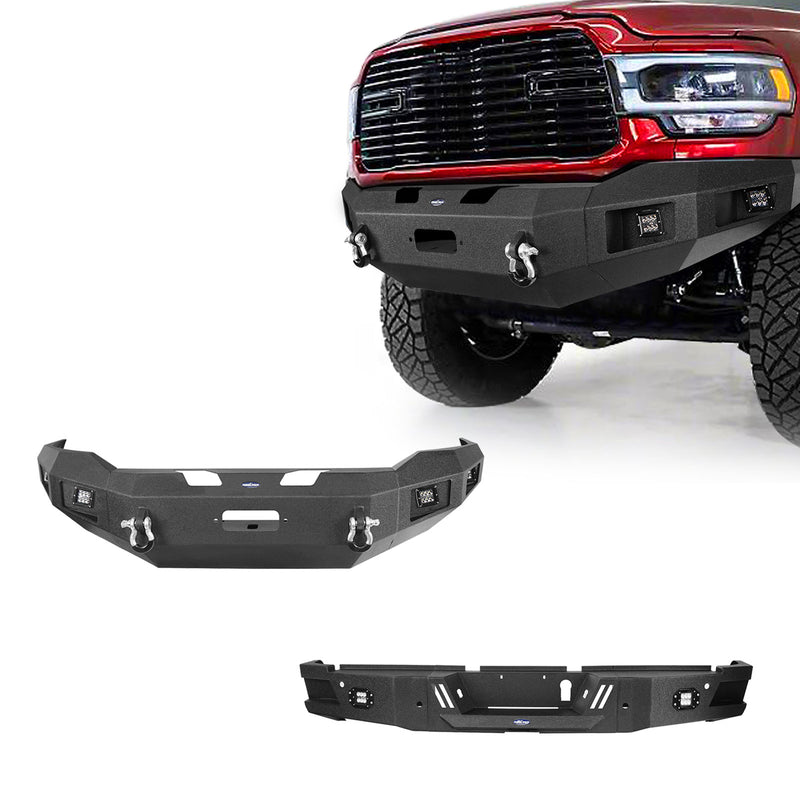 Name: Front Bumper & Rear Bumper(19-23 Ram 2500)

G6300 Full Width Front Bumper w/Winch Plate & LED Spotlights
Feature
Fit for 2019-2023 Ram 2500 Models
Bumper Weight: About 149 lbs
Not Compatible with Factory Sensors
Included 3/4 Inch D-rings which can support up to 9,500 lbs. Rubber D-ring Isolators are included
Comes With a Winch Plate; Rated Up to 12,000 pounds
Adequate Lighting for Safe Driving; 4 x 18w LED Spotlights Included.
3-Piece Modular Design. Fits the Vehicle Body Line Perfectly; Heavy-Duty Structure Enhanced Protection
Heavy Duty Steel Construction: 11-Gauge(1/8 Inch) for the Bumper Body, 8-Gauge(11/64 Inch) Steel for the Mounting Plate
Textured Black Powder Coat Finish
Simple Bolt-On Installation. No Drilling Required
 * The item includes two packages: Package A & Package B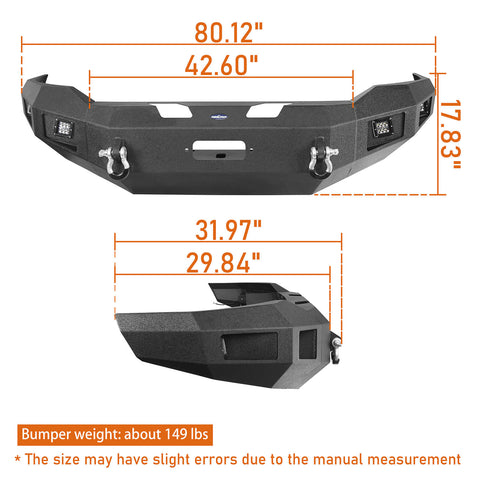 G6304 Rear Bumper w/OEM sensor holes & LED Floodlights
Fit for 2019-2023 Ram 2500 Models
Bumper Weight: About 78 lbs
Retain OEM Receiver Hitch and Wiring Locations
Equipped with a license plate light
Not compatible with factory back-up sensors.
3-piece Modular Design; Provides Adequate Rear End Protection While Driving through Rugged Trails
Integrated Steps on Either Side for Easy Bed Access
Comes with 2 x 18W LED Flush Mount Floodlights
Heavy Duty Steel Construction: 11-Gauge(1/8 Inch) for the Bumper Body, 8-Gauge(11/64 Inch) Steel for the Mounting Plate
Textured Black Powder Coat Finish
Simple Bolt-On Installation. No Drilling Required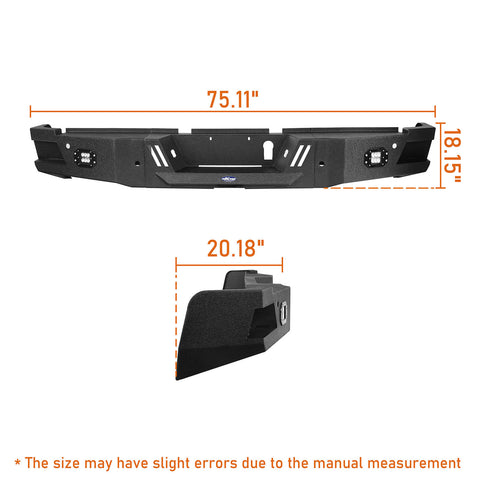 Front Bumper Package Included:
1 x Dodge Ram Full Width Front Bumper with Winch Plate & LED Spotlights
2 x Mounting Plates
2 x D-rings
Mounting Hardware Kit
Rear Bumper Package Included:
1 x Dodge Ram Rear Bumper with LED Floodlights
1 x License Plate Light
2 x Floodlights
Mounting Hardware Kit
Installation Instruction
2023 Ram 2500 Big Horn
2023 Ram 2500 Laramie
2023 Ram 2500 Limited
2023 Ram 2500 Lone Star
2023 Ram 2500 Power Wagon Crew Cab Pickup 4-Door
2023 Ram 2500 Rebel
2023 Ram 2500 Tradesman
2023 Ram 3500 Big Horn
2023 Ram 3500 Laramie
2023 Ram 3500 SLT
2023 Ram 3500 Tradesman
2022 Ram 2500 Big Horn
2022 Ram 2500 HD
2022 Ram 2500 Laramie
2022 Ram 2500 Limited
2022 Ram 2500 Lone Star
2022 Ram 2500 Power Wagon
2022 Ram 2500 SLT HD
2022 Ram 2500 Tradesman
2022 Ram 3500 Big Horn
2022 Ram 3500 Laramie
2022 Ram 3500 Limited
2022 Ram 3500 Lone Star
2022 Ram 3500 SLT
2022 Ram 3500 Tradesman
2021 Ram 2500 Big Horn
2021 Ram 2500 HD
2021 Ram 2500 Laramie
2021 Ram 2500 Limited
2021 Ram 2500 Lone Star
2021 Ram 2500 Power Wagon Crew Cab Pickup 4-Door
2021 Ram 2500 SLT HD
2021 Ram 2500 Tradesman
2021 Ram 3500 Big Horn
2021 Ram 3500 Laramie
2021 Ram 3500 Limited
2021 Ram 3500 Lone Star
2021 Ram 3500 SLT
2021 Ram 3500 Tradesman
2020 Ram 2500 Big Horn
2020 Ram 2500 HD
2020 Ram 2500 Laramie
2020 Ram 2500 Limited
2020 Ram 2500 Lone Star
2020 Ram 2500 Power Wagon Crew Cab Pickup 4-Door
2020 Ram 2500 SLT2020 Ram 2500 Tradesman
2020 Ram 3500 Big Horn
2020 Ram 3500 Laramie
2020 Ram 3500 Limited
2020 Ram 3500 Lone Star
2020 Ram 3500 SLT
2020 Ram 3500 Tradesman
2019 Ram 2500 Big Horn
2019 Ram 2500 Laramie
2019 Ram 2500 HD
2019 Ram 2500 Limited
2019 Ram 2500 Lone Star
2019 Ram 2500 Power Wagon Crew Cab Pickup 4-Door
2019 Ram 2500 R/T
2019 Ram 2500 SLT
2019 Ram 2500 Sport
2019 Ram 2500 Tradesman
2019 Ram 3500 Big Horn
2019 Ram 3500 Laramie2019 Ram 3500 Limited
2019 Ram 2500 Big Horn
2019 Ram 2500 HD
2019 Ram 2500 Laramie
2019 Ram 2500 Limited
2019 Ram 2500 Lone Star
2019 Ram 2500 Power Wagon Crew Cab Pickup 4-Door
2019 Ram 2500 SLT
2019 Ram 2500 Tradesman
2019 Ram 3500 Big Horn2019 Ram 3500 Laramie
2019 Ram 3500 Limited
2019 Ram 3500 Lone Star
Package Included
Front Bumper Package Included:
1 x Dodge Ram Full Width Front Bumper with Winch Plate & LED Spotlights
2 x Mounting Plates
2 x D-rings
Mounting Hardware Kit
Rear Bumper Package Included:
1 x Dodge Ram Rear Bumper with LED Floodlights
1 x License Plate Light
2 x Floodlights
Mounting Hardware Kit
Installation Instruction
Fitment
2023 Ram 2500 Big Horn
2023 Ram 2500 Laramie
2023 Ram 2500 Limited
2023 Ram 2500 Lone Star
2023 Ram 2500 Power Wagon Crew Cab Pickup 4-Door
2023 Ram 2500 Rebel
2023 Ram 2500 Tradesman
2023 Ram 3500 Big Horn
2023 Ram 3500 Laramie
2023 Ram 3500 SLT
2023 Ram 3500 Tradesman
2022 Ram 2500 Big Horn
2022 Ram 2500 HD
2022 Ram 2500 Laramie
2022 Ram 2500 Limited
2022 Ram 2500 Lone Star
2022 Ram 2500 Power Wagon
2022 Ram 2500 SLT HD
2022 Ram 2500 Tradesman
2022 Ram 3500 Big Horn
2022 Ram 3500 Laramie
2022 Ram 3500 Limited
2022 Ram 3500 Lone Star
2022 Ram 3500 SLT
2022 Ram 3500 Tradesman
2021 Ram 2500 Big Horn
2021 Ram 2500 HD
2021 Ram 2500 Laramie
2021 Ram 2500 Limited
2021 Ram 2500 Lone Star
2021 Ram 2500 Power Wagon Crew Cab Pickup 4-Door
2021 Ram 2500 SLT HD
2021 Ram 2500 Tradesman
2021 Ram 3500 Big Horn
2021 Ram 3500 Laramie
2021 Ram 3500 Limited
2021 Ram 3500 Lone Star
2021 Ram 3500 SLT
2021 Ram 3500 Tradesman
2020 Ram 2500 Big Horn
2020 Ram 2500 HD
2020 Ram 2500 Laramie
2020 Ram 2500 Limited
2020 Ram 2500 Lone Star
2020 Ram 2500 Power Wagon Crew Cab Pickup 4-Door
2020 Ram 2500 SLT2020 Ram 2500 Tradesman
2020 Ram 3500 Big Horn
2020 Ram 3500 Laramie
2020 Ram 3500 Limited
2020 Ram 3500 Lone Star
2020 Ram 3500 SLT
2020 Ram 3500 Tradesman
2019 Ram 2500 Big Horn
2019 Ram 2500 Laramie
2019 Ram 2500 HD
2019 Ram 2500 Limited
2019 Ram 2500 Lone Star
2019 Ram 2500 Power Wagon Crew Cab Pickup 4-Door
2019 Ram 2500 R/T
2019 Ram 2500 SLT
2019 Ram 2500 Sport
2019 Ram 2500 Tradesman
2019 Ram 3500 Big Horn
2019 Ram 3500 Laramie2019 Ram 3500 Limited
2019 Ram 2500 Big Horn
2019 Ram 2500 HD
2019 Ram 2500 Laramie
2019 Ram 2500 Limited
2019 Ram 2500 Lone Star
2019 Ram 2500 Power Wagon Crew Cab Pickup 4-Door
2019 Ram 2500 SLT
2019 Ram 2500 Tradesman
2019 Ram 3500 Big Horn2019 Ram 3500 Laramie
2019 Ram 3500 Limited
2019 Ram 3500 Lone Star