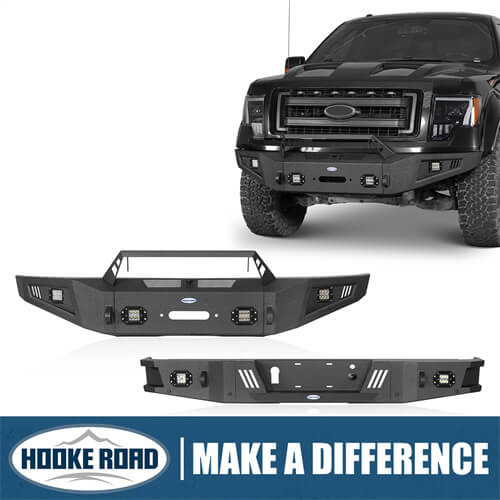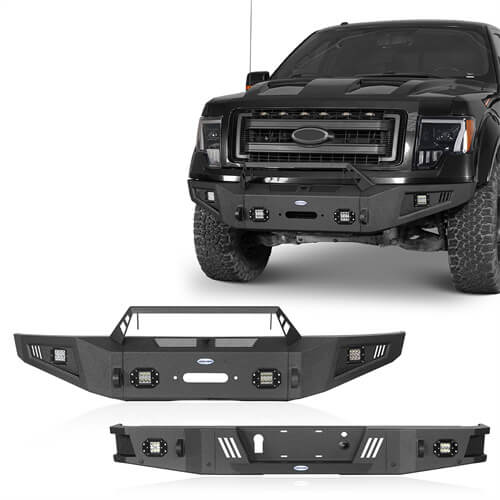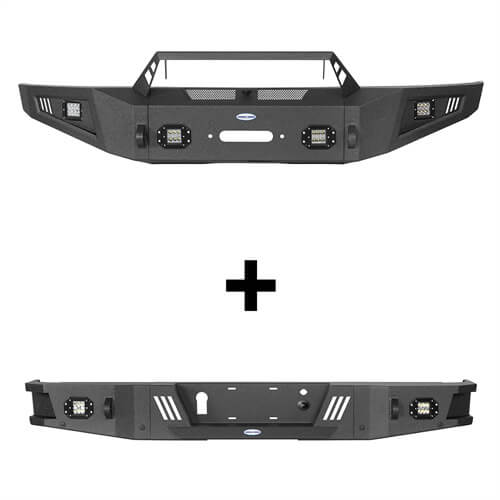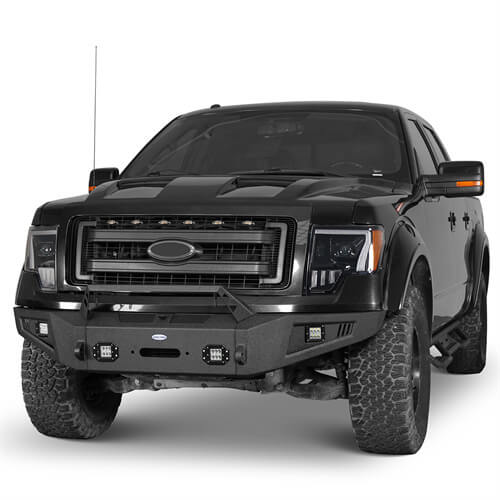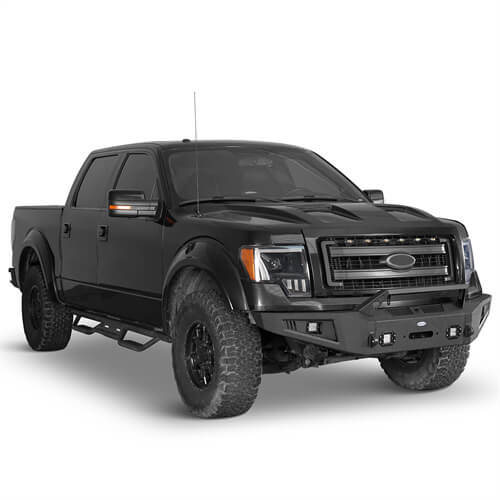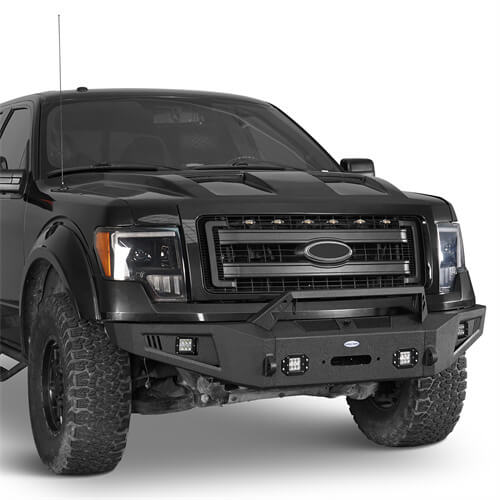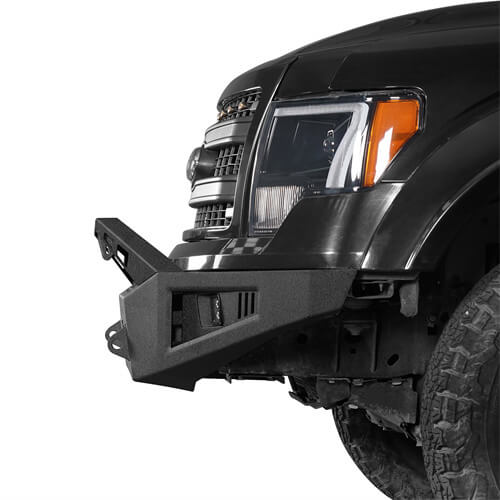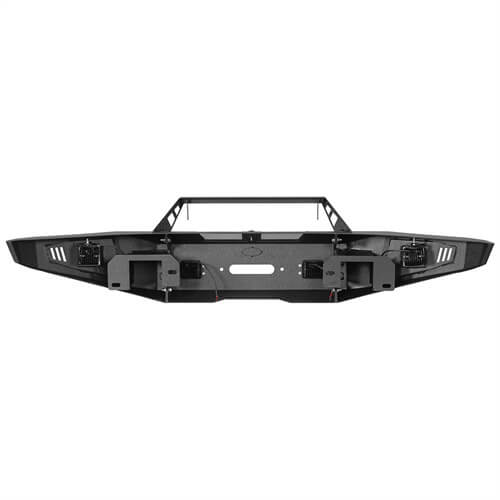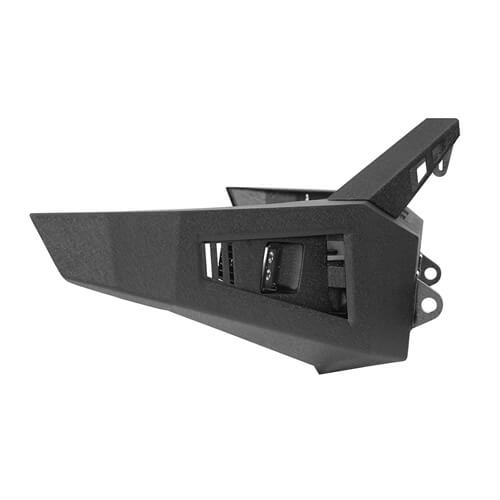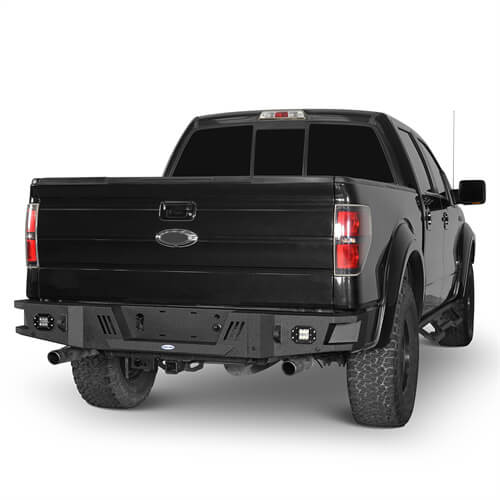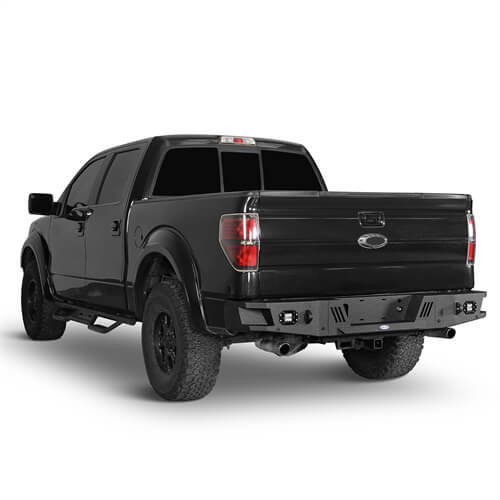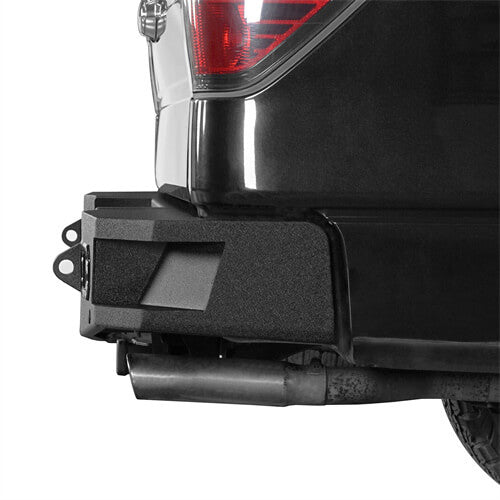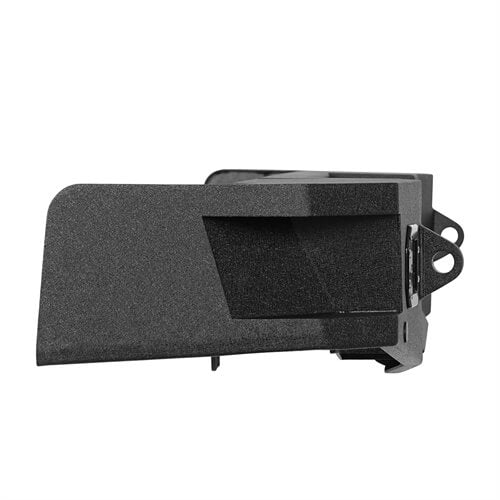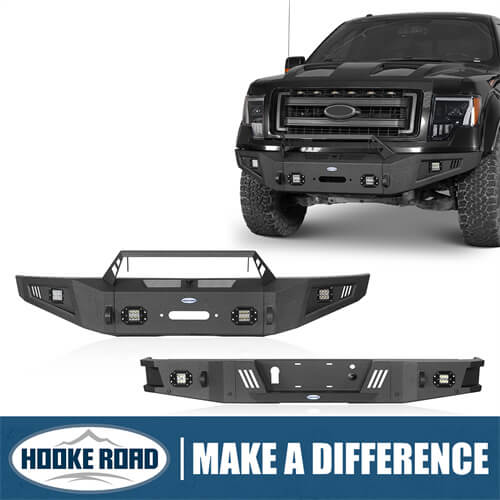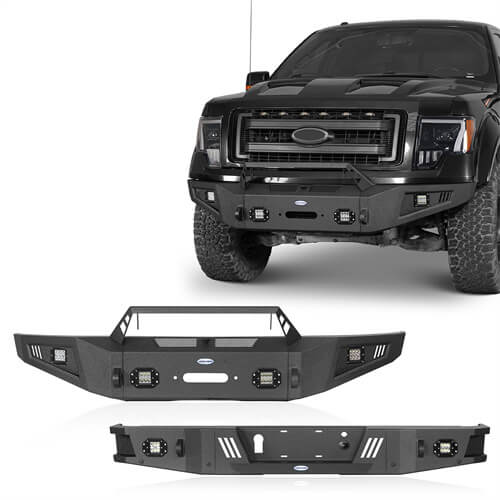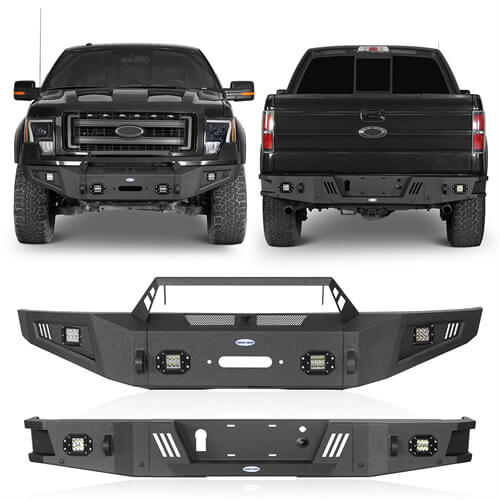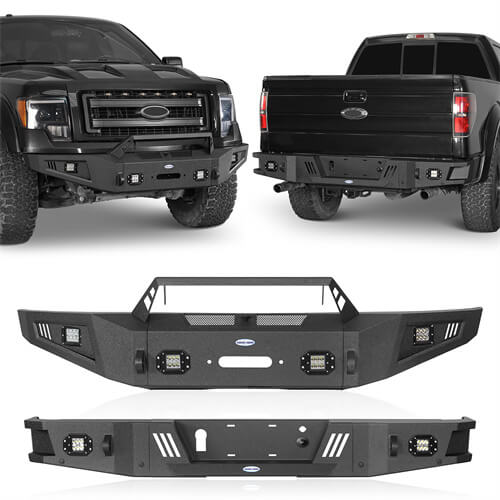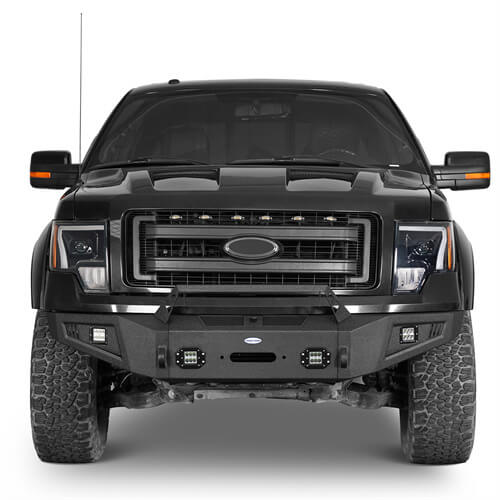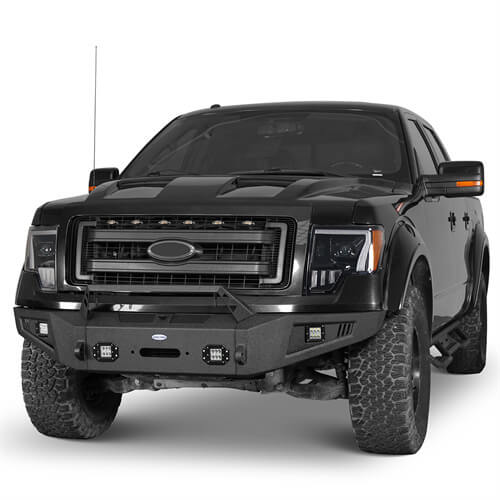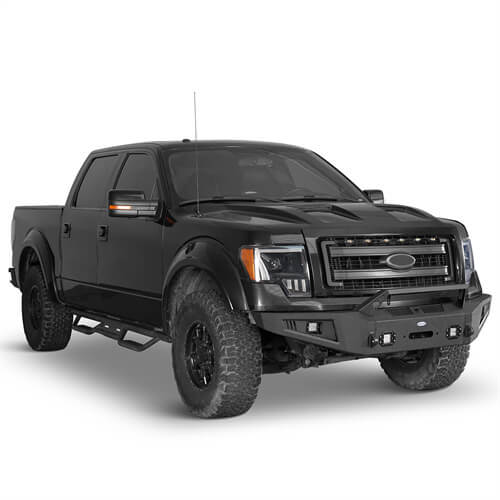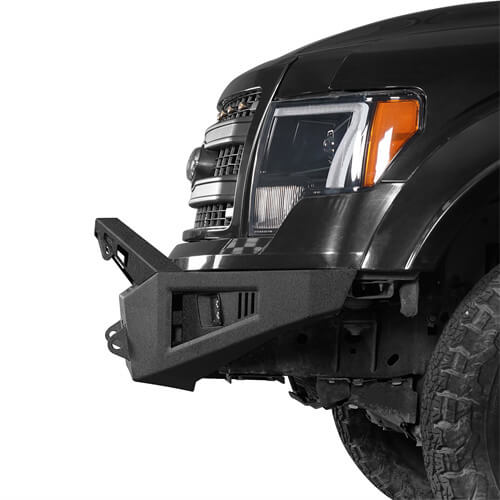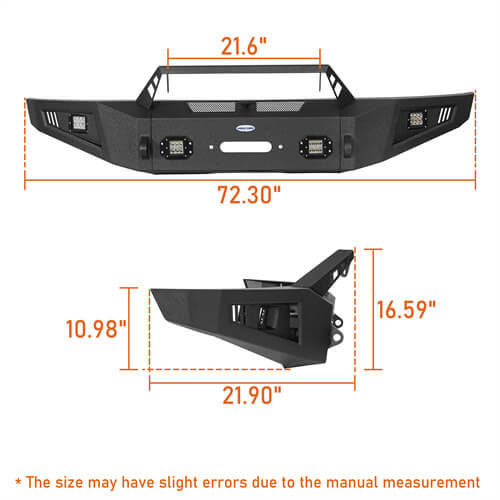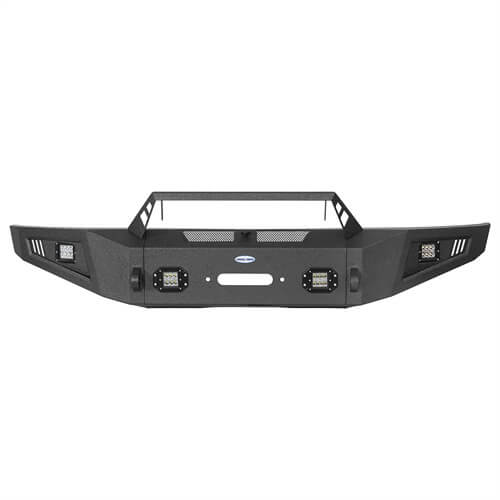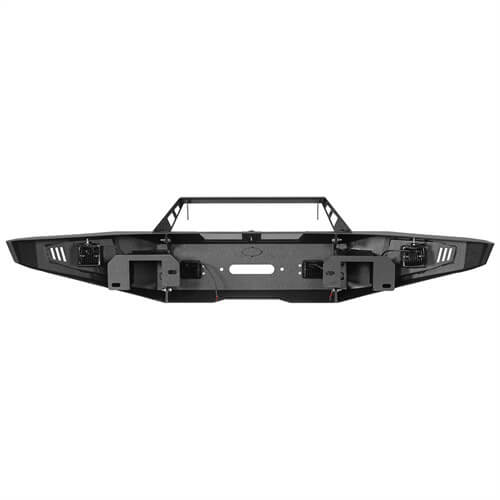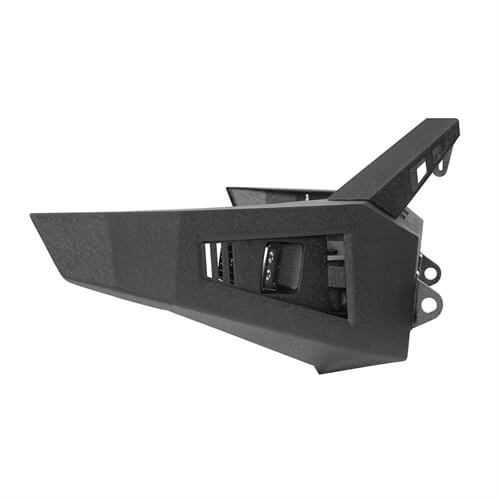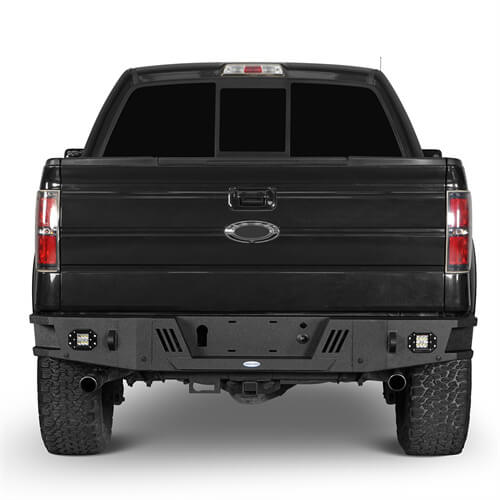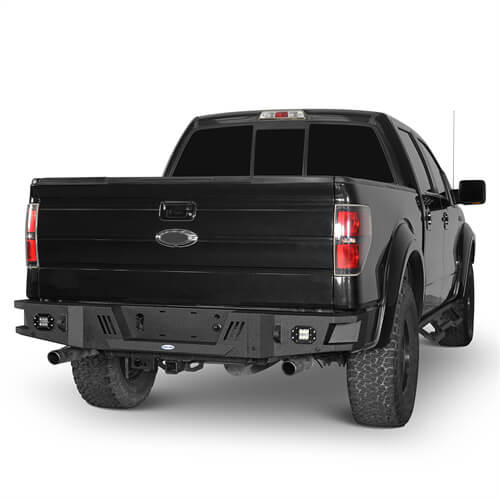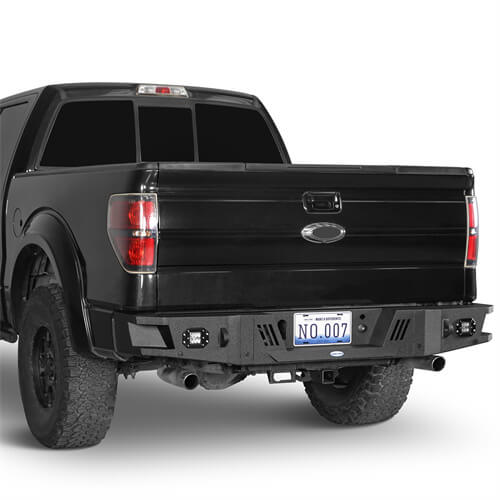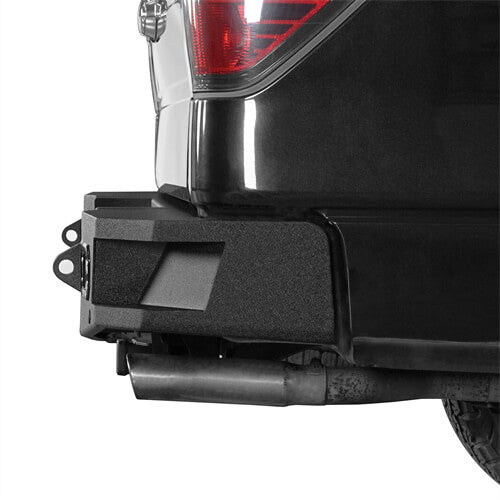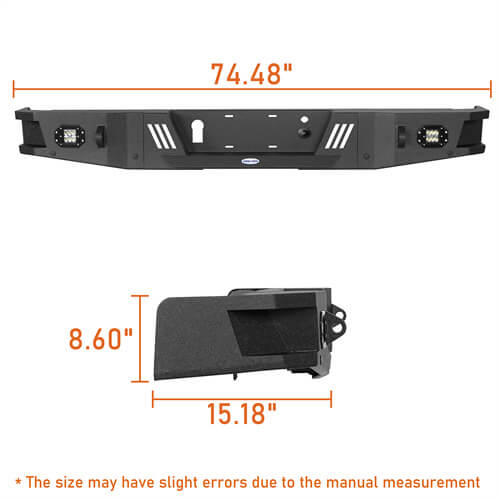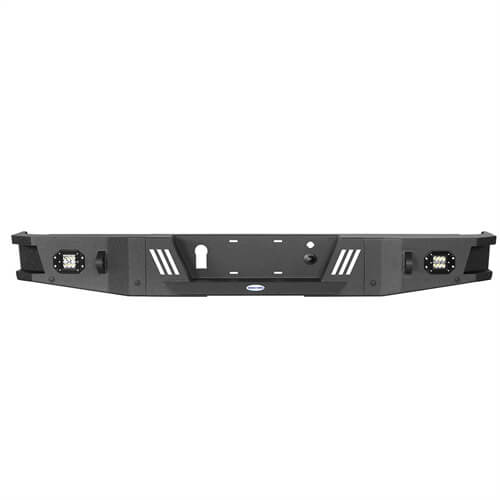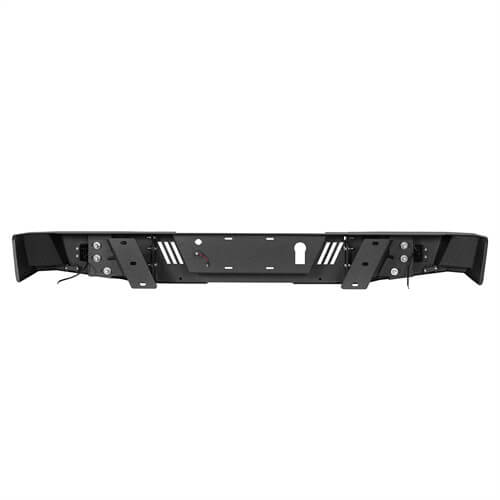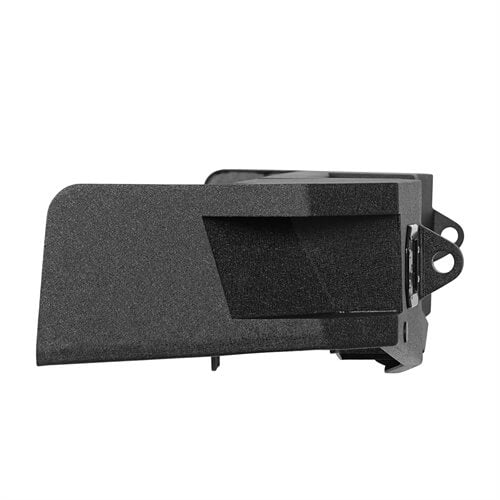 Name: Full-Width Front Bumper & Rear Bumper for 2009-2014 Ford F-150(Excluding Raptor) 
Please Double-check All of the Item Pictures to Purchase What you Like
Full-Width Front Bumper
Fits 2009-2014 Ford F-150 Models (Excluding Raptor)
Bumper weight: about 134 lbs; Comes with a winch plate – only fits advanced wireless remote operate winch without a manual clutch handle. Rated up to 12,000 pounds. Aggressive off-road styling and improved protection; Heavy-duty, high tensile 11-gauge(1/8 Inch) steel for the bumper main body, 7-gauge(3/16 Inch) for the winch plate; High strength D-Ring mounts welded both inside and out with 4.75-ton capacity. Includes 9500 lbs rated, 3/4'' D-rings.;D-rings w/ rubber isolators against abrasion; Not Compatible with Factory Sensors; Textured black powder coat finish
Easy bolt-on installation without drilling or cutting


Please Double-check the distance between front bumper edge and fender below to Purchase What you Like.
Rear Bumper Back Bumper
Compatible with 2006-2014 F-150 Models (Excluding Flareside Models)
Bumper weight: about 75 lbs, 3-Piece modular design
Heavy-duty steel construction: 11-gauge(1/8 inch) plate for the bumper main body, 10-gauge(9/64 in) steel for the mounting structure
Textured black powder coat finish & Premium E-coating process inside
Equipped with a license plate light and 2×18W LED floodlights
Features high strength D-ring mounts, D-rings not included
Includes license mounting plane and mounting holes
Pre-cut out for trailer connector
Built-in side steps for quick bed access
Works with the factory hitch receiver(excluding 06-08 models)
Compatible with backup sensors
Direct bolt-on installation that included mounting hardware

Dimension
Manual Measure. It is a little bit different. Just for Reference Only.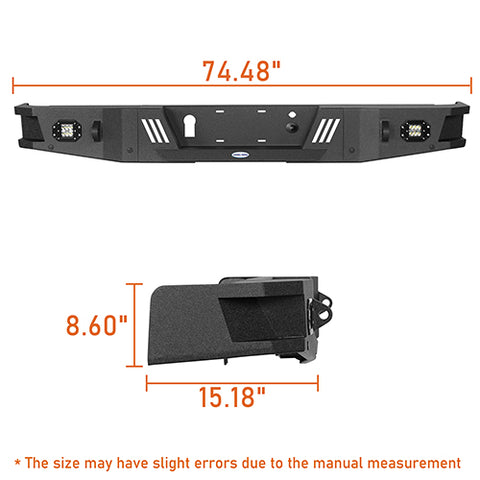 Front Bumper Package Included
1 x Ford F-150 Front Bumper(Comes with 2 Packages)
2 x D-Rings
1 x Winch Plate
Mounting Hardware
Rear Bumper Package Included
1 x Ford F-150 Rear Bumper
2 x D-Rings
Mounting Brackets & Mounting Hardware
2014 Ford F-150 FX2
2014 Ford F-150 FX4
2014 Ford F-150 King Ranch
2014 Ford F-150 Lariat
2014 Ford F-150 Limited
2014 Ford F-150 Platinum
2014 Ford F-150 STX
2014 Ford F-150 XL
2014 Ford F-150 XLT
2014 Ford F-150 SVT
2013 Ford F-150 FX2
2013 Ford F-150 FX4
2013 Ford F-150 King Ranch
2013 Ford F-150 Lariat
2013 Ford F-150 Limited
2013 Ford F-150 Platinum
2013 Ford F-150 STX
2013 Ford F-150 XL
2013 Ford F-150 XLT
2013 Ford F-150 SVT
2012 Ford F-150 FX2 2012 Ford F-150 FX4
2012 Ford F-150 King Ranch
2012 Ford F-150 Lariat
2012 Ford F-150 Limited
2012 Ford F-150 Platinum
2012 Ford F-150 STX
2012 Ford F-150 XL
2012 Ford F-150 XLT
2012 Ford F-150 SVT
2011 Ford F-150 FX2
2011 Ford F-150 FX4
2011 Ford F-150 King Ranch
2011 Ford F-150 Lariat
2011 Ford F-150 Limited
2011 Ford F-150 Platinum
2011 Ford F-150 STX
2011 Ford F-150 XL
2011 Ford F-150 XLT
2011 Ford F-150 Harley-Davidson Edition
2011 Ford F-150 SVT
2010 Ford F-150 FX2
2010 Ford F-150 FX4
2010 Ford F-150 Harley-Davidson Edition
2010 Ford F-150 King Ranch
2010 Ford F-150 Lariat
2010 Ford F-150 Platinum
2010 Ford F-150 STX
2010 Ford F-150 SVT
2010 Ford F-150 XL2010 Ford F-150 XLT
2009 Ford F-150 FX4
2009 Ford F-150 Flotillera
2009 Ford F-150 King Ranch
2009 Ford F-150 Lariat
2009 Ford F-150 Platinum
2009 Ford F-150 STX
2009 Ford F-150 XL
2009 Ford F-150 XLT
Package Included
Front Bumper Package Included
1 x Ford F-150 Front Bumper(Comes with 2 Packages)
2 x D-Rings
1 x Winch Plate
Mounting Hardware
Rear Bumper Package Included
1 x Ford F-150 Rear Bumper
2 x D-Rings
Mounting Brackets & Mounting Hardware
Fitment
2014 Ford F-150 FX2
2014 Ford F-150 FX4
2014 Ford F-150 King Ranch
2014 Ford F-150 Lariat
2014 Ford F-150 Limited
2014 Ford F-150 Platinum
2014 Ford F-150 STX
2014 Ford F-150 XL
2014 Ford F-150 XLT
2014 Ford F-150 SVT
2013 Ford F-150 FX2
2013 Ford F-150 FX4
2013 Ford F-150 King Ranch
2013 Ford F-150 Lariat
2013 Ford F-150 Limited
2013 Ford F-150 Platinum
2013 Ford F-150 STX
2013 Ford F-150 XL
2013 Ford F-150 XLT
2013 Ford F-150 SVT
2012 Ford F-150 FX2 2012 Ford F-150 FX4
2012 Ford F-150 King Ranch
2012 Ford F-150 Lariat
2012 Ford F-150 Limited
2012 Ford F-150 Platinum
2012 Ford F-150 STX
2012 Ford F-150 XL
2012 Ford F-150 XLT
2012 Ford F-150 SVT
2011 Ford F-150 FX2
2011 Ford F-150 FX4
2011 Ford F-150 King Ranch
2011 Ford F-150 Lariat
2011 Ford F-150 Limited
2011 Ford F-150 Platinum
2011 Ford F-150 STX
2011 Ford F-150 XL
2011 Ford F-150 XLT
2011 Ford F-150 Harley-Davidson Edition
2011 Ford F-150 SVT
2010 Ford F-150 FX2
2010 Ford F-150 FX4
2010 Ford F-150 Harley-Davidson Edition
2010 Ford F-150 King Ranch
2010 Ford F-150 Lariat
2010 Ford F-150 Platinum
2010 Ford F-150 STX
2010 Ford F-150 SVT
2010 Ford F-150 XL2010 Ford F-150 XLT
2009 Ford F-150 FX4
2009 Ford F-150 Flotillera
2009 Ford F-150 King Ranch
2009 Ford F-150 Lariat
2009 Ford F-150 Platinum
2009 Ford F-150 STX
2009 Ford F-150 XL
2009 Ford F-150 XLT