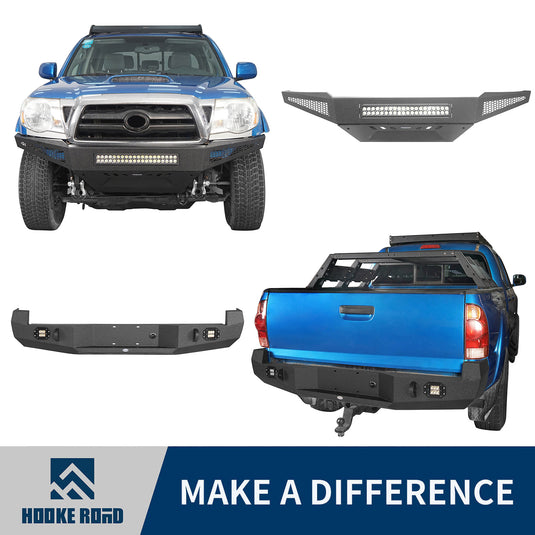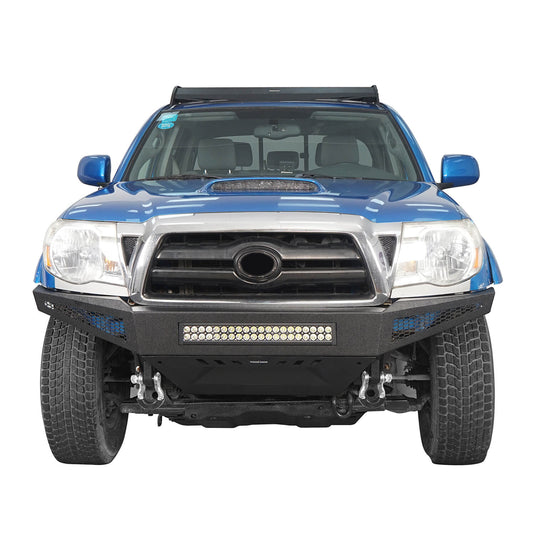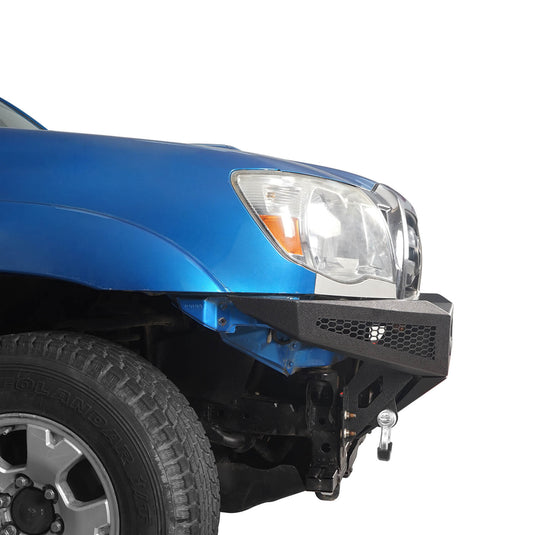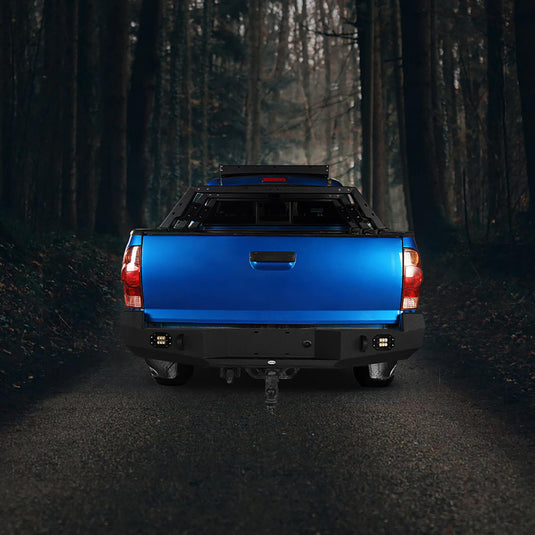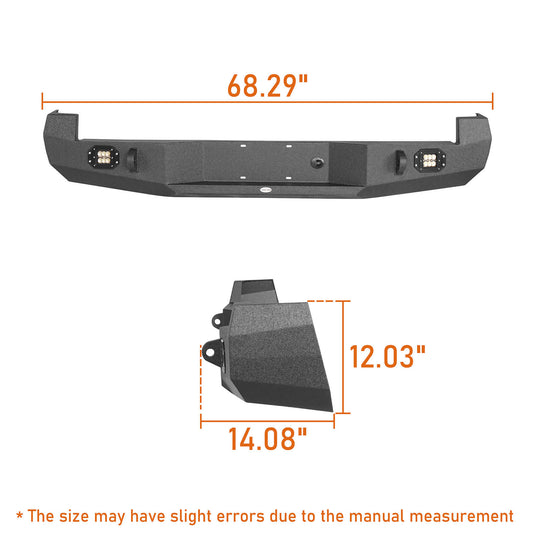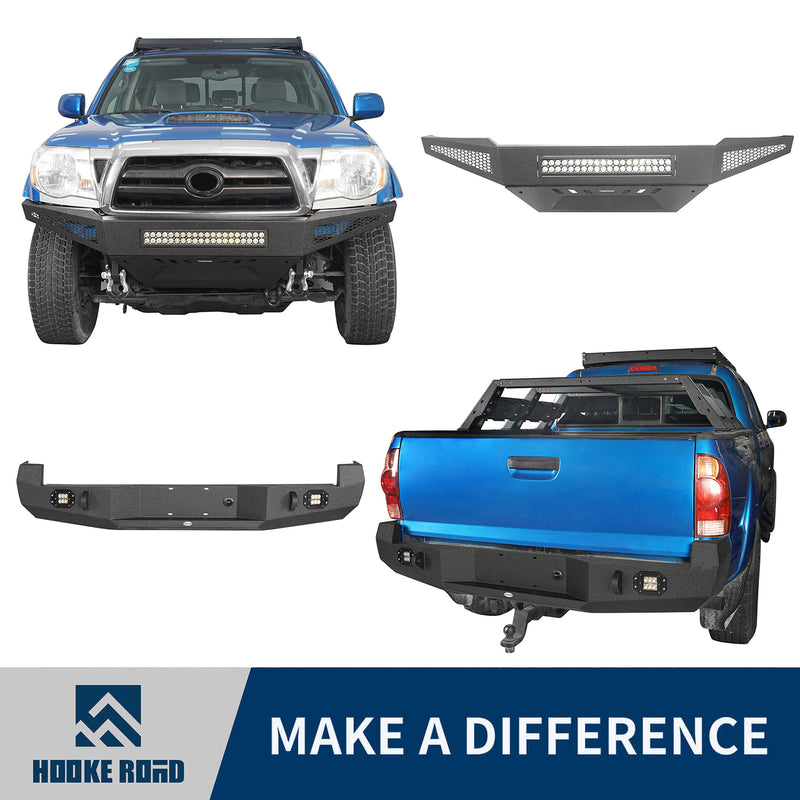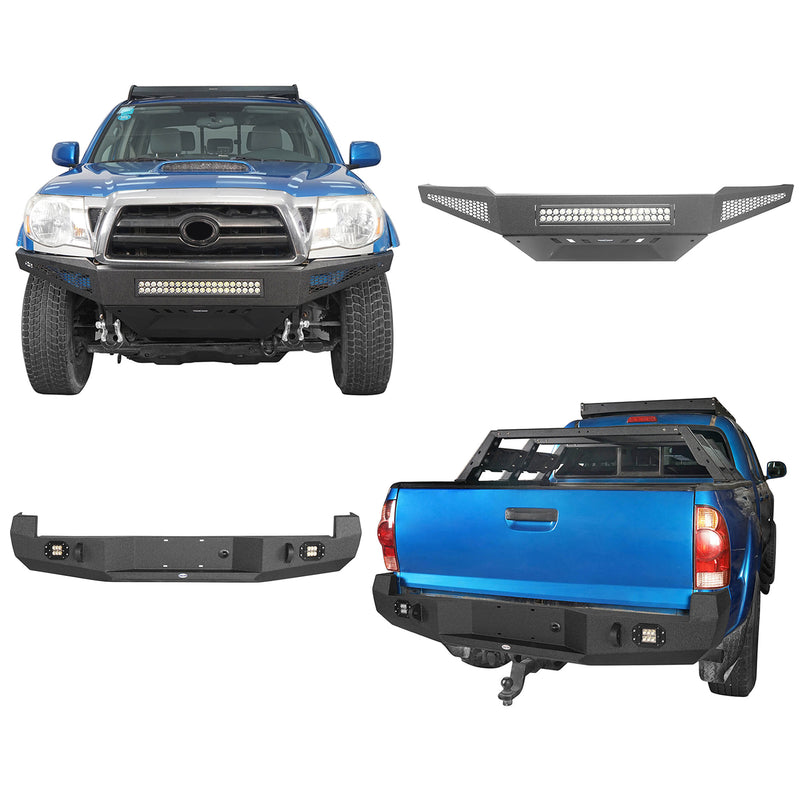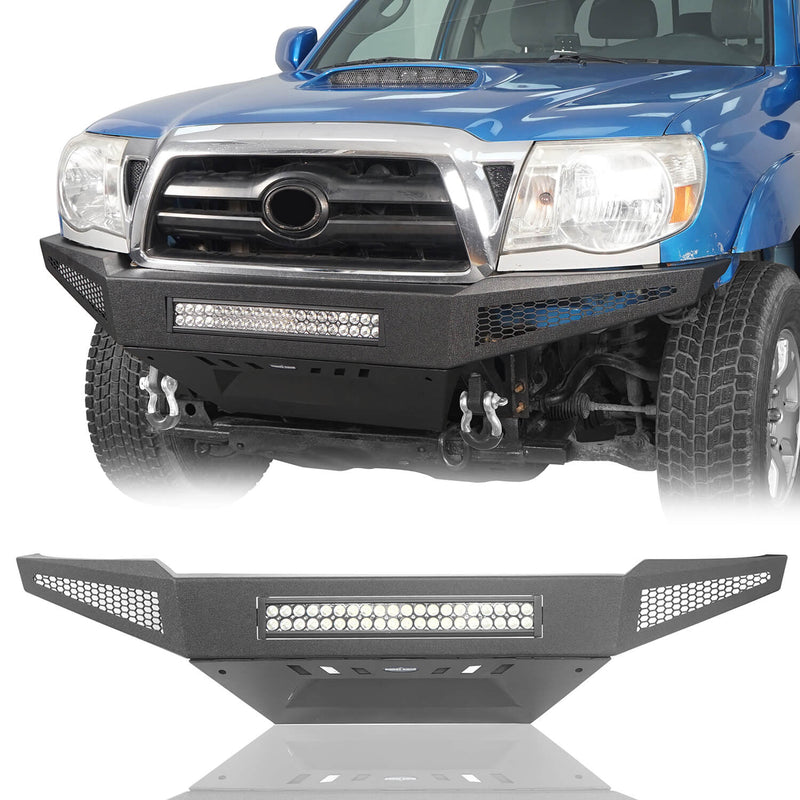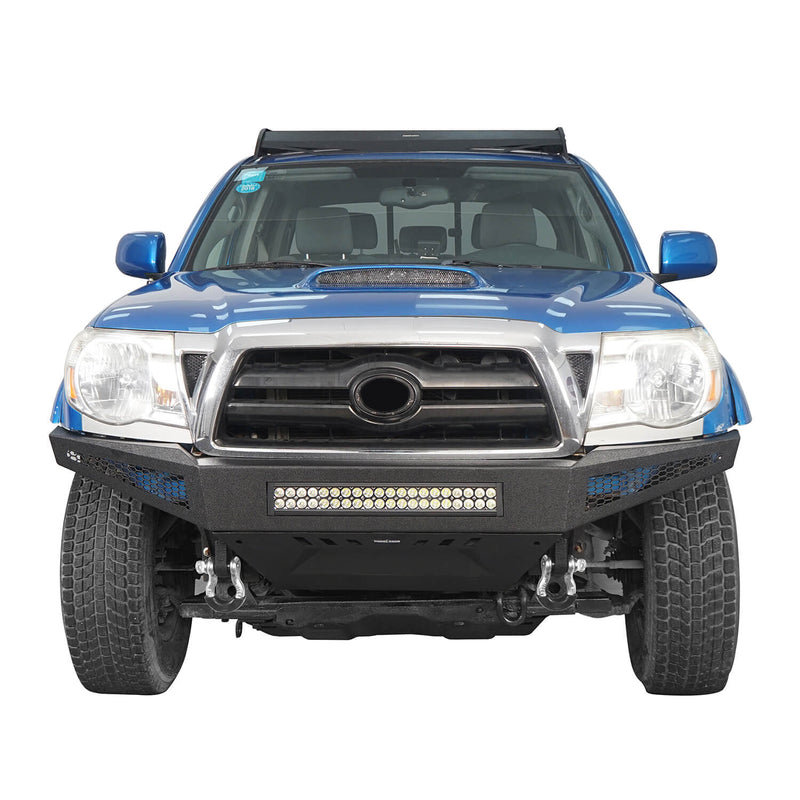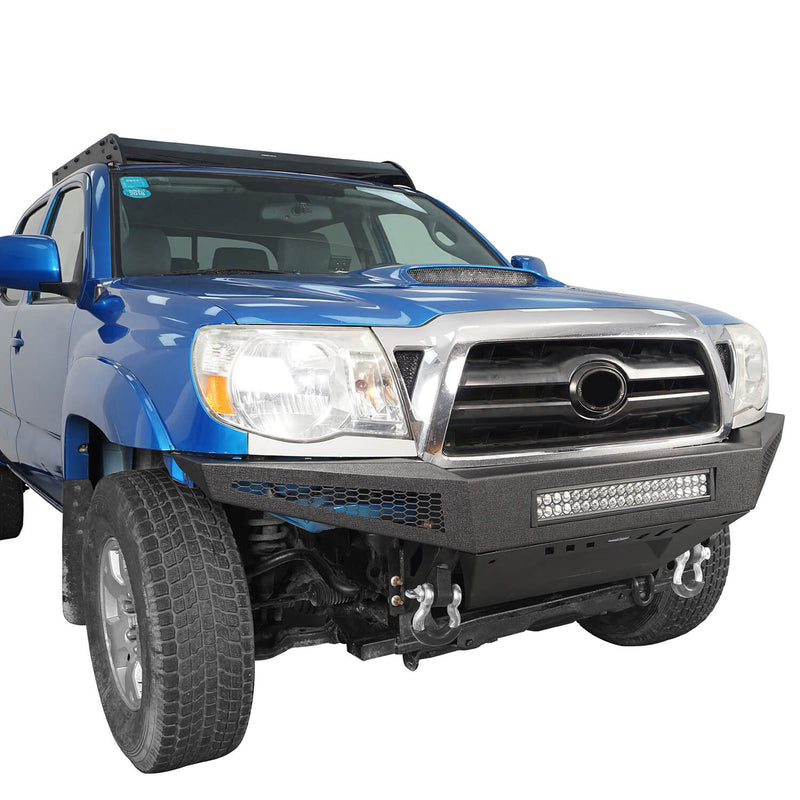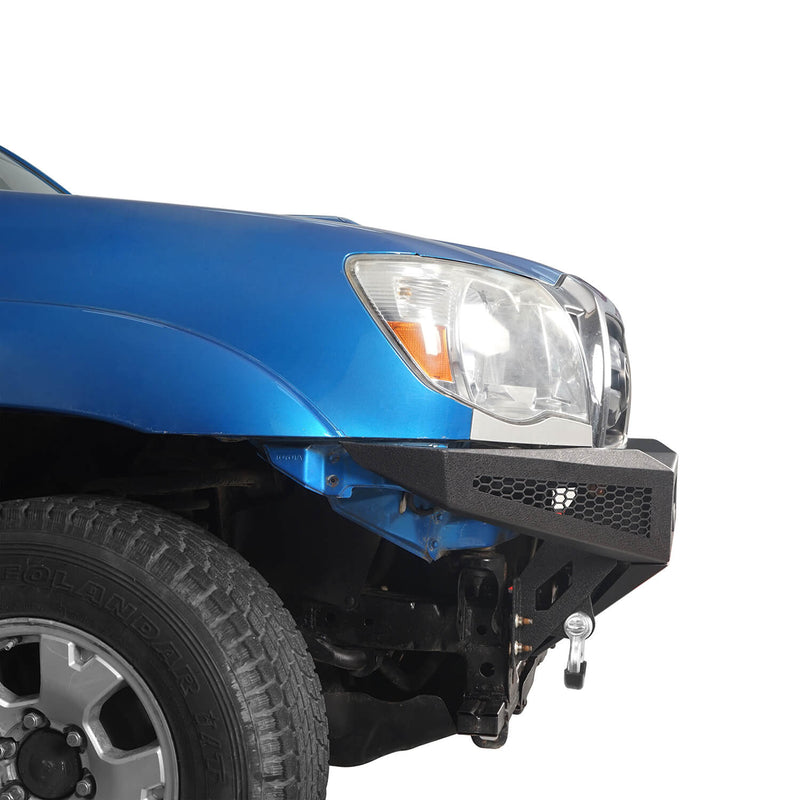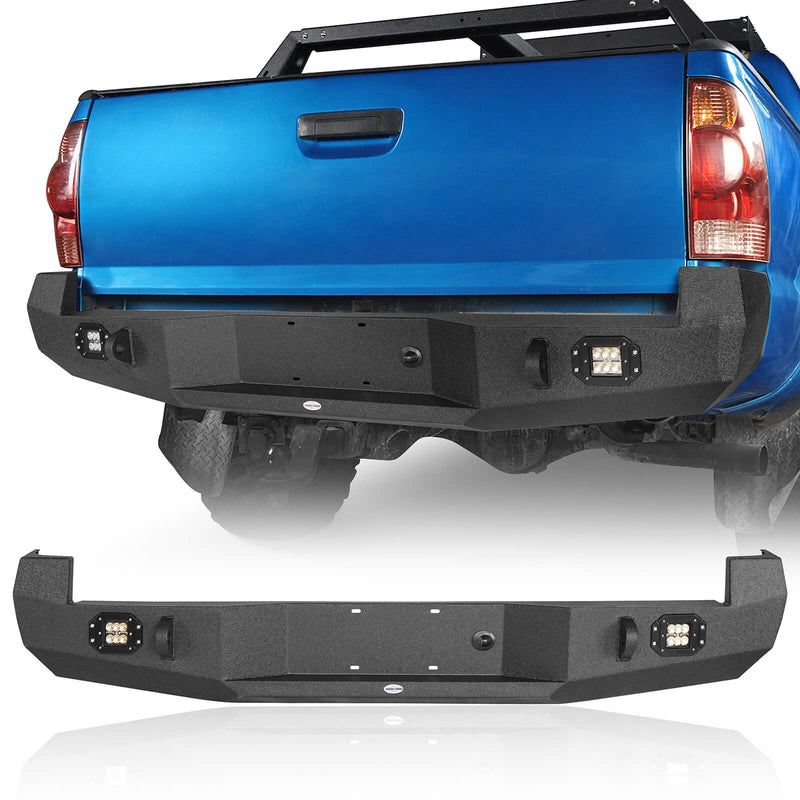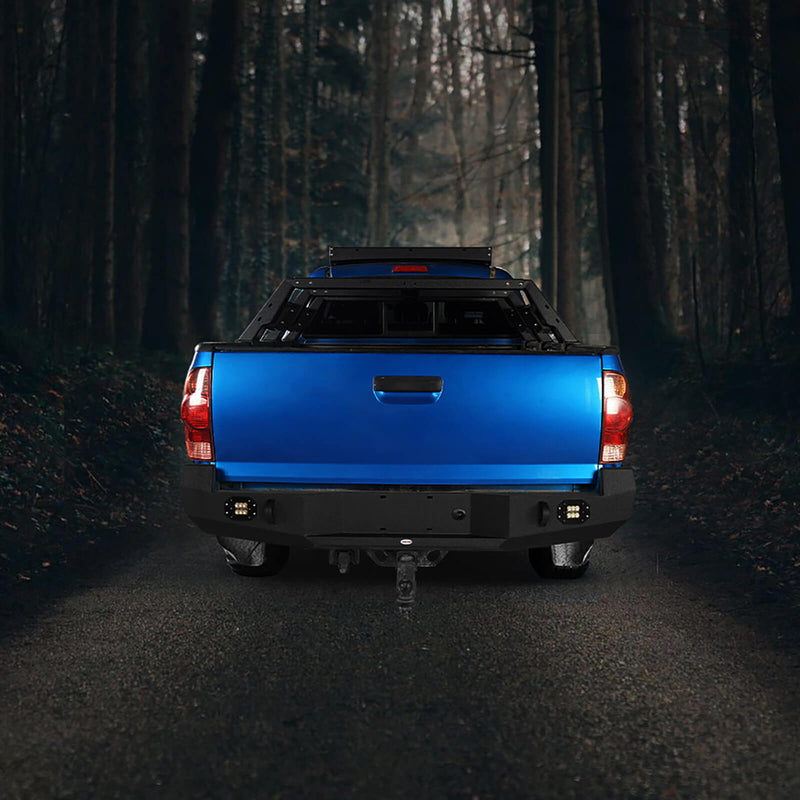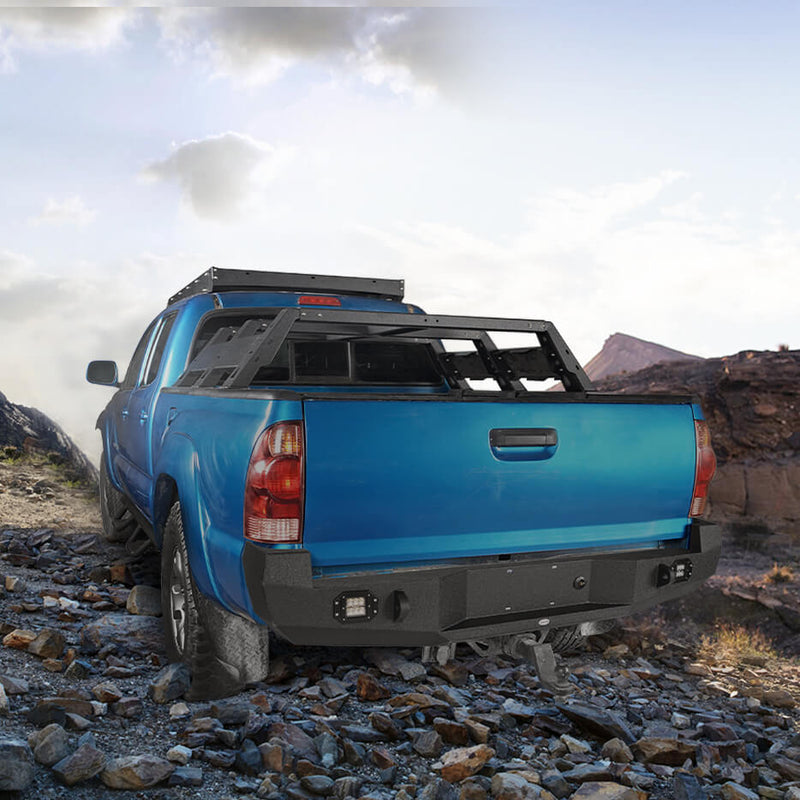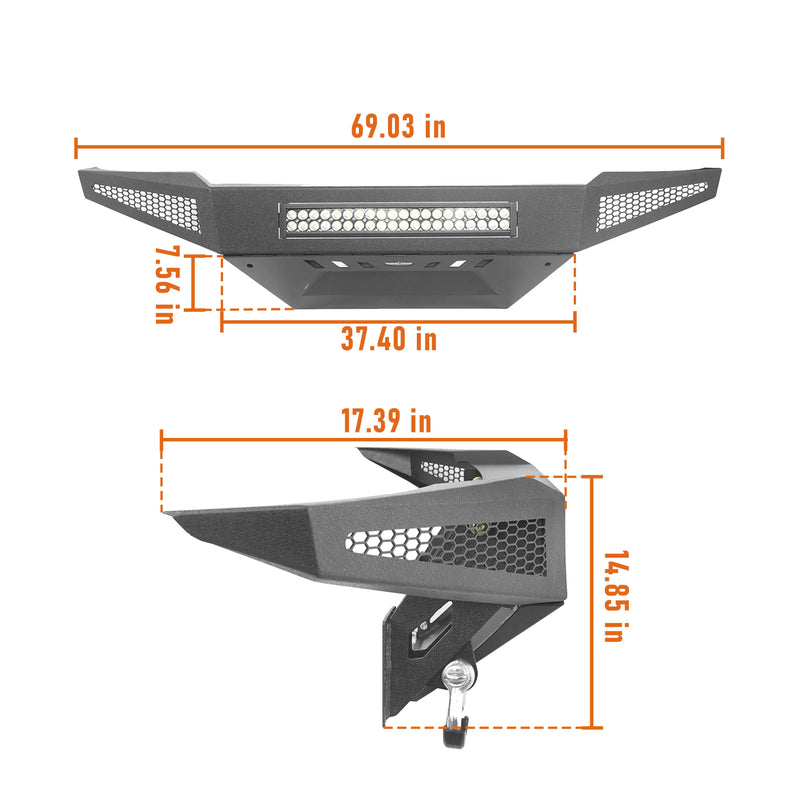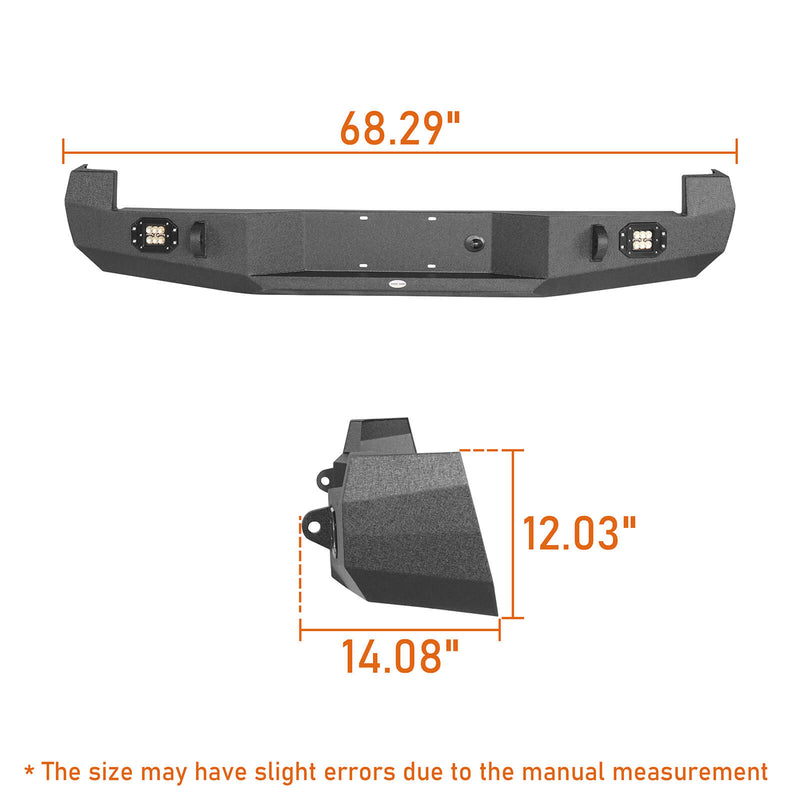 Name: Tacoma Full Width Front Bumper w/Skid Plate & Rear Bumper

Full-Width Front Bumper w/Skid Plate
Fits for 2005-2011 Toyota Tacoma Models
Bumper weight: about 75 lbs; 9500 lbs rated,3/4'' D-rings included; 120w high power LED flood spot combo light bar(22 inches) included; Heavy-duty, high tensile 11 gauge (1/8 inch) & 10 gauge(9/64 inch) steel construction; Tough bumper w/skid plate provides superior protection to your front end components; D-rings w/ rubber isolators to provide extra protection against abrasion; Delicate hollowed-out honeycomb design in both sides; Aggressive, off-road styling; Textured black powder coat finish; 
Simple bolt-on installation
Please Double-check the distance between front bumper edge and fender below to Purchase What you Like.
Rear Bumper
Fits for 2005-2015 Toyota Tacoma Models; 
Not Compatible with Blind Spot Sensors
Heavy-Duty, High Tensile Steel Construction; Textured Black Powder Coat Finish; Against Abrasion; Bumper Weight: About 65 lbs; 
Bolt-on Installation w/Clear and Detailed Instruction
Dimension
Manual Measure. It is a little bit different. Just for Reference Only.

Front Bumper Package Included

1 x Toyota Tacoma Front Bumper
1 x 120W High Power LED Spotlight Bar
2 x D-Rings
Mounting Hardware
Rear Bumper Package Included

1 x Toyota Tacoma Discovery Rear Bumper w/Licence Plate Mounting Plane
2 x 18W High Power LED Floodlights
Mounting Hardware
2011 Toyota Tacoma Base Crew Cab Pickup 4-Door
2011 Toyota Tacoma Base Crew Cab Pickup 4-Door
2011 Toyota Tacoma Base Extended Cab Pickup 4-Door
2011 Toyota Tacoma Base Extended Cab Pickup 4-Door
2011 Toyota Tacoma Base Standard Cab Pickup 2-Door
2011 Toyota Tacoma Base Standard Cab Pickup 2-Door
2011 Toyota Tacoma Pre Runner Crew Cab Pickup 4-Door
2011 Toyota Tacoma Pre Runner Crew Cab Pickup 4-Door
2011 Toyota Tacoma Pre Runner Extended Cab Pickup 4-Door
2011 Toyota Tacoma Pre Runner Extended Cab Pickup 4-Door
2011 Toyota Tacoma TRD Sport Crew Cab Pickup 4-Door
2011 Toyota Tacoma X-Runner Extended Cab Pickup 4-Door
2010 Toyota Tacoma Base Crew Cab Pickup 4-Door
2010 Toyota Tacoma Base Crew Cab Pickup 4-Door
2010 Toyota Tacoma Base Extended Cab Pickup 4-Door
2010 Toyota Tacoma Base Extended Cab Pickup 4-Door
2010 Toyota Tacoma Base Standard Cab Pickup 2-Door
2010 Toyota Tacoma Base Standard Cab Pickup 2-Door
2010 Toyota Tacoma Pre Runner Crew Cab Pickup 4-Door
2010 Toyota Tacoma Pre Runner Crew Cab Pickup 4-Door
2010 Toyota Tacoma Pre Runner Extended Cab Pickup 4-Door
2010 Toyota Tacoma Pre Runner Extended Cab Pickup 4-Door
2010 Toyota Tacoma Pre Runner Standard Cab Pickup 2-Door
2010 Toyota Tacoma Pre Runner Standard Cab Pickup 2-Door
2010 Toyota Tacoma TRD Sport Crew Cab Pickup 4-Door
2010 Toyota Tacoma X-Runner Extended Cab Pickup 4-Door
2009 Toyota Tacoma Base Crew Cab Pickup 4-Door
2009 Toyota Tacoma Base Crew Cab Pickup 4-Door
2009 Toyota Tacoma Base Extended Cab Pickup 4-Door
2009 Toyota Tacoma Base Extended Cab Pickup 4-Door
2009 Toyota Tacoma Base Standard Cab Pickup 2-Door
2009 Toyota Tacoma Base Standard Cab Pickup 2-Door
2009 Toyota Tacoma Pre Runner Crew Cab Pickup 4-Door
2009 Toyota Tacoma Pre Runner Crew Cab Pickup 4-Door
2009 Toyota Tacoma Pre Runner Extended Cab Pickup 4-Door
2009 Toyota Tacoma Pre Runner Extended Cab Pickup 4-Door
2009 Toyota Tacoma Pre Runner Standard Cab Pickup 2-Door
2009 Toyota Tacoma Pre Runner Standard Cab Pickup 2-Door
2009 Toyota Tacoma SR5 Prerunner Crew Cab Pickup 4-Door
2009 Toyota Tacoma TRD Sport Prerunner Crew Cab Pickup 4-Door
2009 Toyota Tacoma X-Runner Extended Cab Pickup 4-Door
2008 Toyota Tacoma Base Crew Cab Pickup 4-Door
2008 Toyota Tacoma Base Crew Cab Pickup 4-Door
2008 Toyota Tacoma Base Extended Cab Pickup 4-Door
2008 Toyota Tacoma Base Extended Cab Pickup 4-Door
2008 Toyota Tacoma Base Standard Cab Pickup 2-Door
2008 Toyota Tacoma Base Standard Cab Pickup 2-Door
2008 Toyota Tacoma Pre Runner Crew Cab Pickup 4-Door
2008 Toyota Tacoma Pre Runner Crew Cab Pickup 4-Door
2008 Toyota Tacoma Pre Runner Extended Cab Pickup 4-Door
2008 Toyota Tacoma Pre Runner Extended Cab Pickup 4-Door
2008 Toyota Tacoma Pre Runner Standard Cab Pickup 2-Door
2008 Toyota Tacoma Pre Runner Standard Cab Pickup 2-Door
2008 Toyota Tacoma SR5 Prerunner Crew Cab Pickup 4-Door
2008 Toyota Tacoma TRD Sport Prerunner Crew Cab Pickup 4-Door
2008 Toyota Tacoma X-Runner Extended Cab Pickup 4-Door
2007 Toyota Tacoma Base Crew Cab Pickup 4-Door
2007 Toyota Tacoma Base Crew Cab Pickup 4-Door
2007 Toyota Tacoma Base Extended Cab Pickup 4-Door
2007 Toyota Tacoma Base Extended Cab Pickup 4-Door
2007 Toyota Tacoma Base Standard Cab Pickup 2-Door
2007 Toyota Tacoma Base Standard Cab Pickup 2-Door
2007 Toyota Tacoma Pre Runner Crew Cab Pickup 4-Door
2007 Toyota Tacoma Pre Runner Crew Cab Pickup 4-Door
2007 Toyota Tacoma Pre Runner Extended Cab Pickup 4-Door
2007 Toyota Tacoma Pre Runner Extended Cab Pickup 4-Door
2007 Toyota Tacoma Pre Runner Standard Cab Pickup 2-Door
2007 Toyota Tacoma Pre Runner Standard Cab Pickup 2-Door
2007 Toyota Tacoma SR5 Prerunner Crew Cab Pickup 4-Door
2007 Toyota Tacoma TRD Sport Prerunner Crew Cab Pickup 4-Door
2007 Toyota Tacoma X-Runner Extended Cab Pickup 4-Door
2006 Toyota Tacoma Base Crew Cab Pickup 4-Door
2006 Toyota Tacoma Base Crew Cab Pickup 4-Door
2006 Toyota Tacoma Base Extended Cab Pickup 4-Door
2006 Toyota Tacoma Base Extended Cab Pickup 4-Door
2006 Toyota Tacoma Base Prerunner Crew Cab Pickup 4-Door
2006 Toyota Tacoma Base Standard Cab Pickup 2-Door
2006 Toyota Tacoma Base Standard Cab Pickup 2-Door
2006 Toyota Tacoma Pre Runner Crew Cab Pickup 4-Door
2006 Toyota Tacoma Pre Runner Crew Cab Pickup 4-Door
2006 Toyota Tacoma Pre Runner Extended Cab Pickup 4-Door
2006 Toyota Tacoma Pre Runner Extended Cab Pickup 4-Door
2006 Toyota Tacoma Pre Runner Standard Cab Pickup 2-Door
2006 Toyota Tacoma Pre Runner Standard Cab Pickup 2-Door
2006 Toyota Tacoma SR5 Prerunner Crew Cab Pickup 4-Door
2006 Toyota Tacoma TRD Sport Prerunner Crew Cab Pickup 4-Door
2006 Toyota Tacoma X-Runner Extended Cab Pickup 4-Door
2005 Toyota Tacoma Base Crew Cab Pickup 4-Door
2005 Toyota Tacoma Base Crew Cab Pickup 4-Door
2005 Toyota Tacoma Base Extended Cab Pickup 3-Door
2005 Toyota Tacoma Base Extended Cab Pickup 3-Door
2005 Toyota Tacoma Base Standard Cab Pickup 2-Door
2005 Toyota Tacoma Base Standard Cab Pickup 2-Door
2005 Toyota Tacoma Pre Runner Crew Cab Pickup 4-Door
2005 Toyota Tacoma Pre Runner Crew Cab Pickup 4-Door
2005 Toyota Tacoma Pre Runner Extended Cab Pickup 3-Door
2005 Toyota Tacoma Pre Runner Extended Cab Pickup 3-Door
2005 Toyota Tacoma Pre Runner Standard Cab Pickup 2-Door
2005 Toyota Tacoma Pre Runner Standard Cab Pickup 2-Door
2005 Toyota Tacoma X-Runner Extended Cab Pickup 3-Door
Package Included
Front Bumper Package Included

1 x Toyota Tacoma Front Bumper
1 x 120W High Power LED Spotlight Bar
2 x D-Rings
Mounting Hardware
Rear Bumper Package Included

1 x Toyota Tacoma Discovery Rear Bumper w/Licence Plate Mounting Plane
2 x 18W High Power LED Floodlights
Mounting Hardware
Fitment
2011 Toyota Tacoma Base Crew Cab Pickup 4-Door
2011 Toyota Tacoma Base Crew Cab Pickup 4-Door
2011 Toyota Tacoma Base Extended Cab Pickup 4-Door
2011 Toyota Tacoma Base Extended Cab Pickup 4-Door
2011 Toyota Tacoma Base Standard Cab Pickup 2-Door
2011 Toyota Tacoma Base Standard Cab Pickup 2-Door
2011 Toyota Tacoma Pre Runner Crew Cab Pickup 4-Door
2011 Toyota Tacoma Pre Runner Crew Cab Pickup 4-Door
2011 Toyota Tacoma Pre Runner Extended Cab Pickup 4-Door
2011 Toyota Tacoma Pre Runner Extended Cab Pickup 4-Door
2011 Toyota Tacoma TRD Sport Crew Cab Pickup 4-Door
2011 Toyota Tacoma X-Runner Extended Cab Pickup 4-Door
2010 Toyota Tacoma Base Crew Cab Pickup 4-Door
2010 Toyota Tacoma Base Crew Cab Pickup 4-Door
2010 Toyota Tacoma Base Extended Cab Pickup 4-Door
2010 Toyota Tacoma Base Extended Cab Pickup 4-Door
2010 Toyota Tacoma Base Standard Cab Pickup 2-Door
2010 Toyota Tacoma Base Standard Cab Pickup 2-Door
2010 Toyota Tacoma Pre Runner Crew Cab Pickup 4-Door
2010 Toyota Tacoma Pre Runner Crew Cab Pickup 4-Door
2010 Toyota Tacoma Pre Runner Extended Cab Pickup 4-Door
2010 Toyota Tacoma Pre Runner Extended Cab Pickup 4-Door
2010 Toyota Tacoma Pre Runner Standard Cab Pickup 2-Door
2010 Toyota Tacoma Pre Runner Standard Cab Pickup 2-Door
2010 Toyota Tacoma TRD Sport Crew Cab Pickup 4-Door
2010 Toyota Tacoma X-Runner Extended Cab Pickup 4-Door
2009 Toyota Tacoma Base Crew Cab Pickup 4-Door
2009 Toyota Tacoma Base Crew Cab Pickup 4-Door
2009 Toyota Tacoma Base Extended Cab Pickup 4-Door
2009 Toyota Tacoma Base Extended Cab Pickup 4-Door
2009 Toyota Tacoma Base Standard Cab Pickup 2-Door
2009 Toyota Tacoma Base Standard Cab Pickup 2-Door
2009 Toyota Tacoma Pre Runner Crew Cab Pickup 4-Door
2009 Toyota Tacoma Pre Runner Crew Cab Pickup 4-Door
2009 Toyota Tacoma Pre Runner Extended Cab Pickup 4-Door
2009 Toyota Tacoma Pre Runner Extended Cab Pickup 4-Door
2009 Toyota Tacoma Pre Runner Standard Cab Pickup 2-Door
2009 Toyota Tacoma Pre Runner Standard Cab Pickup 2-Door
2009 Toyota Tacoma SR5 Prerunner Crew Cab Pickup 4-Door
2009 Toyota Tacoma TRD Sport Prerunner Crew Cab Pickup 4-Door
2009 Toyota Tacoma X-Runner Extended Cab Pickup 4-Door
2008 Toyota Tacoma Base Crew Cab Pickup 4-Door
2008 Toyota Tacoma Base Crew Cab Pickup 4-Door
2008 Toyota Tacoma Base Extended Cab Pickup 4-Door
2008 Toyota Tacoma Base Extended Cab Pickup 4-Door
2008 Toyota Tacoma Base Standard Cab Pickup 2-Door
2008 Toyota Tacoma Base Standard Cab Pickup 2-Door
2008 Toyota Tacoma Pre Runner Crew Cab Pickup 4-Door
2008 Toyota Tacoma Pre Runner Crew Cab Pickup 4-Door
2008 Toyota Tacoma Pre Runner Extended Cab Pickup 4-Door
2008 Toyota Tacoma Pre Runner Extended Cab Pickup 4-Door
2008 Toyota Tacoma Pre Runner Standard Cab Pickup 2-Door
2008 Toyota Tacoma Pre Runner Standard Cab Pickup 2-Door
2008 Toyota Tacoma SR5 Prerunner Crew Cab Pickup 4-Door
2008 Toyota Tacoma TRD Sport Prerunner Crew Cab Pickup 4-Door
2008 Toyota Tacoma X-Runner Extended Cab Pickup 4-Door
2007 Toyota Tacoma Base Crew Cab Pickup 4-Door
2007 Toyota Tacoma Base Crew Cab Pickup 4-Door
2007 Toyota Tacoma Base Extended Cab Pickup 4-Door
2007 Toyota Tacoma Base Extended Cab Pickup 4-Door
2007 Toyota Tacoma Base Standard Cab Pickup 2-Door
2007 Toyota Tacoma Base Standard Cab Pickup 2-Door
2007 Toyota Tacoma Pre Runner Crew Cab Pickup 4-Door
2007 Toyota Tacoma Pre Runner Crew Cab Pickup 4-Door
2007 Toyota Tacoma Pre Runner Extended Cab Pickup 4-Door
2007 Toyota Tacoma Pre Runner Extended Cab Pickup 4-Door
2007 Toyota Tacoma Pre Runner Standard Cab Pickup 2-Door
2007 Toyota Tacoma Pre Runner Standard Cab Pickup 2-Door
2007 Toyota Tacoma SR5 Prerunner Crew Cab Pickup 4-Door
2007 Toyota Tacoma TRD Sport Prerunner Crew Cab Pickup 4-Door
2007 Toyota Tacoma X-Runner Extended Cab Pickup 4-Door
2006 Toyota Tacoma Base Crew Cab Pickup 4-Door
2006 Toyota Tacoma Base Crew Cab Pickup 4-Door
2006 Toyota Tacoma Base Extended Cab Pickup 4-Door
2006 Toyota Tacoma Base Extended Cab Pickup 4-Door
2006 Toyota Tacoma Base Prerunner Crew Cab Pickup 4-Door
2006 Toyota Tacoma Base Standard Cab Pickup 2-Door
2006 Toyota Tacoma Base Standard Cab Pickup 2-Door
2006 Toyota Tacoma Pre Runner Crew Cab Pickup 4-Door
2006 Toyota Tacoma Pre Runner Crew Cab Pickup 4-Door
2006 Toyota Tacoma Pre Runner Extended Cab Pickup 4-Door
2006 Toyota Tacoma Pre Runner Extended Cab Pickup 4-Door
2006 Toyota Tacoma Pre Runner Standard Cab Pickup 2-Door
2006 Toyota Tacoma Pre Runner Standard Cab Pickup 2-Door
2006 Toyota Tacoma SR5 Prerunner Crew Cab Pickup 4-Door
2006 Toyota Tacoma TRD Sport Prerunner Crew Cab Pickup 4-Door
2006 Toyota Tacoma X-Runner Extended Cab Pickup 4-Door
2005 Toyota Tacoma Base Crew Cab Pickup 4-Door
2005 Toyota Tacoma Base Crew Cab Pickup 4-Door
2005 Toyota Tacoma Base Extended Cab Pickup 3-Door
2005 Toyota Tacoma Base Extended Cab Pickup 3-Door
2005 Toyota Tacoma Base Standard Cab Pickup 2-Door
2005 Toyota Tacoma Base Standard Cab Pickup 2-Door
2005 Toyota Tacoma Pre Runner Crew Cab Pickup 4-Door
2005 Toyota Tacoma Pre Runner Crew Cab Pickup 4-Door
2005 Toyota Tacoma Pre Runner Extended Cab Pickup 3-Door
2005 Toyota Tacoma Pre Runner Extended Cab Pickup 3-Door
2005 Toyota Tacoma Pre Runner Standard Cab Pickup 2-Door
2005 Toyota Tacoma Pre Runner Standard Cab Pickup 2-Door
2005 Toyota Tacoma X-Runner Extended Cab Pickup 3-Door